Hi,
To the previous part of the series:
Regional Rail Express - 25: 98% Night Train - Adria/Jadran I (50 p.)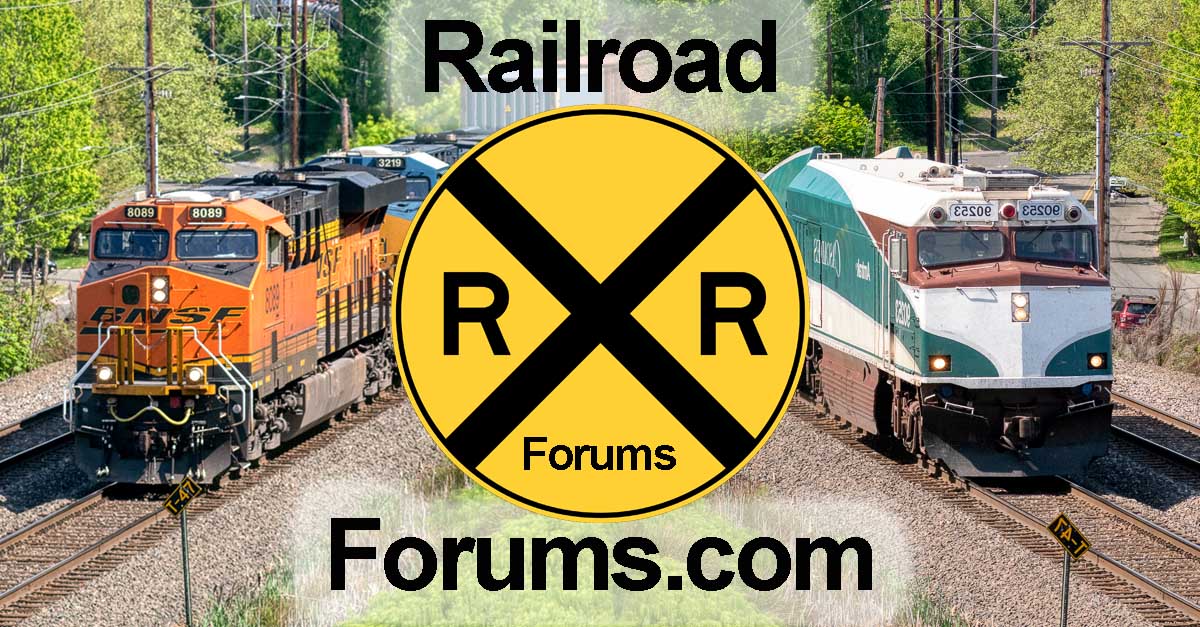 Hi, To the previous part of the series: Regional Rail Express - 24: Maestral IV (50 p.) https://railroadforums.com/forum/index.php?threads/regional-rail-express-24-maestral-iv-50-p.15550 Following is a two-part report of the Lika/Dalmatian Railroad to Split. However, I will only show night...

railroadforums.com
GM soundtrack e.g.:
2009
2012
2015
July 18 2012
We return to the view towards Preslo, I had walked there from Prgomet stop.
B 825 to Split soon thundered past me.
I changed to the mountainside for punctual B 1821 "Adria" Budapest - Split. It conveyed a Russian sleeping car from Moscow, sadly at the rear...
... so you often could not see it.
I visited Split twice that summer. You can almost smell the Dalmatian morning air on
August 9 2012
as B 1823 passed through this typical scenery at the distant home signal of Labin Dalmatinski. It was hauled by 2062-055, which I had spotted last year sadly decrepit at Varaždin depot, sporting "frog eye" old-style headlights.
The summit is reached: B 825 with 2062-016 departed Labin after crossing a freight train.
The morning before -
August 8 2012
- , I had marched from Labin to the sea-facing side of the mountains. B 825 with 2062-051 had passed through the summit tunnel and rolled steeply downhill.
B 1821 "Adria" approached punctually again.
Leaf coloration due to heat and fires.
B 1823 with "Jadran" part from Prag rolled towards Sadine stop on
June 30 2008
.
Side view with Kaštelanski Zaljev bay and the city of Split in the background on
July 9 2009
.
Virtual sandwich with B 825,
June 30 2008
.
B 825 on
July 9 2009
.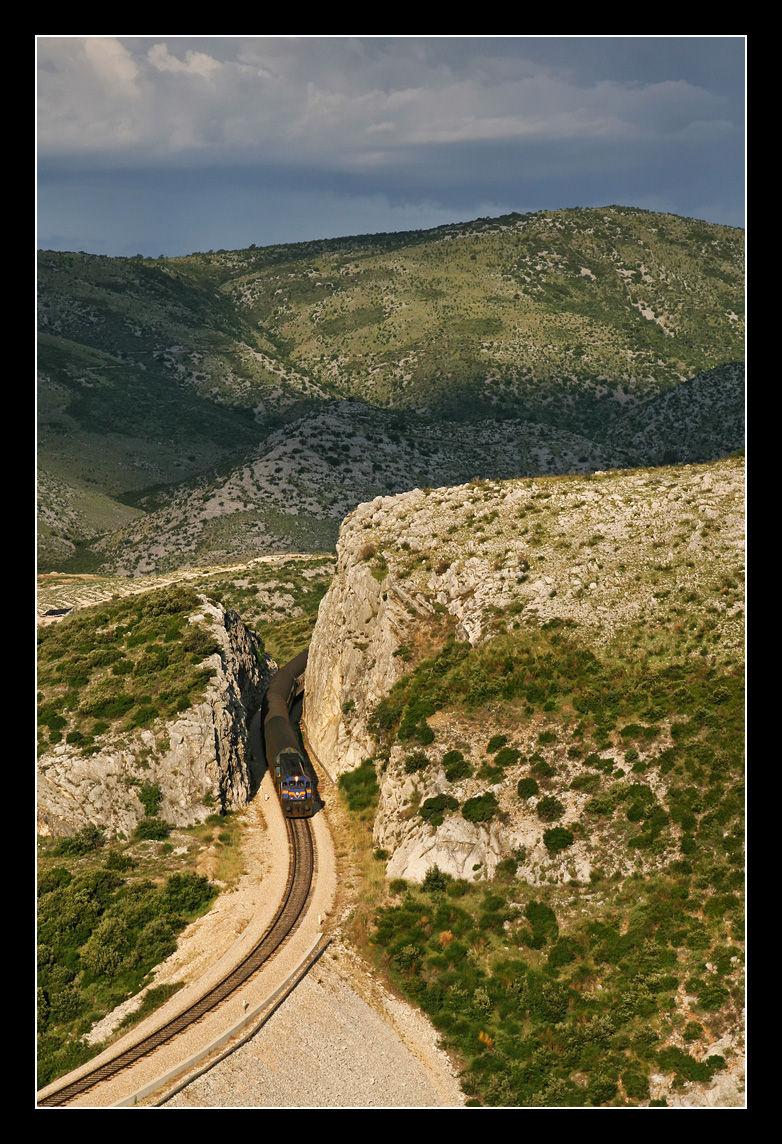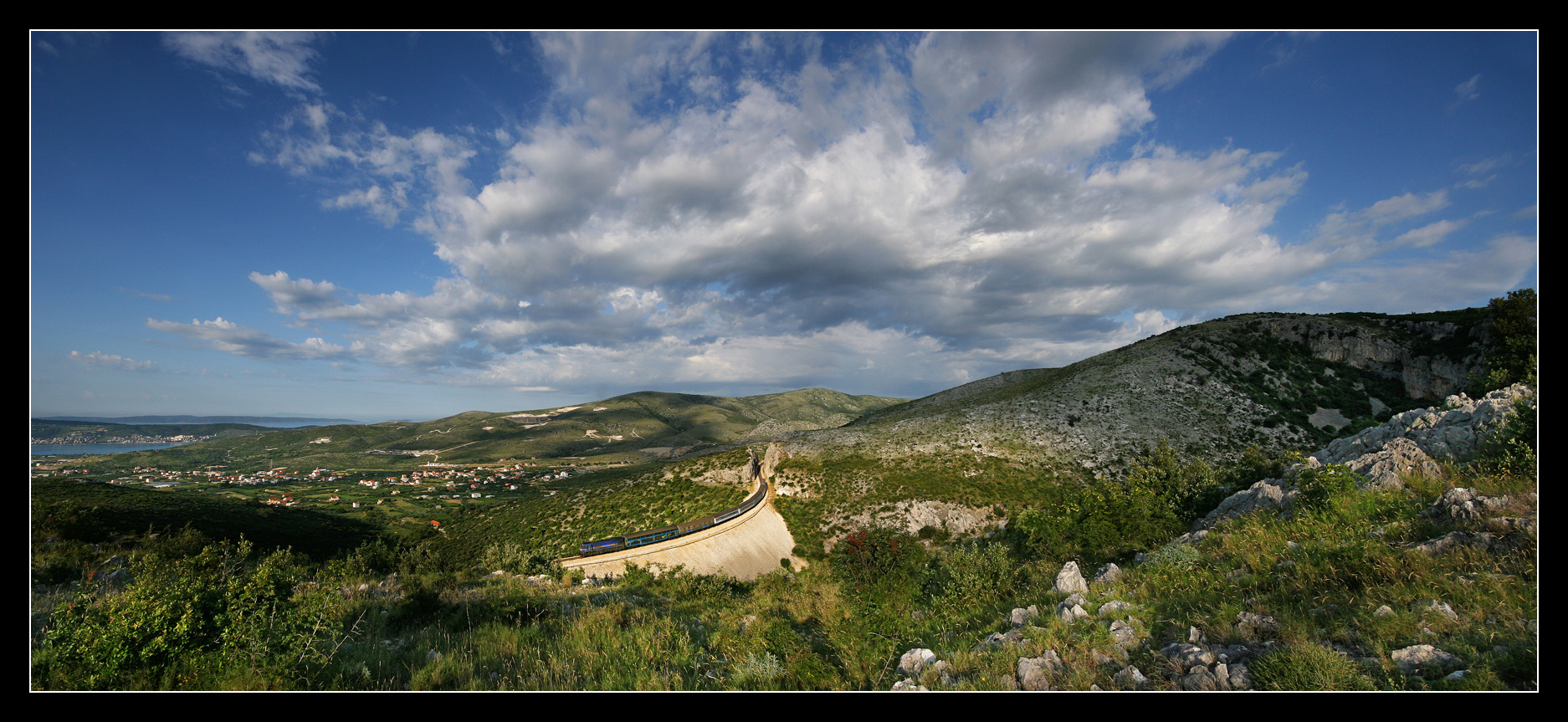 Express trains usually stop at the next station, Kaštel Stari ("old castle"). Despite the steep grade downhill, "Turnerica" 2062-114 first accelerated its B 825 in the morning of
July 13 2007
. The same train can be spotted a second time in the background.
Prague to palm trees: "Jadran" has reached Kaštel Kambelovac on
July 8 2009
.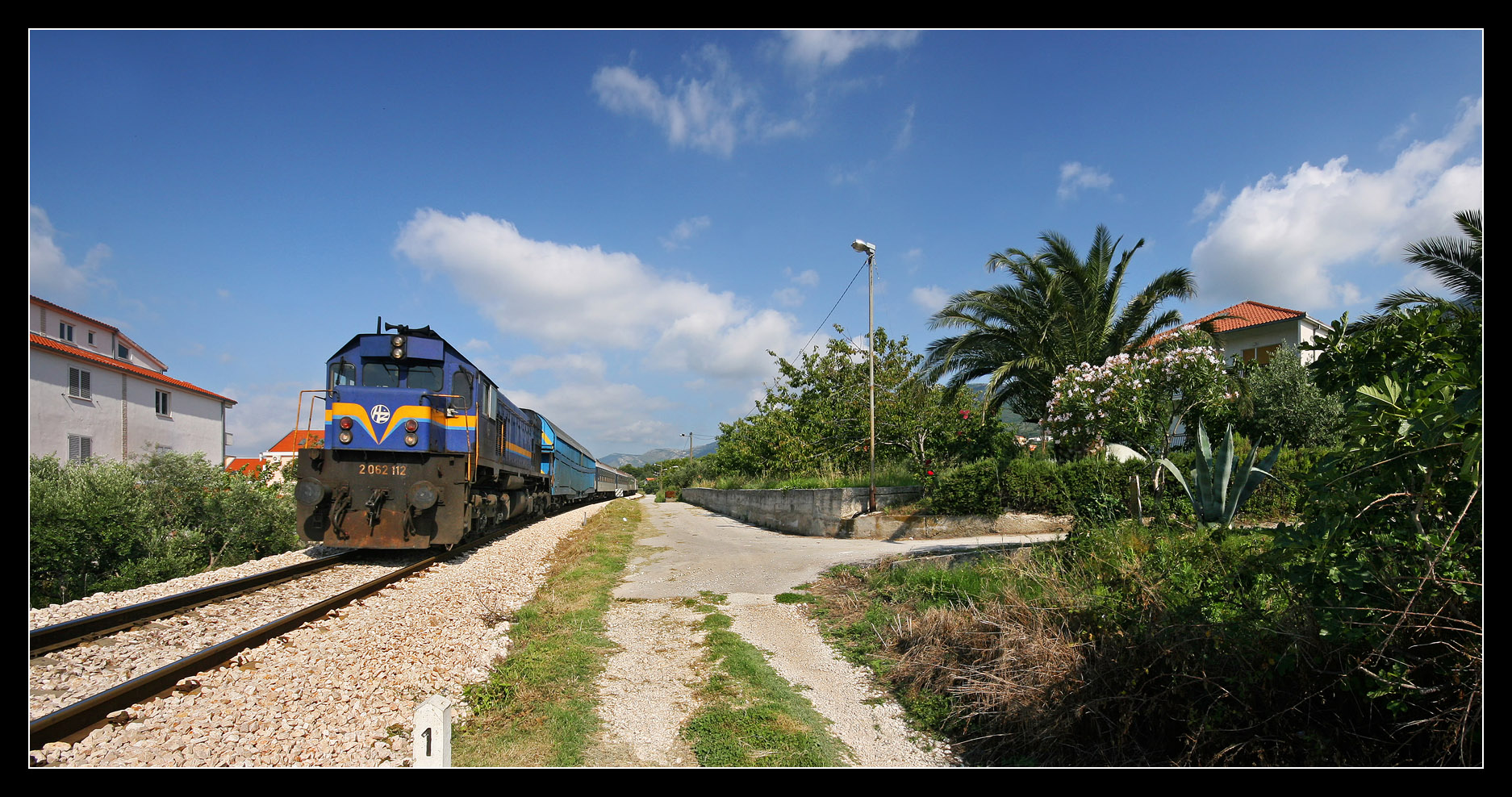 "Flatland" engine 2044-008 had conquered the mountains on
July 29 2015
and passed Kaštel Sućurac semaphore home signal with B 1823.
B 1204 "Adria" followed after eight o'clock half an hour delayed. The left track has a purely industrial purpose.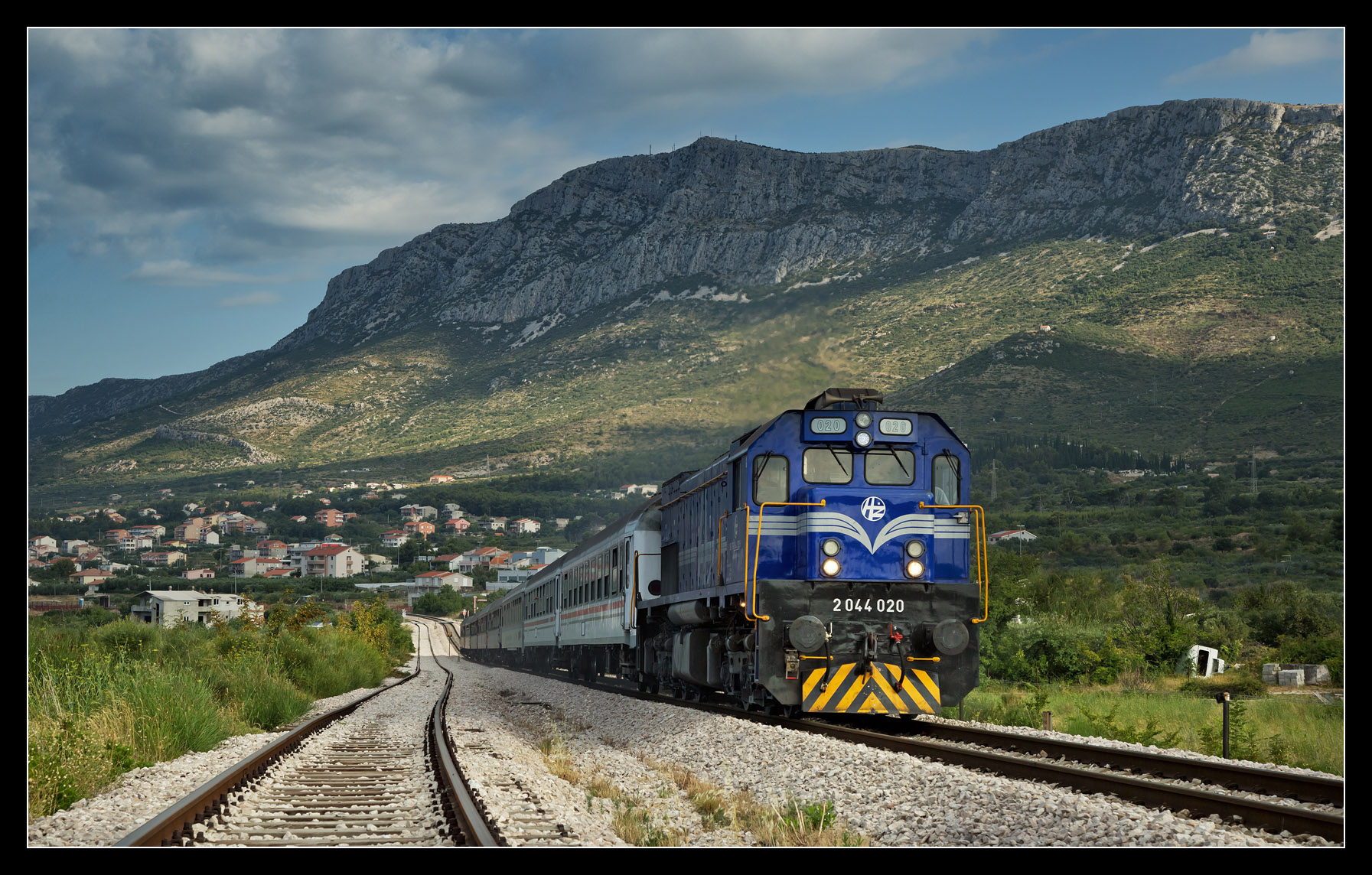 That year I visited some spots near the city I had neglected previously in favor of the mountains. B 1823 approached from Solin on
July 28 2015
, the track to the left leads to the port.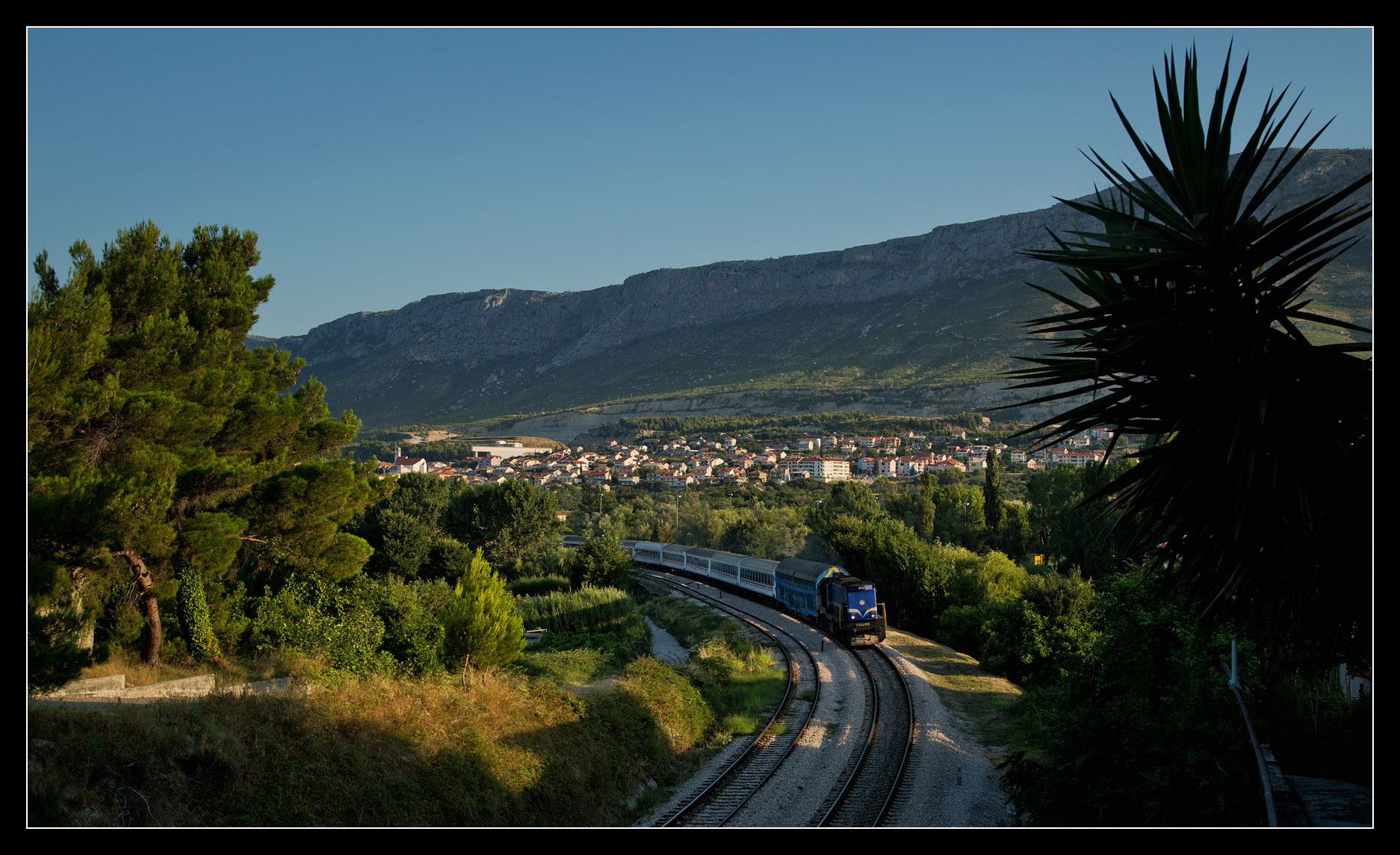 Earlier B 1821 during sunrise at Split Predgrađe.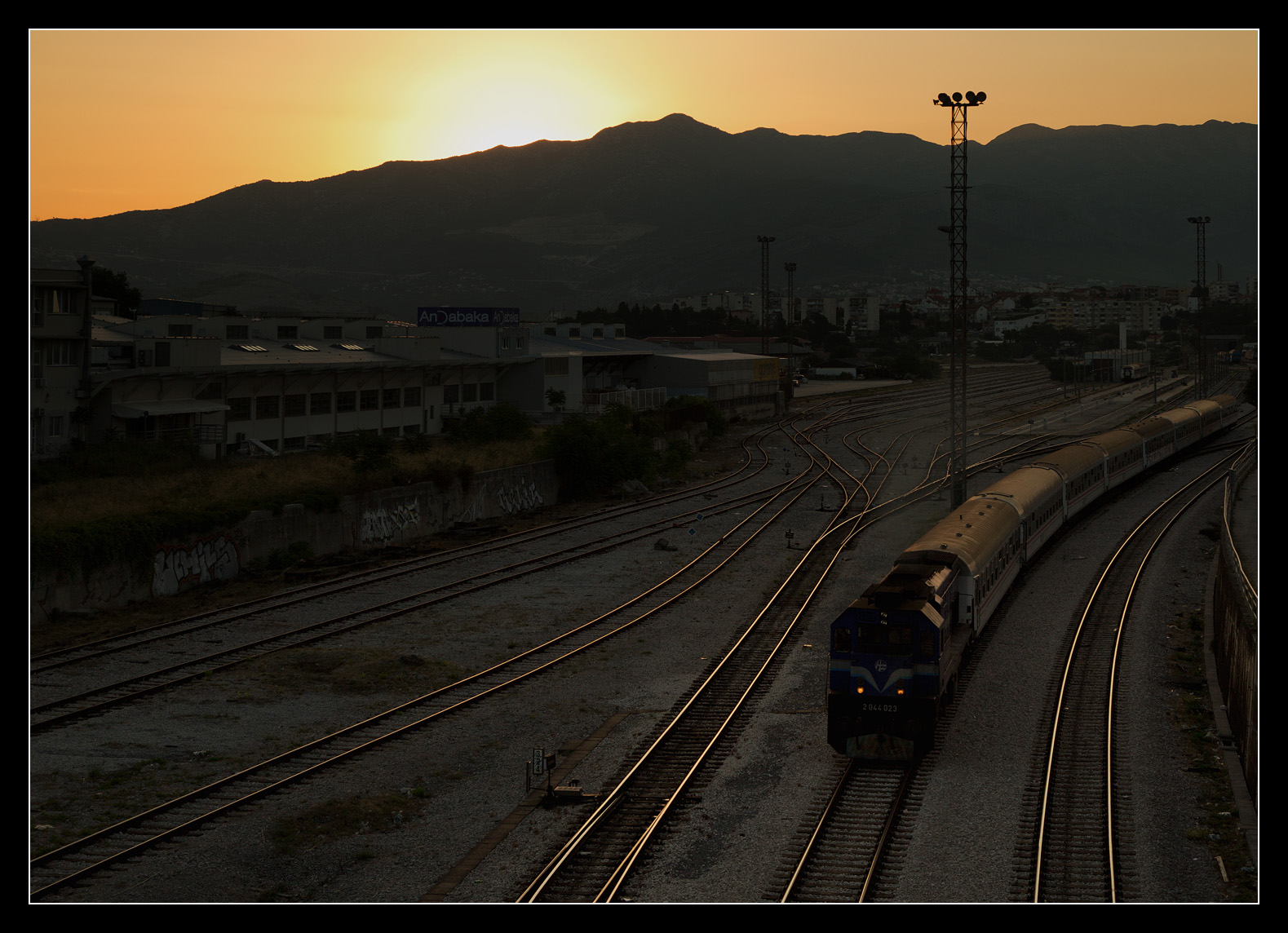 B 1204 "Adria" arrived at Split terminal on
August 21 2019
.
The non-night train pic of this part: Favorite 2044-007 also had made it to Split on
July 27 2015
hauling Pu 5503 from Perković.
Passenger trains are stabled at Split Predgrađe,
July 28 2015
.
Locals taking Pu 5506 Split - Perković after shopping in the city on
July 27 2015
.
My first time spotting a class 2044 in Dalmatia, a decade ago on
August 11 2010
.
B 1205 "Adria" Split - Budapest-Keleti ready to depart in the evening of
August 19 2019
, seen from the campanile within Diocletian's Palace forming the core of the old town:
More images from this trip already have been shown in trip report part 15.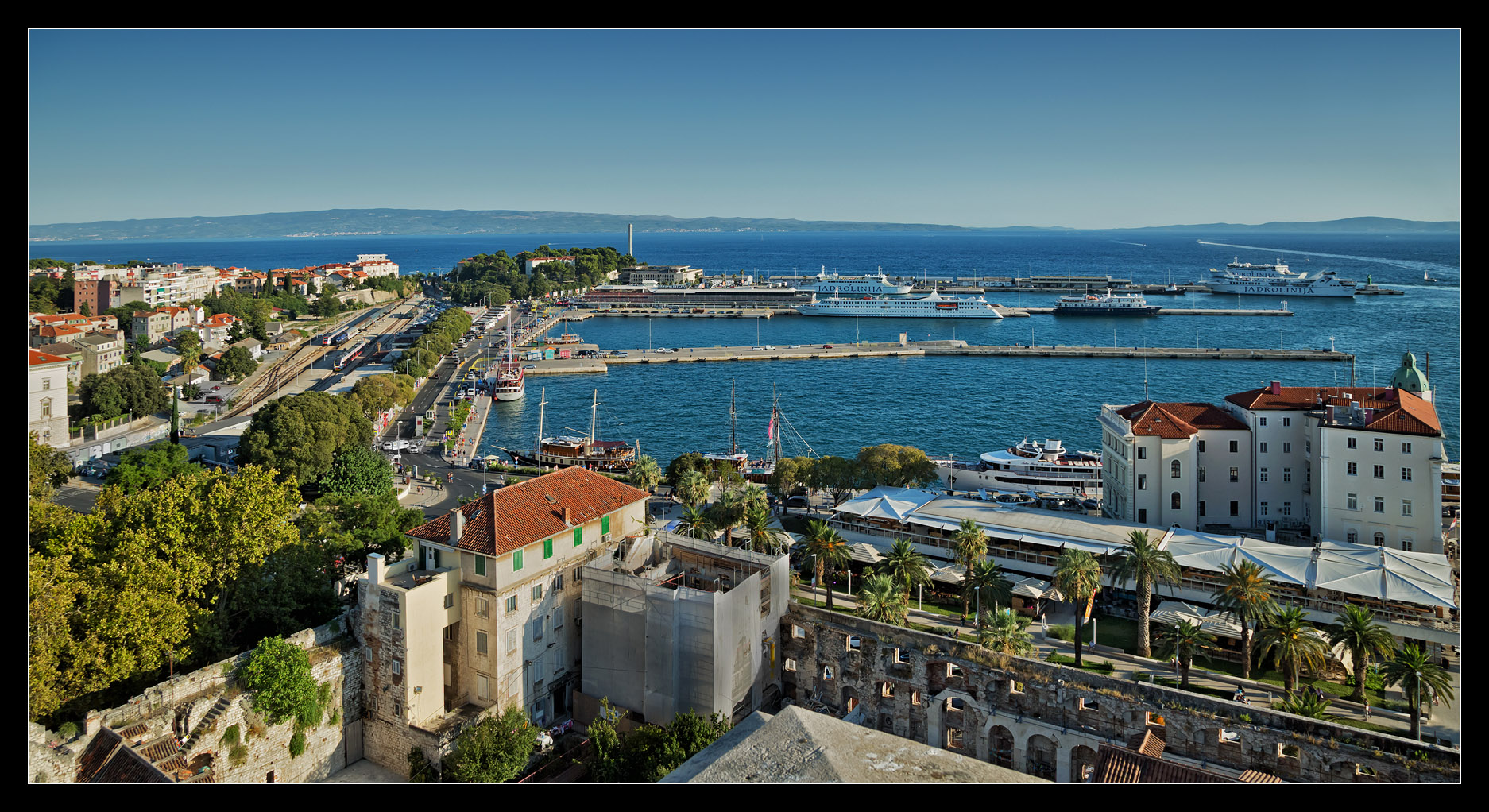 B 1822 before departure on
July 26 2006
, HŽ sleeping car in old livery.
Engines fully accelerate into the tunnel crossing the city center, which leads to situations where beams of headlights pierce through the own diesel exhaust gases.
Going home by "Jadran" on
August 20 2009
.
B 824 at 10 p.m. on
August 19 2005
.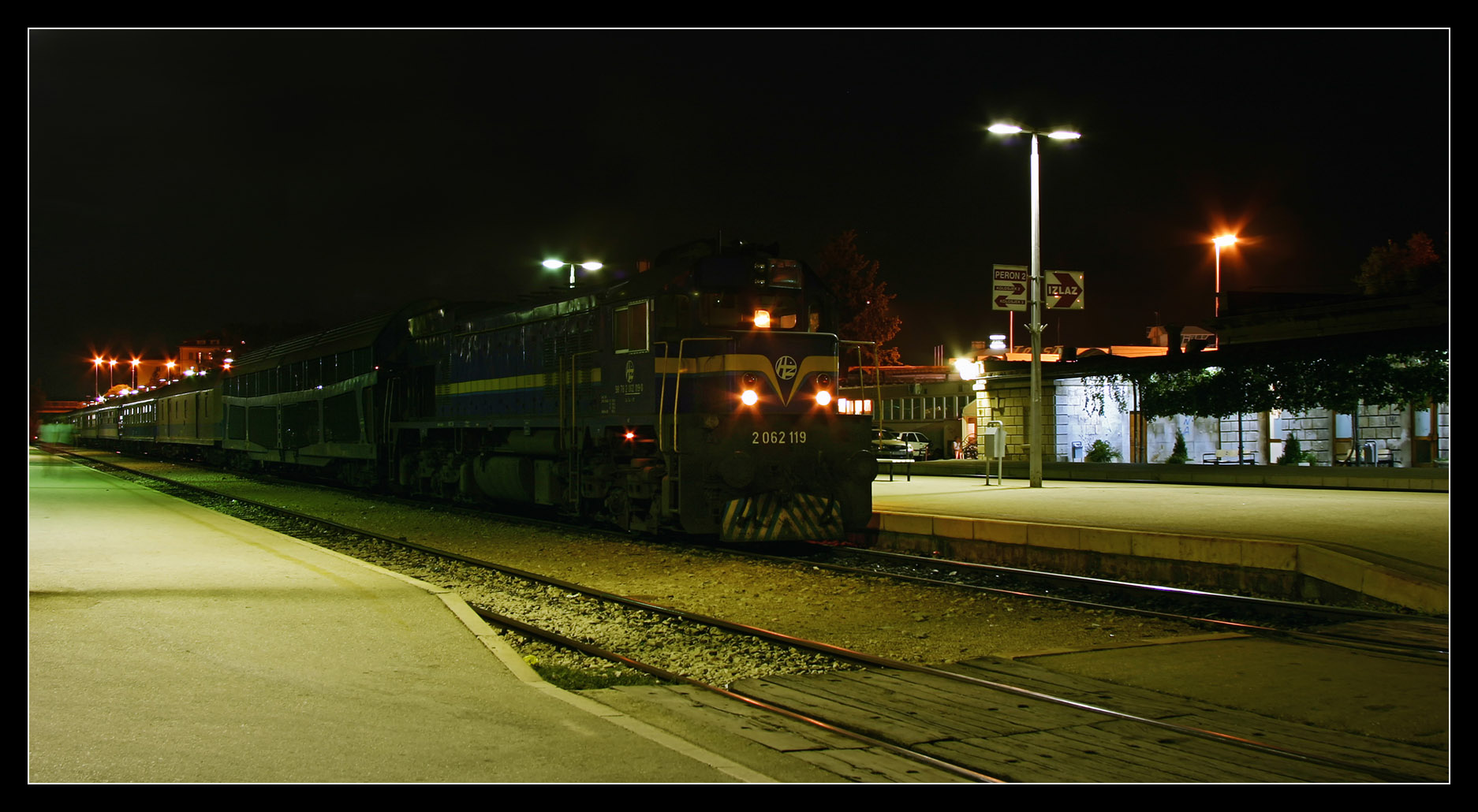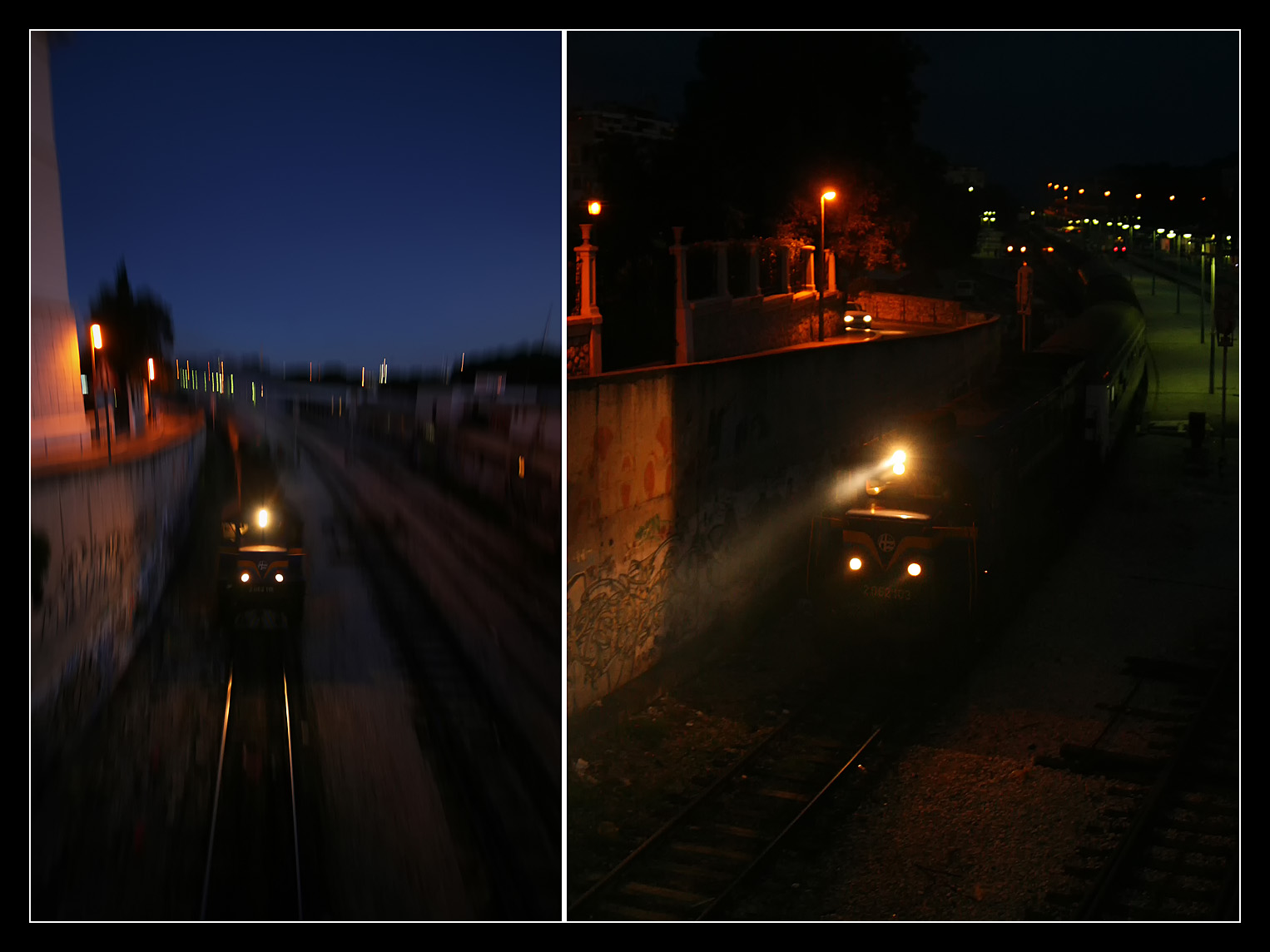 GM under palm trees in the evening of
June 30 2008
.
I took "Jadran" to Gračac and then the train into the opposite direction to reach Knin early morning.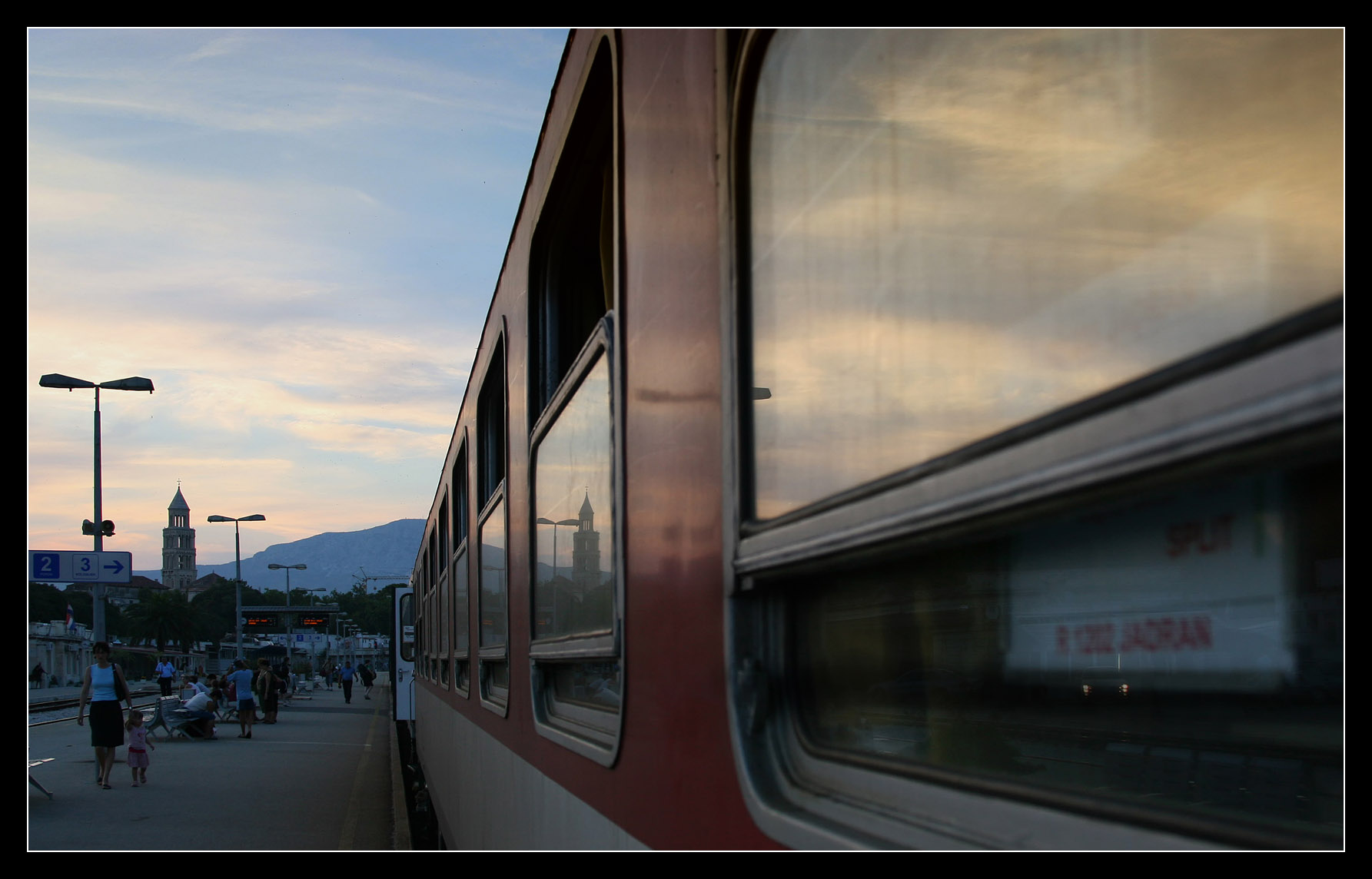 Inside sleeping car of "Jadran" through Solin on
August 20 2009
.
B 15801 "Adria" dieseled up the grade at Solin past a herd of goats,
July 27 2015
.
B 1822 passed the home signal of Kaštel Sućurac and a quarreling couple on the industrial track in the evening of
July 9 2009
.
2044-007 also attained night train honors: hauling B 15801 "Adria" to Budapest including ČD sleeping car to Prague through Kaštel Stari olive groves on
July 29 2015
.
B 1205 "Adria" at Kaštel Stari seen from Malačka mountain on
August 20 2019
.
In 2009, B 1205 "Adria" already departed Split at 4 p.m. and conveyed a... freight car! Here on
July 8 2009
.
B 1820 "Adria" thundered up the grade past Kraljice Mučenika church ("of the queen of martyrs") on
July 18 2012
.
And past the distant signal.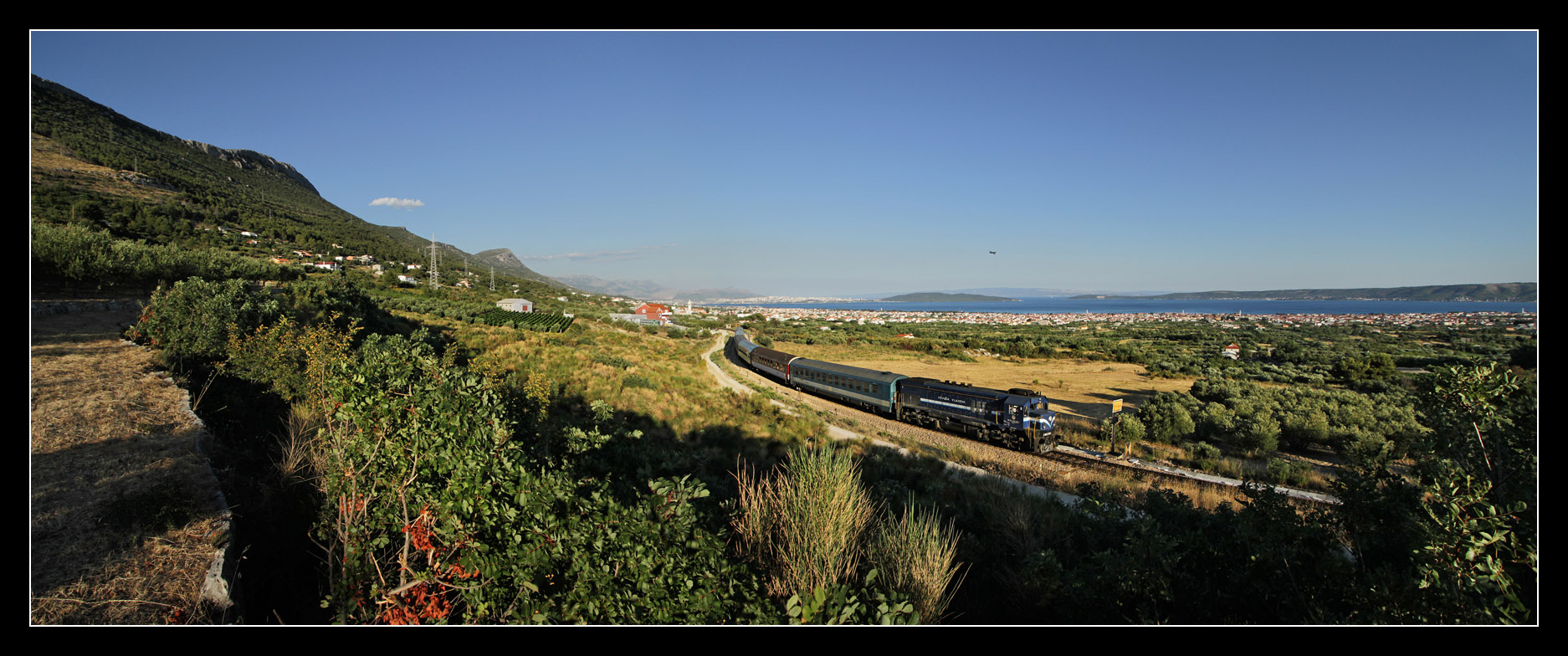 RŽD through car to Moscow with virtually extended train.
I had a connection home directly from Kaštel Stari, B 1820 on
July 29 2015
.
A special treat as conclusion: Saturday afternoon -
June 28 2008
- I had taken pictures of Pu 5506 at Kaštel Gomilica and waited afterwards at the modern stop. Suddenly, at 4 p.m., the seasonal train to Belgrade not included in the general timetable appeared hauled by green 2062-025. The image with concrete platform and photo cloud was not the result I had hoped for. I boarded Pu 5530 to Kaštel Stari at five o'clock - what was still waiting? All of the trains, including Pu 5506! A forest fire had shut down the line.
The "switchbox on legs" immediately sprang into action after ICN 1523 Zagreb - Split had rushed through the station 45 minutes delayed - only question: which train was about to depart first? It was answered right away: HŽ 2062-001 (ex-JŽ 664-004) accelerated Pu 5506!
So, I could conveniently change position for pictures with church and semaphore signal. 2062-025 (ex-JŽ 664-033) followed with a for the year 2008 pretty authentic JŽ express to Belgrade - where we will travel in the next report part.
The scenes on video: