Hi,
To the previous part of the series:
Regional Rail Express - 24: Maestral IV (50 p.)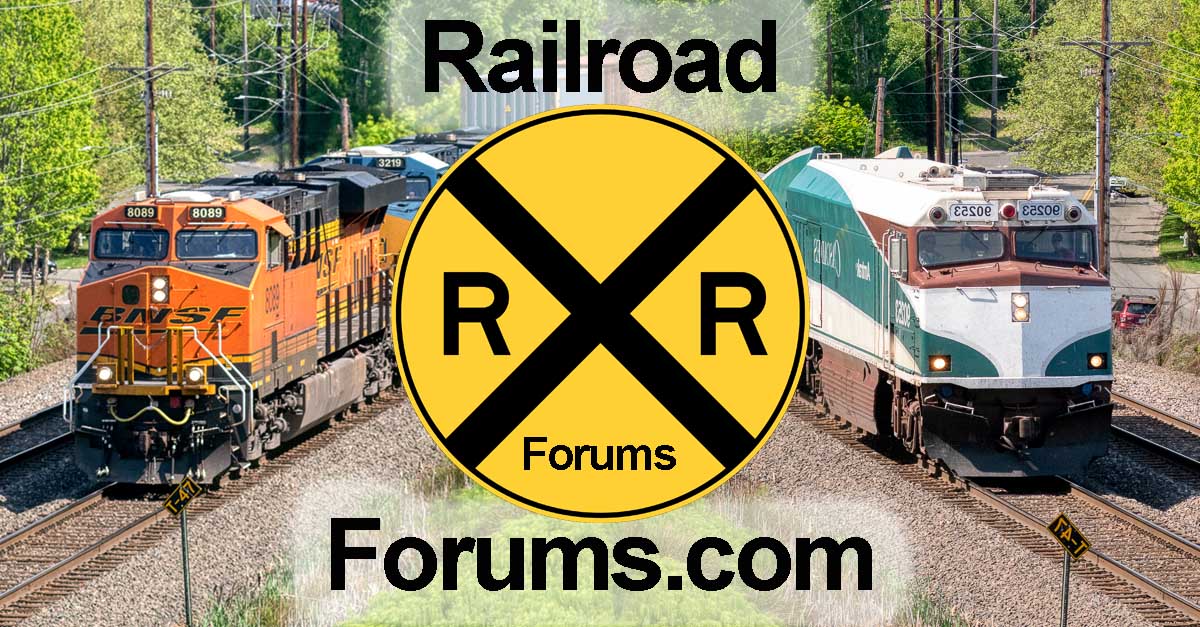 Hi, To the previous part of the series: Regional Rail Express - 23: Maestral III (50 p.) https://railroadforums.com/forum/index.php?threads/regional-rail-express-23-maestral-iii-50-p.15501 August 22 2016 We start at the wet dead-end tracks of Zagreb main station... A ray of light in...

railroadforums.com
Following is a two-part report of the Lika/Dalmatian Railroad to Split. However, I will only show night train pictures, not a complete treatment of the line. Also just one non-sleeper pic per part, so be ready for high percentage action! ;-)
GM soundtrack e.g.:
2005
2006
2007
July 13 2019
That summer afternoon, G/B 1204 "Adria" to Split had been readied at Budapest-Keleti 1 1/2 hours before departure:
The first two cars only were conveyed to Gyékényes. IC 407 "Corona" to Braşov in the background to the right, its engineer later asked me for the photos by mail.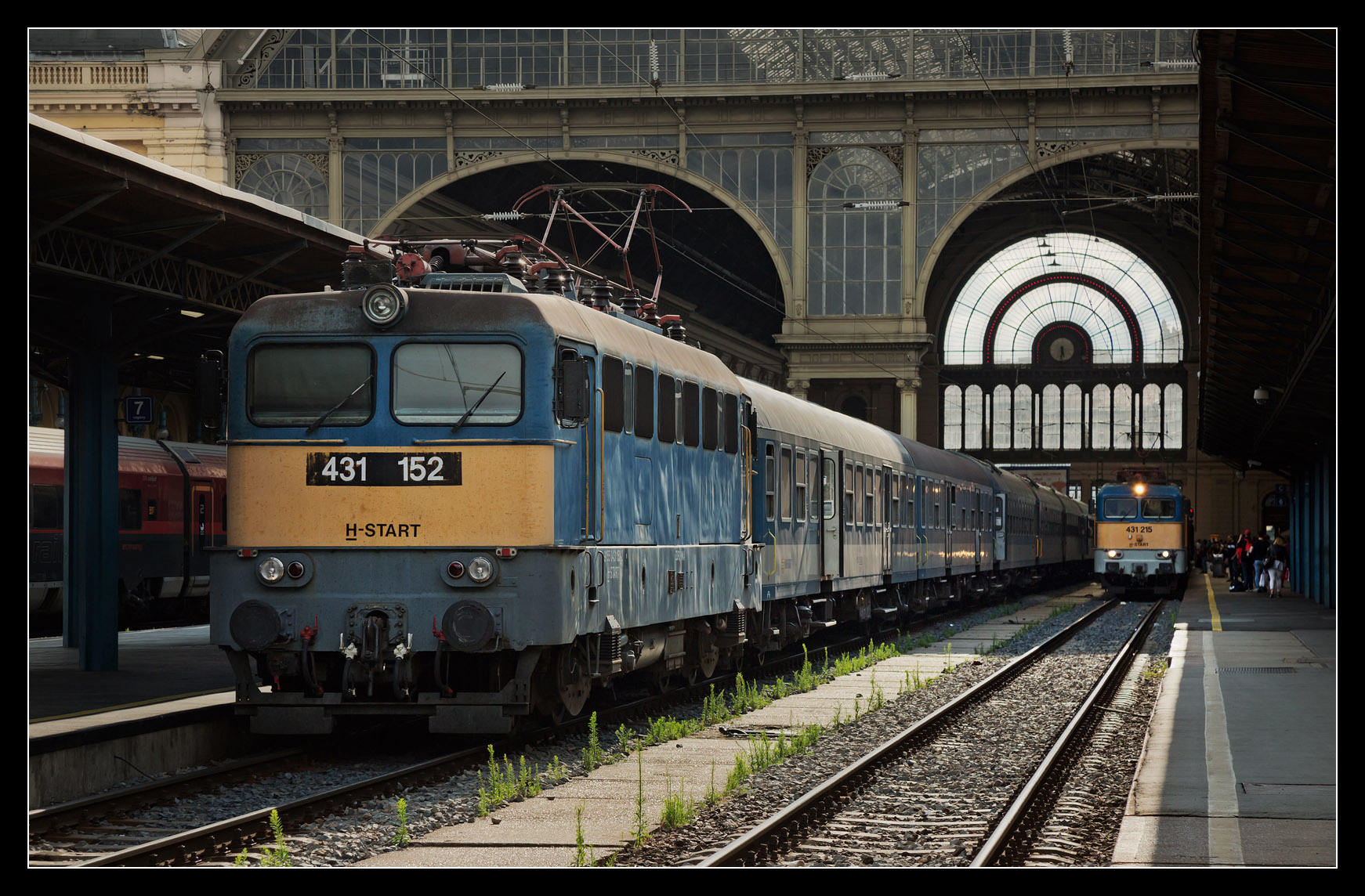 In the tropical evening of
June 29 2018
, "Giant" 630.020 accelerated G 1204 out of Budapest Kelenföld junction.
Now to the second seasonal express of the series, "Jadran" ("Adriatic" in Croatian) Prague - Split - Prague:
I met it at Zalaszentiván on
July 17 2007
, this junction has been electrified since.
The express turned north towards Szombathely, a Croatian HŽ car transporter at the back.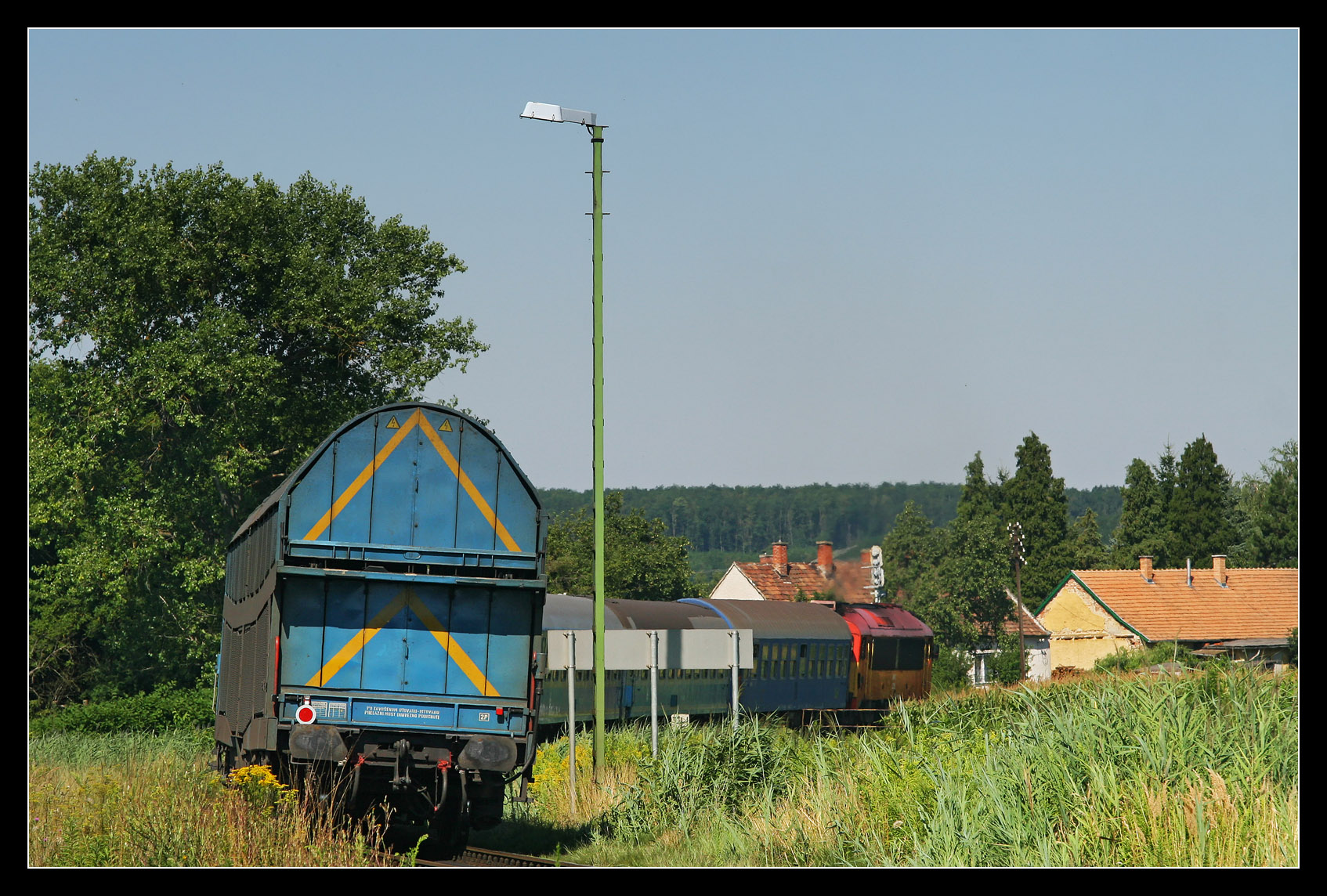 Arrival of B 824 from Split at Zagreb Gl. kol. punctually at 6:26 a.m. on
July 19 2012
.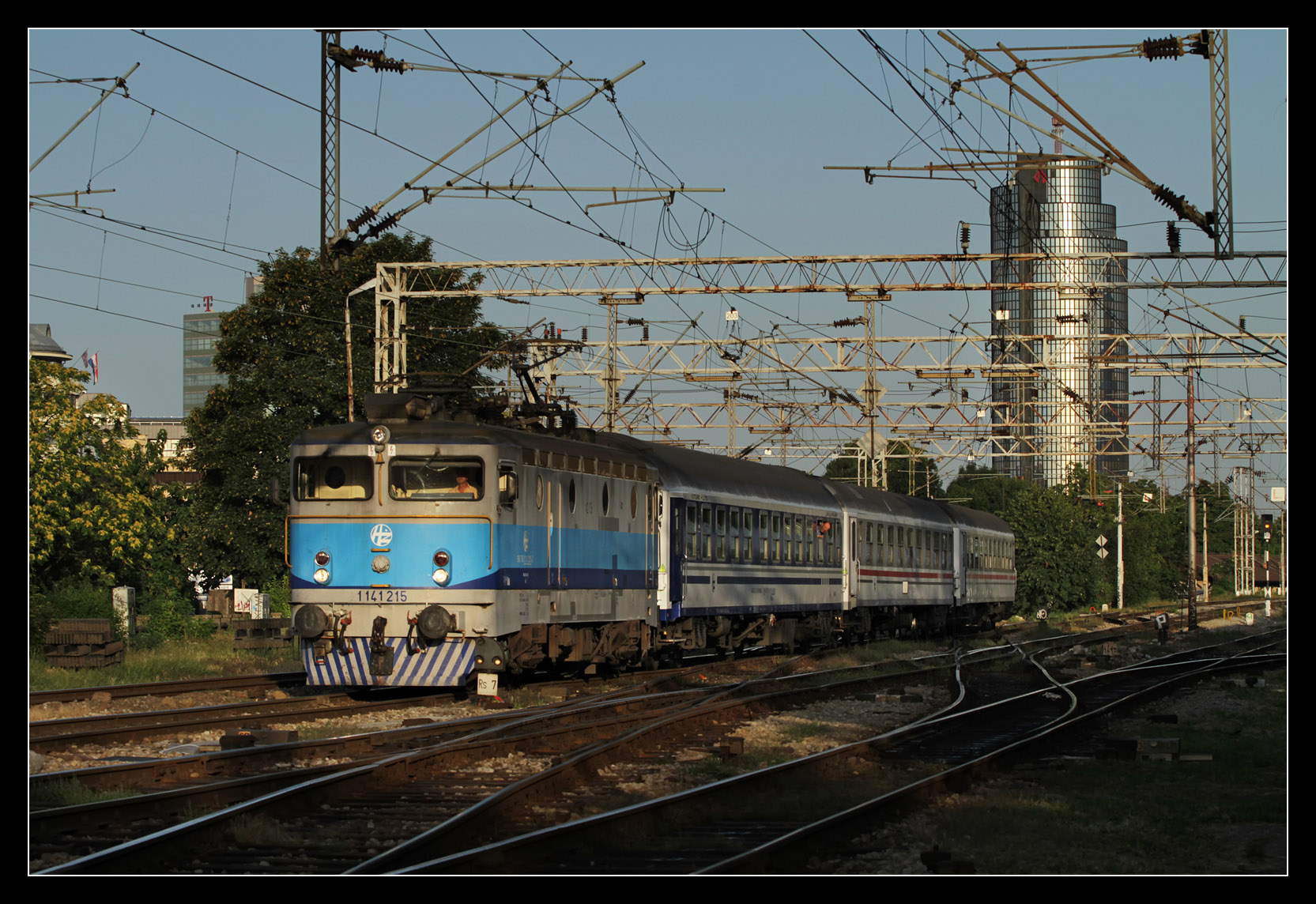 Return from an island holiday on
August 21 2009
by "Jadran" Czech ČD sleeping car.
A reflection at night on
August 17 2019
with...
... B 821 to Split.
Electric traction usually takes over to Ogulin, where engines are changed to GM diesel. Only rarely Zagreb was left already behind a class 2062, like on
July 12 2007
:
Coincidentally, a Croatian railfan filmed the same scene from outside, we later found it out via Youtube - the internet connects people:
Image from
July 26 2015
.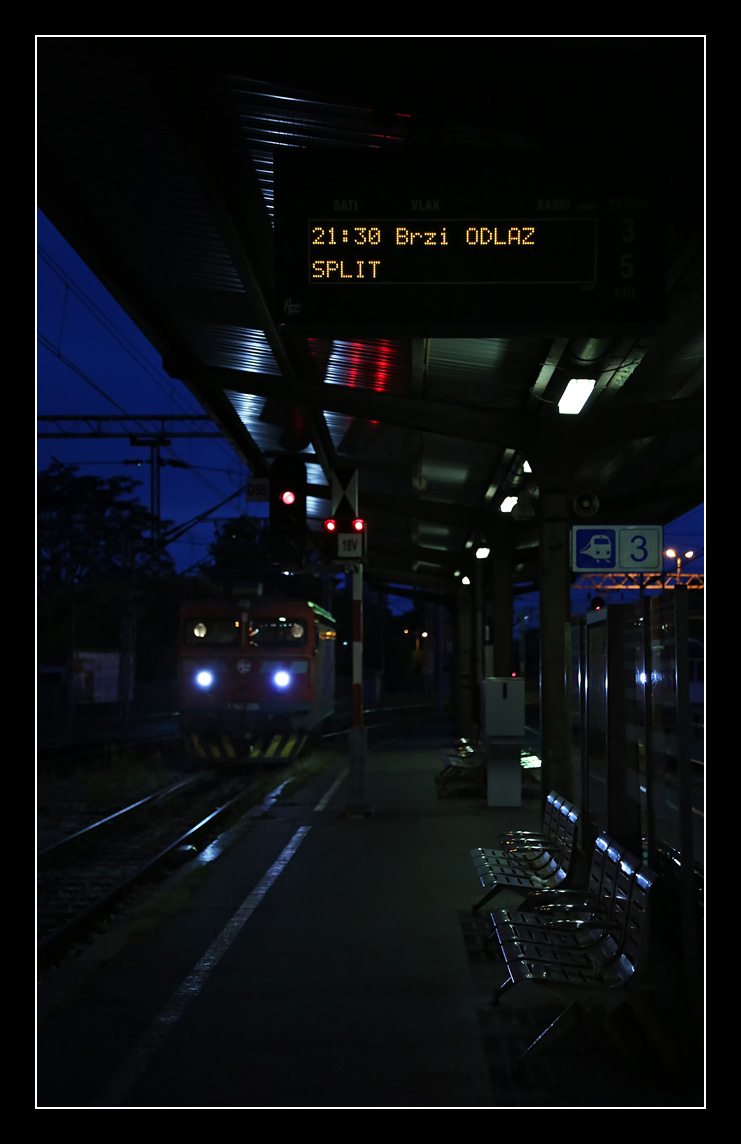 B 824 from Split at Karlovac early morning on
April 22 2011
.
B 821 had taken me to Knin still in darkness on
August 18 2019
.
Due to the separation of Croatian Railroads into different companies by sector, 2044s have taken over passenger trains on the Lika line for the past years while 2062s became exclusively freight engines. 2044-028 hauling B 1204 "Adria" in front of Knin fortress.
Back on
July 1 2008
, everything still was dominated by 2062s. Original green 2062-025 approached the same spot with B 825 before sunrise. A little more of the former Una railroad electrification was visible.
I dared to visit the former war front at Drniš on
August 11 2010
. Of course I only moved very carefully due to the land mine danger. B 825 showed up in the valley punctually at 5:09 a.m. ...
... and had climbed to my spot within five minutes.
B 1204 "Adria" Budapest - Split followed in the valley after sunrise.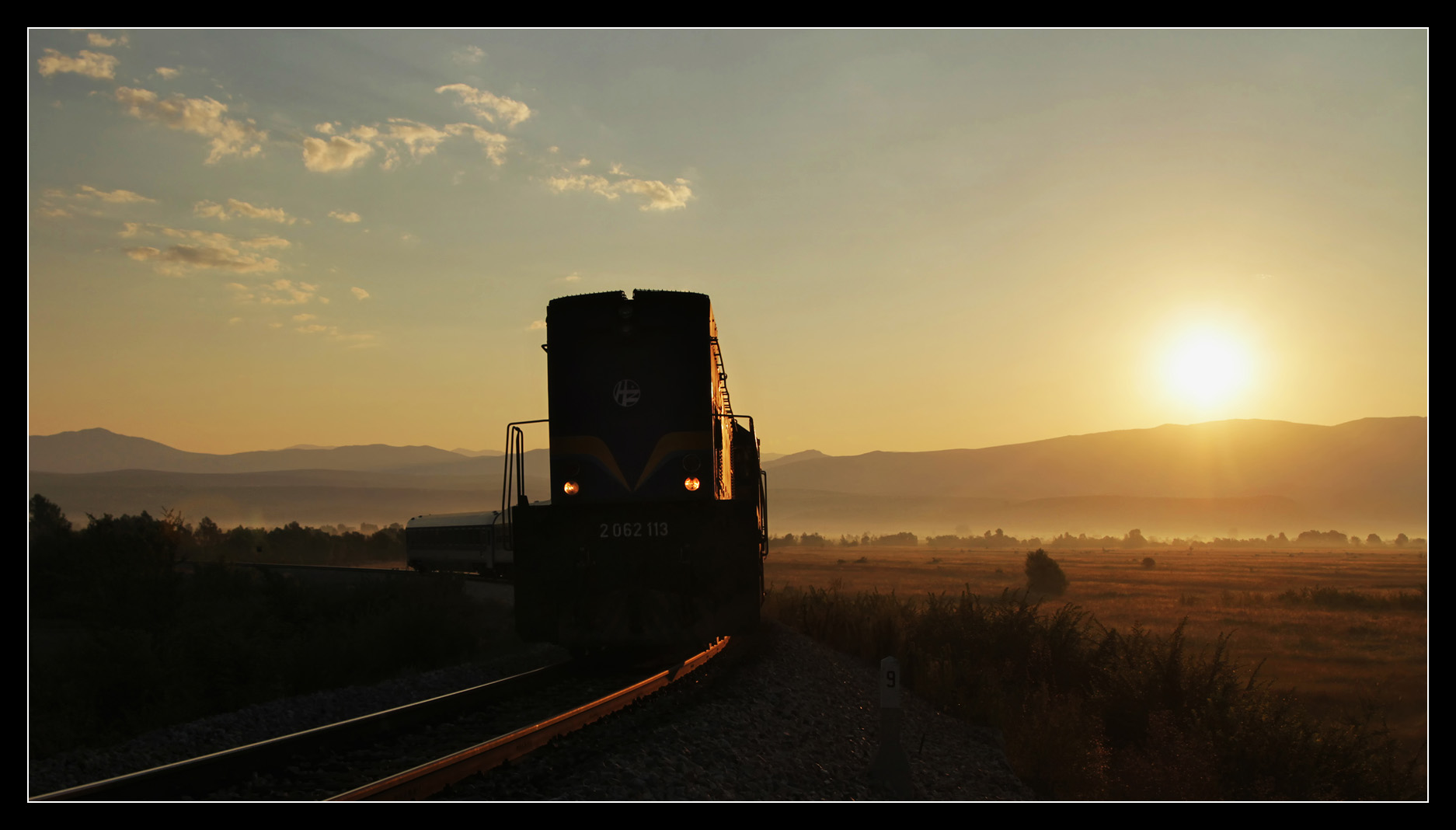 B 1823 had arrived at Unešić on
July 27 2015
, time to pick up the phone.
One of the strangely shrunk semaphore signals only typical of this station showed "clear", and 2044-008 already known from the flatlands departed under heavy deployment of sand.
I changed to a hill position for B 15800 "Adria" from Budapest.
The first morning of the GM tour on
June 28 2008
: B 1203 "Jadran" accelerated after the signal had come into view.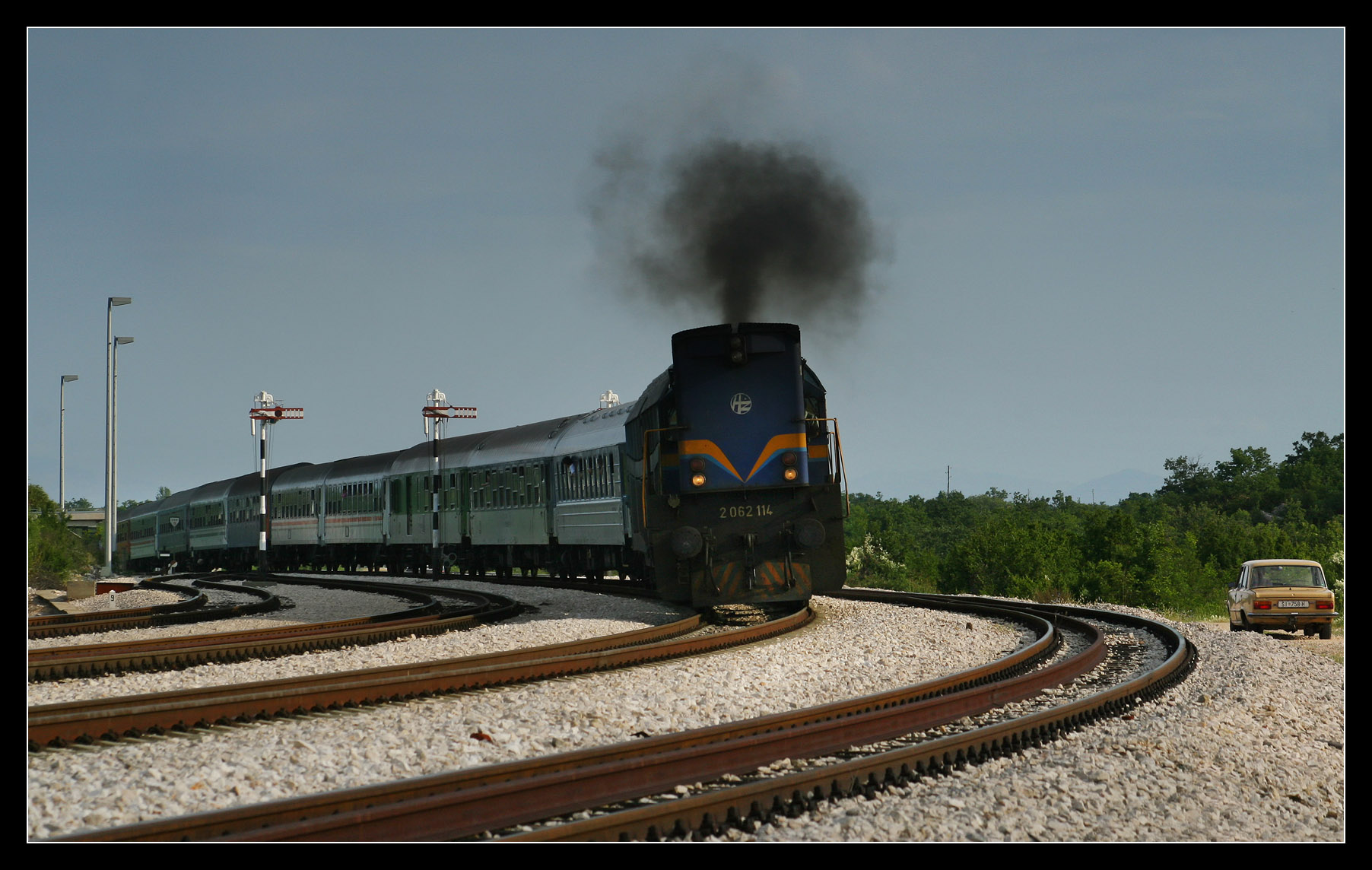 I sometimes traveled this line as a small child in the 1980s to our traditional beach holiday place Tučepi at hotel "Jadran", other times we went there via Sarajevo to visit grandma and Kardeljevo (today Ploče). On my first photographic visit to Dalmatia, I arrived early morning on
August 19 2005
at Perković, the railroad junction away from major settlements - since then also known to my non-railroad friends. B 1823 had taken me there, followed in daylight by B 825 to Split which conveyed MÁV through cars from Budapest of B 204 "Maestral" as connection to previous report parts.
HŽ 2062-1xx, so called "Turnerica"s, had been modernized by TZV Gredelj and British company Turner Rail Services Ltd. 2001-2003. In contrast to the rest of the "Ličanka" class 2062, these renewed engines are usually exclusively found on the Lika line Ogulin - Knin and Dalmatian railroad Knin - Perković - Šibenik / - Split.
The one non-night train picture of this part: I took a local DMU towards Knin one station to Koprno, across the newly built freeway. Into the other direction came... a Croatian original GM! 2061-011 (ex-JŽ 661-022, GM-EMD #26215 / built in 1960) hauling freight to Šibenik.
Depature of B 1823 from Perković to Split on
August 8 2012
.
And
July 18 2012
.
On
August 15 2009
, we had arrived as pure island tourists by B 1204 "Adria". Through cars from Belgrade were conveyed at the rear of the train.
As railroad photographers, we awaited 1 3/4 hours delayed B 1823 including "Jadran" through cars on
July 10 2009
. Thanks to the delay already in sunlight.
One hour delayed B 825 followed half an hour later, leaving a through car to Šibenik here. The second GM took over as Pu 5831 down the line to the left (operating as Pu 5821 due to the massive delay).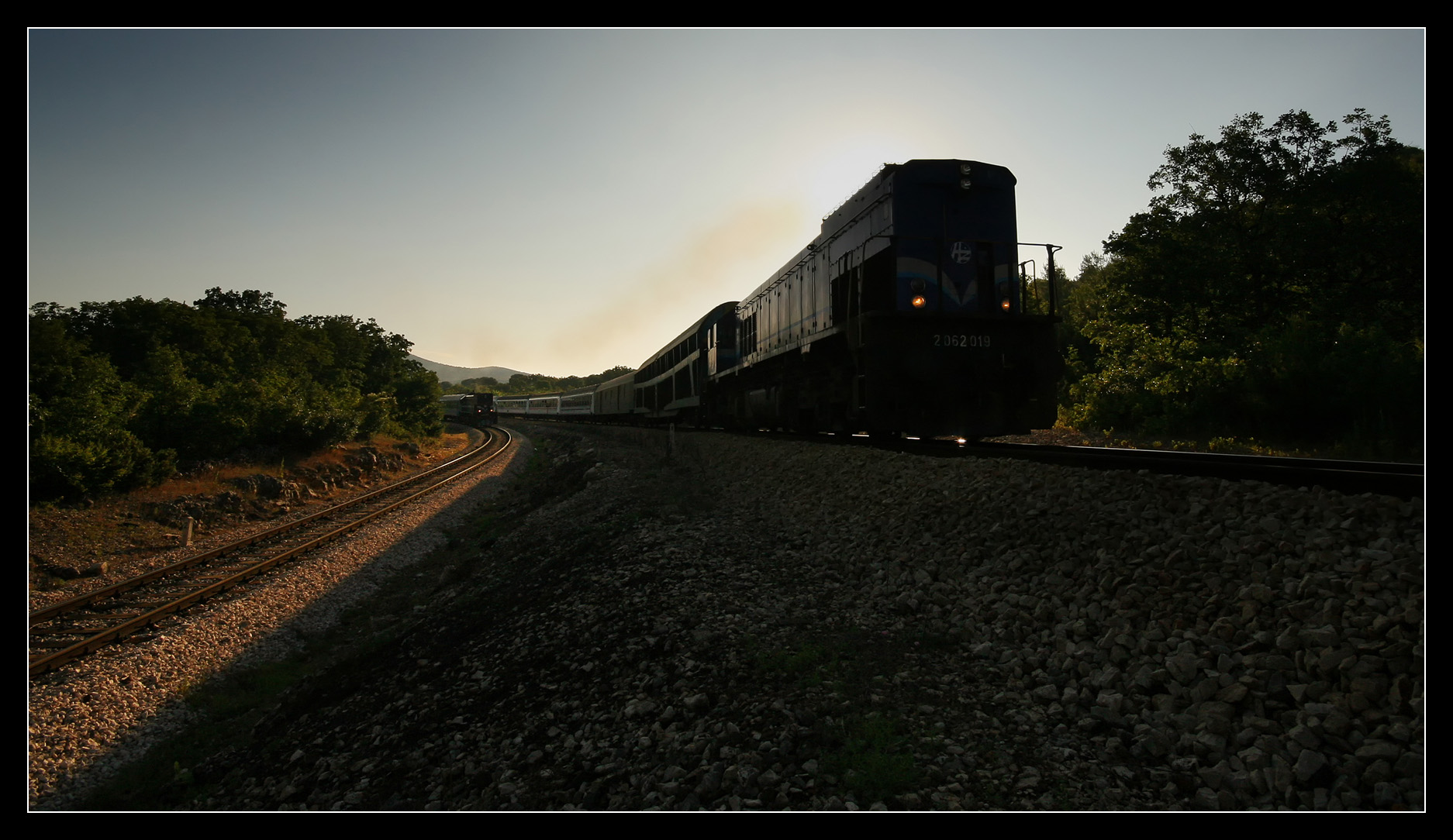 Green 2062-025 departed Perković with B 1822 to Zagreb as conclusion of the Dalmatian GM tour in the evening of
July 1 2008
. Afterwards, I had a convenient MÁV single sleeper compartment on B 824 / 205 "Maestral" to Varaždin.
Exact spotlight for punctual B 825 on
July 8 2009
next to the Split-side home signal of Primorski Dolac.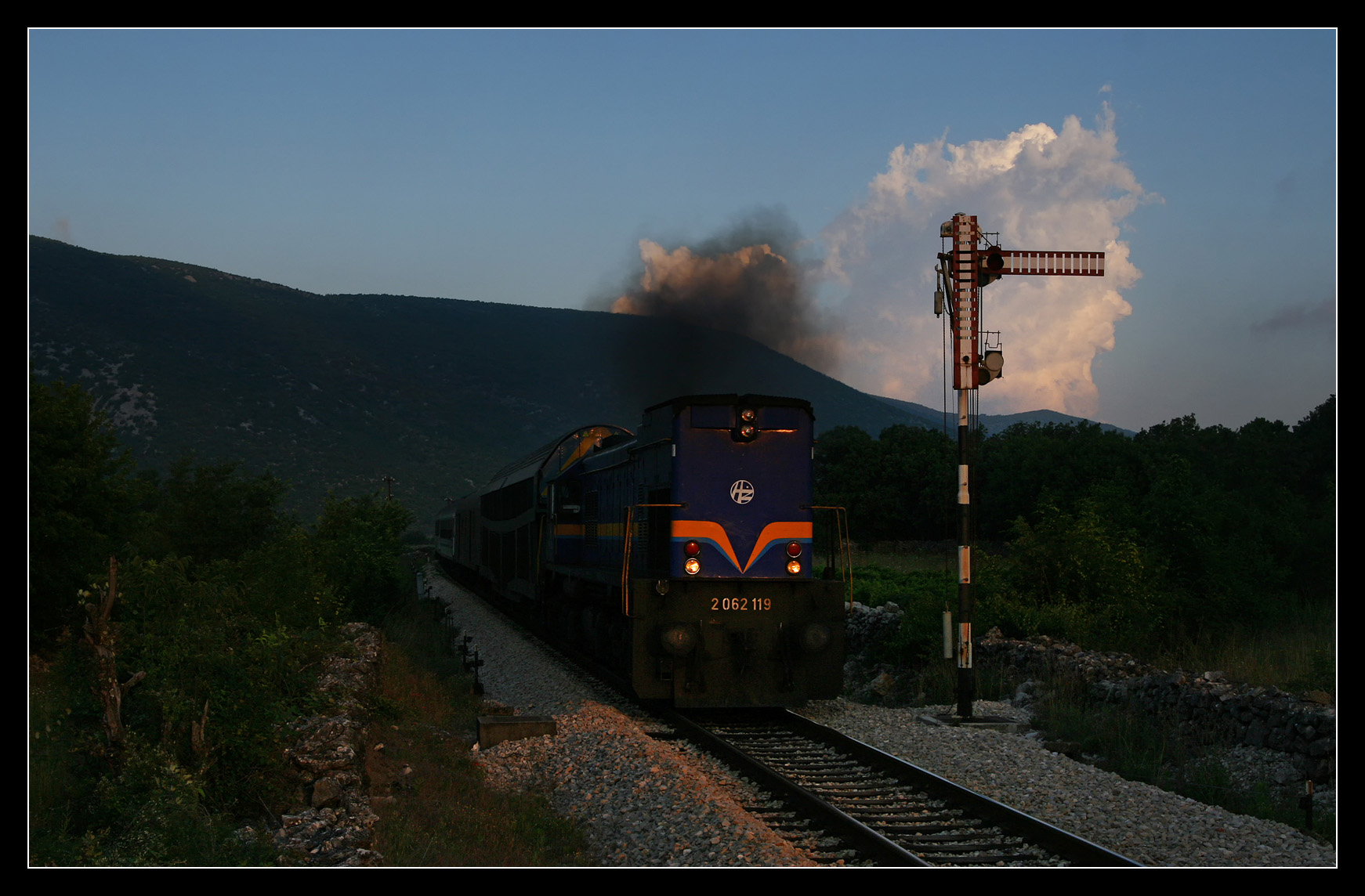 1998-2003 newly built church St. Anthony of Padua can be spotted in several of the following images.
Photo clouds in Dalmatia? How untypical...
That's more like it: B 1823 including "Jadran" thundering up the grade on beautiful Sunday,
June 29 2008
.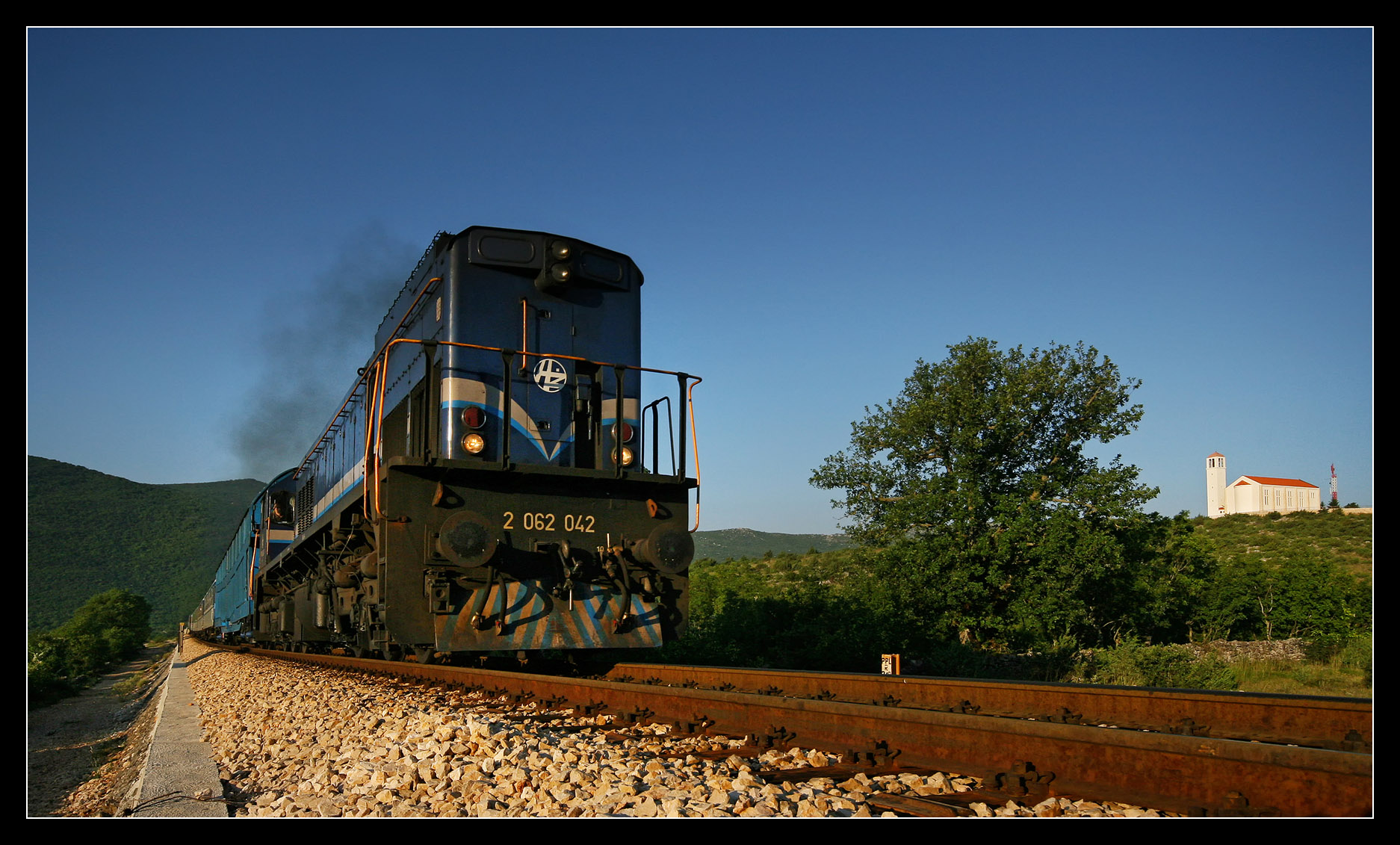 I had arrived over the weekend and was rewarded: 2062-025 once more - with Austrian ÖBB car transporter and couchette car, leaving Vienna Saturday afternoon by EuroCity 159 "Croatia" and taken over at Zagreb by B 825.
B 825 on
July 14 2007
including pink disco car.
Bakovići stop is located at the crest of this horseshoe curve.
B 825 on
July 25 2006
.
Brdašce is undoubtedly the favorite spot, an abandoned mountainside house passed by long night trains struggling with the steep winding grade. 2044-029 in a sorry state hauled B 821 on
August 19 2019
. The "Adria" picture from this spot was already shown in report part 15.
Of course, bigger GMs are more spectacular: 2062-042 with B 1823 on
July 14 2007
pulling ČD through cars including HŽ sleeping car in old livery.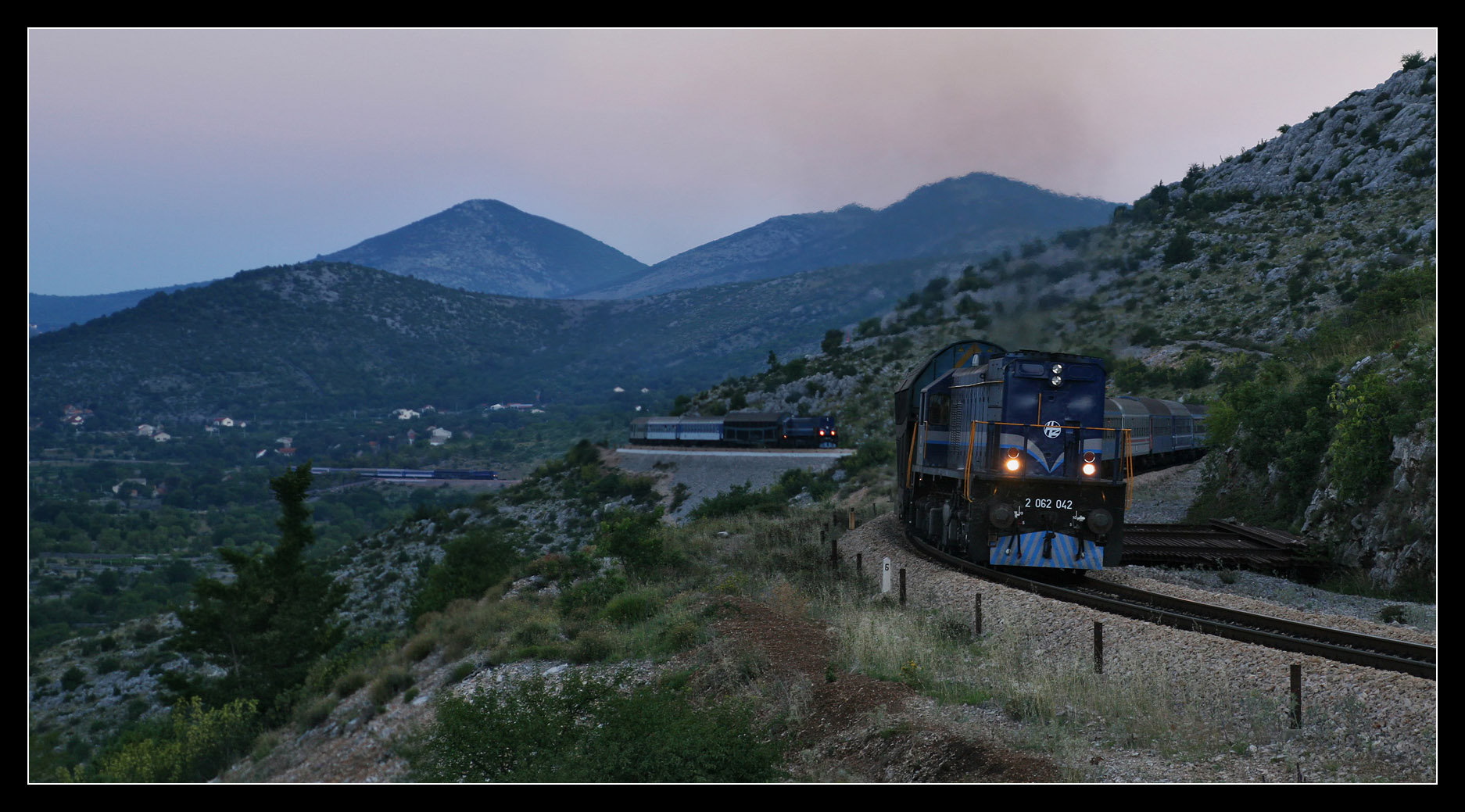 Virtual sandwich with B 825 at Primorski Dolac station in the background and in the foreground at Brdašce on
August 20 2005
.
This is the station.
"Jadran" thrashed up the grade hauling three car transporters.
The train took a minute just around this corner. Next, I waited for my local train connection to Perković. Do you still remember that my non-railroad friends also know Perković? Well, I wanted to meet them at Gospić taking ICN 520. What came first? Of course the ICN, the supposedly connecting local train followed behind, one hour delayed... ;-)
We still managed to get to our fishing hut with boat in the national park on the island of Kornat - one of the most beautiful holidays, I can recommend it to anyone who wants to get away from the tourist hustle and bustle.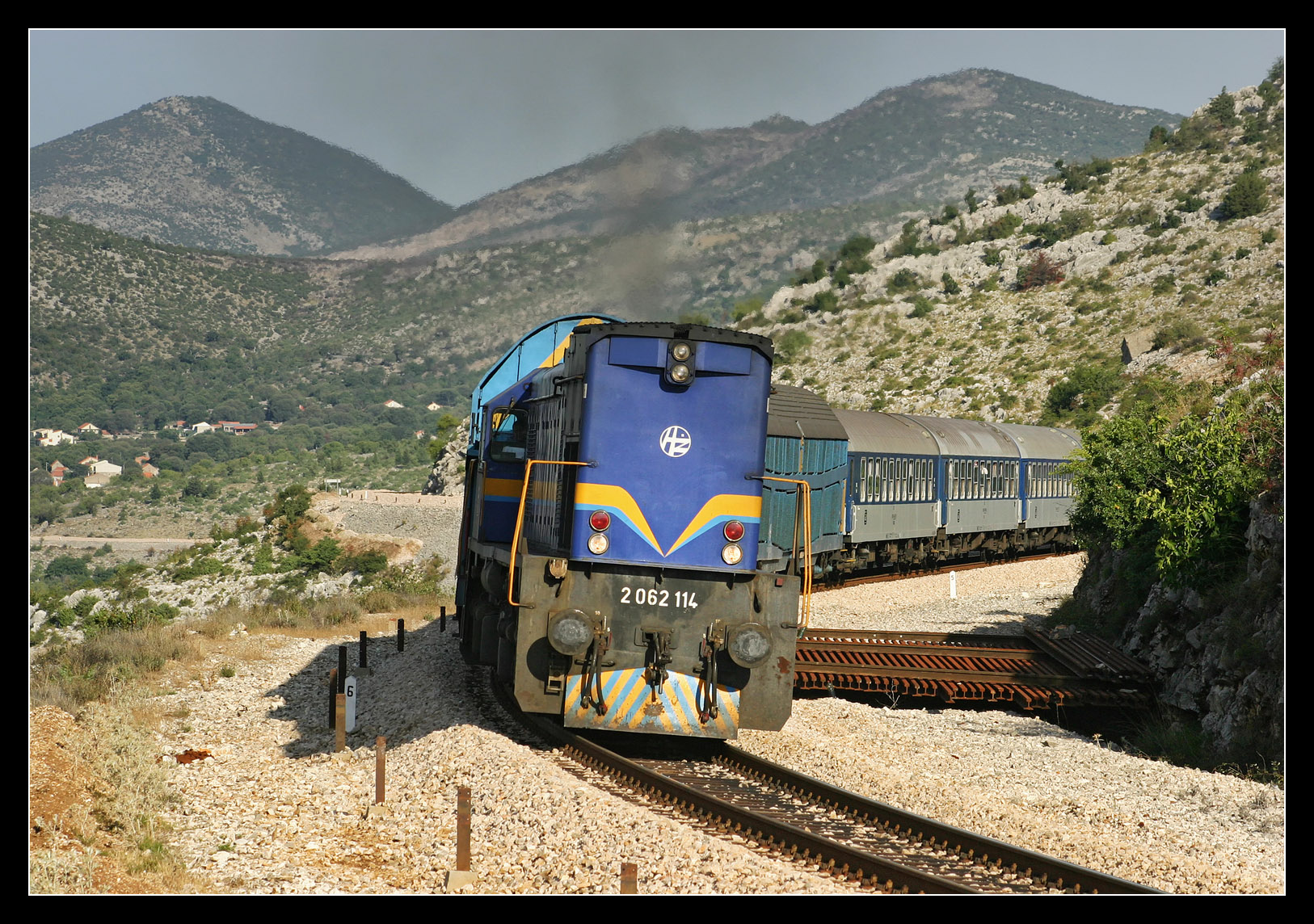 B 825 approached Brdašce on
July 18 2012
in a virtual sandwich.
And artificially elongated around Preslo stop horseshoe.
B 825 dieseled uphill towards Preslo on
July 26 2006
.
MÁV sleeping car from "Maestral".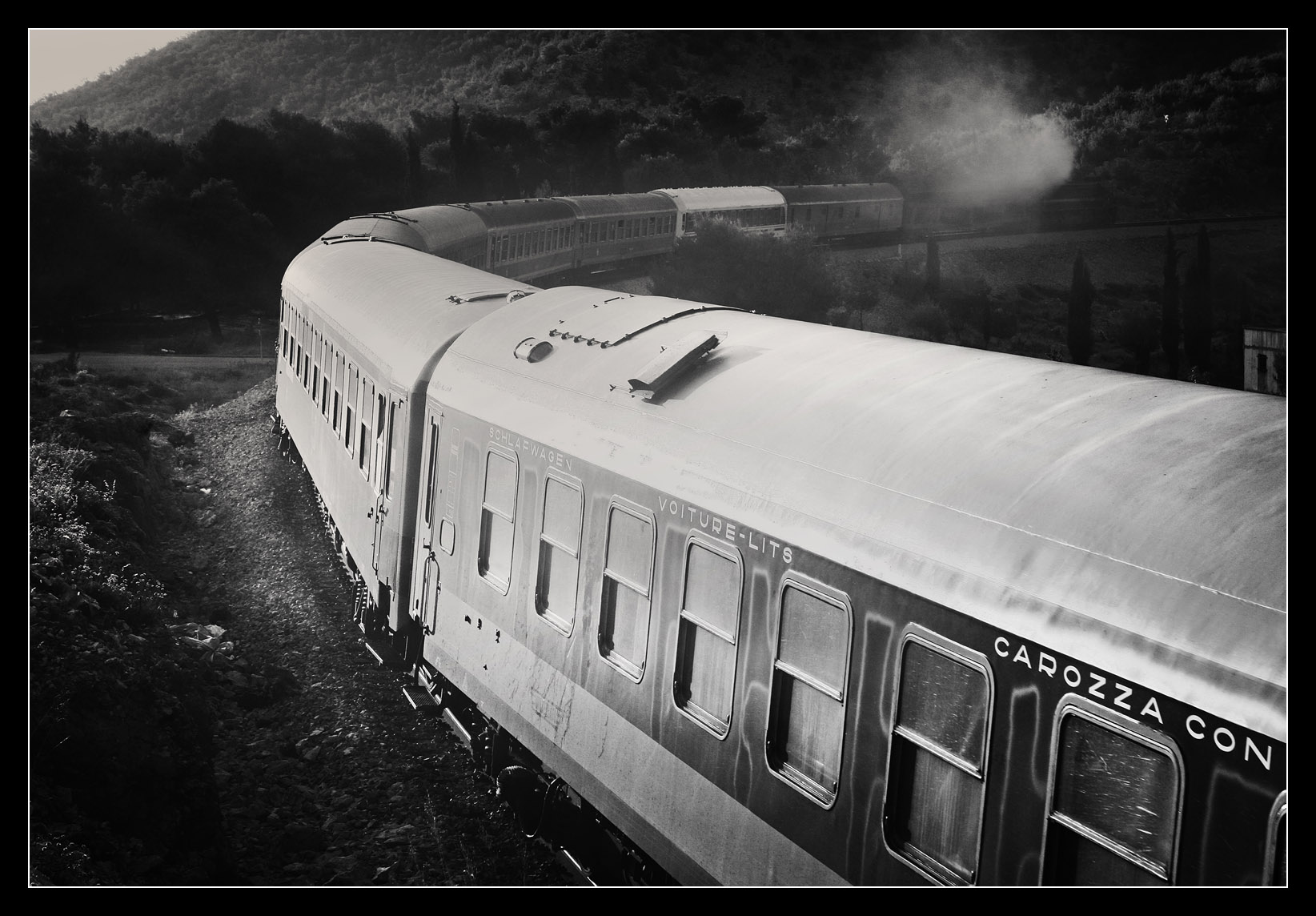 Afterwards, we met "biggg spiderrr" at Preslo stop (only for spider lovers):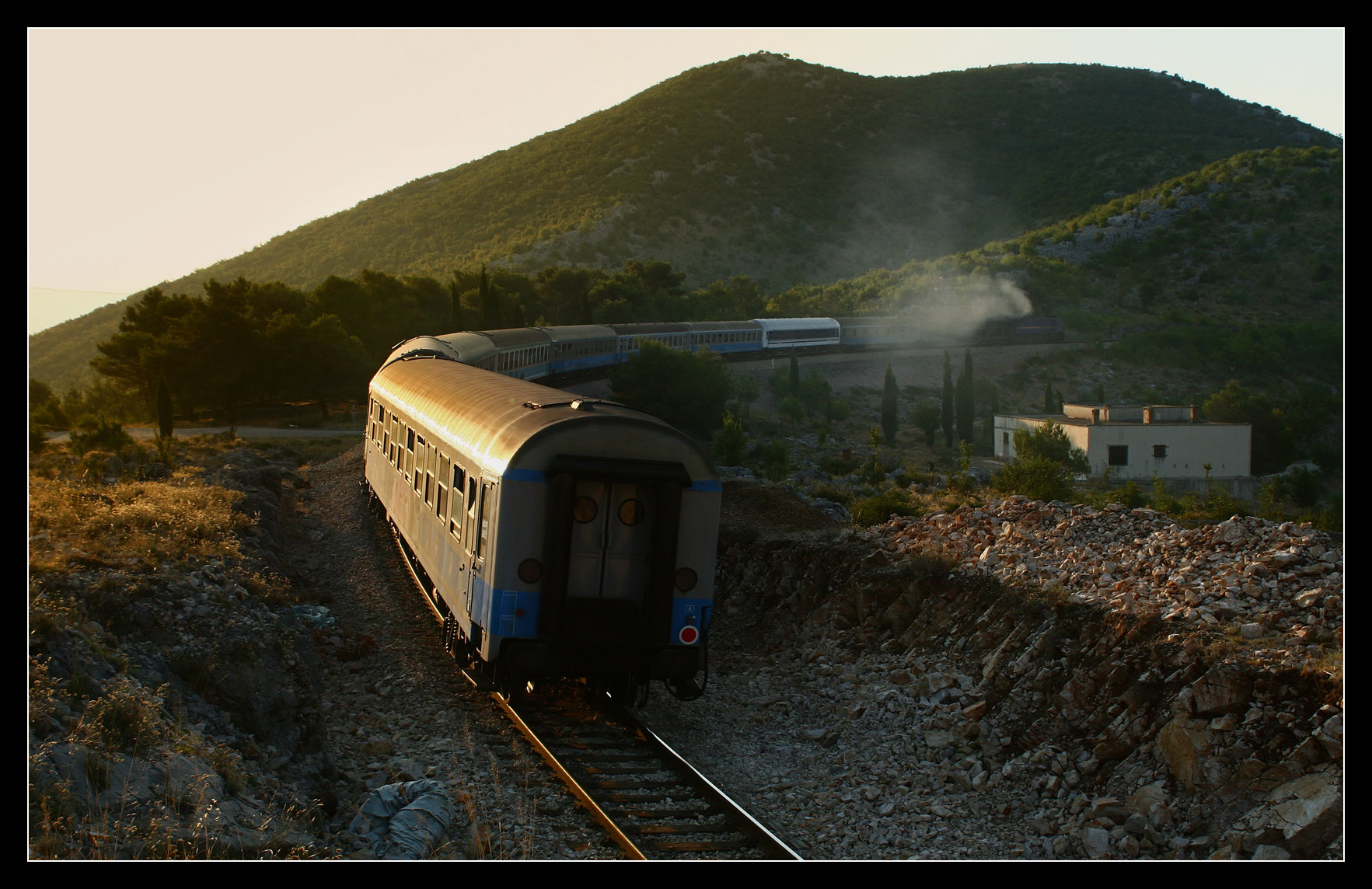 Next time, we will reach Split across the mountains!