Hi,
To the previous part of the series:
Regional Rail Express - 23: Maestral III (50 p.)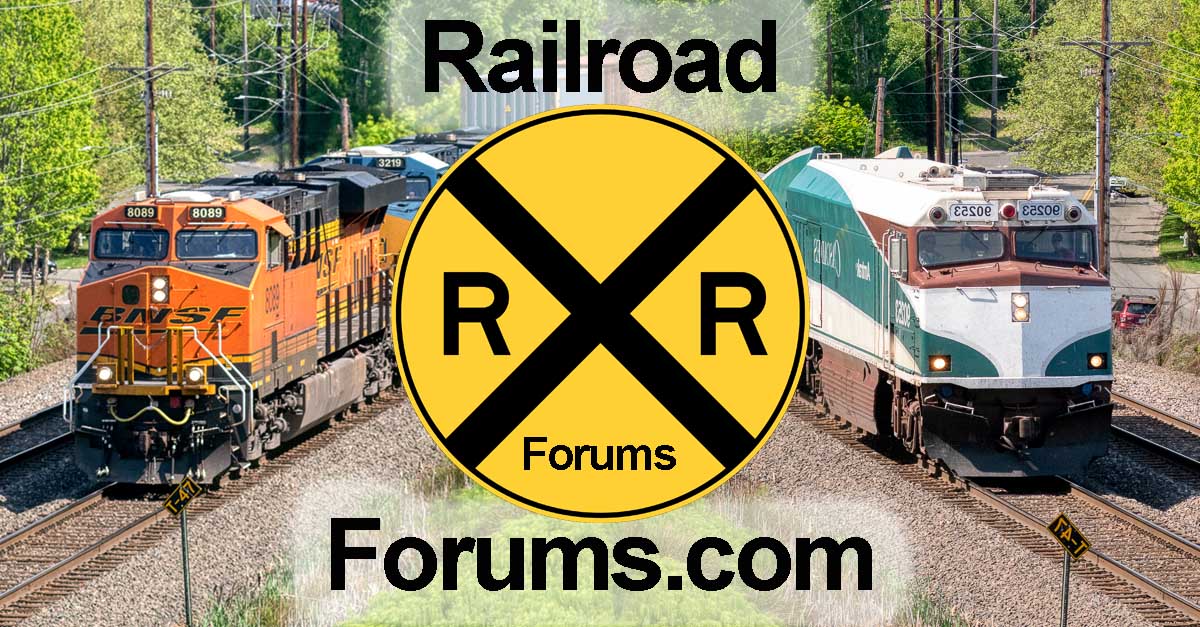 Hi, To the previous part of the series: Regional Rail Express - 22: Maestral II (50 p.) https://railroadforums.com/forum/index.php?threads/regional-rail-express-22-maestral-ii-50-p.15447 Videos for this part: August 2018: August 2016: July 2008 July 2007: July 2006: July 3...

railroadforums.com
August 22 2016
We start at the wet dead-end tracks of Zagreb main station...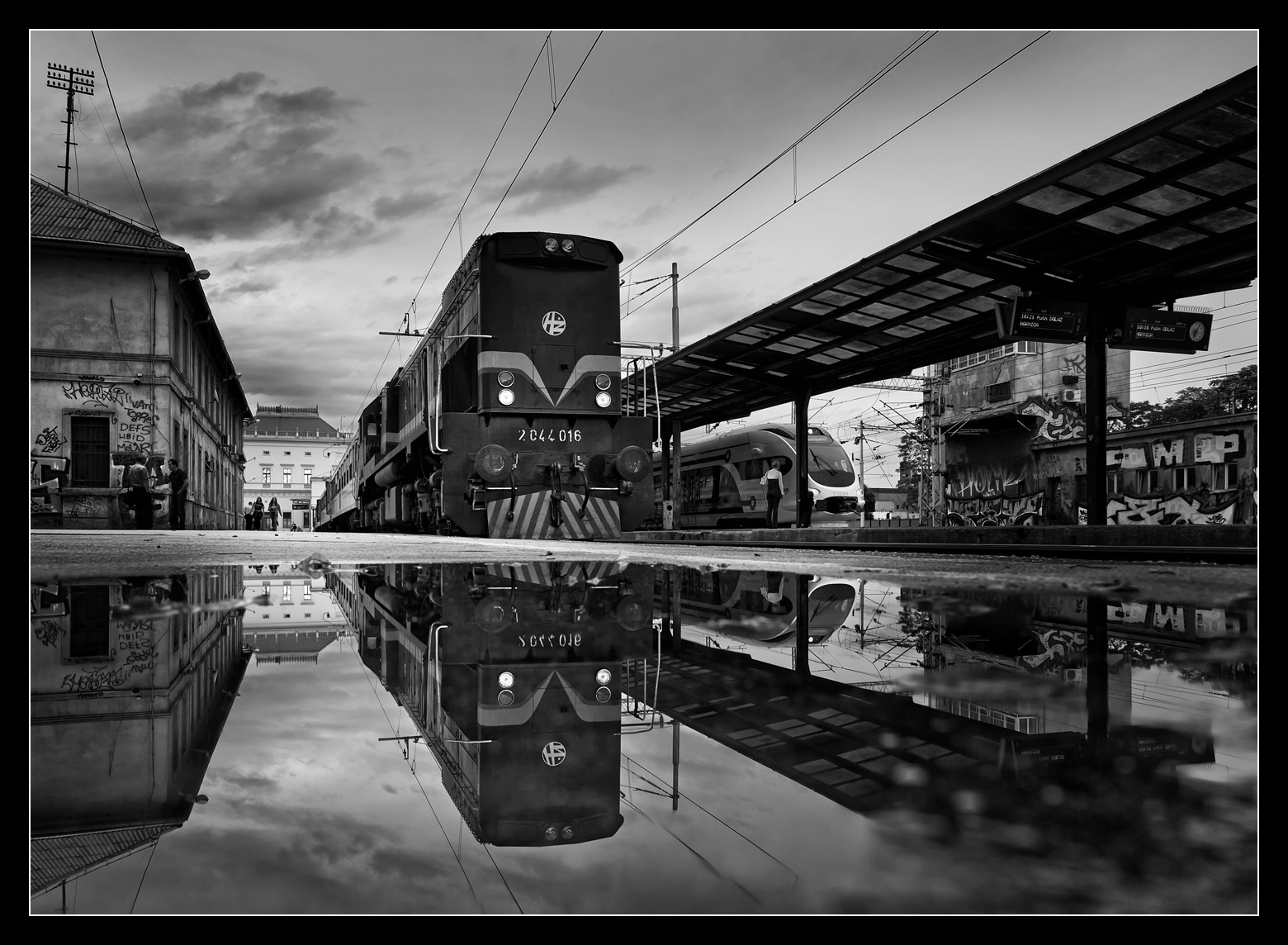 A ray of light in the morning of
August 23 2016
as Pu 3101 Ðurmanec - Zagreb passed through Kupljenovo.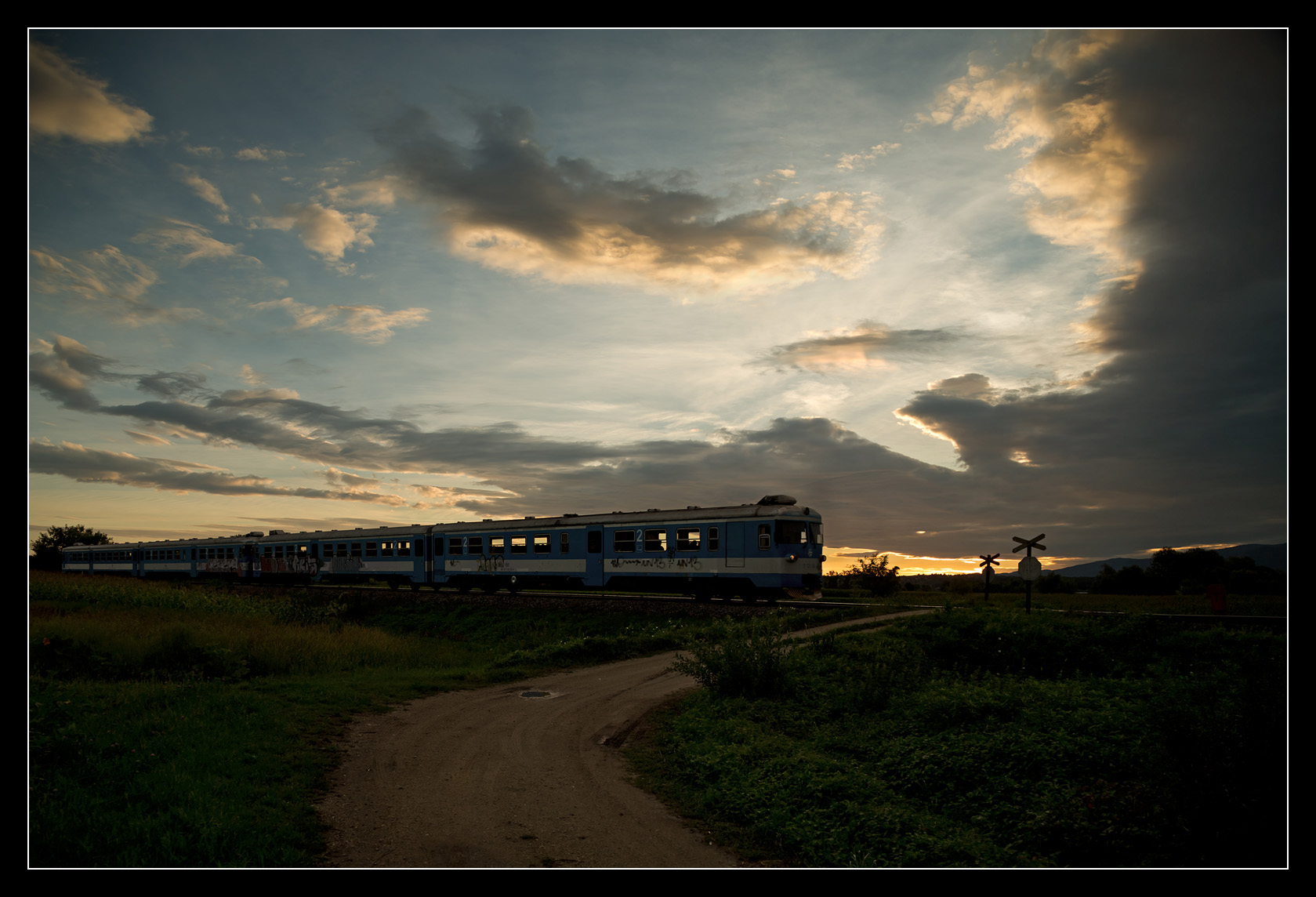 I waited at Žejinci for Pu 3017 Varaždin - Zagreb in the late afternoon of
July 17 2012
.
A short sprint across the meadow later.
The time before was spent at Novi Dvori, the first station after mainline junction Zaprešić.
B 790 Zagreb - Kotoriba rushed past the station.
Pu 3010 departed towards Kotoriba 20 minutes later.
Pu 3015 accelerated towards Zagreb, consisting of about all car- and livery-variations in common use at the time. Hauled by already known but now modernized 2044-017.
Spot on an almost finished road bridge.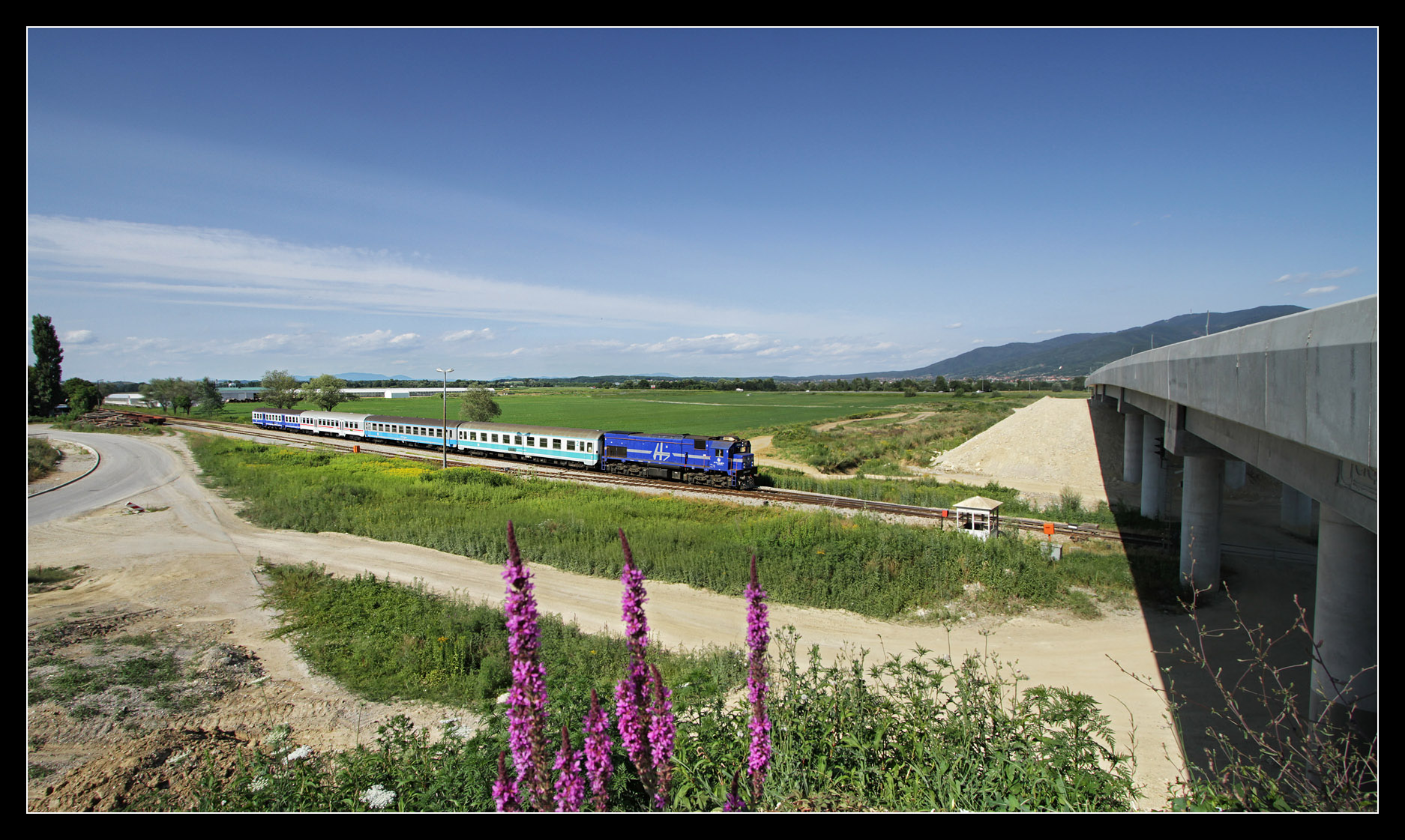 Pu 3012 stirred up dust of the farm road below.
Next stop Zaprešić, Pu 3014 came along. The virtual meeting with B 414 and more from this area was already shown in this report:
(Pre)-Alpine Connections - 1: Following Lisinski (50 p.)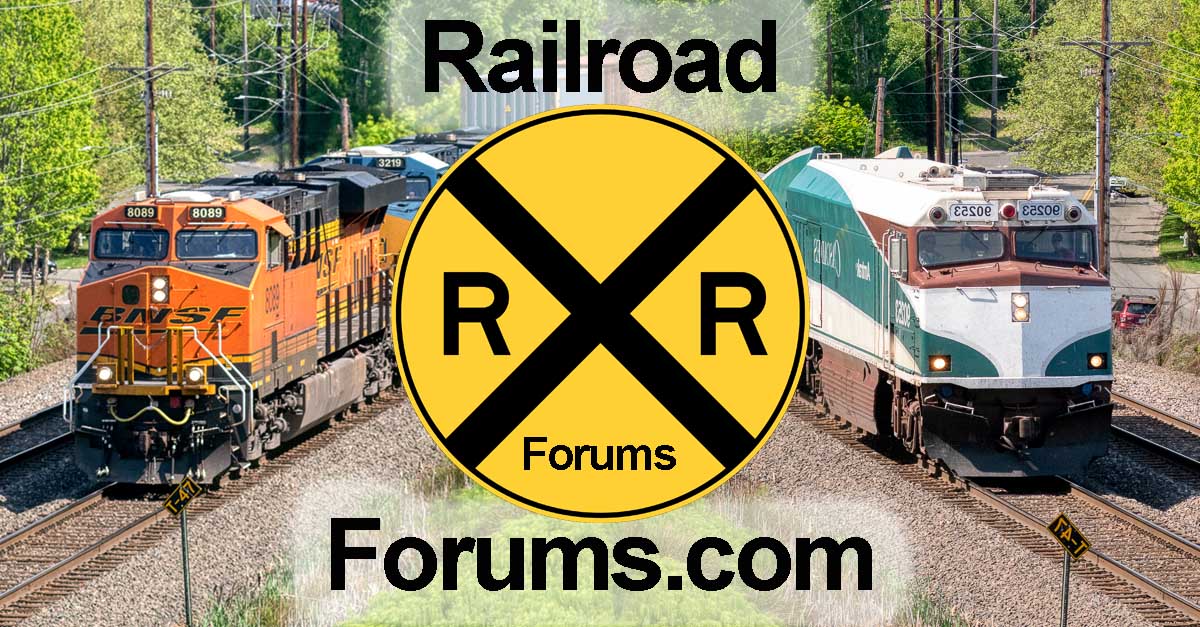 Hi, The video for this series (please set to 1080p quality / full-screen mode): https://youtu.be/VGbL1eX4wik We start our series of summertime reports following overnight trains and electric old-timers. "Lisinski" is the name of the classic overnight train between Zagreb (Croatia)...

railroadforums.com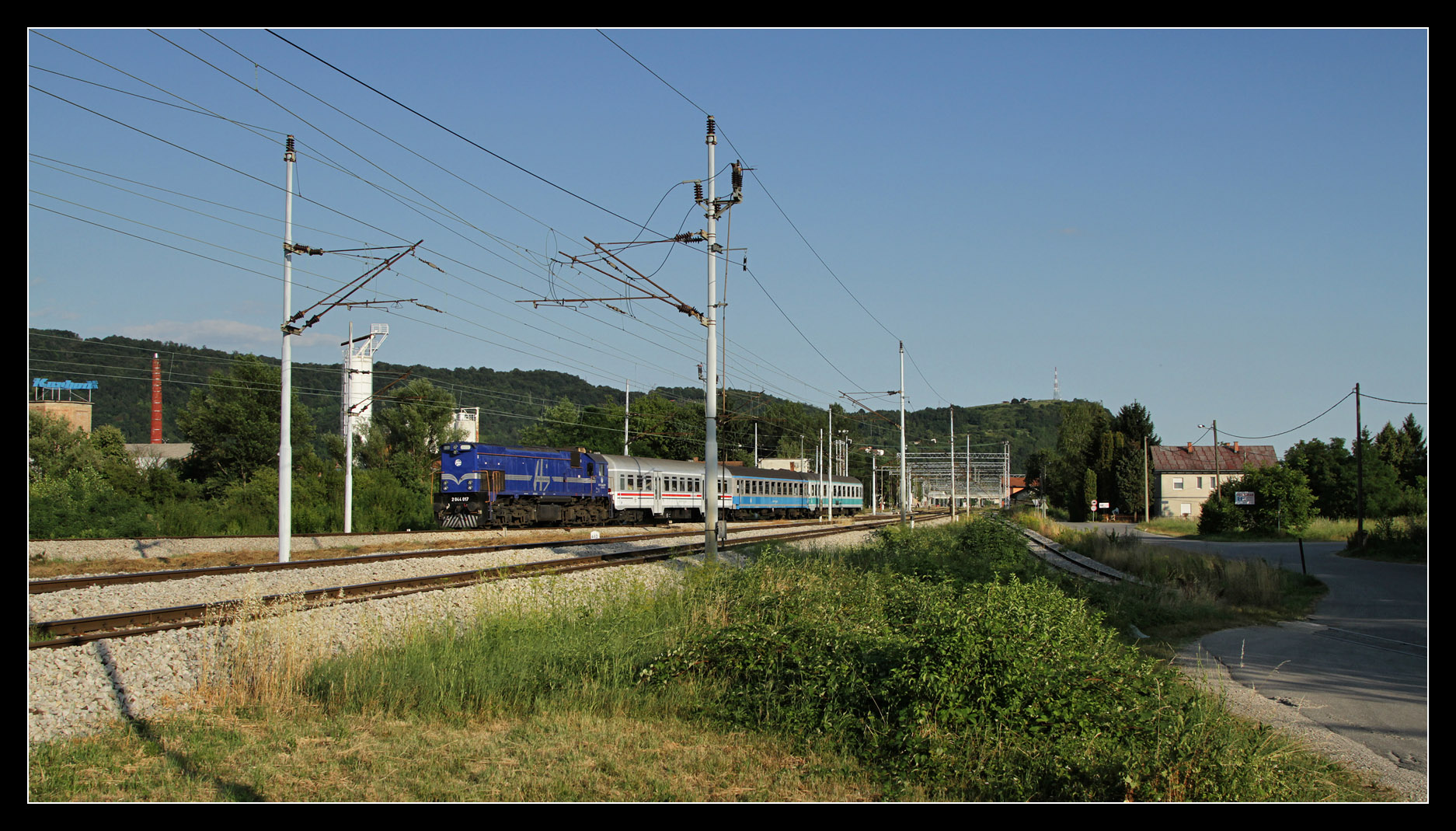 Starting the GM-tour on
June 27 2008
, you could get into the mood for the beach at the Mojito-Bar - although the weather appeared gray at first.
Back then, the electrification stopped in this curve, now it continues to Zabok.
Departure of Pu 3016 to Kotoriba on
July 17 2012
.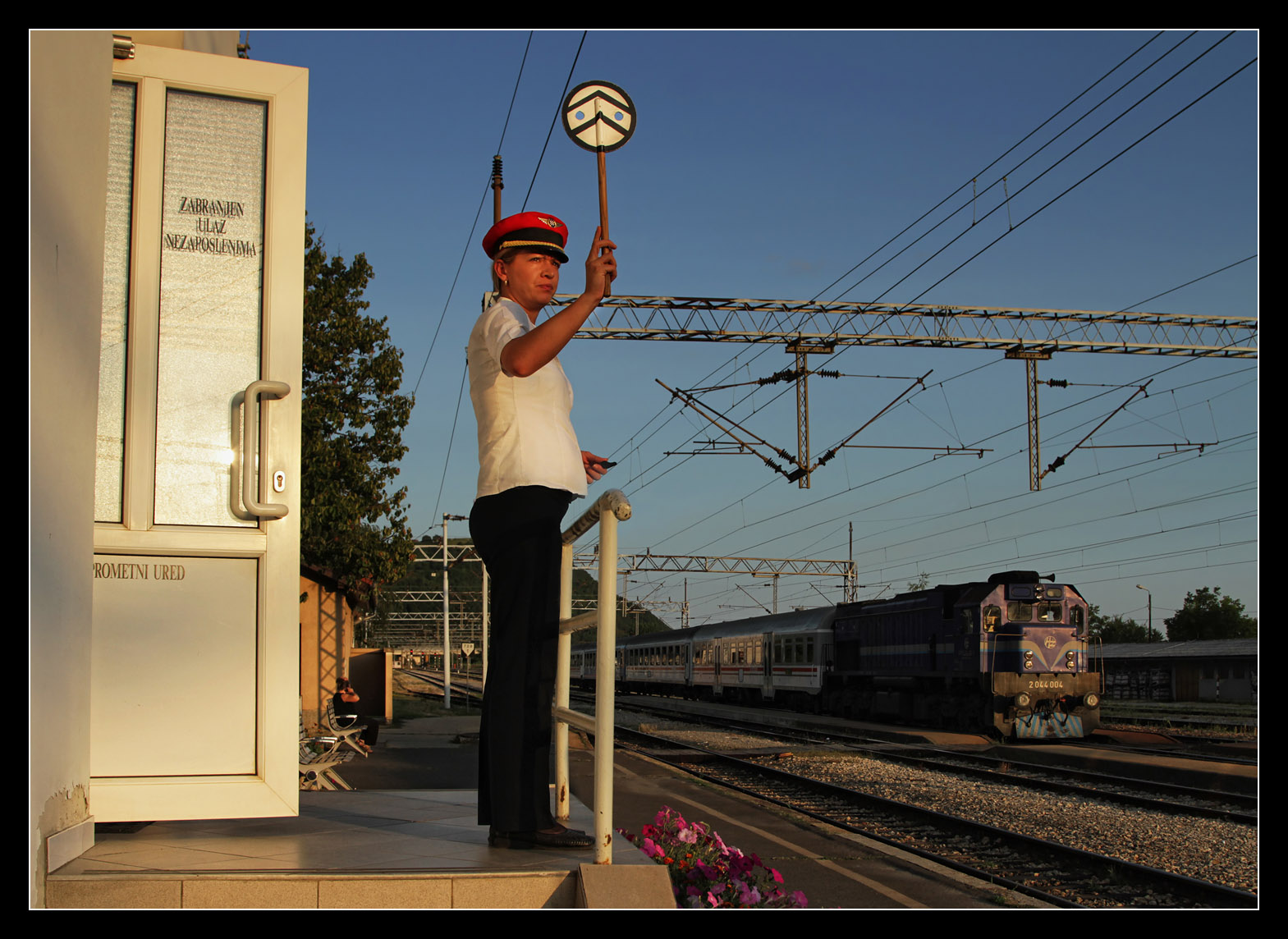 2044-007 hauling Ub 995, now finally rid of its green colors but with new American-style lit loco numbers (newly made, as they don't correspond to the old Yugoslav era numbers in most cases).
Before reaching Zagreb Glavni Kolodvor (main station), Zapadni Kolodvor (western station) with its switchyard had to be passed. Pu 3015 on
July 12 2007
.
2132-304 had just been modernized by Gredelj.
Reading your magazine and waiting for the trains to pass - like on a regular road crossing.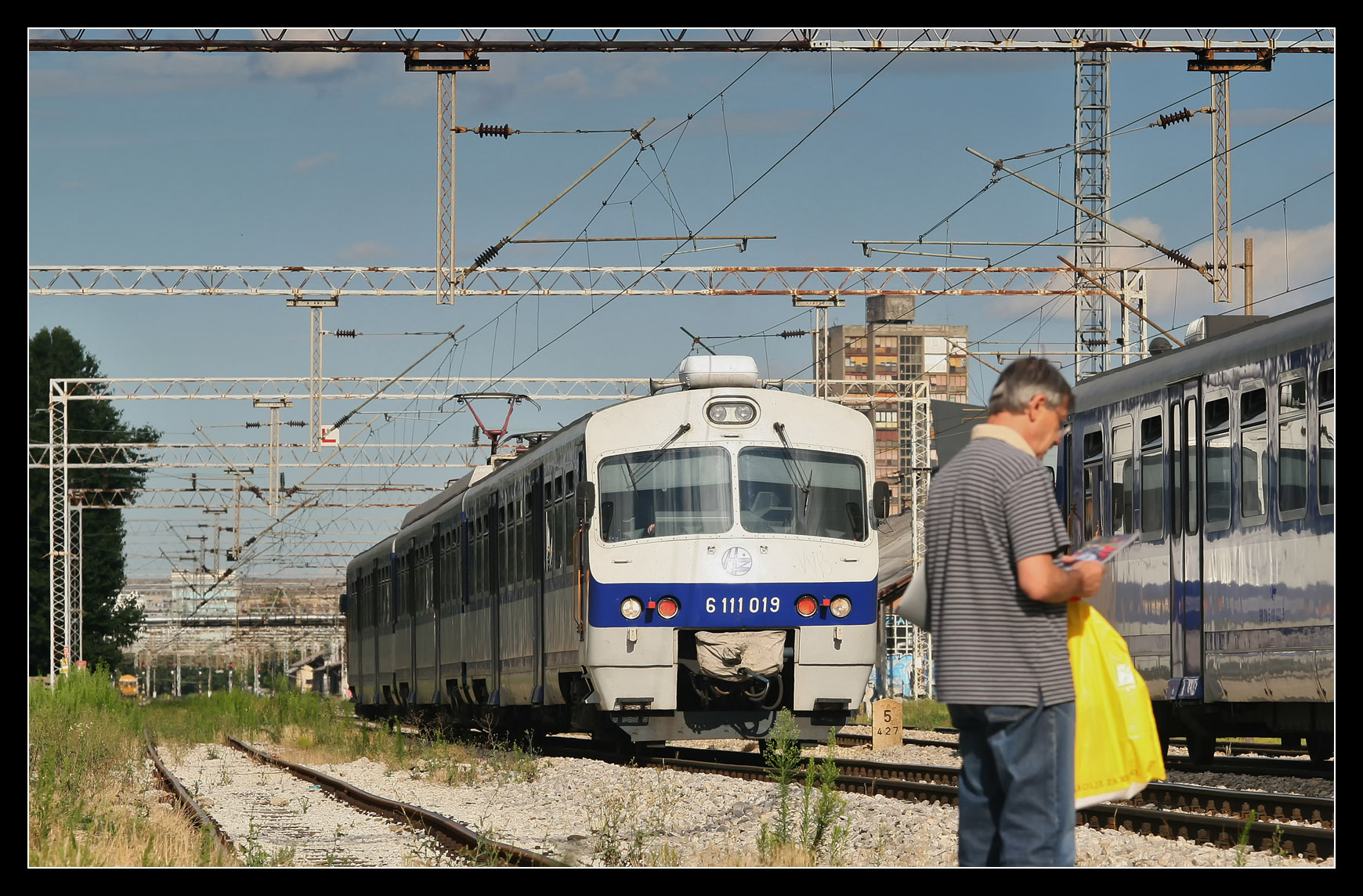 On Jukićeva, you can find the bar "Roni" where it is even possible to stay the night, but it looked like a rather shady honky-tonk... ;-)
Pu 3003 arrived at Glavni Kolodvor in morning light at 6:20 a.m. on
July 19 2012
.
You cannot count on sunlight during summer at Zagreb, especially in the afternoon the chance of a thunderstorm shower is above 50%.
It became particularly dark while Pu 3016 departed towards Kotoriba at 7:03 p.m. on
July 7 2009
.
Such a deluge began shortly afterwards, even the pillars supporting the roof were spouting water.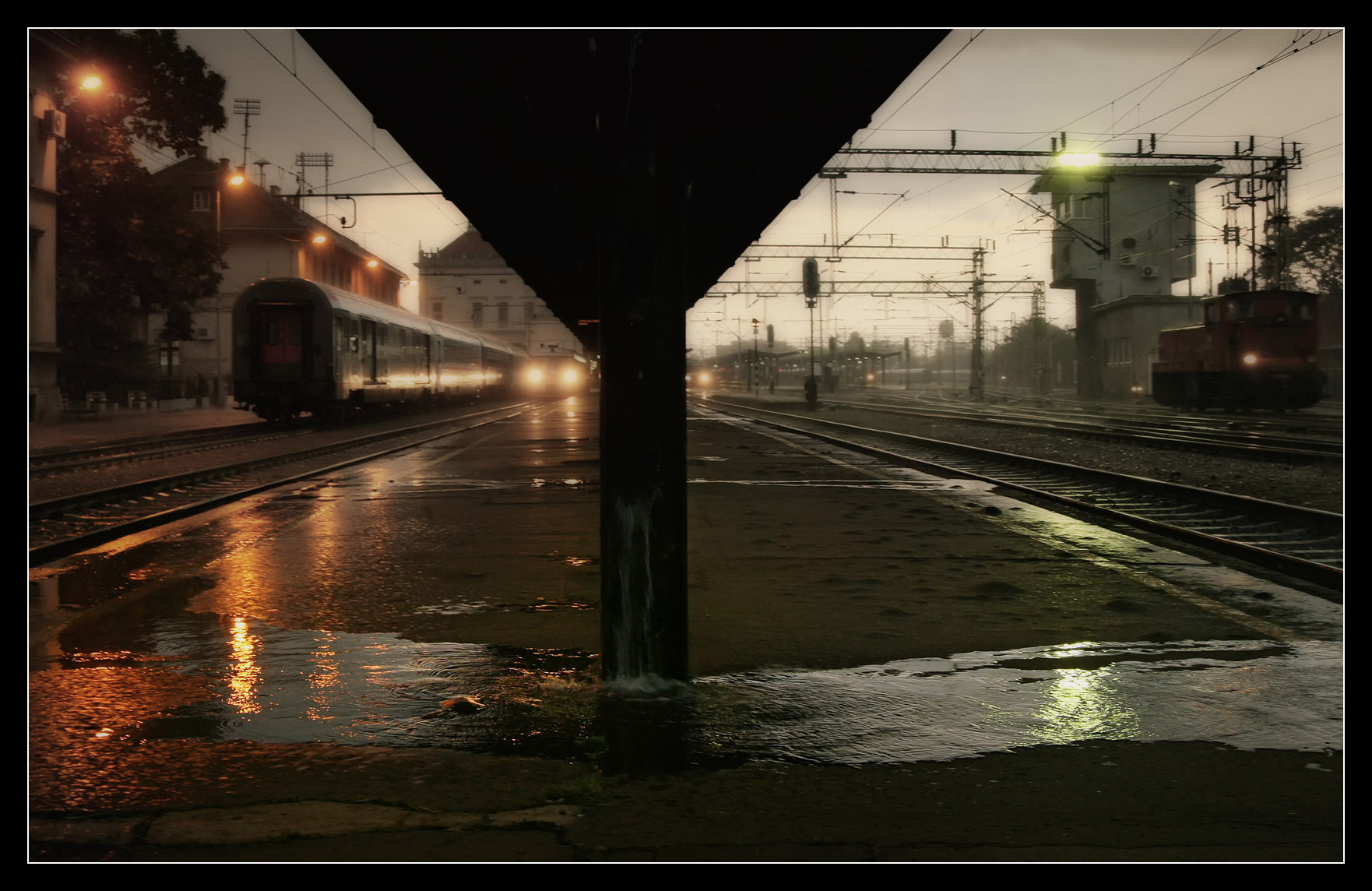 Still green 2044-007 arrived once more hauling Ub 995 on
June 27 2008
.
This semi-fast train operated on a strange horseshoe route, returning behind diesel from Zagreb to Koprivnica close to Varaždin via the electric mainline. 2044-007 left the storm clouds behind.
Arrival of Ub 995 on
July 14 2007
.
On
July 17 2012
, I also did not arrive at the dead-end tracks.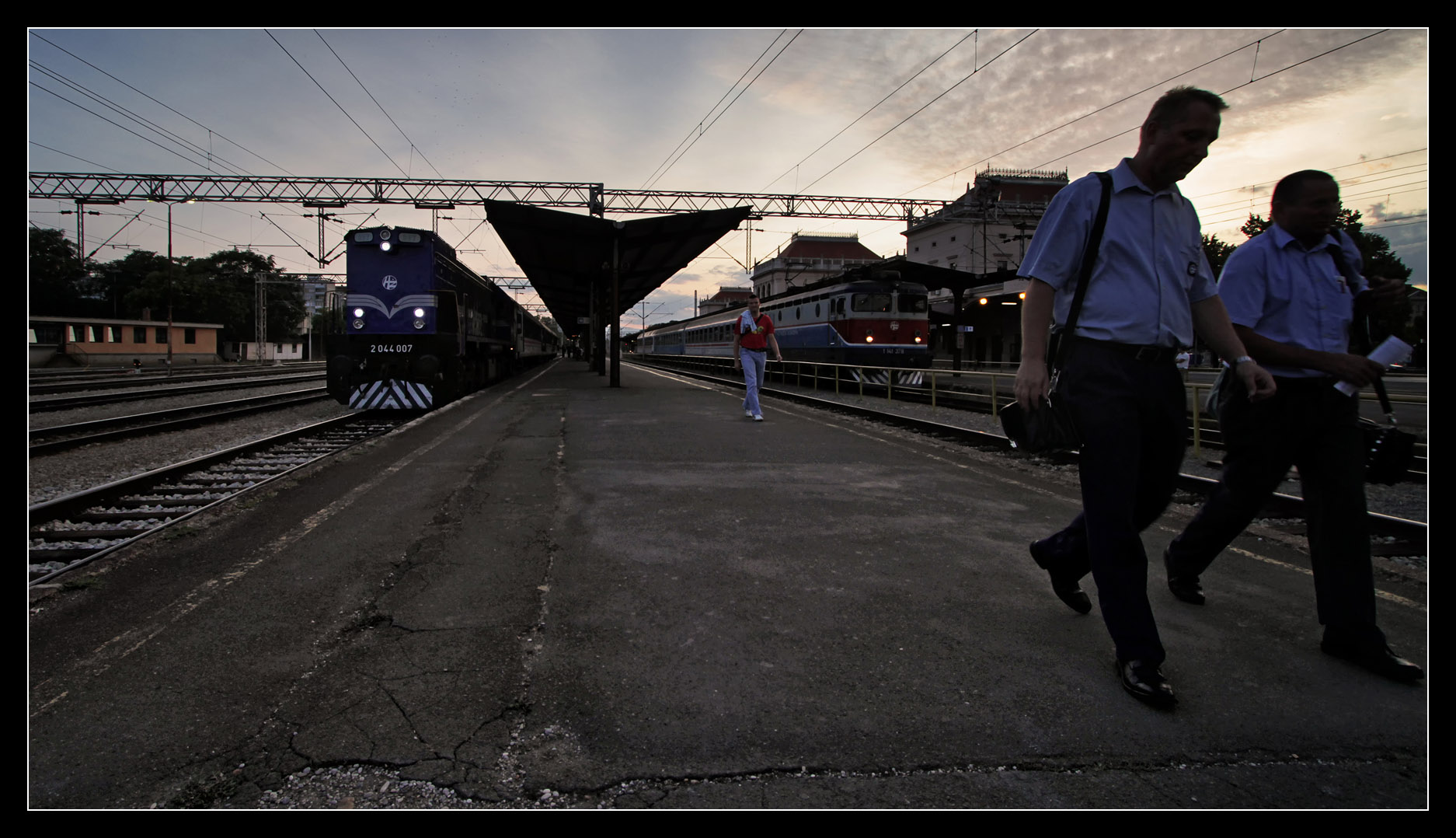 The train did not continue to Koprivnica anymore, so 2044-007 switched away.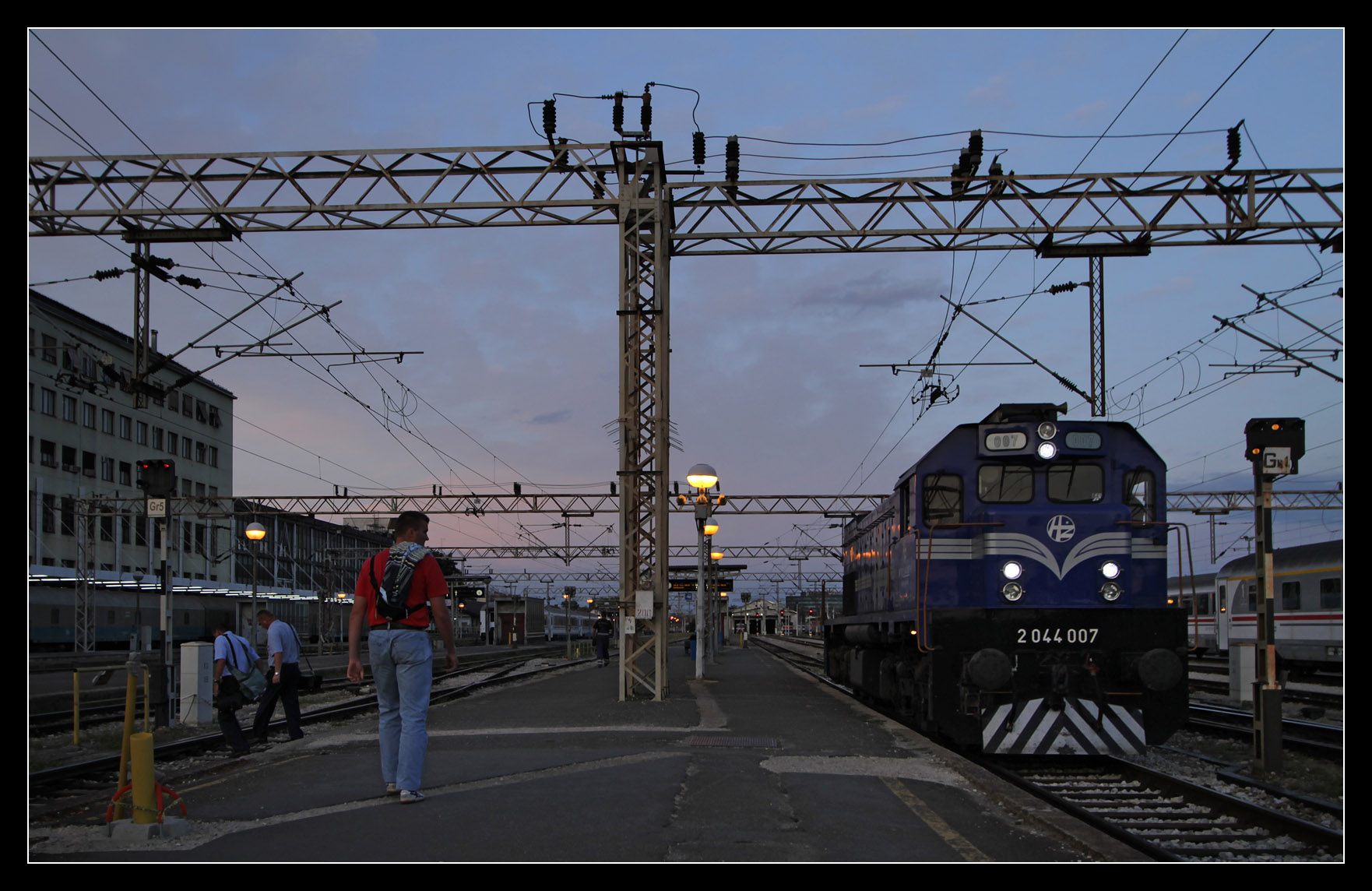 International arrival expected...
Now to my "home tracks" 4 and 5, probably nowhere I have spent that much time at a station away from home...
You can get away from the hustle and bustle, sit down, read a book, light a cigarette (not me, of course)...
And always have everything in view, like on
August 13 2018
.
A few more people during morning rush-hour on
July 30 2015
.
I already had feared for the end of the convenience on
August 7 2012
, but nothing changed.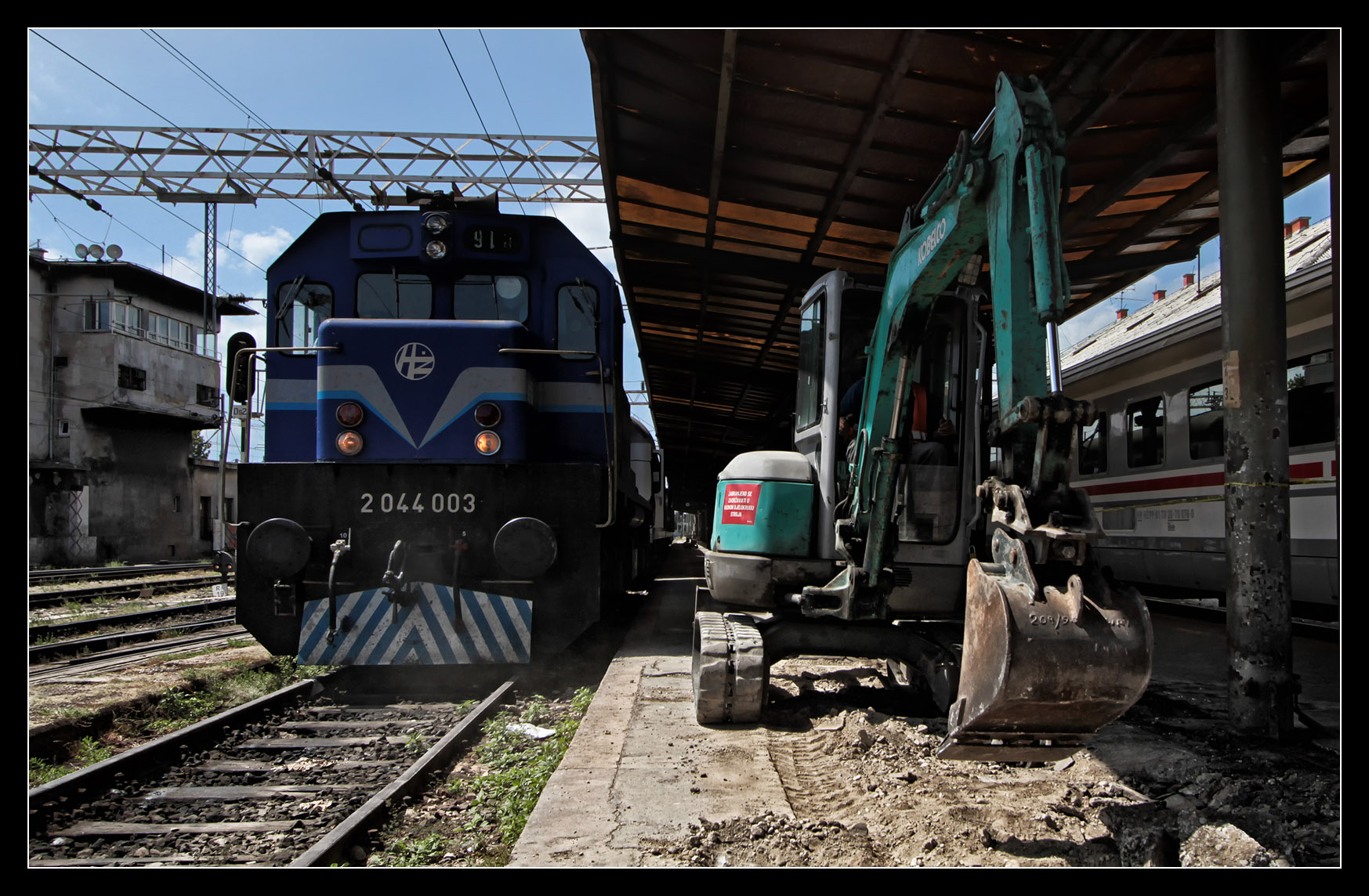 Connections not only to Varaždin but also home are waiting to depart here, seen upon return from the Bosnia steam tour on
April 11 2010
.
Departure of Ub 994 to Kotoriba in the morning sunlight of
August 21 2009
.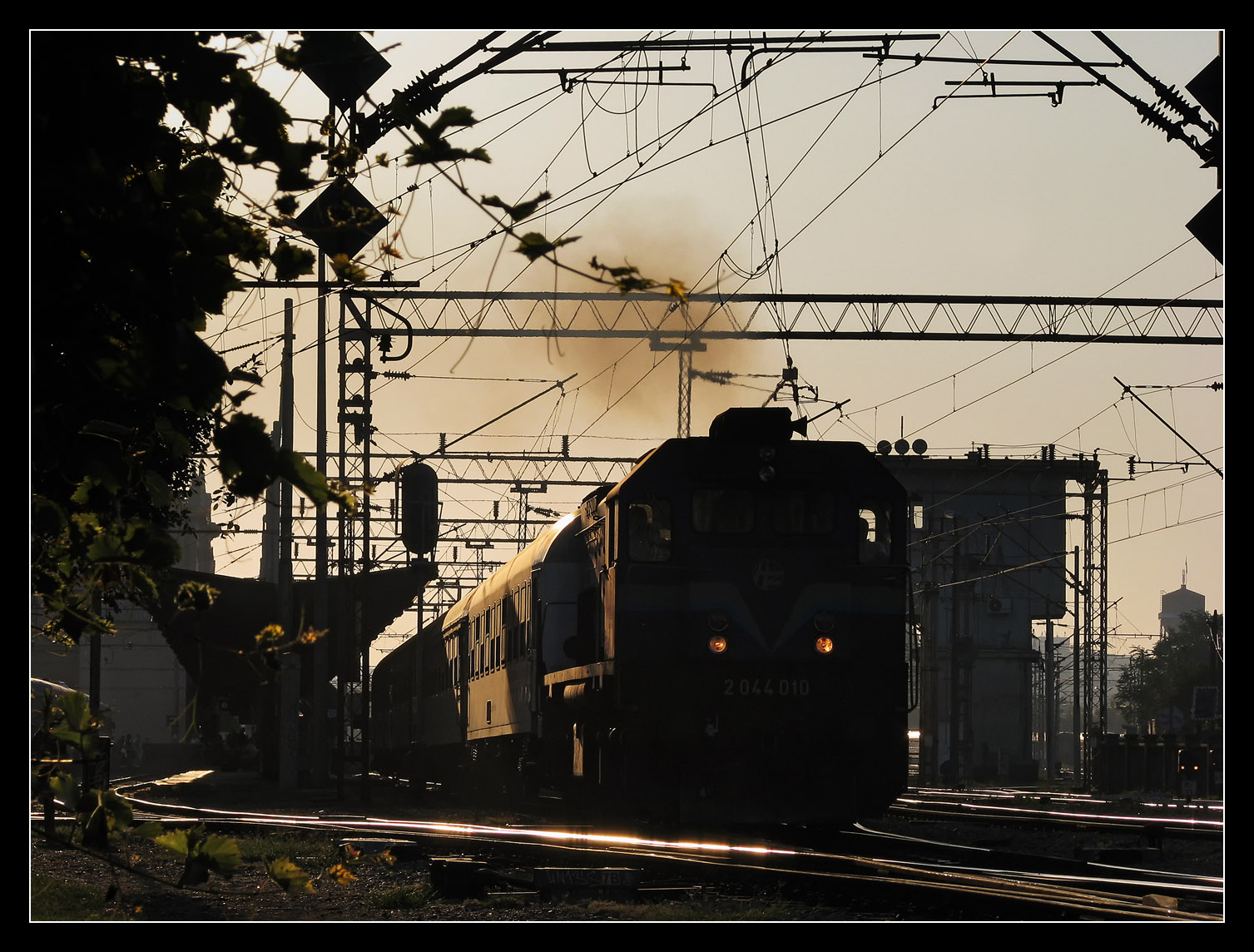 In 2012, traction was changing, the first 2044s were hauling trains to Split,
August 7 2012
.
But of course also class 2062 - GM-hauled from Zagreb as replacement for a tilting DMU forming ICN 525 on
July 17 2012
.
Notice the different types of catenary masts on the two sides of the picture. Once, DC electrification had terminated at Zagreb, that's why you can still find these Italian style masts here. Nowadays, all of the Croatian railroads have been transformed to AC electrification.
A rare encounter with a class 2041 at the main station on
July 19 2012
.
Early light on
August 12 2010
.
2044-001 switched the rake of Pu 3003 with which it had arrived at 6:22 a.m. To the left EuroCity 212 "Mimara" to Frankfurt, next to it InterCity 500 "Rijeka".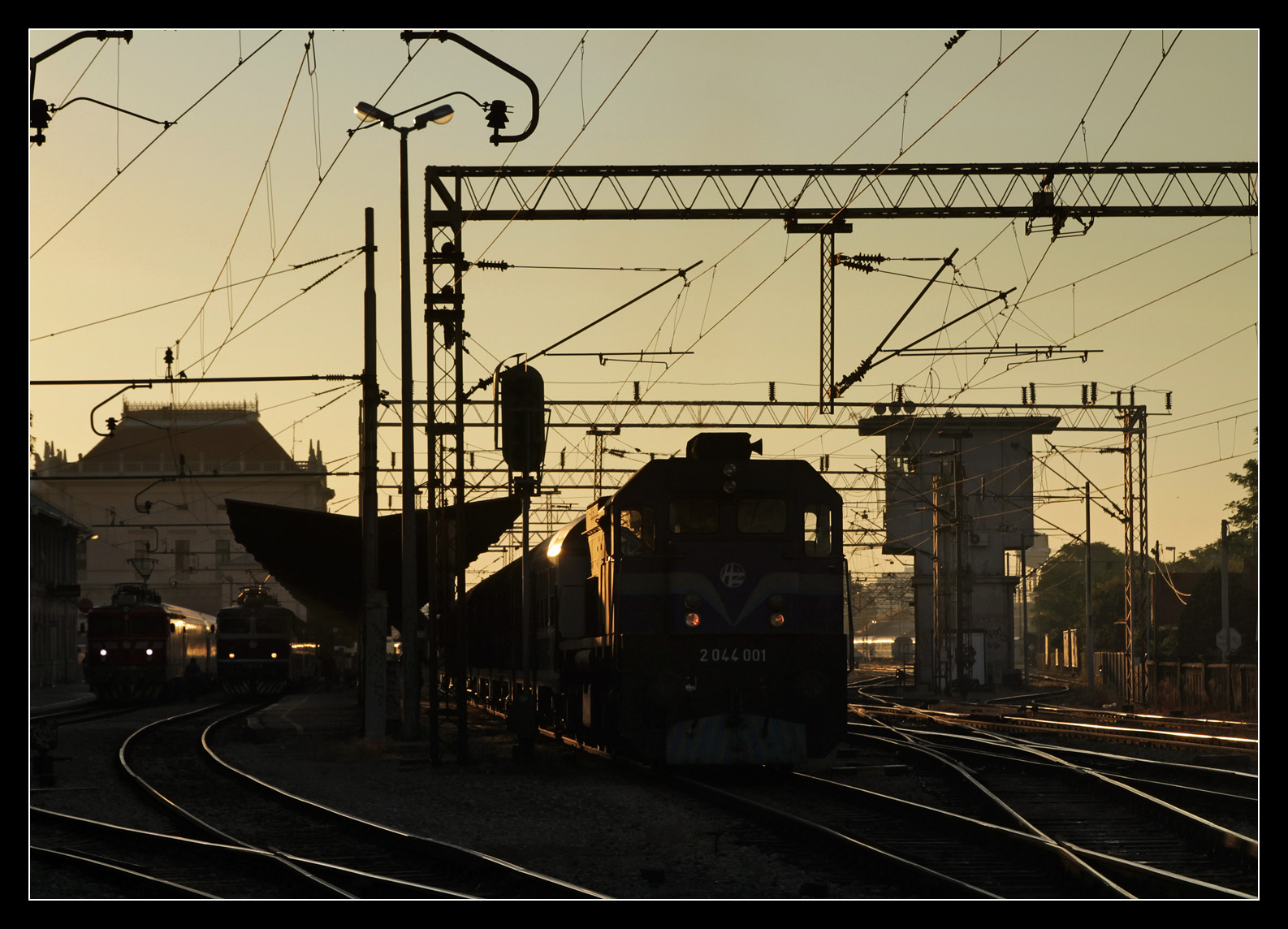 1141-233 still in JŽ orange livery on
July 30 2006
.
Local train towards Sunja consisting of Baat two-axled cars seen during my first visit to Croatia after the war on
October 1 2003
. Trains to Varaždin also had been composed of two-axled cars until shortly before. You can still catch a Baat in regular operation sometimes on the SŽ-"Avtovlak" along the Bohinj line.
Predecessors of modern DMUs to Varaždin were "Frenchmen" like 7021-009 (ex JŽ 610-009, Brissonneau et Lotz / built in 1970). 2044-007 in the background.
Slightly closer on
July 14 2007
.
With this highlight we diesel to the next part: Departure of Pu 3016 at 7:03 p.m. in best evening light.