Hi,
To the previous part of the series:
Regional Rail Express - 22: Maestral II (50 p.)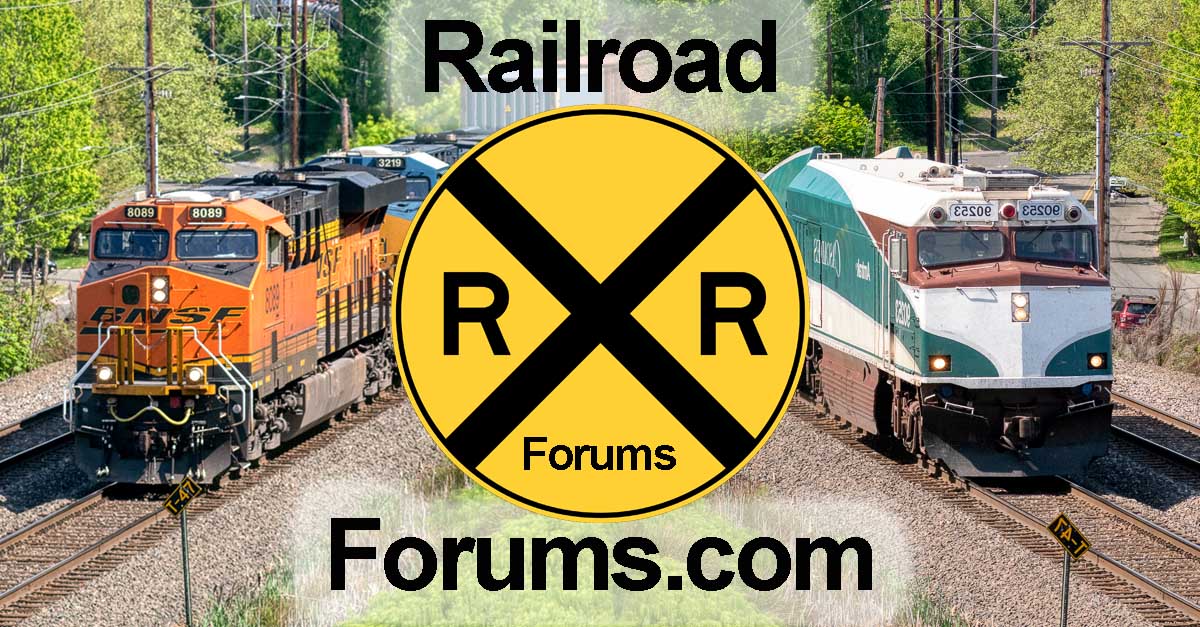 Hi, To the previous part of the series: Regional Rail Express South of the Alps - 21/14: Maestral I (50 p.) https://railroadforums.com/forum/index.php?threads/regional-rail-express-south-of-the-alps-21-14-maestral-i-50-p.15394 Videos for this part: July 2008: April 2008: July 2006...

railroadforums.com
Videos for this part:
August 2018:
August 2016:
July 2008
July 2007:
July 2006:
July 3 2008
We have reached the flatlands towards Zagreb across "the mountain":
I left Varaždin once more very early on the last morning of the epic 2008 summer solstice GM tour. By Pu 3003 with 2044-008, arrival at Konjščina 4:50 a.m.
7122-034 (former Swedish Y1, Fiat - Kalmar Verkstad / built 1979-81) still wore its Nordic livery as international Pu 3092 Konjščina - Murakeresztur.
Pu 3005 followed at 5:40 a.m.
2044-004 dieseled towards Zagreb with the sun.
As first train from Zagreb, Pu 3000 approached at half past six with 2044-001 (ex JŽ 645-001, Đuro Đaković #1125 / built in 1981).
2044-001 met 2044-002 (ex JŽ 645-002, Đuro Đaković #1126 / built in 1981) pulling Ub 991 Kotoriba - Zagreb. The rest of HŽ 2044 loco numbers, however, are not corresponding to their former JŽ counterparts.
Pu 3002 to Budinšćina.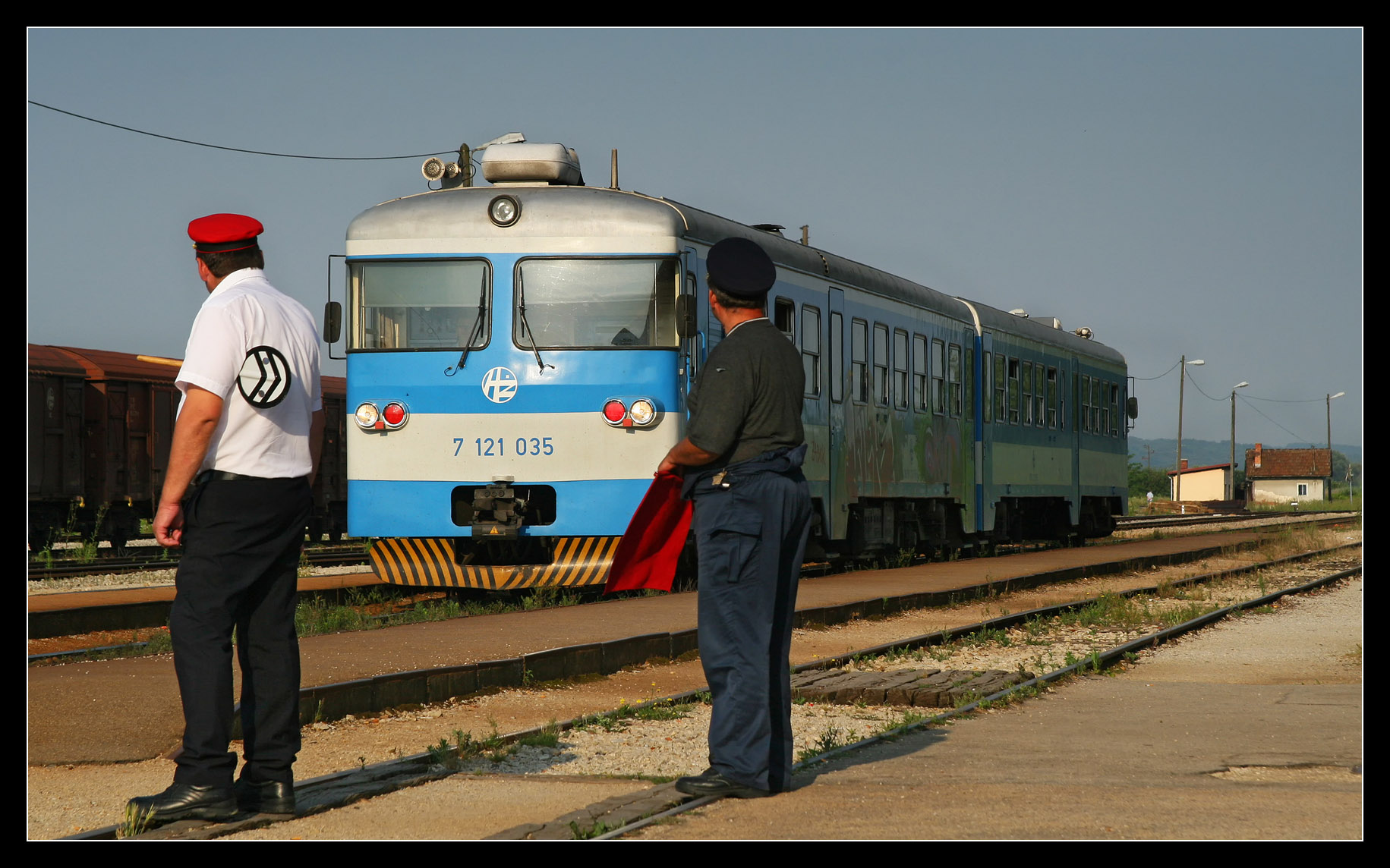 Already quite strong lighting contrasts for contre-jour before eight o'clock with Pu 3007 and green 2044-007. A relic from a bygone era: cashier's office for freight traffic.
Regional rail express meeting at 8:30 a.m.: 2044-010 had arrived hauling B 791 Kotoriba - Zagreb and waited ten minutes for...
... our B 205 "Maestral" Zagreb - Budapest!
Simultaneous departure at 8:39. I had arrived by MÁV through car Split - Budapest at Varaždin the previous day. The Hungarian sleeping car conductor funnily did not have any clue where that mysterious Varaždin on my ticket was supposed to be. Obviously, he did not care at all which corners of the countryside he was passing through all day...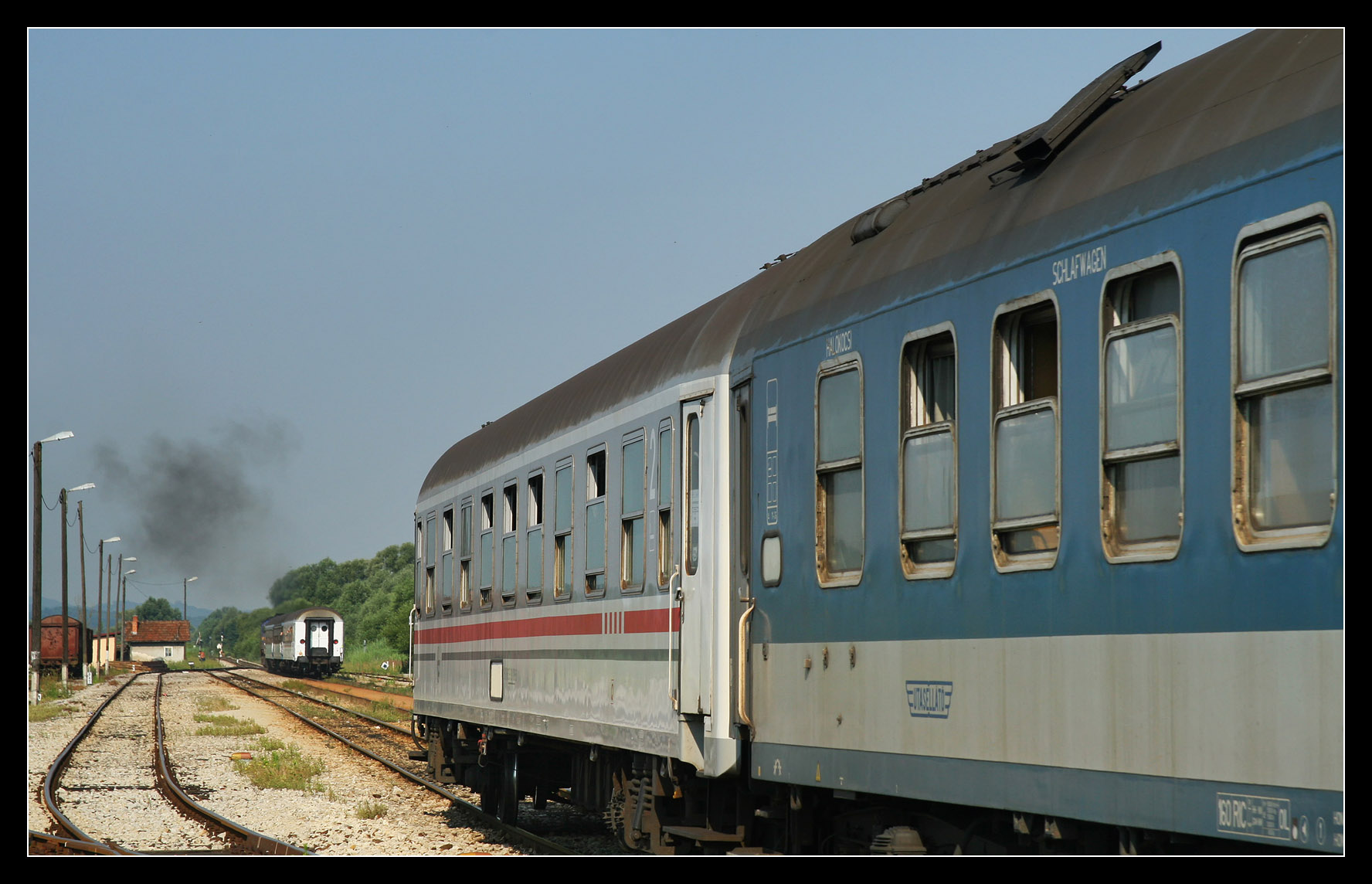 I stayed for the return of 2044-008, then traveled home via Zagreb.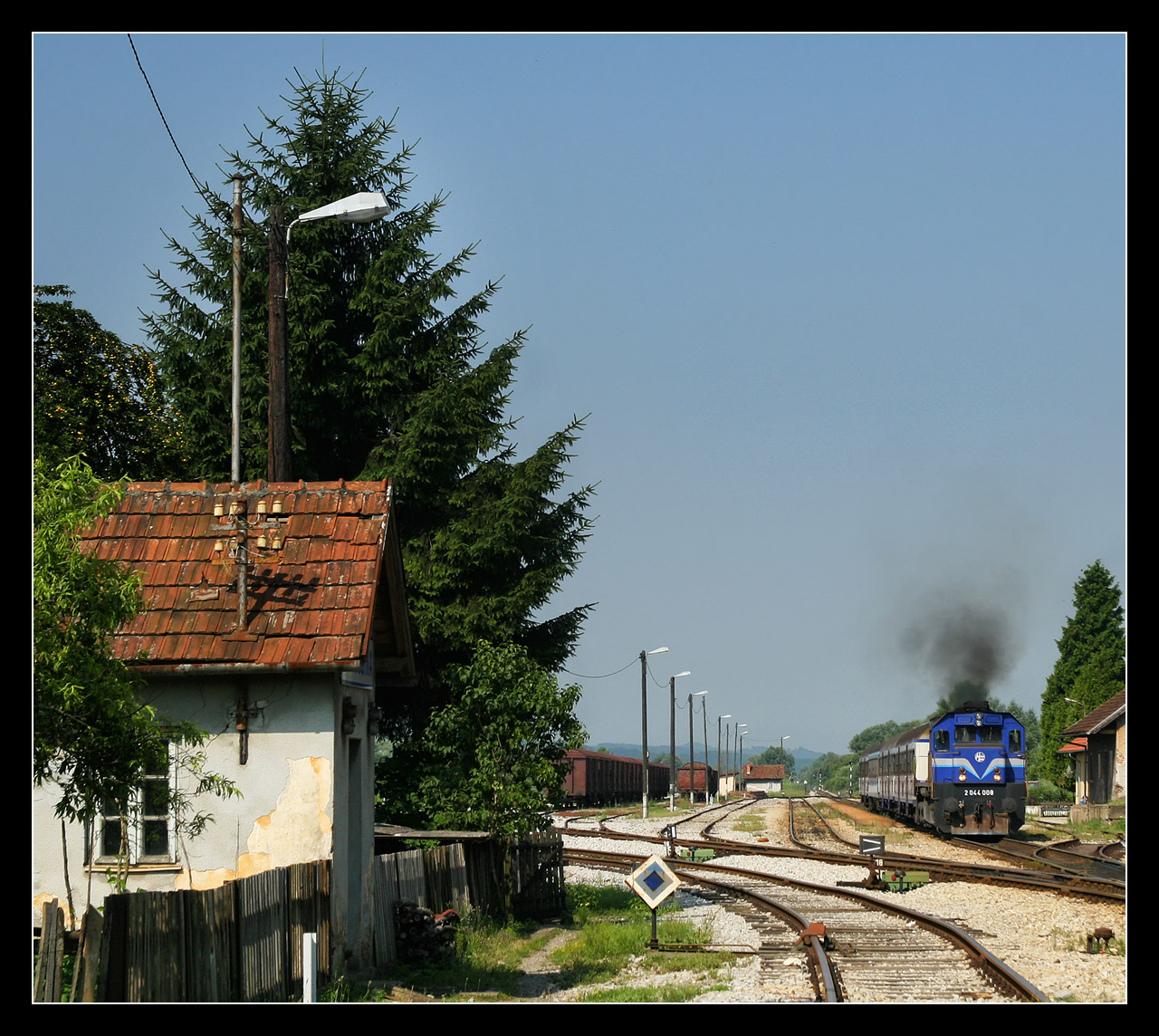 July 24 2006
After the morning session at Podrute, we ate lunch in old town Varaždin. Subsequently, we took the train to Budinšćina, one station further than Podrute.
First, Ub 992 passed by, together with an old truck.
Already known from the first "Maestral" report part: the gravel train had been transported across the summit in two parts and recombined at Budinšćina. 2062-014 thundered out of the station towards Zagreb. Accompanying sound can be found in the corresponding video at minute 2:25.
Of course I had to include the regional tractors again... ;0)
B 790 rushed past at 4:34 p.m. without stopping.
The express met Pu 3017 to Zagreb.
Pu 3010 to Kotoriba.
2044-007 arrived from Zagreb, reversing here.
The smoke did not come from the engine, but a field behind it.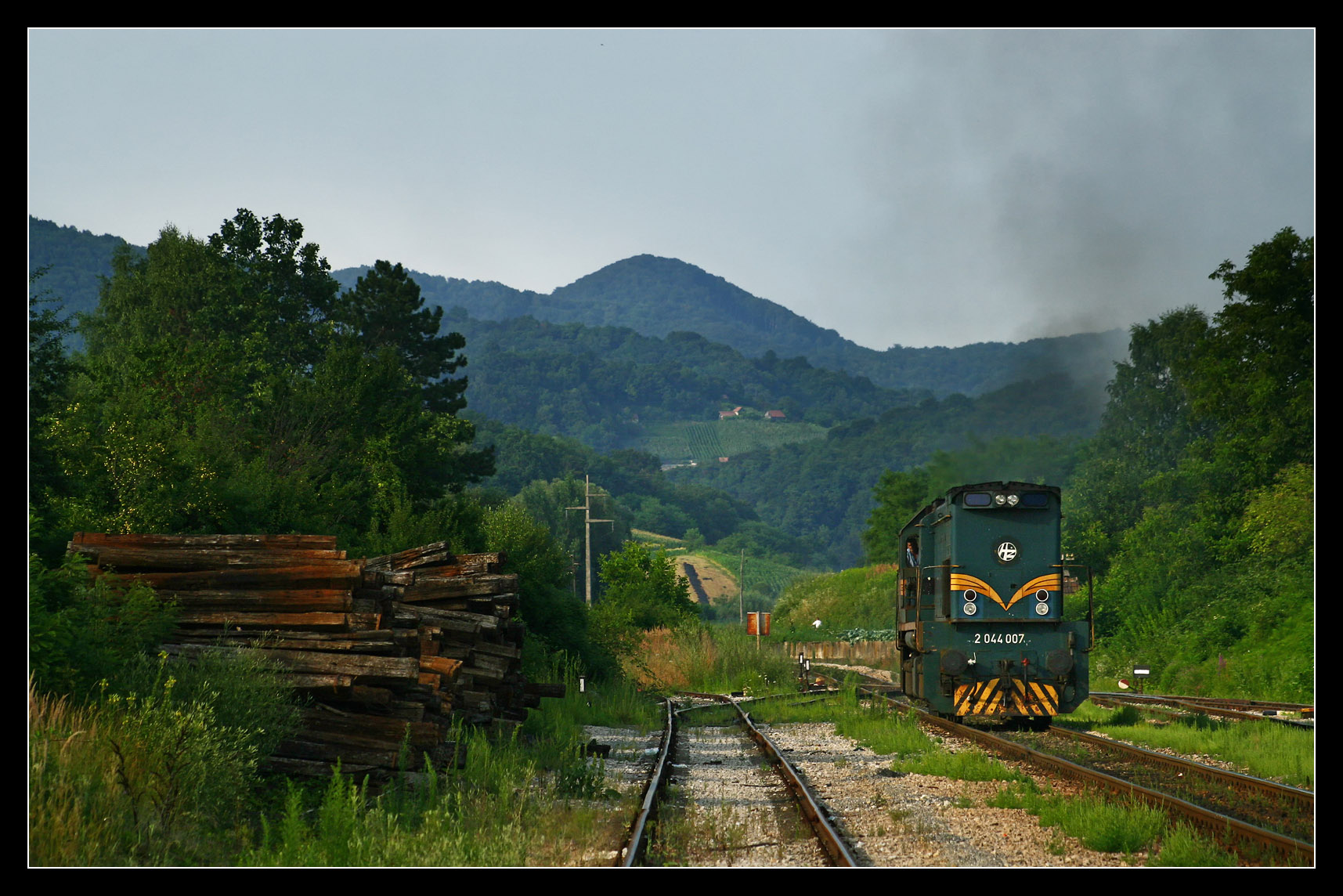 If you remember IMT 533 deluxe from last time - 35 hp - here an IMT 539 deluxe: 39 hp!
Next, we took Ub 995 to Zagreb and the sleeping car overnight to Perković.
On the 2007 summer trip, we spent the first afternoon on this line after having arrived via Nagykanizsa on
July 8 2007
. We followed the industrial branch to Pešćeno at Konjščina. Ub 992 accelerated out of the station, see corresponding video.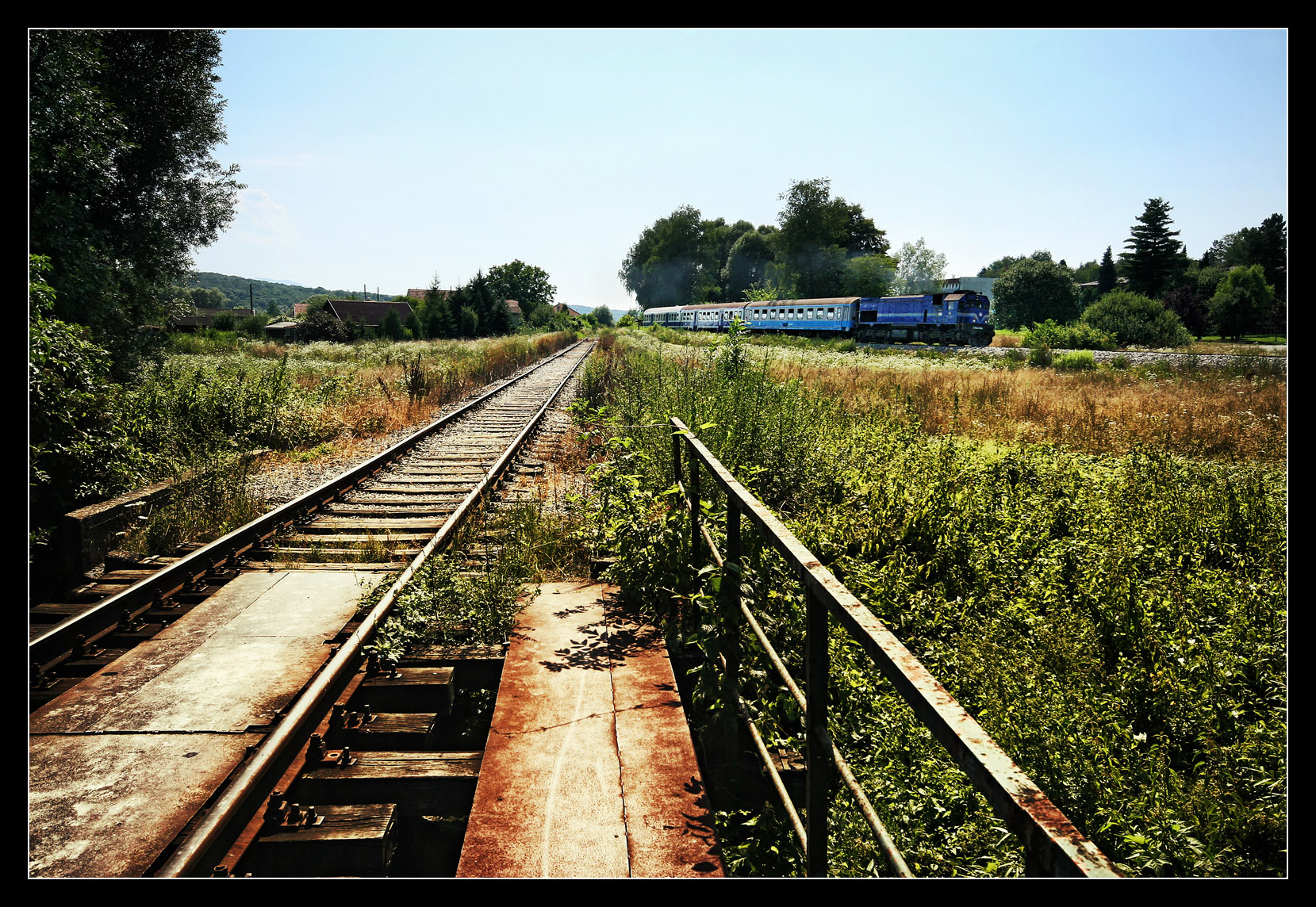 The already known door with Pu 3017, which was about to take us to Zabok.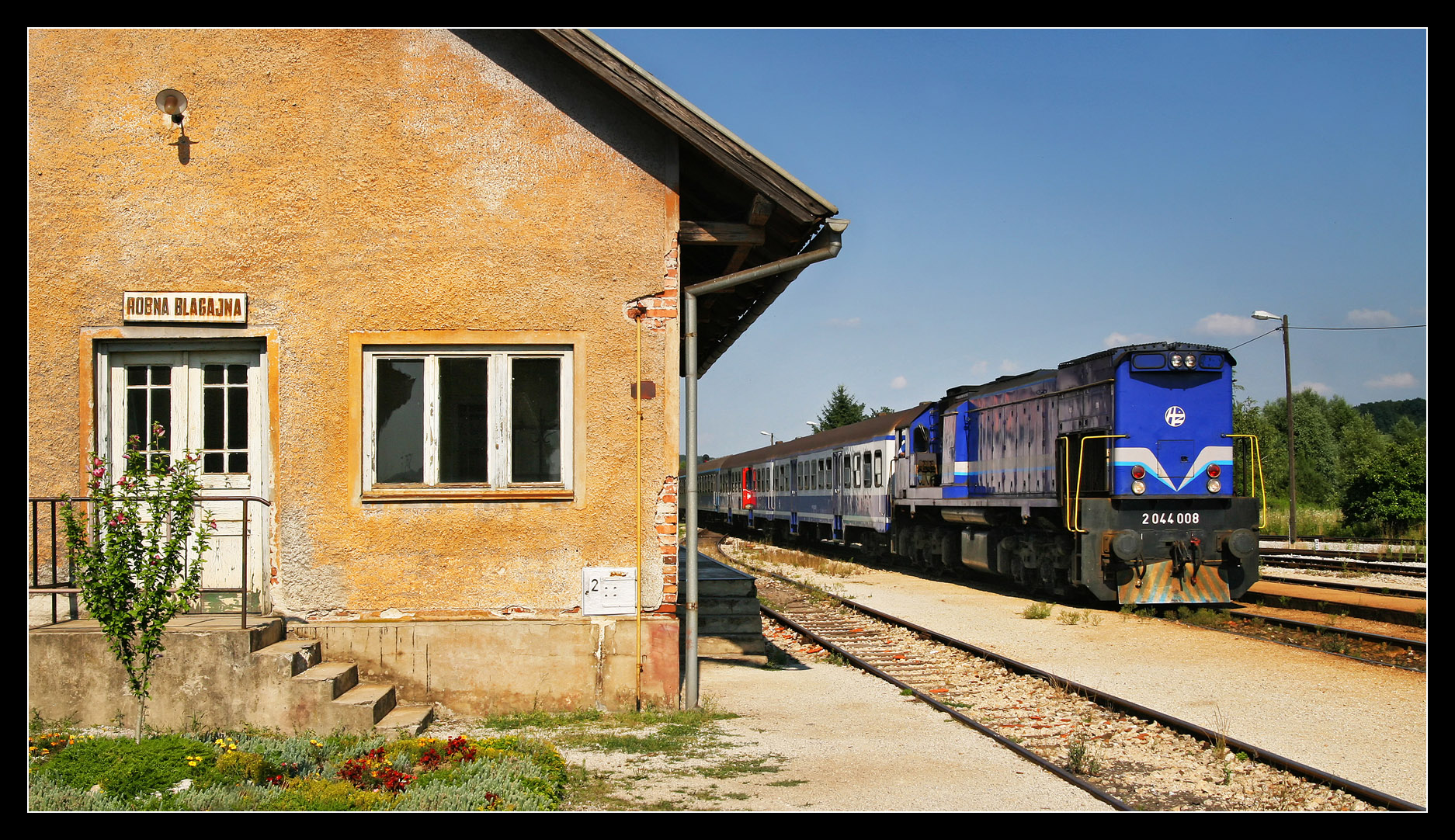 On the way at Zlatar Bistrica: wow... a class 2062 hauling Pu 3010: green 2062-025!
As this section of the line can be reached relatively quickly from Zagreb, I spent a few afternoons here before going to the Adriatic.
The same meeting of Pu 3010 and Pu 3017 as in the previous picture seen in front of the distinctive station building on
August 7 2012
.
B 790 Zagreb - Kotoriba out in the fields.
Ub 995 took me back to the city.
Trains crossing at Zabok with Pu 3014 hauled by 2044-030 which is now based at Split.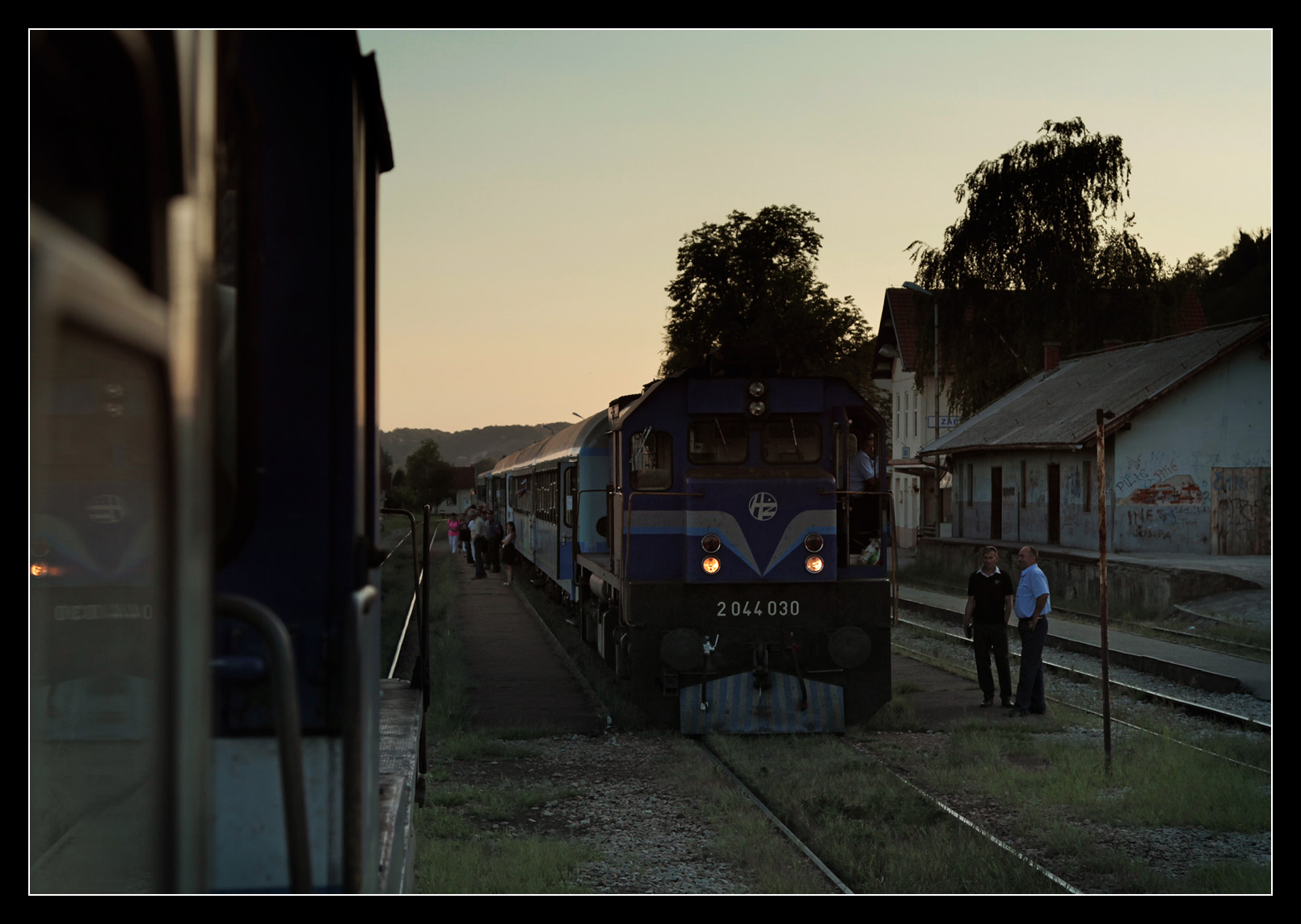 Pu 3017 had dropped us off at Zabok on
July 8 2007
. The railroad junction now has been modernized and the line to Zagreb electrified. A recent photo for comparison, only open if you are prepared for it: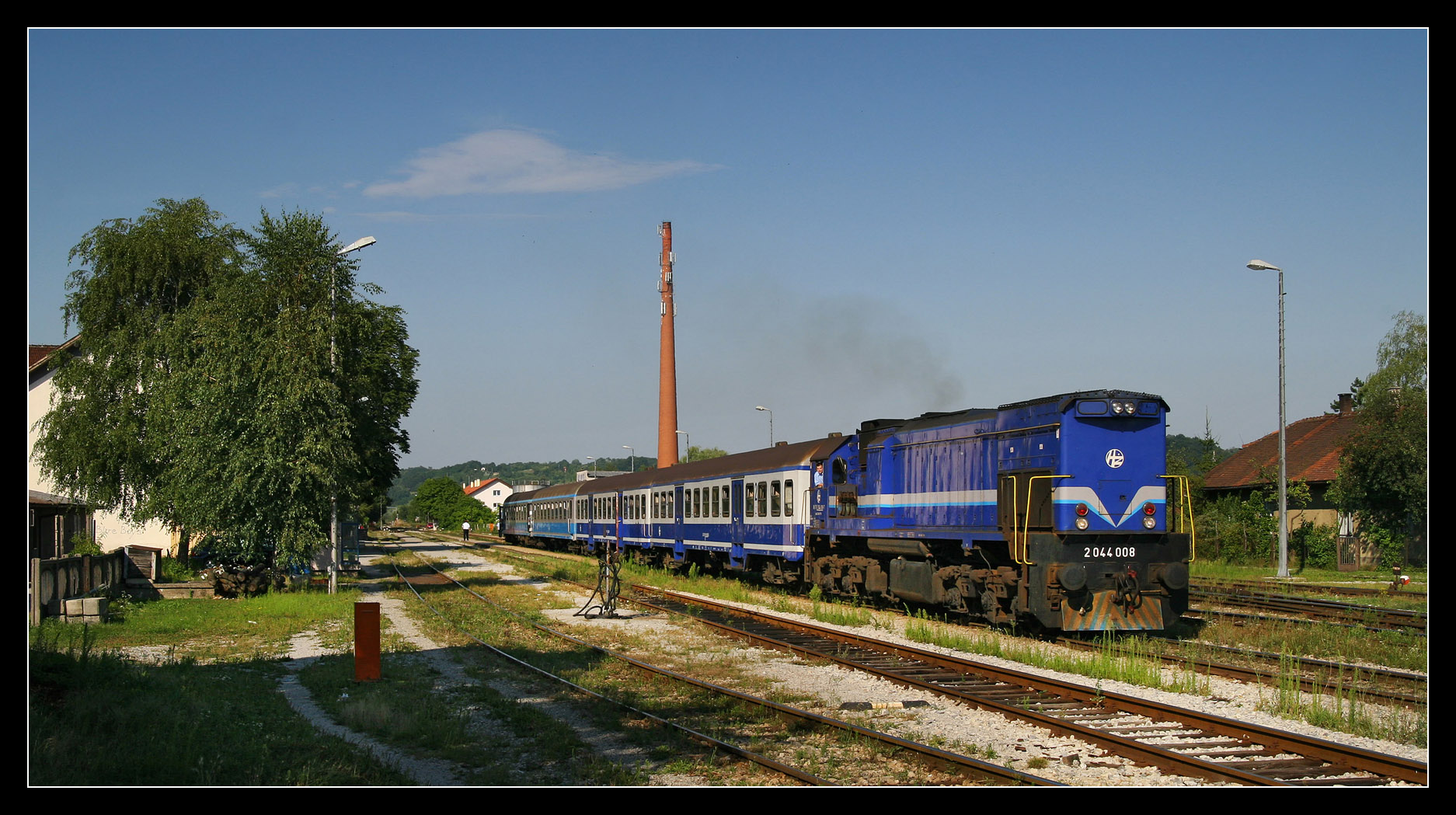 A few loose screws.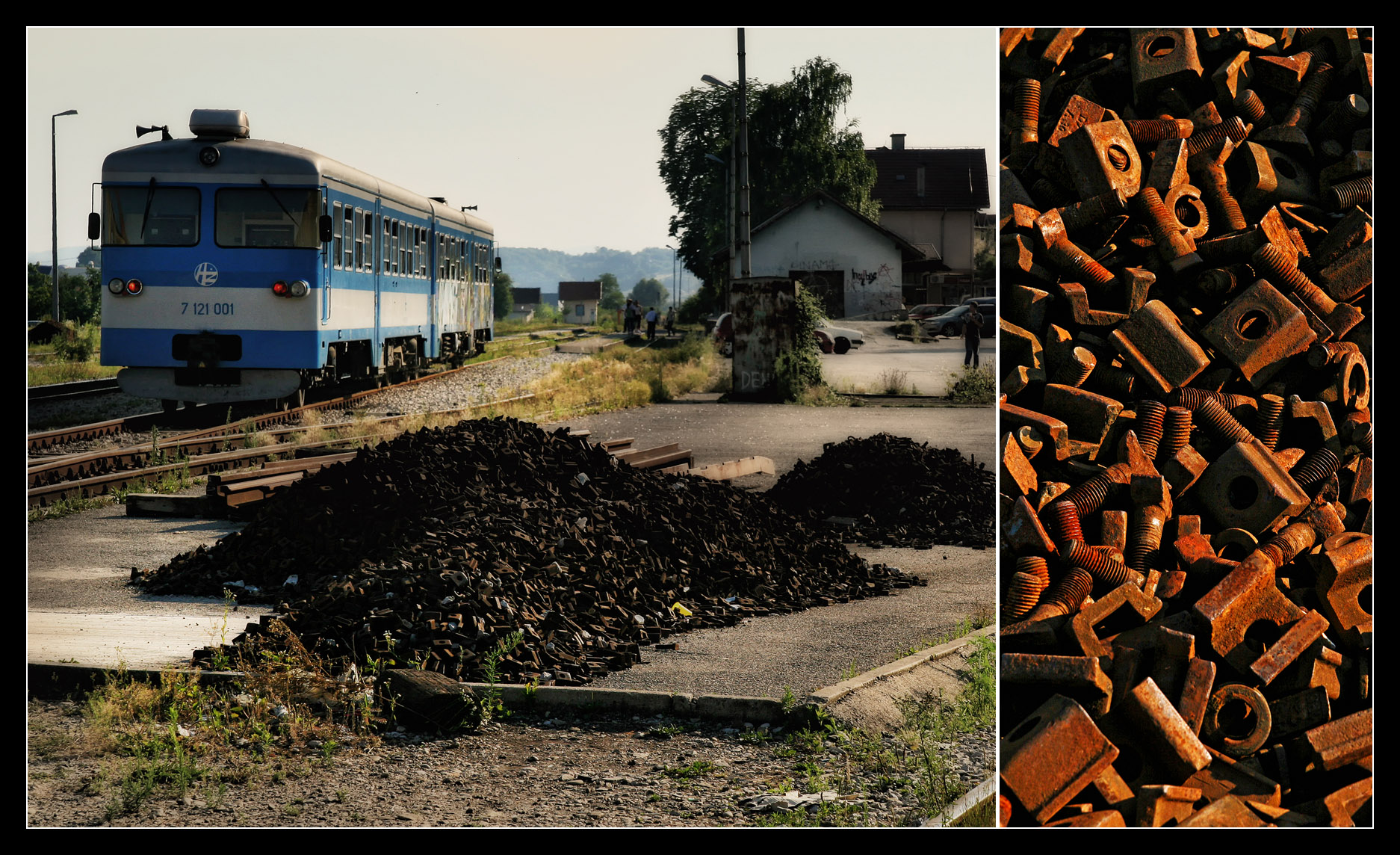 Ub 995 approached from Hum-Lug.
You can use highway bridges for rail photography: 2044-008 accelerated Pu 3016 out of the shadow into the evening sunlight.
Another possibility: Pu 3226 Zabok - Gornja Stubica, that line branches off at Hum-Lug.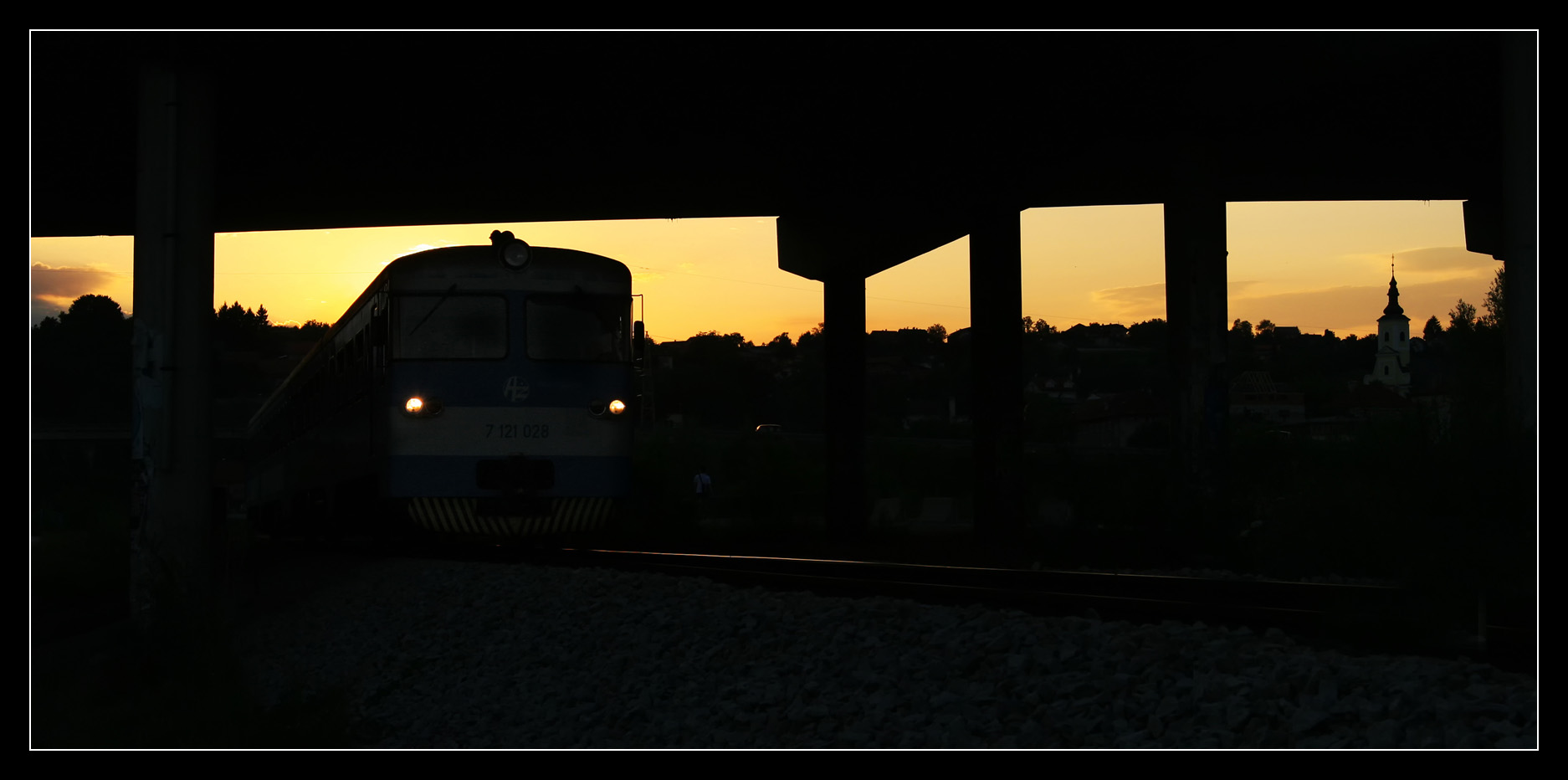 Pu 3019 arrived at 8:36 p.m., the line to Ðurmanec and Slovenia to the left.
Back then, all switches still were thrown manually, and the station looked like a cozy terrace. Now, it's all concrete...
The headlights of B 204 "Maestral" Budapest - Zagreb appeared at 9:38 p.m. It conveyed a HŽ second class through car to Rijeka. We turned a compartment into our beds for the night. Of course it was not completely quiet, as you can never underestimate the Croatian delight in switching. Our car was pushed back and forth about twenty times at Zagreb by a 2132 switcher.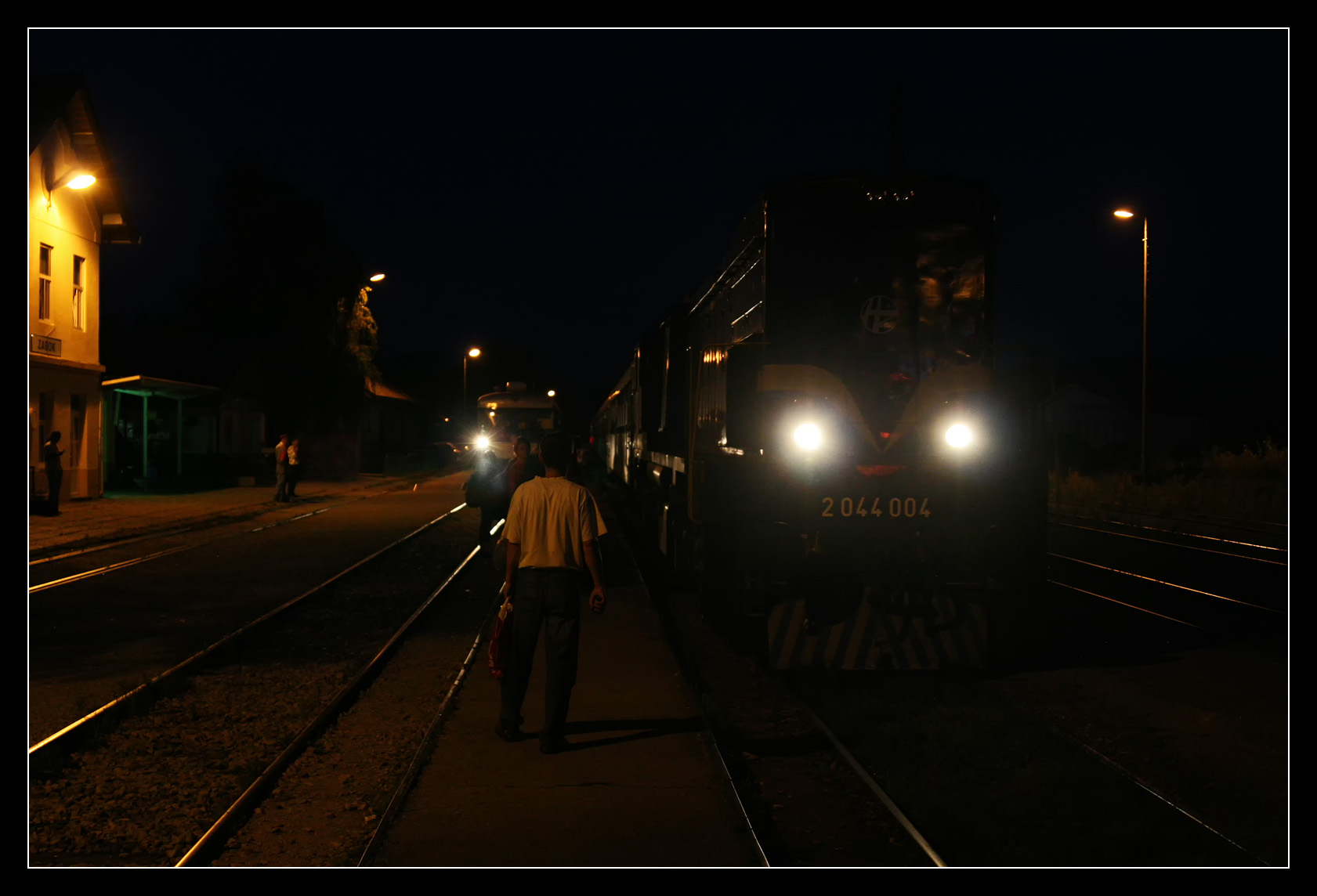 I went on morning excursions from Zagreb to Kupljenovo on
August 23 2016
and
August 14 2018
. Pu 3002 arrived at 6:18 a.m.
Pu 3101 Ðurmanec - Zagreb at 6:28 a.m.
The backyard mountain of Zagreb with transmitter at the top, Sljeme (3385 ft).
Pu 3005 accelerated out of the station at 6:47 a.m.
2018 above, 2016 below - always in muggy conditions.
Ub 991 loco-hauled in 2018 - the HŽPP-design of 2044-021 featuring childish dots ruins the classic livery completely.
Ub 991 consisted of 7023-001 in 2016. The Croatian Highlands it previously had crossed in the distance, including the highest mountain of northeastern Croatia, Ivanščica (3458 ft).
Typical features of the region: corn storage and "unfinished" houses (for tax reasons).
Ub 990 Zagreb - Čakovec came by as 7022-001, a DMU prototype built in 2012 by TŽV Gredelj.
Somehow the more aggressive face of the "evil twin" is more eye-catching than the docile-looking 7023s which went into serial production.
Cheerful 7023-001 took me back to Zagreb as Pu 3007 in 2018. Next time, we will also reach the capital.