Hi,
To the previous part of the series:
Regional Rail Express South of the Alps - 21/14: Maestral I (50 p.)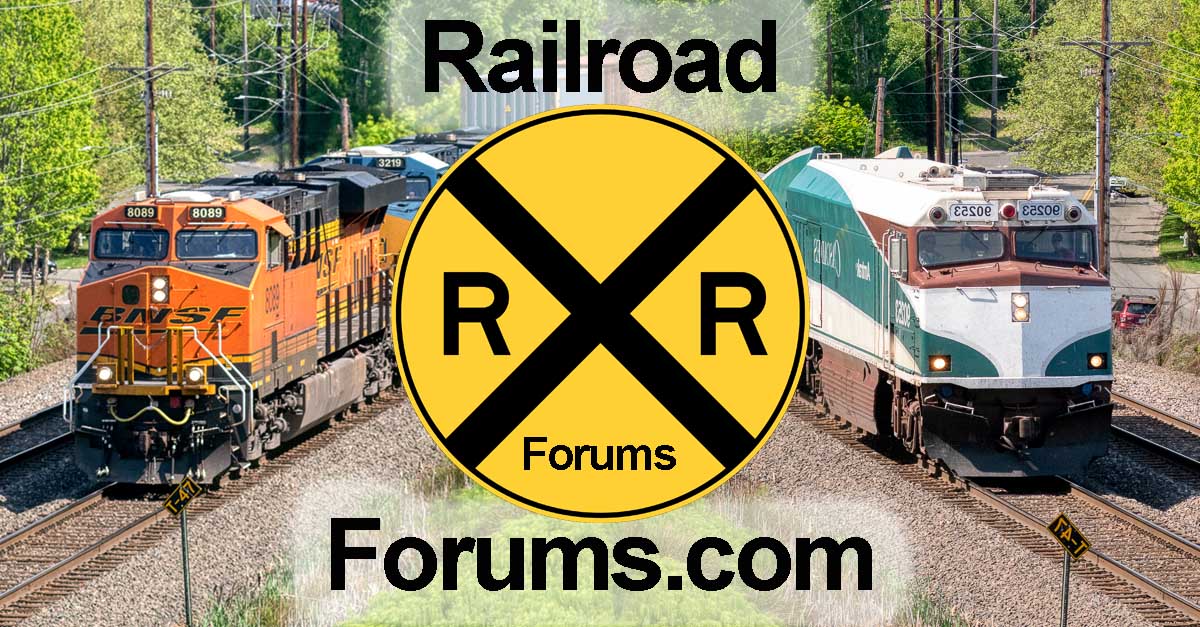 Hi, Summer time - regional rail express time! :-) To the previous parts of the series: South of the Alps - 13: Trieste - Barcolana Special (50 p.) https://railroadforums.com/forum/index.php?threads/south-of-the-alps-13-trieste-barcolana-special-50-p.15345 Regional Rail Express - 20...

railroadforums.com
Videos for this part:
July 2008:
April 2008:
July 2006:
May 2019:
April 23 2008
My usual accommodation at Varaždin was Sobe Jurinjak. Nothing fancy, but the rooms look out onto the rail yard. 2043-005 switched its InterCity train.
May 2 2019
Last year, I stayed overnight in the same corner of the city - only a little further from the tracks - at restaurant B&B Garestin. On this cool morning I strolled outside before the break of dawn and was surprised by 2044-028 hauling Pu 3090 Konjščina - Kotoriba.
7122-002 in new HŽPP livery departed as Pu 3500 to Golubovec at 5:27 a.m.
B 991 towards Zagreb consisted of a "Macosa" up to Zabok, due to construction work on the further line to Zaprešić only DMUs operated these services. Time exposure from
April 23 2008
.
If you compare images from
May 2 2019
, you notice solar panels added to the semaphore signals.
No more InterCity but brzi vlak (= express train): B 771 departed at 5:31 via Koprivnica to Zagreb. Hauled by express engine 2044-017 - you will see soon, why I call it that...
I returned to the spot later in warming sunlight as Pu 3503 arrived punctually at 6:42 a.m. from Golubovec.
Same time of day on
April 24 2008
.
Departure of Pu 3502 to Golubovec on
May 2 2019
.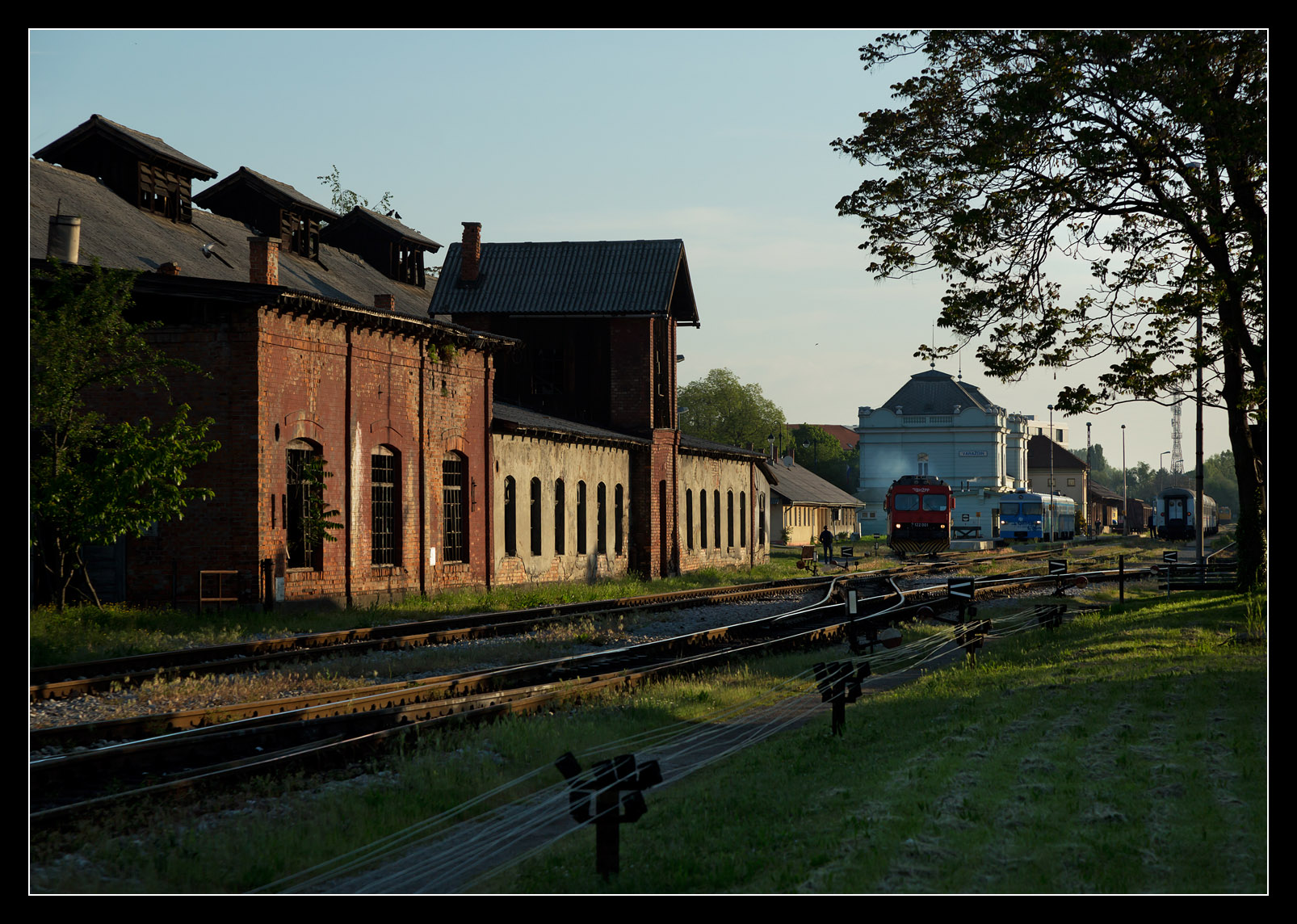 Walking through the historic city center.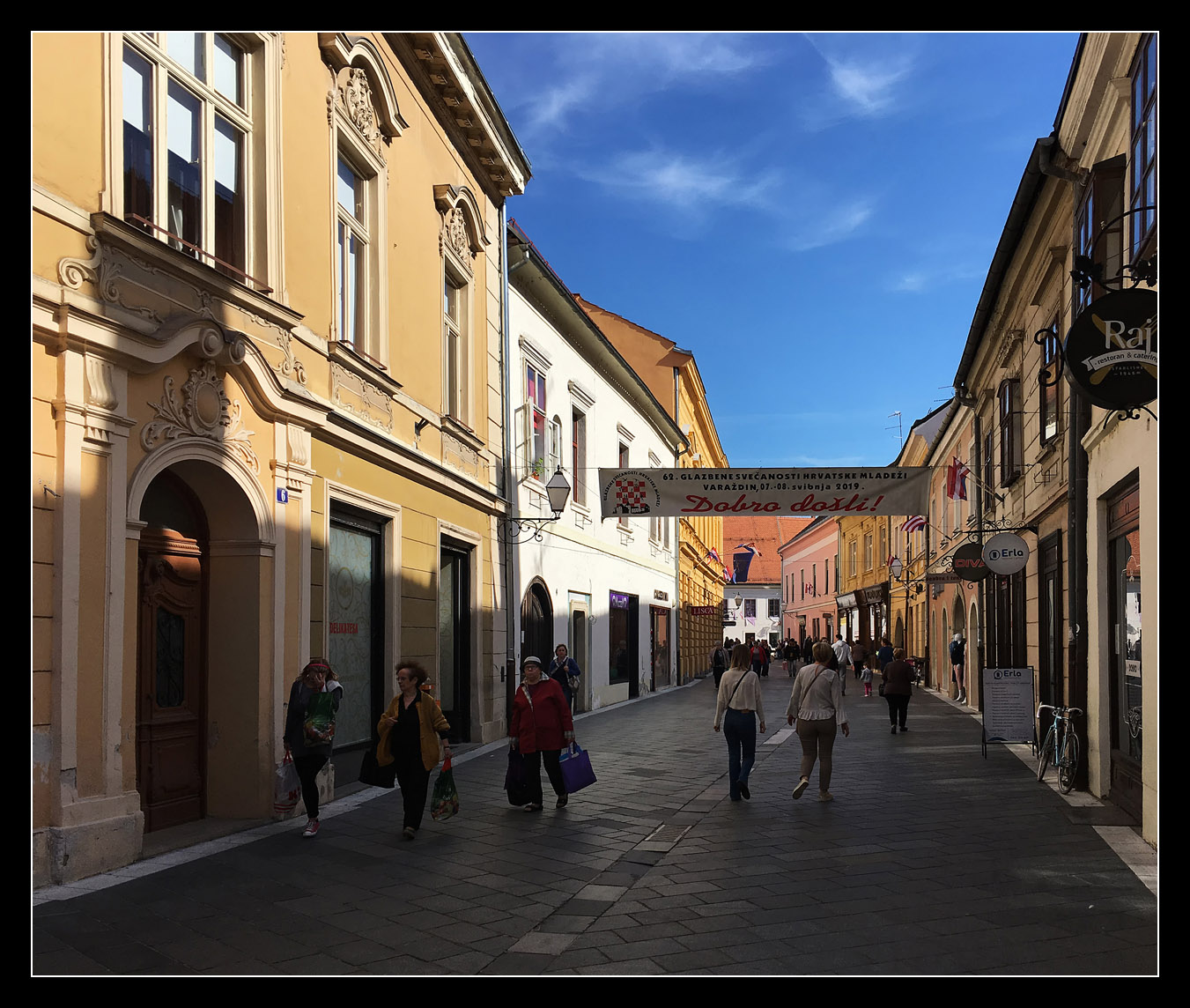 Back on
July 24 2006
.
Switcher 2132-003 (ex JŽ 732-105, Đuro Đaković #803 / built in 1969) on
April 23 2008
.
View towards the engine shed including omnipresent 2044-004.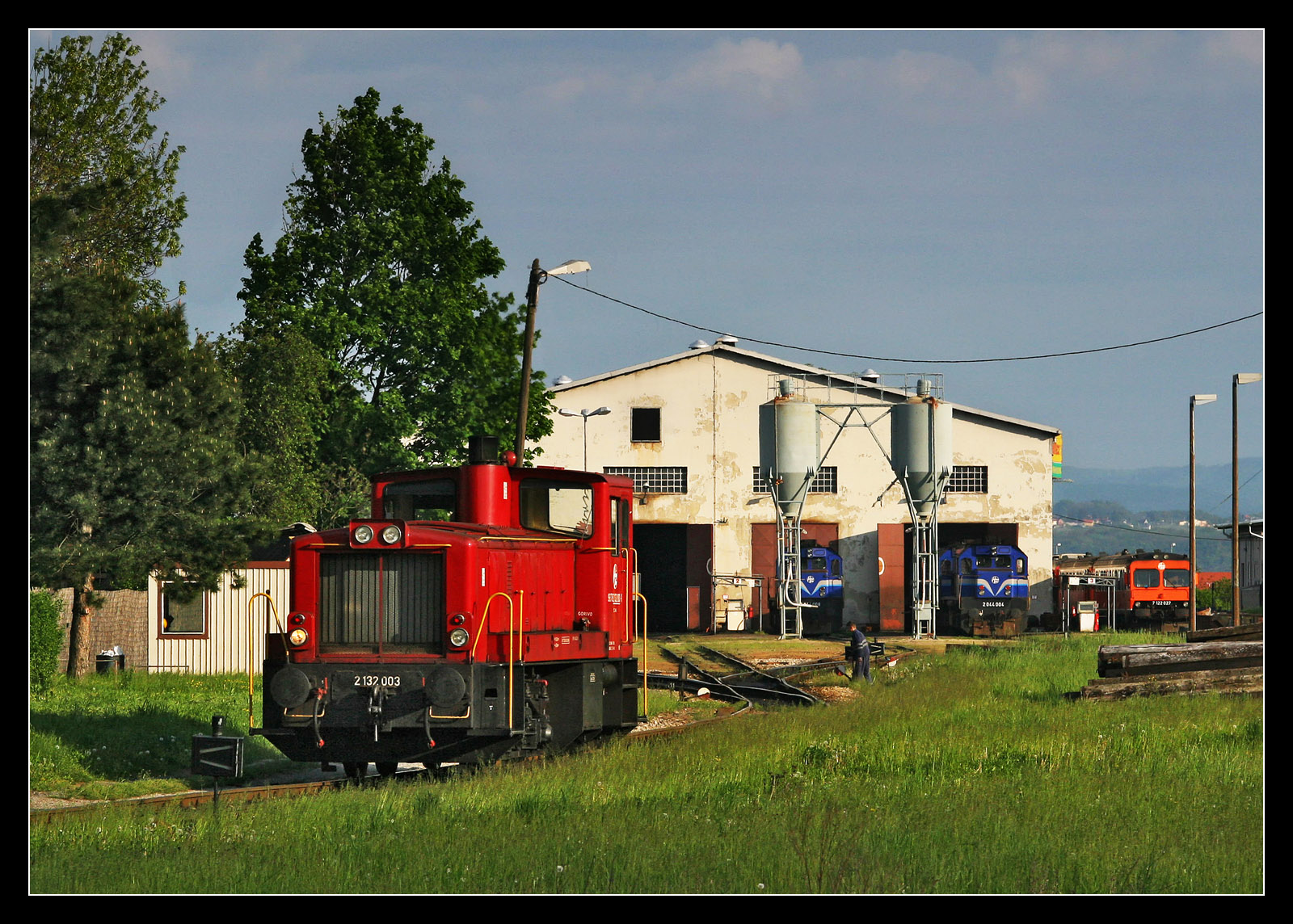 An original GM in InterCity service: 2043-005 approached with IC 590 from Zagreb via Koprivnica at 6:12 p.m.
Pu 3515 from Golubovec arrived.
To the Croatian Highlands! 2044-007 pulling Pu 3007 Kotoriba - Zagreb took us to Podrute on
July 24 2006
in the morning. The station is actually located a few yards further, but the train briefly stopped at a grade crossing and we mistakenly jumped out - oh well, so we got this additional picture for it.
First regional rail express of the day: B 791 Kotoriba - Zagreb passed by without stopping.
View from the grade crossing in the photo before: Pu 3019 Kotoriba - Zabok/Zagreb on
May 2 2019
. An elderly lady worked in the garden of the house.
Voilà: B 205 "Maestral" Zagreb - Budapest including Ukrainian through car to Kiev at the rear on
July 24 2006
hauled by - 2044-017, of course. Second behind the loco was a MÁV sleeping car from Split.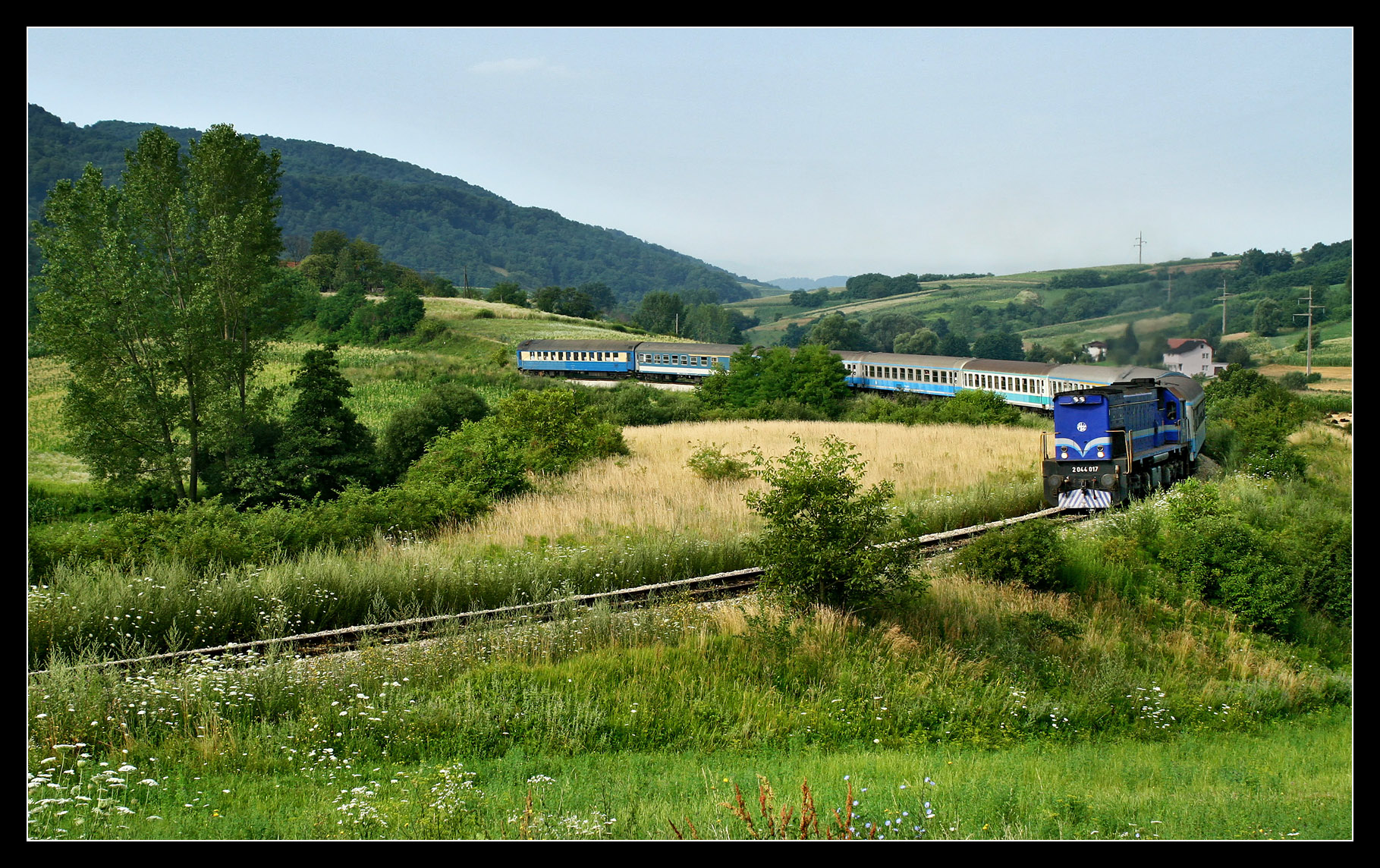 Church Kraljice Mira ("of the Queen of Peace").
Nowadays with large concrete structure supporting the cut and Pu 3012 Zagreb/Zabok - Varaždin. Tractors can always be encountered in this region.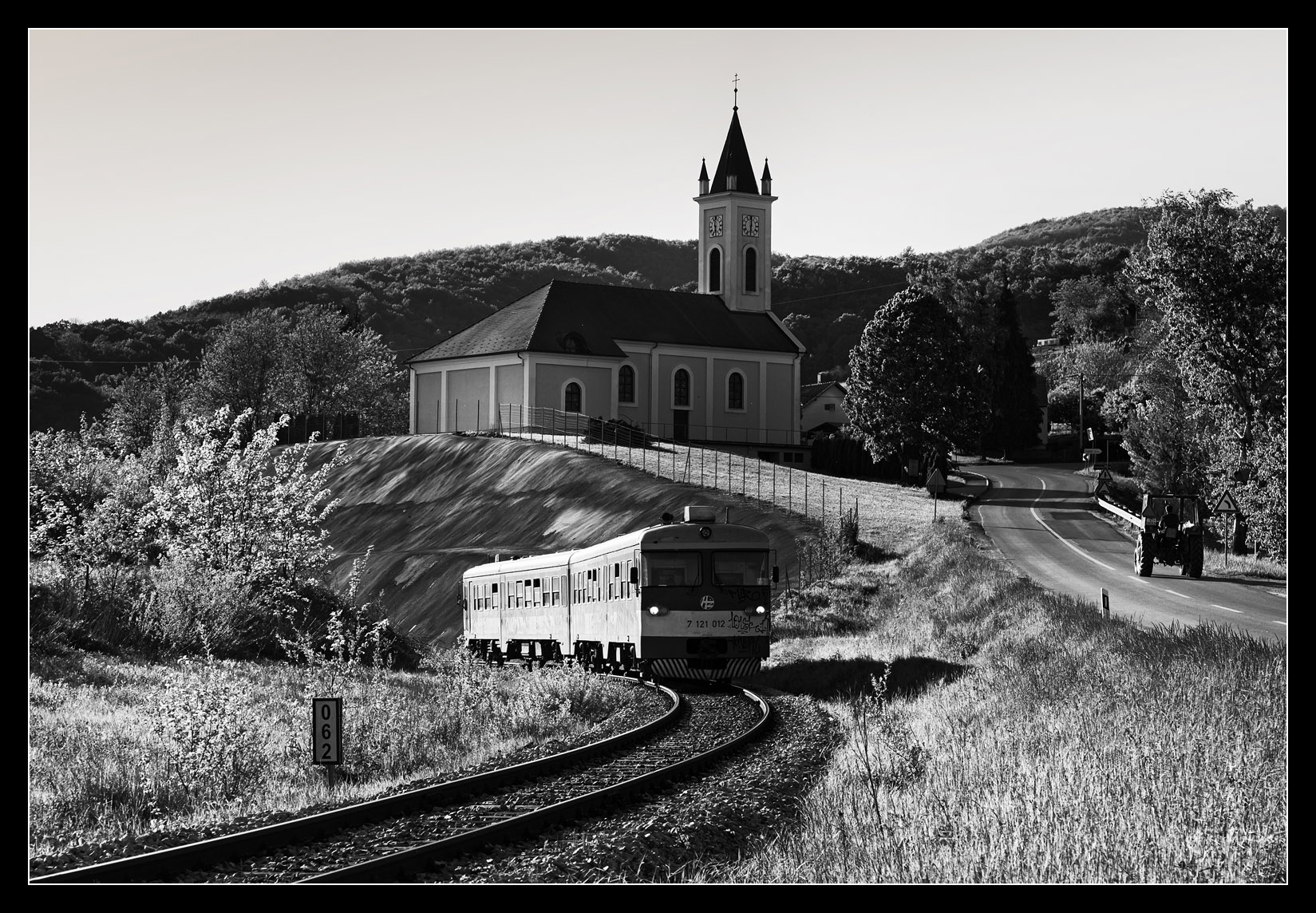 B/W featuring 2044-006 from the year 2-006.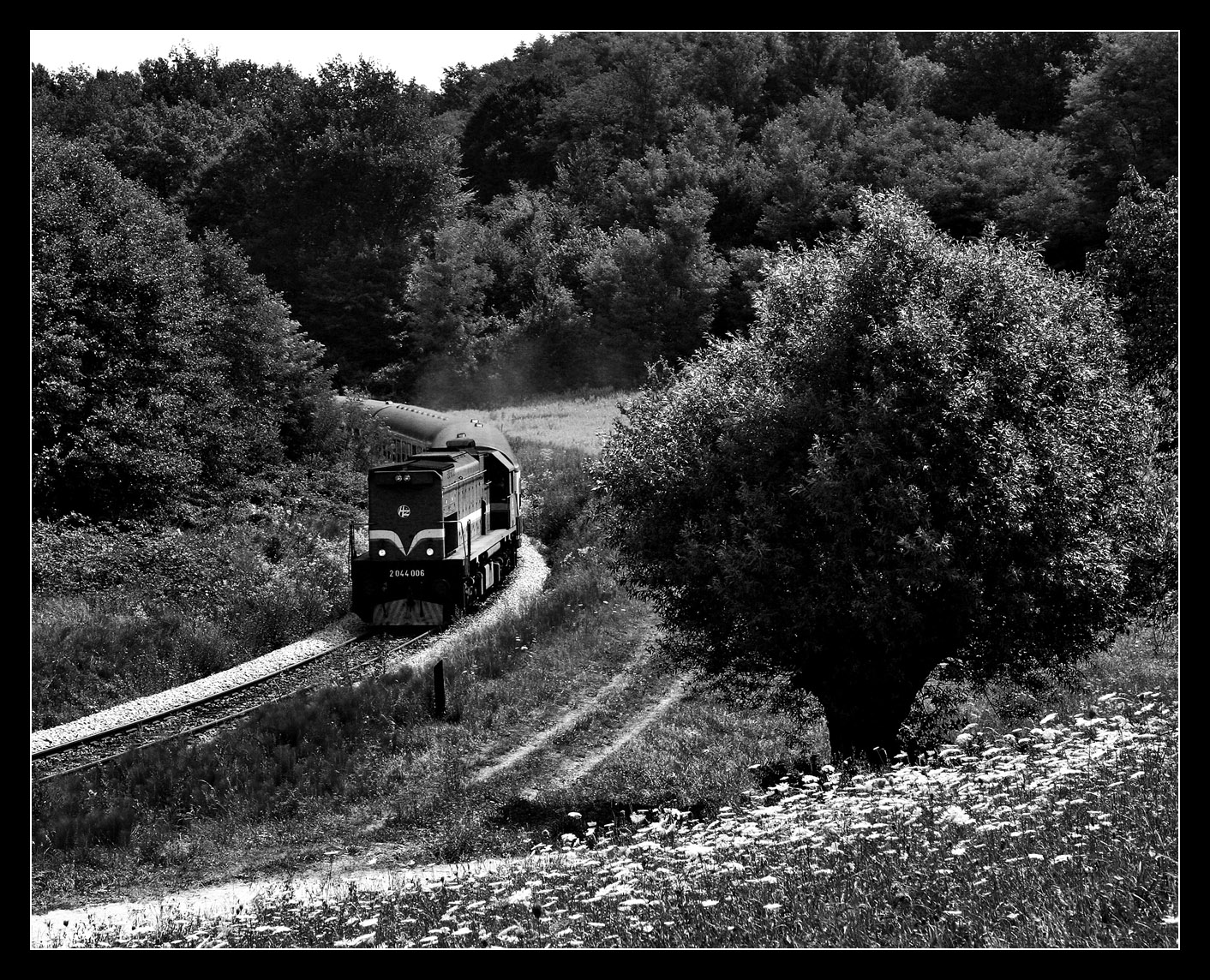 Classic vehicle in front of a classic restroom - out of order but with new roof.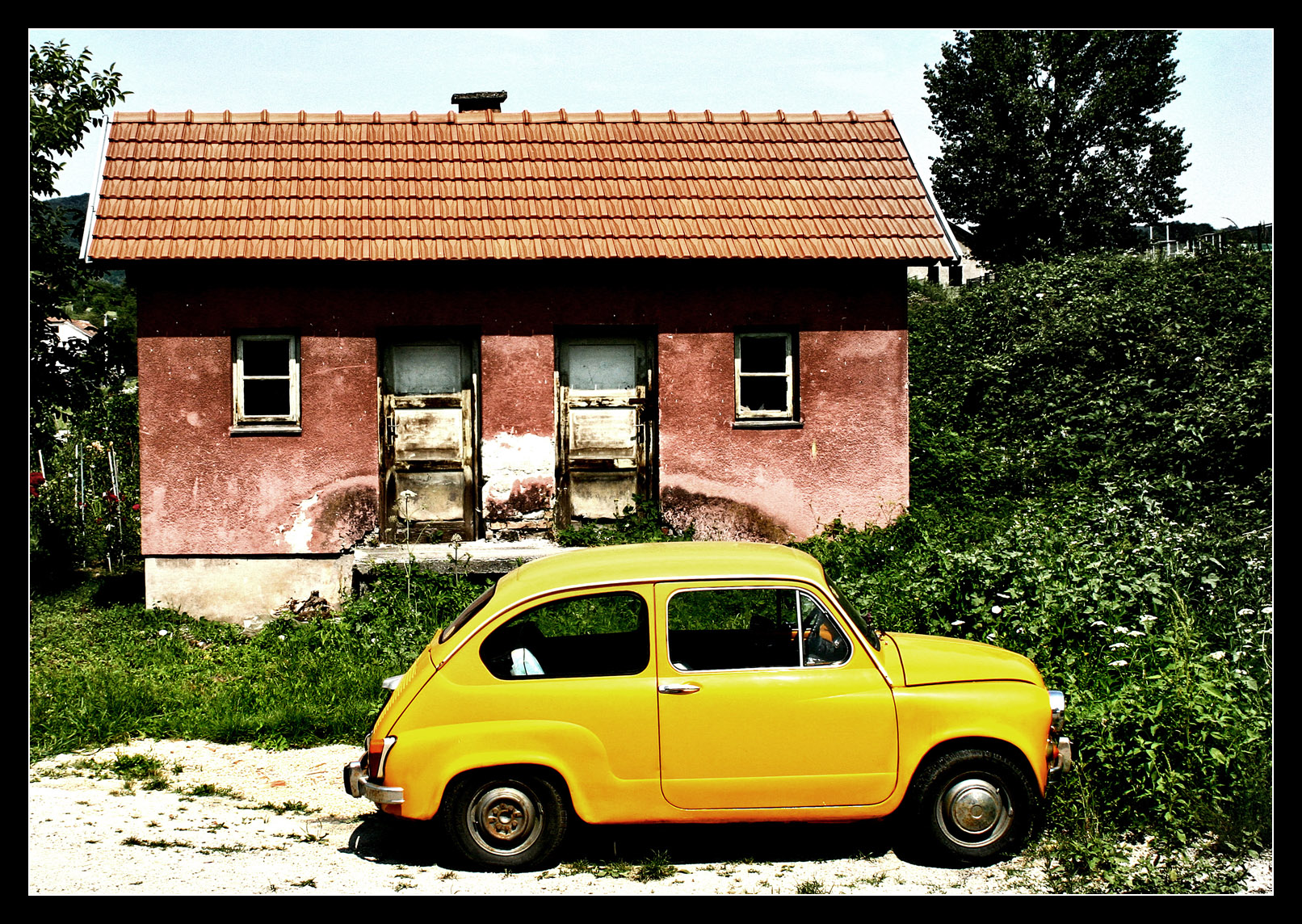 Overgrown view at Podrute halt featuring Pu 3004 from Zagreb.
The view onto the tracks was less obstructed on
May 2 2019
, but the vehicles in worse condition, only 7122-001 clear of graffiti. Pu 3014 Zagreb/Zabok - Varaždin departed Podrute punctually despite of rail replacement service at 6:52 p.m. The following putnički vlak took me back to the city.
The morning excursion on
April 24 2008
started at Mađarevo (Hungarian "Magyarlaka"), we follow the stations from Podrute back towards Varaždin. B 791 to Zagreb came by first.
B 205 "Maestral" Zagreb - Budapest, of course hauled by 2044-017. However, shorter outside the summer season, but at least featuring a colorful mix...
I urgently awaited the following Macosa due to a toilet situation, but it all went well to Sveti Ilja. ;-)
Novi Marof, the next larger station.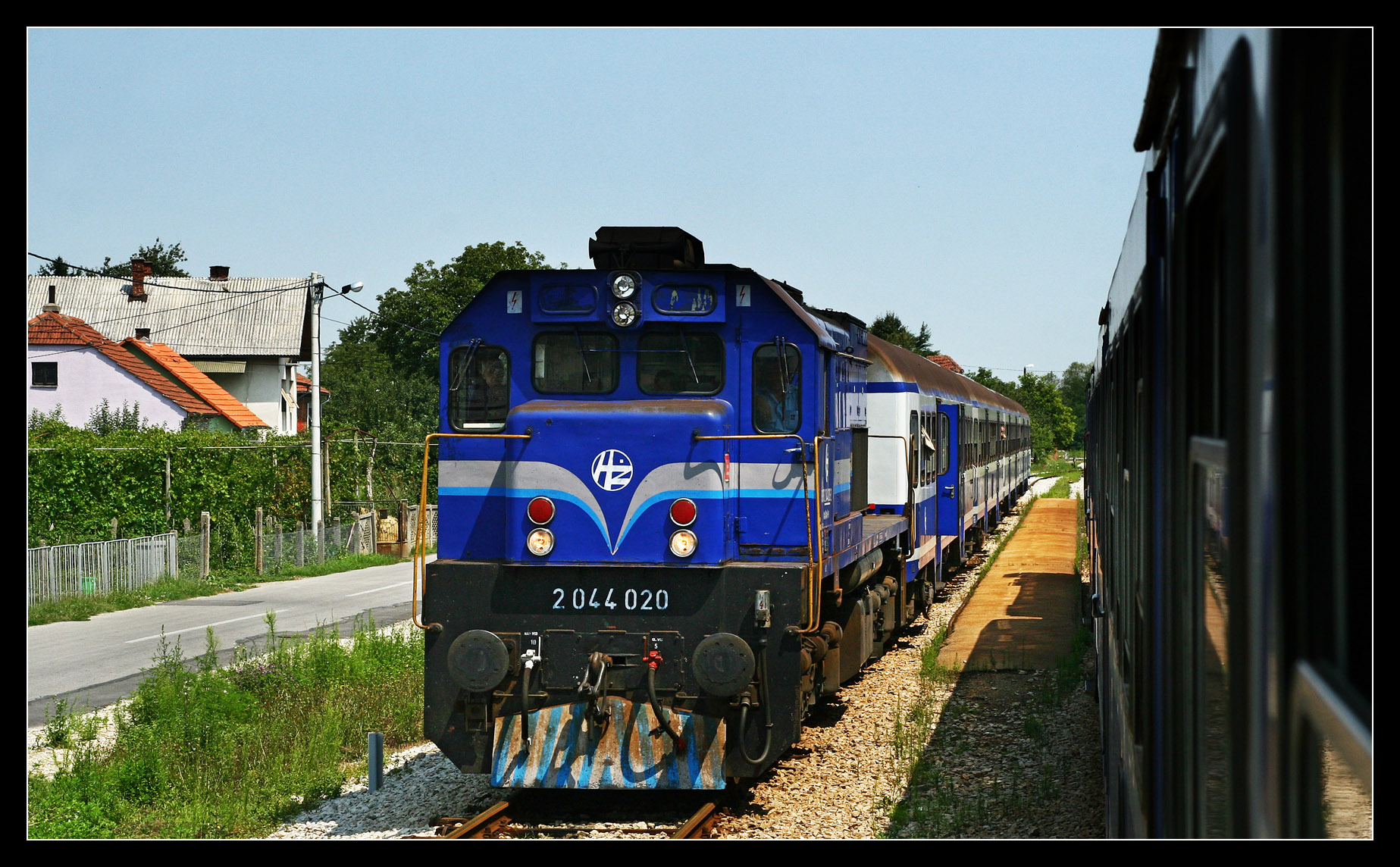 7023-001 also operated on the "mountain line" in May 2019, more of these Končar-built DMUs followed soon. A maintenance facility for the new trains has been erected at Varaždin.
I arrived at Krušljevec in the afternoon of warm summer day
July 2 2008
.
Commuter trains from the capital towards Varaždin dieseled by with a lot of bass, see video. First, ubrzani vlak ("accelerated" = semi-fast train) 992.
Then, B 790 passed by the rural life.
"I am also a little mad".
Sunbathing or driving an engine? - Both possible! I boarded Pu 3010.
Next spot before noon on
April 24 2008
: Sveti Ilja church behind Pu 3011 to Zagreb.
Sound accompanying the scene:
Clash of (former) local products on
May 2 2019
with Pu 3006 Zagreb/Zabok - Varaždin.

One of the regionally typical corn-drying-racks on the bottom left.
Time to examine a tractor close-up: A foundry founded in Belgrade in 1947 became company ITM in 1954 (Industrija Traktora i Mašina), renamed to IMT (Industrija Mašina i Traktora) in 1965. IMT 533 (deluxe, please) are license built Massey Ferguson 35 produced 1959-88.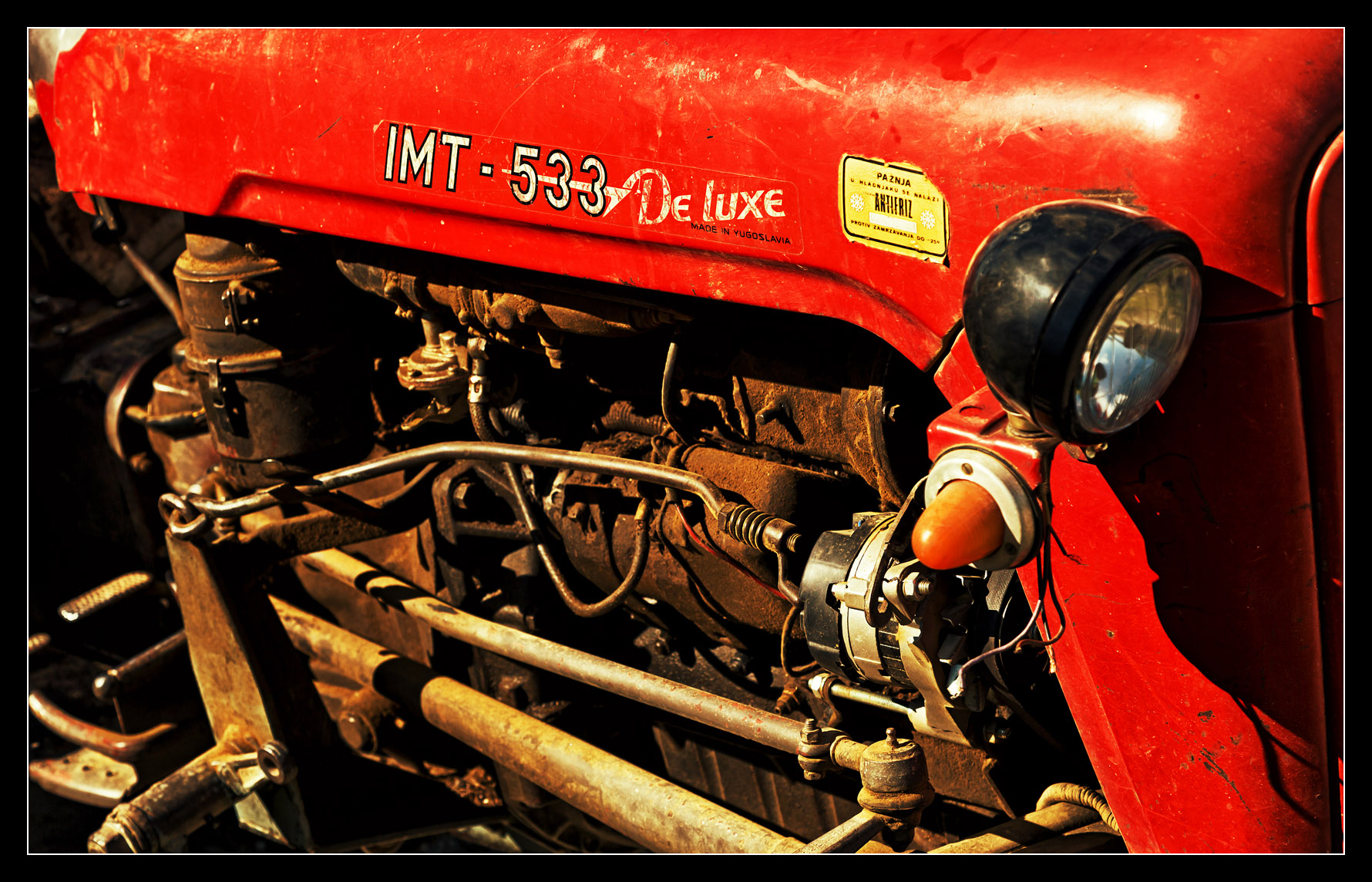 The well-known photo-S-curve was quite grown over with trees, also it featured a 20 kph speed limit. Pu 3013 towards Zagreb.
Deutz tractor in action on
April 24 2008
.
Comparison of the same spot from
May 2 2019
with Pu 3015.
I only stayed shortly at the vineyard for Pu 3010 from Zagreb as poison was just being sprayed. Sveti Ilja halt to the left in the background.
Arrived at the halt for the evening session on
July 2 2008
. Ub 995 to Zagreb dieseled up the grade without stopping, the vineyard from the picture before in the background.
During the following train gap, I wandered down the line to the straight towards Turčin. Exactly in the curve before reaching it, 2062-014 thundered past hauling freight.
Another freight caught me at Sveti Ilja in April 2008, of course when I was already waiting at the station. I barely could react and pull out the video camera as 2043-002 came up the grade:
I chose the contre-jour view for the evening, Pu 3019 to Zagreb passed by at 7:15 p.m.
Lacking train traffic: a track-biker.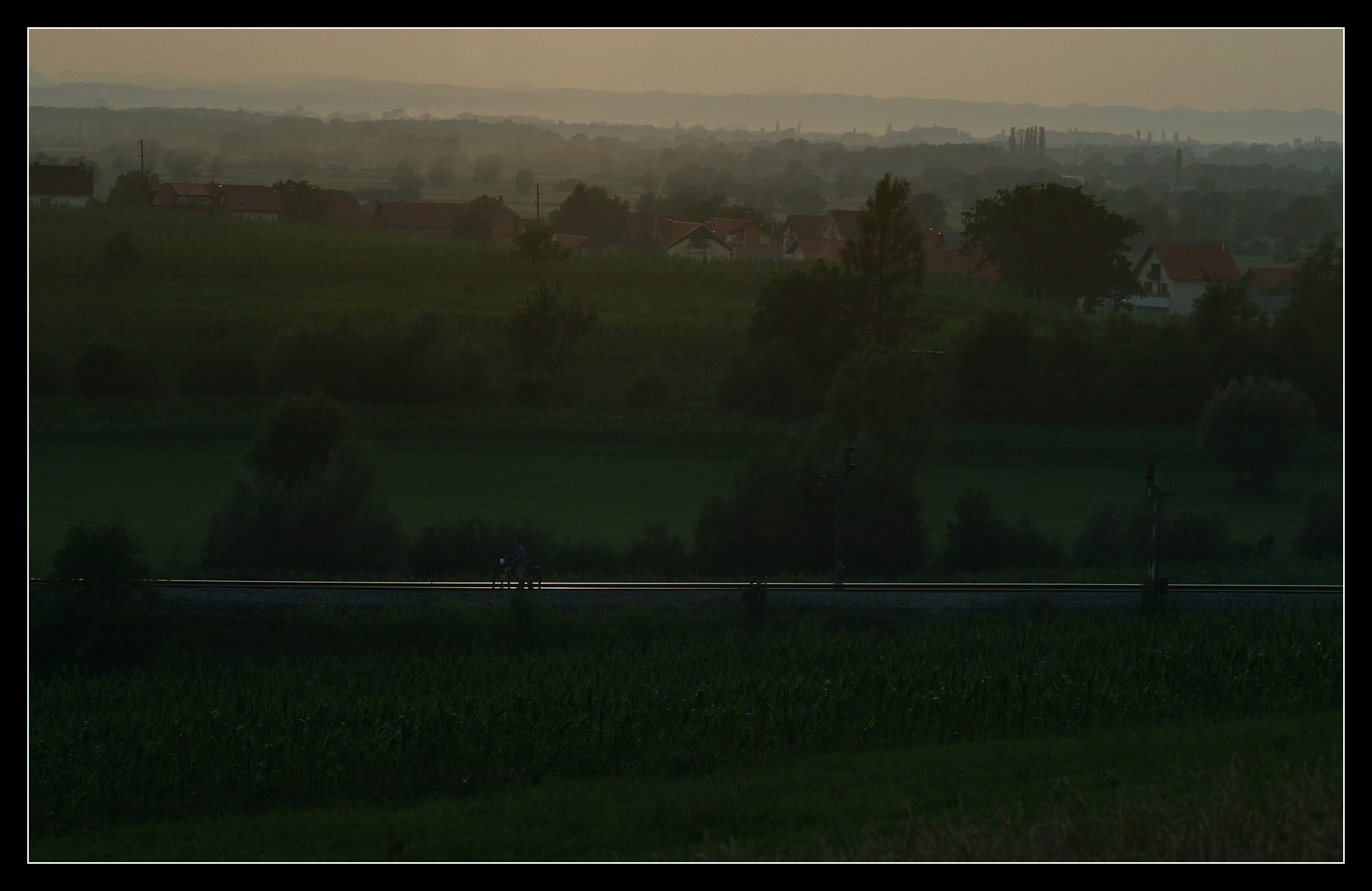 My reason to come here: B 204 "Maestral" Budapest - Zagreb could be captured during daylight only around the summer solstice, conveying a MÁV sleeping car to Split. The same morning I had arrived with such from Perković at Varaždin - including sleep in a single compartment until 9 a.m., a luxury on photo tours. You can hardly travel in more style.
As nice conclusion of the day, 2044-007 hauling Pu 3014 took me back to the accommodation at Varaždin.