Hi,
To the previous part of the series:
Regional Rail Express - 1: Vindobona I (50 p.)
http://www.railroadforums.com/forum/index.php?threads/regional-rail-express-1-vindobona-i-50-p.13522
In this part we will look at international successors of the former express "Vindobona" Vienna FJB - Prague - Berlin in the mid-2000s on the ÖBB old-timer paradise Franz-Josefs-Railway (in German):
https://de.wikipedia.org/wiki/Franz-Josefs-Bahn_(Österreich)
They consisted of two EURegio train pairs (during the 2006 timetable category "Eilzug" - semi-fast), named "Silva Nortica", partly "Urquell" or "Hopfen & Malz" (hops & malt) Wien FJB - Budweis/Pilsen. Since the 2010 timetable and electrification České Velenice - České Budějovice, these through connections don't exist anymore. Regional Express (REX, modern ÖBB name for semi-fast trains) trains from Vienna terminate every two hours at České Velenice with swift changing connection on to České Budějovice.
The following pictures appear in geographical order, north to south. Steamer 33.132 pulled a special to Vienna departing from Gmünd NÖ on
September 9 2006
.
Schwarzenau im Waldviertel is reached, E 2106 Vienna - Gmünd on
March 20 2006
.
Junction of the branch lines to Zwettl and until 2010 also Waidhofen an der Thaya,
December 11 2004
.
On working days like
May 11 2006
, you could catch local freight hauled by class 2143. Looks like a combined passenger train, but it is just an old coach for troop transport - these central-door carriages were not in regular passenger service anymore. Captured at Allentsteig near the military training area of same name.
I enjoyed the morning sun and experimented with a new Canon EOS 30D as the shutter of my first DSLR – a 300D - had failed on a trip to Slovenia the month before.
E 2119 "Silva Nortica" Budweis - Wien with 1042.501 passed former Blumau an der Wild halt on
March 2 2006
. I had walked here 5 miles on foot from Irnfritz station.
Evening return E 2120 "Silva Nortica" passed the moon at 8 p.m. on the embankment of Oedt an der Wild,
May 11 2006
.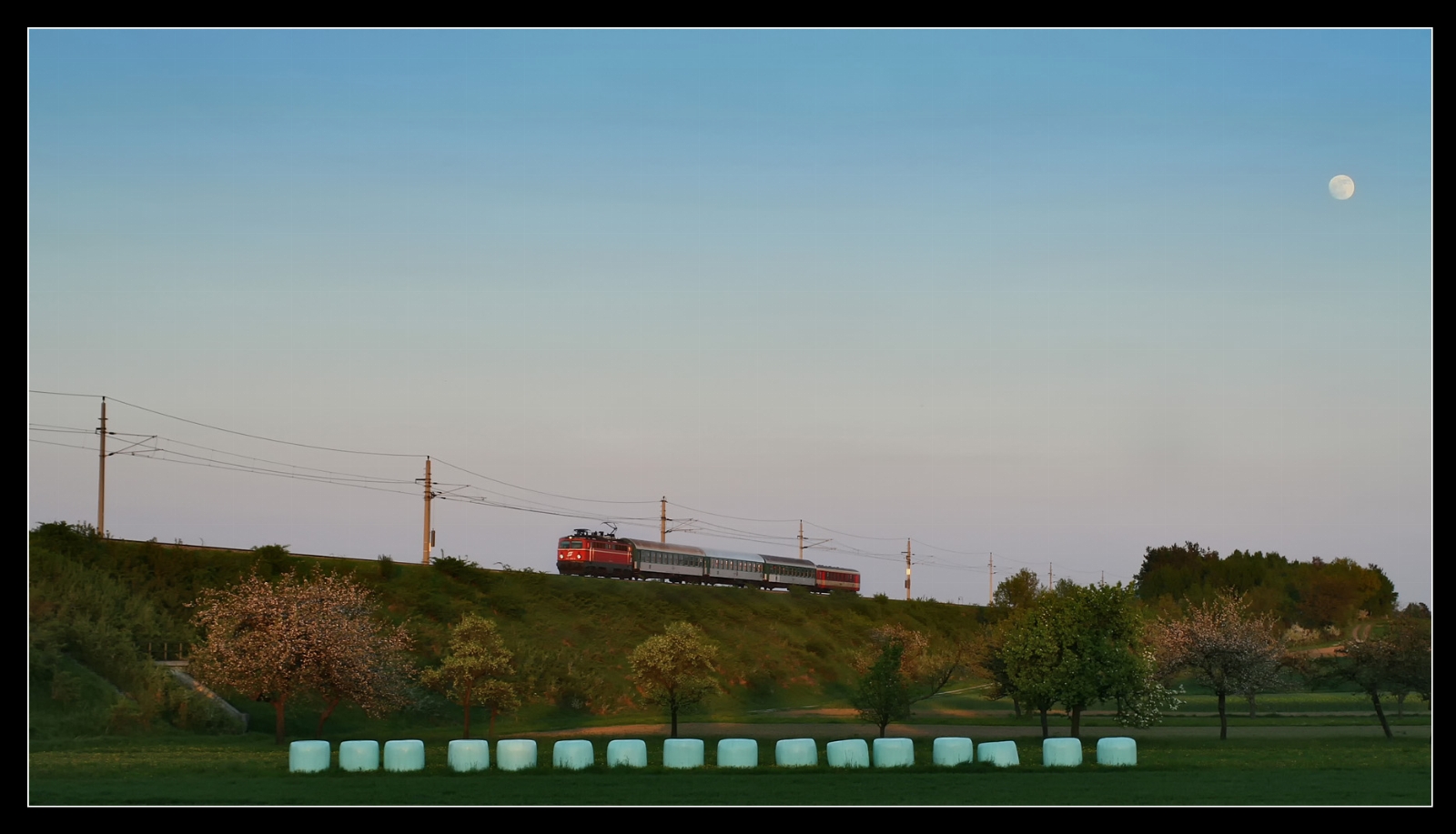 A favourite: the bathing pond in Nondorf an der Wild with E 2110 Wien - Gmünd.
Local freight passing the village, virtually deelectrified,
March 20 2006
.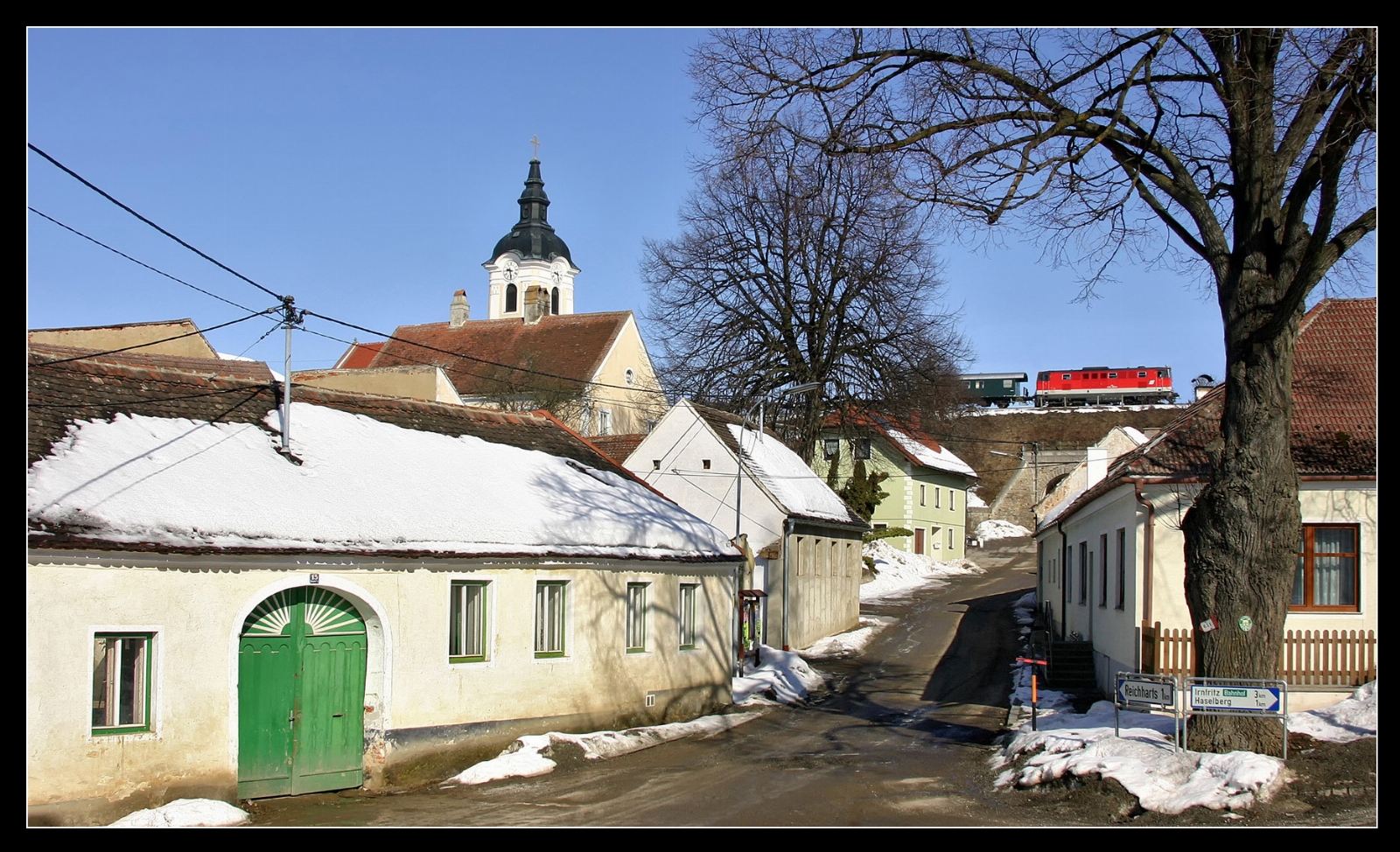 E 2119 up on the embankment.
I chased 33.132 by rail and bike on
September 9 2006
, a chance to capture E 2119 once again.
1042.41 arrived with E 2120 at Sigmundsherberg in the evening of
June 22 2006
. This engine still is in operation for Widmer Rail Services in Switzerland.
"Silva Nortica", goods train and terminal for several commuter services: Sigmundsherberg.
Two early 1042s at the depot.
The later chancellor of Austria still had been transport minister in 1995 ...
The FJB gained more international flair through military trains to Allentsteig, "checkerboard" 1044.092 hauling Slovak couchette coaches on
March 10 2008
.
E 2119 near Klein Meiseldorf on
May 23 2006
.
Rape field and one tractor.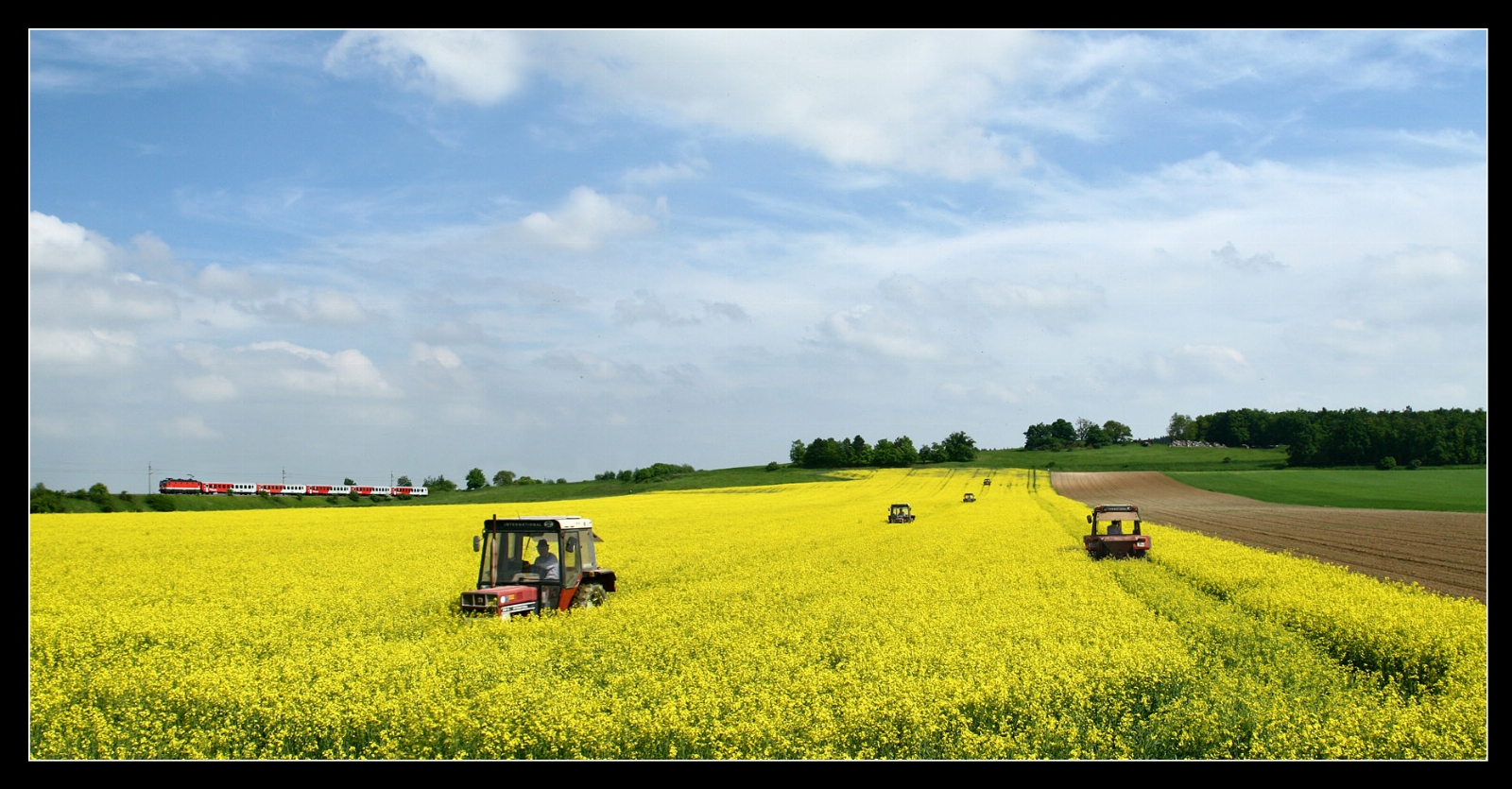 E 2125 Gmünd - Wien at Klein Meiseldorf on
May 22 2006
.
The Strasshof museum star steamers 109.13 and 310.23 on IGE "175 years railways in Austria"-tour near Grafenberg on
August 22 2012
.
E 2125 Gmünd - Wien on
July 29 2005
passing Straning wineyards with view of St. Leonhard church.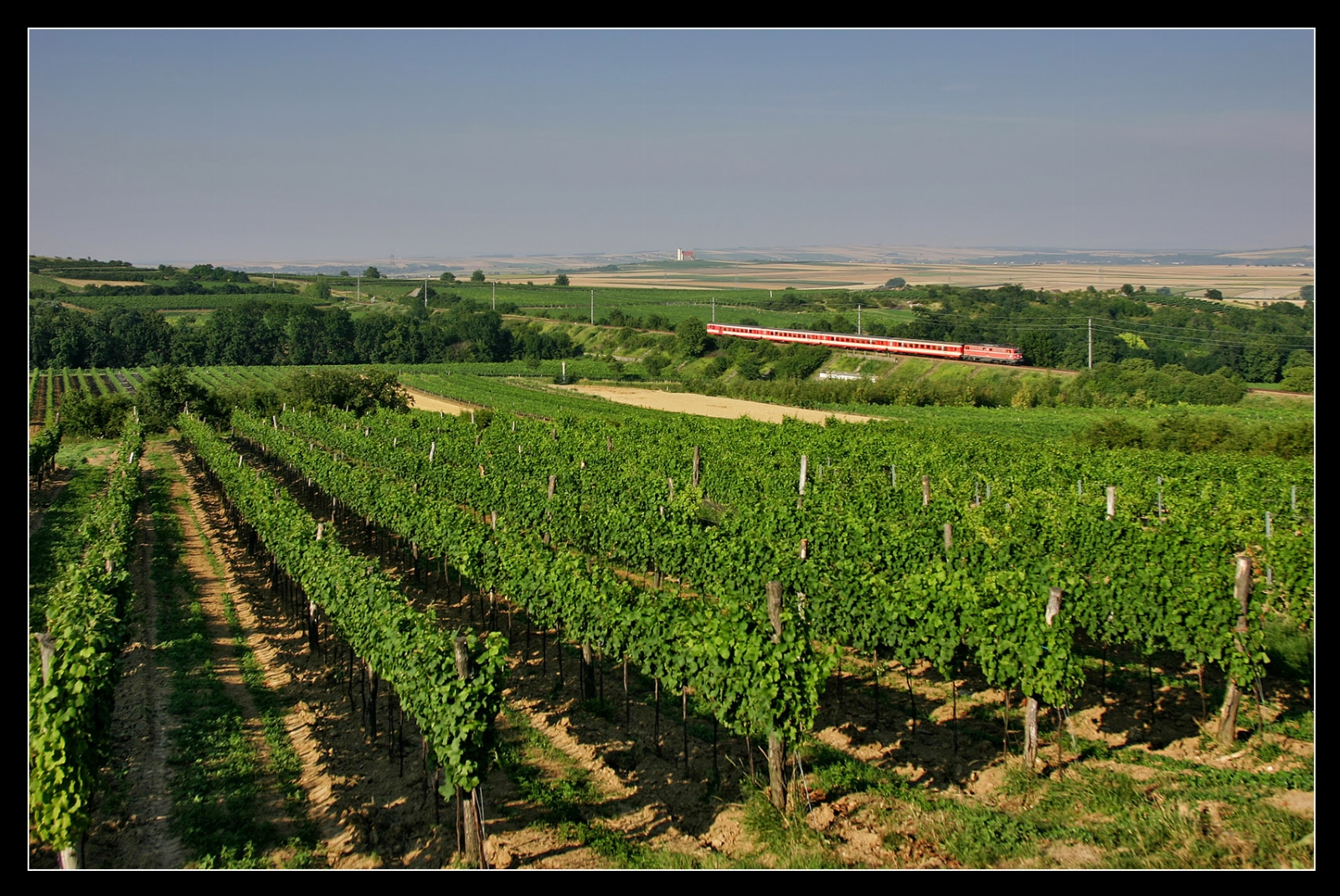 310.23 steamed uphill on
April 16 2011
, past Zaußenberg and across Limberg hillside bridge.
E 2122 Wien - Gmünd as class 4010 EMU crossing the bridge at 8 p.m. on
July 29 2005
, Limberg-Maissau station in the background on the other side of the valley.
The rakes of the international trains changed to ÖBB coaches in old long-distance livery for the 2007 timetable. EURegio 2116 "Silva Nortica" Wien - Budweis was hauled by the only redesigned 1042 from the first production series - 1042.18 - past Glaubendorf-Wetzdorf halt in the afternoon of
September 14 2007
.
The final days of class 4010 operation on the FJB,
March 2 2006
: R 2169 "Schmidatal" Sigmundsherberg - Wien at Absberg.
The line towards Krems an der Donau branches off at Absdorf-Hippersdorf junction, REX 7218 "KURIER" Wien - Krems in the foreground, ER 2116 in the background,
May 10 2007
.
The pretty old infrastructure of Absdorf-Hippersdorf sadly has been renewed since and the signalboxes torn down. 1042.07 hauled R 2166 towards Sigmundsherberg into the evening sun of
April 2 2007
.
Fairy tale morning departure by 33.132 on
September 9 2006
.
During workday mornings, the old-timer parade continued towards Vienna: 1042.05 with E 2107 on
May 11 2006
.
Morning fog pierced by sunrays on
May 22 2006
- back then E 2110 "Urquell" Wien - Pilsen ran jointly with R 2150 up to Absdorf-Hippersdorf.
ER 2116 pulled again by 1042.18 on
August 6 2007
.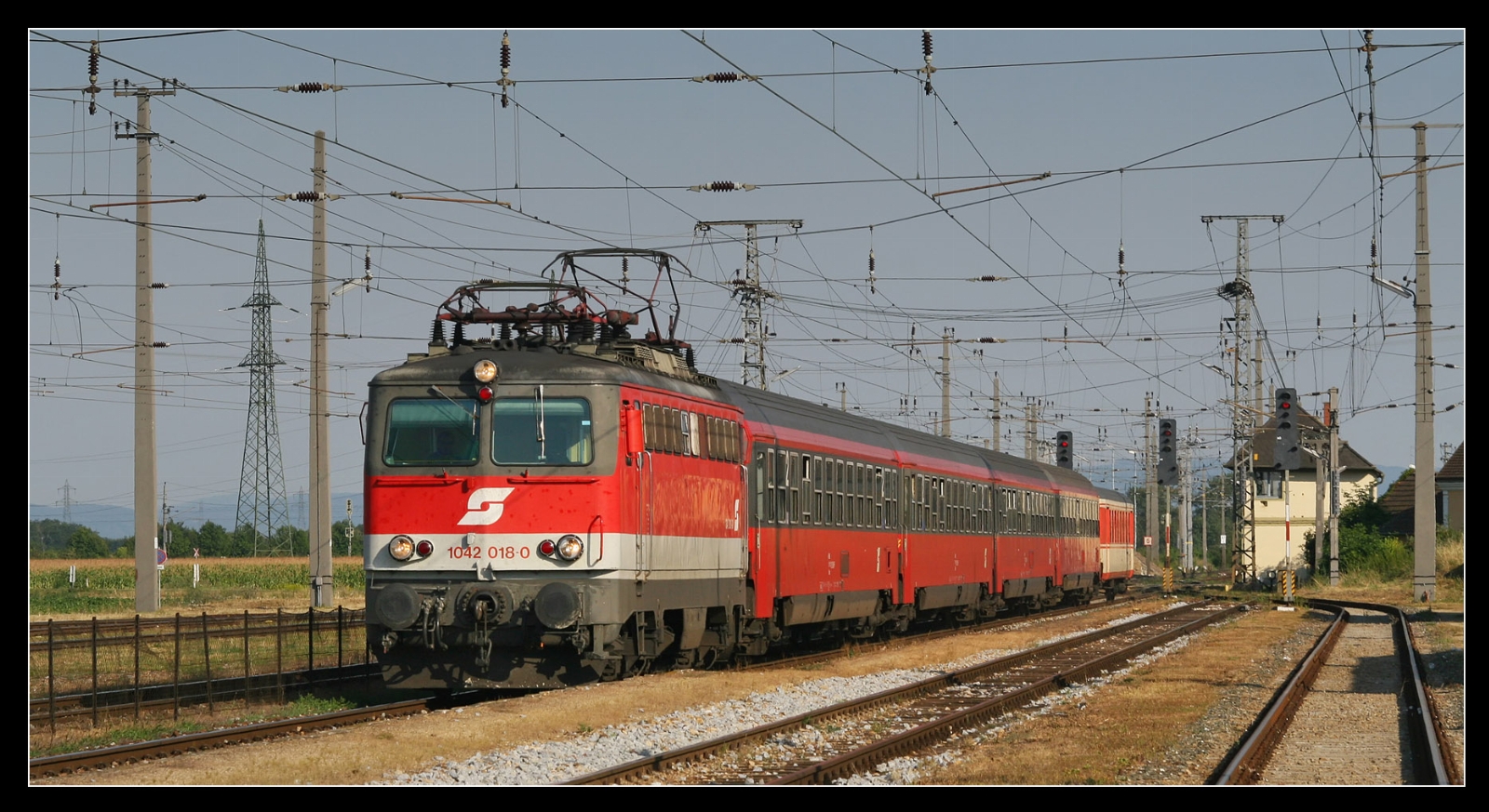 R 7161 Krems an der Donau - Wien FJB crossed the old Tulln Danube bridge on
March 6 2007
. Soon afterwards - in 2009 - it was replaced by a new structure.
Classic arrival at Tulln by R 2169 Sigmundsherberg - Wien on
March 27 2007
.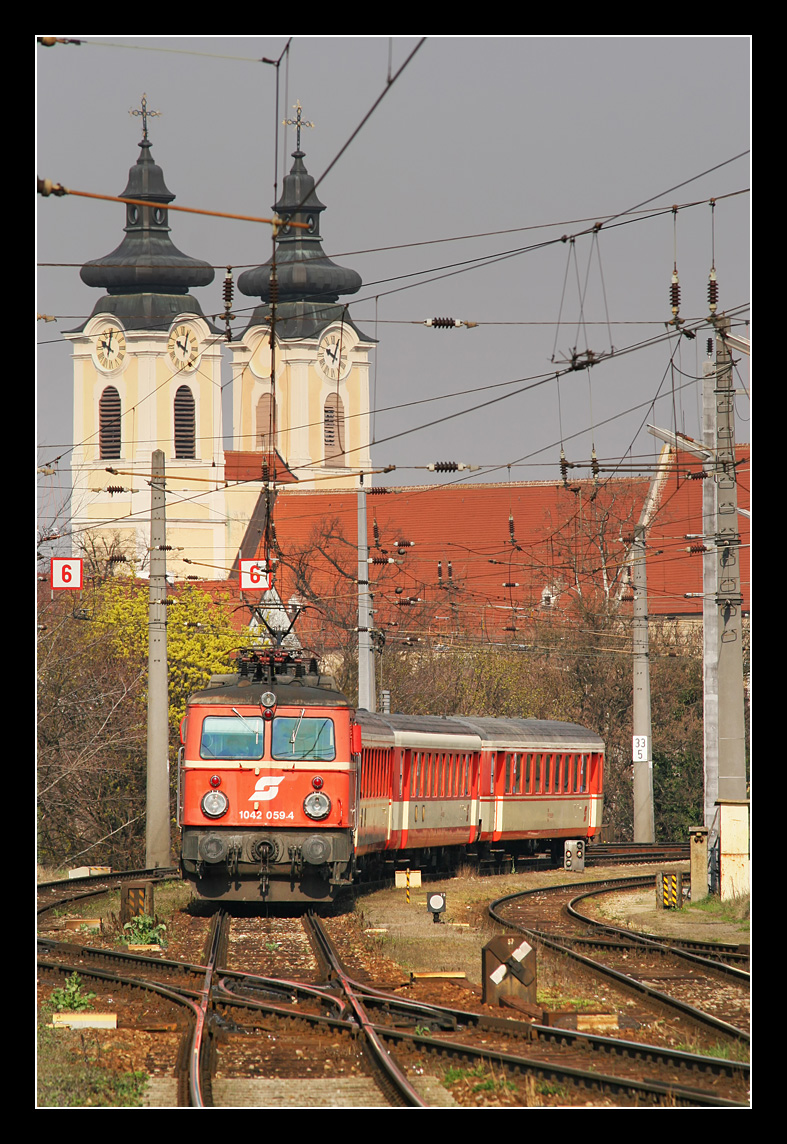 Evening departure of E 7136 "Smaragd" Wien - Krems on
July 18 2006
.
E 2119 met unrefurbished class 4020 EMUs in original beige livery on
January 11 2006
. These were still wearing ads from Vorarlberg from where they had been transferred to the FJB.
E 2120 "Silva Nortica" combined with E 7134 to Krems on
July 18 2006
and sunflowers next to "Brumowski" airbase Langenlebarn-Tulln, where the third track was leading. This airfield had been situated in the Soviet zone after WWII but was used by the US troops for Vienna, also for civil aviation. From 1946, even PanAm flights New York - Langenlebarn were scheduled.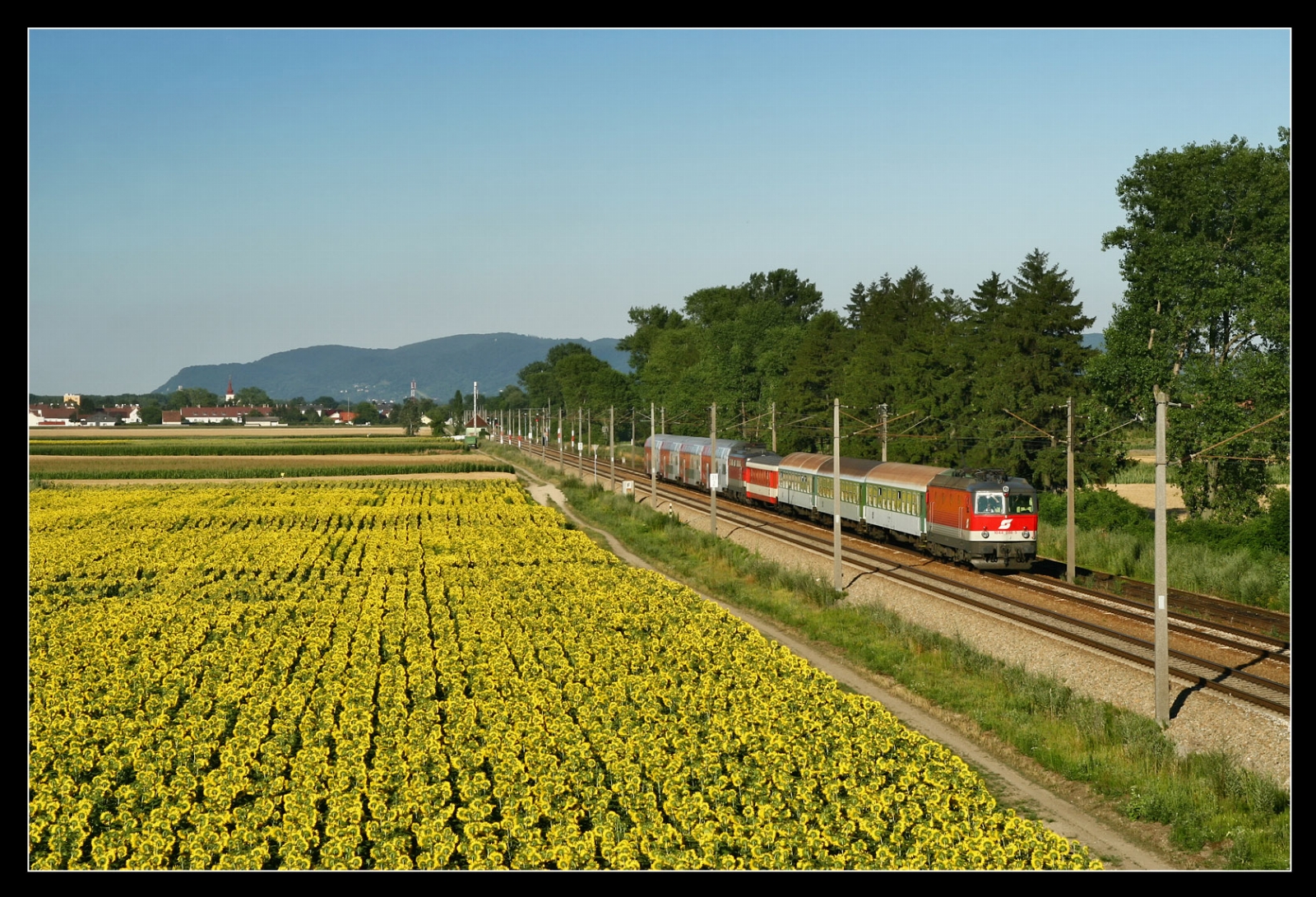 A long line of Schlieren coaches passing Langenlebarn as REX 2109 to Vienna in the morning of
April 2 2007
.
Regular nostalgic train Erlebniszug 6993 "Wachau" St. Valentin - Wien Süd (Ost) during sunset on
October 7 2008
hauled by 1046.16 - this class had been in regular service on the FJB just a few years prior.
Also historically at home here: Henschel-GM class 2050 - on
May 3 2007
with short "dinner train".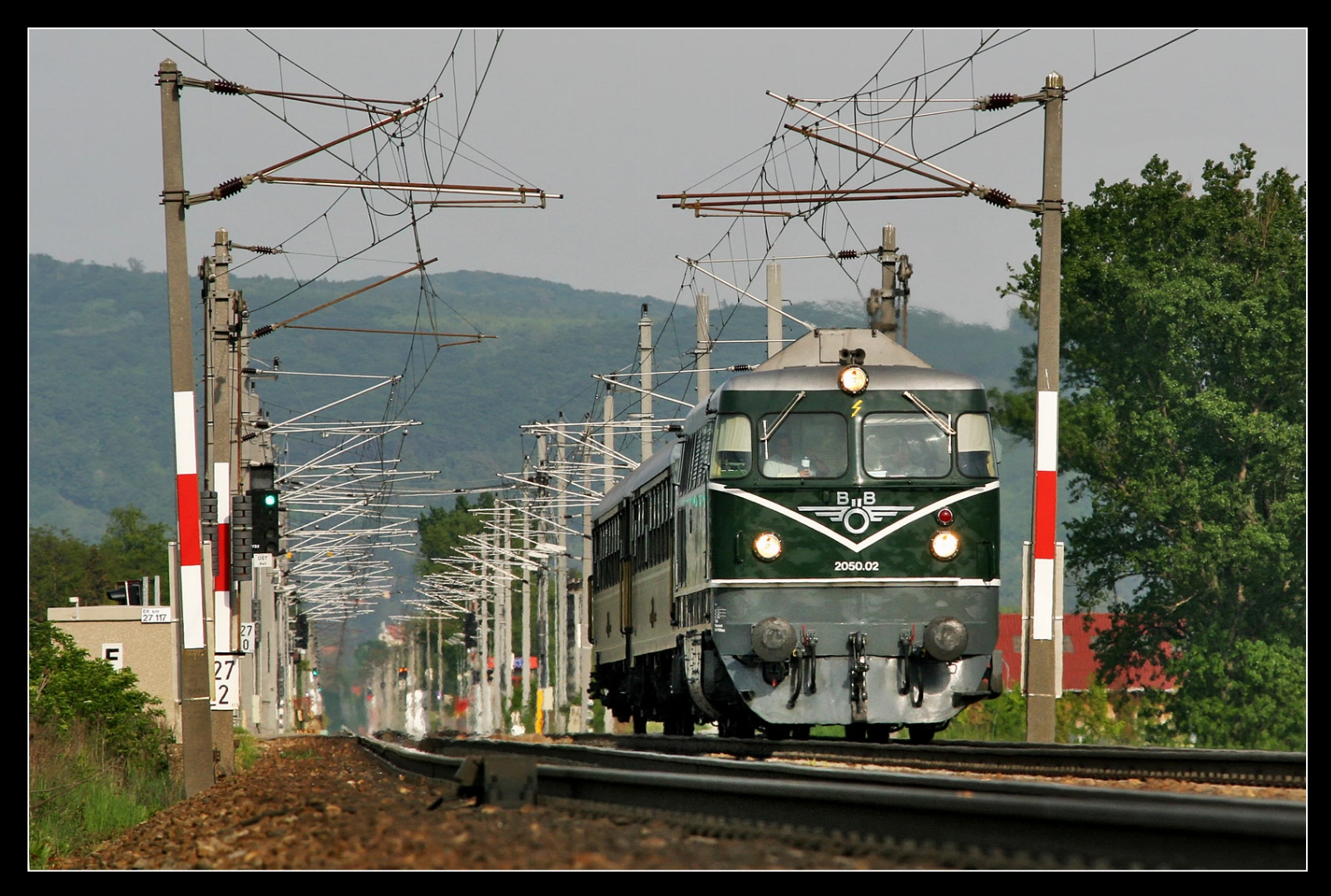 Another regular on the unelectrified FJB, but not seen in museum operation since
April 17 2004
: Class 2045, here 2045.20 on the Kamptal Railway near Zöbing.
We move on towards Muckendorf-Wipfing, a classic spot on the lower FJB. A speciality were "camelback" trains including double-decker and Schlieren coaches, like REX 7124 "Kremser Bote" towards Krems on
May 3 2007
.
The wide view has grown over since and an earth wall has been added, but at least there still are 1142s with large headlamps and "dromedary back" trains even in 2018, REX 2836 "Kremser Sprinter" on
March 8 2018
.
One of the very last class 4010 doubles on the FJB: R 2158 Wien - Sigmundsherberg on
March 3 2006
.
Sunrise on
April 2 2007
featuring (BE)ER 2100 "Hopfen & Malz" Wien - Budweis - Pilsen.
A hare and ER 2116 "Silva Nortica" to České Budějovice on
May 3 2007
.
A class 1044 in "blood-orange" livery on
February 22 2007
.
Back to 42 on
March 6 2007
.
Workhorse 1042.41 at speed on
September 10 2006
.
The place is ideal for sunsets twice a year exactly along the tracks at Langenlebarn, for example on
March 6 2007
(start of October would be equivalent). To the left, the view from Tempelberg lookout tower near Greifenstein with the Tulln Danube bridge in the background on
March 28 2014
.
Red moon and lamps at Muckendorf-Wipfing in the evening of
April 2 2007
, the picture has not been altered.
Next time, we will follow the more international EuroCity-route of the "Vindobona".
Last edited: