Hi,
To the previous part of the series:
Regional Rail Express - 18: Voralpen-Express I (50 p.)
http://www.railroadforums.com/forum...rail-express-18-voralpen-express-i-50-p.14456
Videos for this part:
Voralpen-Express, June 7-11 2019
Bavaria & Austria, August-September 2018
Classic Oberstdorf Winter Diesel, February 24 2018
September 16 2018
We start with EuroCity 196 Munich - Zürich shortly after sunrise next to the Starnberg section of the München Hauptbahnhof terminal.
September 14 2018
First train of the day from Switzerland, EC 191 Basel SBB - Munich, sped through Munich Laim slightly delayed at 11:32 a.m.
EC 194 Munich - Zürich passed by late 17th century baroque monastery Fürstenfeld.
EC 193 Basel - Munich behind a wayside cross at Aubing.
Almost real meeting of RE 57511 Füssen - Munich and ALX 84140/84160 Munich - Lindau / Oberstdorf at Kottgeisering.
EC 192 Munich - Basel approached through the long curve.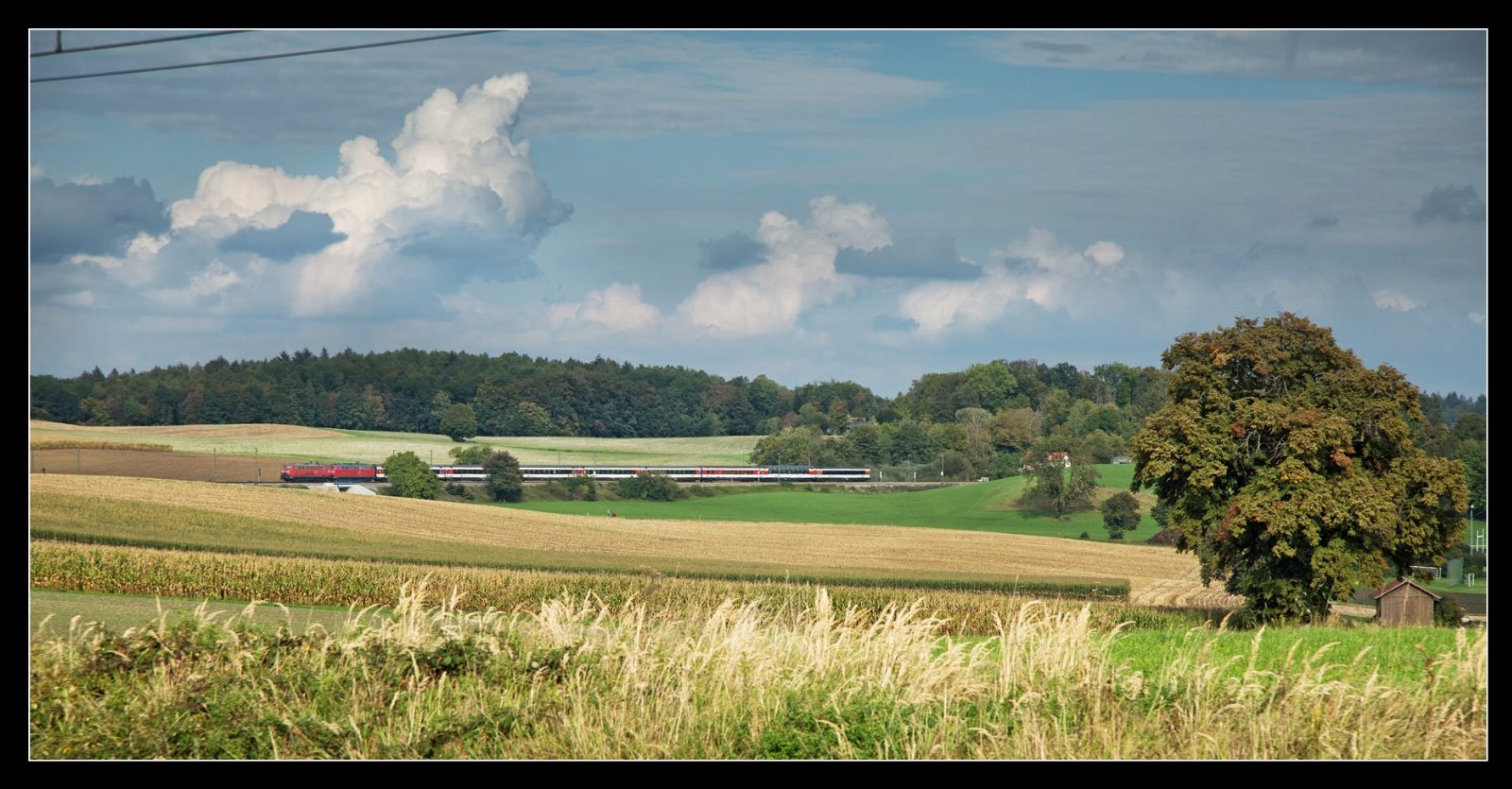 A classic 420 could be spotted Friday afternoon: S-Bahn line 4 train #8482 Munich Trudering - Geltendorf.
To the left RE 57592 to Kempten, to the right RE 57514 to Füssen.
ALX 84143/84163 Lindau / Oberstdorf - Munich in front of Lake Ammersee with heritage satellite station Radom Raisting from the 1960s. The Alps can also slightly be seen.
No... errrrmmm hardly any freight trains frequent this line.
EC 190 Munich - Zürich in last daylight.
February 24 2018
I went on a day trip to Upper Allgäu region February past year. Hardly any snow at Sonthofen...
… from Langenwang the snow cover was alright, IRE 4247 "Schnee-Express" Stuttgart - Oberstdorf approached delayed at 9:33.
Two intercities departed Oberstdorf within 10 minutes of each other, here InterCity 2012 "Allgäu" Oberstdorf - Minden.
ALX 84157 towards Munich followed shortly behind, Stauden-Verkehrs-GmbH (SVG) 2143.21 (ÖBB until 2007, SGP works #18389 / built in 1970) operated on the branchline Oberstdorf - Immenstadt at the time. It was the last regular passenger service hauled by a 2143 to date.
The sun only rarely made it through the cloud cover, time to explore alternative views without Alpine panoramas.
If you miss them, check this report:
(Pre)-Alpine Connections - 2: Railway States (50 p.)
http://www.railroadforums.com/forum...)-Alpine-Connections-2-Railway-States-(50-p-)
ALX 84154 to Oberstdorf crossed Breitach river.
RE 3892 Oberstdorf - Ulm in front of Schattenberg ski jumping hill, part of the Four Hills Tournament.
After visiting the Oberstdorf Steam Beer Brewery I returned to Langenwang for IC 2085 "Nebelhorn" (Hamburg-Altona -) Augsburg - Oberstdorf.
ALX 84163 towards Munich.
Arriving behind the 2143 into diesel-rich Oberstdorf.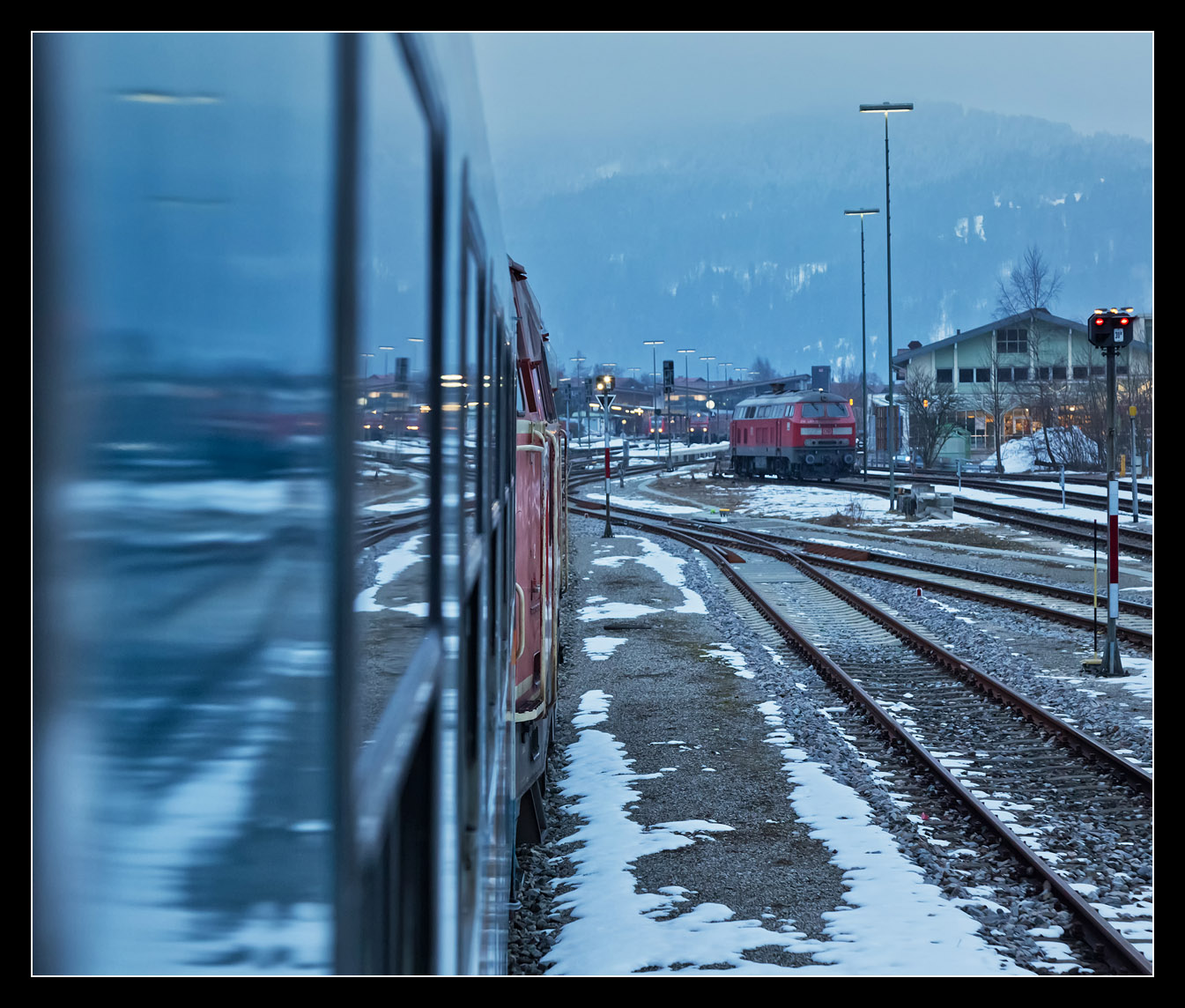 2143.21 was switching, IRE 4248 "Schnee-Express" departed to Stuttgart.
June 9 2019
This June, I traveled from Switzerland via Lindau Hbf. View through the cab of an overcrowded class 628 DMU as RB 22720 to Friedrichshafen Port towards the ÖBB cars of IC 119 to Innsbruck.
It properly rained in the afternoon, so I took a cab from Enzisweiler station to my accommodation at Schönau. I looked outside in the evening: sun! So, I quickly climbed to the vineyard view across Lake Constance with ALX 84114 Munich - Lindau, its destination can be spotted in the background, to the right the Rhine Valley between Austria and Switzerland.
ALX 84117 Lindau - Munich at 8 p.m. in front of Säntis mountain mood.
The weather remained favorable at my spot for EC 197 Zürich - Munich at 20:27.
Säntis still could be clearly seen.
The panoramic picture in larger resolution:
http://raildata.info/heck/heck1931x.jpg
Was that it? No, a small rainbow appeared just as EC 190 Munich - Basel approached ten minutes later with a colorful surprise: Oceanic blue/beige Westfrankenbahn 218 460 "Conny" as second engine below the Lindau fruit juice factory and Pfänder mountain near Bregenz in Vorarlberg/Austria. This way you knew, ...
June 10 2019
... that 218 460 was about to lead EC 191 Basel - Munich next morning. It still rained at 9:17 a.m. but already became brighter.
I took the city bus to Hoyren, where the Allgäu line and the line from Friedrichshafen along Lake Constance merge. To the left RE 3227 Aulendorf - Lindau, to the right EC 196 Munich - Zürich.
RB 22710 to Friedrichshafen with still operational distant semaphore signal.
RE 3234 passed through Enzisweiler.
RB 22715 to Lindau.
As RE 3231 arrived from Aulendorf, umbrellas could temporarily be dried in the sun.
ALX 84109 took me to Röthenbach im Allgäu. I walked on a mosquito-ridden forest path towards Heimenkirch.
Eurorunners can become proper diesel monsters over time, ER 20-013 hauling ALX 84108 Munich - Lindau.
Horse family-tractor-panorama featuring RE 3289 Lindau - Augsburg.
After EC 194 Munich - Zürich had passed by, I marched back to the station chased by a bull luckily separated by a fence.
I only walked a few yards from the station into the curve for EC 195 Zürich - Munich... suddenly a storm shower pelted down. Running back to the building would not have changed anything about the wetness, so I endured until the train came.
On video:
I changed into try clothes and boarded the alex to Munich. However, from Buchloe we stopped for longer several times until the ride was over at Geltendorf. Thunderstorms and hail had toppled trees and damaged overhead wires at several spots around Munich. The alex train attendant made several announcements, but also did not know what was supposed to happen. After some time, she announced that the train was about to return to Allgäu - the passengers had to look for themselves how they would get to Munich. The station staff provided zero usable information apart from rare, confused announcements. Buses were supposed to come but they did not arrive for several hours. Tourists from Asia filmed the spectacle as their holiday videos.
Finally, I boarded the BRB train at 8:30 p.m. to Weilheim, on fields you could partly encounter massive hailstones.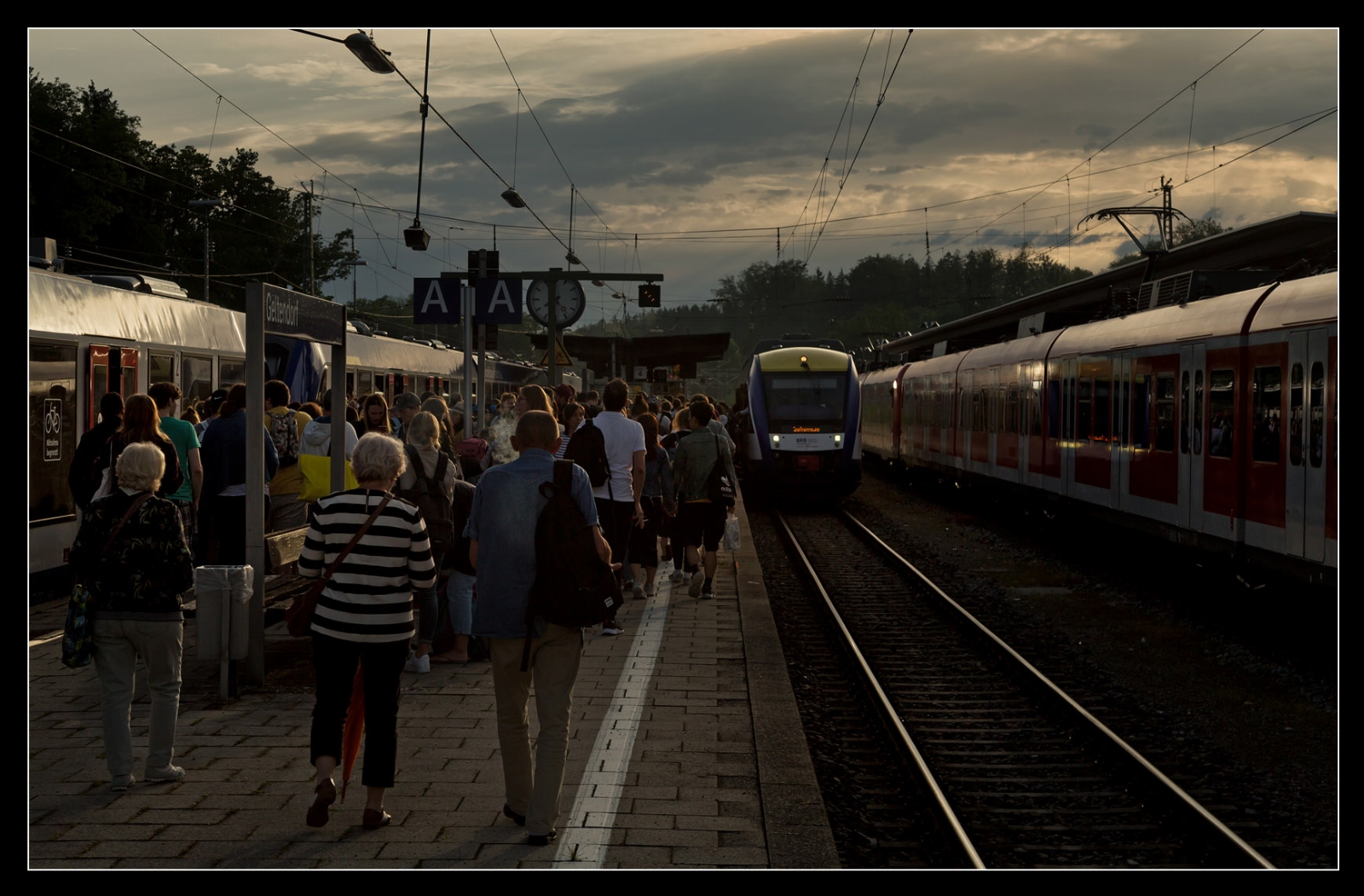 Confusing "information".
RB 5432 from Seefeld appeared almost punctually at Weilheim. The Bombardier Talent 2 "hamster cheek" was greeted with applause by the waiting tourists. I reached Munich main station at 10:30 p.m., almost four hours behind schedule.
Only one good thing came from the disruption: 218 460 actually would have hauled an EC back towards Switzerland, but that way I captured it next morning with "Kálmán Imre" (see previous report part):
http://raildata.info/heck/heck1850.jpg
June 9 2019
More Bombardier noses in comparison, less hamster-like: SBB Twindexx meets ÖBB Talent 1 at Swiss border station St. Margrethen.
June 8 2019
I had spent the two previous nights in a hotel at St. Gallen Haggen, including morning tours to the nearby massive viaducts across Sitter river.
IC 1512 St. Gallen - Lausanne crossed the SBB-Sitter-Viaduct at 7:07 a.m. with view towards the Südostbahn (SOB)-Sitter-Viaduct, the tallest railroad bridge of Switzerland (linked pages in German, please select translate):
https://de.wikipedia.org/wiki/Sitterviadukt_(Südostbahn)
https://de.wikipedia.org/wiki/Sitterviadukt_(SBB)
On the larger of the two - currently under renovation - we can spot SOB Voralpen-Express (VAE, "Pre-Alpine-Express") 2564 St. Gallen - Luzern, the first namegiving train of this report part.
View into the opposite direction: already known EC 191 Basel SBB - Munich sped past with an SBB Cargo Re 421 double header (fit for ÖBB and DB rails via Bregenz to Lindau, observe the different pantographs).
June 9 2019
Whitsunday morning I had time for the whole round tour of the viaducts. EC 191 again double-headed on the SBB-viaduct in the backgrund, VAE 2563 Rapperswil - St. Gallen on the SOB-viaduct in the foreground.
Next time more about the Voralpen-Express.