Hi,
To the previous part of the series:
Regional Rail Express - 17: Transalpin (50 p.)
http://www.railroadforums.com/forum/index.php?threads/regional-rail-express-17-transalpin-50-p.14451
Video for this part:
October 12 2019
We start early morning in a foggy Vienna with EuroNight 463 "Kálmán Imre" Munich - Budapest which we will encounter again towards the end of this report.
October 18 2019
One week later I traveled via Linz to Braunau Friday afternoon. A rail replacement bus took me across Inn river to my accommodation in Simbach, Bavaria. I shortly visited the pretty heritage station. Nothing was moving, only 218 430 stabled with a double deck commuter train.
October 19 2019
Saturday morning I walked to Braunau. A female driver just stopped her 5047.083 as R 5944 from Neumarkt-Kallham at the station currently under reconstruction.
German DB 628 571 as Regionalexpress 5858 to Bavarian Freilassing via Salzburg approached to start its journey mainly through Austria.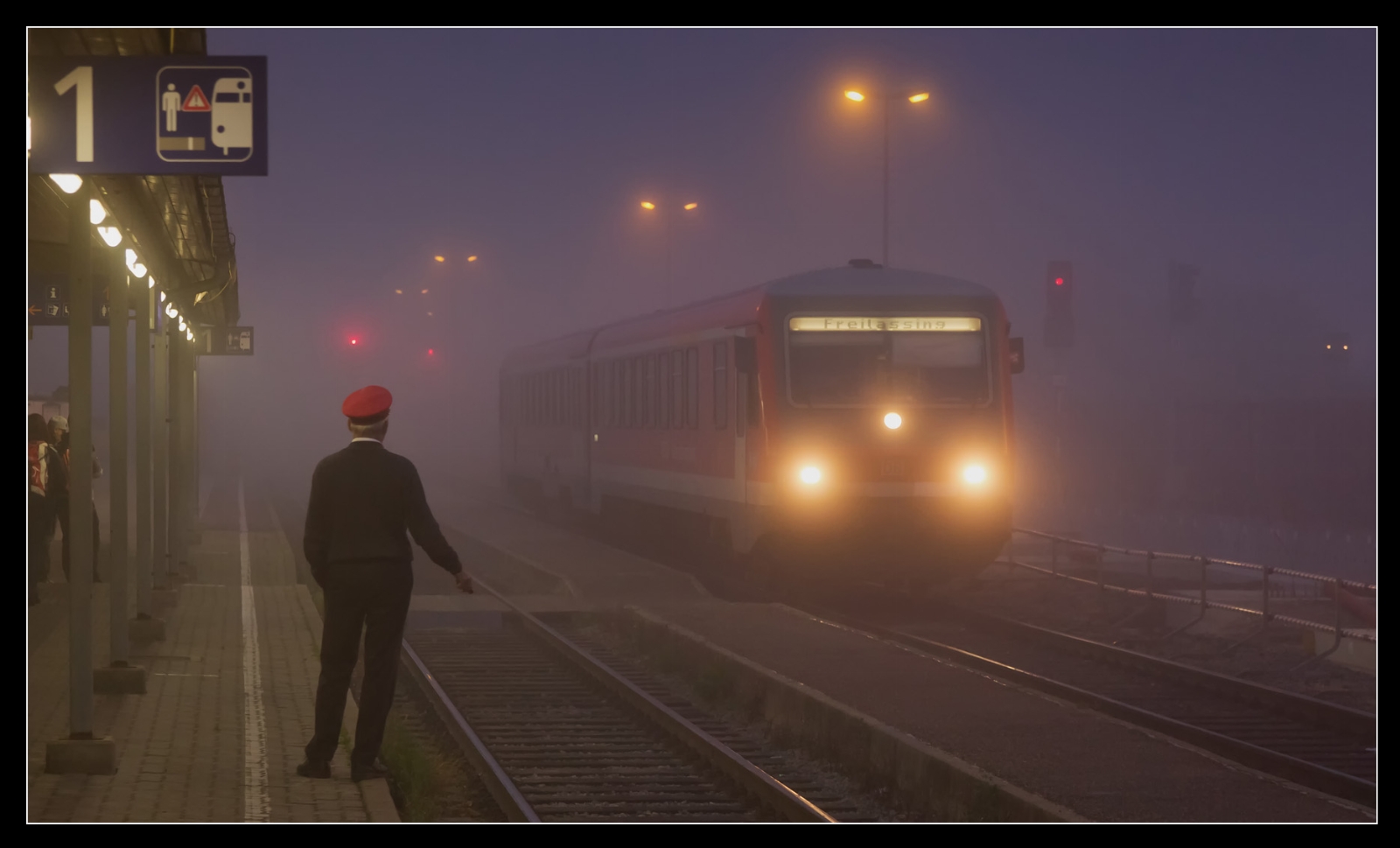 The old infrastructure still exists at the last semaphore signal domain in Austria on the Mattig valley line featuring photo charters with Romanian-built Prussian class G 10 ÖGEG 657.2770 (Malaxa 1938) that weekend. Next to planned modernization of the line, the steamer also is in need of a major revision - so the event perfectly executed by Alex Loidl from ÖGEG and local railroaders signified two types of farewell.
Through the fog to the northern signal group at Mauerkirchen.
Upon departure to the south at 8:38 a.m. the fog lifted, so a quick sprint across the local soccer pitch to the other side of the tracks...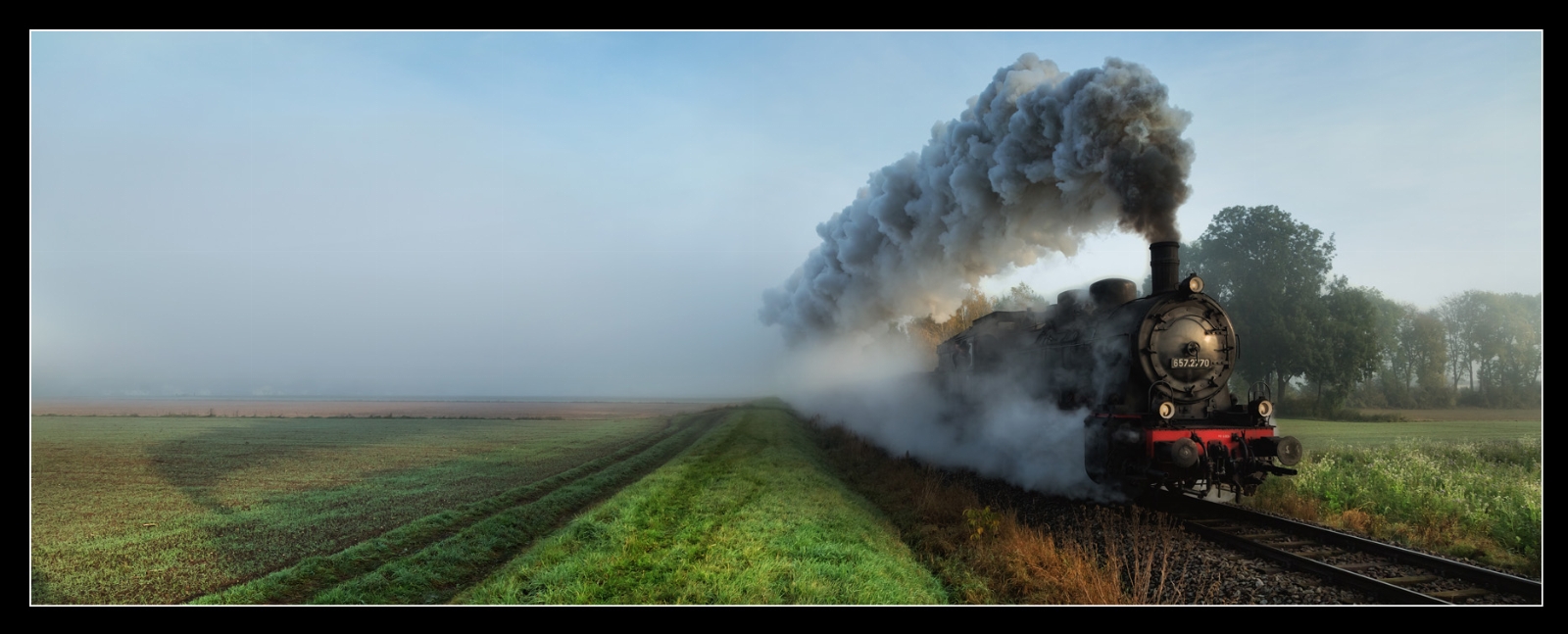 Departure Mattighofen, new kilometer board and a few more modern details removed.
Several grade crossings also still are wire- and chain-operated.
The first of three photo freights had been extended from Munderfing to Friedburg, partly spreading terror among the local cow population.
REX 5859 Freilassing - Braunau in front of a fog bank reaching Friedburg at 9:55 a.m.
More scheduled traffic between steam trains: REX 5862 near Teichstätt.
Midday departure from Mauerkirchen.
In the afternoon, ÖGEG 2050.05 (GM license by Henschel, built in 1959) hauled a passenger train pair - through the soccer goal.
Meeting of REX 5874 and REX 5871 at the freight shed Mattighofen, the home of KTM.
April 16 2004
One impression from my first photographic visit to the line featuring R 5814 Braunau am Inn - Steindorf bei Straßwalchen composed of Schlieren cars.
October 19 2019
Romantic view of an apple tree with large St. Florian church in the background.
Old residential building in Mauerkirchen, car and satellite dishes removed.
Last steam action in last sunlight of the day approaching Munderfing.
REX 5875 passed by the G 10.
REX 5878 took me quickly to Salzburg as I had other obligations on Wolfgangsee the following day.
September 15 2018
We continue towards Munich: a September morning one year ago provided this nice mood over the Alps viewed from Aubenhausen towards Chiemsee.
Nightjet 421/40491 Düsseldorf / Hamburg-Altona - Munich - Innsbruck.
June 11 2019
In June we visited another route Salzburg - Munich: RB 27971 Mühldorf - Salzburg is approaching Garching.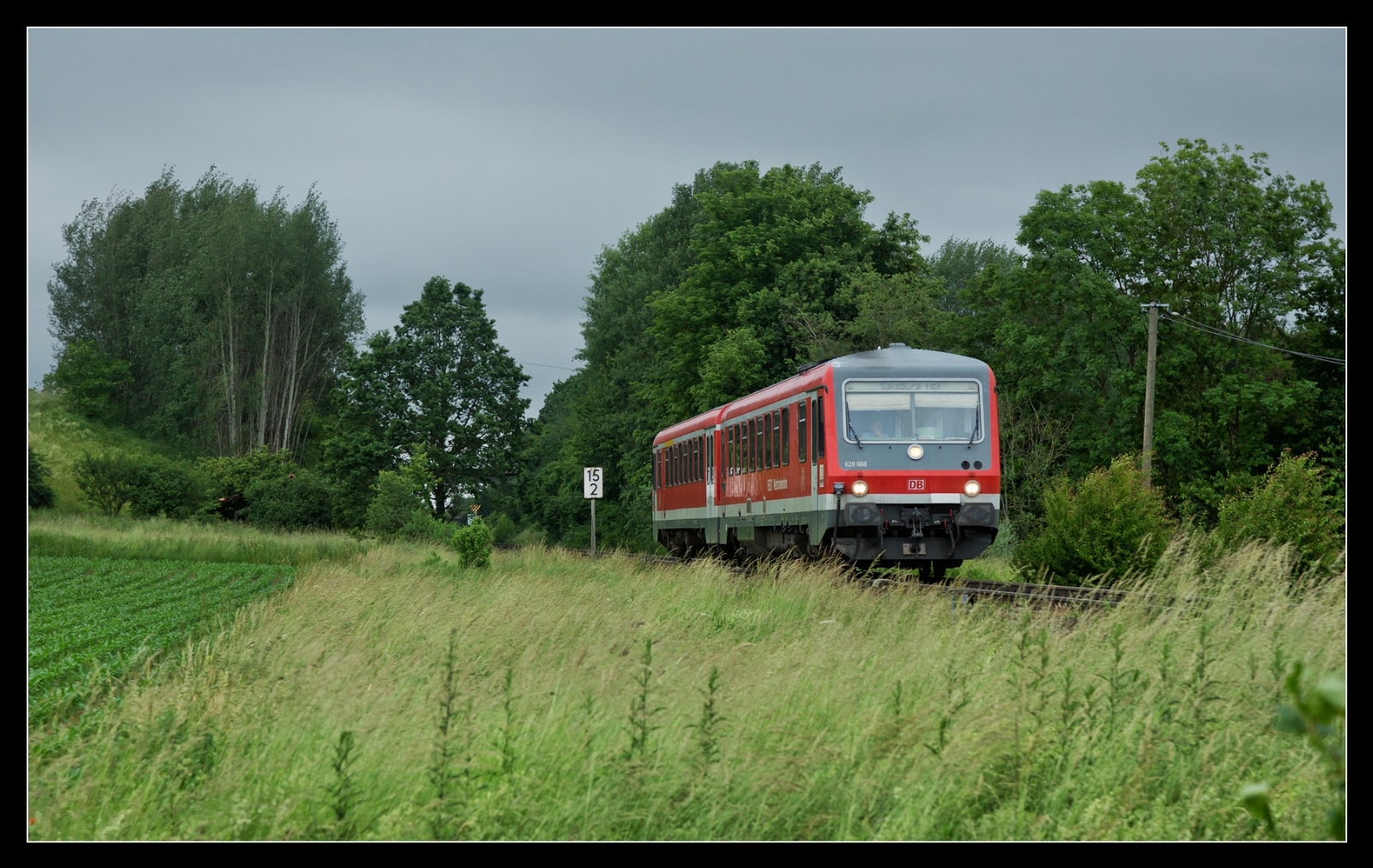 Diverted due to construction work around Rosenheim, Nightjet 294/40235 Roma Termini / Milano Centrale - Salzburg - Munich Eastern Station departed at 8:44.
October 18 2008
This gives us opportunity for a trip back in time to see what Garching had to offer eleven years ago...
It was the event "Prussian Steam in Bavaria" featuring ÖGEG G 10 and P 8 steamers, assisted by classic V100 diesel 212 084, here near Mauerberg.
Not the same line, but the Alpine range cannot be missed in this report - departing Tacherting.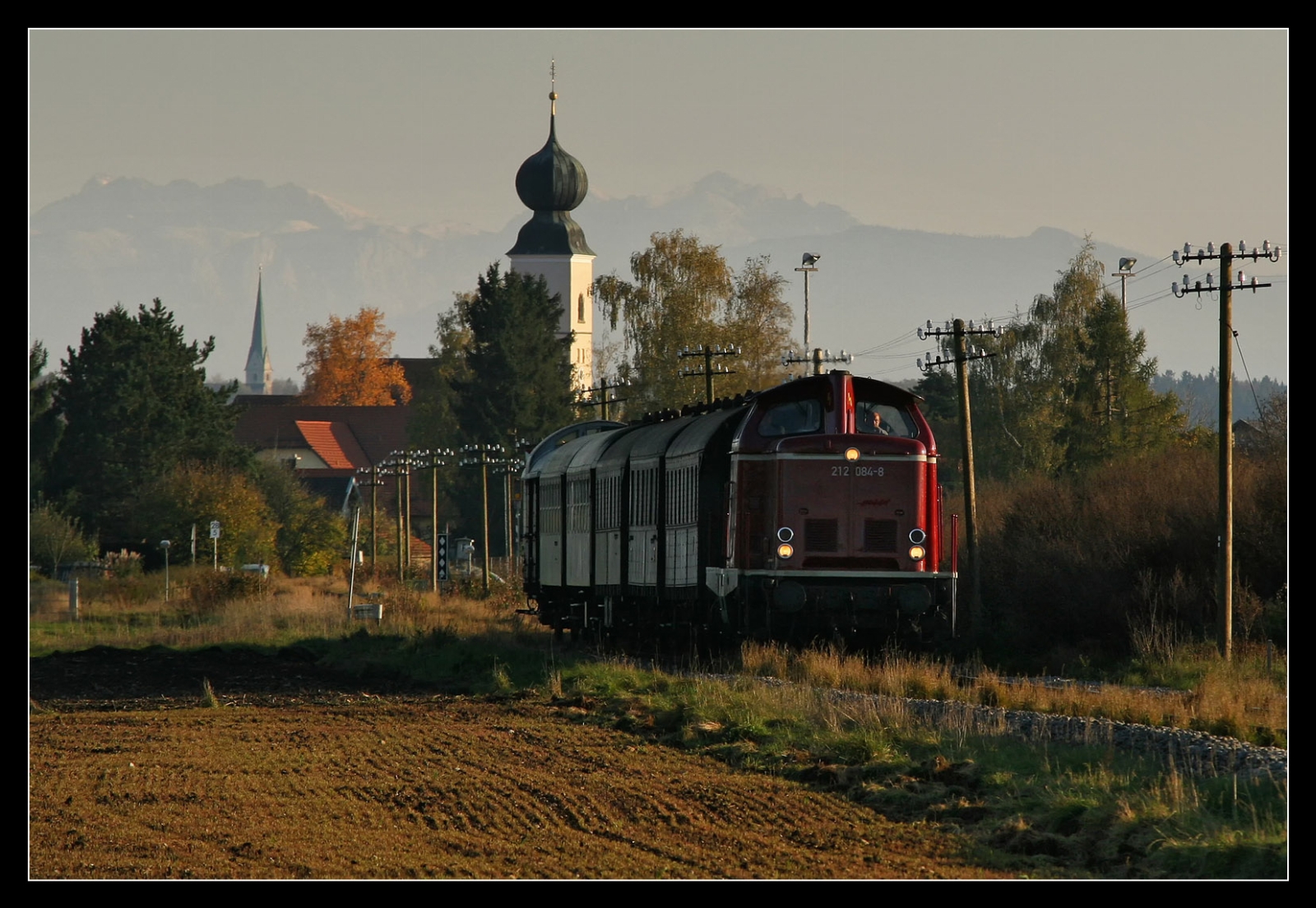 Tüssling sadly has been completely modernized since.
But we already know this from 11 years later.
Mauerberg from the south with Fendt tractor.
We dash back into the future.
February 24 2018
Arrival at Munich Hauptbahnhof by sleeper train "Kálmán Imre"/"Lisinski"/...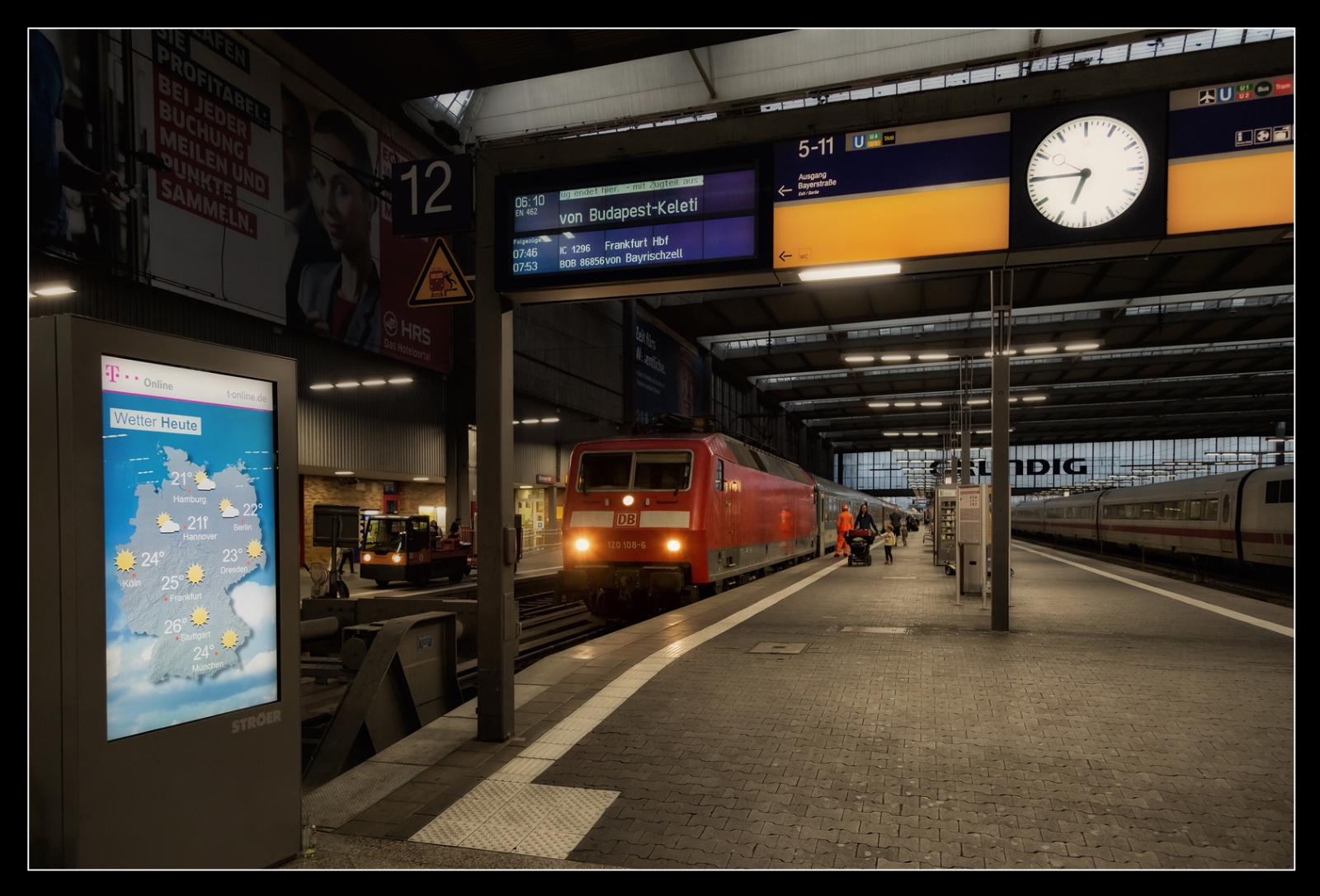 September 15 2018
Let's explore the city: MVG A2.6 6370, built in 1983, on subway line U3 at Implerstraße station.
September 14 2018
Busy Laim.
August 17 2017
Back to the main station.
February 24 2018
Pretty 111 200 was not only photographed by me but also its engineer.
And "Kálmán Imre" switched by 55-year-old 115 261.
August 18 2017
Traveling towards Mühldorf.
October 17 2008
Morning impression from Mühldorf am Inn station.
June 11 2019
This year we met RE 27000 Mühldorf - Munich Hbf near Obertaufkirchen in the morning.
RE 27002 Simbach am Inn - Munich thundered past us also with 218s top and tail.
The diverted overnight express highlight at 6:21 a.m.: "oceanic blue/beige" 218 460 heading EuroNight 462/480/498 & Nightjet 40236 Budapest / Rijeka / Zagreb / Venice - Munich.
Next time, we move towards Switzerland!