Hi,
To the previous part of the series:
Regional Rail Express - 16: Transsylvania I (50 p.)
http://www.railroadforums.com/forum...l-rail-express-16-transsylvania-i-50-p.14423/
Videos for this part:
Snowy Electric Transalpine, Jan-Feb 2019
Voralpen-Express, June 7-11 2019
Old Electrics around Selzthal, Sep-Nov 2007
Switzerland 2009, Part 5 - Lake Zürich, September 28-29
February 17 019
We turn further west than before in this series. Of course I would not call the original "Transalpin" express Vienna - Zurich a regional rail express, but on its current route Graz - Zürich it partly travels off the beaten path and crosses the Alps truly to its name.
InterCity 512 "Schöckl" Graz - Salzburg took me from Leoben to Stainach-Irdning on a lovely winter day. At Selzthal junction it splits from IC 502 "Pyhrn-Priel" towards Linz and receives a pilot loco for the pushed part of the trip to Bischofshofen during winter - a class 1142 was scheduled, actually that day an 1144 (like all ÖBB engine numbers pronounced "eleven-fourtyfour" or just "fourtyfour" in Austria). In turn, the pushing engine was 1142.640 - snowy Grimming mountain in the background.
IC 513 "Schöckl" Salzburg - Graz on the Ennstal line reached Stainach-Irdning almost at the same time as REX 4422 "Salzkammergut" from Linz pushed by 1142.667 on the Salzkammergut line.
Our star train enters: EuroCity 164 "Transalpin" Graz - Zürich with SBB panoramic car at the rear passes Trautenfels castle and Grimming, in the background REX 4429 Stainach-Irdning - Linz near Pürgg.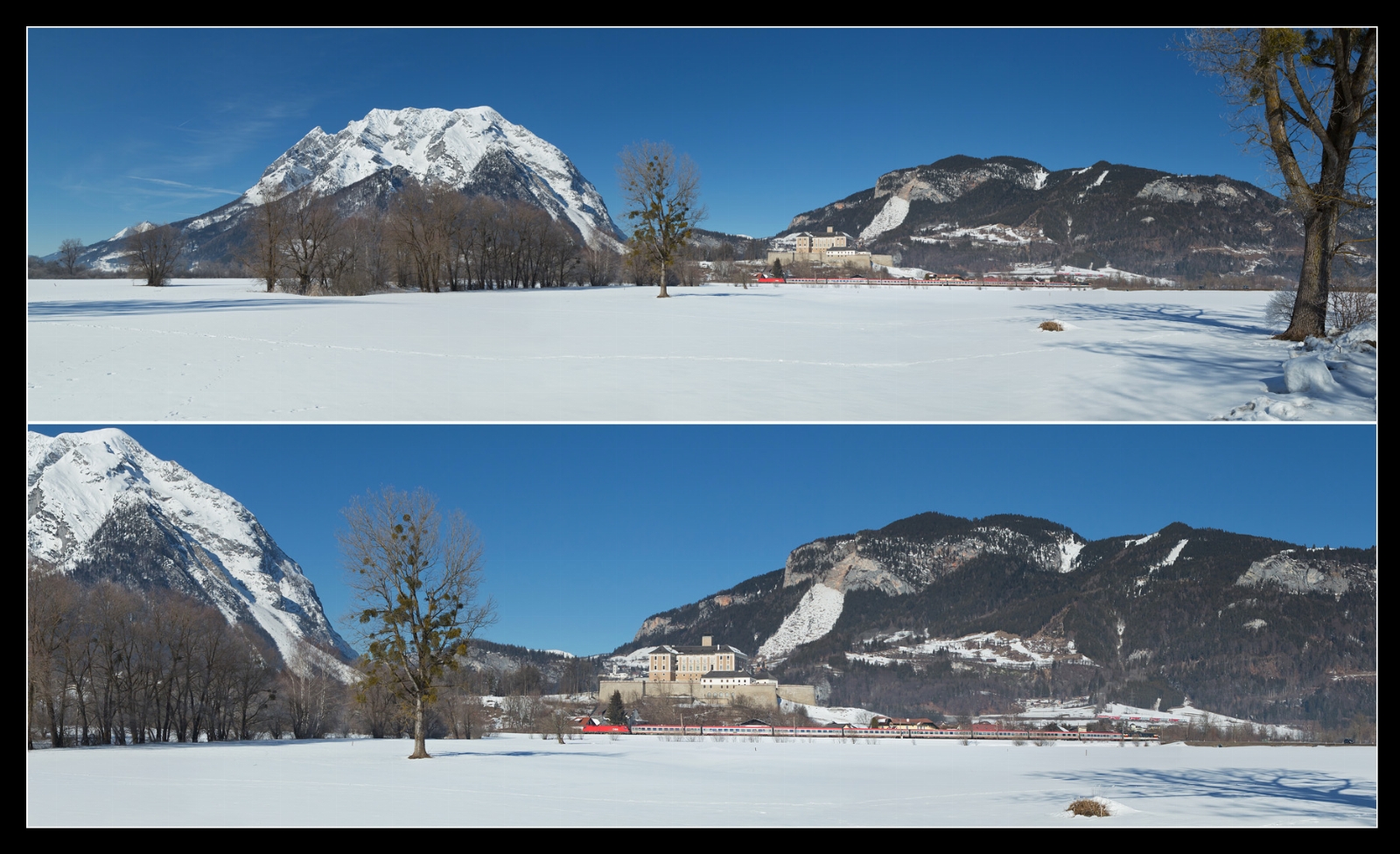 IC 515 "Hahnenkamm" Innsbruck - Graz came by at noon.
November 2 2007
Time for some nostalgic indulgence: the classic "Transalpin" EMU cannot be missed... (in German, please click translate):
https://de.wikipedia.org/wiki/ÖBB_4010
IC 517 "Karl Böhm" Salzburg - Graz in fall.
May 13 2005
And a springtime drop of "blood orange" (the classic ÖBB color from the 1970s-80s): ÖBB-EC 669 Bregenz - Graz viewed from the Salzkammergut line.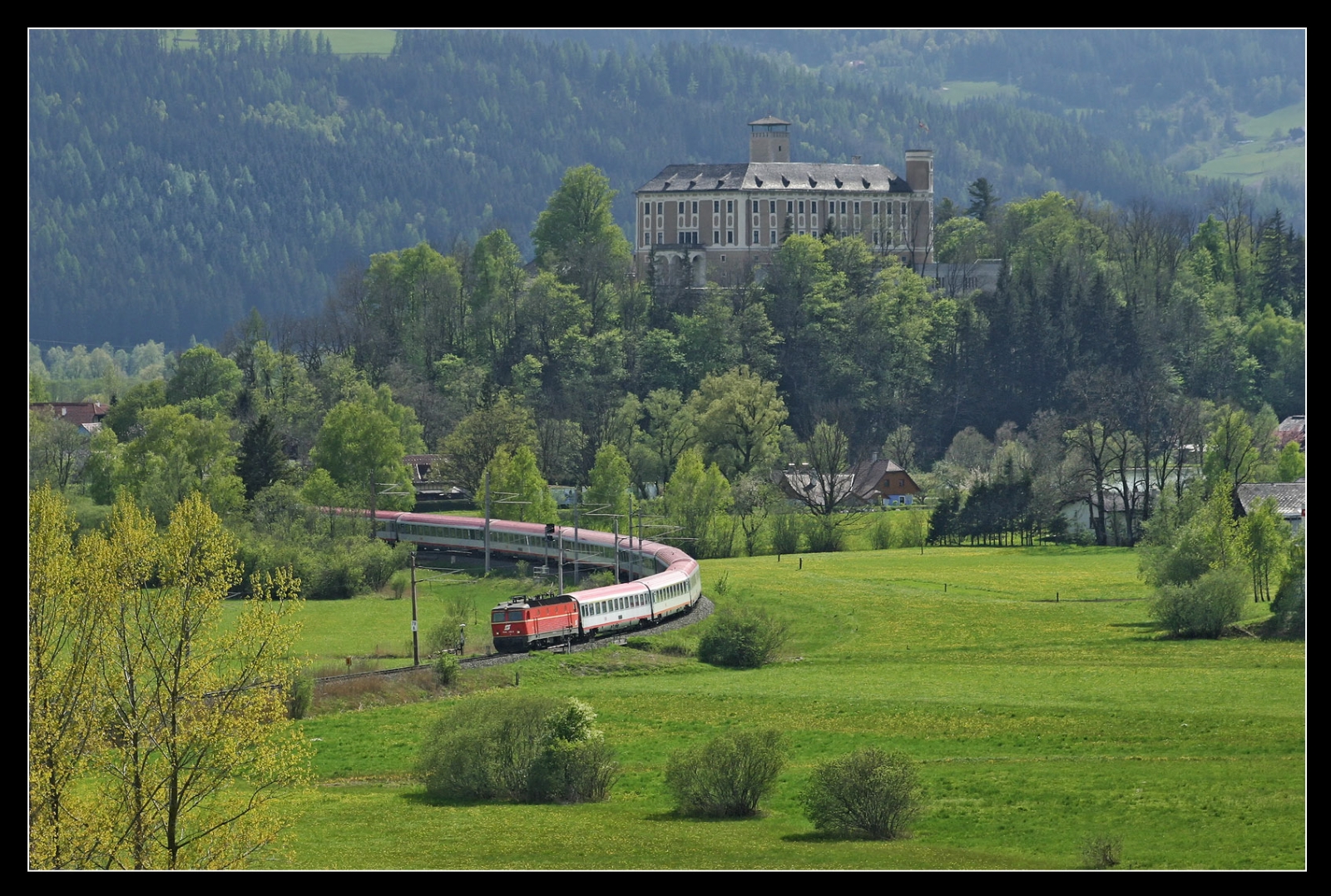 November 2 2007
IC 514 Graz - Salzburg reflecting in an oxbow lake of Enns river at a well-known photo spot below the castle.
November 21 2007
Same spot, different direction - IC 517 already in wintery mood three weeks later.
February 17 2019
Both views combined as panorama this year with EC 216 "Dachstein" Graz - Saarbrücken... no chance of reflection with such a snow cover.
German DB push-pull compositions also receive a pilot loco, EC 217 Saarbrücken - Graz. Another regional rail express in the background which we will keep for another time: IC/REX 528 from Vienna Hauptbahnhof via Salzkammergut.
EC 163 "Transalpin" Zürich - Graz took me homewards.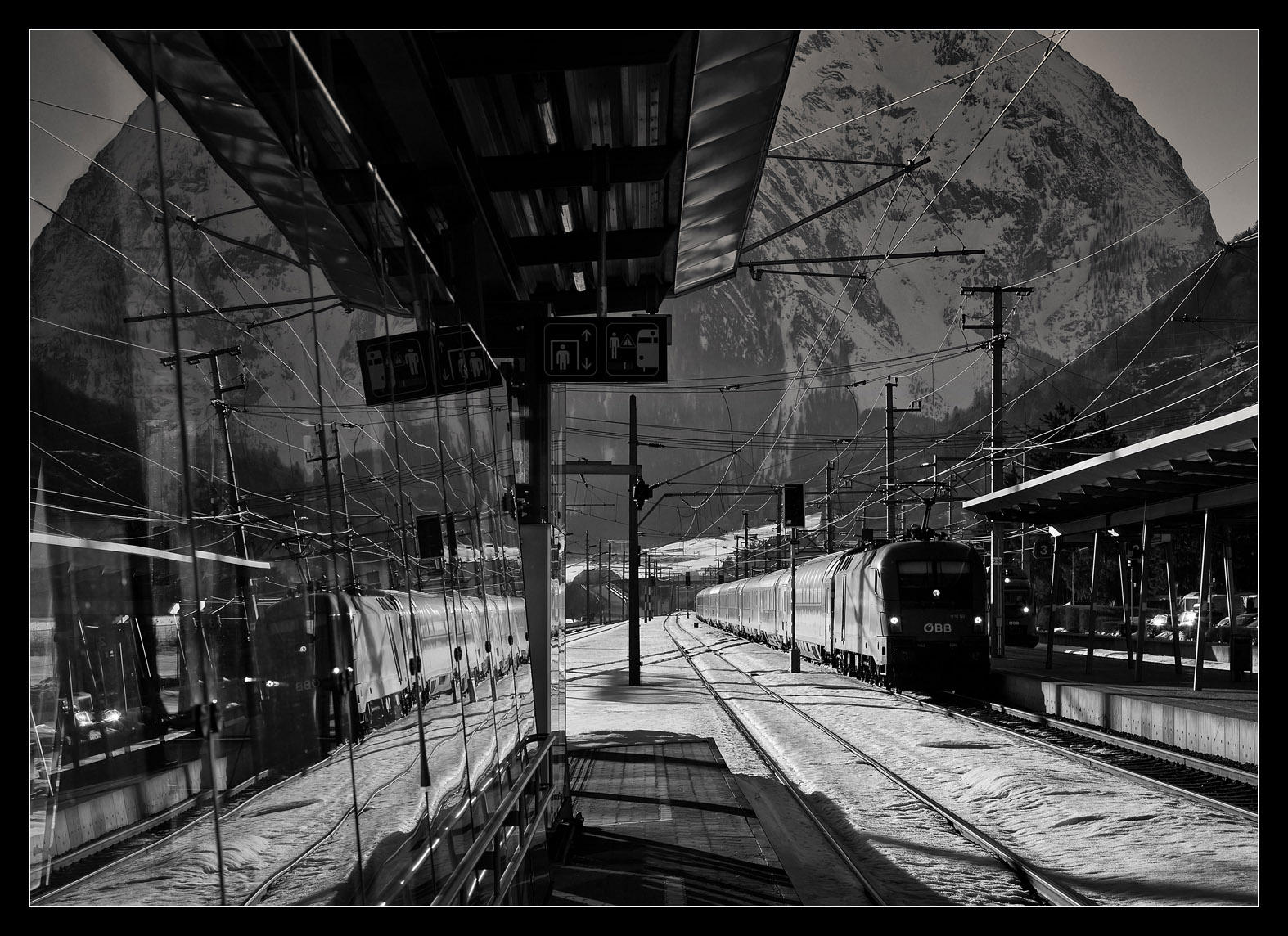 February 23 2019
Next weekend, I boarded a night train to Innsbruck to start the seasonal express Gisela line Saturday at Fieberbrunn.
ICE 1280 "Großglockner" operated on weekends between Schwarzach-St. Veit and Munich.
The panorama in larger resolution can be found here:
http://raildata.info/heck/heck1712x.jpg
The fog lifted for the highlight "Alpen Express 1" hauled by heritage AKE "crease" E10 1309, so Wilder Kaiser mountain became visible.
We already know IC 515 "Hahnenkamm" Innsbruck - Graz.
"City Airport Train" in the Alps between Kitzbüheler Horn and Wilder Kaiser mountains pulling Saturday-only RJX 1265 Wörgl - Vienna. Despite warm weather you can still recognize the masses of snow that had fallen.
Midday "Transalpin" meeting on their long routes between Graz and Zürich in front of Leoganger Steinberge seen from a heap of snow.
March 3 2018
A year before, I managed to capture the AKE class E 10 with DRV 13187 "Alpen Express" Leiden Centraal - Schladming in Enns valley between Altenmarkt im Pongau and Radstadt passing Tandalier castle.
EC 164 "Transalpin" with ad livery Taurus for the "Light into Darkness" charity.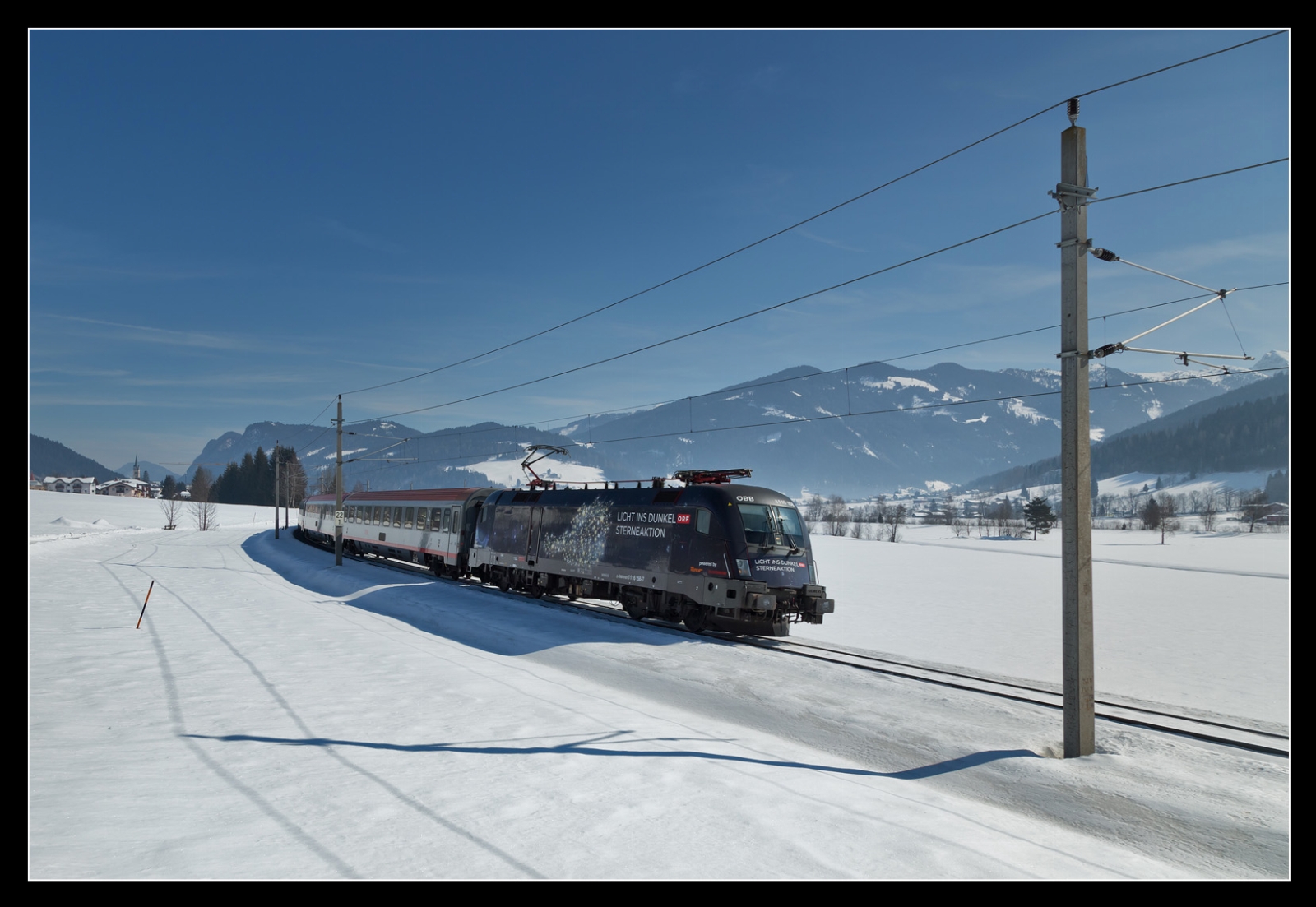 In the afternoon, EC 163 from Zürich met a snowcat on a cross country ski track.
February 24 2019
I caught the "Transalpin" pair once more at Maishofen this winter, here EC 164.
EC 163 Zürich - Graz in front of the Steinernes Meer mountain range hauling the panorama car behind 1016.004.
June 7 2019
My Nightjet 466 from Vienna was diverted via the Gisela line due to construction work near Rosenheim on the Pentecost weekend, so I arrived at Sargans after 9 a.m.
IC 1255 Basel SBB - Chur was formed of ICE 1 177 with stickers "25 years ICE, in cooperation with SBB CFF FFS", in the background my connection RE 3464 approached.
Scheduled departure of RE 3464 was 9:37, scheduled departure of EC 163 "Transalpin" to Graz hauled by Re 420 303 also 9:37 - of course I caught both in the land of railroad magnificence and punctuality.
June 8 2019
I reached Walensee before noon after an overnight stay at St. Gallen. An "Re 16/16" (Re 6/6 + Re 6/6 + Re 4/4) triple header approached along the lake shore in the distance.
Main attraction of the day: Former French SNCF "Mikado" 141.R.1244 on charter "Rond om de Säntis" St. Gallen - Pfäffikon (reversing) - Unterterzen (boat excursion) - Sargans (reversing) - St. Gallen. Here shortly before reaching the lunch break destination Unterterzen (municipality of Quarten).
I relaxed at the lakeside for of a few hours, class Re 4/4s are also out on Saturdays: Re 420 133 passed by pulling IC 921 Zürich - Chur.
ICE 70 Chur - Hamburg-Altona sped along the lake.
Rare diesel Am 843 009 in sunlight as a lake cruise returned.
Details of one of the largest European steamers (Montreal Loco Works / built in 1946):
https://en.wikipedia.org/wiki/SNCF_Class_141R
An S4 took me to Sevelen. Exactly on time to meet EC 164 "Transalpin" Graz - Zürich without dome car.
Thanks to a train meeting, the "Mikado" departure from Sevelen proved to be a lovely steam spectacle - you can catch a glimpse into the Principality of Liechtenstein to the left.
The scene on video:
Steam finale in front of Säntis mountain.
June 7 2019
I stopped at Altendorf on Upper Lake Zürich the afternoon before. This Re 4/4 III in nowadays rare green towards Zürich almost met the "Swiss Express" liveried Re 4/4 II towards Chur - that way I knew the latter was about to return.

I got off at Siebnen-Wangen, walked along the line and met IC 580 Chur - Basel.
Three times class Re 450 classic 1990s double deck EMU and wooden houses.
Only in Switzerland you can find an S-Bahn line 27 between small places like Ziegelbrücke and Siebnen-Wangen: train 8272 comprised of an SOB (Südostbahn – South Eastern Railroad ;-)) NPZ.
Clouds arrived from the west.
But the light kept up for the objects of desire: First, EC 164 "Transalpin".
Then my first "Swiss Express"-catch, I already had thought it would never happen: Re 420 109 hauling IC 936 Chur - Zürich.
I returned to Siebnen-Wangen station. Notice the solution of recently installed raised steps along the platform edge.
Last glint of the day on IC 583 Basel - Chur at Ziegelbrücke.
It already was quite windy and cool at 9:15 p.m. for Nightjet 465 Zürich - Zagreb / Graz. NJ 467 was about to be hauled by the "Swiss Express" Re 4/4 an hour later, but by then it would be entirely dark, so I rather took a train to St. Gallen Haggen and my hotel.
September 28 2009
Let's travel back in time again: IR 91 "Vauban" Brussels - Chur passed by the same spot almost ten years earlier.
EuroCity 160 "Vorarlberg" Vienna Western Station - Zürich HB on the shore of Walensee at Murg.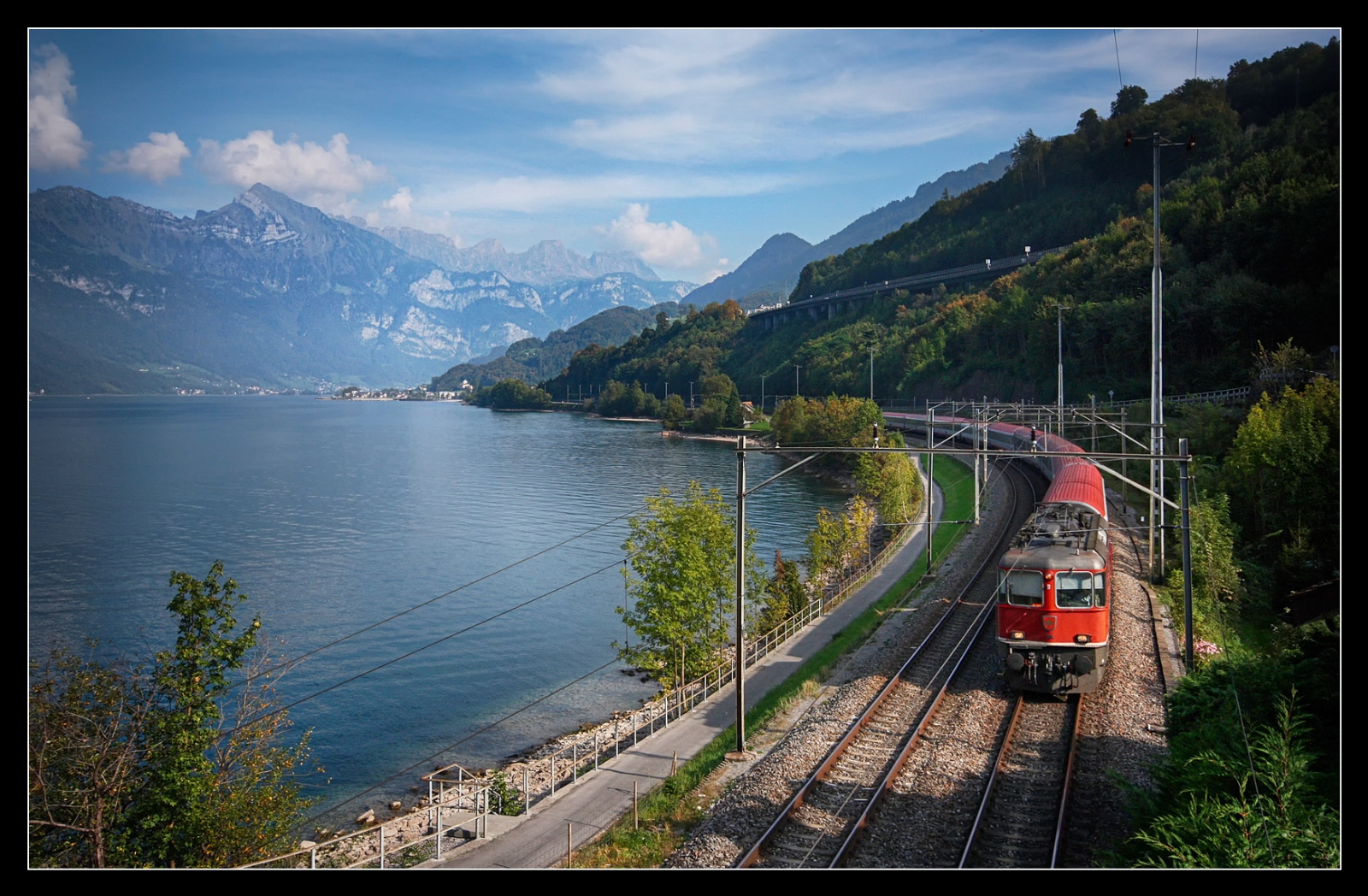 EC 162 "Transalpin" Vienna - Zürich double headed at Schübelbach.
EC 165 "Kaiserin Elisabeth" Zürich - Salzburg.
September 29 2009
EC 165 with SBB Cargo 421 379 next evening at Pfäffikon.
EC 162 "Transalpin" in front of Lake Zürich - more pictures from here later in a following report.
That same morning, EC 163 "Transalpin" Basel SBB - Vienna Westbahnhof traversed Reuss river at Turgi in the fog. The Reuss - which we will visit again in the mountains soon - is flowing into the Aare a few yards on, just as the Limmat right next to it - three major Swiss rivers.
September 28 2009
Evening class Re 4/4 arrival at Zürich HB: CNL 459 "Canopus" to Prague before departure.