Hi,
To the previous part of the series:
Regional Rail Express - 15: Adria, Istria I, Bosnia & Herzegovina (50 p.)
http://www.railroadforums.com/forum...-adria-istria-i-bosnia-herzegovina-50-p.14419
Video for this part:
July 24 2019
In July, I explored a brand new spot on the eastern mainline near Vienna: the rail overpass of Mannersdorfer Straße near Götzendorf still was under construction.
Also introduced during this timetable period: D/EC/IR 143 / 144 "Transsylvania" Vienna - Budapest - Cluj:
https://www.vagonweb.cz/razeni/vlak...islo=144&nazev=Transsylvania&rok=2019&lang=en
MÁV 470.002 hauled D 144 consisting of cars from all participating railroad companies the last miles to Wien Hbf.
Air India Dreamliner VT-ANB from Delhi descended on final approach to Vienna Schwechat airport above the new road bridge.
The construction workers calling it a day - no, that's no Dacia... ;-)
Railjet Express 68 Budapest - Munich came delayed at 6:55 p.m., just as a Turkish Airlines A330 on flight TK1887 from Istanbul landed.
Extreme dust on the farm road along the tracks.
A heat-related rail fracture near Himberg meant no freight trains for hours. I was compensated by schadenfreude upon the sight of this diesel-propelled empty railjet.
The bridge offers a view of all Viennese mountains, from Wienerwald to Schneeberg and Semmering in the distance. More variations are possible as the ramps are long and you can take photos further from the sides as well.
D 347 "Dacia" Vienna - Bucharest passed by pulled by MÁV 470.002 at sunset. Behind the engine three CFR sleeper cars, then the four ÖBB, MÁV and CFR daytime cars which had arrived by "Transsylvania".
Panorama in larger resolution:
http://raildata.info/heck/heck1606x.jpg
August 27 2019
We continue our summer trip: I had arrived from Banja Luka via Zagreb to Budapest. As we did not get tickets for "Dacia" we stayed overnight near Budapest Keleti station and took InterCity 367 "Hargita" departing at 7:40 next morning towards Brașov - to the right in the picture.
We arrived punctually to Cluj at 4:08 p.m. The reports will follow the line systematically - you won't miss anything.
I picked up sleeper double compartment tickets booked online for our return to Vienna by "Dacia" rerouted via Cluj due to construction work on the electric mainline through Arad. After an unusually long wait for a taxi in Romania, we checked into Hotel Opera Plaza and soon started the first city tour.
Cluj is the second largest city of Romania and had been European Youth Capital 2015 - among almost 400000 inhabitants are about 100000 students.
https://de.wikipedia.org/wiki/Cluj-Napoca
We ate dinner at "Boema" the second evening, food is smoked and grilled in the cozy inner yard.
The city center offers a few pedestrian zones, like in front of the Matthias Corvinus birthplace to the left.
His monument on Piața Unirii. It once had been transported here by horse tramway. The writing currently is in Latin, after nationalistic struggles about it. Behind it the main historic sight St. Michael's Church, sadly currently completely closed for renovation.
August 28 2019
I walked to the station after 5 a.m.
A proper former Austro-Hungarian city of course cannot miss a public building designed by Fellner & Helmer, in this case the national theater and opera (1904–1906).
I expected a Desiro DMU as my R 3625 towards Huedin but instead found GM-modernized "Jimmy" 641 138 hauling one first class car!
We reached Macău slightly delayed at 6:46 a.m., just as R 3622 departed into the opposite direction.
The "highlands" known from winter 2015:
Winter in Romania 2015 - 2: Cluj - Viseu (50 p.)
http://www.railroadforums.com/forum/index.php?threads/winter-in-romania-2015-2-cluj-viseu-50-p.10488
A herd of sheep was grazing exactly on the crest.
Our favorite regional rail express appeared punctually at 7 o'clock: IRN 1931 Mangalia - Oradea.
Accompanying video scene: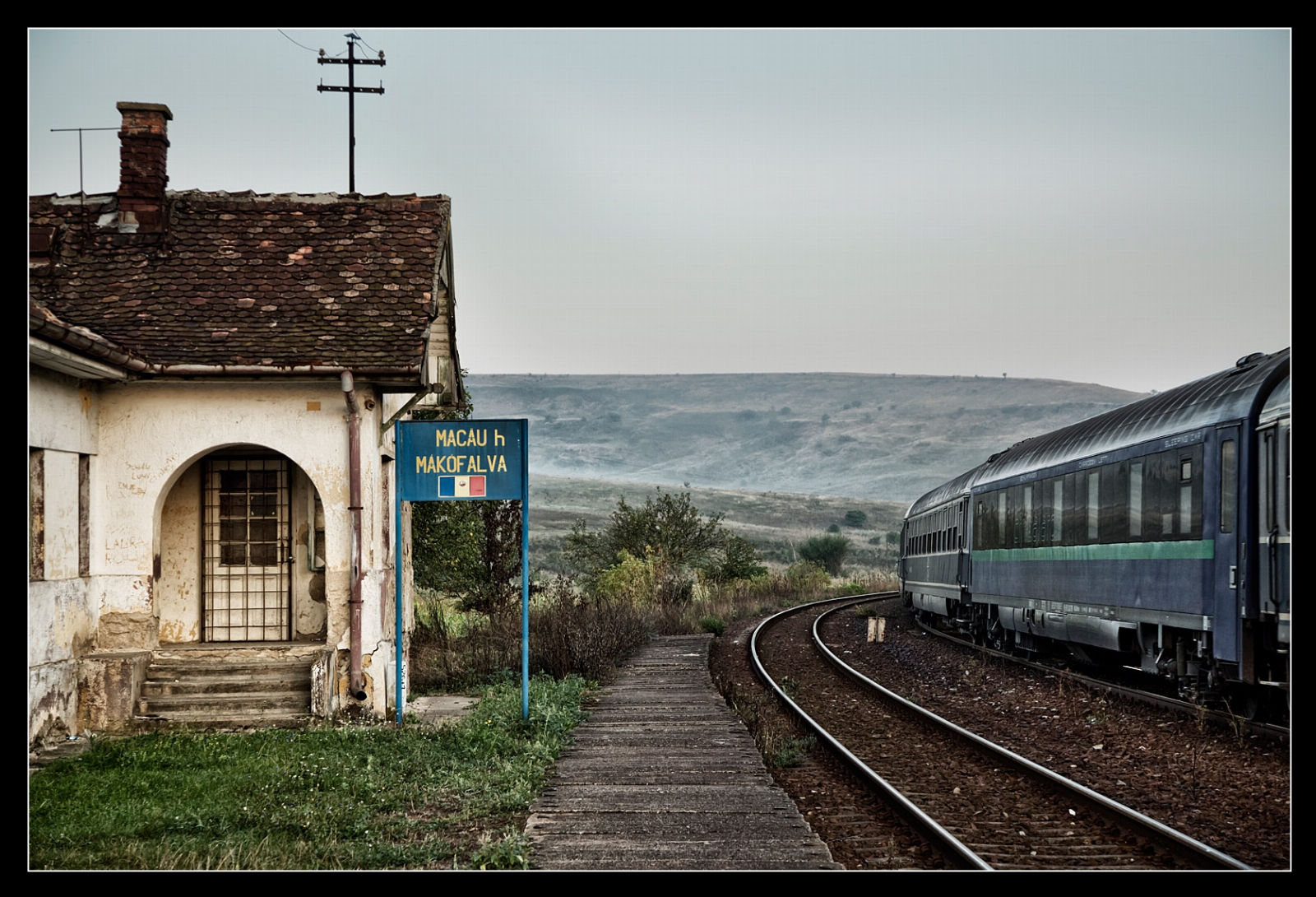 Next, I quickly climbed a hill: Transferoviar Călători (TFC) IR 15032 Oradea - Cluj consisting of an ex DB 614 DMU passed by at 7:22 a.m., the abandoned mining industry of Aghireșu in the background.
At the "highland pass".
Diverted IR 12347 "Dacia" Vienna - Budapest - Oradea - Cluj - Bucharest appeared 13 minutes late at 7:31 a.m.
Flock of sheep in the background.
"Highlands"-panorama with "Dacia".
Two Interregional Călători former DB class 628s as R 15853 Cluj - Oradea.
A previously Dutch NS DH2 "Wadloper" unit followed at 7:50 as TFC IR 15031 Cluj - Oradea.
The title train of this report approached at 8:03 a.m.: IR 144 "Transsylvania" Cluj - Vienna, hauled by a class 82 (modernized class 80).
I captured R 3073 walking downhill.
And conveniently caught R 3624 Huedin - Cluj back to the city.
After a nice breakfast we commenced our city sightseeing tour. Images of Istanbul streetcars can also be found at a cafe.
View through Strada Iuliu Maniu at the Orthodox cathedral.
I took pictures of trolleybuses on Bulevardul 21 Decembrie 1989.
We visited the ethnographic museum and looked at some nice house facades.
We followed the trolleybus route out of the city, most vehicles had been constructed by Astra Bus at Arad.
We reached the Ursus brewery.
For example, you can get "Nefiltrată" and "Retro" on tap, some varieties in jugs up to 1 liter.
At "Boema", I drank a bottle from new Cluj-based craft beer producer Kutuma. "Zarva" is their American wheat beer brand and quite tasty.
The menu of Ursus brewery turned out to be exactly the same as at Euphoria beer garden in the vicinity we had visited the evening before, the latter is situated in more serene surroundings.
At the stadium, I came across streetcar #19 - a Tatra KT4D which had arrived second-hand from Berlin in 1998.
We visited the botanical garden including a Japanese one in the evening.
Palace of Justice (1898 - 1902).
We waited at the station from 8:30 p.m.
Time enough for a selfie.
IRN 12766 (know to us as IRN 1766 Timișoara - Iași) also had been diverted via Oradea and already arrived before 9 o'clock. It's departure was scheduled for 10:24 - so it stopped here for 1 1/2 hours.
And - did you notice it? The through car to Botoșani finally had been switched to a newer long distance version...
Our IR 12346 "Dacia" Bucharest - Vienna arrived 17 minutes delayed at 9:25 p.m.
After Püspökladány in Hungary, some issue with brakes not completely disengaging arose on our car but luckily was solved quickly. Due to slack time at Budapest we reached Vienna main station on time.