Hi,
Link to the video
(please select high resolution):
Preview video screenshots:
To the previous part of the series:
Regional Rail Express - 14: Suceava (50 p.)
http://www.railroadforums.com/forum/index.php?threads/regional-rail-express-14-suceava-50-p.14401
August 10 2019
The first summer holiday Saturday I took Railjet 133 "Gondoliere" and EuroCity 213 "Mimara" from Vienna via Villach to Ljubljana where I was greeted in style by GM-licensed engines. I had reserved a "room" on booking.com at Central Hotel - which turned out to be a "capsule" like known from hotels in Japan.
Oh well, it was an adventure for a short night as on
August 11 2019
Miško took me onto an early excursion. We visited the viaduct across the freeway near Vrhnika. Three international trains left Ljubljana that Sunday morning into this direction: LP 1824 to Trieste and Udine, RG 1605 Maribor - Koper with the first part of seasonal sleeper express "Istria" from Budapest and shortly after seven o'clock MV 481 "Opatija" to Rijeka here with through cars of EuroNight "Lisinski" from Munich in front and the second part of "Istria" at the rear.
I spent a week on the beach at Opatija and continued to Zagreb on
August 17 2019
. That Saturday evening I caught this view of central square Trg bana Josipa Jelačića from Hotel Dubrovnik and later boarded B 821 towards Split. For the short night to Knin I had only booked a couchette berth online. Sleeper car was available, but not visible on the website.
The photo part of the trip started beautifully at first light on
August 18 2019
below Knin fortress with B 1204 "Adria" Budapest - Split. The catenary masts are relics of times when the Una railroad through Bosnia constituted the main line to Knin, nowadays trains take the detour into the Croatian Lika mountains.
I climbed the fortress on Krka river offering fantastic panoramic views in the afternoon. Even on Sunday two freight trains almost met here, one hauled by these class 2062 GM twins in striking new HZ Cargo livery. Knin loco shed with engines that have seen better times in the background.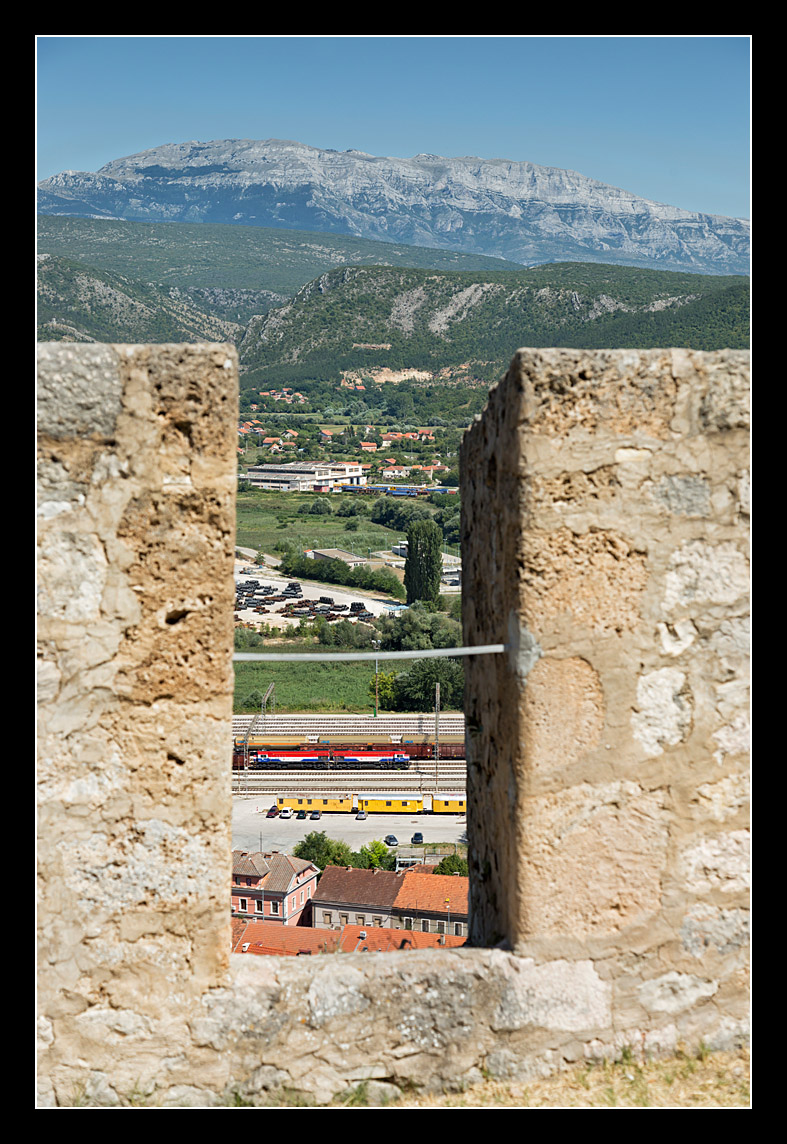 I continued towards the Dalmatian coast early on
August 19 2019
. Pu 5501 Perković - Split consisted of a tilting intercity train equivalent to DB class 612. Its female conductor probably was used to more glamorous tasks than dispatching a train at stops like Brdašce ...
... where I got off.
First, B 821 thundered up the steep grade (see video from minute 4:36), then "Adria" appeared delayed – however, the current timetable allowed enough slack for it to make up about 40 minutes on the Lika line, so it arrived relatively on time most days I spotted it.
Pu 5503 took me to Split, where I checked into apartment "Eldin" – a cool and well equipped accommodation in an old stone building on a quiet side street only two minutes walk from station and bustling city center.
I had the feeling it would be necessary, so I returned to the mountainside already by Pu 5526 at 11:37 to Kaštel Stari. They actually managed to introduce integrated traffic to avoid the Split traffic jams. International passengers arrived from Split airport by bus and took the railcar into the city. Some where unsure upon the sight if this was the proper train.
Several things had changed - sadly the convenient Konzum supermarket near the station is gone, so you have to walk to the closest Tommy market some hundred yards downhill to get your cool drinks and ice cream.
I marched to the distant semaphore signal and sat down in the shade of an umbrella. The feeling did not deceive: the regular afternoon freight dieseled uphill (on both days exactly 2 p.m. at Kaštel Stari). Again a desired GM in new colors - mission accomplished!
Air traffic has significantly increased, planes are constantly landing now - a decade ago it only had been a handful each day.
The sound for the scene:
At 5:30 in the afternoon B 1205 "Adria" Split - Budapest was ready for its 6:30 p.m. departure.
I repeated a horrible experience from 2009 - back then you climbed the campanile on stairs partly free in the air along the walls of the open construction, now you stay inside scaffolding in the center of the bell tower. I had to wait a bit as the amount of people on top was limited, but not too long. I reached the top shortly after six and took photos into all directions, time enough to get back down and film the departure from ground level. In the background, you can spot the ferry to Brač island. In front the current traffic jam always blocking the street past the bus station. "Split Metro" is supposed to alleviate the situation, consisting of new DMU 7023-001 commuting between main and Predgrađe stations through the city tunnel.
B 1204 "Adria" arrived punctually on
August 20 2019
.
I returned to Kaštel Stari and caught bus number 93 departing daily at 3:30 p.m. from the street in front of the church to the top of Malačka mountain. Soon, a freight train came downhill - I reversed its direction for the panorama. To the left a monument for war victims of Kaštela and a mountain inn (closed at the time).
The panoramic picture in larger resolution:
http://raildata.info/heck/adria1918x.jpg
Until now, the tilting trains were running as locals reliably, exactly that afternoon they decided to switch to Swedish railcar plus bus replacement Kaštel Stari – Perković as these cannot cope with the steep grades. So, I had to wait for the desired object – "Adria" as next train uphill from Kaštel Stari. In mid August the light situation was tight, it came a few minutes late but finally appeared.
And provided this unknown grand glint view at Sadine stop... Trogir city in the background, Drvenik Veli island and Sveti Andrija in the distance. A bush fire seemed to just have started near Plano.
I walked down to the station and arrived fifteen minutes after sundown. The wait was longer than expected as ICN 523 showed up 40 minutes late. As it arrived, the station master herded all airport tourists from the railcar to the intercity - that's called customer service!
Late morning on
August 21 2019
I took a bus of Globtour Međugorje along the Makarska Riviera via Ploče to Mostar in Herzegovina region of Bosnia-Herzegovina. The Croatian portion of the railroad near the port of Ploče along Neretva estuary offers lovely photo opportunities but sadly no passenger traffic. Mostar is known for its heat - it had had 107 degrees the days before, now only 100. I checked into a friendly cool private accommodation right across the street from the station. During an afternoon walk, I watched people cooling off in Neretva river, some doing the classic jump from the reconstructed old bridge giving the city its name, some from less scary heights.
Next railroad photo opportunity: I took a cab 15 miles north on the main highway early next morning,
August 22 2019
, to abandoned railroad stop Drežnica Stara. The cab ride cost about 15 dollars per direction as prices still are moderate in Bosnia-Herzegovina. This time of year you could not count on sunlight for the first train passing through Neretva gorge. B 720 Čapljina - Sarajevo consisting of a ŽFBH (railroads of the federation Bosnia and Herzegovina) Talgo hauled by a class 441 electric appeared punctually at 7:02 a.m.
Fish restaurant "Vidikovac" with its name giving viewpoint to the left, the confluence of Drežanka and Neretva to the right. A strong wind was reinforced by the narrow valley.
A small road provided access to the river bank, so I could wait in quiet for B 723 Sarajevo - Čapljina which came by at 9:14 a.m. about half an hour delayed. 4x2 panorama.
The railroad Sarajevo – Ploče was constructed by regauging and realigning the 2 ft 5 15⁄16 in Bosnian narrow gauge Narenta line from 1963 on:
https://en.wikipedia.org/wiki/Sarajevo–Ploče_railway
Almost the same view in 1970 with railbuses on standard gauge and the narrow gauge bridge below before the river was dammed:
https://de.wikipedia.org/wiki/Bahns...#/media/Datei:NERETVA_RIVER_GORGE_BRIDGES.jpg
The fish restaurant was opened, I sat down for a coffee and ordered the cab back to Mostar. The waiter told me I could access the panoramic rock. The wind almost blew me away, I just climbed the last of the huge steps as....
...
... 441-912 in Turkish TCDD livery approached at 9:41 a.m. from Sarajevo! iPhone panoramic version.
I waited for the taxi when at 9:54... could only be heard last second due to road noise. The freight trains probably had met at Drežnica station. Shortly afterwards I returned to Mostar.
As the next train from Mostar only arrived before ten at night in Sarajevo during the summer season, I took the bus again. I was welcomed by my relatives with a proper meal and later walked through the city.
Party into the sunset by "party tram".
Morning mood along Miljacka river on
August 23 2019
. A few streetcars have been renumbered recently, #524 had been #261.
The famous Holiday Inn had been revived as "Hotel Holiday".
Viennese units only operated on line 4 from the railroad station out of the city.
To the right former E class #550 (until 2018 Sarajevo #709, ex Vienna #4423, Lohner 1A522 / built in 1962) met an original Sarajevo Tatra K2YU (only the pantographs had been previously attached to the rear of the car).
Here you can watch the proper trams in 1986 (featuring me ;0)):
To the left as two-picture-panorama one of the classic TAM 80 (Tovarna avtomobilov Maribor) trucks also owned by city transport company GRAS which had passed the spot 5 minutes earlier. During Yugoslav times, these vehicles were omnipresent in various configurations - I rode the minibus edition several times as a child.
The way to the railroad terminal led past the monstrous new US embassy equipped with giant satellite dishes which they somehow decided to place right into the city occupying a whole block between main street, hotels, university and station, armed guards and no-photography-signs around it. The sale for tickets to Bihać opened at 8 a.m., so I waited in line with people from Syria and Pakistan who were luckily treated in a friendly way by the ladies at the ticket counters. However, ticket sales still are very complicated with ŽFBH. The clerks are provided with computers, but they have to write everything by hand. And you have to consider restrictions like tickets only being sold at the departure station. As it was my turn to purchase mine to Banja Luka, I was told only tickets to Bihać were being sold, I should come back later... Originally I had planned to visit the Una line special scheduled for next day, but then decided to stay longer with my relatives in Sarajevo.
In the afternoon of course I had to get ćevapi at the old Ottoman bazaar Baščaršija, the classic vanilla ice cream from "Egipat" also can't be missed. It is somehow caramelized, very sweet and I have not found an equivalent anywhere in the world. The taste has not changed since my childhood. Streetcar #523 (ex #258) did change - any working pantograph available is used.
Now you had space to take pictures here, the evening before traffic almost stood still - probably also due to the Sarajevo Film Festival.
A "whirling dervish" is depicted on the DÜWAG-built units from Konya (#556, ex Cologne #3624, ex Konya #128, built in 1963), on its side city names "Konya" and "Saraybosna" - the Ottoman name for Sarajevo, still common in Turkey today.
I tried out the actually existing ŽFBH online ticketing service, so I only had to pick up the ticket from the information counter next day,
August 24 2019
. What you get is of course just another hand-written ticket.
B 720 from Čapljina arrived one hour late at 9:29 a.m.
What appeared as supposed Talgo B 712 Sarajevo - Banja Luka? An old "Olimpik Ekspres" EMU with full first class interior including turnable seating from yesteryear! I asked the conductor if this was not supposed to be a Talgo. He replied: "it's a Talgo service" - of course that could hardly be be noticed later apart from a moving train. A few locals complained about the "crate" they had to travel in. For me it was a beautiful experience, you could look out of the window at quite hot temperatures. We accumulated most of our delay right after leaving Sarajevo at Rajlovac where 441-913 hauling 25 minutes late B 715 Bihać - Sarajevo met us at 10:43 a.m.
Who still remembers the year 2010 and the "f***in' little green tank engines" - as my British photo friends called them - at Kakanj? Soon afterwards the mining company had switched to another little green loco: Czech company CZ LOKO built 797.842 just departed mainline station Kakanj towards the coal mine terminal at Čatići. The crew greeted me in a friendly fashion.
See:
Steam in Bosnia 2010 - 2: Kakanj I - Hadzi, Puppies and the American (50 p.)
http://railroadforums.com/forum/ind...anj-i-hadzi-puppies-and-the-american-50-p.804
Steam in Bosnia 2010 - 3: Kakanj II - Over Night (50 p.)
http://railroadforums.com/forum/ind...n-bosnia-2010-3-kakanj-ii-over-night-50-p.876
Steam in Bosnia 2010 - 4: Kakanj III / Zenica I - Barbecue Saturday (50 p.)
http://railroadforums.com/forum/ind...akanj-iii-zenica-i-barbecue-saturday-50-p.906
A cheerful chat at Zenica freight yard, one train towards Sarajevo conveyed two original GM-EMD 661s behind 441-912.
At Doboj - first main station in the Republika Srpska (Serbian dominated part of Bosnia-Herzegovina) - we almost were 35 minutes delayed, but the line through Republika Srpska is in much better condition than its federation counterpart. So, our "Olimpik Ekspres" could exhibit what it was capable of and almost gained twenty minutes until Banja Luka. On the way, we sped past station masters with a nostalgic look in their eyes. This dauntless angler waved at me on the bridge across Vrbas river shortly before reaching the terminal.
Image to the right: after arrival at Banja Luka, 35 years since its introduction as express Belgrade - Sarajevo to the Olympic Games.
A memory on film from 1984 with me as passenger:
Local trains into both directions waited for the connection, putnički voz 6405 Banja Luka - Doboj departed punctually at 3:27 p.m. on
August 25 2019
.
B 713 returning to Sarajevo at 3:49 p.m. In the afternoon there were thunderstorm showers, but my Hotel Cezar was right in the vicinity, also grill restaurant "Obelix" offering quite tasty Banja Luka ćevapi (made in rows). The city center is located some distance from the station.
That Sunday morning I had gone on an early excursion. PT 6401 already took me at 4:15 a.m. to Čelinac in the vicinity. I easily received printed tickets from the counter before departure. I sat down at the station until dawn broke, a freight train towards Doboj passed by in darkness. Subsequently, I walked to this spot on a bridge across Jošavka river. Punctually before sunrise, ŽFBH Talgo B 715 Bihać - Sarajevo showed up at 5:49 a.m. Of course the Serbian flag is a harsh contrast, but it constitutes progress that a ŽFBH train can even be encountered on this line.
Equally punctual PT 6400 Doboj - Banja Luka approached at 6:11 a.m. hauled by a class 441 double header.
The local roštilj opened at seven, I was welcomed and even invited to a morning coffee. Again on time to the minute, PT 6403 towards Doboj passed by at 7:49 a.m.
I waited a bit at one end of Čelinac station - and it paid off: another orange meeting of classics, on a Sunday morning! Next, I boarded PT 6402 again conveying two 441s to Banja Luka.
Over-the-top meeting of classics at Banja Luka. ŽRS still provide liveries closest to the original JŽ engines, only the cars received second hand formerly from the GDR have been repainted.
The following morning I took a bus to Zagreb, then traveled on to Budapest and Cluj - where we will resume our series of Romanian regional express trains next time.