Hi,
To the previous part of the series:
Regional Rail Express - 13: Medgidia - Eforie (50 p.)
http://www.railroadforums.com/forum...al-rail-express-13-medgidia-eforie-50-p.14400
Video for this part:
August 3 2018
I spent the night in a 6-berth couchette compartment of IRN 1953 together with four middle-aged ladies. It was quite comfortable, the air not too bad.
We reached Suceava punctually at 7:33 a.m. The train continued, terminating at Suceava Nord.
Malaxa 770 944 had arrived at the same time, as R 5630 from Dornești.
Morning light at Suceava station, formerly called Burdujeni.
As we remember from previous reports the station had been opened in 1902 as border station of the Kingdom of Romania towards the Austro-Hungarian Monarchy. Today, Rail Cargo Austria still finds its way here.
Interregional East '16-'18 - 24: Moldova, Bukovina, Čmelák, Sulzer (50 p.)
http://www.railroadforums.com/forum...-24-moldova-bukovina-Čmelák-sulzer-50-p.13221
Princely East '16-'18 - 25: Suceava - Iași (50 p.)
http://www.railroadforums.com/forum/index.php?threads/princely-east-16-18-25-suceava-iași-50-p.13251
For the second time in 2018 (see trip report above) - only in summery temperatures, not deep snow - I checked into recommended Hotel Residenz. The nice ladies at reception still remembered me and promised a room before noon. In the meantime, I left the backpack there and went for an espresso at the station café.
IR 1752 Suceava Nord - București Nord departed behind "majestic bird" 477 871 painted by Policolor Automotive.
Half an hour delayed IRN 1838 Timișoara Nord - Iași followed.
My next train already was shown on the departure board.
The logo of E-P Rail Sulzer 060 1502 simply had been painted onto its older GFR livery. We will encounter it later in action.
I was able to check into my room and returned to the tracks after 10 o'clock. R 5563 had arrived from Botoșani.
It remains a mystery why they sent this wreck as through car half way across the country.
My RE 1384 to Vadul Siret in Ukraine consisted of two crumpled red intercity cars.
No Sulzer but 820 452 took me to Dornești, you can see it continuing in the background. Broad gauge tank cars to the left, standard gauge in the center and a nice maintenance train with 60-0168.
I walked through town. In this part of Bucovina each house seemed to try trumping the others with kitsch.
The tracks towards Ukraine, to the left Romanian broad gauge vehicles waiting for work.
Sadly no freight came from Ukraine, but at least some broad gauge switching action commenced...
... with ...
... Estonian lumber cars.
Im Warteraum fand man nicht wirklich Ruhe.
IR 380 Bucharest - Vadul Siret arrived punctually at 2:16 p.m.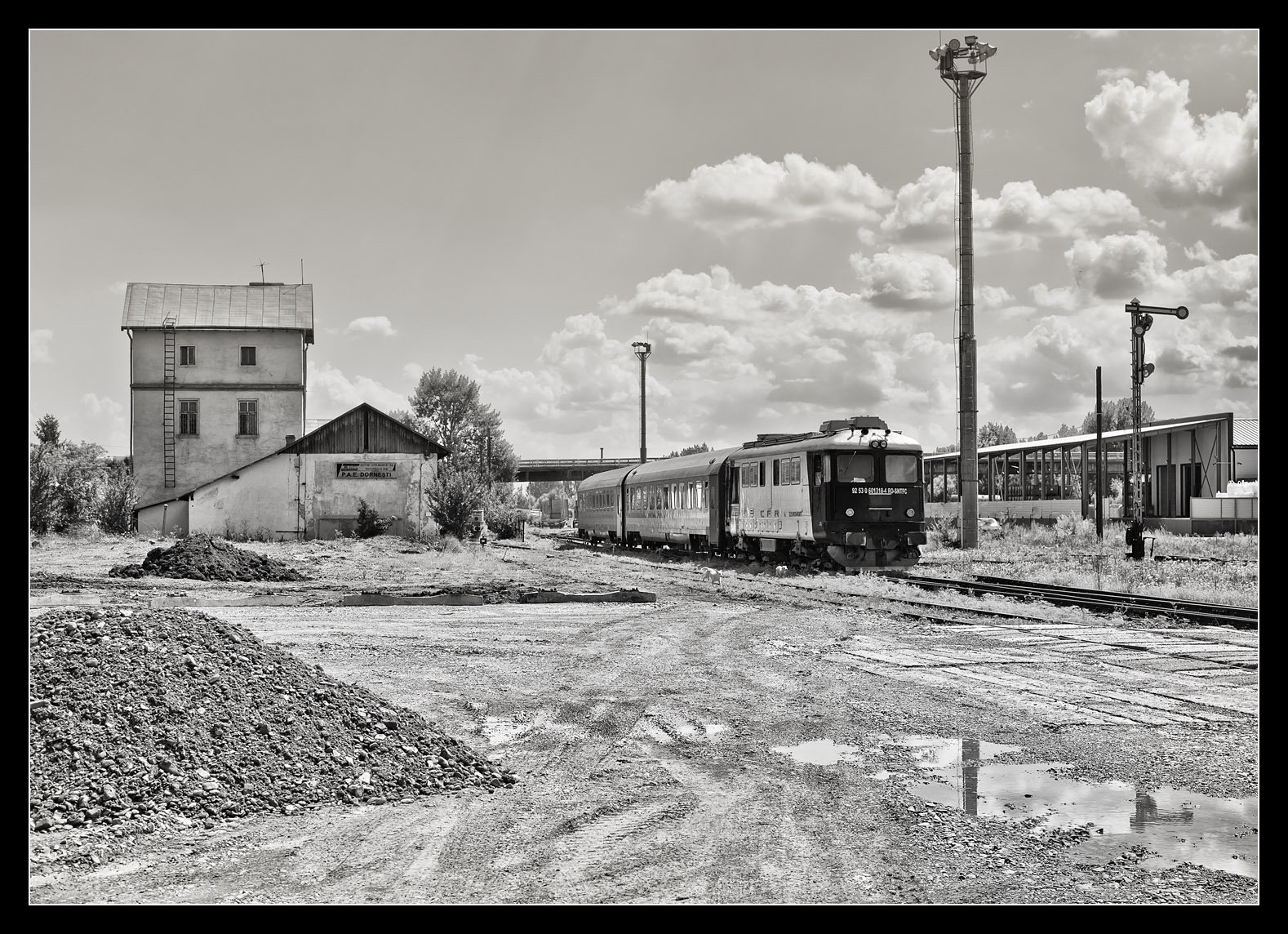 IR 381 Vadul Siret - Bucharest took me to Suceava Nord where it changed to electric traction.
Sad state of the station, in 2016 (see report linked above) it still had been in use.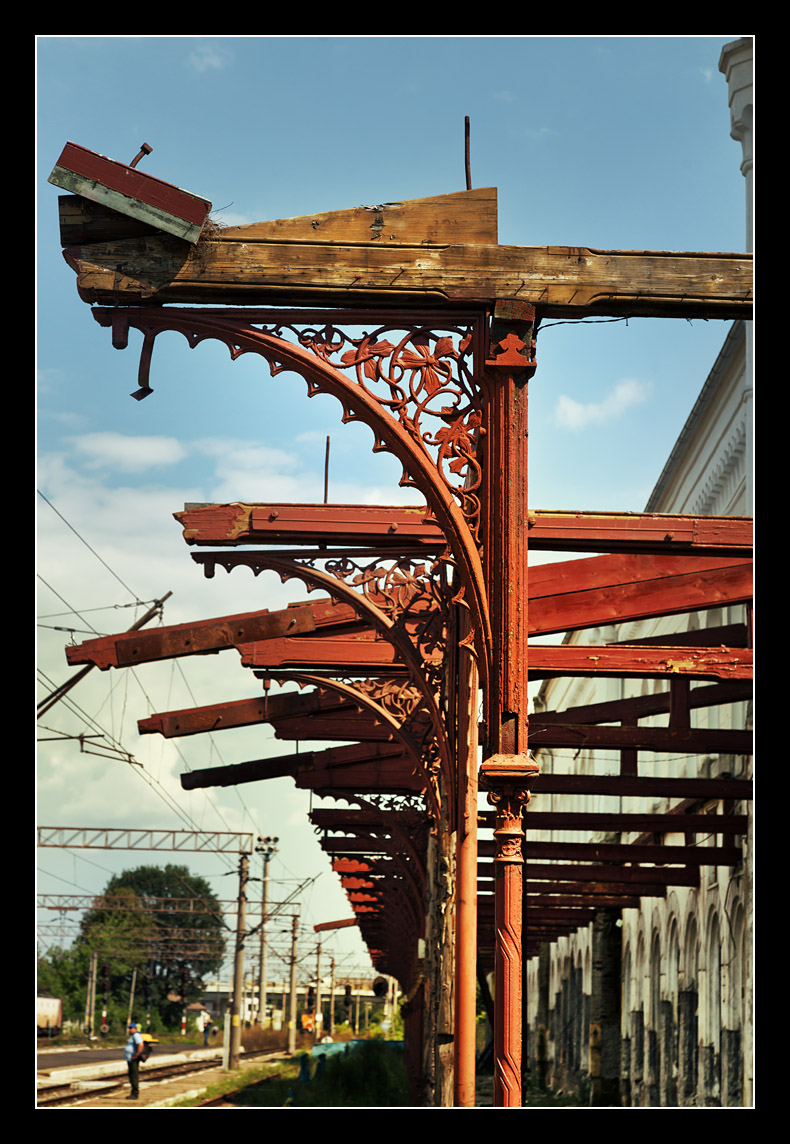 Suceava Nord station, formerly Ițcani, had been erected in 1871 as border station of the Austro-Hungarian Empire... at the moment sadly the building seems to have been left to decay.
Stabled former French SNCF EMU rake CFR 58-1003 presented itself unusually clean.
I walked past suburban houses, Končar-built loco 461 102 came by hauling R 5737 Suceava - Cacica. The Malaxa at the rear of the train continued as R 5635 Dărmănești - Dornești.
The line is electrified to Dărmănești and on the line branching off. The bridge of bypass road DN2P north of Ițcani provides a unique vantage point on the otherwise flat and grown over railroad.
I only had been there five minutes when the maintenance train from Dornești showed up.
Eight minutes later a diesel could be heard from Ițcani... we already know E-P Rail 060 1502.
Now I had to wait for the highlight - would it appear on time?
Shortly before 6 p.m., R 5736 Cacica - Suceava stirred up dust on the grade crossing.
The Malaxa also returned as R 5634 Dornești - Suceava at 6:07 p.m.
Our train was supposed to follow 22 minutes behind the Malaxa from Dornești, but nothing on the horizon yet...
Finally, a silvery snake appeared in the distance at 6:40!
IR 1003 Minsk (Belarus) - Varna (Bulgaria) operating about once weekly during the summer season:
https://www.vagonweb.cz/razeni/vlak.php?zeme=CFR&kategorie=&cislo=1003&nazev=&rok=2018&lang=en
Behind 601 318 the two cars from IR 380 to Vadul Siret, then an Ukrainian UZ Kupe sleeper (Kiev -) Lviv - Varna. The other day of the year this train only operated as RE 1385 Vadul Siret - Suceava.
Seven Belorussian cars formed the main part.
Mission accomplished - I returned to the station where the police had parked a classic Dacia.
All facilities had been moved to containers. I tried to purchase a ticket to Suceava. The lady said we already were in Suceava - I specified: Suceava Nord - Suceava. R 5450 Suceava Nord - Bacău was about to depart at 7:50.
400 228 in new livery approached to couple to the local.
IRN 1952 to Mangalia was switched to the station track for an 8:25 p.m. departure.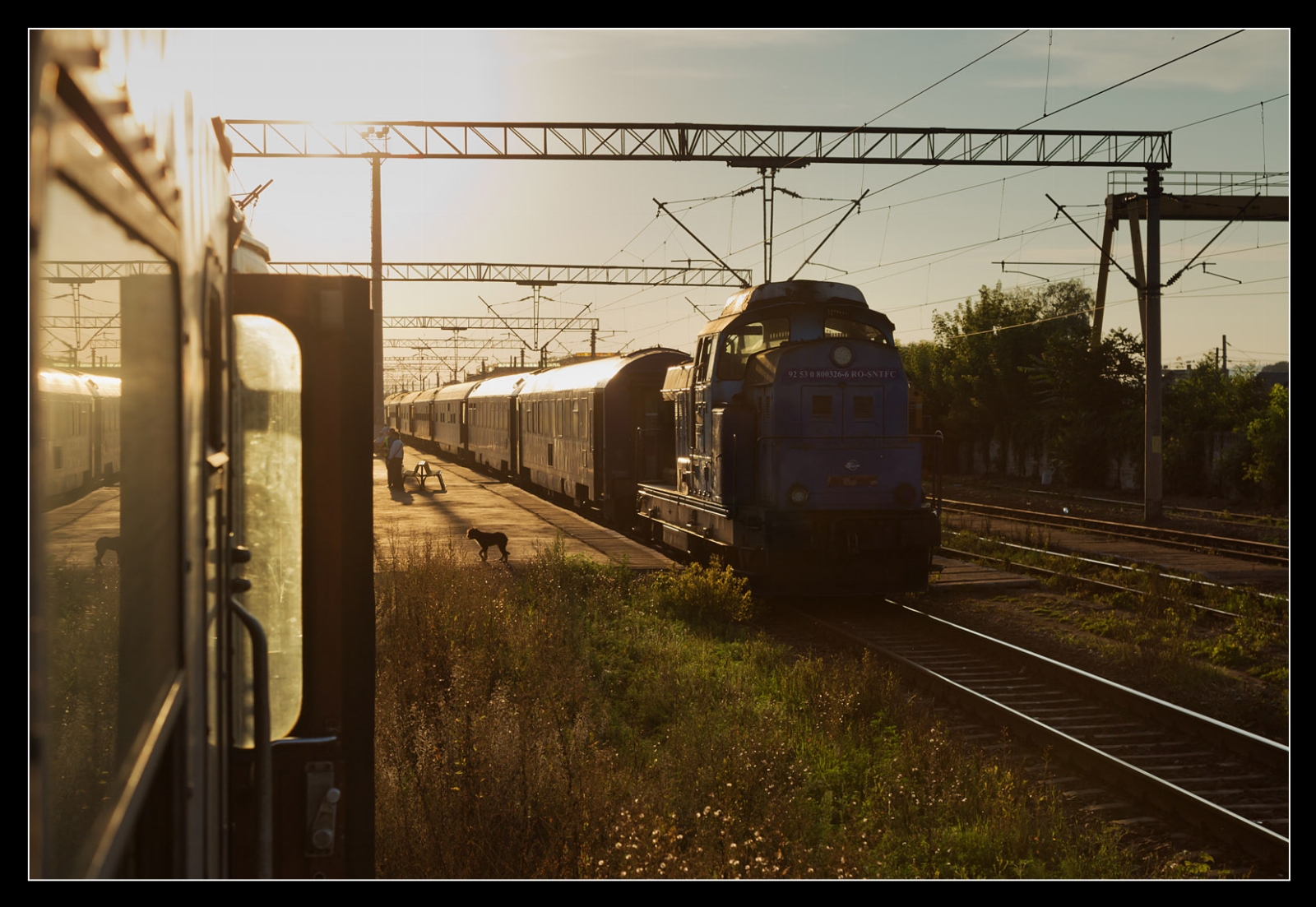 More than one door stayed open.
Perfect evening light at Suceava.
August 4 2018
After a longer night than usual and breakfast I boarded IR 1833 Iași - Timișoara Nord at 8:23 a.m. for a nine hour ride...
Here a few iPhone shots traveling through the mountainous part of Bucovina.