Hi,
To the previous part of the series:
Regional Rail Express - 12: Brașov (50 p.)
http://www.railroadforums.com/forum/index.php?threads/regional-rail-express-12-brașov-50-p.14312
Video for this part:
August 1 2018
IR 01746 to Constanța took me towards the Black Sea Tuesday evening. It was comfortable, just the A/C turned up a little too much. I asked the conductor if she could turn it down - her reply: "That is not my job!".
Behind Bucharest we sped into the night, I got off at Medgidia at 10:13 p.m. and luckily caught the only cab waiting as it is about a 2-mile-walk to the center. I checked into Hotel Luxor, where staff apologized in advance for the ongoing wedding party. My room on a top floor was huge, but you should not look too closely at some electrical installations. The bass from the party thumped on past midnight. Once, a brief row broke out in the street - I don't know if connected to the wedding. But all in all Medgidia is an industrial town where various groups of people coexist. It was named after Sultan Abdülmecid I., Abdul-Medgid-Mosque is the oldest building dating from 1865:
https://en.wikipedia.org/wiki/Medgidia
August 2 2018
Getting up too early did not make much sense, so I found a few hours of sleep after the party and reached Pod Medgidia across the Danube–Black Sea Canal after a 20-minute-walk at 7:17 a.m.
Crossing the bridge at 7:21 a.m., I spotted something approaching on the branch line from Tulcea...
... which could be reached at a leisurely running pace - once more a very efficient bulls-eye!
Entering Medgidia station past a snow plow.
In the background: the railroad bridge across the canal towards Romanian border station Negru Vodă and Kardam in Bulgaria (see my 2015 trip reports).
477 538 appeared early hauling IR 1981 Bucharest - Constanța.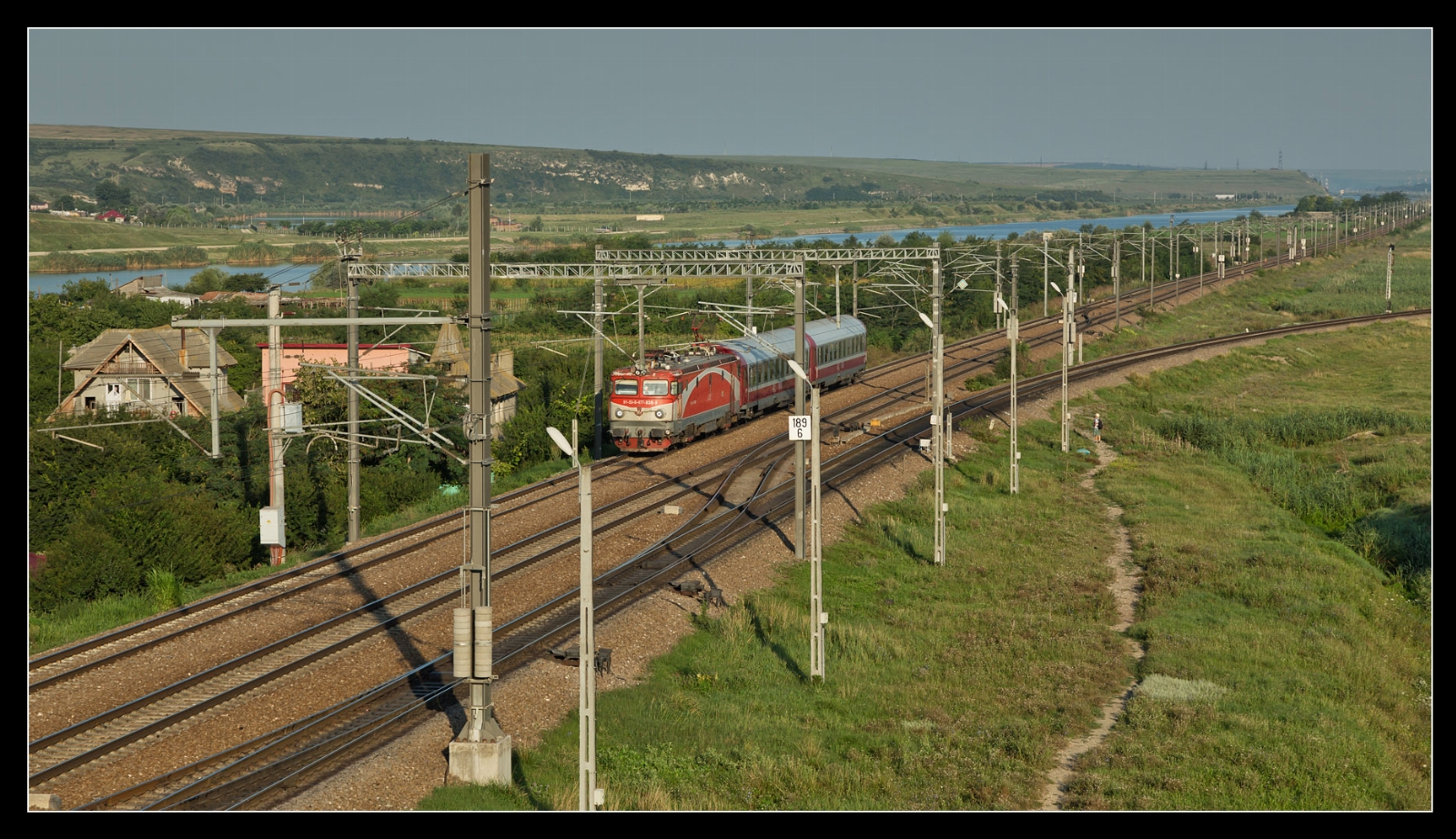 A single Sulzer crossing the canal.
Preparing the pool for a hot day.
R 8345 Călărași Sud - Constanța... wait a second - train meeting!
A wonderfully untouched class 80 with work train car arrived and soon dieseled on to Cernavodă.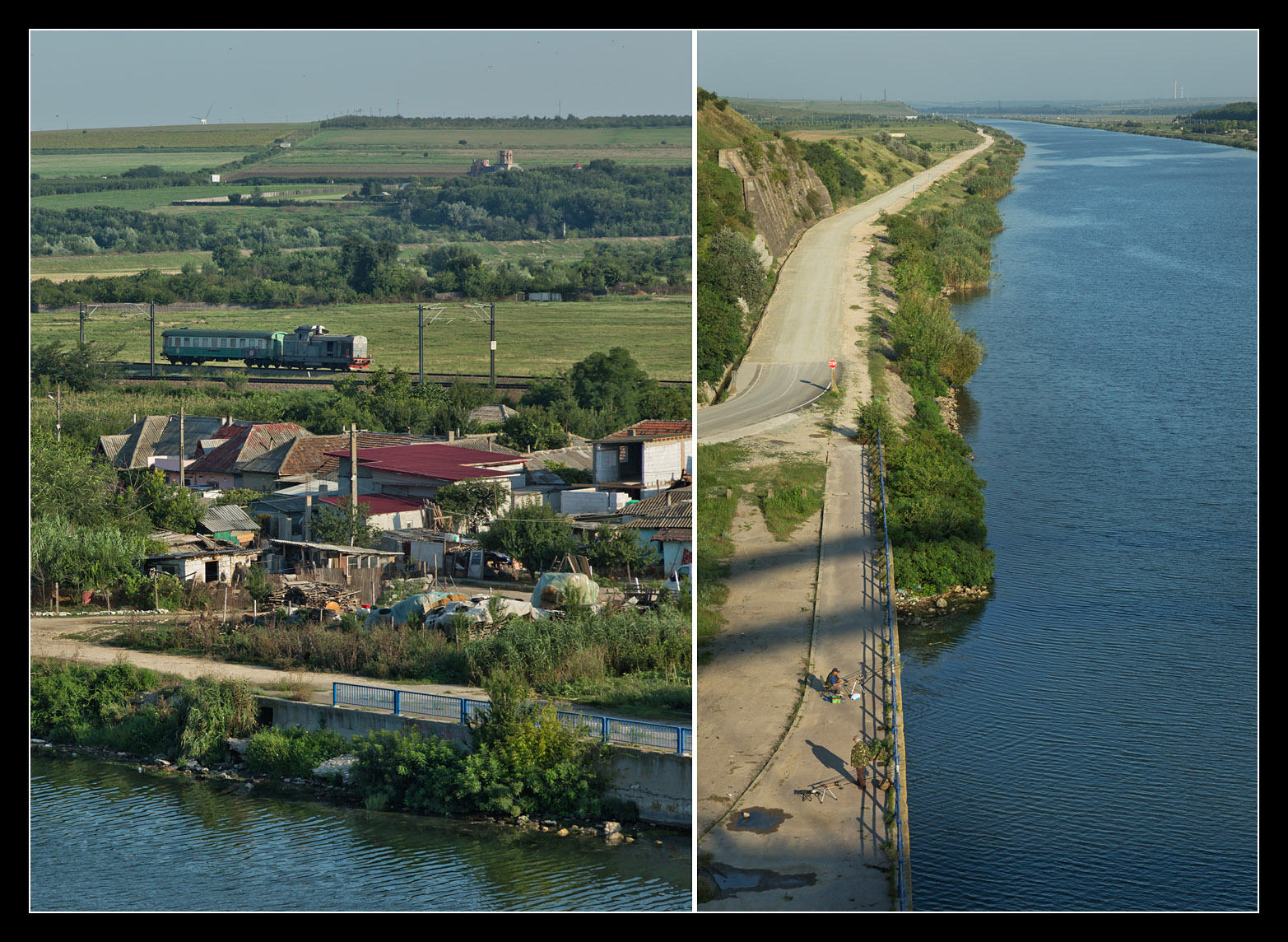 More luck: a train towards Bulgaria.
Freight meeting on and parallel to the Danube–Black Sea Canal.
40 minutes delayed IRN 1992 Timișoara Nord - Mangalia approached.
One main reason for my visit: privately operated Astra Trans Carpatic IR 15594 Arad – Bucharest - Constanța.
Large Medgidia sign to the left - my next spot would be there.
CFR Marfă 40-0901.
Following the geese: R 8652 from Tulcea Oras.
Proper meeting with a regional rail express: R 8652 Tulcea - Medgidia and IR 1689 București - Tulcea in the background.
I walked down to the canal concealing a tragic history:
https://en.wikipedia.org/wiki/Danube–Black_Sea_Canal
I climbed the hillside as IR 1689 departed to Tulcea Oras.
IR 1983 Bucharest - Mangalia at 9:21 a.m. still 2 miles away.
A GFR Sulzer accelerating towards Tulcea.
One of a couple of express trains speeding through Medgidia without stopping - at about 100 mph: IR 1994 Craiova - Mangalia pulled by Softronic "Transmontana" 480 001.
Grain transport on rail and water from the biggest Black Sea port.
R 8021 București Obor - Constanța appeared in the distance.
You can catch some sun on such a long journey.
"Romania-Phoenix" 473 004 passing by punctually at 10:41 a.m. with IR 1937 Constanța - Brașov.
Our star train for the rest of the week (with exception of the detour next day), the most photographed regional rail express of the trip: IRN 1932 Oradea - Mangalia.
Walking back to the hotel I caught a glimpse of IR 1985 Bucharest - Constanța.
A shower at the hotel, fetching the luggage and a cab ride to the station later: Regio Călători IR 16088 Brașov – Constanța passing by.
A former German Ludmilla still in DB service waiting at the platform manned by a friendly crew.
I purchased local train tickets from Constanța, but for the ride there an alternative transport had been booked online.
Another diesel classic - and the most modern train of Romania approaching in the background.
If you thought the outside of the Hyperion was bad, the interior looks like a bag of chips had thrown up all over it: inside Softrans IR 15982 Craiova - Constanța.
Arrived punctually at Constanța station.
Quiz:
What is the difference?
The solution can be found here: ;-)
http://raildata.info/heck/heck1337x.jpg
Ship and locomotive monuments (Orenstein & Koppel #4709 / built in 1911).
IR 1928 from Sibiu arrived (more photos of it can be viewed in report parts 11 and 12), the brightly colored switcher took over. I also found a connection to the Moldova trip the same year. The hall in the background alludes to the ancient heritage of the city.
See trip reports from 2015:
Holiday in Romania 2015 - 18: Brasov - Constanta (50 p.)
http://www.railroadforums.com/forum...y-in-Romania-2015-18-Brasov-Constanta-(50-p-)
Holiday in Romania 2015 - 19: By Rail to the Beach (50 p.)
http://www.railroadforums.com/forum...-Romania-2015-19-By-Rail-to-the-Beach-(50-p-)
Holiday in Bulgaria 2015 - 20: GM to Ludmilla Diesel (50 p.)
http://www.railroadforums.com/forum...ulgaria-2015-20-GM-to-Ludmilla-Diesel-(50-p-)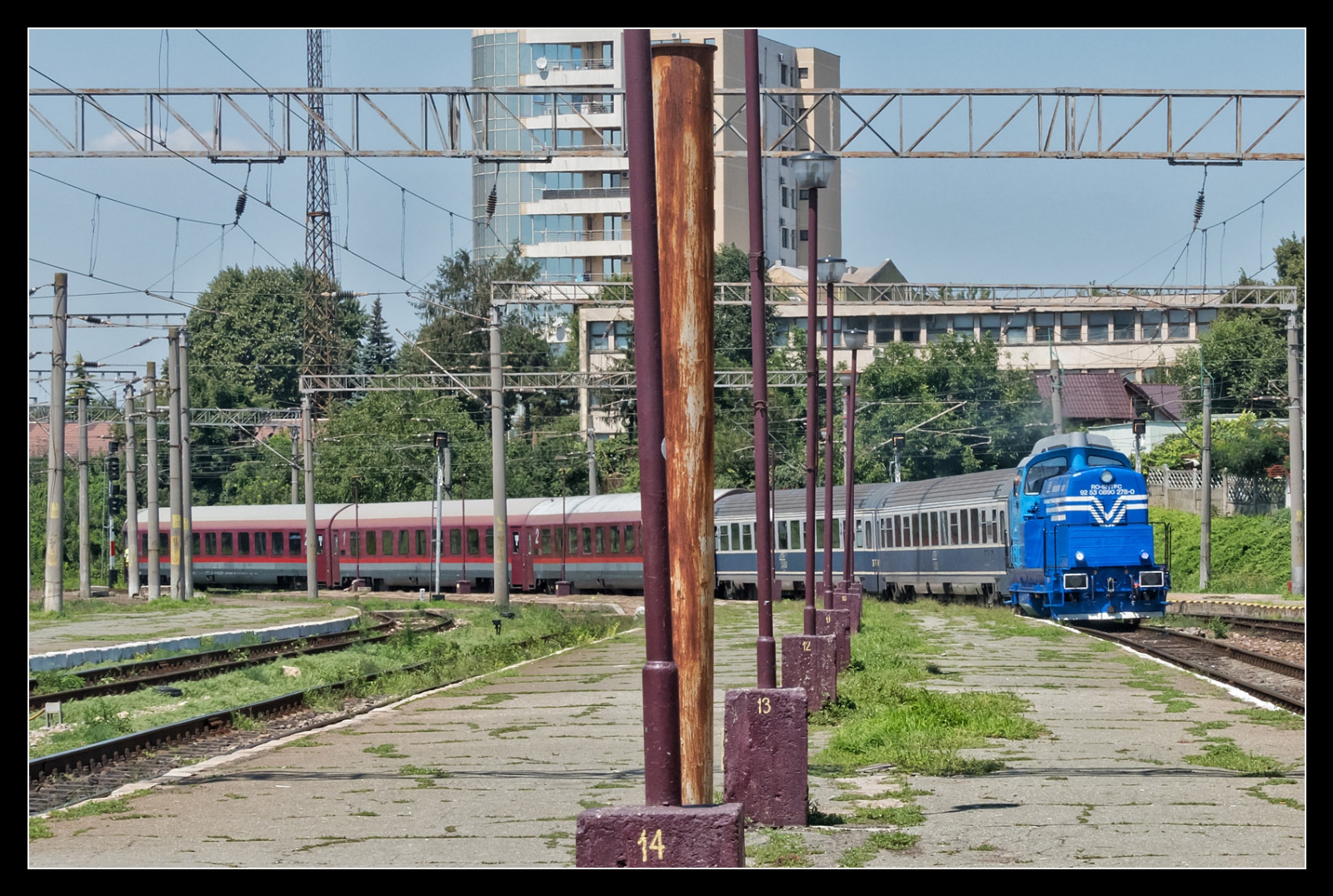 After a three-hour train gap towards Mangalia as the cross-country overnight express trains switched to local services, R 8801 consisting of a/c double deck cars took me to Eforie Nord at 2:42 p.m. It was supposed to be a holiday, so my first destination was the beach. Of course crowded, but still enjoyable (for a more sequestered beach tip along the railroad see my 2015 reports).
Alright, let's do something productive: three trains in a row were announced.
First, at 4:25 p.m., IRN 1945 Mangalia - Satu Mare. The signal and switch operating lady only shortly interrupted hanging up her laundry to wave a yellow flag as the loco passed by.
The heavy train even accelerated into the station - it was not as long as the panorama shows, but almost.
Past the station building and tourists armed with selfie sticks.
R 8803 to Mangalia arrived ahead of time at 4:53 p.m. with the Lake Techirghiol radio and TV tower as backdrop. It is the largest saltwater lagoon in Romania.
I wanted to film our star train IRN 1931 Mangalia - Oradea upon departure. The location was not the best visually, but some GM sound was in order. I did not count on the fury of Eforie though: the lady guarding the switches and signals on this side got a screaming fit upon seeing my tripod with video camera and vehemently demanded it to be removed. I had never encountered such behavior in Romania before or after. And it was kind of surreal with all the selfie sticks around at the station. However, the lady did not know about the sound recorder I usually place a distance away. So, in the video you can enjoy the arrival of the train accompanied by its departure sound. ;-)
I already have caught the same express across the lagoon in 2015 from another train:
http://raildata.info/rum15/rum151910.jpg
The spots at the station were covered, so I marched towards the dam between sea and lagoon. What I had not counted on was another obstacle: naturist bathers. The direction from which the train was about to approach still remained free from people. Then an elderly man arrived in the distance. "Please don't take your swimming trunks off, please don't take your swimming trunks off" - in vain, of course. So, I had to settle for a camouflaged spot on a small peninsula. At least you could get another boat monument in frame with IR 1984 Mangalia - Bucharest at 6:36 p.m.
Also a panorama including Lake Techirghiol, sorry for another chips ad. ;0)
Relaxation and nourishment was in order, I chose a fish restaurant at the start of the beach promenade. This grey mullet is supposed to have come from the Black Sea.
Due to the unlit path I returned to the station at dusk and managed to capture R 8807 to Mangalia at 8:32 p.m. In the back to the right the hut of the fury of Eforie. I had wanted to avoid big jumps across the country, but a regional express highlight awaited me the next day up north in Bucovina. So, I boarded IRN 1953 at 10:38 p.m., sadly just equipped with a couchette car...