Hi,
To the previous part of the series:
Regional Rail Express - 10: Jibou (50 p.)
http://www.railroadforums.com/forum/index.php?threads/regional-rail-express-10-jibou-50-p.13652
Video for this part:
July 31 2018
The friendly sleeper coach conductor woke me in time, so I got off IR 1642 Baia Mare - Bucharest North at platform 1 of Sinaia station punctually at 4:30 a.m.
Sinaia is a parade station along the mountain line (Bucharest -) Ploiești - Brașov, the section from Ploiești to the 3458 ft high summit Predeal has recently been thoroughly renewed.
More about the railway (in German):
https://de.wikipedia.org/wiki/Bahnstrecke_Ploiești–Brașov
The station master signalled this overtaken GFR freight to depart towards Ploiești soon afterwards (video at minute 11:35).
I walked uphill into the at that time of day deserted centre of the mountain resort town to withdraw some cash. Weirdly, the banking ads on the screen of the ATM reminded me of communist propaganda graphics.
On the side of the station building facing the town you could find an image of the last king of Romania - deceased in 2017 - who still was revered by many and had been born in Sinaia:
https://en.wikipedia.org/wiki/Michael_I_of_Romania
The station featuring oriental architectural elements once only served royal guests of nearby Peleș Castle:
https://en.wikipedia.org/wiki/Sinaia_railway_station
R 3002 Brașov - Bucharest Nord arrived at 5:17 a.m.
Sadly, the spotlights illuminating a few museum pieces were turned off shortly before I took this picture, but the mood in the sky already provided sufficient lighting.
Another view of the first station building from the platform.
On time, 400 734 of depot Ploiești in "Romanian" livery approached hauling R 3023 Ploiești Sud - Brașov.
The ride was short, of course once more with partly open doors.
The star loco accelerated quickly at 5:59 a.m. on renewed track 3 of Bușteni station (pronounced:
https://upload.wikimedia.org/wikipedia/commons/4/42/Ro-Bușteni.ogg
).
Track 1 tells another story, as trains almost grind to a halt on the points - no idea, why a line is being reconstructed without removing such an obstacle, as most express trains stop here.
IRN 1644 Beclean pe Someș - Bucharest continued the parade of overnight trains conveying two former DB sleeper carriages in different liveries. Almost all long-distance trains from the Northwest of the country take this mountain mainline.
The peaks of the Bucegi Mountains were visible and lit by the sun - due to the weather forecast the following two days this could not be taken for granted. At least it was even cool enough to wear a jacket in the morning - after the heat the weeks before definitely a blessing!
7821 feet Caraiman Peak with 102 feet tall Heroes' Cross (Crucea Eroilor) to the left.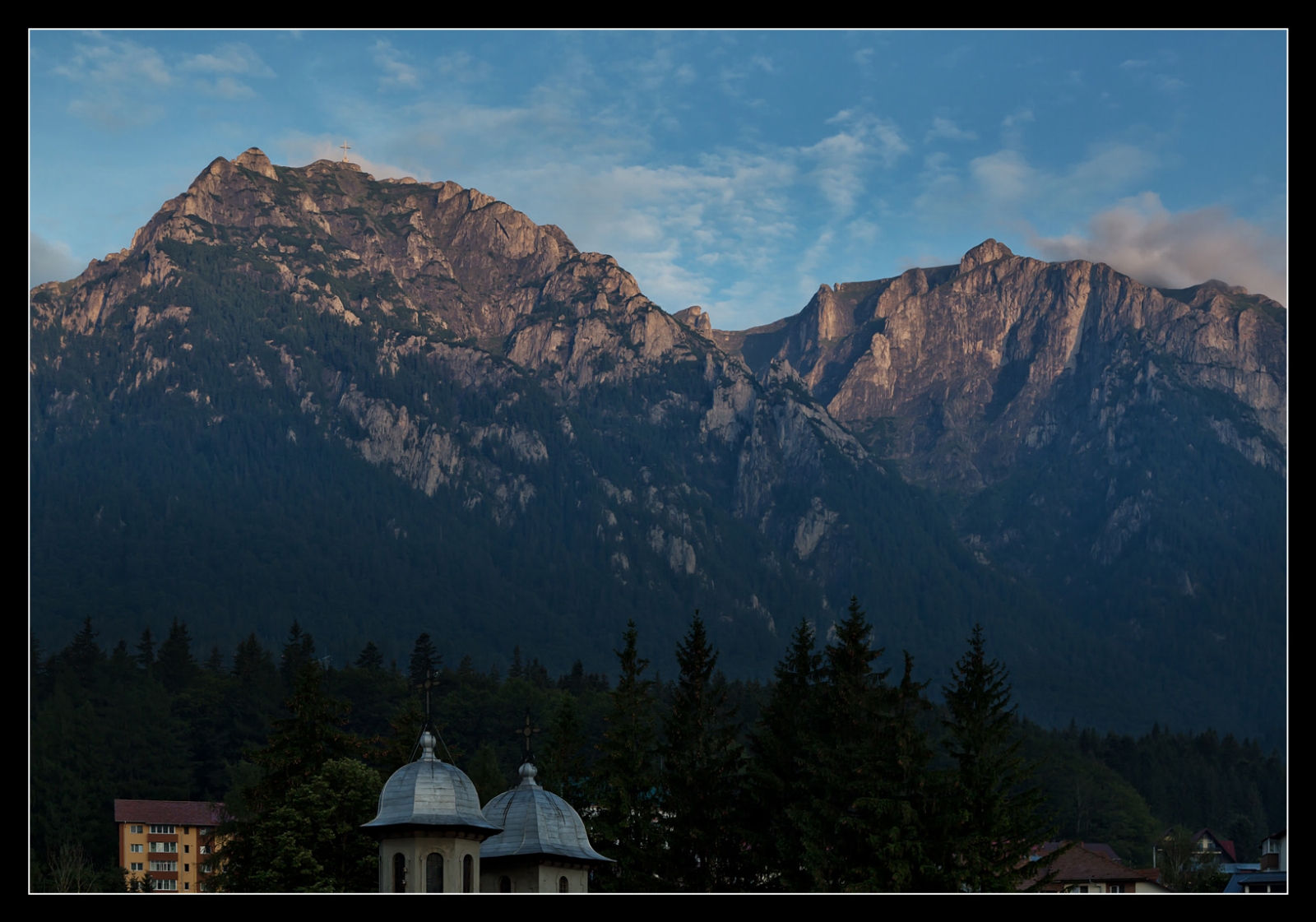 I walked along the line towards Brașov, past nice villas.
The footbridge across the tracks was reached in time. Soon, a star express on regional rail lines of this series - IRN 1932 Oradea – Mangalia - approached in mainline mode. This will be the most frequently spotted train pair over the rest of the trip, I am going to include a special with photos from various spots in a later report.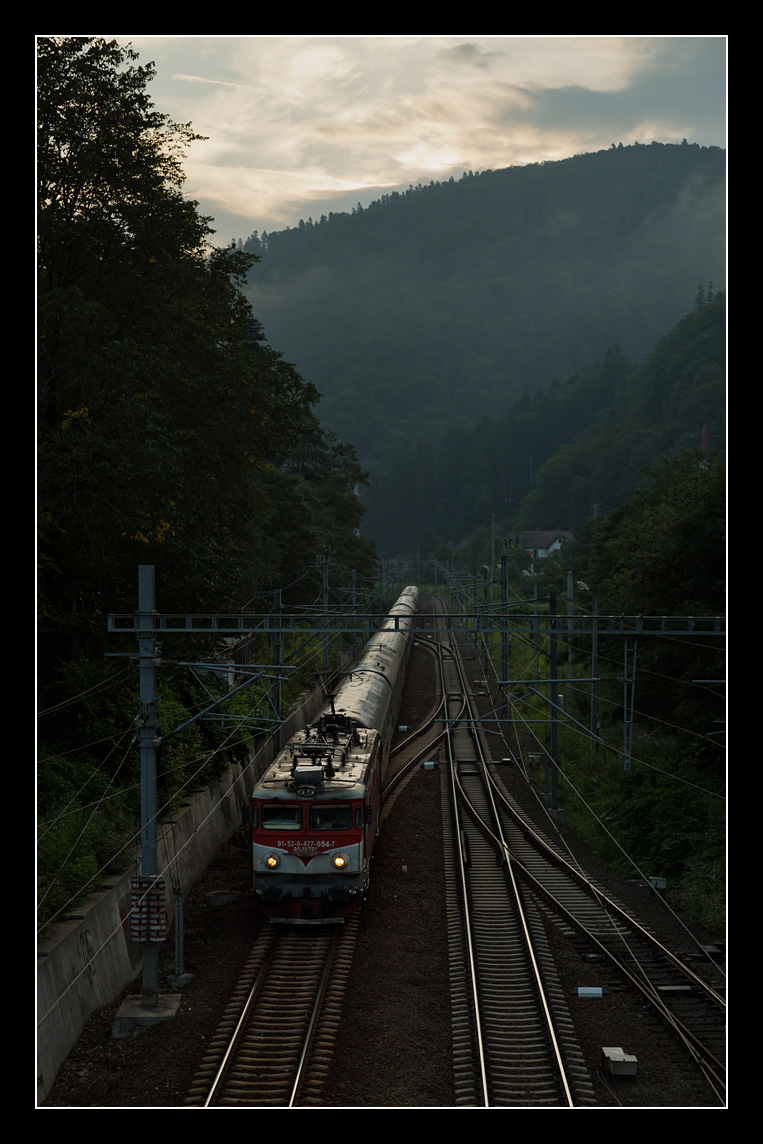 Private railway operators provided diversity, here an ex-SNCF RIO rake as Regio Călători IR 16088 Brașov - Constanța. Almost all trains operated punctually to the minute - by the way - except where especially mentioned.
Freight trains also passed by, here on video: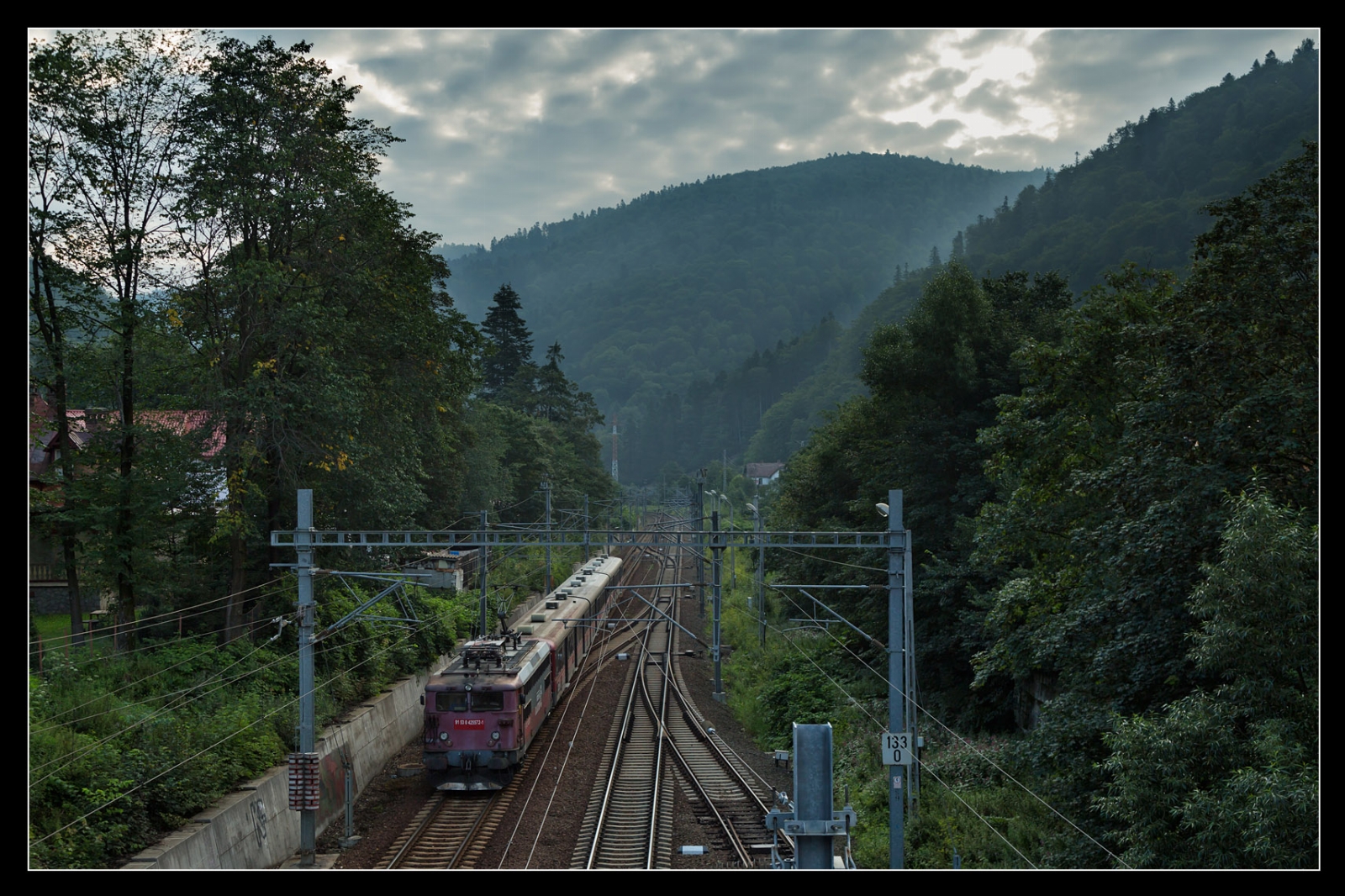 Half an hour after the first Regio Călători (ex-Regiotrans) service followed the second: R 16034 Brașov - București Nord.
What came next? We already know this regional rail express well from the day before: IR 1745 Bucharest - Baia Mare.
And as special treat: freshly painted 400 236 with diamond pantographs.
The sun came out, IR 1934 Satu Mare - Bucharest rolled past.
Slowly, the coaches crept across the point.
Sunshine also lit this panorama featuring IR 1631 Bucharest - Brașov plus villas.
As soon as the sun was shining, clouds were forming.
The composition of R 3001 Bucharest - Brașov did not need to hide from the others. Skiing slopes in the background.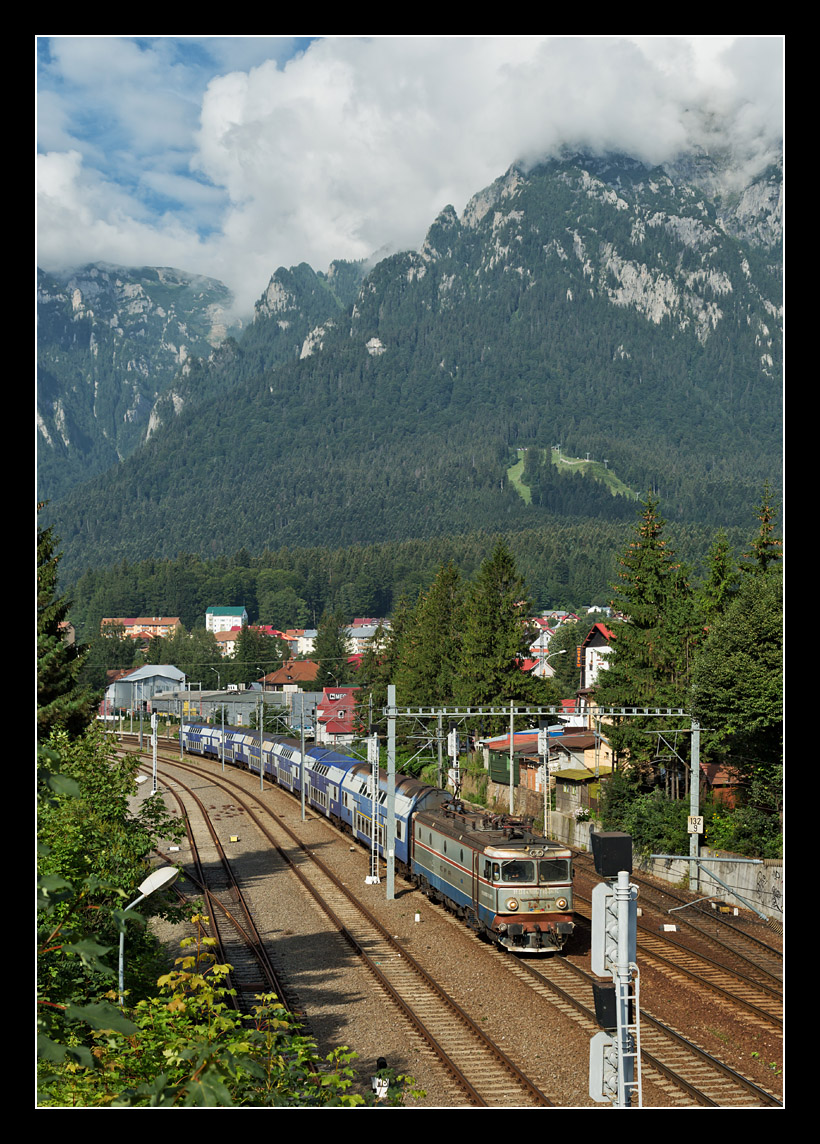 The Electroputere-built six-axled electrics proved slightly too long for this view.
However, I still waited for one more train, hauled by a four-axled Končar-built engine! Astra Trans Carpatic IR 15531 Bucharest - Brașov, consisting of just one couchette coach.
I purchased refreshments at the supermarket next to the spot. On the way back to the station, IR 1636 Constanța - Brașov was captured at a makeshift path used by locals to cross the tracks.
To the left: political graffiti I noticed several times in this area, reminding me of the March trip to Moldova: "Bessarabia is Romania" and "down with the Prut border (border river, for example between the Ungheni rail stations)"...
One exception that morning was the 2018 beachside train from Sibiu: IR 1928 to Constanța approached at 10:02 instead of 8:37.
I caught it again next morning,
August 1 2018
, at Codlea near Brașov - hauled on time by an original Sulzer! Perhaps a GM had become faulty the day before causing the delay?
Another day later, on sunny
August 2 2018
, IR 1928 had reached its destination Constanța and was being shunted away (the carriages in front had been added during reversal at Bucharest Northern terminal).
Back on
July 31 2018
at Bușteni: IR 473 "Ister" Budapest - Arad - Sibiu - Brașov - Bucharest hauled by the special treat.
"Ister" on
August 1 2018
in regional rail express mode at Codlea. More pics next time.
IC 473 "Ister" being shunted before departure from Budapest-Keleti in the evening of
August 6 2018
. To the right: G 1204 "Adria" Budapest - Split.
The rake of EuroNight 476 "Metropol" to Prague arriving at the platform next to "Ister".
"Metropol" to the left, "Ister" in the middle and phonetically similar G 1246 "Istria" Budapest – Rijeka / Koper to the right.
We return to Bușteni on
July 31 2018
: Softrans Hyperion highspeed EMU in (literally) crispy livery arrived as IR 15931 Craiova - Brașov.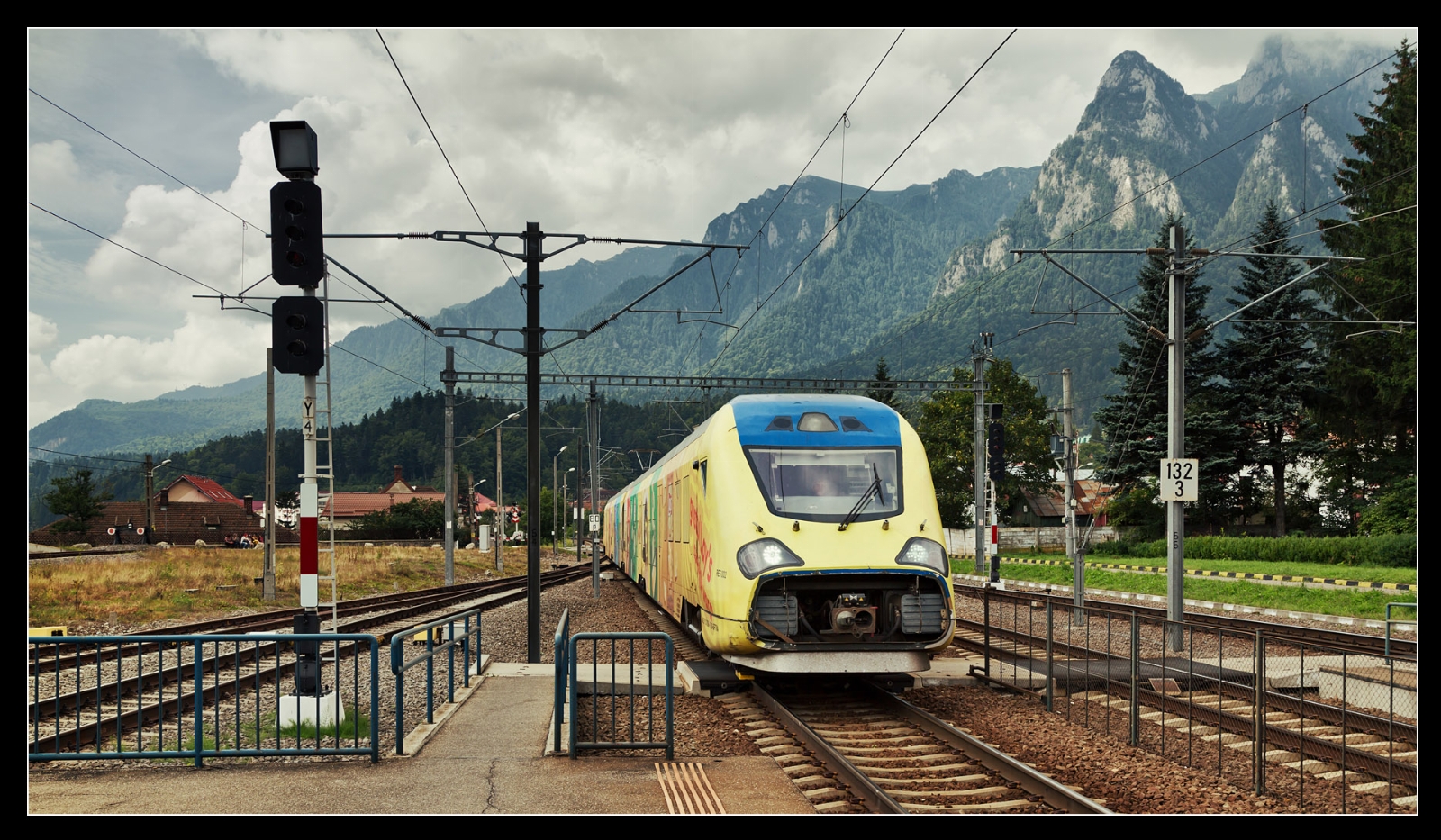 IR 1732 Galați - Brașov composed of double-decker coaches.
I had time and waited for Regio Călători R 16031 Bucharest - Brașov.
Caravelle railcars were conveyed at the rear of the train. There is no Regio Călători ticket counter at Bușteni, but tickets can easily be purchased from the conductor.
The overgrown old mountain line Predeal - Brașov poses a crass contrast to the modernized tracks towards Bucharest. The former SNCF RIO carriages have been renewed and feature A/C, yet some windows can still be opened the old-fashioned way.
Arrival at Brașov.
Thunderstorm clouds already accumulated over noon. I walked to the accommodation - more next time.