Hi,
And welcome to this year's summer series dealing with express and semi-fast trains partly traveling via regional rail lines. The German term "Heckenschnellzug" or "Heckeneilzug" describes express trains - sometimes even international connections between important cities - operating on regional lines otherwise mainly used by local services.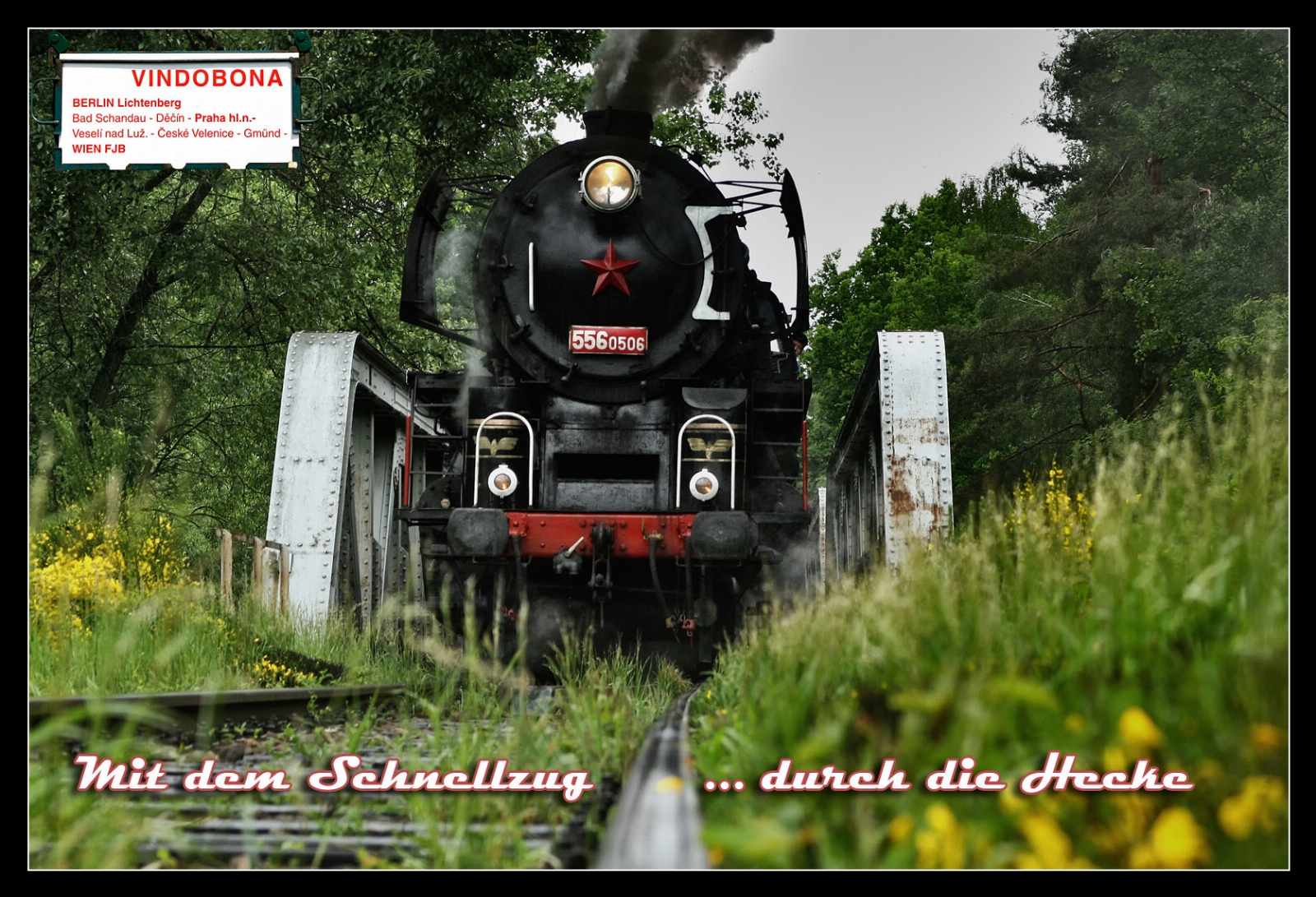 I want to note that these are just a few impressions along the route of the title "star" trains, there is no claim to be a complete work. First, I will post some historic reports, later follow current ones.
The first part features a photo charter on
May 28 2006
supposed to recreate "Vindobona" express Berlin - Prague - Vienna Franz-Josef Station (FJB) from the era 1979-80 with the engine originally in iron curtain cross-border service - 556.0506 - on the final section of the Emperor Franz Joseph Railway featuring old infrastructure Veselí nad Lužnicí - České Velenice. In the afternoon we took the "reroute" České Velenice - České Budějovice which soon afterwards was electrified. The full electric connection Vienna - Prague via Budweis has been established in 2010.
More about the KFJB:
https://en.wikipedia.org/wiki/Emperor_Franz_Joseph_Railway
More about the Vindobona express:
https://en.wikipedia.org/wiki/Vindobona_(train)
Historical comparison from Austrian border station Gmünd NÖ in 1979:
https://www.drehscheibe-online.de/foren/read.php?17,4318711
My video from that day (240p quality, so not much of a picture):
Another video of the charter by Mario Danner:
May 28 2006
The times of the charter enabled you to arrive by train from Vienna, starting late morning from Veselí nad Lužnicí.
The sign of the club with slight spelling mistake, the Czech nickname of these engines is "Štokr".
More about the class (in German):
https://de.wikipedia.org/wiki/ČSD-Baureihe_556.0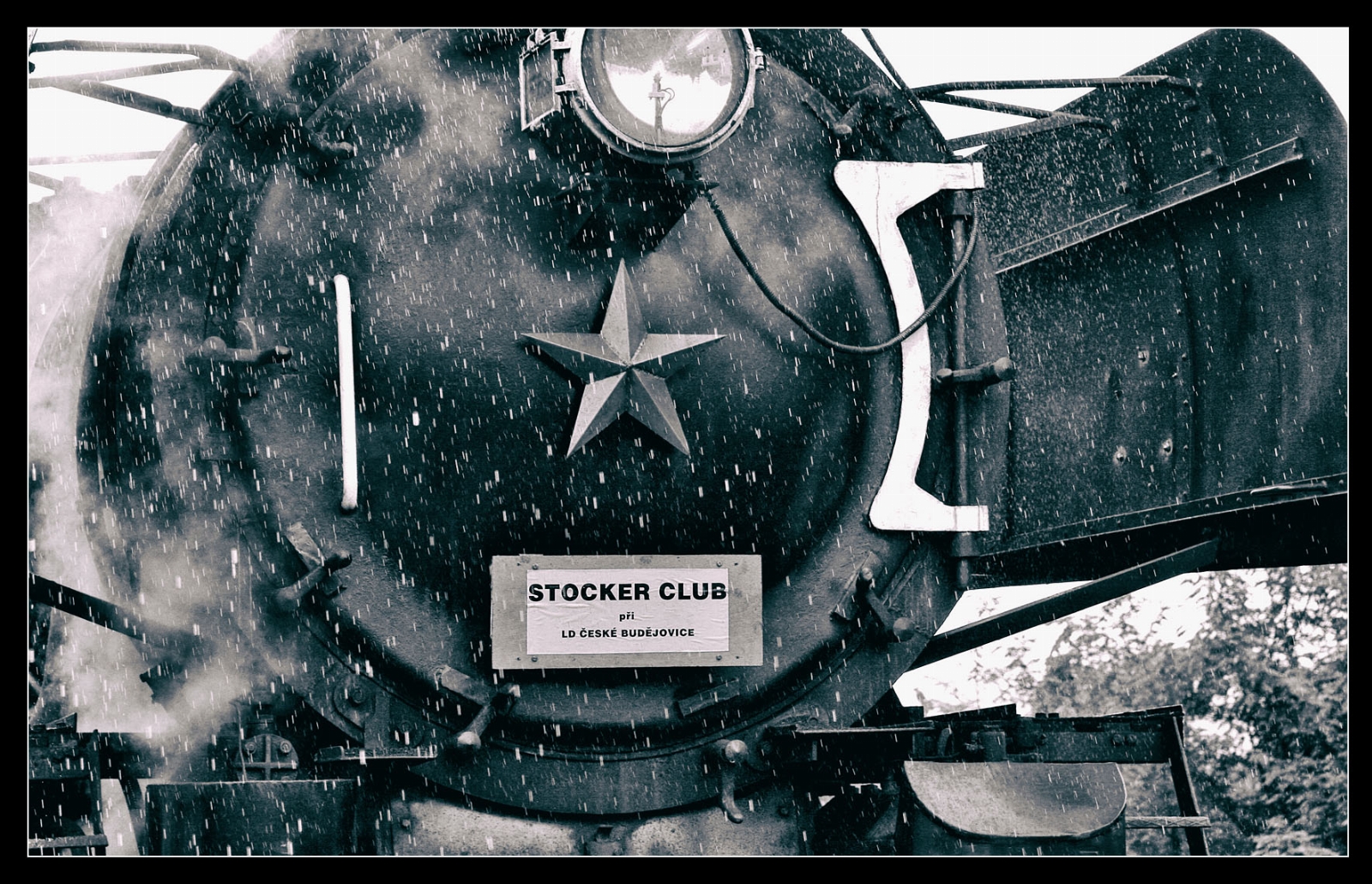 Our train formed of four GDR-produced ČSD Y/B 70 couchette coaches passed Lužnice halt.
Třeboň actually was a stop of the historic "Vindobona".
Non-alcoholic beers for the loco crew waiting at Majdalena.
Not just the "stoker" smoked towards České Velenice.
Photo arrival at Majdalena.
The following station, Suchdol nad Lužnicí.
Soot was raining from the otherwise spotless engine.
We crossed a local train to Veselí nad Lužnicí.
And had to wait some more for a "Čmelák" diesel.
Rape field with view of Suchdol.
Past maypole and church at Dvory nad Lužnicí.
Back then officially no regional line yet.
We arrived at České Velenice around 2 p.m. - once main station for the whole town of Gmünd now partly in Lower Austria.
Departing Gmünd towards Gmünd NÖ.
The forbidden pictures: An initial request in Vienna received a negative answer, but since there was no problem locally, of course we included the location most important in contemporary history. The iron curtain border bridge across the river Lužnice/Lainsitz which in this section is completely located in Czechia.
The second track of the former connection between two main Habsburg Empire cities is missing.
Turning and taking water at České Velenice roundhouse which has been removed with the modernisation.
We departed towards Budweis before 4 p.m., meeting a train to České Velenice at the first station, Nové Hrady.
The wonderfully typical loading cranes.
A round semaphore distant signal.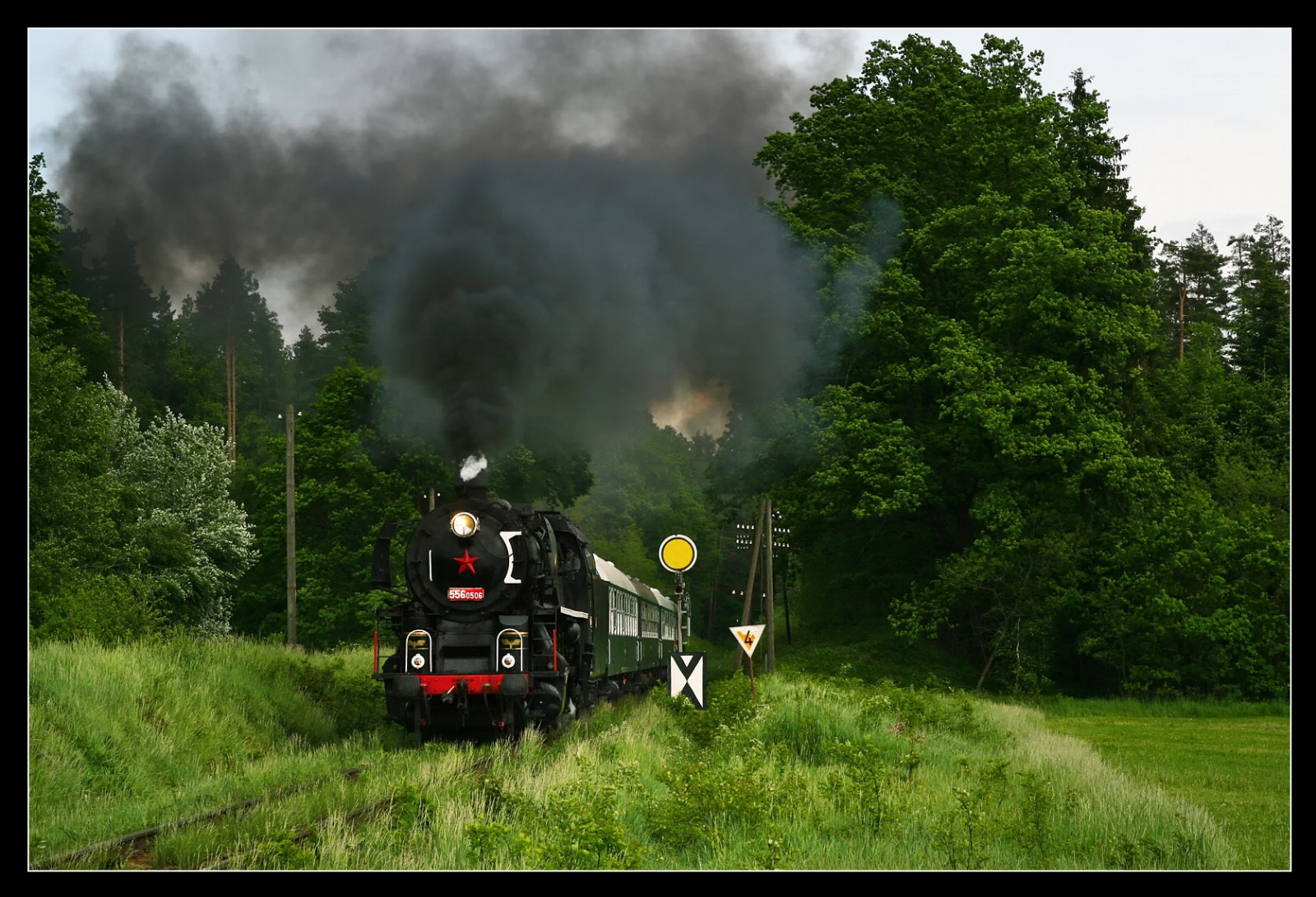 Pasture view near Těšínov.
Waiting for regular traffic at Borovany.
Action at Trocnov halt.
Arrival at Budweis.
Three classic types of traction around the turntable.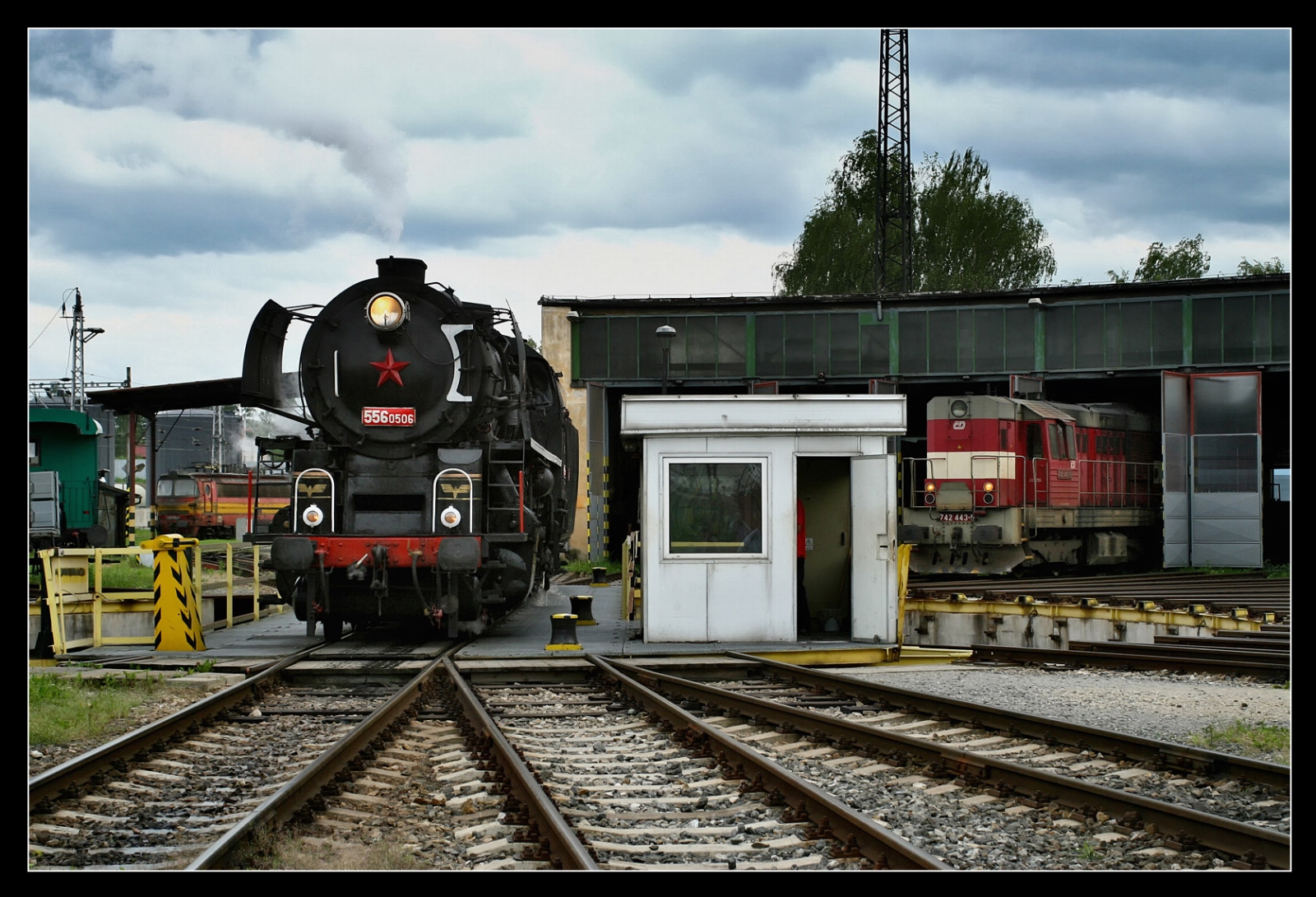 České Budějovice main station.
A legitimate successor of "Vindobona" on the Franz-Josef Railway turned up: R 361 Plzeň hl. n. (dep 18:04) - České Budějovice (19:57-20:11) - České Velenice (21:00-21:02) - Gmünd NÖ (21:06-21:13, continuing as E 2131 "Urquell") - Vienna FJB (arr 23:29), which took me home after a full day.
Two international connections operated daily: EURegio 2117 "Silva Nortica" České Budějovice (dep 7:32) - Vienna FJB (arr 10:57) arrived at Gmünd NÖ behind 749.051 on
November 27 2005
.
In the morning of the photo charter,
May 28 2006
, two classic loco designs met at Gmünd NÖ.
To the right a little teaser what else was in operation here, but not anymore in May: the regular service of class 4010 EMUs on the FJB ended on March 6 2006.
To the left former T478.2080 delivered on September 30 1970 - to the right 1042.01 in service since April 1 1963, just five years younger than 556.0506.
EURegio 2130 to Plzeň departing not particularly glorious Gmünd NÖ station, which only became one in the 1920s after new borders had been drawn following WWI.
EURegio 2120 "Silva Nortica" to Budweis crossing the Waldviertel narrow gauge line to Groß Gerungs in the evening of
July 2 2005
.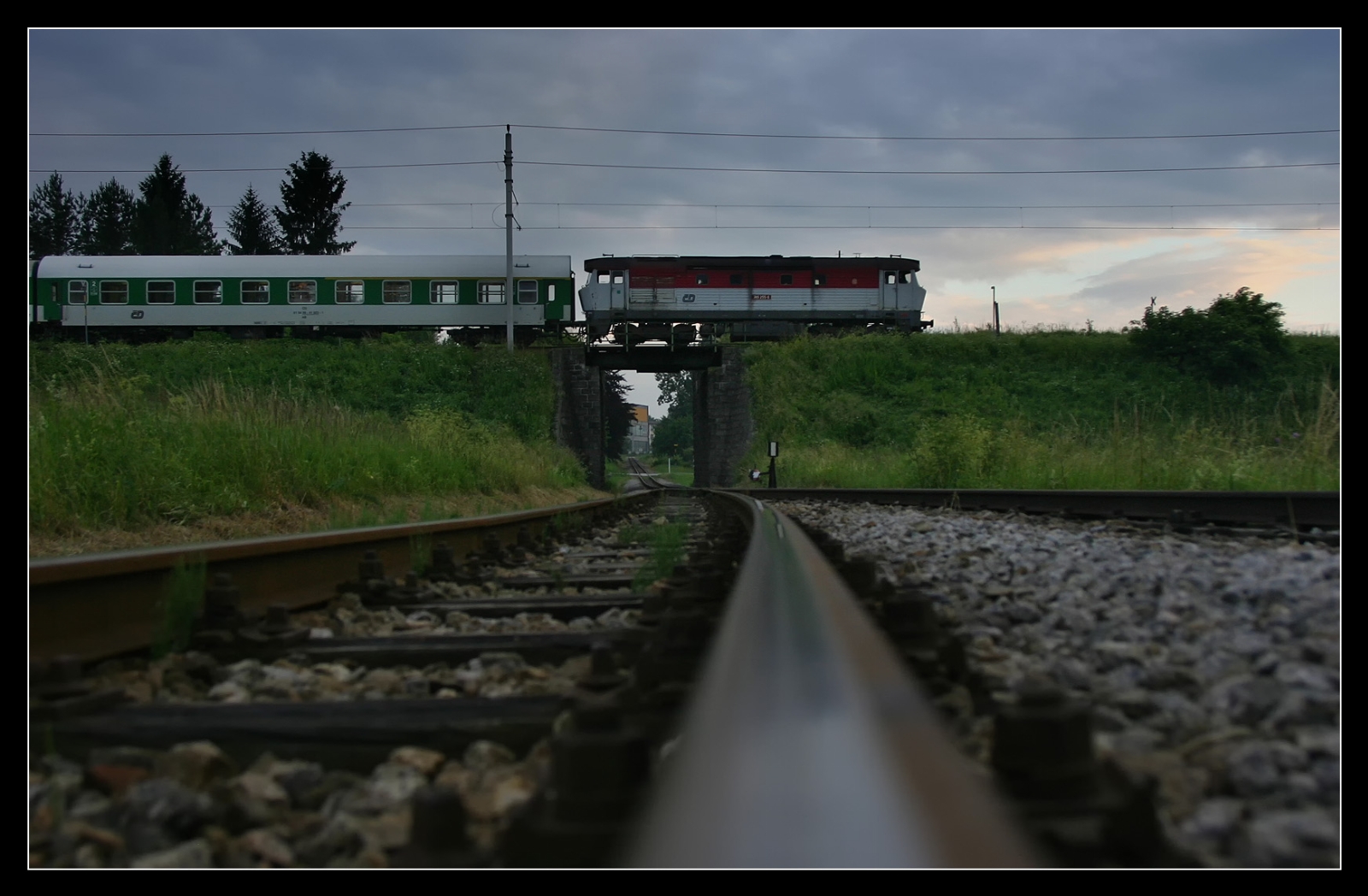 Same spot, more modern meeting: REX 2104 from Wien FJB to electrified České Velenice met an advent special from Weitra hauled by NÖVOG V 12 (ex-ÖBB 2095.12) on
November 29 2014
.
Some steam as conclusion: 399.01 passing below the FJB on
November 29 2008
, 399.03 shunting at Gmünd NÖ during sunset on
September 9 2006
- the industry of the original terminal of the narrow gauge railway in the distance, České Velenice.
Next time, we continue along Austrian FJB...