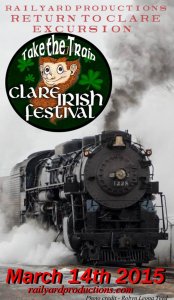 Railyard Productions is excited to present Pere Marquette 1225 Return to Clare Excursion.​
This is a one day excursion March 14th 2015. Tickets are $124.00 per person for coach seats. You may like to ride in an authentic caboose ( Very Limited Seating $149.00 ). We will depart Owosso Mi at 9:00AM and arrive at Clare Mi 11:30AM We will have a 3hr layover in Clare so passengers can partake of the Irish festival which will coincide with our excursion. The train then departs Clare at 2:30 running back to Owosso to finish up around 6:00PM. Please note that these times are subject to change. We will have at least one photo run-by so be sure to bring your camera.
Note: Please Share this event, It's Railfans like You who make steam preservation possible. Thank You, Robert Teed Railyard Productions.
http://railyardproductions.com