So for the first time that I can remember, I was able to get out Saturday and Monday to railfan a bit on my "home" subdivision, Union Pacific's Midlothian Sub, as it rolls through Mansfield. Unfortunately, my brother and I were only able to get out for a little bit Saturday, taking scenic photos in the dimming light with no trains.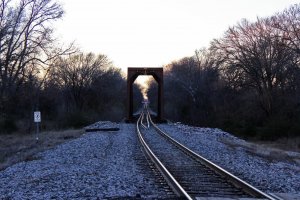 Monday turned out to be a lot more adventurous than I had planned. Downtown Mansfield isn't right up on the tracks like it is in most small towns, instead sitting about a quarter-mile south or so and up a hill. So I killed time by parking in downtown and taking some photos up there and planned on being able to hear the horn in the distance and drive down to the closest crossing.
Well, that didn't quite go to plan. By the time I heard a train, it was going past the crossing, so I set out to see if I could get to a crossing east of town to get it. Unfortunately, I wasn't able to get there, but I managed this long-range photo. I still need to get a zoom lens for the camera.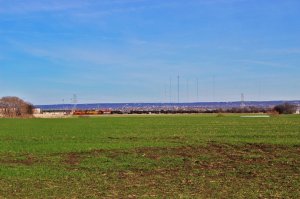 I then went down U.S. 287 to meet the train as it went through Midlothian.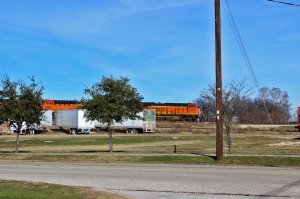 Turned out to be interesting as this is the first time I can remember a BNSF train traveling on this UP line, though BNSF does have trackage rights obviously. I'm hoping to get out there a few more times before heading back to Austin for the spring semester.
More photos here, for those who might be interested:
http://railfanningtexas.jacobmartella.com/2015/01/05/railfanning-my-home-subdivision/