Hi,
The video for this series (please set to 1080p quality / full-screen mode):
https://youtu.be/VGbL1eX4wik
We start our series of summertime reports following overnight trains and electric old-timers. "Lisinski" is the name of the classic overnight train between Zagreb (Croatia) and Munich (Germany), but we will encounter other connections along the way.
Two train pairs daily link Ljubljana to Rijeka on the Croatian coast: here MV 483 "Ljubljana", leaving the Slovenian capital after noon connecting to EuroCity "Emona" from Vienna on this photo from
August 14 2016
. Nowadays, this service is domain of SZ class 342 "Moped" (Ansaldo, built 1968-70).
The past two years I spent a few days at the beach in Opatija, here a view of Kvarner Gulf topped by a big red moon on
August 18 2016
.
In the morning of
August 9 2017
I took bus number 34 uphill to Matulji. At Opatija-Matulji station I encountered this maintenance vehicle. This year the line had been closed occasionally, at that time all trains ran but with slow temporary speed restrictions in place (which obviously had been calculated into the timetable).
On
August 18 2016
I reserved a full day for railfanning with my Slovenian friend Misko. First, we encountered B 481 "Opatija" Ljubljana - Rijeka at the Jurdani semaphore home signal, which had been kept despite of renewing the catenary masts for 25 kV AC.
Back then, the train consisted of three SZ coaches, this year I captured additional through-coaches departing Opatija-Matulji. Behind 1141-309 (a Swedish class Rb/Rc licence) you can spot a 2nd class through coach of "Lisinski" from Munich - mysteriously the expected sleeping car was missing. The rear of the train was formed by three coaches arriving overnight from Budapest on the seasonal express "Istria".
Last year we caught the train again at the station after a steep downhill drive through the village.
This year it was an hour late: I captured this panorama including Kvarner Gulf and Island of Cres.
On
August 18 2016
we continued our tour towards Gorski Kotar, encountering Pu 4000 Zagreb - Rijeka at noon near Skrljevo. The densely-erected masts and wall are protecting the line from the Bora, a northern katabatic wind reaching gusts of 150 mph.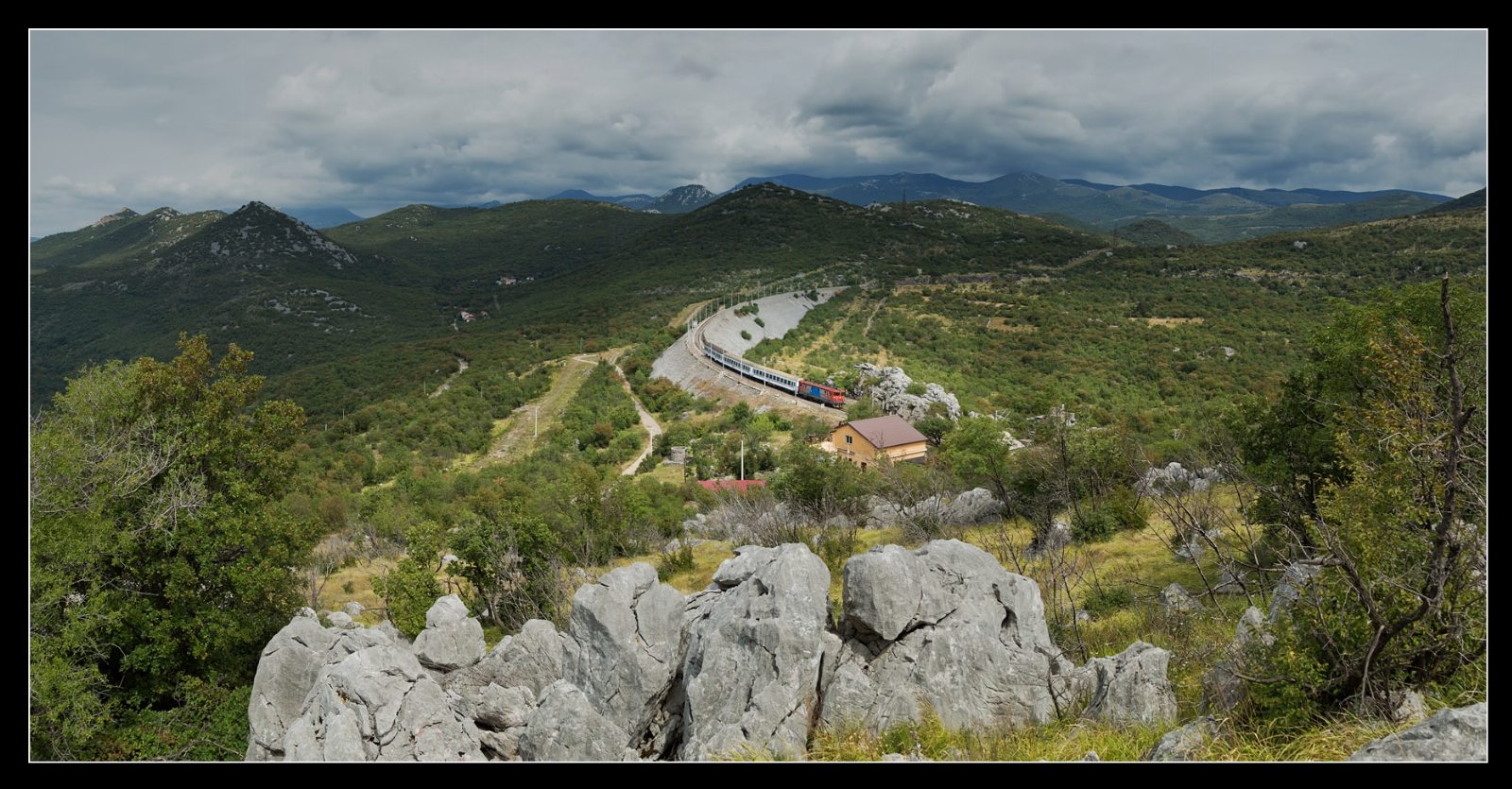 More from this excursion would lead to too many topics, but I have taken one photo with sleeper connection at this spot before: on
August 10 2010
B 700 from Zagreb rolled towards Rijeka behind the largest Croatian GM-EMD licence diesel class - in use during the last years of DC operation -, 2063.
Pu 4606 from Ogulin arrived at Rijeka under a rainbow on
August 18 2016
.
Couchette coach on my first rail enthusiast stay in Rijeka on
August 17 2005
, also with Misko.
On
July 9 2007
with a lot of DC loco action.
Ten years ago, as nowadays, B 480 was conveying through coaches of "Lisinski" to Munich.
We move towards Slovenia, on
August 10 2010
we captured B 482 towards Ljubljana at Matulji.
On
August 14 2016
I also spotted diesel: 2062-038 as helper on a freight train at Croatian border station Sapjane.
I don't want to invoke still hurting memories, but on the Slovenian side it looked like that on
September 8 2008
. A ride Rijeka - Austrian border Spielfeld back from a beach holiday took place completely behind three ex-JZ class 362 (1061 in Croatia). These 3 kV DC locos produced 1960-68 by Italian Ansaldo/Breda had been running for the last time in Slovenia in July 2009 - replaced by class 541 -, in Croatia in December 2012 - after the final line Rijeka - Sapjane had been completely converted to 25 kV AC.
Nowadays it's all just history at Slovenian Ilirska Bistrica.
In the evening of
August 11 2017
I took the bus to Matulji to start my short summertime rail tour. B 480 including all through coaches arrived almost on time. On the way to Ljubljana the delay increased to almost an hour as both border control points were rather unprepared, on each all eight coaches had to be checked by just two officers.
So, these platform shots at Ljubljana were already taken past midnight on
August 12 2017
. EN 498 "Lisinski" Zagreb - Munich, from Dobova behind SZ class 541, also had arrived as the reflection shows.
Back then B 296 "Lisinski" departed Zagreb main station on
July 12 2007
at 9:05 p.m. behind usual HZ class 1142.
On
August 12 2017
night owl Misko shortly visited me on the platform as I had to defend my seat against the assailing crowd of backpackers.
541-018 shunting to get our coaches from Rijeka.
We did not make up any of the delay, but that way my night at Villach Hbf was shorter. "Lisinski" grows to a mighty transalpine express: as EN 236 Venice - Vienna and 40236 Venice Munich were added, ÖBB 1116.122 and 1144.107 had to haul it across Tauern Pass.
I still had three hours to kill until the departure of my local up the southern Tauern ramp, so I decided to stay awake and capture the "Dance of the Overnight Trains" at Villach mostly on video with ÖBB "nightjet" expresses arriving mostly from Italy, almost all exchanging coaches. The result including the imposing departure of "Lisinski" can be watched here:
https://youtu.be/VGbL1eX4wik?t=16m29s
At 5:29 a.m., I took the first and on Saturdays only local on the Tauern Railway - S1/R 4930 to Mallnitz-Obervellach - and got off at the minimalistic halt Oberfalkenstein just as the first rays of sun tickled the mountaintops.
1020.018 (German class E 94) of "Lienzer Eisenbahnfreunde" heritage railway society traversed 1300 ft long and 295 ft tall Falkenstein Bridge pulling a special from Lienz to Zell am See. To the left Oberfalkenstein castle, the upper part of the defensive structure.
Tele version of the image, I replaced an unauthentic, blue Schlieren coach with one of these lovely, uniquely original restored ones.
First daytime international express EuroCity 114 Klagenfurt - Dortmund turned up.
The classic view standing on a bridge of the old Tauern line cannot be missed. Luckily, freight traffic often including a class 1144 was running despite of the Ferragosto holiday in Italy.
Lacking local trains, I hiked downhill to Gratschach for a bus, from here you get this perspective of the bridge with Niederfalkenstein castle. Austrian broadcaster ORF ad loco 1116.232 pushed railjet 111 Munich - Klagenfurt down the Möll River Valley. It had lost its original rake in an accident at Vienna Meidling station on Easter Weekend:
http://wien.orf.at/news/stories/2837438
I took a lunch break at Spittal, the afternoon was spent at the junction of the Drau Valley Railway to Lienz and Italy, Lendorf. 1020.018 returned early from Zell am See, at half past five.
Reversing at Spittal was quick, so the special also returned early. I caught an earlier train back to Villach, right on time for an excellent mixed beer "Franzi" at the brewery.
About 2 1/2 hours before "Lisinski" another overnight train is traversing the Alps, B/EN 414 Belgrade (dep. 10:55 a.m.) - Zagreb - Ljubljana - Villach - Schwarzach-St. Veit - Innsbruck - Feldkirch - Buchs - Zürich (arr. next day at 9:20 a.m.). Nowadays no coach travels the complete distance: apart from daytime coaches to Zagreb, one is covering Beograd - Schwarzach, as well as HZ sleeper coaches and an SZ seating carriage Zagreb – Zürich and an autorack as ARZ ("Autoreisezug") 414 Villach - Feldkirch.
In its place then still running B 411 "Olympus" from Ljubljana entering Belgrade in the morning of
July 7 2009
.
The mainline through Slavonia is the domain of HZ express electric class 1142: only once, on
June 19 2009
, I found my photographic way into the flat "maize field" between Zagreb and Belgrade. B 413 "Nikola Tesla" Zagreb - Belgrade conveyed a ZS (nowadays SV = "Srbija Voz") couchette car from Venice, at Kutina. Just as this through coach is history, international connections between Croatia and Serbia have been reduced to just the one train pair EN 414/415.
In the evening, EC 211 "Sava" Munich - Beograd arrived at Strizivojna-Vrpolje, today just B 211 Villach - Vinkovci.
Meeting with B 412 "Nikola Tesla" - I took a berth in the ZS-coach to Ljubljana, at Zagreb we changed to back then still running EN "Venezia" Budapest - Venice.
Waiting for sleeper trains to Split, I have spent a few evenings around Zagreb sometimes catching the 414.
This pictures was taken on
July 14 2007
, a Serbian daytime carriage was hauled all the way to Zürich. This picture can almost be repeated, but the rustic sign dating to Yugoslav times was removed from Zagreb main station shortly after.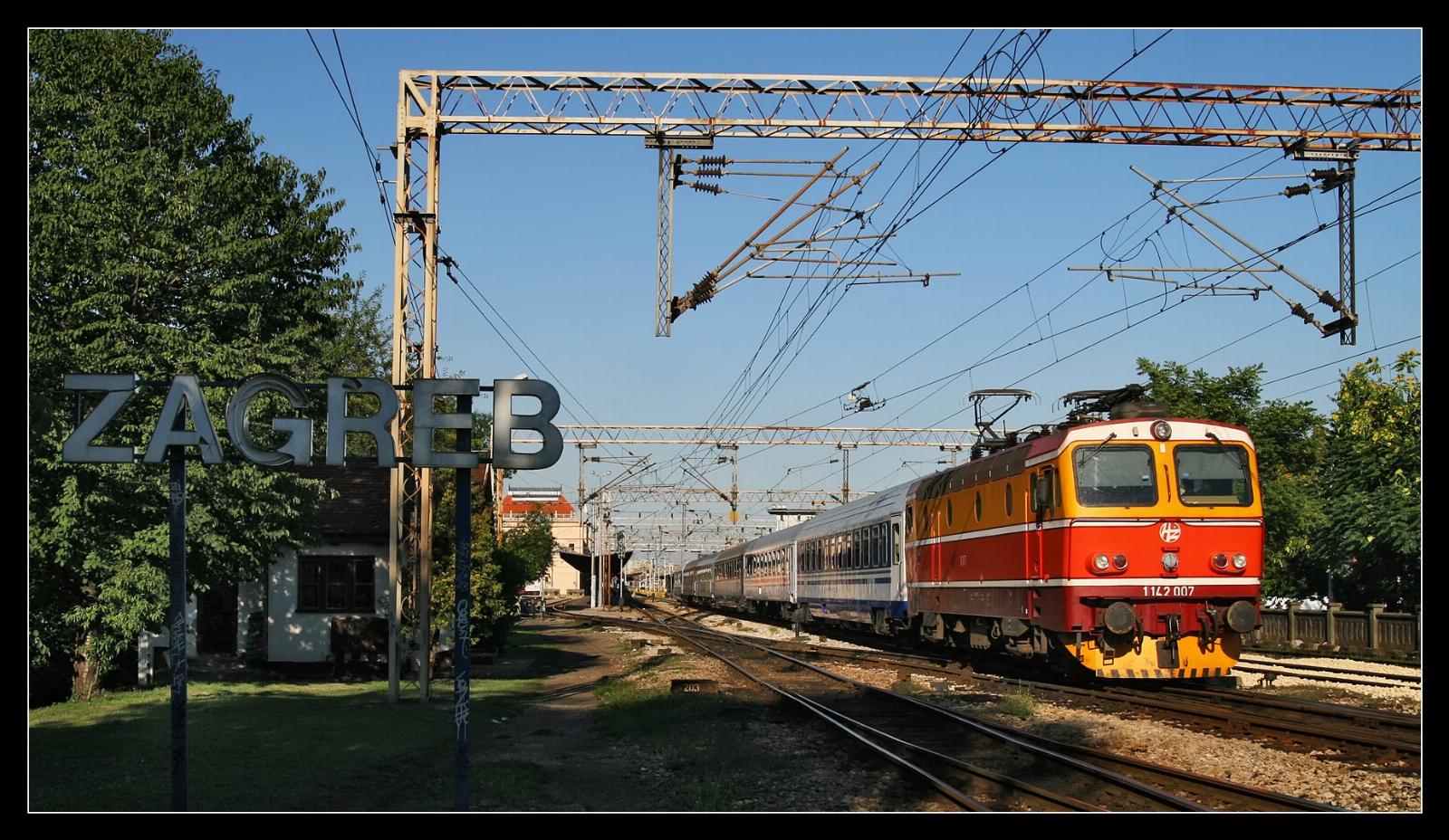 I often visited the diesel line to Zabok, B 414 passing Zapresic junction on
June 27 2008
, conveying an older SBB coach.
On
July 17 2012
I completed the double departure virtually - which at least theoretically could be possible, upon delay of Pu 3014 Zagreb - Varazdin, currently Pu 3016. B 414 had two modern Swiss express coaches.
Et voilà: 400 miles west in Switzerland at Sevelen between Buchs and Sargans on
August 15 2017
, right next to the Liechtenstein capital of Vaduz and viewing mighty Alpstein range with Säntis in the background.
Only for the second night train after 8 a.m. the sun made it into the valley, EN 464 from Graz approached together with EN 414 from Belgrade hauled by Re 420 11141 towards Zürich.
One hour earlier: EN 50466 Praha hl.n. -, EN 40462 Budapest-Keleti - and EN 466 Vienna Hbf - Zürich HB in one train. Due to long slack times, the trains travelled with Swiss punctuality.
Due to that punctuality, I managed to catch classic EuroCity 163 "Transalpin" Zürich - Graz at Flums in front of the Churfirsten backdrop. On this section, the panoramic car is conveyed at the rear of the train.
On
August 12 2017
, I had boarded the train at Villach, and arrived on
August 13 2017
just in time at Zürich HB.
To the right the part from Zagreb.
Re 460 034 already had coupled to the other end for shunting.
On
August 17 2017
, I returned to the route of "Lisinski", its rake is stabled at Munich Eastern Station ("München Ost") during the day. DB-Autozug does not exist anymore, but private overnight trains provide auto carriers to Hamburg Altona.
Next morning,
August 18 2017
, 115 448 (ex-DB E 10 448, built in 1967) degraded to shunting duties awaited one hour late "Lisinski" at the Hackerbrücke.
Old-timer paradise München Hbf.
Finally, 120 147 arrived from Salzburg with the train from Rijeka (EuroNight 480), Zagreb (EN 498), Venice (EN 40236) and Budapest (EN 462) - as "Kálmán Imre" - viewed from a platform of Holzkirchner station (southern wing of the main terminal) currently under reconstruction.
Take a break with the "crease".
And a final shot of the mighty train hauled on its route by the crème de la crème of Central European electric loco construction:
Rijeka - Sapjane: HZ 1141
Sapjane - Ljubljana: SZ 342
Zagreb - Dobova: HZ 1142
Dobova - Ljubljana - Villach: SZ 541
Venice - Villach: ÖBB 1216
Villach - Salzburg: ÖBB 1116 + 1144
Budapest - Salzburg: ÖBB 1116
Salzburg - Munich: DB 120
Munich: DB 115