The Porter Junction, a frantically busy junction in Chesterton, IN, is a Midwestern railfan hotspot.
Railroads Present Here

Norfolk Southern
CSX
Amtrak
Trains Per Day
Aprroximately 90 - 100 Trains Per Day

Norfolk Southern - Chicago Line: 70
Amtrak Main Line to Kalamazoo: 10
CSX Main Line: 2 - 4, Excluding Amtrak's Pere Marquette
CSX Porter Branch: 8 - 10
Good Viewing Spots

All the railroads meet up just yards west of Jackson Boulevard, so filming at the Jackson Boulevard railroad crossing would be a good spot.

15th Street, being just east of Jackson, is another good railroad crossing spot, but this one offers an array of areas to park your car.

For the railfans that don't typically film at railroad crossings, filming at an angle off of Lincoln Street (just north of the tracks) could be a nice option to pick.
Map of the Area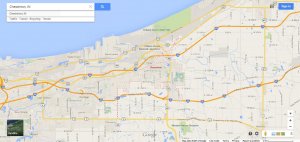 Area Safety
Overall, Chesterton is not a bad town to be around. It's a pretty tourist-y town with all sorts of things to do in the area. One thing you might want to be wary of is the triangular piece of land in between the NS Line and the Amtrak Line off Jackson Boulevard / Wagner Road. That area has been put off limits and NS is quite strict about trespassers being there.