Hi,
To the previous part of the series:
Mythical Southeast '17 - 16: Centaurs and Argonauts (50 p.)
http://www.railroadforums.com/forum...outheast-17-16-Centaurs-and-Argonauts-(50-p-)
The video for this part (please set to 1080p quality / full-screen mode):
https://youtu.be/ycE1bWePImU
October 24 2017
After a nice breakfast buffet at the Volos Palace Hotel and a morning harborside walk, we stopped at the local Lidl supermarket. It took about 15 minutes for 4 customers at the checkstand, even a discussion broke out whether a second line should be opened.
The quickest route took us past Larissa again, on ethniki odos (national road) 6 to Trikala and Kalabaka.
Near our guesthouse for the night, we turned onto the mountain road for a first photo stop:
The impressive rocks of Metéora are located at the edge of the Plain of Thessaly and Antichasia range, part of the Pindus Mountains. The Pineios is flowing into the plain it had created in a wide - then dry - riverbed. Now - just 3 1/2 weeks later - a hurricane-like storm in the Mediterranean was responsible for severe floods throughout Greece, also in this region and especially near Megara west of Athens where I had been earlier.
We continued uphill: to the left monastery Agía Triáda (Holy Trinity), one of six currently inhabited rock monasteries of at one time 24:
https://en.wikipedia.org/wiki/Meteora
Monasteries are closed to visitors one day per week and sometimes at noon, information can be found here:
https://www.visitmeteora.travel/en/monasteries-visiting-hours
A few monasteries feature freight ropeways.
Discreet clothing is obligatory - trouser-wearing ladies receive a skirt to wrap around the hips at the entrance - but this "dress" obviously was sufficient... ;-)
One more thing - the formerly meter-gauge Thessaly Railways terminate at Kalabaka:
https://en.wikipedia.org/wiki/Thessaly_Railways
Only in 2001 regauging of the line Palaeofarsalos - Kalabaka had been completed, so a direct daily standard gauge connection from Athens could be established. Express 884 Athens 8:20 - Palaeofarsalos 12:20 - Kalabaka 13:18 approached from the distance. It can be spotted in each of the following 11 pictures.
We had arrived from Trikala in the background on this road.
Obviously, torching fields still is common in Thessaly.
The surroundings of Agios Stéphanos nunnery offer the best views of the railroad - due to lunch break I stayed outside.
Not only Metéora features spectacular sights: Theopetra Cave inhabited for at least 50000 years is located inside the rock to the left.
The train approached Kalabaka.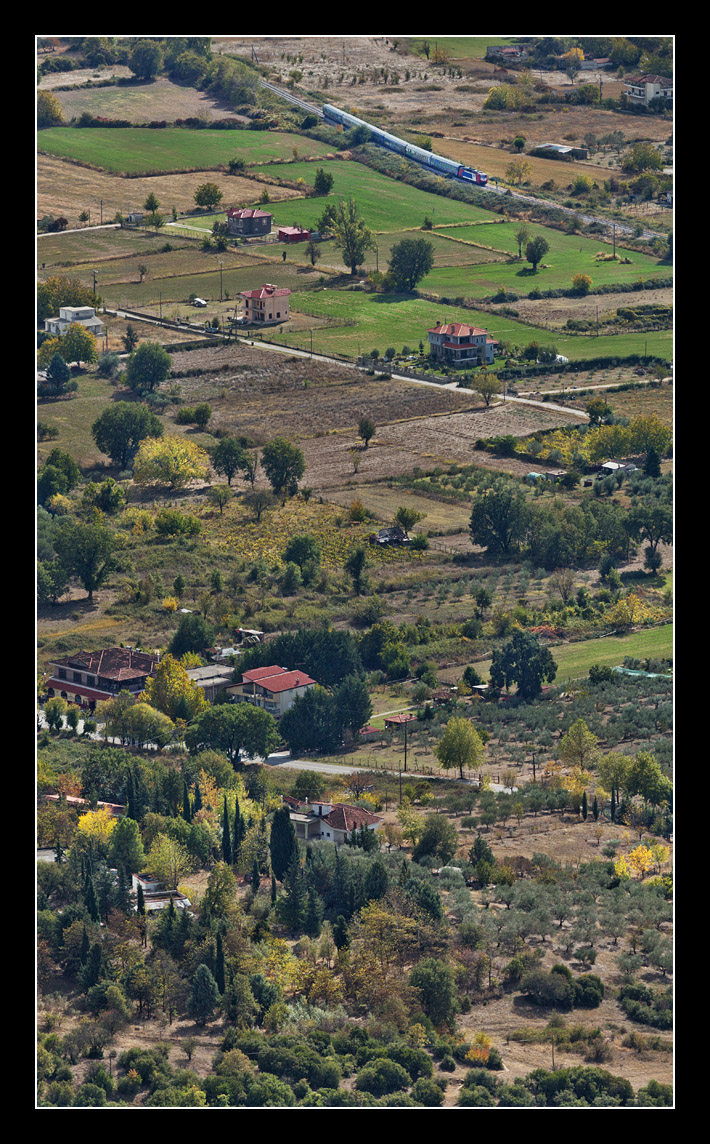 Agios Stéphanos with Pineios River behind it.
Our guesthouse was the house with shiny roof and wooden balconies directly below the grade crossing which we will see up close later.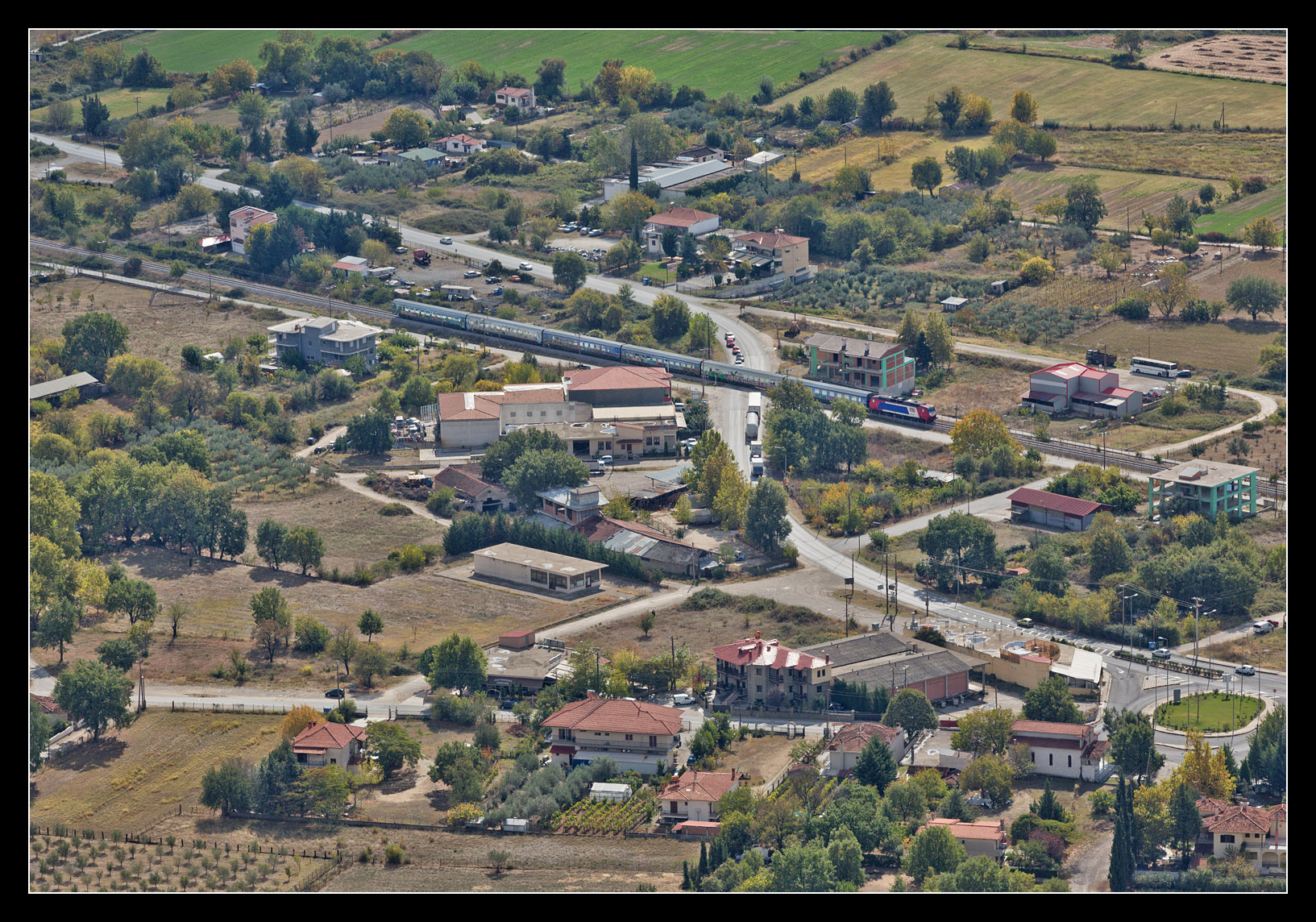 Just relax and watch the train pass the Lidl parking lot.
A last view - soon the terminal station in town will be reached.
Let's explore Agios Stéphanos monastery founded around 1400, the first monks had settled these rocks even centuries before.
Seemingly an idyll - however, busloads of tourists from all over the world are herded past every day.
High life on the parking lot.
We were lucky - despite a bad weather forecast lovely lighting moods emerged.
In view: Agios Nikólaos Anapavsás monastery to the left below, Rousánou in the shade in front, Varlaám - which we were about to visit - up top and Great Meteoron - which sadly was closed on Tuesdays - to the right.
Metéora is derived from Greek "elevated" and has the same roots as the word meteor. As you can see, the monks were a bit closer to heaven - and far away from women for centuries. However, a part of the monasteries only survived the 20th century because they have been revived by nuns.
View towards Rousánou monastery.
The mountain was also being used as a cow pasture, once the road was blocked by cattle - but such occurrences are viewed in a relaxed manner here.
You have to cross this bridge to reach Varlaám.
Construction work in the background.
A lot has been newly built or reconstructed at the monasteries, but this church featured old frescoes - photography prohibited inside.
Most monasteries have museums exhibiting artifacts from icons (isn't he cute?) to manuscripts - even Ottoman pieces of writing.
And a railroad!
The old winch tower used to lift heavy loads. In the next room there was a 3000-gallon wooden storage barrel.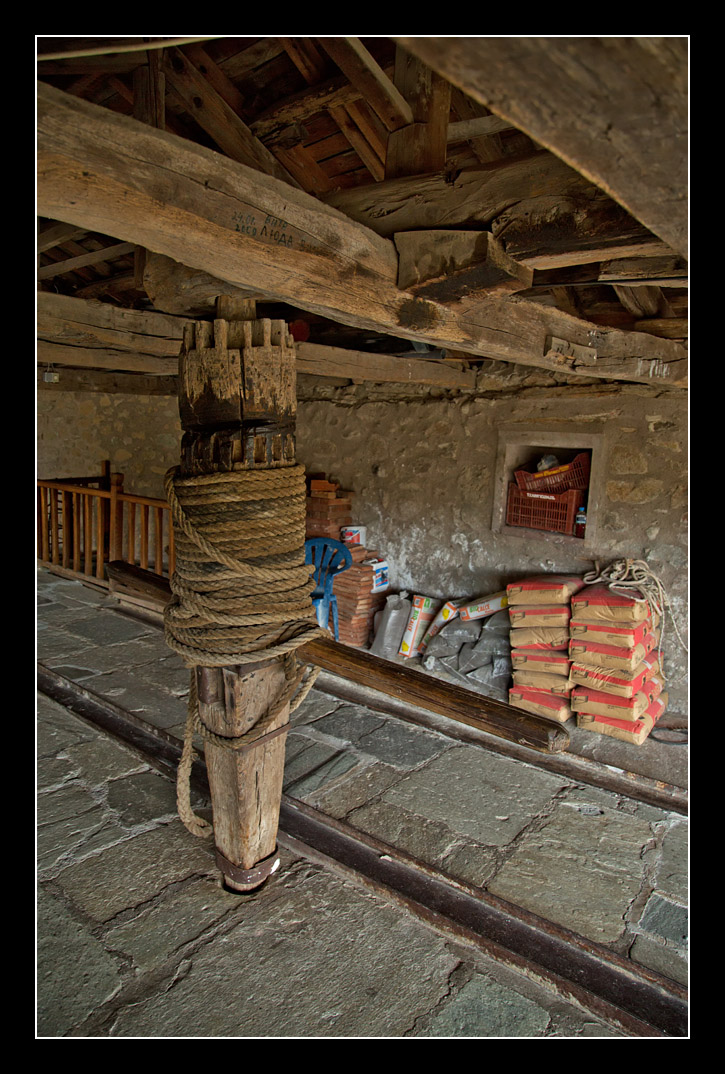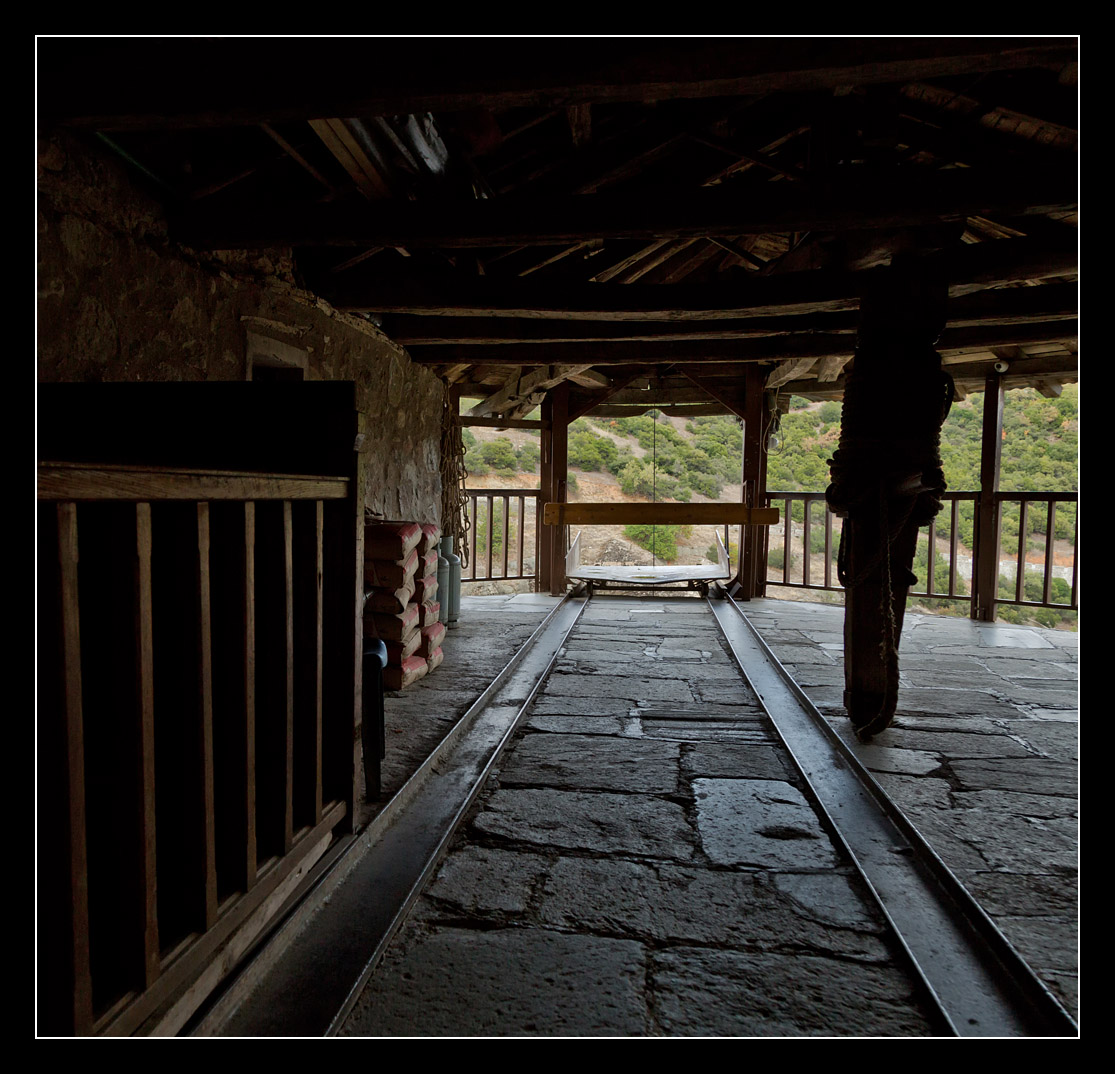 The tower from outside.
We at least swung by the Great Meteoron monastery.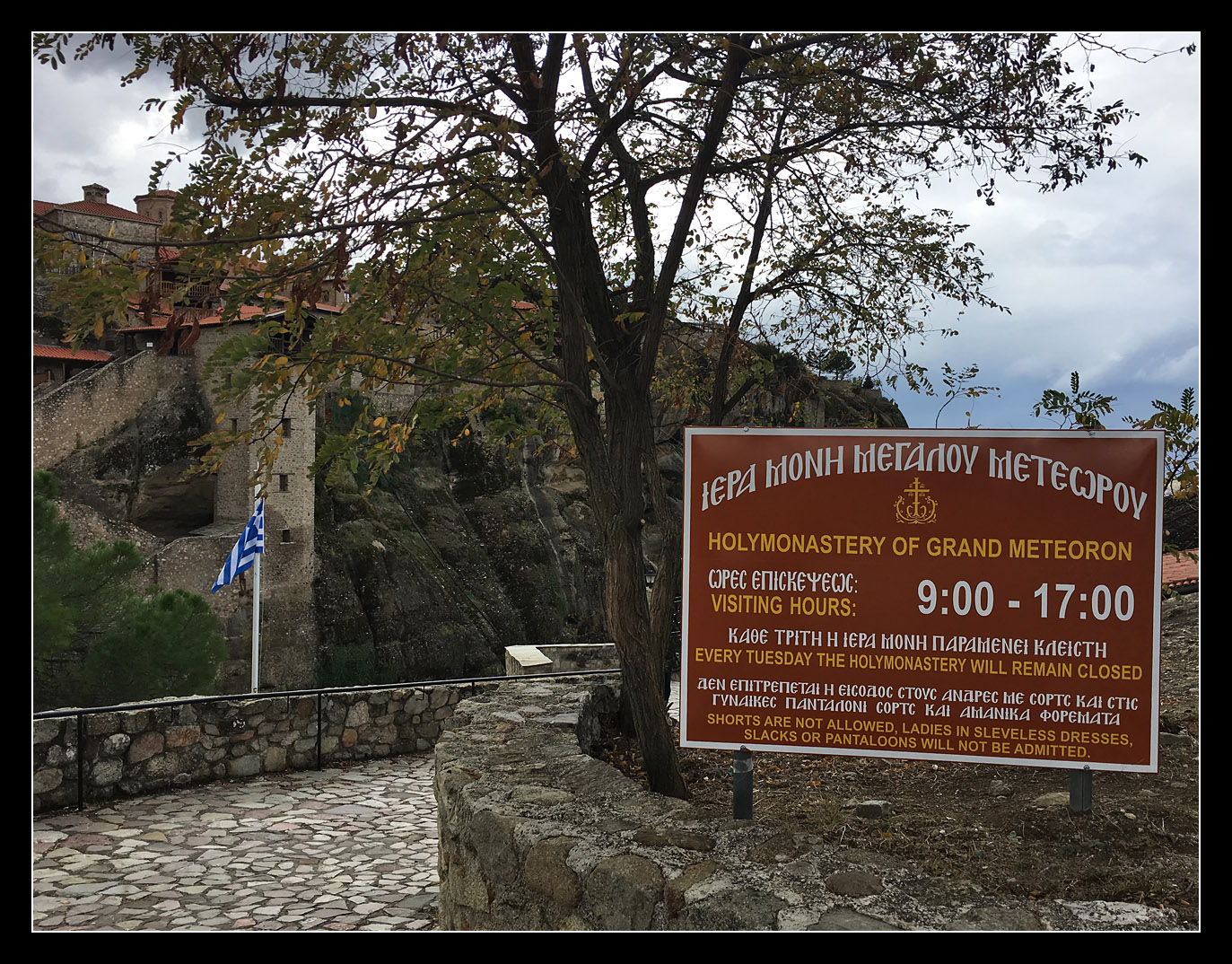 We drove downhill into Kastraki village at the other side of the mountain. The tavern recommended by a guide was closed, but we were served a great meal just down the road.
We passed Kalabaka on the way to the guesthouse - it was already time for the train (no other traffic during daylight that time of year). I quickly checked into the room featuring a fireplace then walked to the railroad line through town. The railroad gates turned out to be American-made, produced by Safetran Systems Corp., Louisville, Kentucky.
Headlights turned on, under imposing rocks - and even the sun shone again slightly.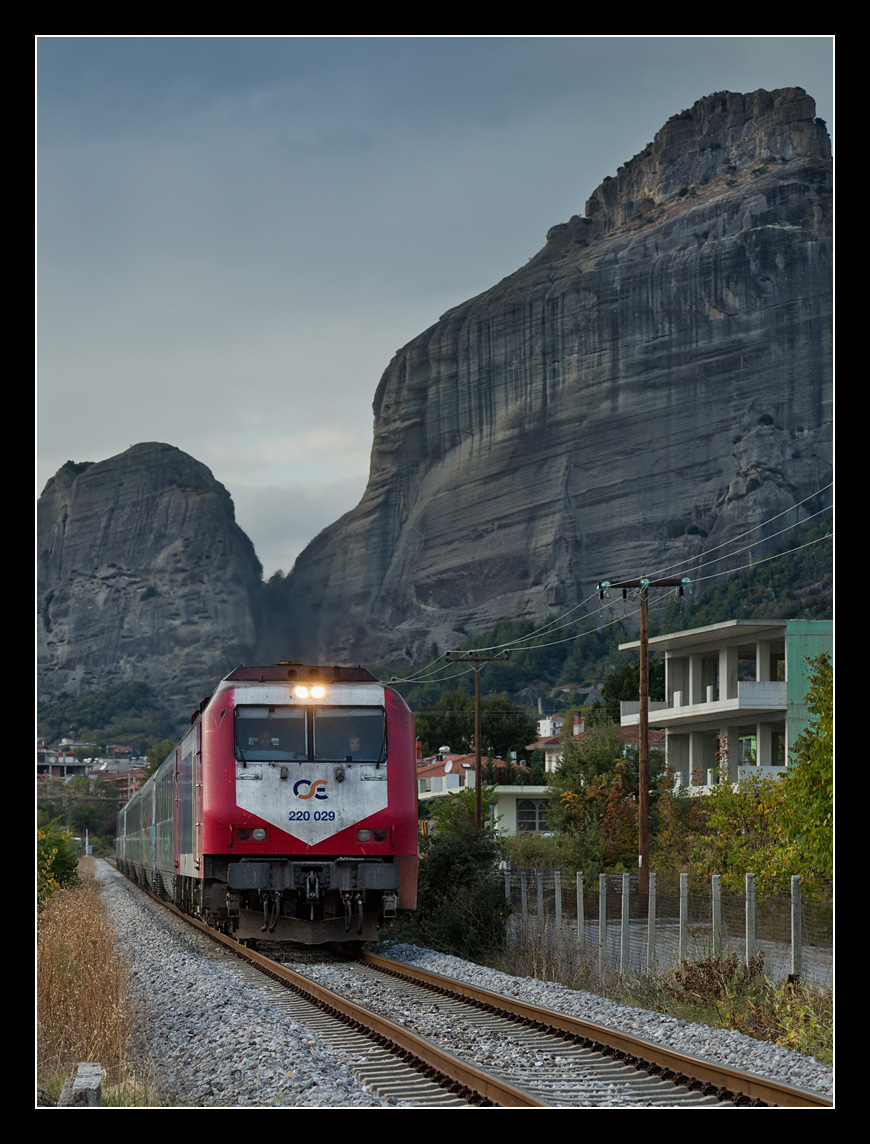 Express 885 to Athens departed punctually at 5:32 p.m. past large and tiny versions of monasteries.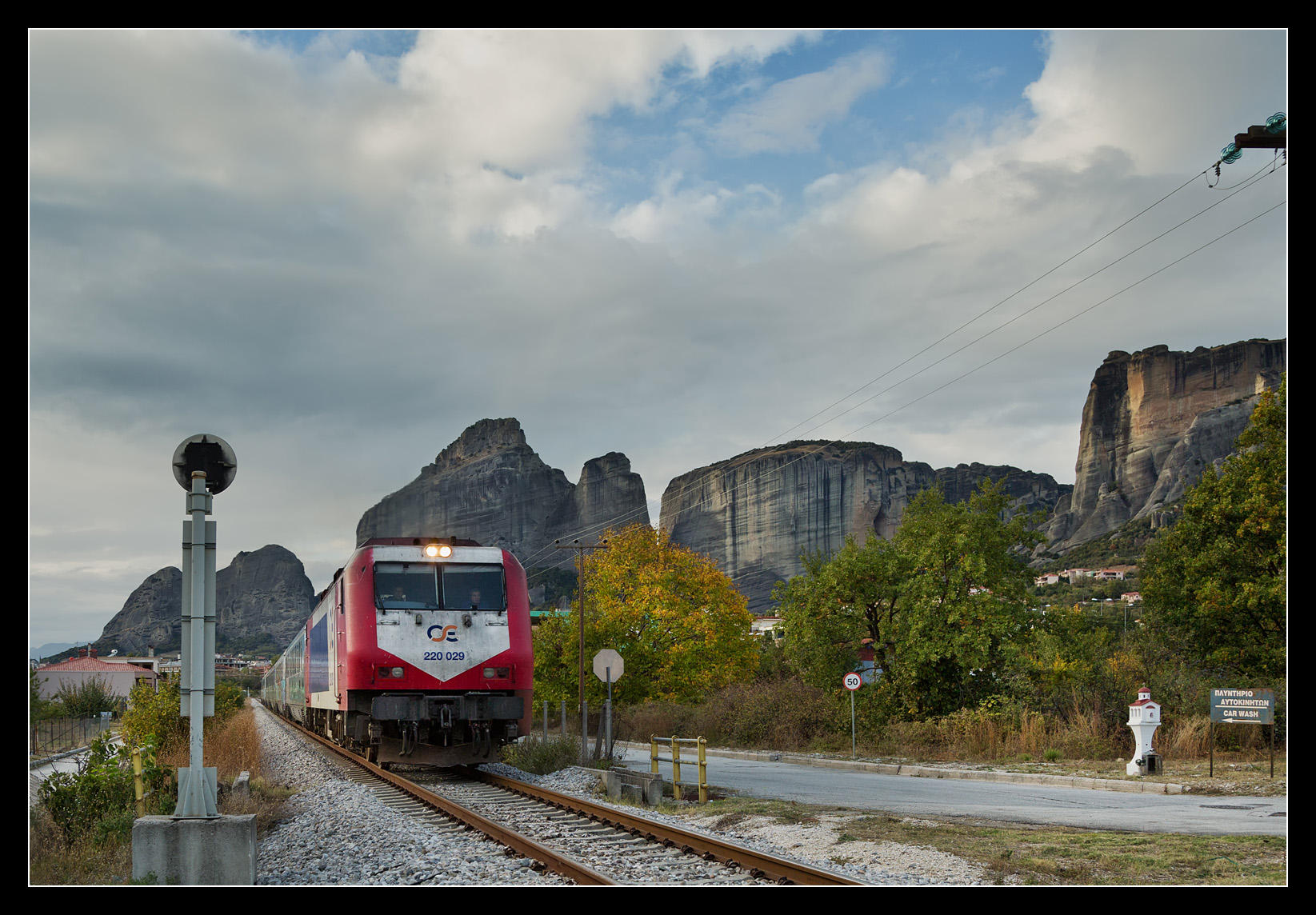 October 25 2017
Next morning, breakfast was only served from 8 a.m. - close to the 8:19 train departure, but I managed everything in time. A barbwire fence required holding the camera overhead with display turned on.
Five minutes too late, the horn sounded and train 590 to Thessaloniki sped by (DMU class 621 built by MAN / Hellenic Shipyards in 2005).
On to the railroad photo part of the trip!