Hi,
To the previous part of the series:
Orient-Express 12: Afyonkarahisar (50 p.)
http://www.railroadforums.com/forum/showthread.php?48814-Orient-Express-12-Afyonkarahisar-(50-p-)
To the video of the trip:
http://www.youtube.com/watch?v=xFRjlmE2N64&hd=1
Detailed TCDD rail map (Attention - 12.9 MB):
http://www.tcdd.gov.tr/upload/Files/ContentFiles/2010/harita/TR-M-S-001.jpg
September 28 2013
We return to Afyon central station departure in the morning:
Compare these images to Karabük's report here:
http://www.drehscheibe-foren.de/foren/read.php?17,3572091
displaying photos from almost exactly 31 years earlier. The leading steamer is the same engine and surprisingly little has changed, only DE24127 can be seen in place of DE18109 and has received an A/C on the cab roof!
At 7:45 we departed in beautiful morning light circumventing the rocky hills of Afyon on the line towards Sandikli and Dinar, still running parallel to the one towards Usak and Izmir. More about our line for that day can be learnt here:
http://www.trainsofturkey.com/w/pmwiki.php/Network/DinarAfyon
, it was one of the TCDD-lines built in the 1930s necessary to complete the 19th century private company network.
At a canal nearby a new oriental-style bridge had been constructed, together with some fountains on the water. Overall it seemed like directly out of a conceptual drawing, as if to celebrate Erdogan's new caliphate...
We had crossed the plain where we had captured sunset moods the evening before and turned into the hills south of the line to Usak. That cool morning provided great steam and slight autumn colours.
Pure steppe landscape at the following spot.
Returning from battle.
Behind the next curve I followed a hill ridge and once more discovered an "Alpine garden".
The second run-past of three at this spot.
Coincidentally the junction of the highways to Izmir and Antalya was only located about a mile from this spot - you just did not notice anything. The evening when we took a break here on our busride from Ankara we probably would never had thought that we were about to find such a magnificent opportunity in the vicinity just a few days later.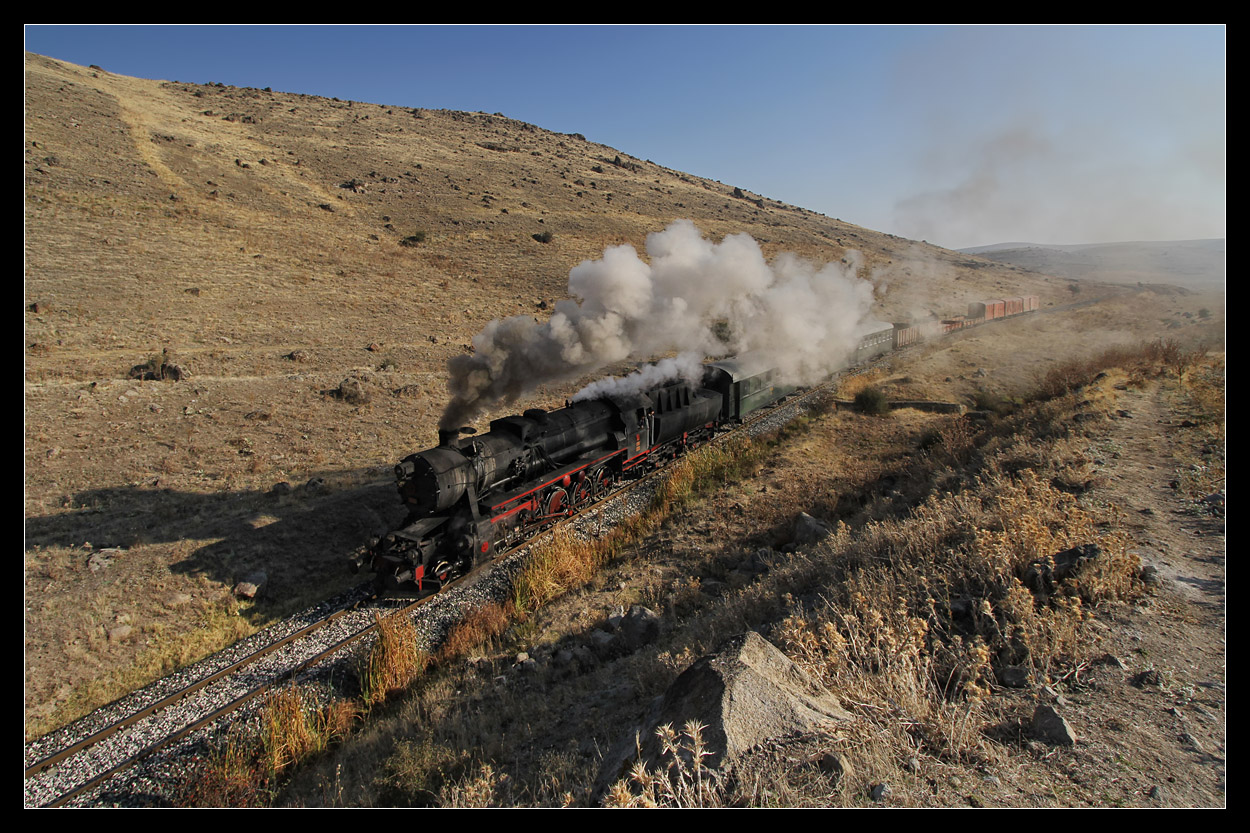 No, I did not have to duck for this shot, those thistles were head-high - and I am not the shortest... ;-)
After we had crossed the highway on a bridge we reached the fertile fields of Tinaztepe.
Multiple layers of mountain ridges in the haze.
At many stations these plastic shelters for pointsmen could be found.
Finally I managed to capture a stationmaster with red cap properly.
We continued, soon behind Tinaztepe the backdrop was spectacular, with autumnal dashes of colour decorating the foreground.
The second run-past.
Next spot featuring a view at Tinaztepe.
Behind the first tunnel along the line we took pictures standing above the second.
We rolled back downhill to the first tunnel.
Next we had to return to Tinaztepe, first reason was a freight train crossing hauled by DE33008 coming from direction Afyon (see video at minute 20:20). To the right a cowboy could be observed.
Local specialty: Cowboys on donkeys...
DE24190 served as banker on the steep grade.
It was almost noon, and a discussion about the return to Afyon was raised. As all tour members were forced to rebook their flights home individually, several different routes had emerged. Most were keen to take a bus to Istanbul that same day, my roommate to Izmir, in order to catch their return flights next morning. One had decided to travel by bus to Ankara, fly to Erzurum and then take the original flights home. Karabük and Dg53752 already had split from the group on Thursday evening taking Izmir Mavi over night from Usak to Ankara, then continued by Dogu Ekspresi through the Euphrates River gorge to Erzurum, where they arrived on Saturday afternoon (so about the current time in this report) and also were able to reach their scheduled flights from Eastern Anatolia. I was able to relax as I would stay another night in Afyon and then fly from the new regional airport Zafer.
First it was thought that the returning banker could take the people wanting to leave down to Afyon inside the cab - but this would have resulted in a picture similar to clowns stuffed into a car - , then DE24249 with crew coach was considered as a shuttle, but this was prohibited by the train dispatcher. Lastly, unnoticed by the few photographers staying, the majority of the group rented dolmus taxis directly to Afyon bus station
With a core group of just about five people we steamed once more uphill. The sun clearly had moved, the mood around the rock needle looked completely different.
During the second (or already fourth) run-past a motor bike rider was waiting. The few photographers had scattered, it was almost a private photo charter at the moment. I used the chance for some more undisturbed videos.
The uphill run with view into the plain accompanied by the Muezzin's noon call to prayer provided a nice closing scene for my Turkish movie (minute 22:08).
Once more between first and second tunnel.
Entering the second tunnel.
And as final trackside capture of the trip at 2 o'clock: exiting the second tunnel. Immediately behind us lay a densely forested nature reserve, the danger of forest fires was too high to continue, apart from a lack of clear views.
While we were waiting for the diesel, the safe and sound return to Usak was being provided for.
We already returned to Tinaztepe at 14:30.
The fire was dropped from the steamer to prepare it for the transfer, this also only took half an hour.
We set down two more group members near the highway crossing.
Back at Afyon - yes, it is a train!
A rider waiting at a level crossing.
Judging by the buffalo-like cattle in the water it rather seemed like we were travelling through a country starting with I not T. ;-)
At 3 p.m. I shook the remaining pairs of hands, then continued to my sightseeing tour already shown here. In front of the main station you could find circular miniature railway tracks.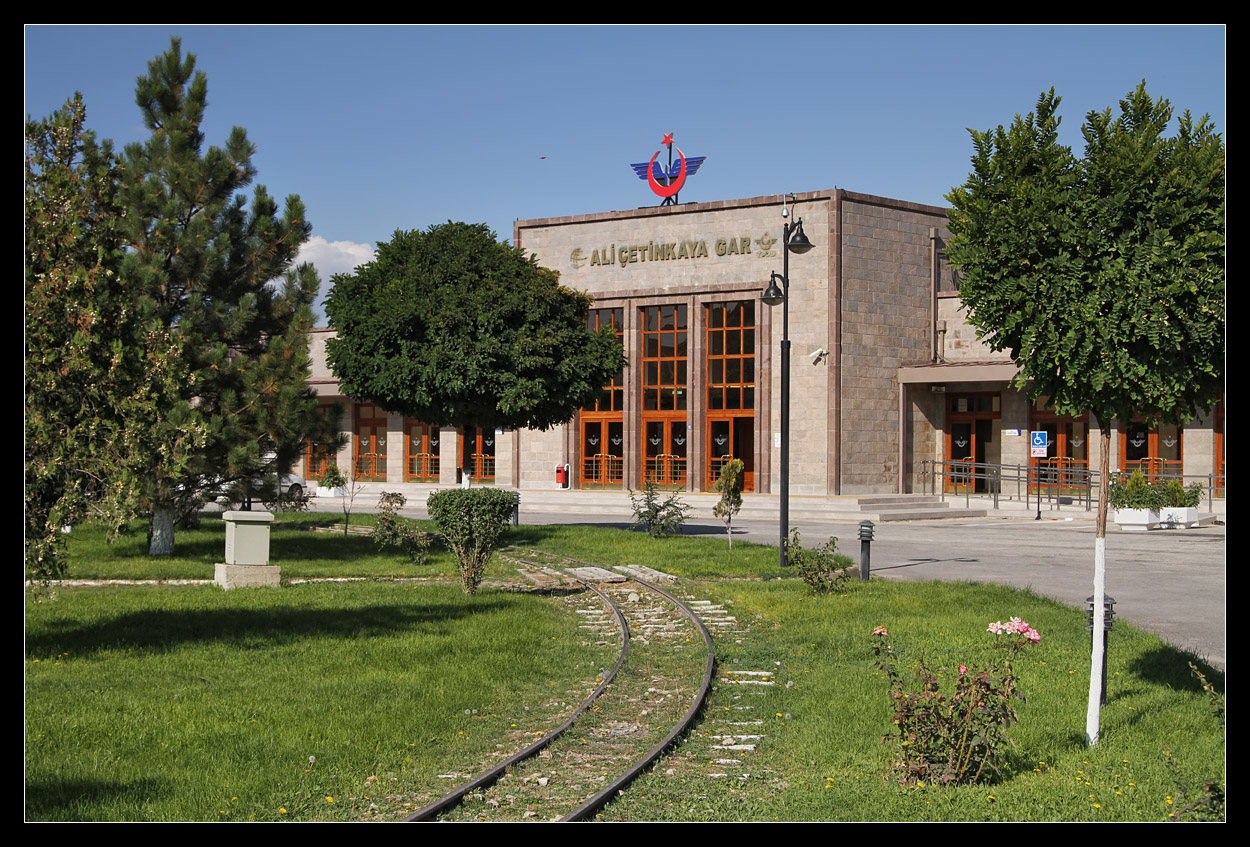 Who is of the opinion railway photographers would be the biggest destroyers of vegetation, should take a peek at this image: a wedding photographer was just pulling out some park flowers, solely because they were in the way. In the background steamer 55025 as a monument, a Prussian class G10.
I followed modern streets towards the old city centre, I had preloaded Google Maps on my phone. At a supermarket next to a military installation I gathered some urgently needed liquid provisions, then started my sightseeing round. On the way I noticed pedestrian traffic lights showing animated figures.
Now I had to master my final mission in Turkey: find and reach the mysterious Zafer Airport. On Google Maps it is currently still not shown, although I had sent an update months ago. Only on satellite images traces of the construction site could be found, somehow you felt like an archaeologist uncovering artefacts not built yet:
https://goo.gl/maps/uZAVL
From the edge of the old town I took a taxi to the bus station for a fare of 20 TL. There I asked for a bus to the airport and was offered an immediate departure on a long distance service, however, I was looking for a bus leaving around noon next day. So, I was sent to the information counter - which immediately developed into a highly oriental experience. A young, inexperienced clerk sat there rather offering me tea instead of information. All the while he had the leaflet with airport shuttle timetables right in front of him. Although "timetable" would be an overstatement for 1-2 busses daily - as there were only 1-2 flights to serve. Finally he told me I should meet him next day at 12 o'clock, but somehow I started to doubt the reliability of the endeavor. Again for 20 TL I took a taxi back to the hotel, I had been able to keep the same room as the night before. Via wifi I studied several web pages about Zafer Airport, the bus schedule could also be found, albeit rather hidden. Oh well, first I would get some proper sleep for the first time in a week, then decide what to do.
September 29 2013
Sunday morning I rose only at 9 a.m., packed conveniently, then bought an unbelievably disgusting lemonade at the neighbouring "Bim" supermarket. I paid at the reception and let the nice gentleman call a taxi, seizing the opportunity to ask how much a ride to the airport would cost. Well, it was not cheap, but alright for a 40 mile taxi ride into the void of the Anatolian plateau. Additionally I had to subtract the fare to the busstation and the bus ticket for 20 + 25 TL, which left an additional 75 TL. As I was neither completely healthy nor keen on stress I took the offer and sat down on a sunny bench in front of the hotel . After a while a Tofas taxi approached, and we set off. Now I noticed why - during my pre-trip research - cars in Turkey had been described as featuring an "unusually soft suspension". The car swam across speed bumps like a river steamer, seasickness definitely was a realistic option. Highway D650 to Kütahya was just being completely expanded to two lanes, which led to a miles-long construction site. After about 45 minutes we reached the junction of the D615 towards Altintas, there you could turn onto the new connecting road leading to the airport, also still not to be found on Google Maps. A surreal image unfolded in front of me - a facility opened in November 2012 and designed for 2 million passengers yearly - and I seemed to be the first or second one! At the entrance I was being checked by three security officers who were discernibly glad about some work, but inside the terminal building everything - shops and counters - still was closed. So, I comforably sat down, only slowly the shop employees were arriving, shutters were being pulled up. Only a handful of passengers had gathered when check-in opened at 13:00. For both flights I managed to secure emergency window seats. So, it was of advantage to arrive early, half an hour later the shuttle bus showed up punctually.
Same as the 738 from Istanbul, fittingly called "Usak". Immediately a dozen high visibility vested people stormed out of the buidling, everything was done very efficiently - no wonder if you are just waiting for this only plane all day long! Next we passengers were led onto the airfield in the open landscape.
We quickly gained altitude in a spiral, then lunch was served - here you can see the level of service Turkish Airlines offers on a 37 minutes domestic flight! Everyone received a quite delicious packed lunch consisting of a chicken sandwich, kidney beans in olive oil and sweet cake. It was so much in a short period of time, you could only chow down quickly or take it with you, which would have been the better option. We landed at the European shore main airport Istanbul Atatürk this time, quite a contrast to the relatively relaxed Sabiha Gökcen on the Asian side. Due to the success of Turkish Airlines the airport had developed into an extremely busy, overcrowded regional hub for many people, among others coming from India, Africa or the Arabian countries. I could have booked a tighter connection to Vienna, but taking the evening flight proved to be the right, less stressful choice. At passport control I was standing in line behind an American family. The little girl had to hand the smiling officer not only her passport but also a smaller one for her doll. Then I looked for a place to sit, which turned out not to be easy in the general waiting area, or rather corridor. You were hardly able to relax, hundreds of boarding calls were broadcasted for the same passengers which did not show up even after half an hour. Every airport employee at a gate seemed to have direct access to the system, public announcments came all the time in dozens of different voices. No wonder some other airports already completely banned those. Additionally, vehicles were constantly speeding between crowds of passengers, there were marked lanes, but nobody seemed to noticed them.
Finally the gate for my flight was shown, the atmosphere turned out to be more relaxed there, as it was situated at the end of a terminal, but still comparatively overcrowded.
Departing the Sea of Marmara.
The flight back was very comfortable, once more in an emergency row seat, of course. Already as we were pushing back from the gate, flight attendants were offering Rahat and menu choices for dinner. On the way I celebrated the end of the journey with Efes beer and Köfte...
Is this the end of the unpredictabley Orient-Express series? Well, next time I will show "something completely different", but who knows, maybe it will return one day?