Hi,
To the previous part of the series:
Orient-Express 10: Usak Express (50 p.)
http://www.railroadforums.com/forum/showthread.php?48097-Orient-Express-10-Usak-Express-(50-p-)
To the video of the trip:
http://www.youtube.com/watch?v=xFRjlmE2N64&hd=1
Detailed TCDD rail map (Attention - 12.9 MB):
http://www.tcdd.gov.tr/upload/Files/ContentFiles/2010/harita/TR-M-S-001.jpg
September 26 2013
We return to Inay late afternoon und say goodbye to "Usak Express"...
Subsequently we had time for portraits on the steam loco and close-up shots. View through the station garden:
On the ground we still found an Edmondson railway ticket.
Behind Inay we did several photo runs in the open landscape. Inside the stable once more bleating could be heard, but no animal was to be seen...
Slowly evening light took over.
2-10-0 in action.
We moved on to the sunset spot.
The first of a few photo run-pasts while the sun was setting.
Wide angle version with range of mountains in the background.
Taken during pushing back, but I like the mood with the silhouette very much.
On the second run-past the train glinted golden-pink in the last light.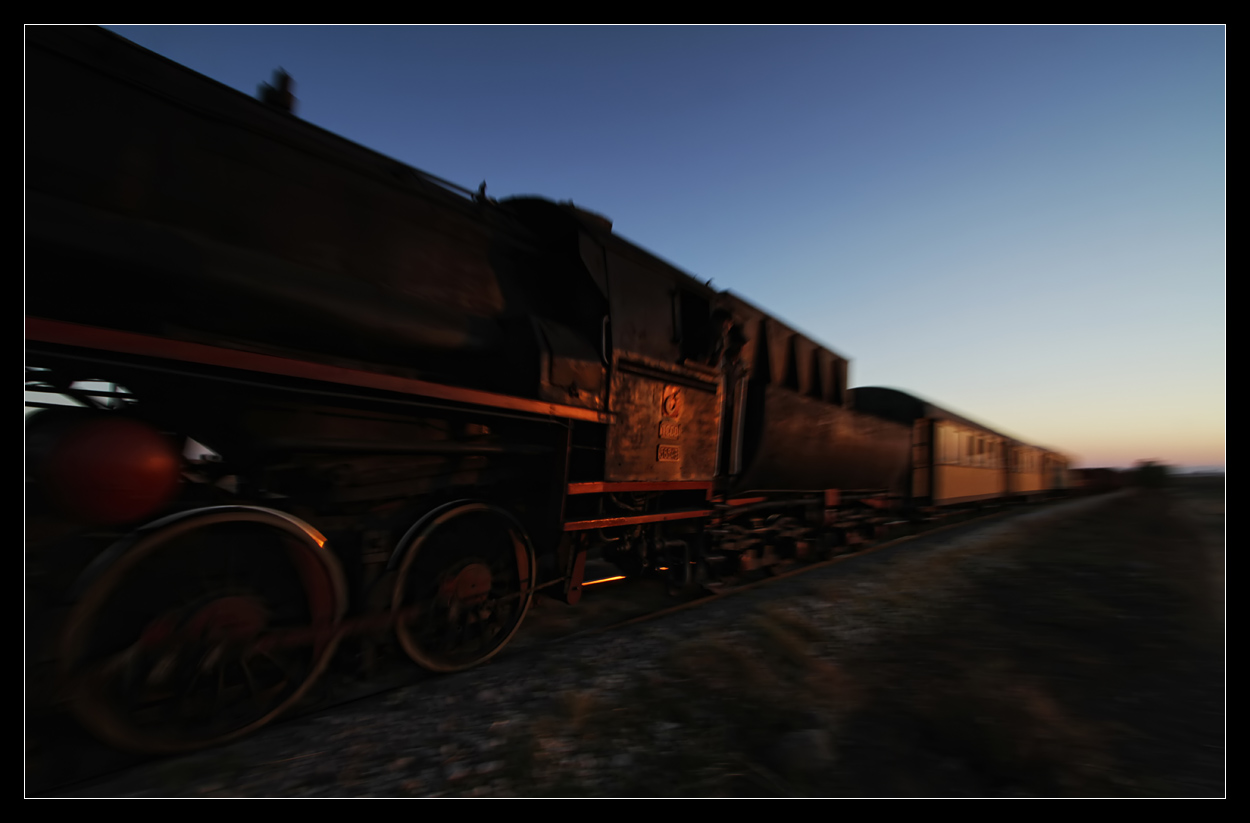 A last trackside photo of the day as the sun had disappeared behind the hills.
After we had extinguished a small fire on the track bed we continued towards Usak at dusk. We only stopped at one more spot to find a mobile phone another member of the group had lost there two days earlier - and succeeded! In the distance the horizon was lit by fields being burnt down on the last miles to Usak.
We moved back into our familiar hotel. During the day I finally had received a response mail from my travel booking site saying that it was not possible to change the return flight at this fare. OK, let's take a look directly at the Turkish Airlines site to see what is possible. Lastly I came across a brandnew airport in the vicinity, Zafer Airport, which could not even be located on Google Maps yet. Ah well, somehow I would get there and fares were pretty much the same no matter which domestic airport you were departing from. So I booked a connecting flight home via Istanbul for Sunday afternoon.
September 27 2013
Friday morning we visited the already known taxi stand around the corner from the hotel, but somehow the street had been closed for traffic, no taxis to be found in the vicinity. Consequently we walked down the streets of Usak during sunrise.
Shortly before 7 a.m. we arrived at the loco shed.
DE24248 and -9 at historic Usak depot.
Our trusty companion.
56548-face in morning light.
Departure had been planned for 7 o'clock, we already approached 8 - what was keeping our photo special?
A freight from direction Afyon double headed by DE33004 and a class DE24000 - well, still plenty of time to conveniently hose the steamer...
Finally we passed through Usak town in morning light - that day a transfer to Afyon was planned, we already knew the first part with steep climb to Dumlupinar.
We had been detected on the way to school - Goodbye, Usak!
Outside Usak sugar factory gates a long queue of trucks and tractors loaded with sugar beets was waiting.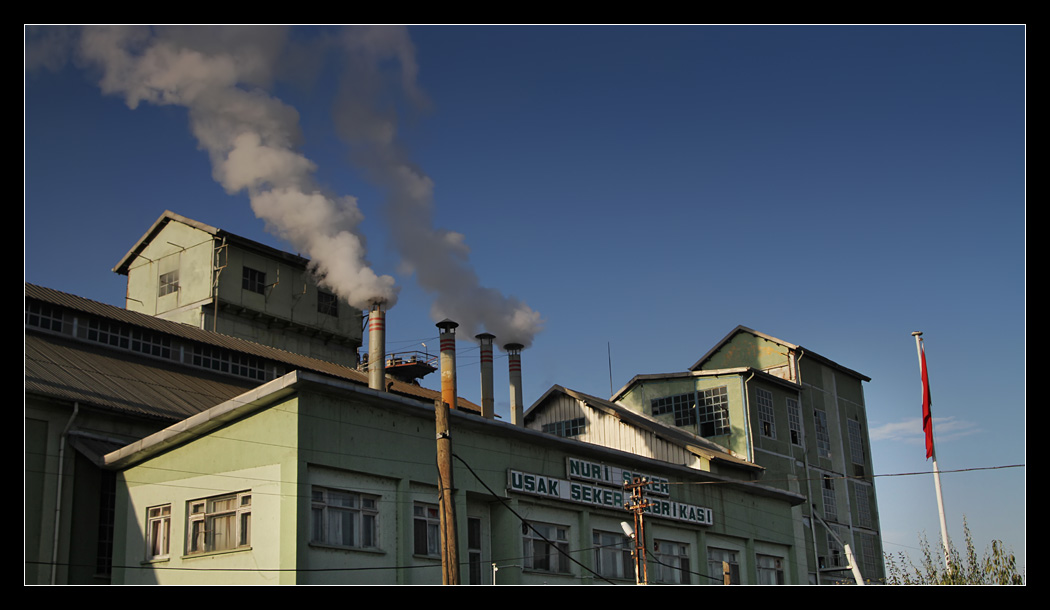 Once more we headed for the curves around Kapaklar. As some tour participants had been dissatisfied with the wind on day one we did this spot for the third time.
Shortly afterwards we stopped at a burnt field.
The diesel had to follow from far down below, our coaches were standing in a banked curve. This waiting period could be used, a member of the loco crew hurried to a greengage tree to collect some snacks for his mates.
This spot was also known, I tried a low-speed pan shot.
Past "Bohemian" Nohutova we once more reached Banaz. Something extraordinary could be noticed here: obviously as a personal project someone was repainting a maintenance train coach from new TCDD-livery into older darkblue-red colours. We already joked that it would be used in our next photo train.
I purchased supplies at the nearby shop.
Of course the huge oil can could not be missed on a TCDD steam special...
We continued non-stop to Oturak. I was the only one taking pictures at the western end of the station. In the background an already discoloured orchard could be found.
Rural idyll with Türk Fiat.
Activity at the station - a maintenance train was shunted by a modern Mercedes road-rail truck to be loaded by this tractor.
Turkish balcony photography ;-)
Scenes of change at Oturak. The already rusty dinosaur-slide at a playground in the back would soon bring disaster for me...
Immediately after this scene I wanted to run to the playground to capture dino + loco, but fell instead hitting the street surface with my hands and knee. A short curse later I tended to the wounds which were not too bad, but the plasters hardly kept sticking to the palms during action.
Next we did some photo run-pasts behind the horseshoe curve with tunnel, further uphill towards Dumlupinar.
At the next spot you can see the steepness of the line working its way up from the plain very well.
Again we passed the marching Atatürk-statue on the hilltop of Dumlupinar, afterwards a longer pause was called for.
A freight was supposed to follow us, and soon. I quickly walked back to the Banaz end of the station, already you could hear the Pielstick engines heavily working the grade - for almost 15 minutes! Suddenly the sound seized, I knew the train had reached the summit and would arrive soon. DE24144 with its block train of blue liveried box cars from Rayser Logistics and a small truck were only shortly disturbing siesta, soon the doggy could return to sleeping on the road.
DE24122 had served as banker - apart from minor details such a scene could have been experienced during steam times as well.
This time we turned our backs on a healthy lunch.
Insted, chicken kebabs were prepared inside the loco firebox!
We convienently sat down in the shade, ate kebabs, drank Efes beer. Once we were disturbed by DE33061 thundering up the grade from the other direction with a track maintenance train. The crew of the banker uncoupling here subsequently was served kebabs into the cab.
After lunch a few photographers childishly arranged empty Efes bottles on the steamer in ever new formations... ;-)
After 3 p.m. we departed onto unknown terrain. Once a large bird of prey flew parallel to us, then we passed these rural workers harvesting apples also on lunch break.
At the next village, Yildirim Kemal, we posed a wanted photo object, also for the constabulary.
We tried capturing the departure, the sun only shone sporadically. During garbage removal I came across a strange object: a plastic bottle had been melted inbetween two rails - maybe a futuristic kind of weld joint?
We continue with an afternoon where several group members complained due to clouds but which brought some of the best photos of the trip!