Hi,
We start a review of the cool season with the rather late autumn in the warm year 2014.
Sadly I was not well for some time, but on
November 1 2014
I ventured outside and still encountered some green vegetation... A "silver arrow" unit of underground line U4 just departed Vienna Hietzing – Kennedy-Bridge station towards Schönbrunn Castle.
On
November 9 2014
I went on an excursion to Vienna Lobau halt on the Northern Railway. The halt soon afterwards was closed down by the timetable change in December due to the recent extension of underground line U2. On the station shelter you could still find a protest leaflet by local activists, but it did not seem to have helped.
A classic spot for Viennese railway photographers: "The Bridge" across the New Danube.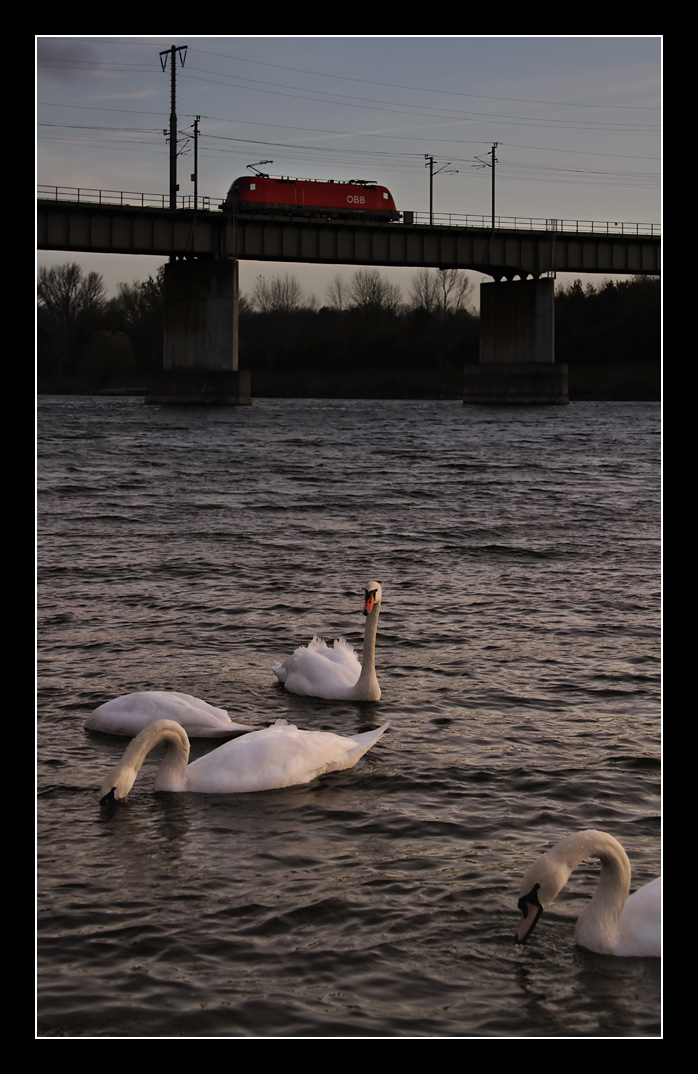 After 4:30 p.m. DRV 13118 Nice - Moscow passed my position.
Before the timetable change Czech CD class 380 gave a short guest appearance on Semmering hauling EuroCity 172 Villach - Hamburg, good old "Vindobona" (although already nameless at the time) which now has been axed in favour of the new Railjet link Prague - Vienna - Graz. Minutes before the start of the carnival season on
November 11 2014
I captured the express snaking down Semmering Pass at Schlöglmühl, Rax massif in the background.
As I had enough of the idle weeks I spontaneously booked an Easyjet flight to London Gatwick by the end of November, for a quick four-day tour using a BritRail England consecutive pass. The flight passed comfortably, for 15 € I had reserved a seat in the emergency exit row which also entitled you to speedy boarding. As we landed at budget carrier hours I had to find a hotel in the vicinity. On booking.com I saw that the Bloc hotel inside the airport was not more expensive than alternatives nearby. Well, it really proved quite practical - I withdrew some money, bought provisions, just took a lift from the arrival hall to the reception - and a minute later entered my room. At first sight I thought of a certain milieu bathed in light of a warmer hue, mainly due to the "window" consisting of a pink lit rectangle. I did not care as I would only be here during the dark hours, the rest of the room was practical and well-designed although a bit run down, lights were even controlled by a central Galaxypad.
On Thursday,
November 20 2014
, I already departed at 5:30 a.m. from the airport station right outside my hotel. Before that I had to get my BritRail pass validated, at least one counter was open at this early hour. I also noticed that Gatwick Express was operated again entirely by old class 442. Formerly futuristic class 460 were being converted for other services, during my train ride I spotted one unit stabled along the line. However, I took a First Great Western Turbo DMU to Reading, as always to avoid London whenever possible. I saw new Reading station for the first time, even catenary masts are already in place towards London. "The Devon Express" is a HST serving Paignton directly from London, I took the train to conveniently reach its terminal at the English Riviera, where we arrived almost punctually at 10:21 a.m.
The end of the branch line at Paignton is at the same time start of the picturesque heritage Dartmouth Steam Railway. GWR tank 5239 "Goliath" was in service noisily hauling a quite heavy load of pensioners up the grade along the cliffs, departing 11:10 a.m. from Goodrington.
Low tide inspired this reflection in the sands, the waves were getting closer and closer to my feet during this capture. At least I finally experienced stormy weather in this region, during my previous visits it always had been calm and beautiful (see my reports from 2007 – including this railway - and 2009)...
The returning steam train had climbed across the hill from one of the most legendary English rivers and was now rolling down past the cliffs of Saltern Cove towards Goodrington. The houses and beach huts of Brixham in the background.
Palm trees in late autumn at the English Riviera.
After the next departure towards Dartmouth I walked back to Paignton station and took a local to Teignmouth where I was welcomed by a nice female station manager. Here the Great Western Railway mainline reaches the often turbulent South Devon Seawall. Despite a stiff breeze staying outside was quite comfortable due to relatively high temperatures and the always healthy sea air. Waves were already splashing onto the sea wall, even at low tide. In front you can see the green flag of Devon County, in the background a class 142 "Pacer" railbus as 2T17 Exmouth - Paignton.
Finally I caught Dawlish during stormy weather... after checking into my B&B in the centre I sought shelter at the calm boat harbour. Shortly later HST 1C83 London Paddington - Truro was kissed by a wave.
Of course it was not as bad as a few months before when a part of the sea wall had collapsed - a crane in the water still was in place for ongoing construction works.
Protected from the wind I could wait until darkness set in for long time exposures, then called it a day for a nice cuppa at my accommodation.
My landlord was so nice to cook me a full English breakfast early next morning,
November 21 2014
, I entered the bar of the establishment which could only be accessed by a separate entrance from outside. Afterwards I walked the short distance to the station in light rain. My local train to Exeter was slightly delayed, it followed the HST to London. The weather seemed even more exciting than the day before, I managed to take nice pictures from underneath the platform roof but still decided to change into another corner of the country as I would have to be there by evening anyway. The light in the foreground went out right away, it indicates a safe passage across the tracks.
Indeed, it is HST 1A76 Truro - London Paddington.
Subsequently I experienced commuter life during a stormy morning in South Devon first hand, with 150129 full to the brim we approached Exeter St. Davids. However, at the smaller halts after Dawlish hardly anyone was getting on anymore. During the short wait at Exeter the Network Rail New Measurement Train converted from HSTs passed my platform, I already had spotted it along the line the day before. Soon afterwards my CrossCountry Voyager arrived - I had hoped for a HST, but alas... of course this contraption was occupied almost 100% all four hours to Sheffield.
CrossCountry – part of Arriva - a DB company - on NetworkRail infrastructure.
At Sheffield I had my lunch break and looked around a little - it had been attempted to breathe some life into this grey city. I also took photos of the Stagecoach "Supertram" passing the station. An hour later I boarded a Transpennine Express Manchester Airport - Cleethorpes, to a village in Northern Lincolnshire which I have never visited before. Something was approaching...
... DB 60044 with a tank car train from Preston Docks on the West Coast to Lindsey Oil Refinery near the Humber Estuary on the East Coast passed Barnetby.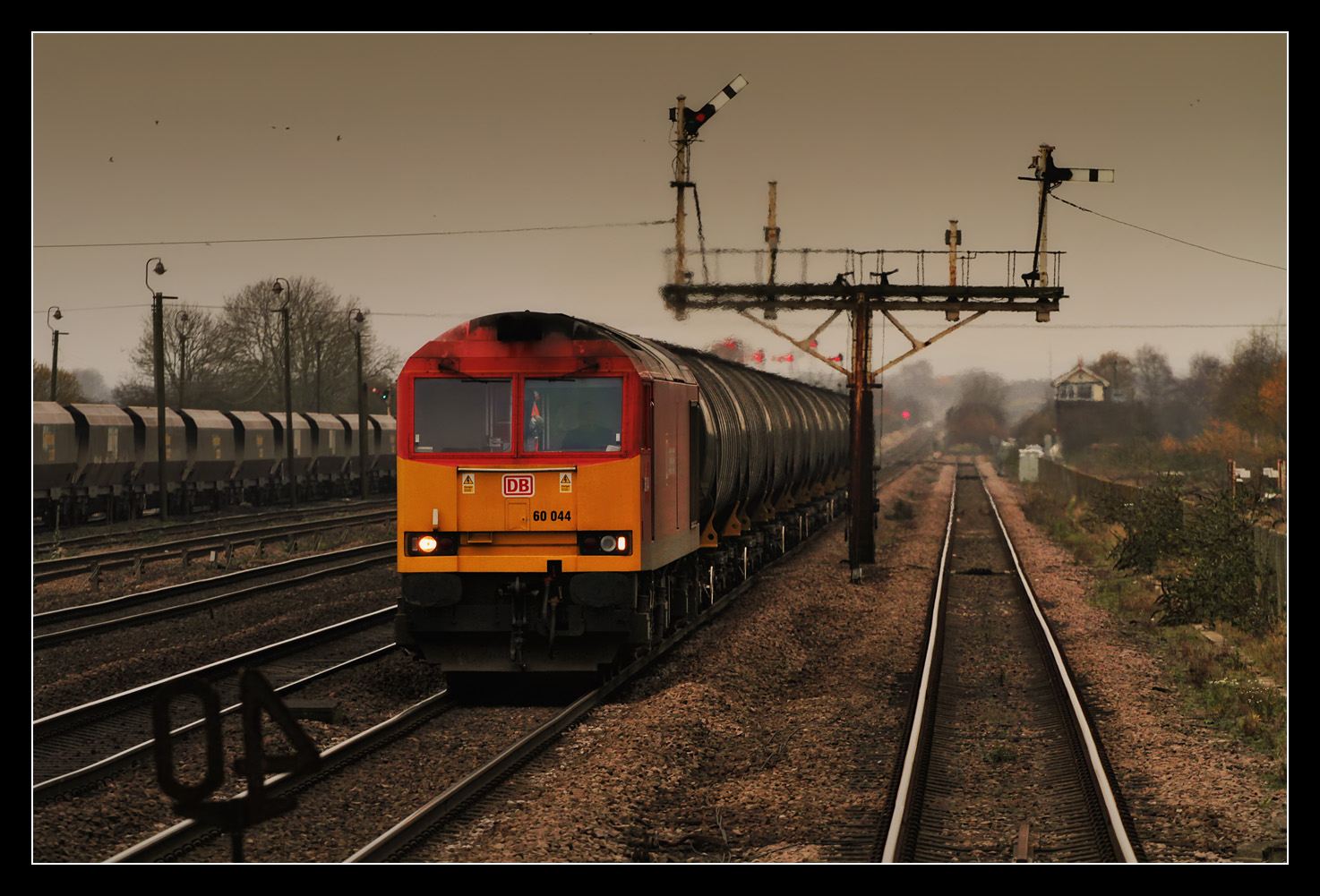 This station is a well-trodden spot for British railway enthusiasts, as you can see. All the time freight trains are passing by, for example to Immingham, the busiest port on the isle.
DB Schenker 66136 - still in old EWS-livery - accelerated past the semaphore signals which can be found in abundance here.
An empty and a loaded coal train are meeting at the eastern end of Barnetby station. It is also symbolic for the decline of the British coal industry. Since 2000 imports exceed production, the full train started at Immingham...
Shortly before 5 o'clock another DB class 60 hauled an ore train eastwards, all in all I had spotted 4 engines of this class within a short period of time.
Home time.
A single EMT 153313 took me to Lincoln as dusk had fallen, here I had visited the Christmas fair in 2008. Now a few decorations had already been set up, but I only went shopping briefly at a nearby supermarket. Then I comfortably took a seat on the train to Leicester and reached rainy Loughborough at 7 o'clock. A convenient 5-pound-taxiride brought me to my booked B&B. Another character opened the door - as I apologized for entering in wet shoes, he dryly replied: "Well, it's England after all." Then I knew I had arrived at the right place. ;-)
On Saturday morning,
November 22 2014
, nothing was happening too early, so I had time to eat breakfast in the winter garden of my accommodation. At 9 a.m. I walked the short 10 minutes over to the Great Central Railway terminal (currently the line is about to be extended in one of the biggest British museum undertakings:
http://www.gcrailway.co.uk/unify
) which I had visited 4 times the years before. As the season of "Santa Specials" was starting, the "Last Hurrah of the Season" signified the final autumn steam event on British heritage lines. At the shed you felt like you had travelled back in time, under steam were GCR-owned SR "King Arthur" class 4-6-0 777 "Sir Lamiel", LMS Stanier 8F 2-8-0 48624, LMS 2MT 2-6-0 46521, LMS 3F "Jinty" 0-6-0T 47406 and BR 2MT 2-6-0 78019 - however, I have also given the image an nostalgic touch.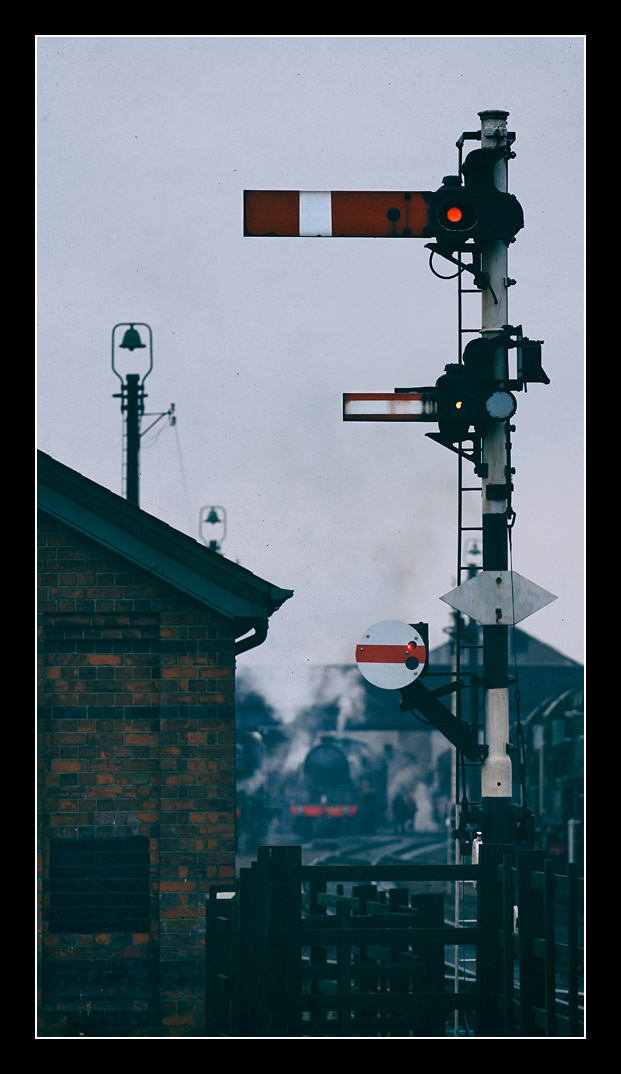 I boarded the first service, 10:00 to Leicester North hauled by 78019. Soon another passenger entered my compartment, his outfit: a thermos flask of tea and a bottle of ale - everything you need for a steam-filled day out.
At 10:20 a.m. I got off at Rothley and marched for quite a bit, as I had not visited yet some of the most prominent spots of the line. After a countryside hike past Swithland reservoir - the last third in a rain shower - I reached the best-known curve and popular photo spot on the otherwise mostly straight line. My loco from before was hauling the next southbound service past me at 11:43 a.m.
In England you don't need a lot of sun - only at the right time...
Thanks, Sir Lamiel!
A photo freight train also ran between Loughborough and Swithland Yard, always pulled by different locomotives.
At Swithland reservoir, erected in Victorian times to provide fresh water, you can perfectly combine the traditional British hobbies trainspotting and birdwatching.
Jinty hauled me back to Loughborough, behind the second viaduct across the reservoir we met the second class 2MT of the day, 46521.
From the terminal I walked towards Quorn, at an already known spot I captured 78019 with freight in nice evening mood. In 2007 I had taken my first trackside image of my "new" British rail photographer career with a "regular" train hauled by this engine at this spot.
Finally I waited for 777 on the A-road-bridge, then walked to the nearby accommodation to fetch my luggage.
For comfort's sake I ordered a taxi again, again for 5 pounds, and reached the 16:21 to London. Oh, what luxury class 222 Meridians offer compared to their cousins, the Voyagers!
At London St. Pancras I only found the platform where the Javelins to Dover departed after asking a guard, I never had been there before. With the strange feeling of using a highspeed-suburban EMU we quickly approached Folkestone Central, from where I just had to walk a couple of metres to the next B&B.
Again the owner served my breakfast early on Sunday,
November 23 2014
. He was a bit confused due to my planning. However, because of breakfast times I only could do my morning round after breakfast, usually my priorities are different. By Google Maps I charted a course through winding and hilly Folkestone, past not so pretty corners and an obviously abandoned track towards the harbour. The satellite image showed a dramatic picture: all of England was covered by the upcoming weather front, only my tiny corner around Dover still was clear. So I hastened my steps and really, still managed to capture the sun. Next I climbed up the cliff to gain this view. In the background ferries departed Dover in morning glint, the 2W22 0805 Deal - London Charing Cross Southeastern service in front, above me already dark clouds.
I ran to catch the following Javelin from Dover Priory to St Pancras International closer to the White Cliffs of Dover, past some dog walkers which I noticed in high numbers everywhere around England these days...
Subsequently I took a shower at the B&B and still made it to Folkestone Central before the downpour really started. That way I caught a Southeastern train to Waterloo. I still had a visit to the Shard planned, but this would fall through. Another obstacle presented itself: it was announced that Waterloo currently had been closed due to a fire - details would follow... Well, I still had plenty of time to catch my flight from Gatwick, so could stay relaxed. London was approaching, the announcement came that Orpington would be the final scheduled stop of the service before we would be rerouted to London Victoria. Well, we crossed the south of London - and really everything went smoothly, we arrived at Victoria at a similar time as we would have on schedule at Waterloo. I did not mind, as Gatwick was easily reachable from Victoria. At the terminal chaos was reigning due to the additional trains, people were only gradually let through the barriers - luckily I already arrived at the track side of the barriers. You could spot additional staff everywhere showing the way to the next departing services. So, I came to enjoy a class 442 "Gatwick Express" extraordinarily operating as 1A04 1341 London Victoria - Brighton. To East Croydon we crawled along at very low speeds, so passengers were wondering if we already had accumulated a massive delay. Actually no, due to a special construction timetable we reached East Croydon even early. On the way I saw a part of third rail track below a bridge completely flooded and asked myself if that was possible without a short or if this section had been switched off. I reached Gatwick exactly on time and now had plenty to spare before my flight departed. You can only get to the departure lounge wiggling on a serpentine line through an excessive duty free area - from earlier visits I cannot remember it being that extreme. That evening I returned home without further incident.
The following weekend,
November 29 2014
, we visited the Waldviertel narrow gauge lines where NÖVOG V12 (former ÖBB 2095.12) was hauling shuttle trains to Weitra Christmas market from Gmünd and back - here to be seen at Eichberg.
During the last ride the engine was shortly conking out on the grade near Ehrendorf.
On
December 13 2014
the already traditional special of Albatros 498.104 steamer Veselí nad Moravou - Myjava - Nové Mesto nad Váhom and vice versa was scheduled. I already have published a report about it in 2012. At first we waited on the road bridge at Blatnice pod Svatým Antonínkem where beautiful morning contre-jour was expected - for the following shot see my Christmas card. :0)
Nostalgic Bardotka T478.1201 hauled the fire extinguishing train, here on Paprad bridge with a slight hint of snow.
We avoided the hubbub around the highly popular special at Stará Turá and waited at lovely Vad'ovce station.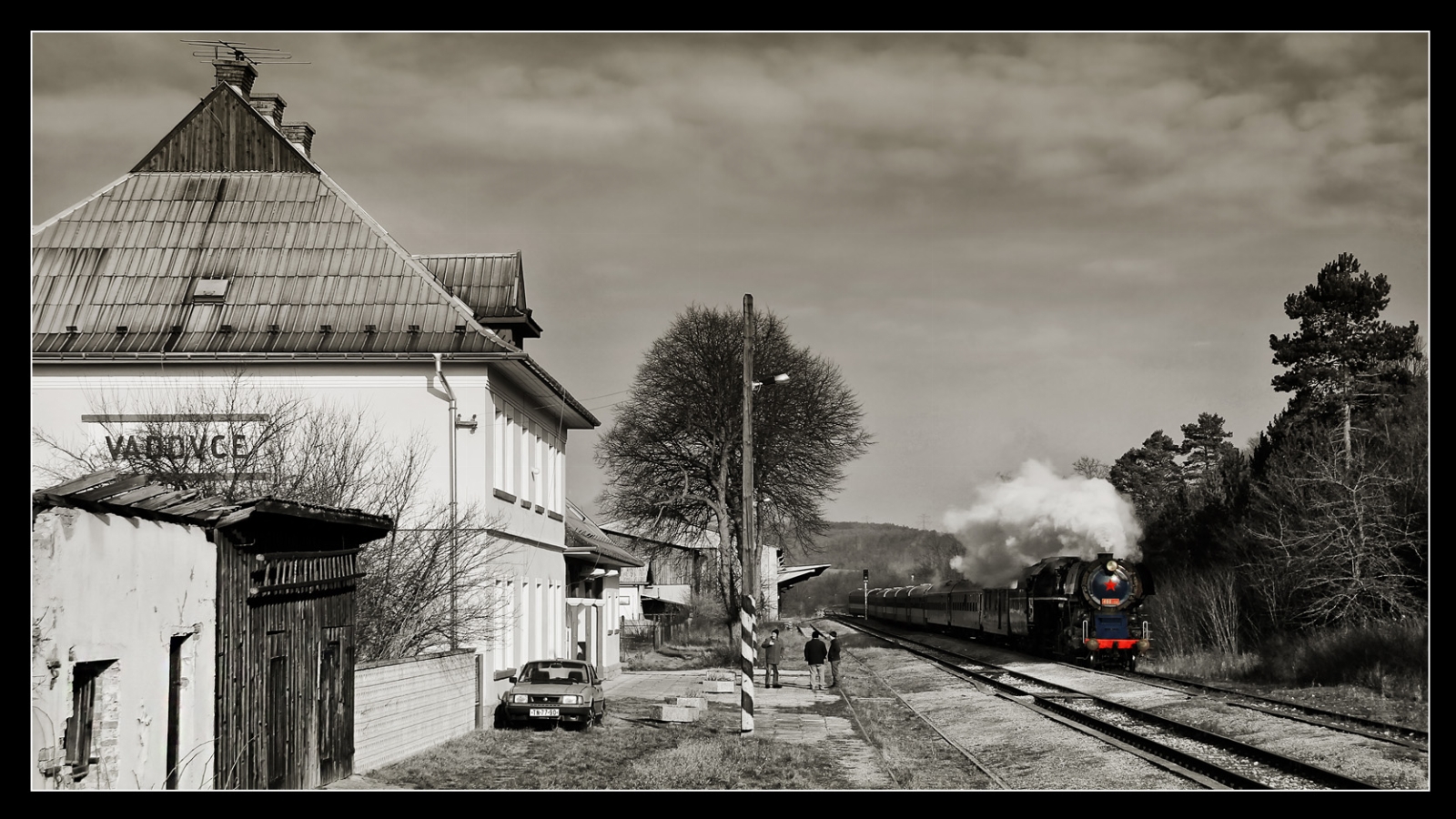 On the return run I caught Os 2770 in front of mighty Cachtice Castle behind Visnové halt.
498.104 departing spectacularly uphill from Vad'ovce.
We discovered a new spot at Myjava cemetery with the southern viaduct in view, I slightly changed the wagon configuration.

After the departure from Vrbovce - the last station equipped with semaphore signals on this line - the Czech Republic had been reached again, and due to cold wind getting up and darkness creeping in we let it be and returned to Vienna.
On
December 23 2014
I captured the evening mood at Schönbrunn castle with a tram of class E2 operating line 58.
December 24 2014
was greeting me with a sunrise on the Southern Railway between Gumpoldskirchen and Pfaffstätten.
Alpenglow could be spotted on Schneeberg.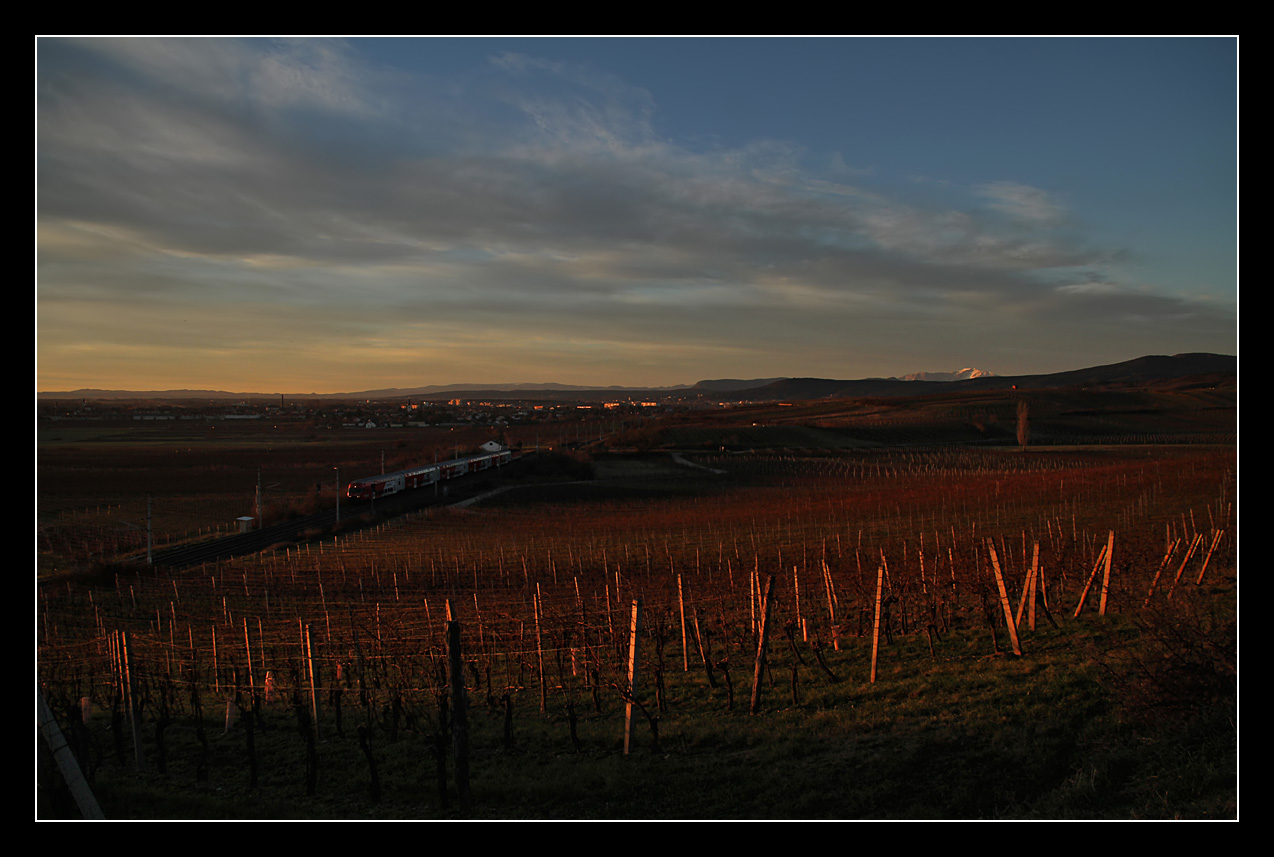 Colourful EuroCity 151 (ex-"Emona", if ÖBB trains still would carry names) to Ljubljana and EuroNight 234 from Rome with a Hungarian MÁV-engine in tow almost met - inviting me to a 50mm fixed focal length panorama.
The Christmas special to Gutenstein was stopping at Gumpoldskirchen halt providing the spectacle of 52.100 departing, even if diesel 2143.40 audibly helped pushing after a few hundred metres it still was a lovely view from the top of Busserltunnel. Right afterwards I could catch my Schnellbahn home to the holiday celebrations.
A few days later, on
December 28 2014
, the post-Christmas miracle happened and we finally got proper snow in Vienna - for the first time after about 2 years!
During the night of
January 6 2015
some more snow had fallen, all the while the platforms of Vienna Meidling station had slightly gotten bluer - CD 380.010 hauled EC 104 now with destination Gdansk. However, I caught EC 151 including older SZ coaches with windows to open for a ride up Semmering behind 1144.021...
On top of Semmering Pass the blue age also has begun: CD Railjet 74 Graz - Prague next to a local Semmering - Payerbach-Reichenau.
Fittingly we conclude this report with Brenner&Brenner "33.132" (ex JZ 10-005 / ex BBÖ 113.32) plus wonderful Blue Train passing Kalte Rinne Viaduct in front of the Rax mountain backdrop.