Hi,
To the previous part of the series:
Nostalgically Northwards - 2: A Four Wheeler at Four Wheels (50 p.)
http://www.railroadforums.com/forum...wards-2-A-Four-Wheeler-at-Four-Wheels-(50-p-)
The video for this series (please set to 1080p quality / full-screen mode):
https://youtu.be/pgUaiD6yv0I
October 8 2016
We return to the bends of Sázava River between stations Sázava-Cerné Budy and Samopse.
This is the view from above the tunnel seen in the first picture. Both rock outcroppings can easily be reached on cart tracks and footpaths from the town of Sázava - secure footing needed, but no climbing involved:
https://goo.gl/maps/H4ULfGKFFs22
At 10 a.m., local passenger Os 9207 Cercany - Svetlá nad Sázavou arrived at Ledecko.
Big generational meeting of class 810 "breadbasket" railcars at Ledecko junction: Os 9207 to the right, in the centre new blue "najbrt" livery units as Os 9200 Havlíckuv Brod - Cercany and a modernized regionova to the left which just had terminated its Os 22204 service from Kolín. We would travel along this line on the last afternoon of photo charters.
Continuing along Sázava River, one of the next stops was Ceský Sternberk (German: "Böhmisch Sternberg") with its mighty castle founded in 1241. Sadly, steam trains and visible background sometimes don't mix.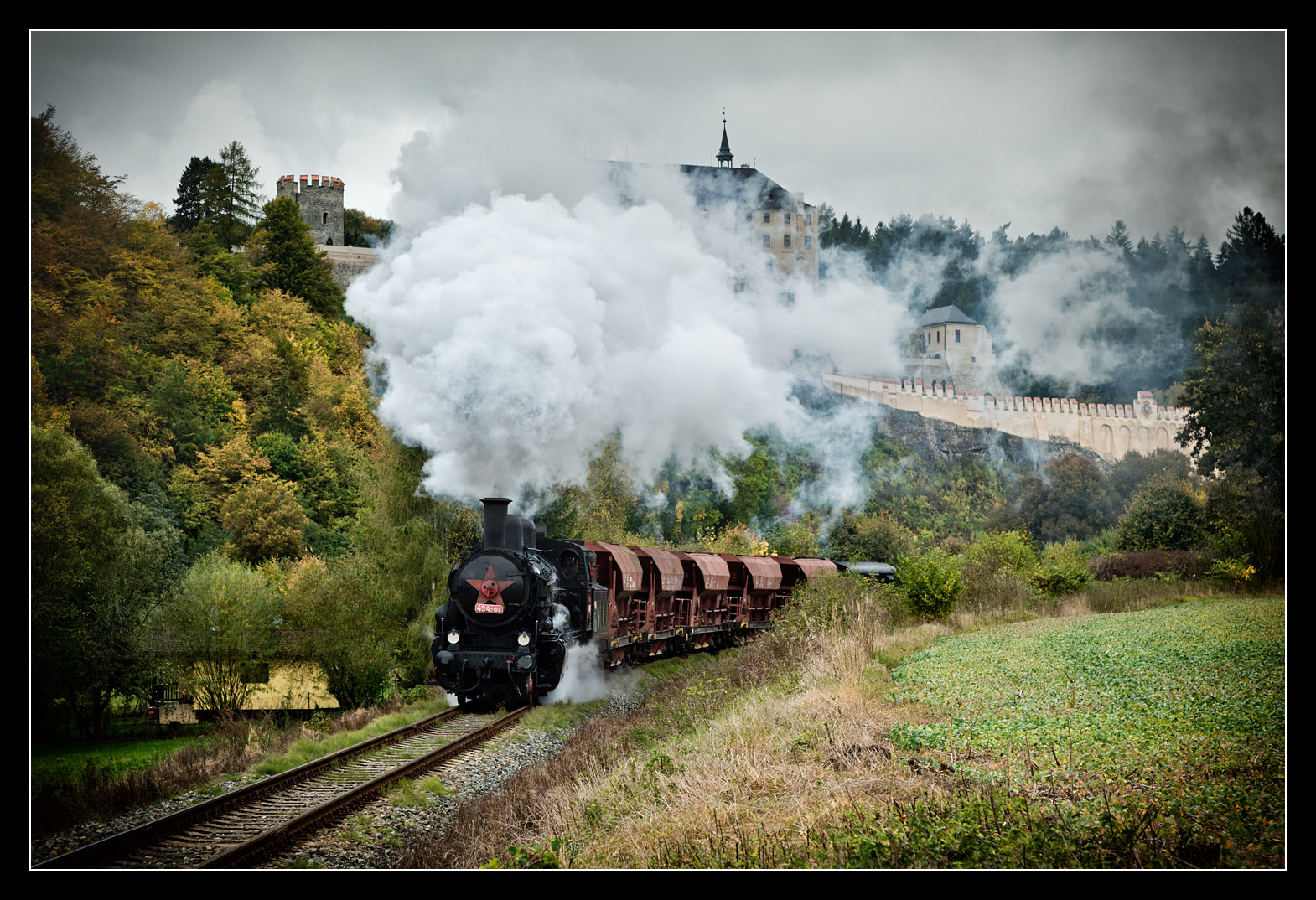 Quickly reverse for another run-past.
Behind the curve seen before.
434.2186 "Four Wheeler" steamed past our base, Kácov. The green Skoda was not there at the same time.
A panoramic version with the lovely town of Kácov.
Entering Zruc nad Sázavou the railway runs along the river.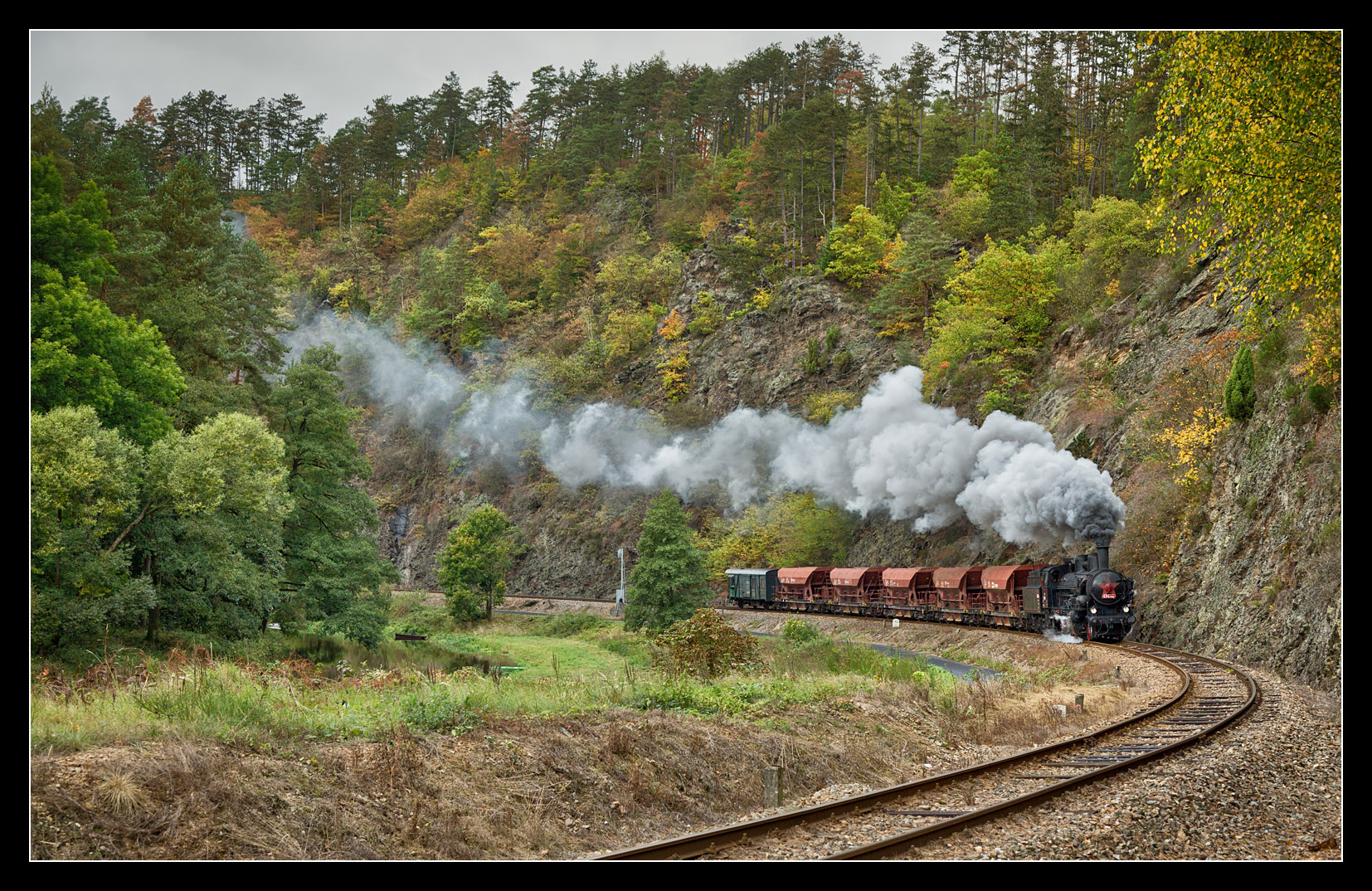 The train waited near the town centre halt and then continued into the station. Its steam cloud was on our side in front of Zruc Castle.
The line crosses Sázava River twice between Laziste and Vlastejovice, this is the first bridge.
The large group of photographers positioned itself far away, so the only chance of capturing the reflected image was sprinting forward while the charter reversed.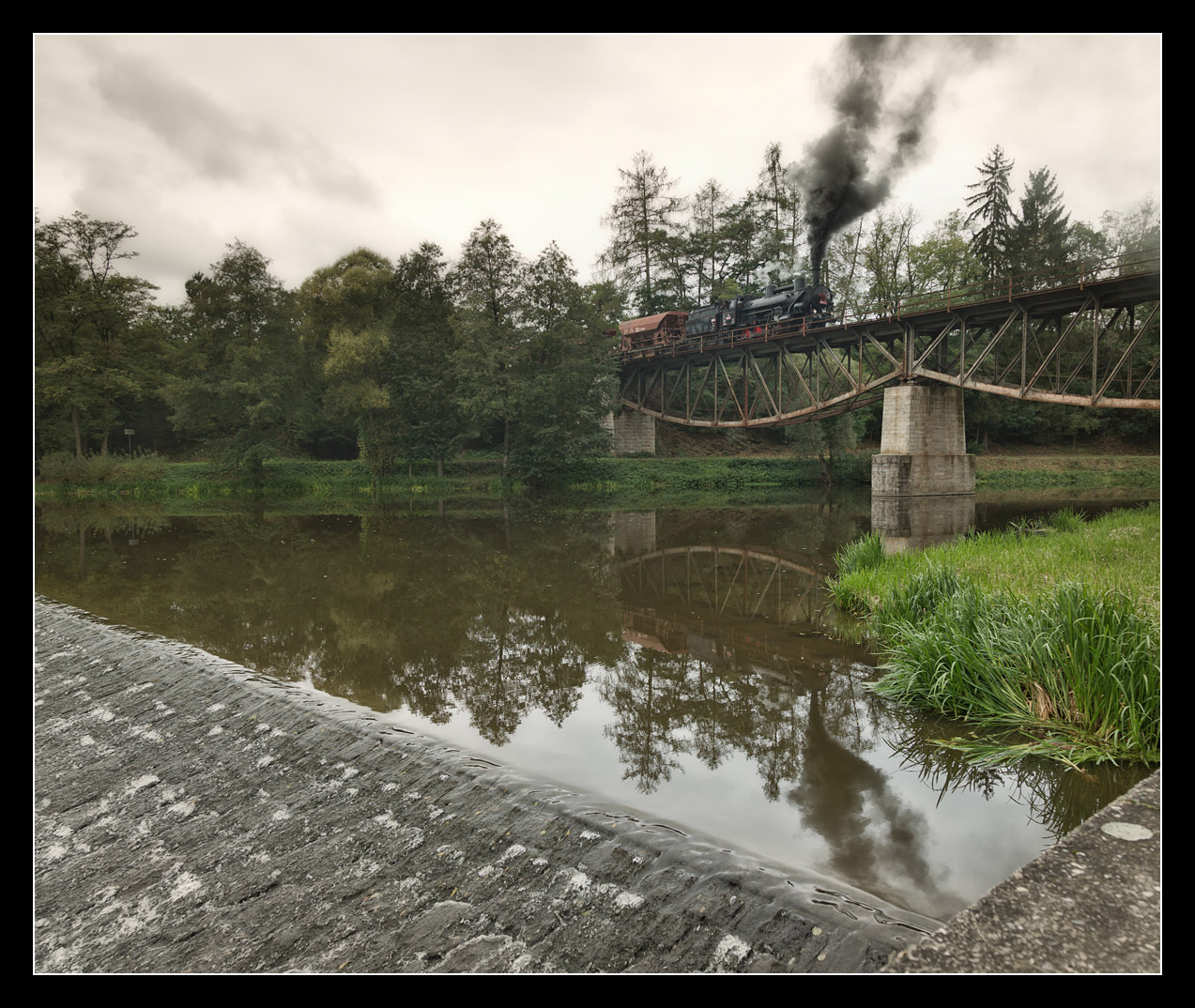 The very committed members of the train crew could enjoy the fruits of their labour.
We quickly changed to the second bridge, then had to turn back.
Lunch break for man and machine at Kácov.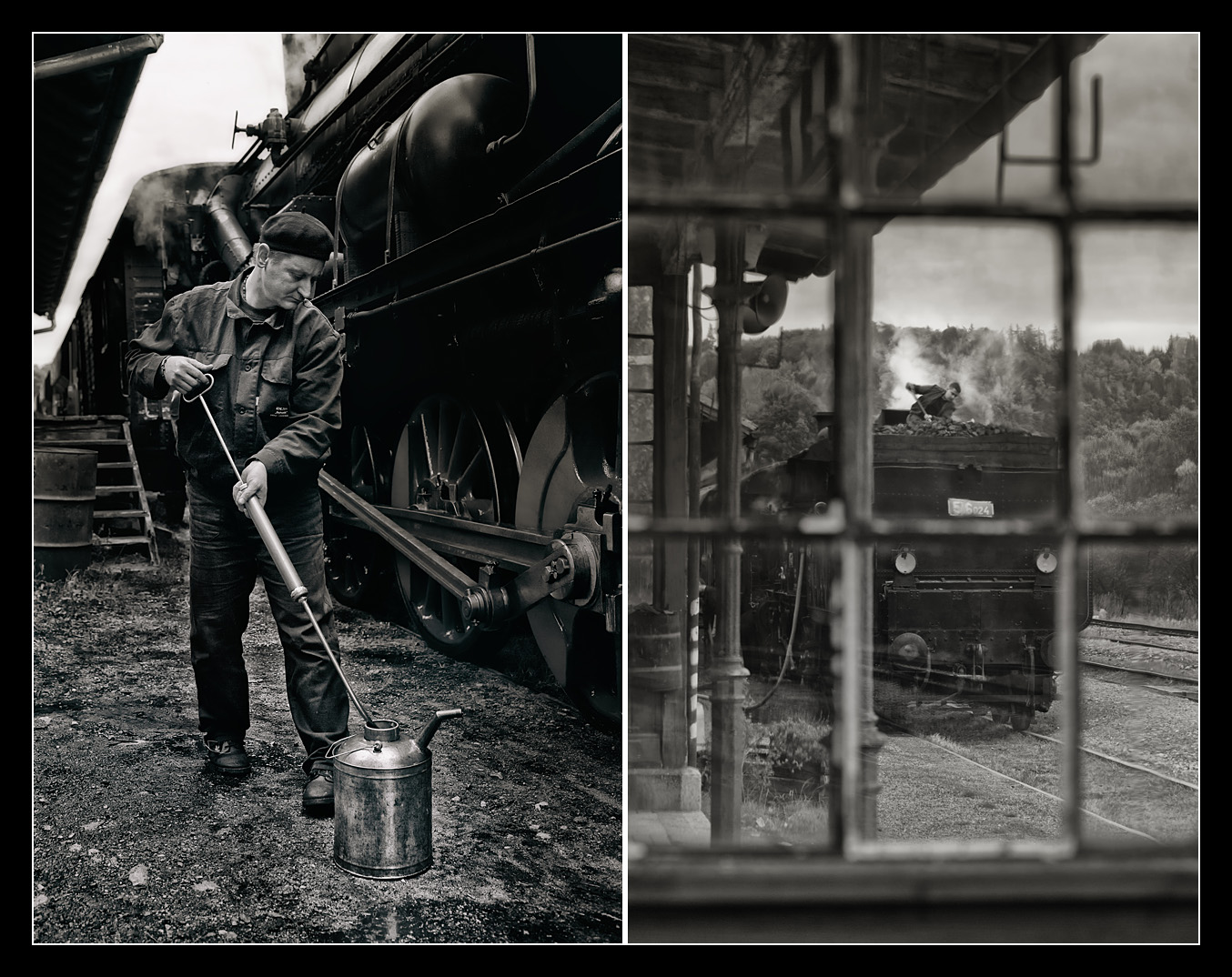 We reached Pelískuv Most opposite Vranice halt on a small forest road. Friendly locals gave us access to their private garden. Already on the way we had come across a similar broken-down vehicle, now a Romanian-built ARO M461 was parked on the lawn:
https://en.wikipedia.org/wiki/ARO_M461
The official view.
We looked for spots along the river north of Ceský Sternberk - and hoped his boat would not capsize... ;-)
Time waiting for the photo charter to return was spent near Malovidy. One of the holiday home inhabitants rowed across to ask us when the steamer was about to show up.
It did at 4:30 pm., we chose another spot for that.
Subsequently, we drove to Sobesín for the last lineside shots of the day. "Kiosek u Lud'ka" on the river already had closed, but something had been left behind.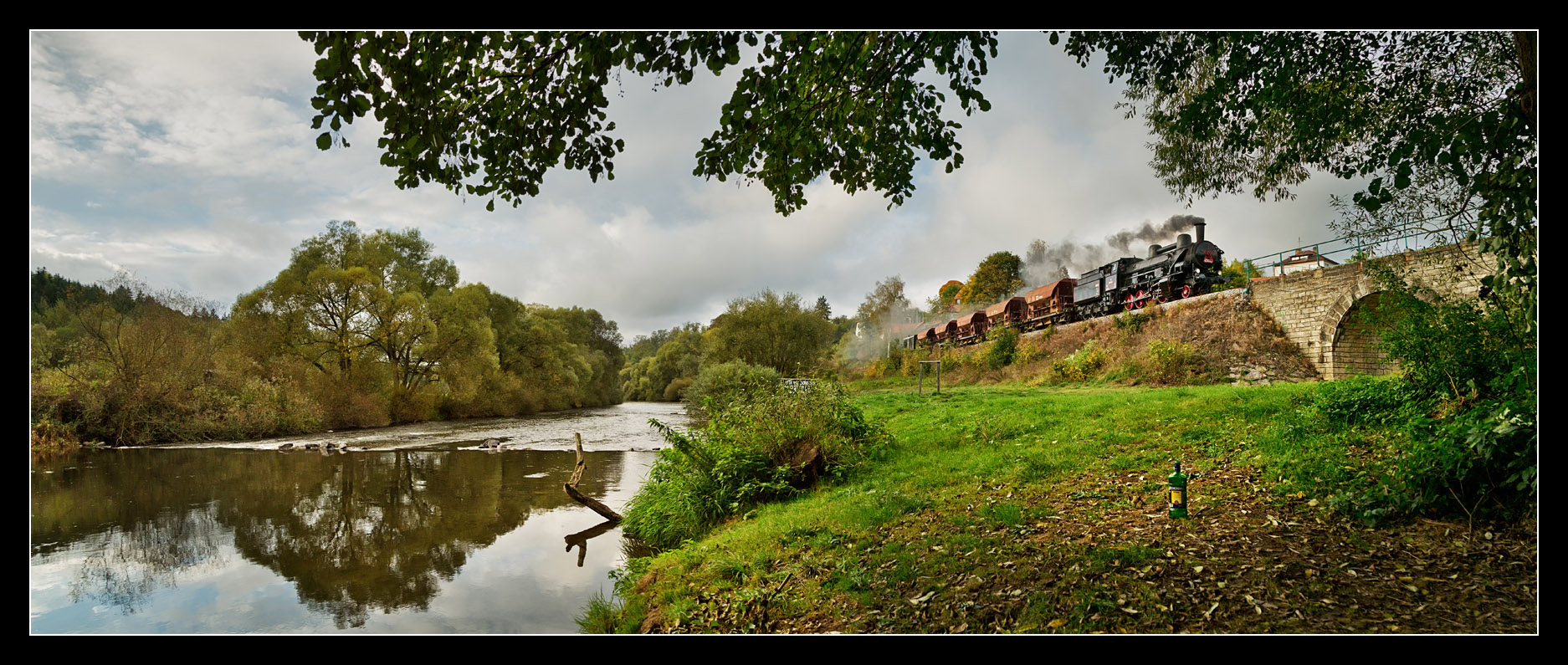 Tending to the loco at Kácov, we waited for dusk.
The local fire brigade provided water in a Skoda 706 truck.
Shunting towards the loco shed.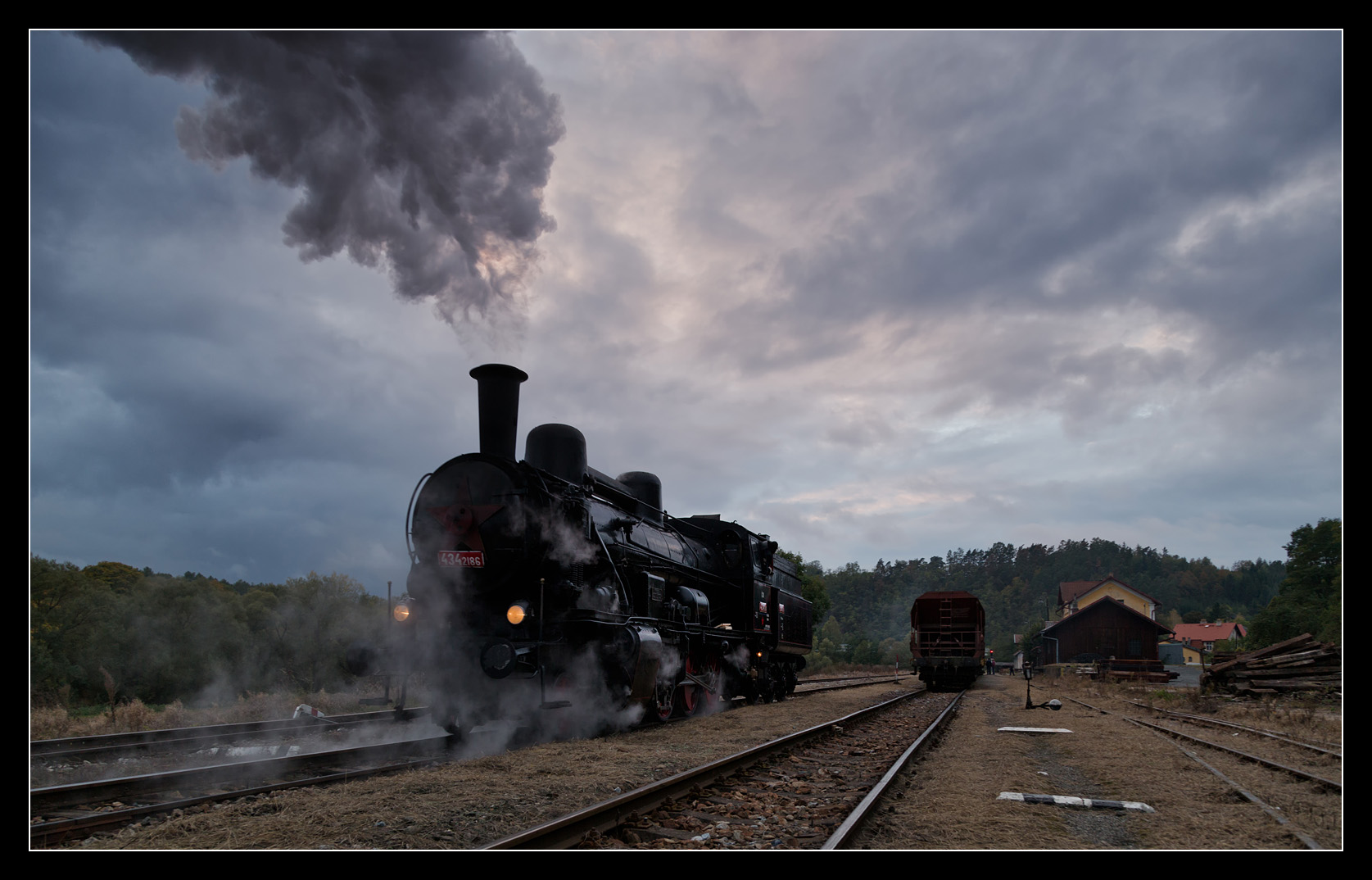 Still "natural" lamplight as young and old were enjoying the engine.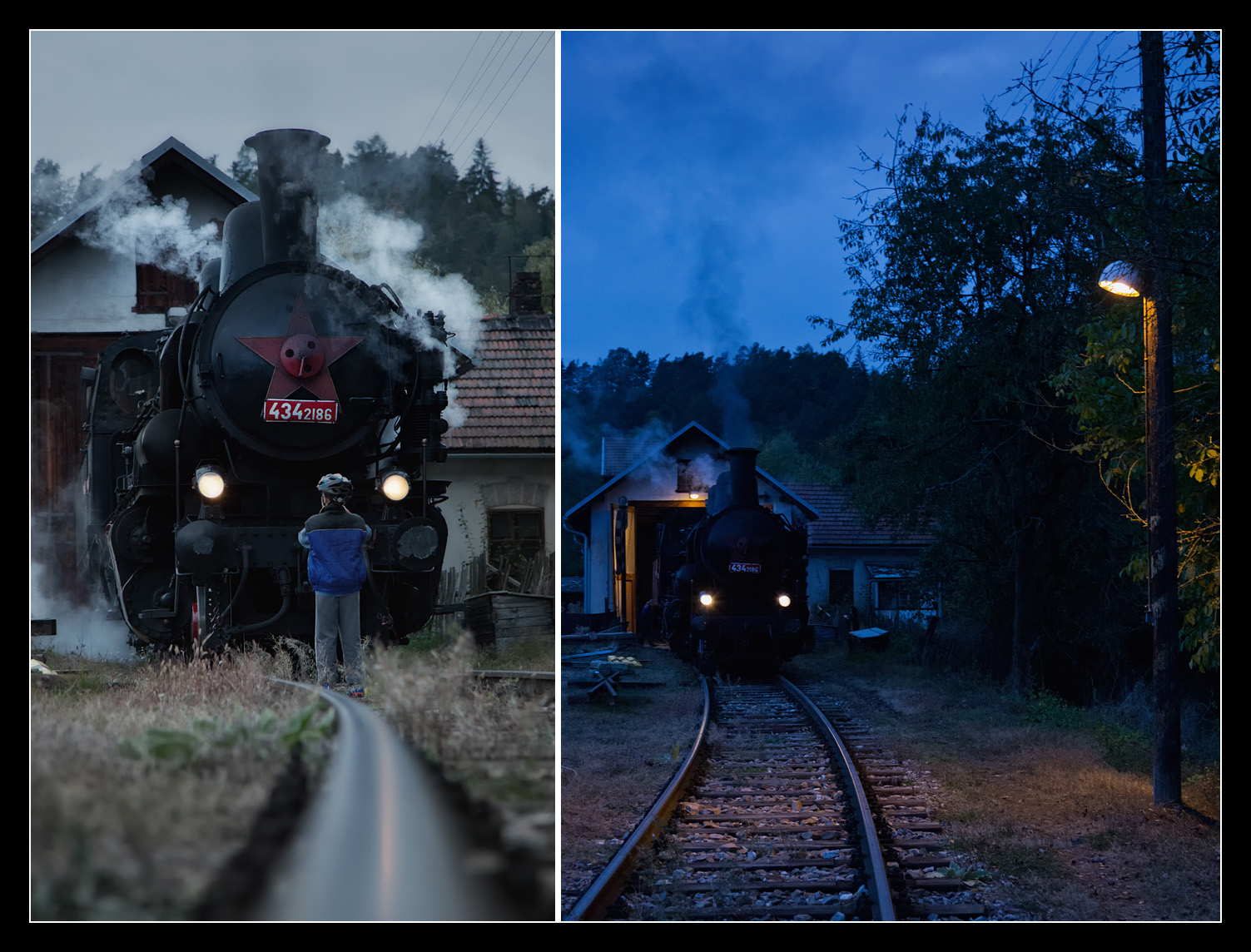 Os 9235 Cercany - Zruc.
It had been an exhausting day for some.
The spotlights were in place - I am not that keen on "artificial" lighting of night scenes, but in this case it could be used to capture a ballast train hauled by private company KK 740.575 in motion. Notice the shadow of the buffer on the shed wall.
After the shed-shooting, our 434 shunted under "natural" lighting.
The "Billa Bag Man" always is integral to the scenery in these parts. However, he seemed quite inebriated and placed himself on a bench right in the picture. There was no friendly way to get him to change seats.
Shadow cast on the station building.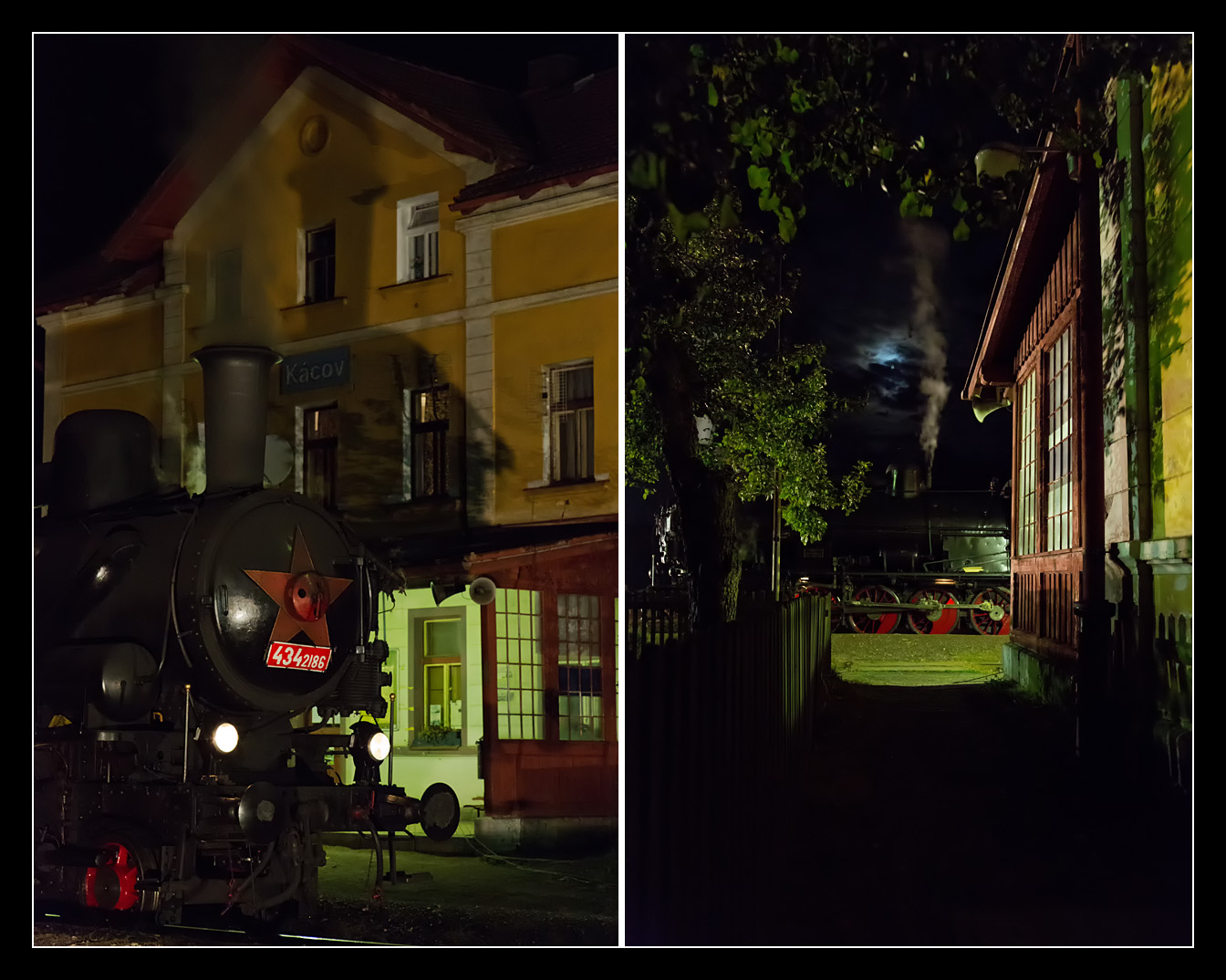 Moon and star.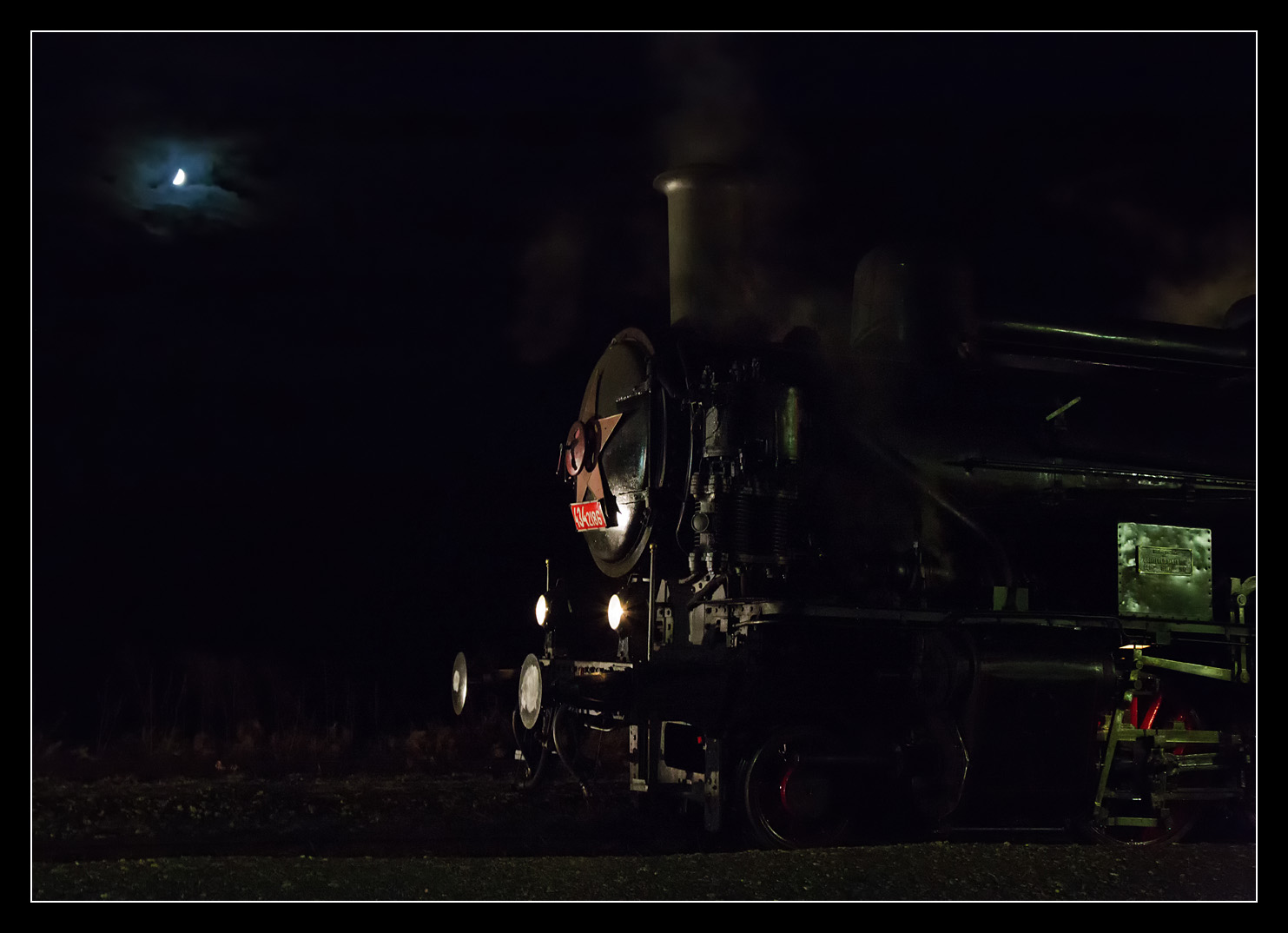 Another "natural" photo at ISO 20000. The following departure covered me in soot from head to toe, so I had to wash before the following brewery visit.
July 5 2014
In autumn, we will start again next morning near Cercany, but first we visit the well-known line leading there from Prague. During summer 2014, I visited the railway on a Saturday.
Near the confluence of Sázava and Vltava, the line Dobrís - Praha-Modrany crosses Vltava River. Here, at Skochovice, the railway along Sázava River towards Cercany branches off.
749.253 without number plates pulling Os 9063 Praha hl.n. - Cercany at Skochovice.
Also plate-less on the front: 754.044 with Os 9061 at Petrov u Prahy.
"Posázavský Motorácek" excursion train only operated on summer Saturdays.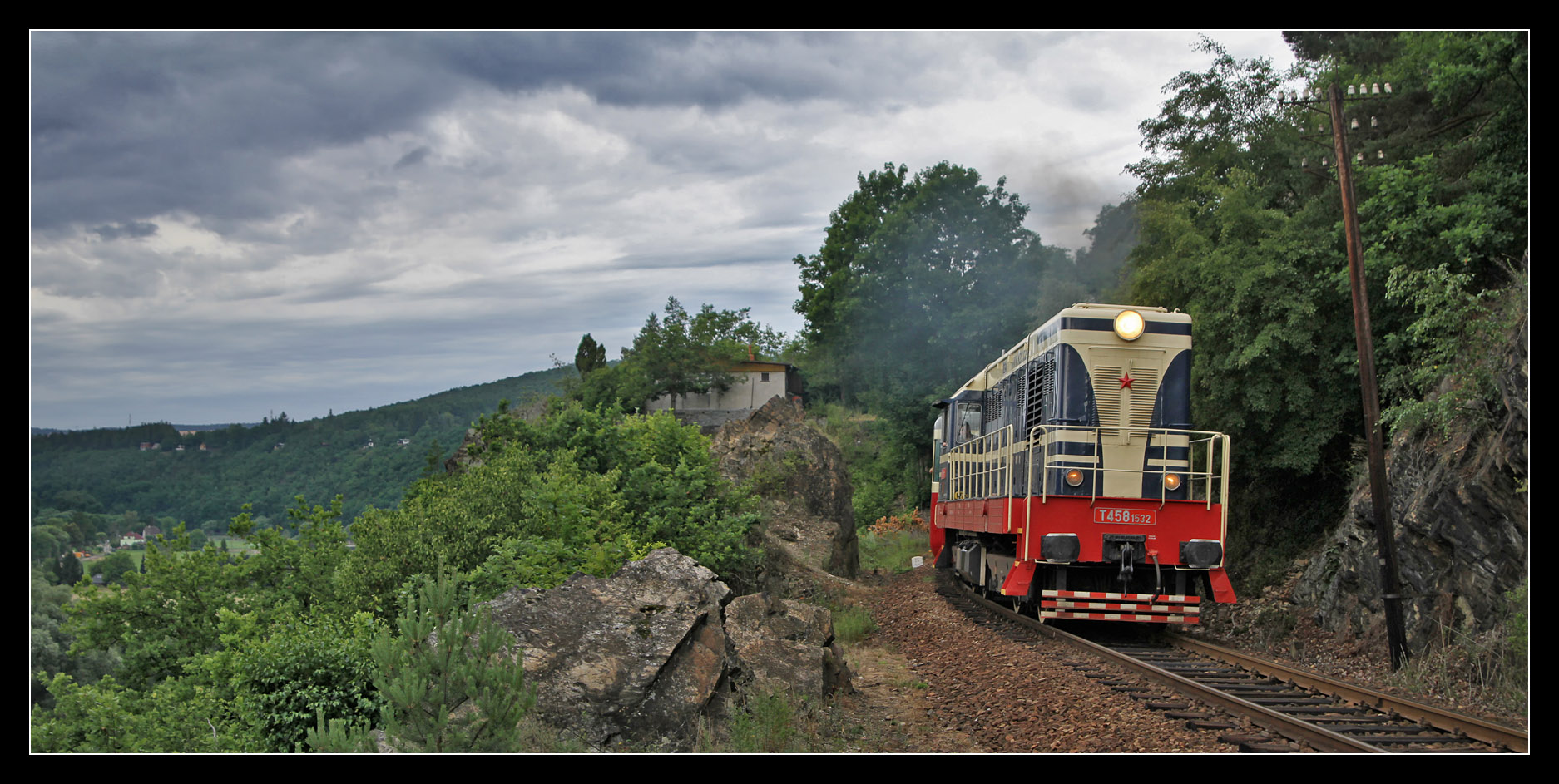 View into the other direction: Os 9056 Cercany - Prague passed the best-known spot between Luka pod Medníkem and Petrov u Prahy.
First "Bardotka"-hauled train of the day: 749.253 with Os 9055 at half past nine.
Sp 9083 "Posázavské Linky" to Kácov steamed up the valley. That way we also experience 434.2186 in passenger duty.
I was standing on the rock with two local photographers.
Os 9057 - plus 749.264 sporting a provisional plate - closer to Luka pod Medníkem. The ride on video:
https://youtu.be/hRPUK_RnIy4?t=1m56s
At four in the afternoon, I managed to capture this "Bardotka"-meeting at modernized Cercany station.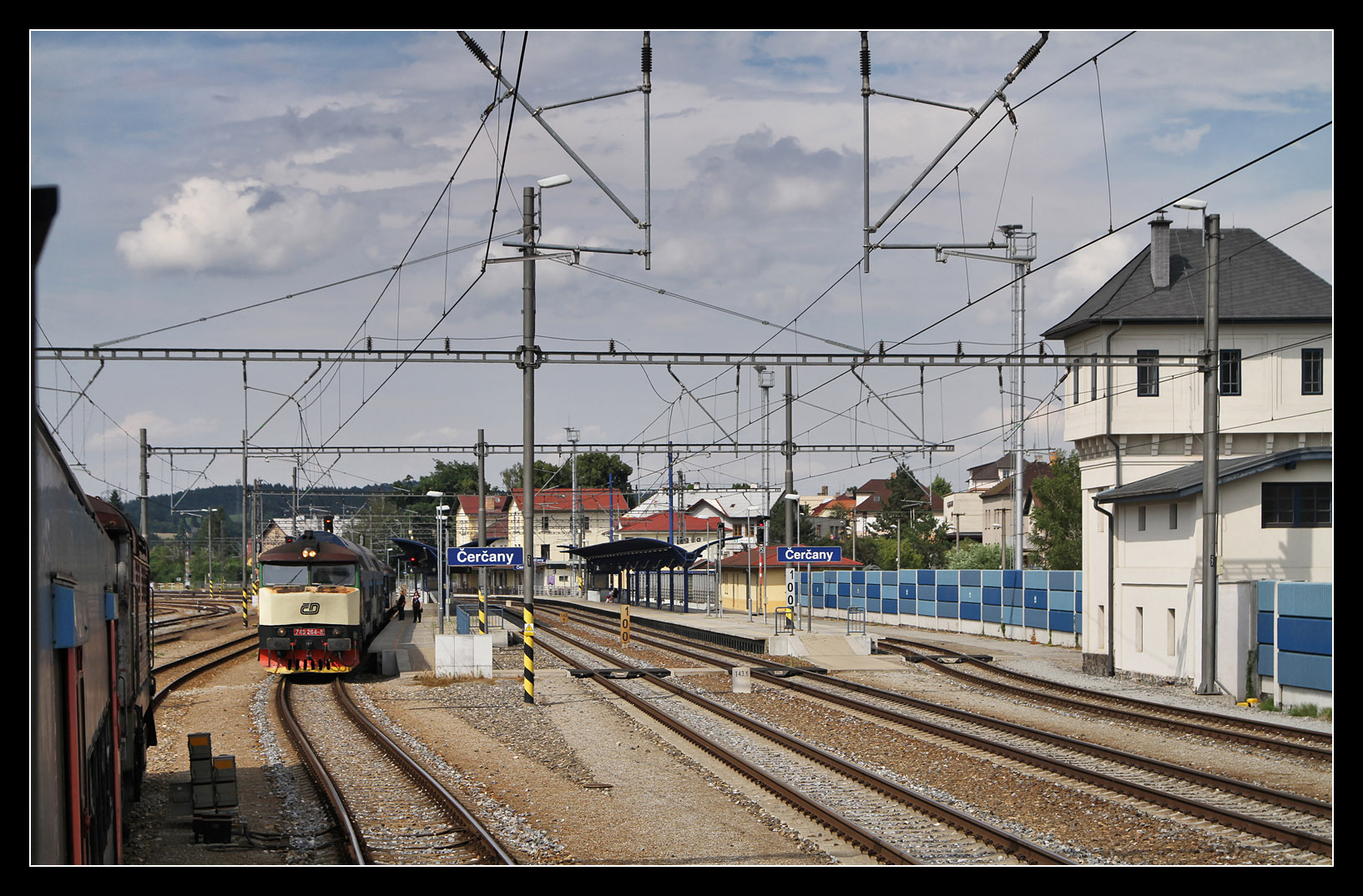 October 9 2016
We return to the line towards Kácov. Only two of us explored the forest between Zlenice and Hvezdonice close to Cercany on foot and found this steep clearing. Our 434 hauling a different goods rake painted a wonderful cloud of steam into the foggy landscape. It slowly started to rain.
Steam action in front of a quarry near Stríbrná Skalice halt.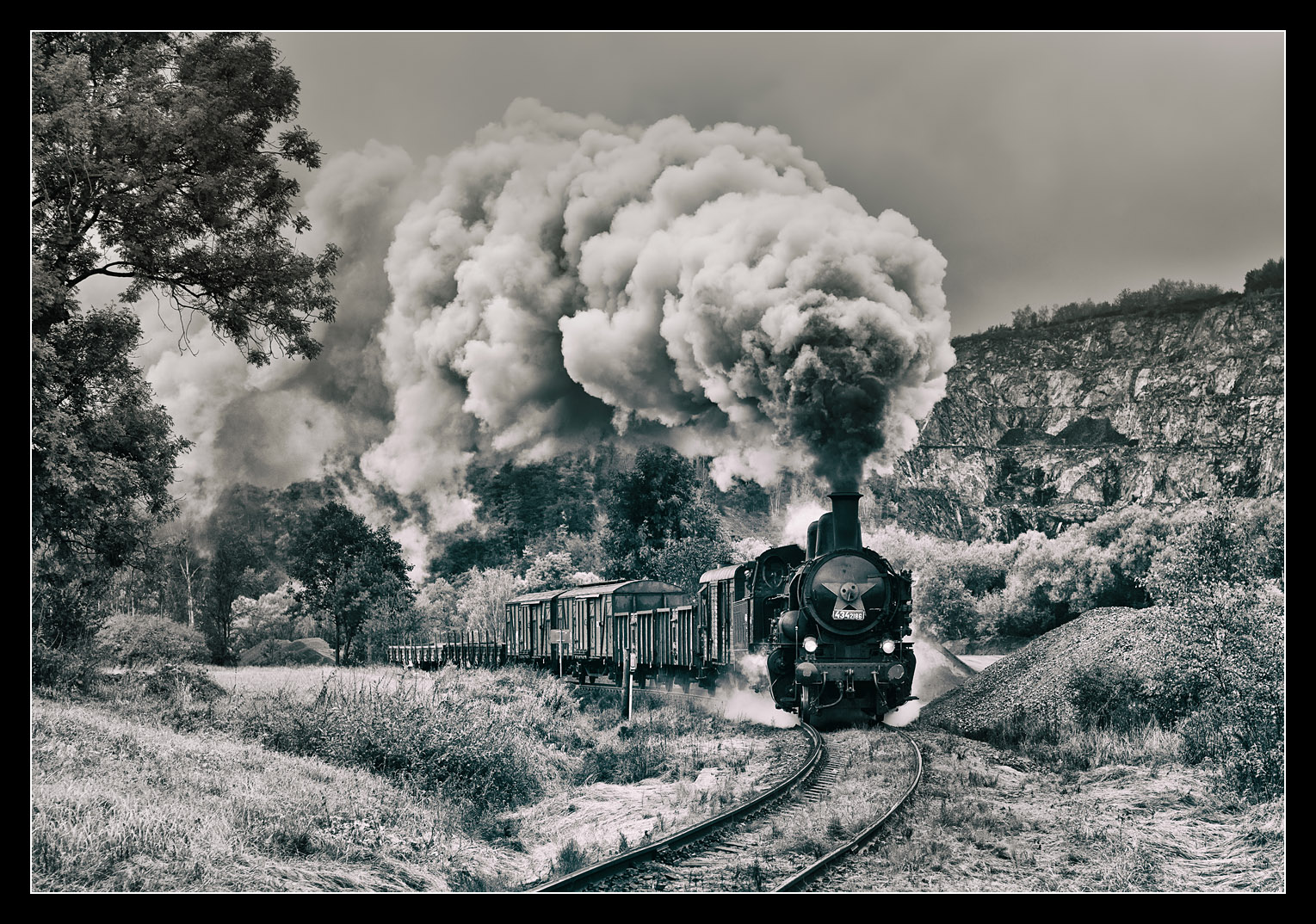 I tried a panoramic view entering Ledecko.
We reached Kácov at 11:30 in heavy rain.
Luckily lovely old platform roofs still exist here - and the sun was about to emerge in the afternoon, promised!