Hi,
To the previous part of the series: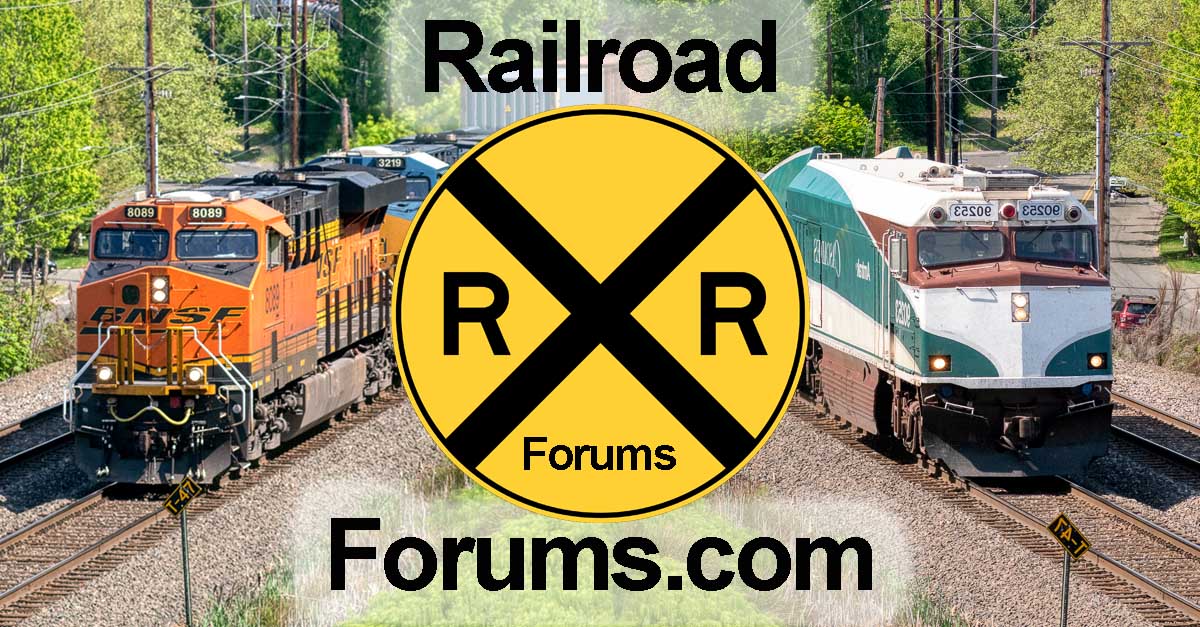 Hi, Time to start the new trip report season... Sadly, I missed my first vacation this year due to illness, however, there still is a backlog over several decades anyway. May 13 2005 Friday morning, I took the first connection EuroCity 157 "Zagreb" from Vienna to Bruck an der Mur and on via...

railroadforums.com
Video for this part:
May 14 2005
33-037 emerged from the Bohinj Tunnel at Podbrdo after 6 p.m.
The charter approached Most na Soči in the rain.
View of two bridges.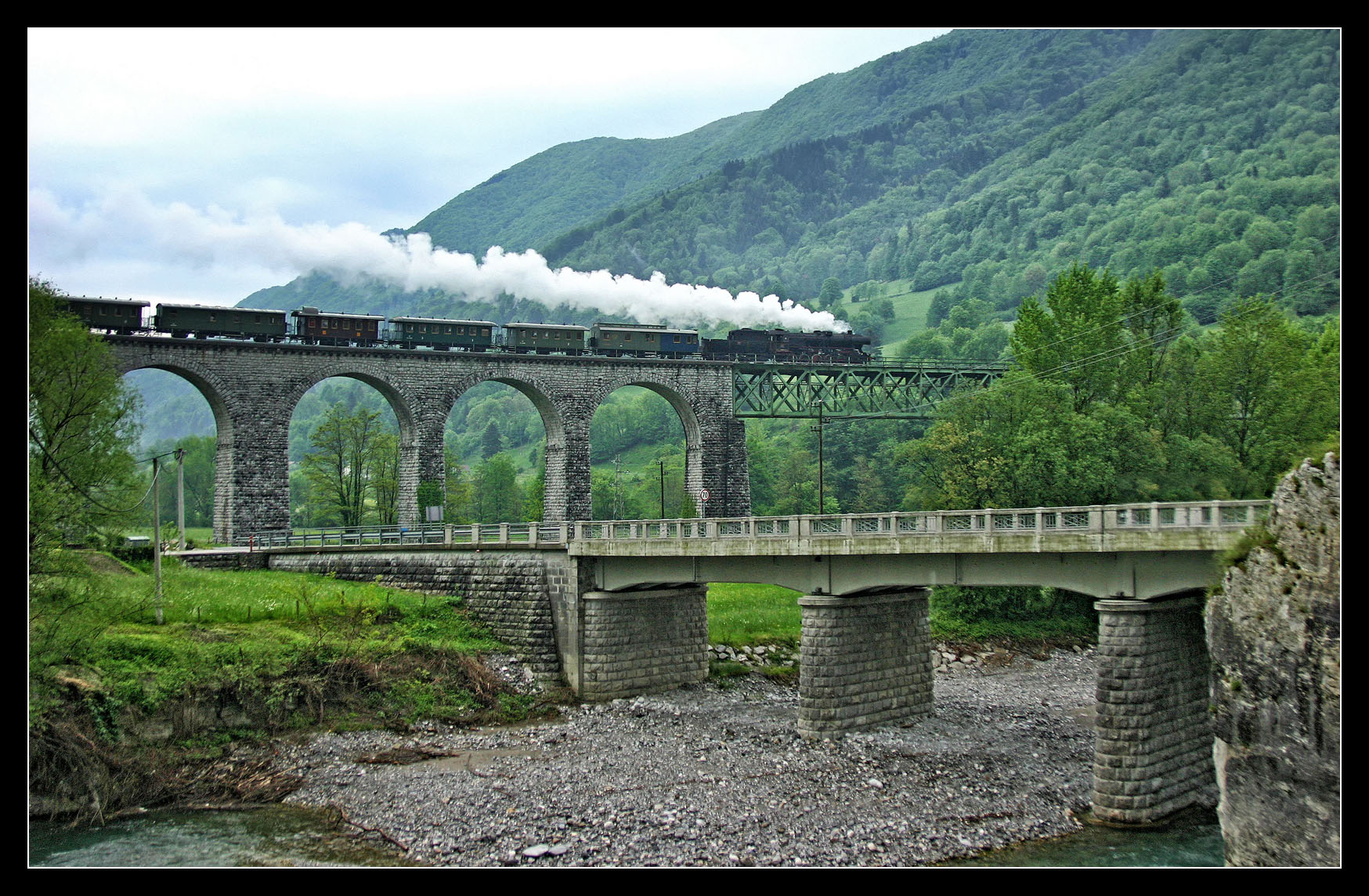 Across Soča River near Kanal.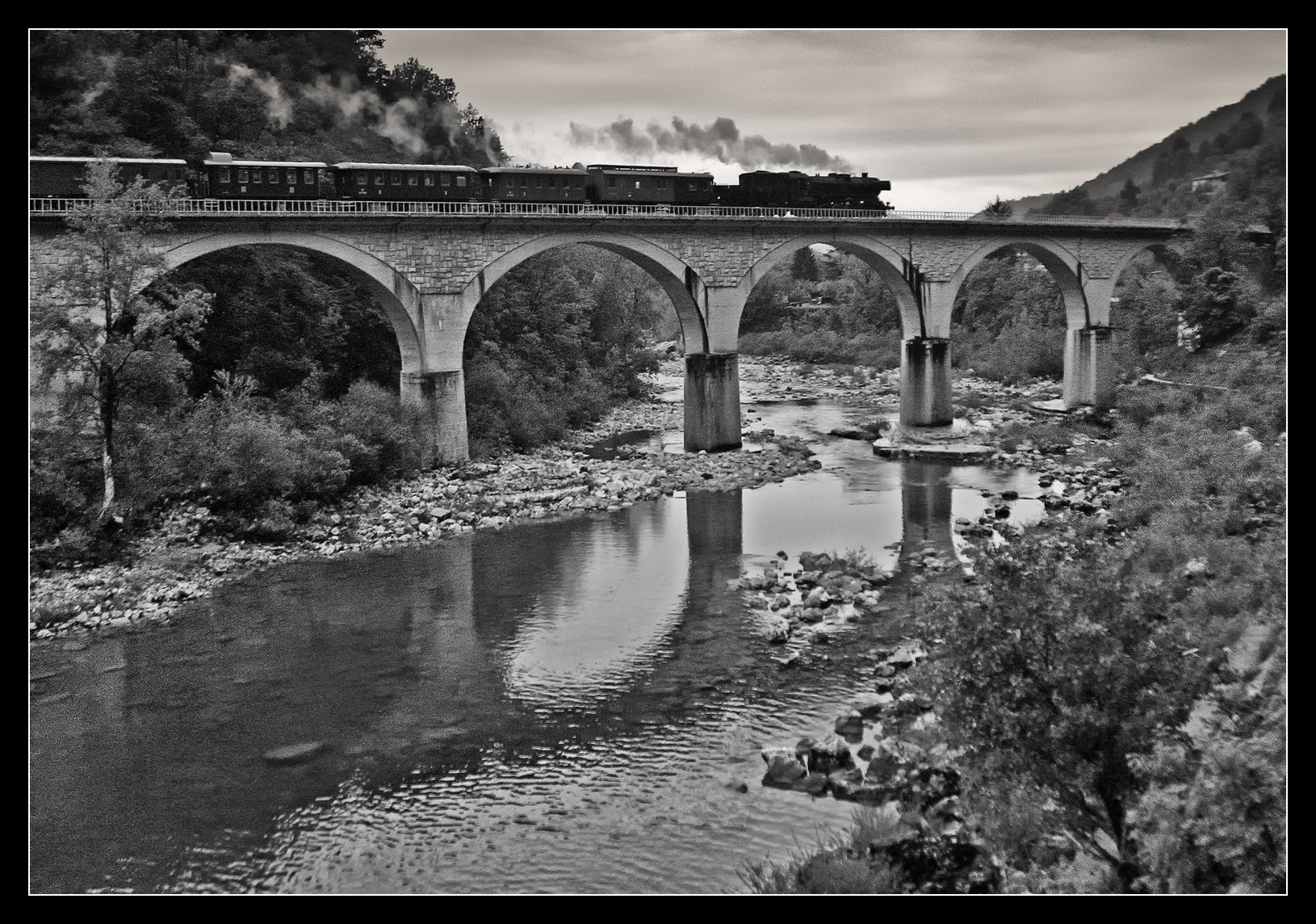 It got darker und rainier but that does not deter us...
The steam train thundering past Branik station (nowadays rebuilt to single track) at 8 p.m.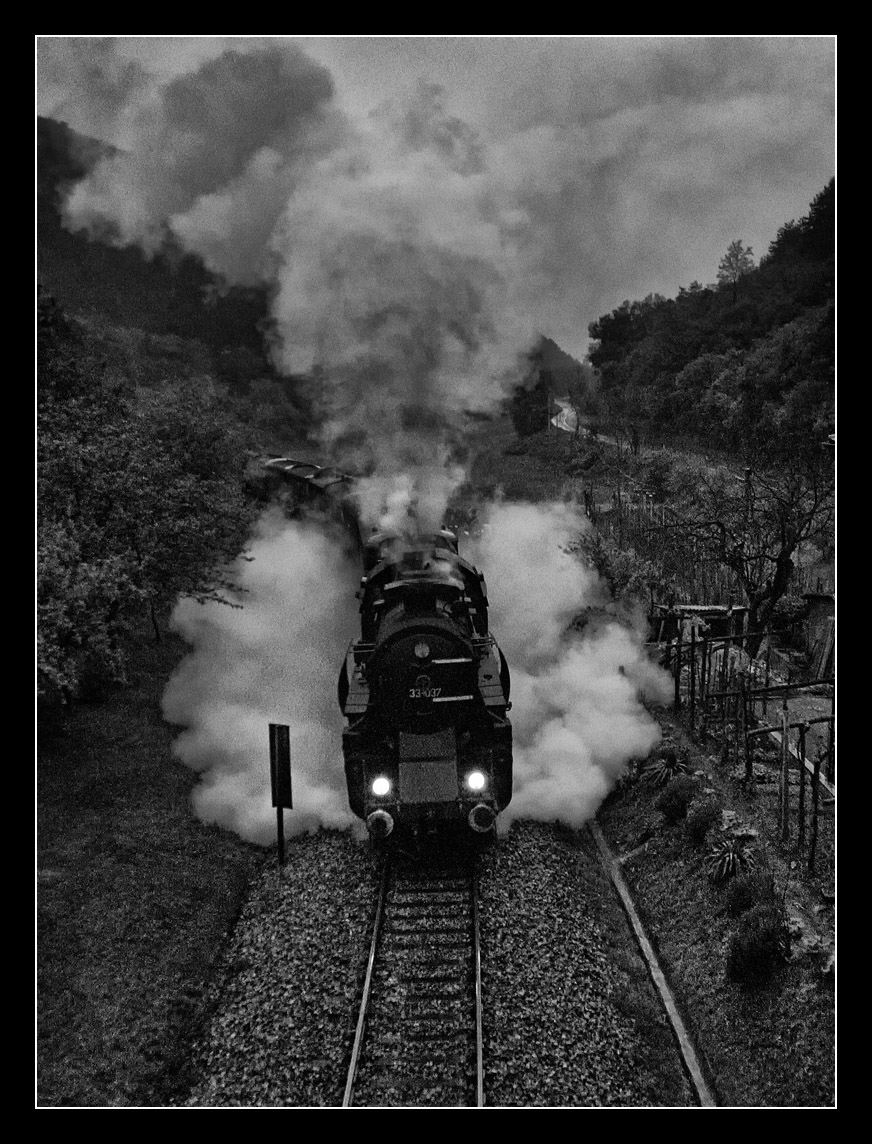 After an 8:40 arrival at Sežana, I travelled home overnight.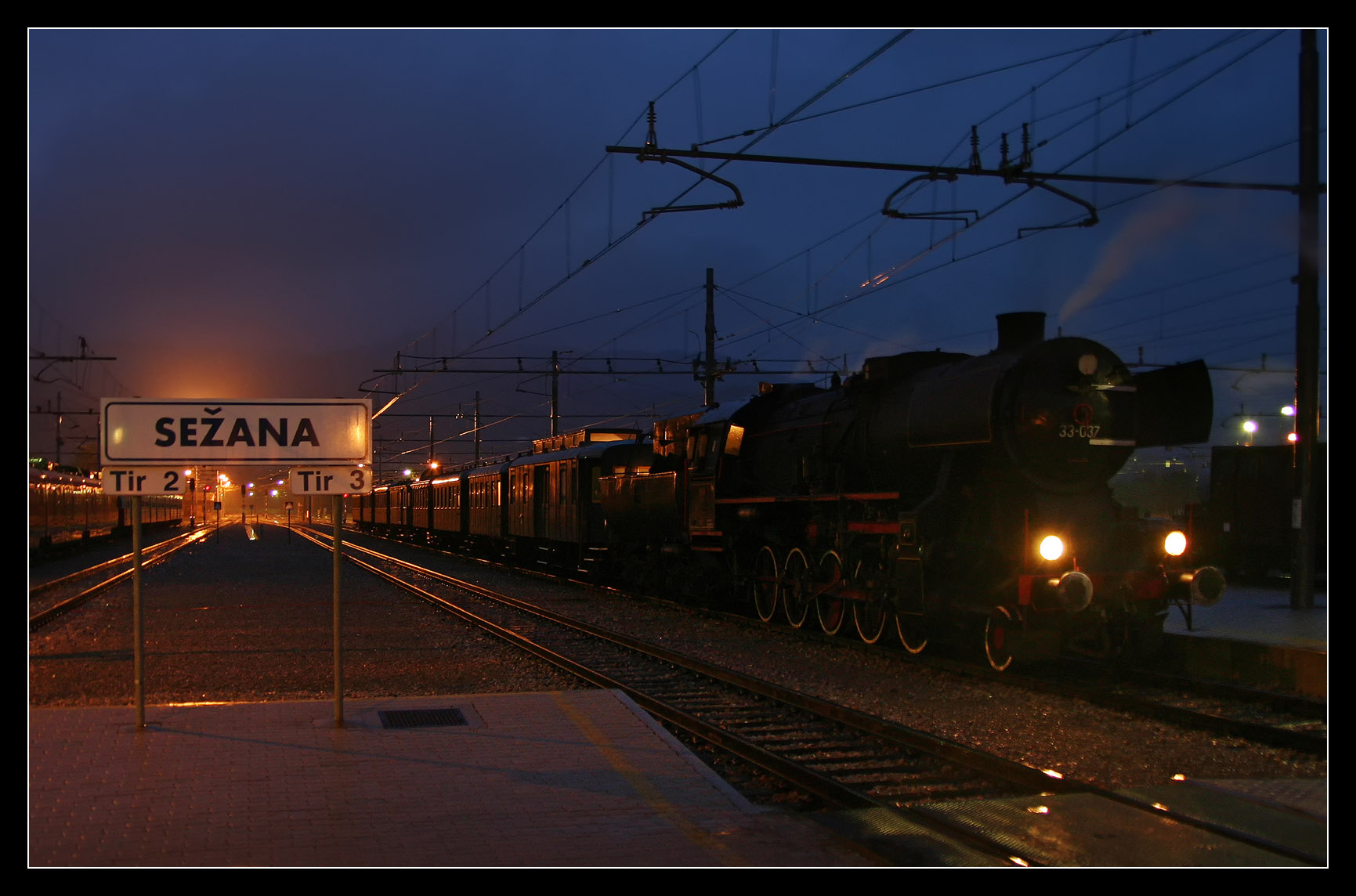 May 28 2010
I took the Thursday evening Easyjet flight from Vienna Schwechat to Gatwick five years later.
After a short night at an airport hotel, I captured the six o'clock morning mood at the station still featuring the relatively short-lived class 460 "Juniper" as Gatwick Express.
British Airways Boeing 777-236ER G-VIIO on final, the same plane suffered an engine fire at Las Vegas five years later:
Usually the most practical connection to avoid London for me: First Capital Connect class 319 as "Thameslink" to St. Pancras.
From there I boarded an East Midlands "Meridian" to Loughborough where the Great Central Railway was just preparing for the "Golden Oldies" gala at 9 p.m. We are looking at the former northern end of Loughborough Central where the heritage railway had later built its loco shed. Now the line is being extended into this direction towards Nottingham again. Below, we can see LSWR class 0298 "Beattie Well Tank" BR 30585 (Beyer Peacock & Co Ltd #1414 / built in 1874).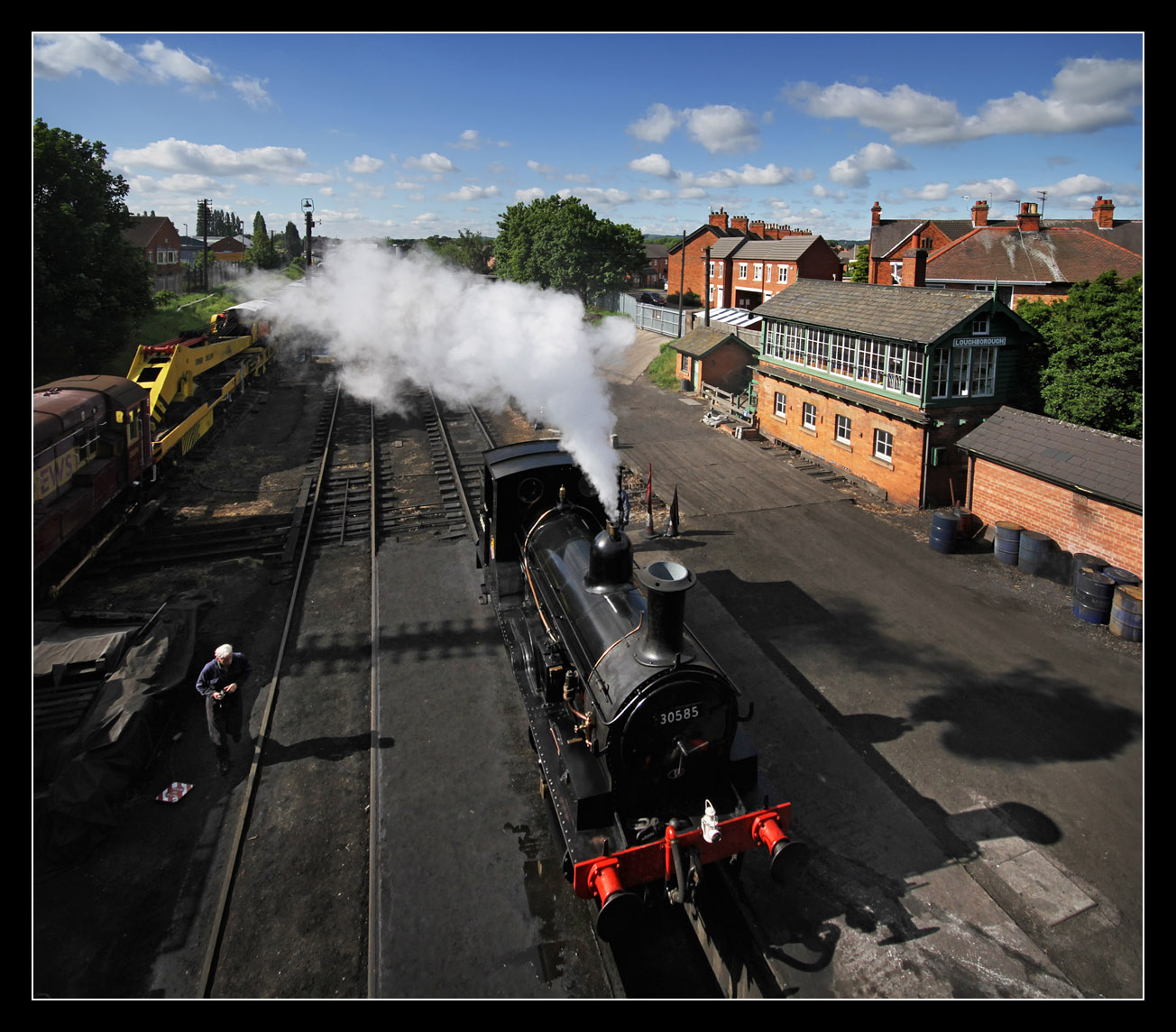 To the right BR 63601, a GCR class 8K / LNER O4 from 1911.
Coaling lite.
Furness Railway #20 (Sharp Stewart #1448 / built in 1863), the oldest working standard gauge steam engine in Britain.
Class L "Sir Berkeley" (Manning Wardle #1210 / built in 1891) as station pilot to the left.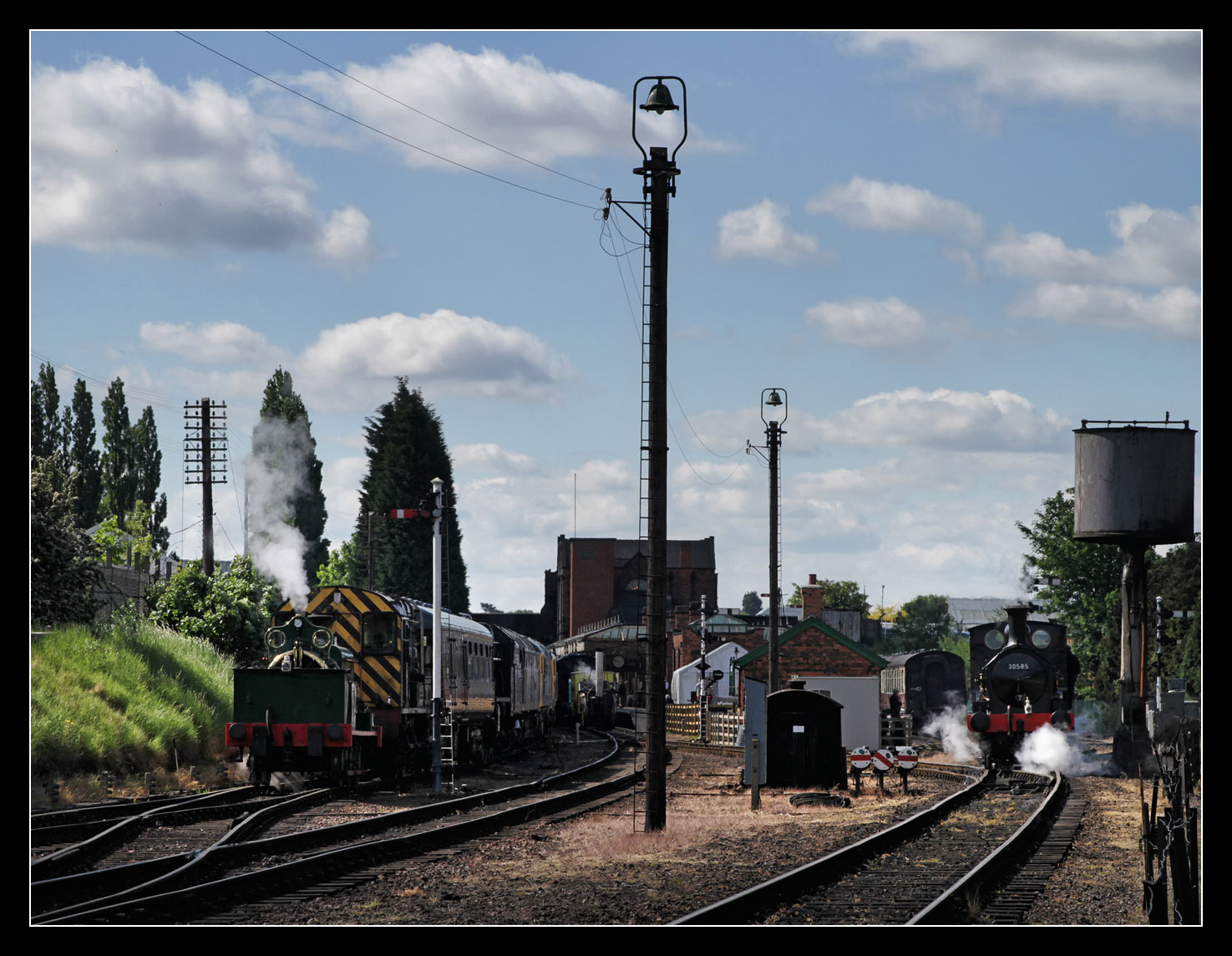 A famous highlight for every rail enthusiast worldwide: Liverpool and Manchester Railway "Rocket" (1979 replica - original 1829).
I walked to the southern end of the station towards Leicester North.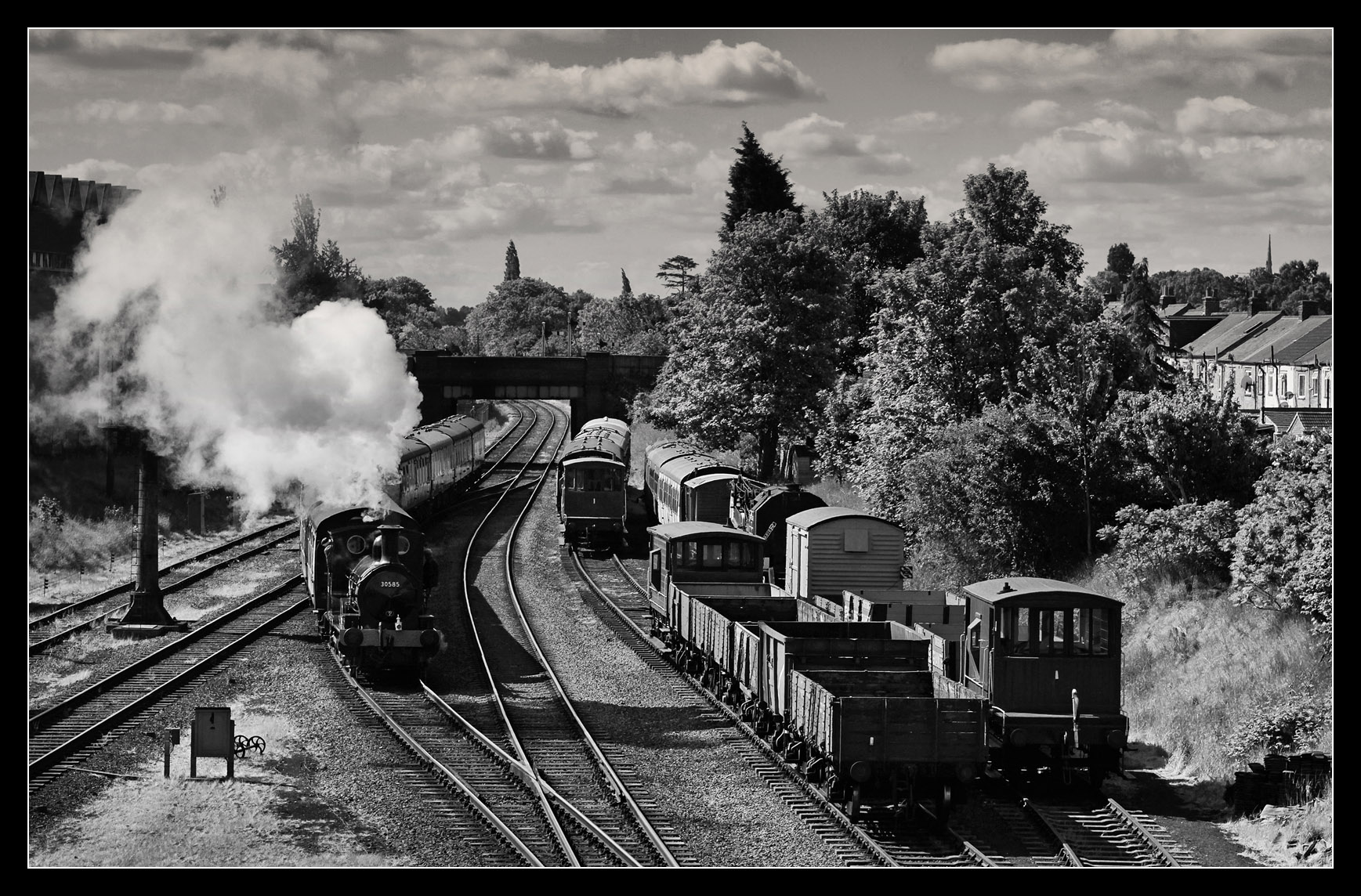 The first train of the day at 10:18 was hauled by GNR class N2 1744 (North British Locomotive Co. #22600 / built in 1921) which had been equipped for the underground Metropolitan Railway Widened Lines in London as a condensing engine.
Furness Railway #20 departing below a plume of smoke.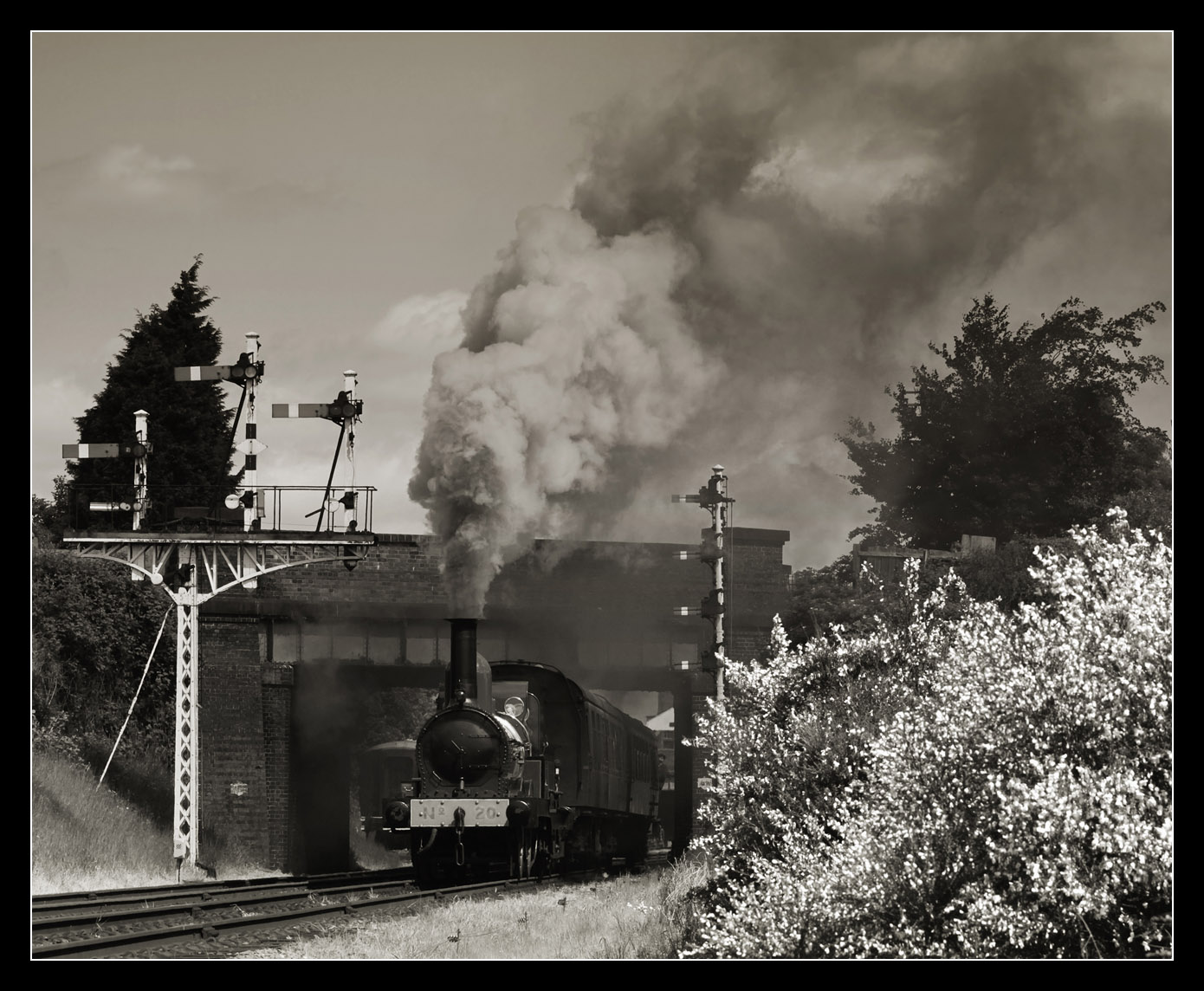 Picture from before during shunting, BR 30585 was added later at the rear.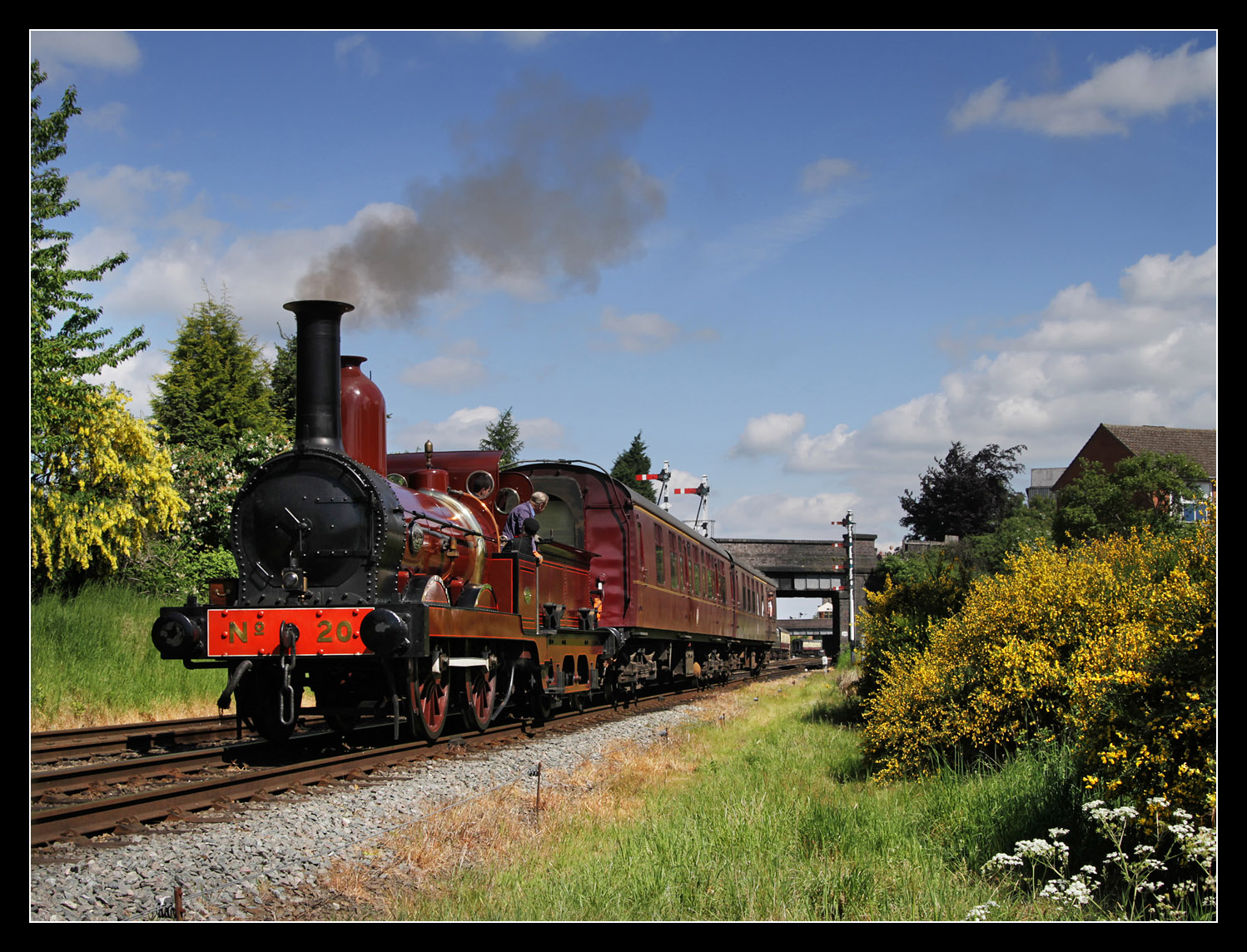 Not much disturbing the illusion...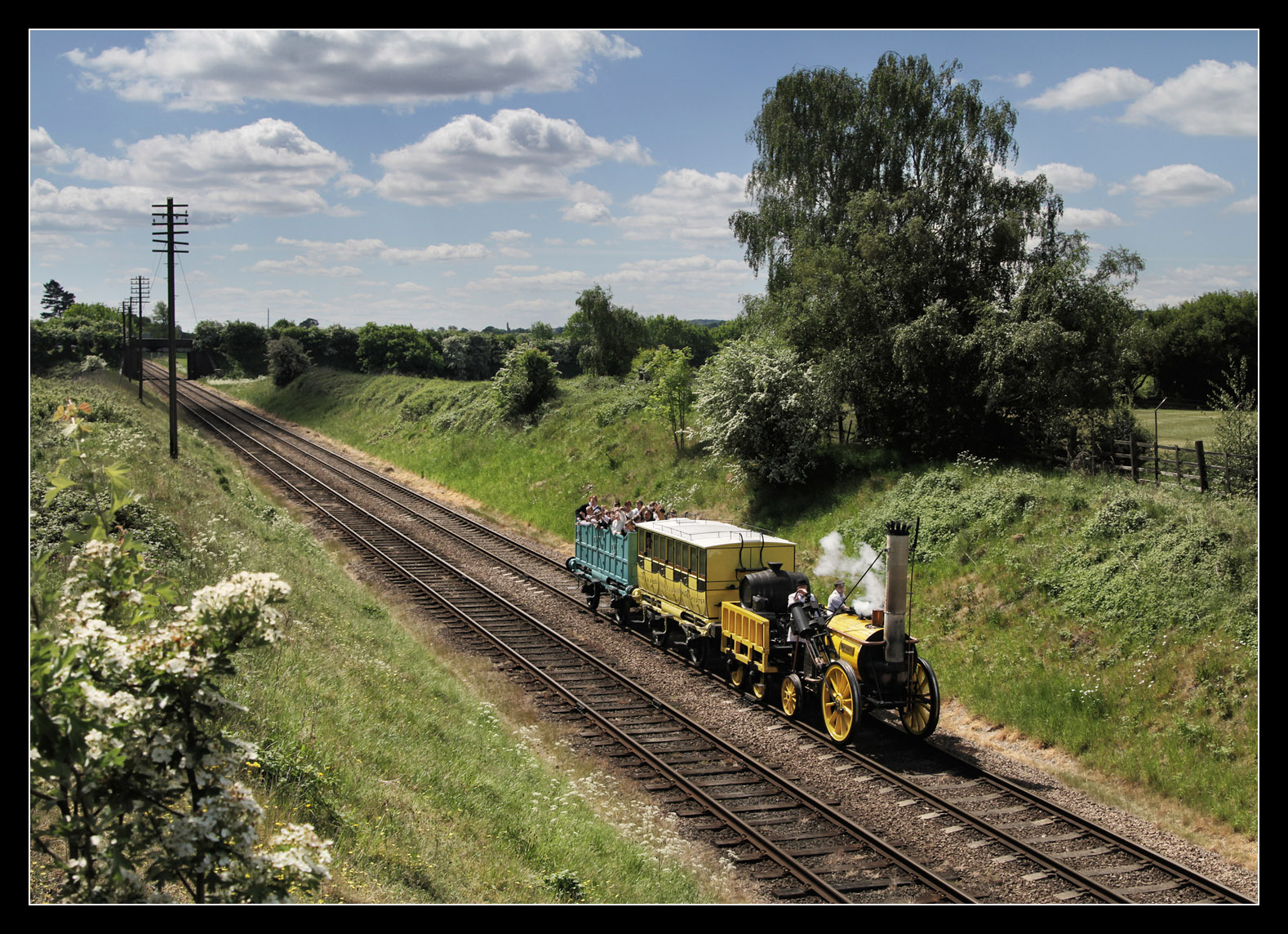 The next train to Leicester North at noon.
The older engines remained between Loughborough Central and Quorn & Woodhouse.
I hiked back to the station.
You usually don't need to hire extras in England…
The first ever locomotive class: "Planet" #9 - a 1992 replica, originally built in 1830. The ninth locomotive delivered by Stephenson to the Liverpool and Manchester Railway was the first design built in a series of ten engines, three produced by another manufacturer.
I took the train to Quorn & Woodhouse and captured the return of the class N2.
"Rocket" in front of futuristic signalling equipment - during its heyday, signals were only given by hand.
Of course, I had to enjoy the special ride. I already had done it once in the 90s in front of the York railway museum, however, not in such fitting surroundings.
"Rocketman" after arrival.
Three flags in the garden, three lions on the shirt... the football world cup in South Africa was about to start soon afterwards.
"Planet" shunting as the class N2 departed at four o'clock, then I walked to the mainline station.
East Midlands was one of the last bastions of Paxman-powered HSTs which usually sped past the narrow platforms of the university town at about 100 mph.
After changing at Sheffield and Manchester Piccadilly, I reached Arnside in a lovely evening mood.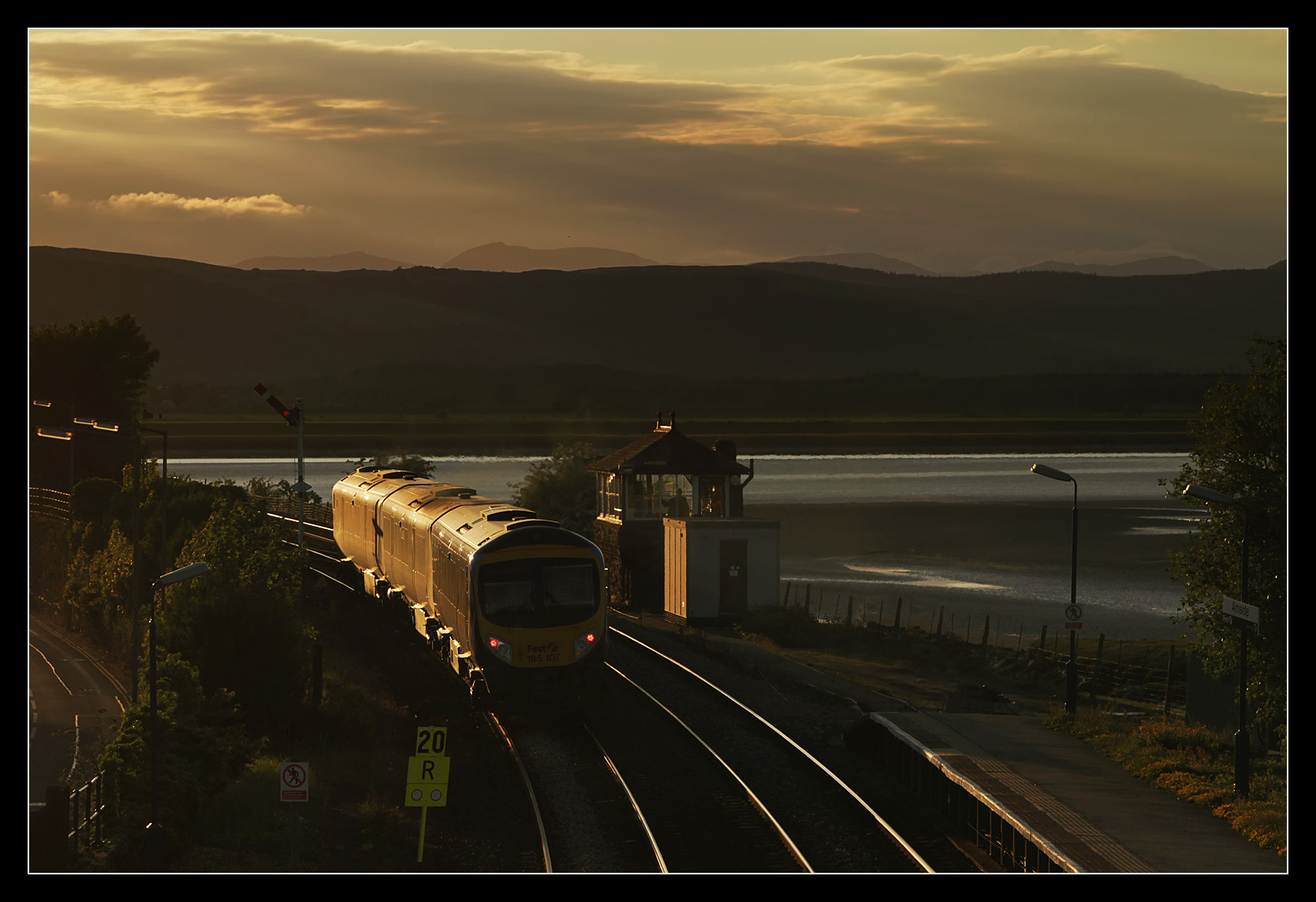 Some balloonists and me could enjoy a lovely sunset at the River Kent estuary featuring a view of the Lake District.
On the beach during low tide.
May 29 2010
I stayed overnight at Barrow-in-Furness - the peninsula coincidentally was the same where Furness Railway #20 had been in original service - and travelled up the Cumbrian Coast Line to Parton early morning.
The coast might seem romantic, however, the nearby Sellafield nuclear site is regularly served by goods trains.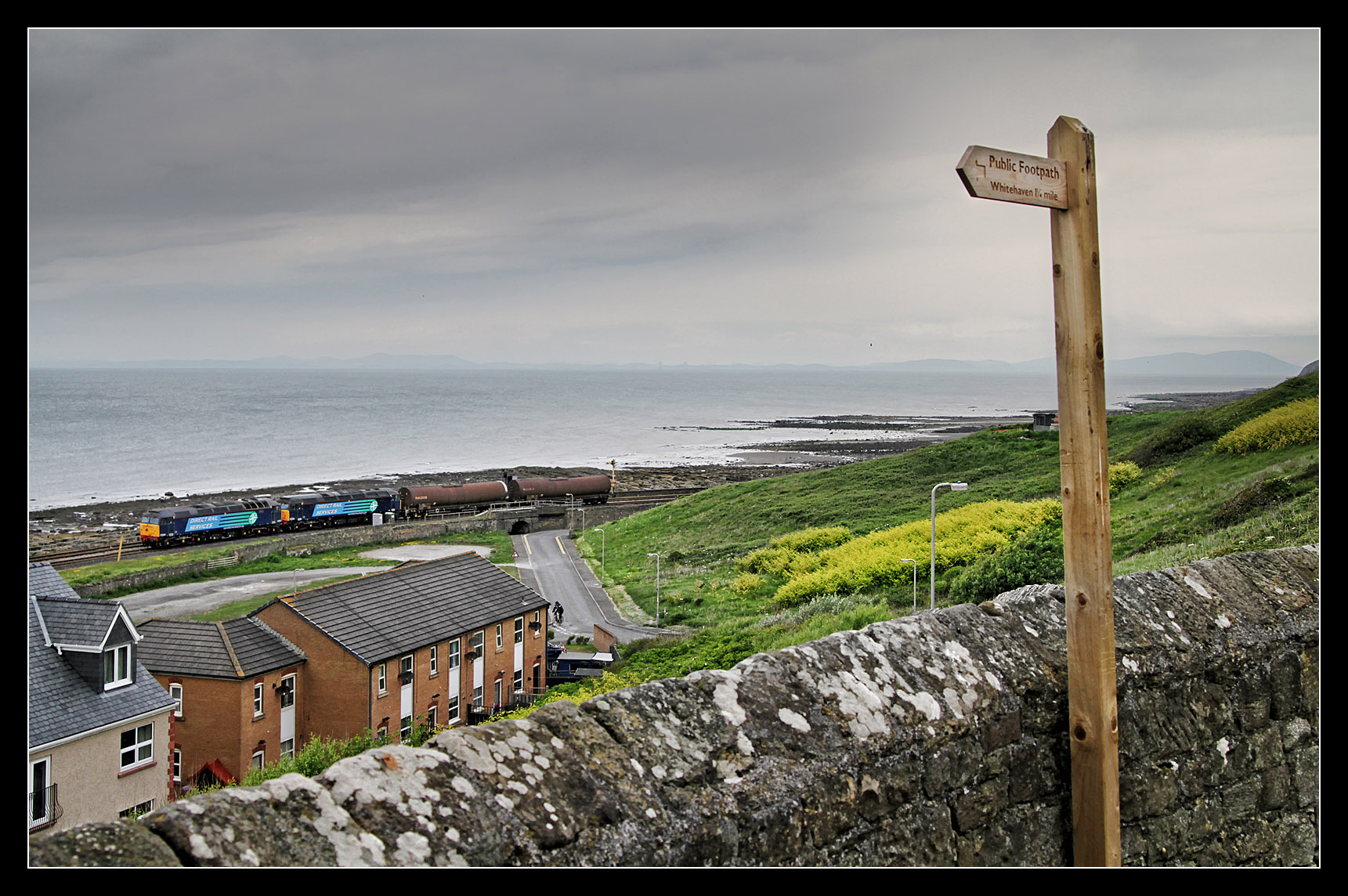 A Northern Rail class 156 as a Carlisle-bound service in front of Whitehaven harbour.
Trains slowly meandered along the coast, a virtual "sandwich" in the background.
Departing Whitehaven.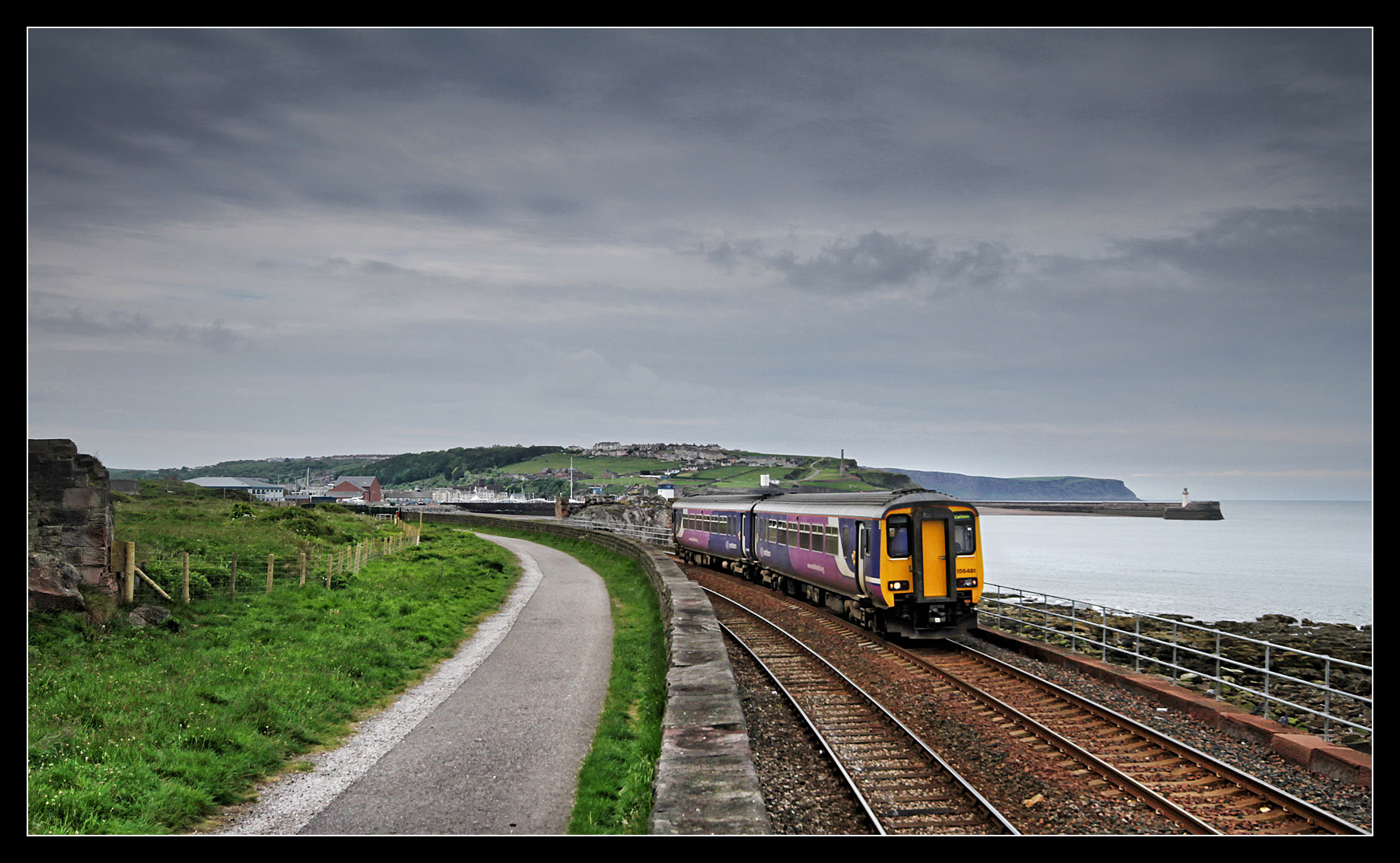 Next time, we will continue in a nostalgic way, with a lot of 8F...