Hi,
Time to start the new trip report season... Sadly, I missed my first vacation this year due to illness, however, there still is a backlog over several decades anyway.
May 13 2005
Friday morning, I took the first connection EuroCity 157 "Zagreb" from Vienna to Bruck an der Mur and on via St. Michael to Selzthal, where Schlieren coaches, class 1142 electrics and class 4030 EMUs still could be encountered.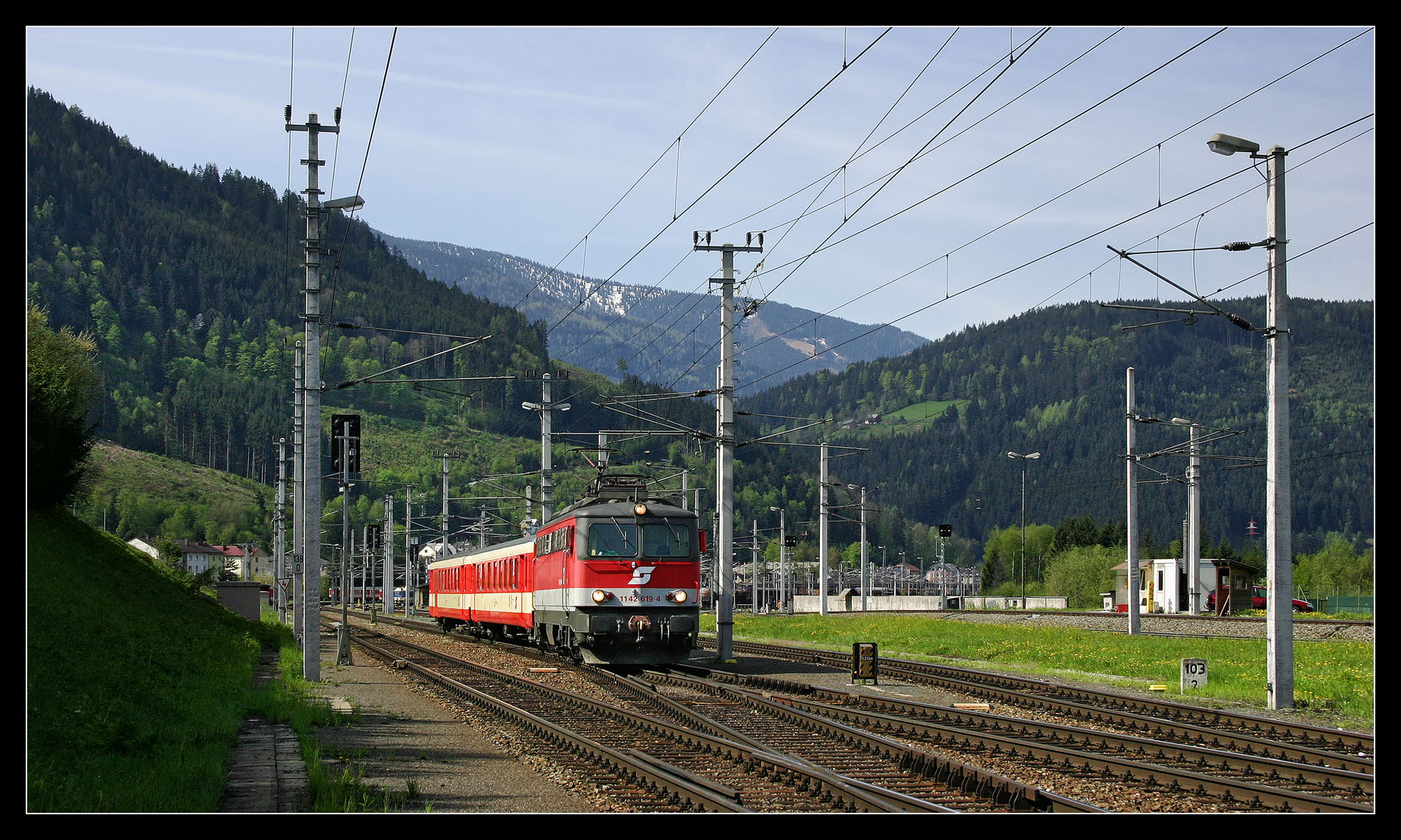 I changed position for a view into the other direction just as a "Rolling Road" approached from Gesäuse.
The local goods train followed hauled by 1245.05. That weekend the "Ennstal Classic" event took place, featuring heritage electric engines in regular service around Selzthal.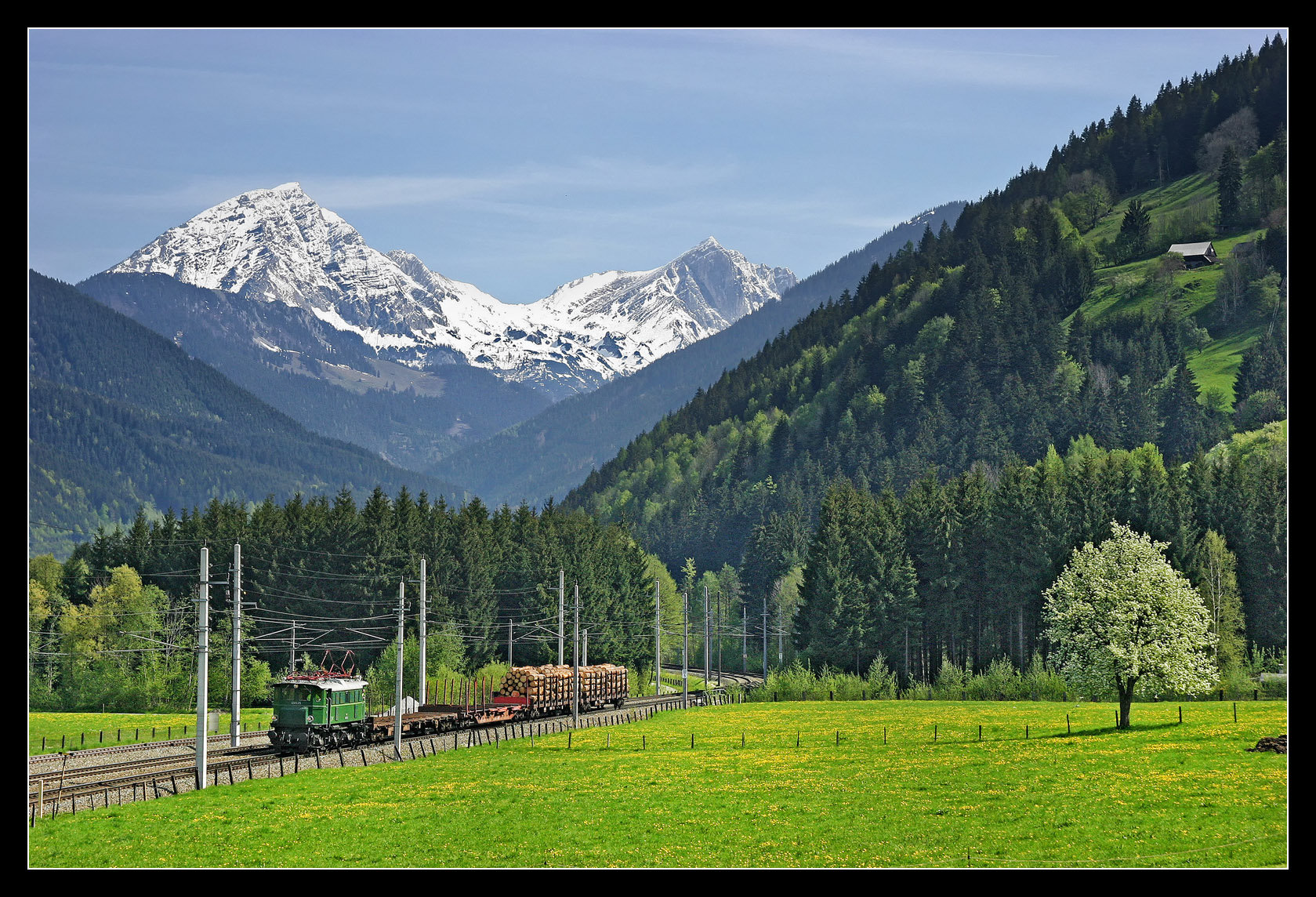 1245.05 departed on the Pyhrn Railway next, the leftmost track leads into Gesäuse. In the background a view along Enns Valley with Grimming mountain near Stainach-Irdning.
Lacking public transport connections, a friendly gentleman took me on the old Pyhrn Pass Road in a hardworking old VW bus to Spital am Pyhrn - just in time to catch the return of the train.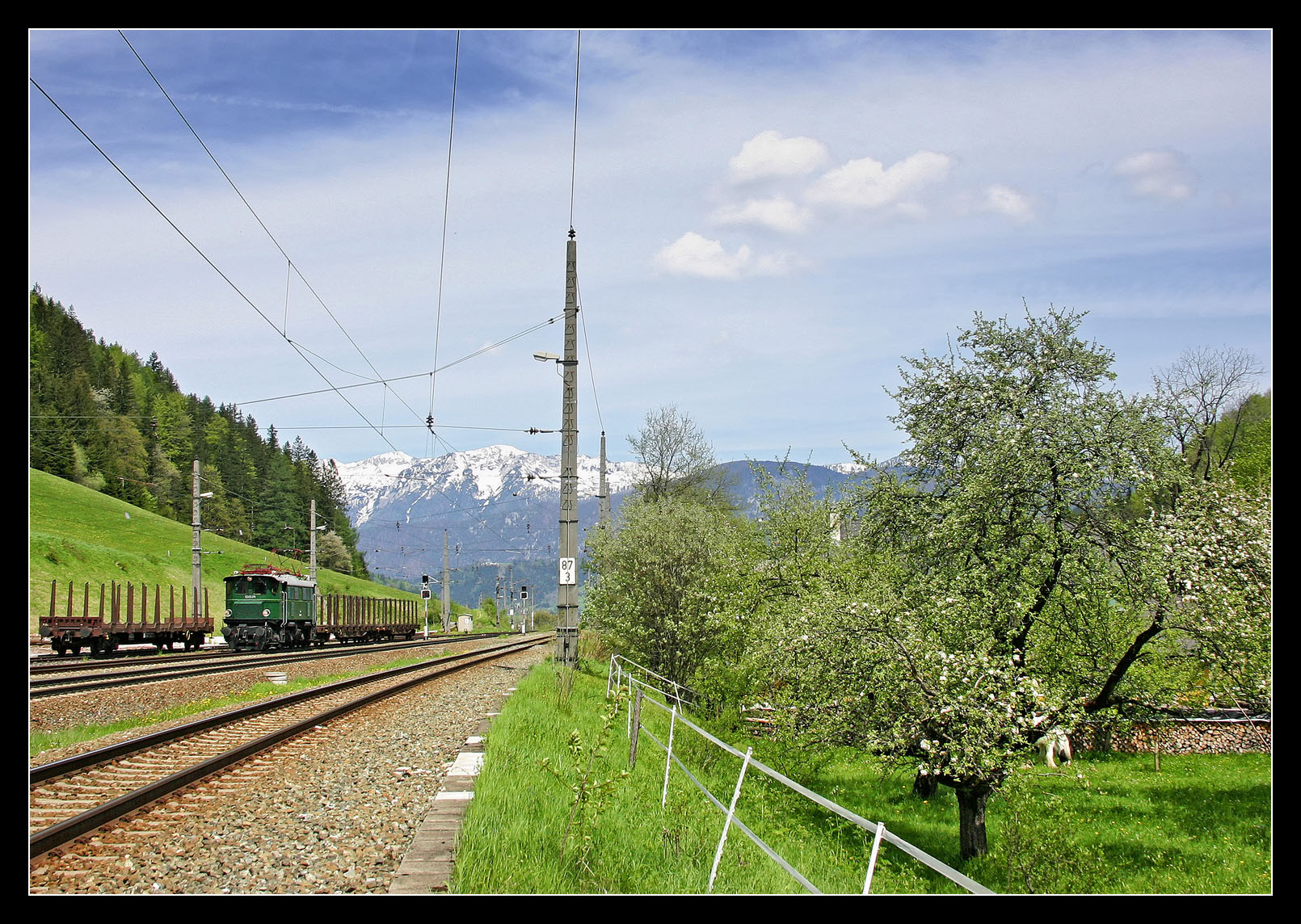 1041.202 arrived at Rottenmann, sometimes regular traffic also means no load at all. Strechau Castle in the background.
I moved to Steinach-Irdning early afternoon and hiked up the embankment of the Salzkammergut Railway. ÖBB-EC 669 Bregenz - Graz hauled by blood-orange 1044.126 passed by on the Enns Valley line below.
InterCity 518 "Karl Böhm" Graz - Salzburg at 16:26 on the Enns River bridge between Selzthal and Liezen.
1080.01 (built in 1924) arrived from Selzthal at the relatively original Liezen station for shunting duties. The platforms only would be renewed about ten years later.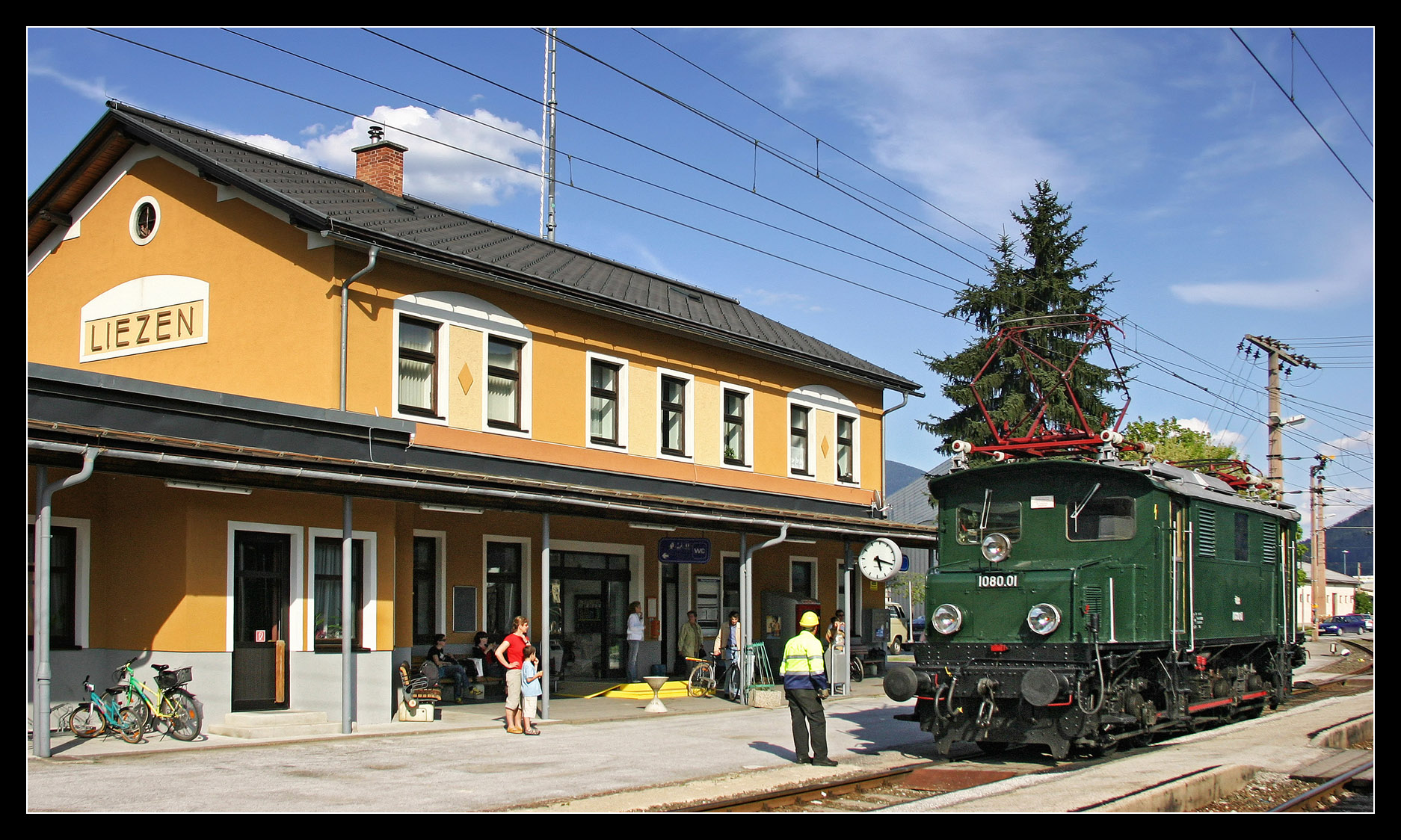 1044.126 returned with R 3556 "Fenstertraum Pfisterer" Selzthal - Bischofshofen.
1080.01 took a few waggons from Liezen to Selzthal at half past seven, Totes Gebirge mountain range in the background.
On video, one of the first scenes filmed with a tiny Canon IXUS digital: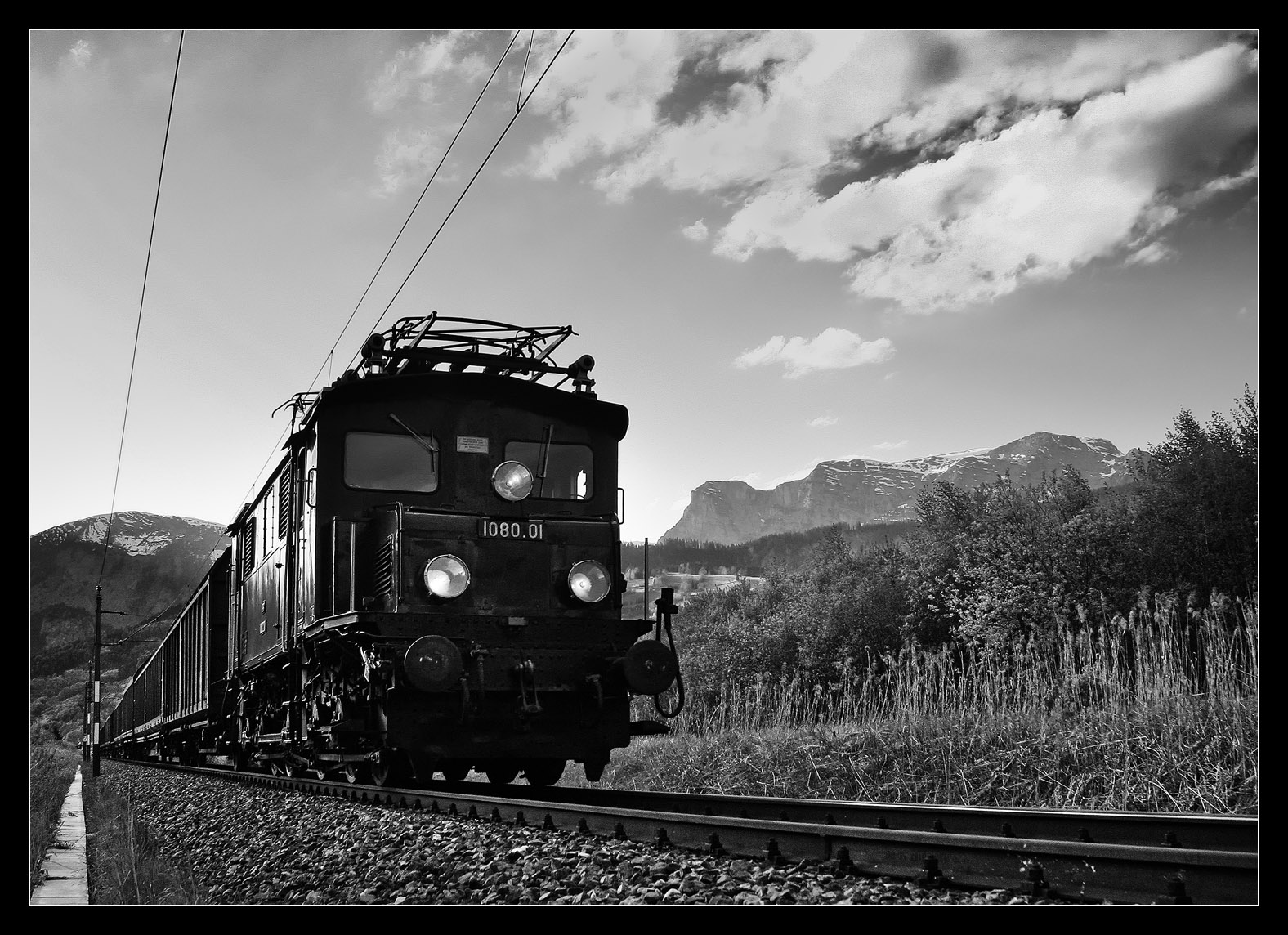 More was about to follow the next days, but things also became interesting elsewhere... so, I took IC 612 "Erzherzog Johann" to Salzburg in the evening.
May 14 2005
I travelled overnight by D 297 "Lisinski" to Ljubljana, where Miško picked me up for a whole day of chasing trains. We waited in the morning at Dornberk on the Sežana - Nova Gorica line...
33-037 (ex HDŽ 30-022, Henschel #27943 / built in 1944) appeared at 8 a.m. approaching from Sežana with a charter.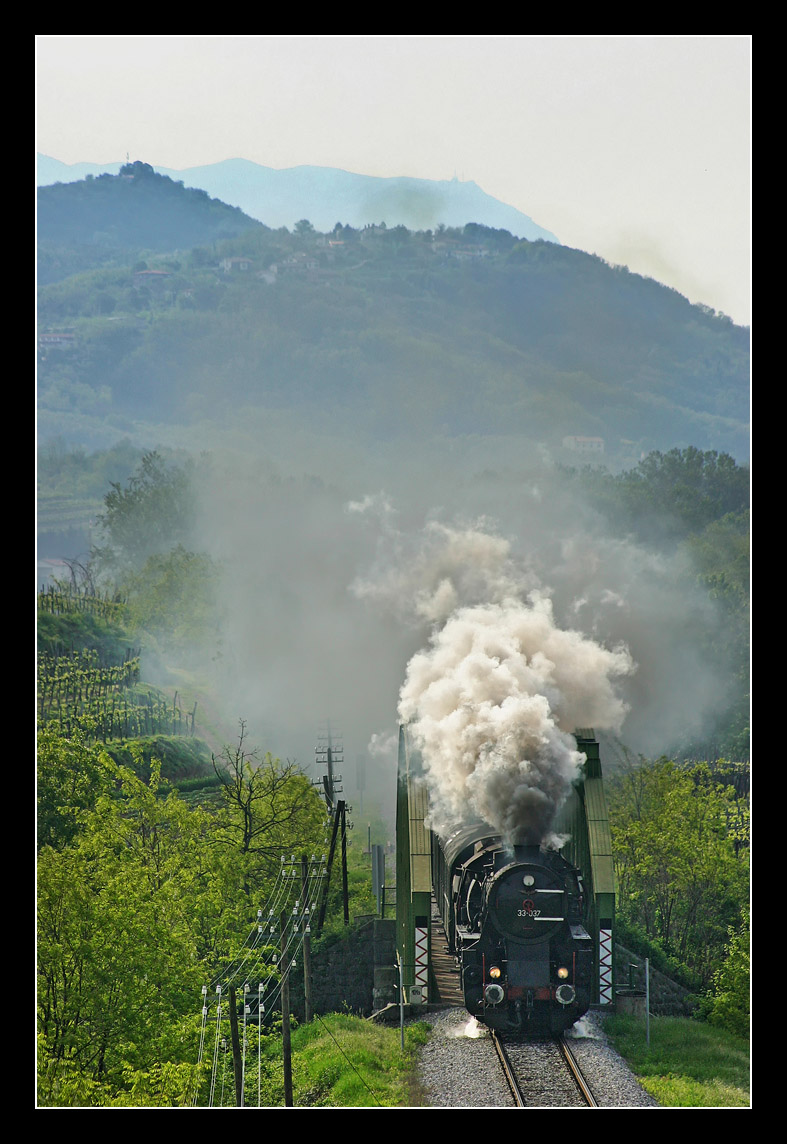 Sadly, most of the old infrastructure has long been removed since.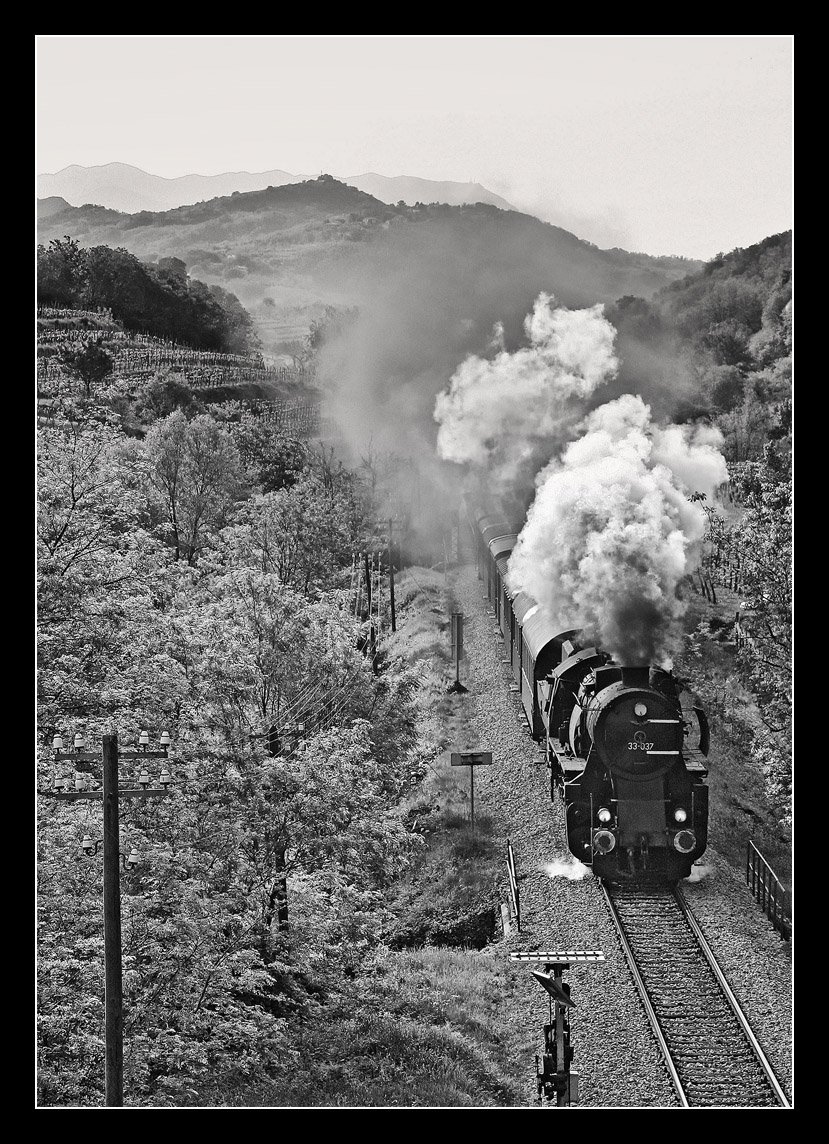 We overtook the special immediately at Prvačina, behind it the old town typical of this region with St. Andrew's church and maypole.
33-037 departing Prvačina.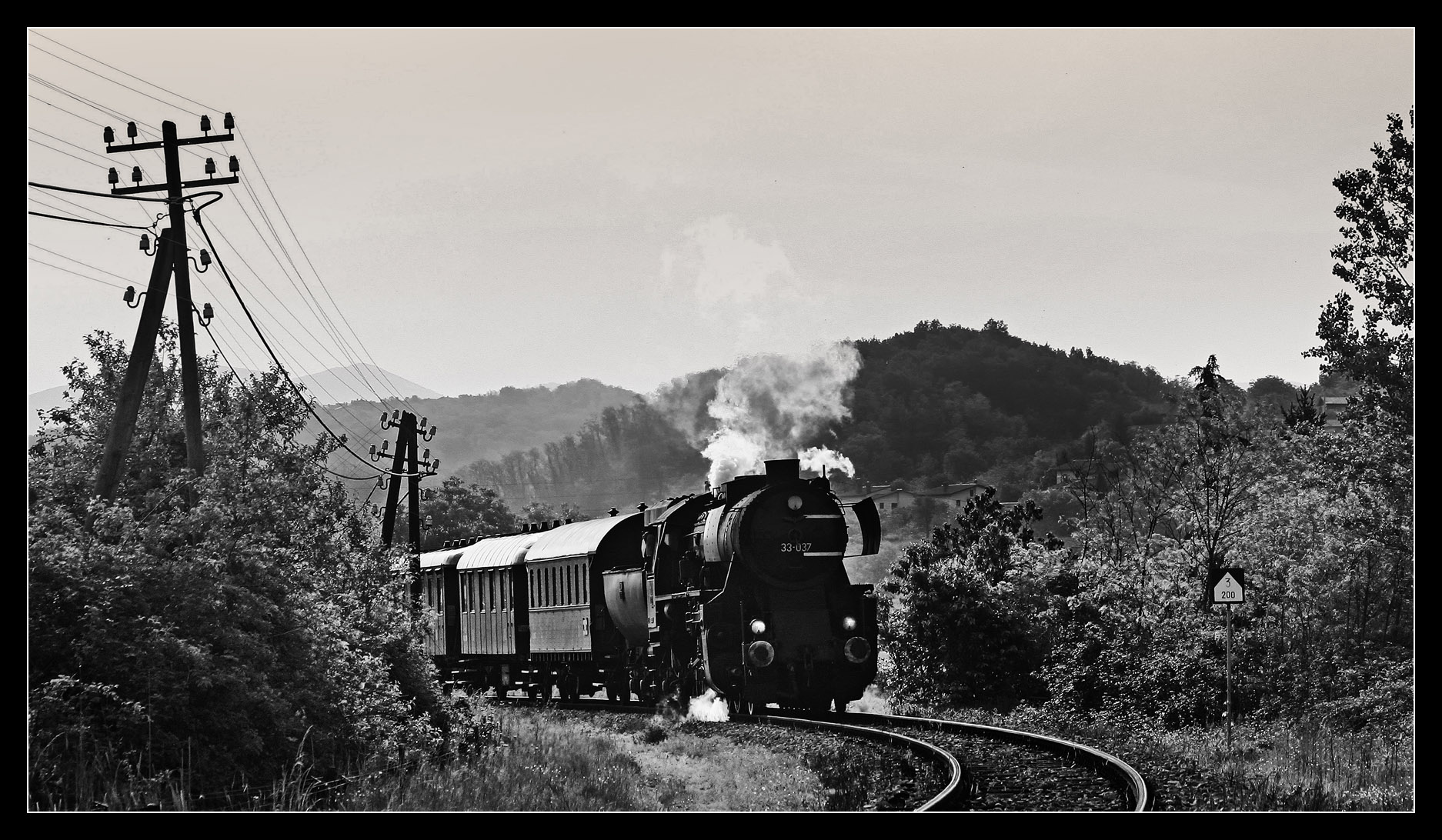 Arrival at Nova Gorica, Gorizia in Italy starts a few feet to the right.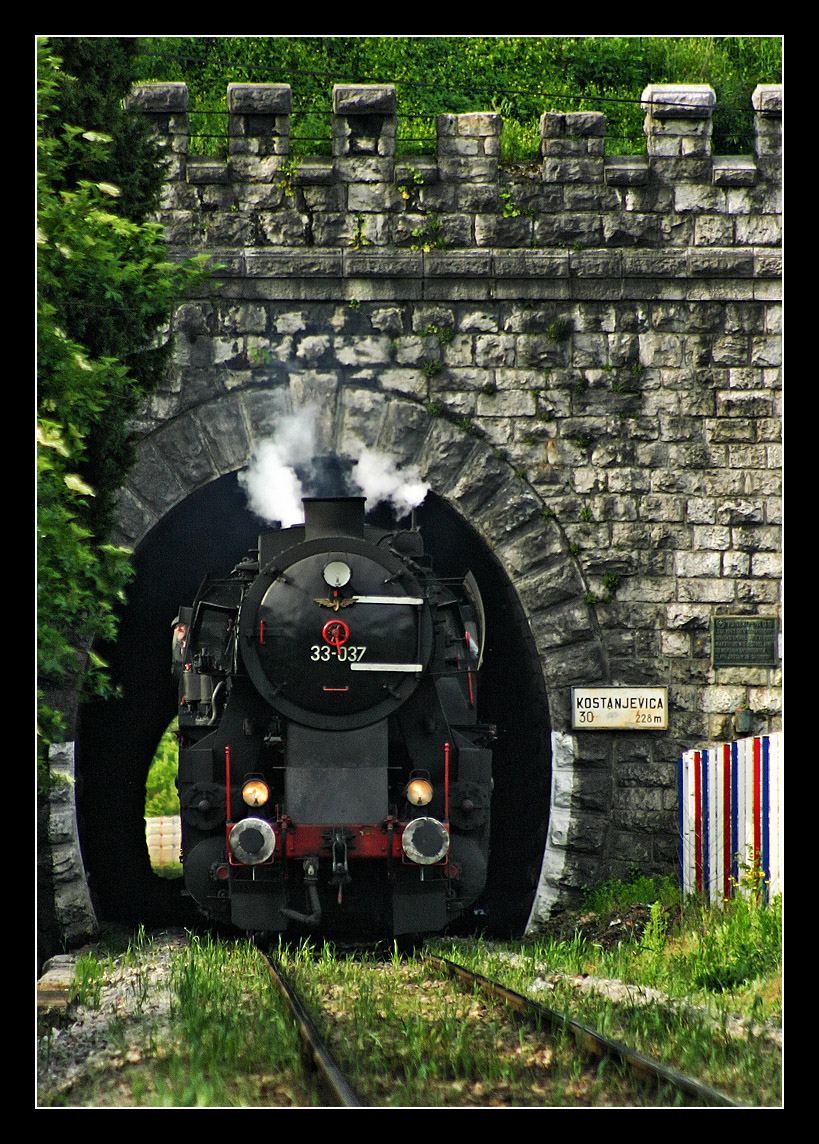 Engine maintenance at Nova Gorica.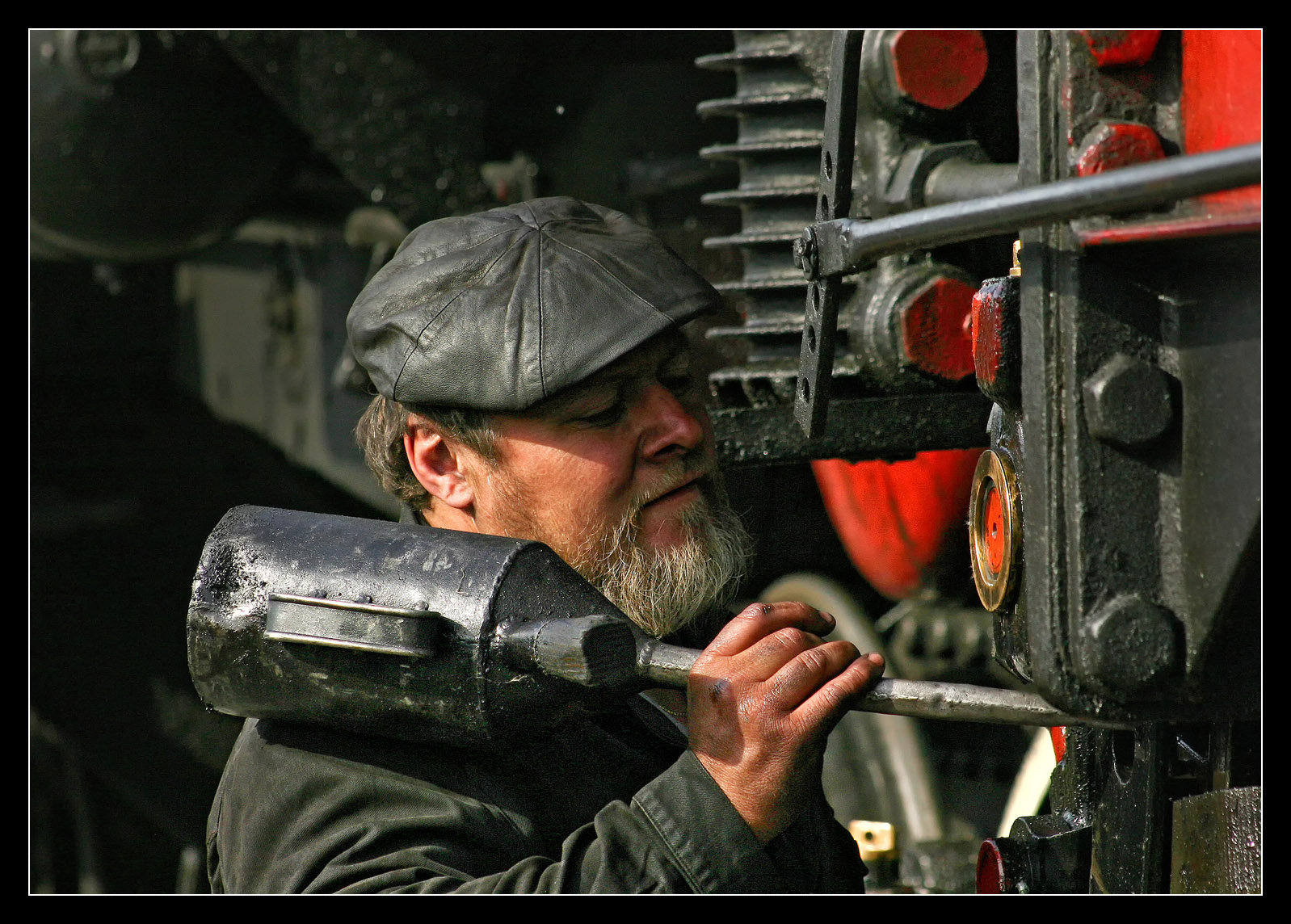 The charter on the famous 279 feet long stone arch of the Solkan Bridge.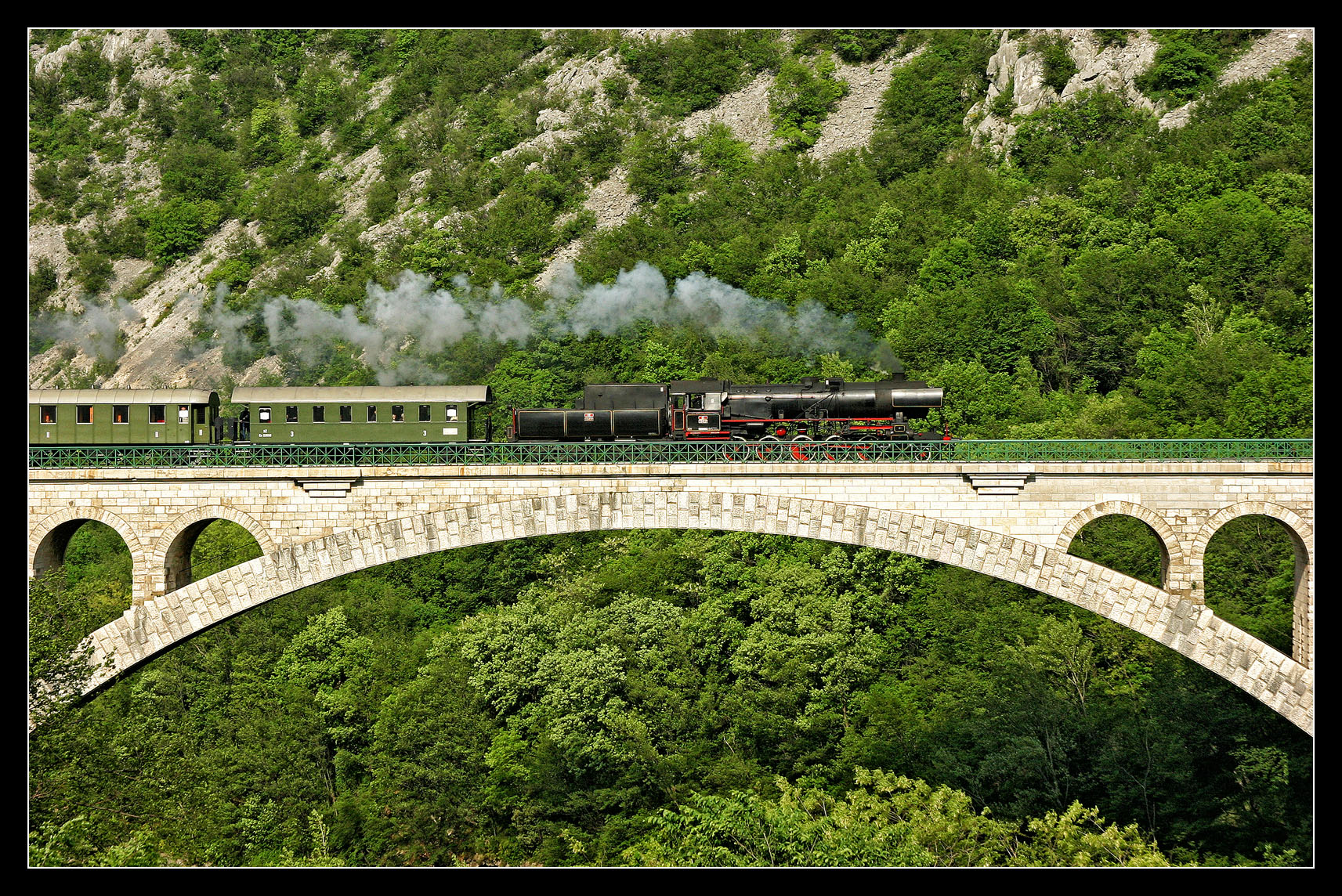 33-037 crossed the overgrown viaduct at Plave.
Along Soča/Isonzo River.
Entering Most na Soči.
"Reagan" (SŽ class 664 GM licence) of the Avtovlak meeting "Wanne" ("bathtub" due to the shape of its tender, German class 52 "Kriegslok").
The "bathtub" was filled with water.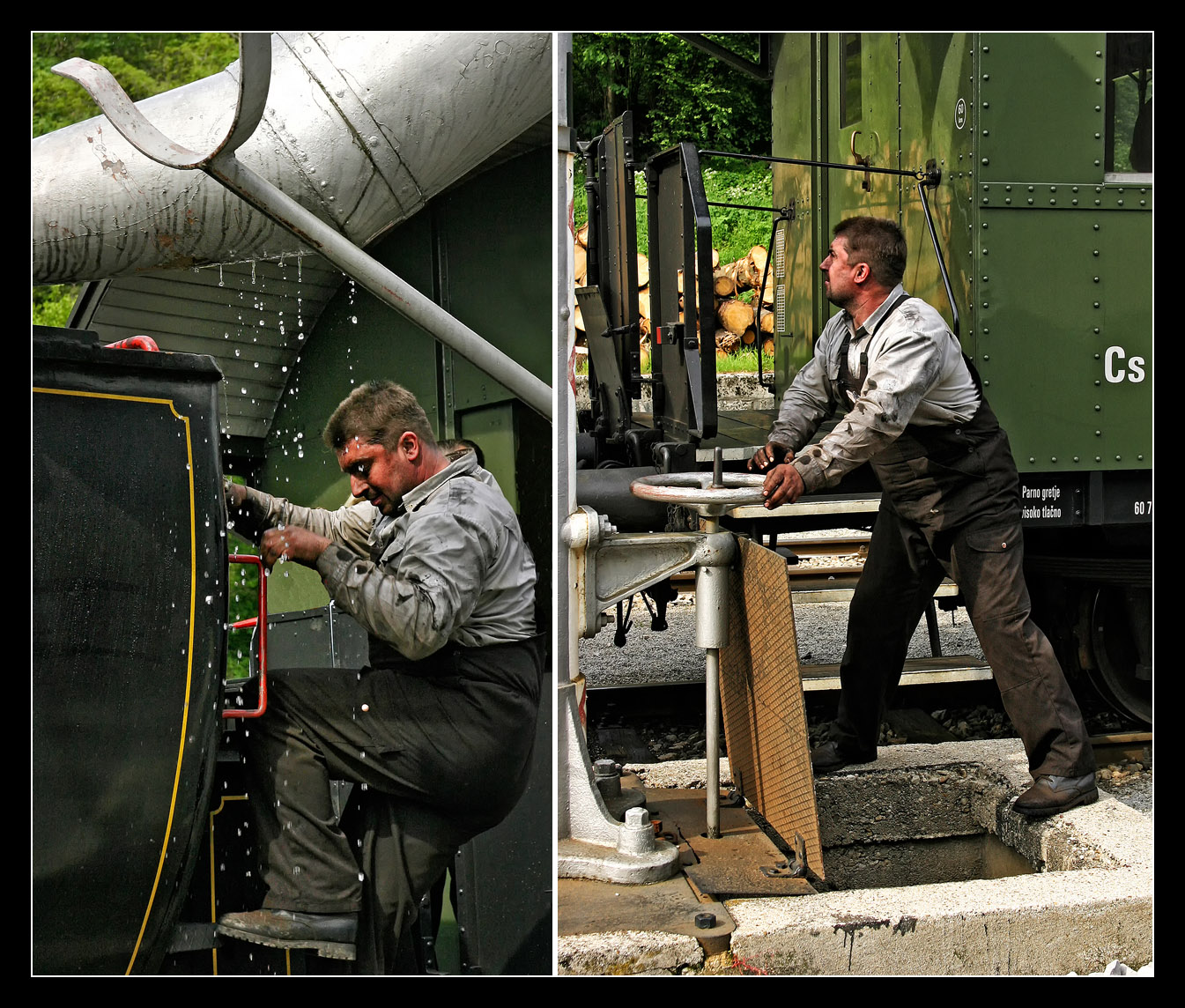 An SŽ 713/715 (MBB Donauwörth and TVT Boris Kidrič Maribor / 1983-86) DMU in original livery arrived from Jesenice.
Departing Most na Soči.
Entering the 3.9-mile-long Bohinj Tunnel. The track to the right is abandoned. Subsequently, we took the following Avtovlak from Podbrdo station.
Past typical hay racks towards taller mountains.
The southern portal of the Karawanken Tunnel poses a unique opportunity to catch 15 kV AC locomotives under classic Italian-style 3 kV DC masts.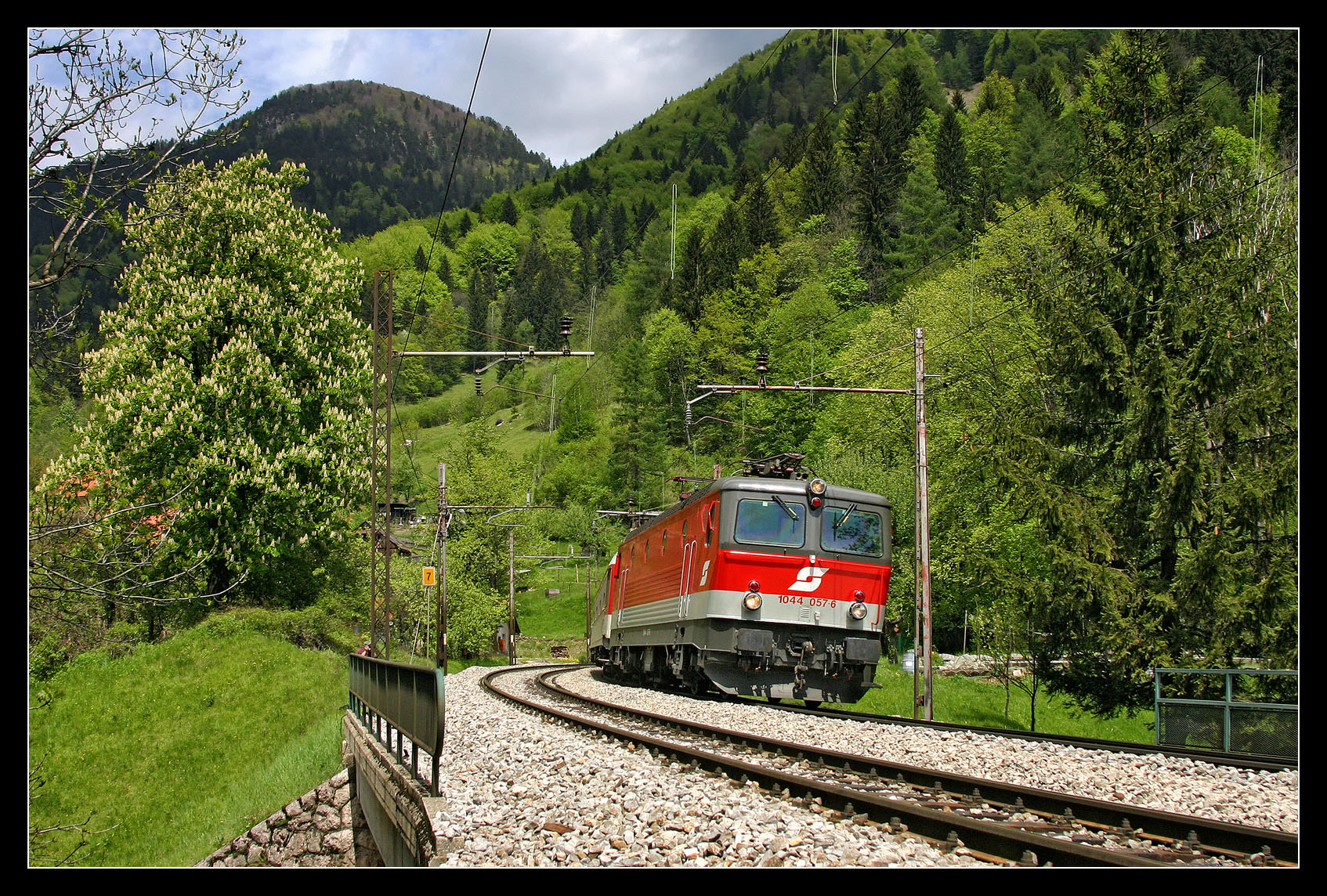 1020.42 emerged with a charter from Austria.
After arrival at Jesenice border station, ÖBB engines were pushed back into the 15 kV AC section of the yard.
1020.42 was joined by "checkerboard" 1044.92 which just had hauled IC 211 "Sava" Villach - Belgrade.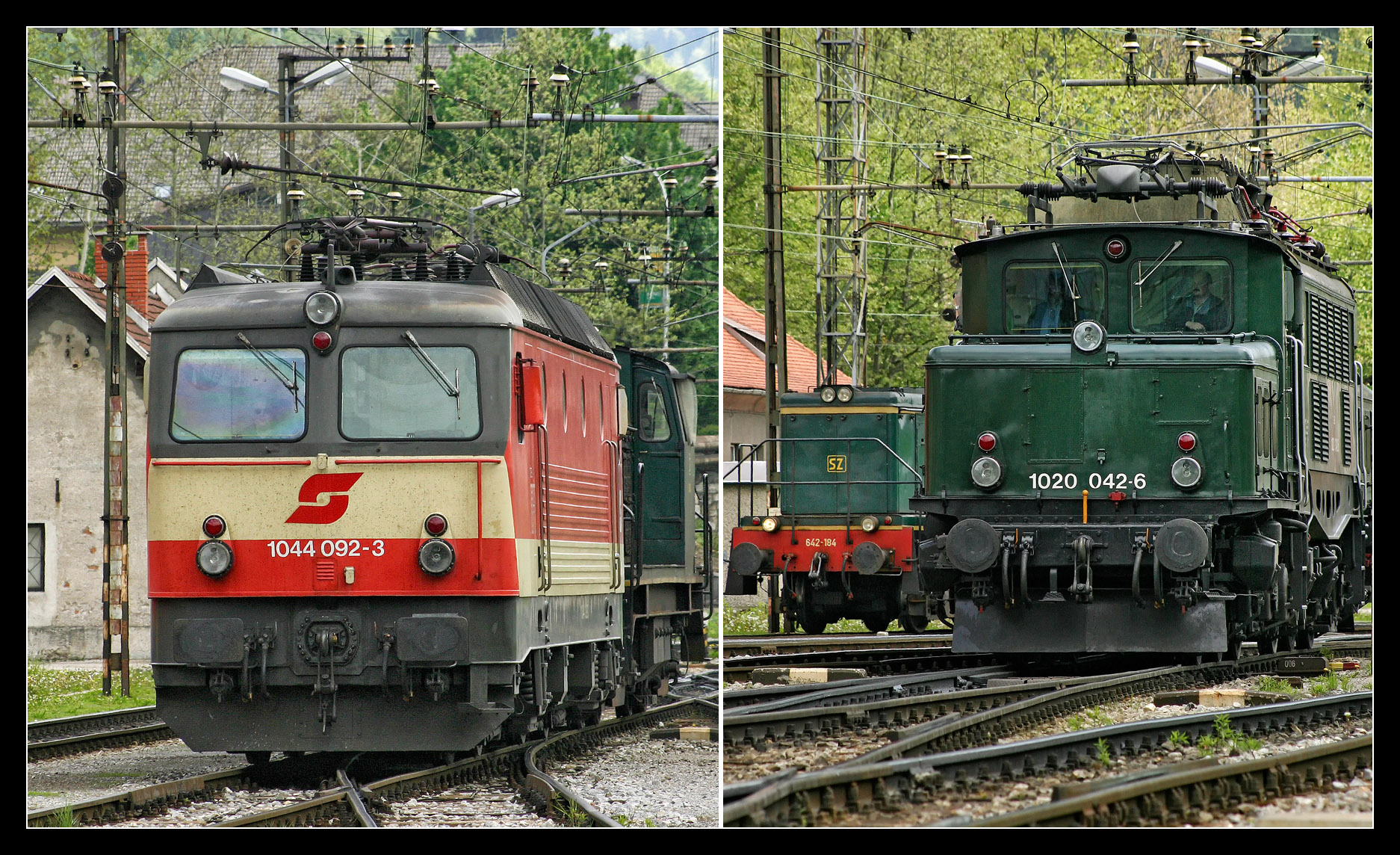 Yellow-green parade of SŽ classic locomotives. The organisers of the Austrian charter had expected the steamer on the Bohinj Railway but to their dismay only received diesel 664-118.
"Moped" 342-007 taking over IC 211 "Sava" with through-coaches Jesenice - Belgrade.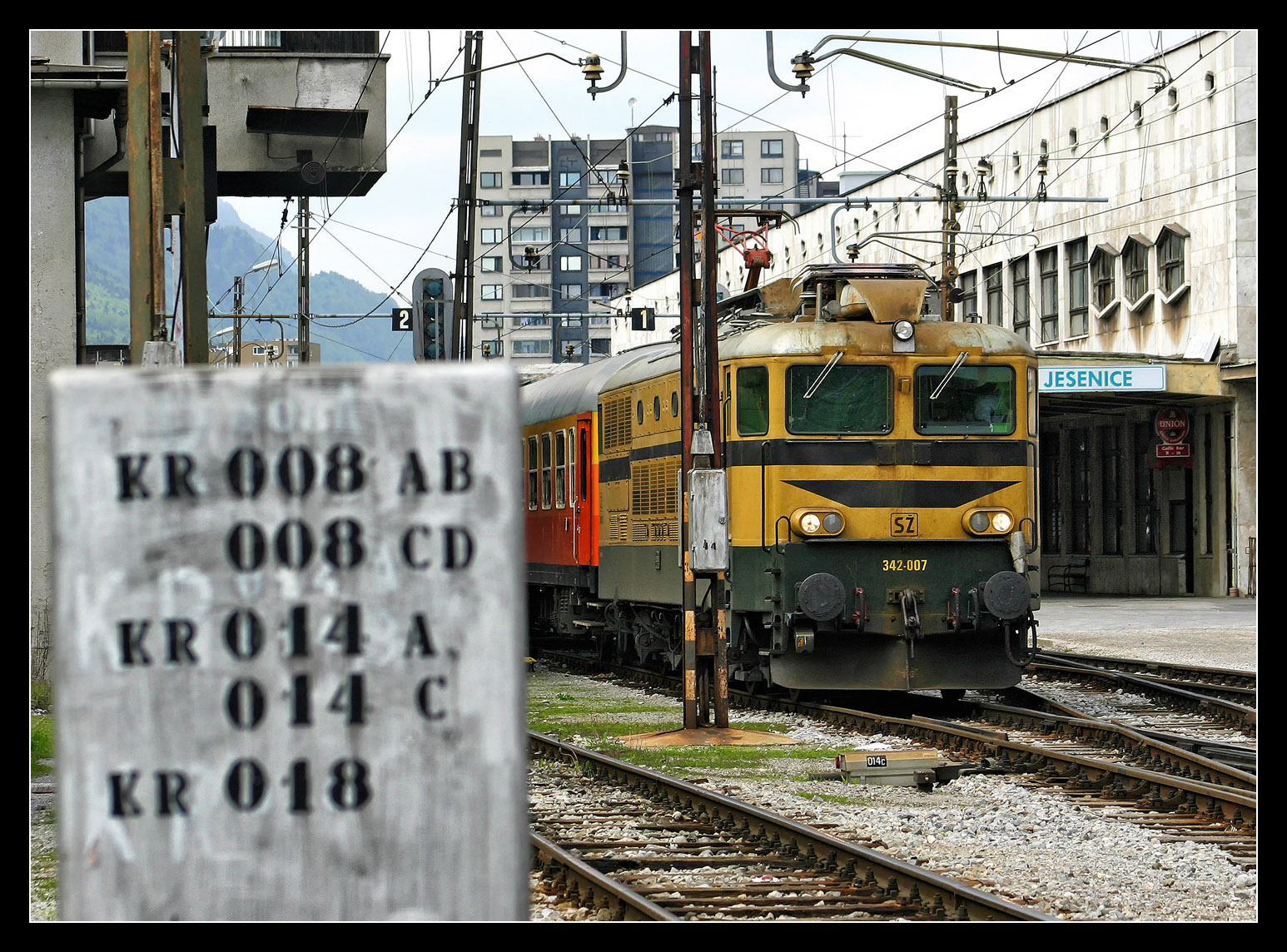 EuroCity 314 "Agram" Zagreb - Salzburg running parallel to smoking 642-184 (Đuro Đaković #723 / built in 1968). These heavy shunters originally were designed by Brissonneau et Lotz.
Jesenice still offers a wonderful roundhouse where the class 33 was being maintained. To the left a classic FAP (Fabrika Automobila Priboj, the largest lorry manufacturer in former Yugoslavia, still active in Serbia) 1314 lorry, licensed by Saurer Wien.
Railway yard in front of the loco shed.
"Time flow" with 33-037 at 3:44 p.m. across Vintgar Gorge at Blejska Dobrava between Jesenice and Bled.
The steam special waited for its passengers to board at Bled. We took the opportunity to change back to the southern end of the Bohinj Tunnel. On the way, a Gostilna provided us with the largest pork chop sandwiches I have ever seen.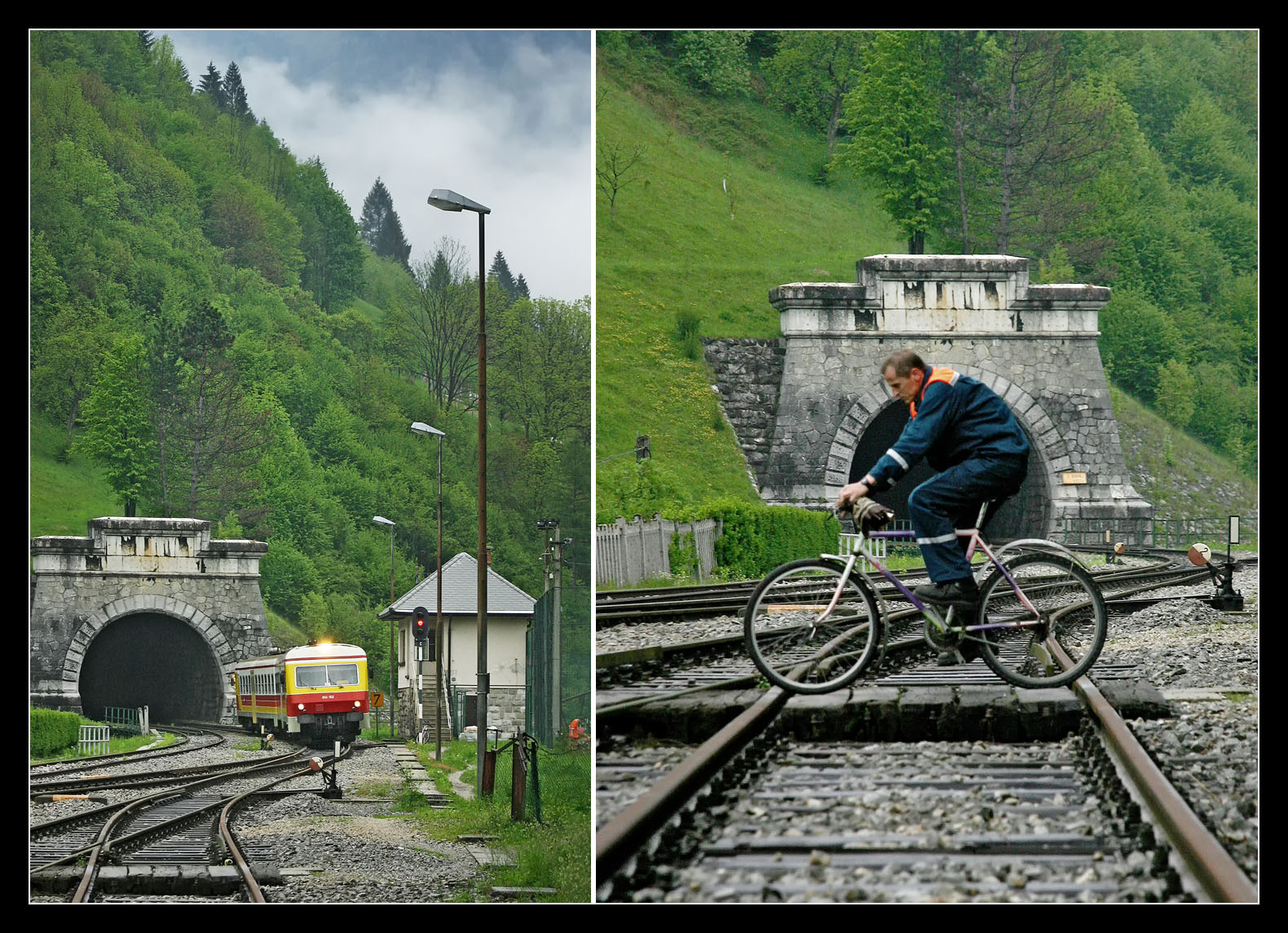 It became ever darker and rainier - nothing that would deter us... more next time and then for something completely different.