Hi all,
I've been a railfan since I can remember remembering anything. It's always been my dream to drive trains. I will be attending a 7-week long conductor training course at a college in the twin cities area later next month. The course teaches all the skills needed to be a conductor and almost guarantees a job, with a 97% placement rate.
Right now I'm in the Grand Rapids, Minnesota area. There are two BNSF subdivisions in the area. The Lakes subdivision runs from Cass Lake, Minnesota to Superior, Wisconsin, and the Casco subdivision, which is connected to the Lakes near Grand Rapids and Brookston. I work right next to the paper mill in Rapids that has a small yard that is served daily by a switching crew. They put together and set-out a consist that the Grand Rapids Turn-Around picks up every day at around 5 - 6 pm. I usually follow the turn-around as far home as I can, stopping at crossings to watch it go by.
My route to work includes going over the Casco subdivision just before it joins the Lakes in Grand Rapids, and occasionally I catch a 130 car long MGPX gondola unit train that hauls taconite, I believe. A few nights ago at 1 in the morning I sat below an overpass as one of the taconite trains was loading. The next day was a long one, to say the least.
There is nothing like having a train go by at speed. I live for moments like that.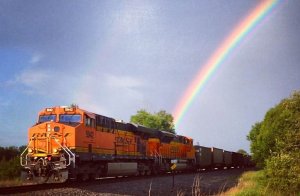 BNSF ES44AC 5942 leading a train of gold from the end of the rainbow near Deer River, Minnesota.