Hi,
To the previous part of the series:
Mountain Express - 28: Tara (50 p.)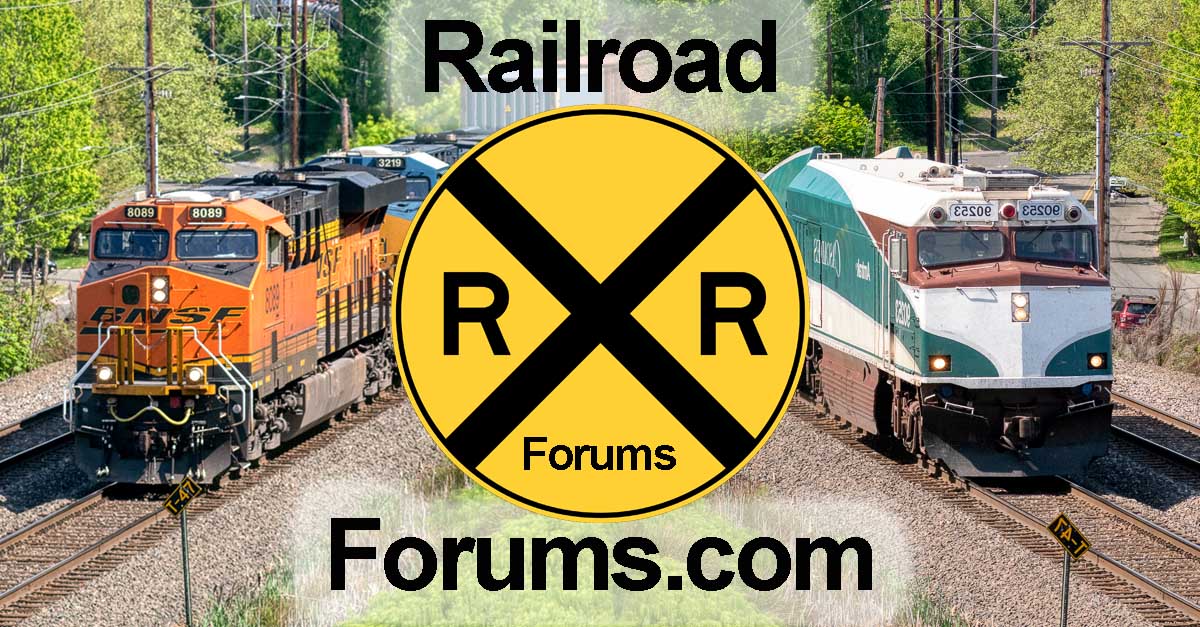 Hi, To the previous part of the series: Reg... errrrrrrm... Cornfield Express I - 27 (50 p.) https://railroadforums.com/forum/index.php?threads/reg-errrrrrrm-cornfield-express-i-27-50-p.15698 In the following reports, we will treat the railroad line Belgrade - Bar (much more detailed Wiki...

railroadforums.com
The video for this part:
Departures/arrivals Podgorica = complete timetable Montenegro 2009 season:
July 5 2009
We are in the mountains above Bioče viaduct. Putnički 6101 Bijelo Polje - Bar approached quite punctually at 9 a.m. from Bratonožići.
It had an unscheduled extended stop at Bioče as... another 461 appeared from Podgorica.
Continuing downhill with ten minutes delay.
We left the uncomfortable hill and kissed solid ground in joy upon reaching the cartway along the line and down into the valley. The viaduct offers many viewpoints, of course super wide angle is of advantage. B 437 "Panonija" Subotica - Bar showed up at 10:06 a.m. 2 1/2 hours delayed.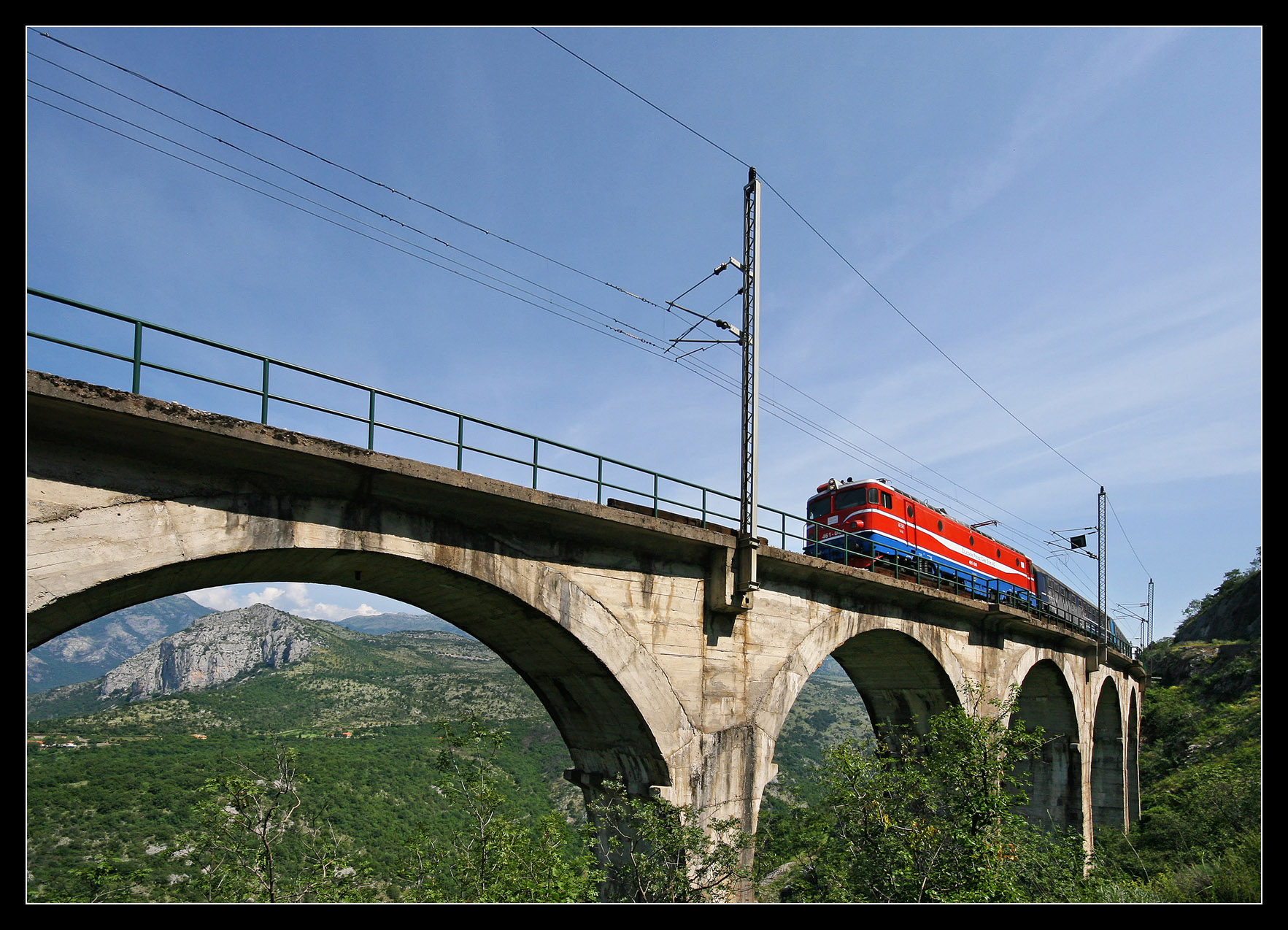 The rake conveyed formerly French SNCF cars - noted for next day.
Karst-dwelling animals.
I changed between telephoto and super wide angle lenses. B 1141 "Nišava" Niš - Bar rolled downhill on the other side of the valley, again including a North Macedonian sleeping car. At 10:45 "only" 1 1/4 hours late.
Exiting Bioče and once more in the background.
Mala Rijeka below to the right, in the background the confluence of Morača river.
A track walker continued his march through the heat... only carrying a plastic bag, without hat in this heat. Lacking shade we hid under the umbrella.
Not exactly an eventful wait - I shortly explored below the viaduct at 1 p.m., precisely when the one freight train towards Podgorica passed by.
We had waited hours for this: the first daytime express to Belgrade just came at 1:49 p.m., B 432 "Tara" from Bar had been delayed 2 1/2 hours during 1 hour of scheduled journey time.
Hauled by a double header high above Mala Rijeka!
Seven minutes later, after crossing Mala Rijeka Bridge.
August 30 2005
Let's take a closer look. On the 2005 trip we only spent one day in Montenegro, so we took a taxi in the morning to Klopot village above the bridge.
PT 6100 to Bijelo Polje - back then still an RVR-built EMU class 412 - traversed the tallest railroad bridge in Europe 650 ft above the river at seven o'clock:
An overview.
You had to accept end of August morning light on this trip, we did not manage to visit here any differently. The train cannot be fully seen on the bridge as it is protected from potentially strong katabatic Bora winds by metal sheets.
I caught a downhill freight about to reach Bioče station at 7:49 a.m. Night trains probably were heavily delayed. This had consequences later at Bar when we wanted to buy our sleeper reservation. Back then, booking records simply were carried by train from Belgrade. As it had not arrived to Bar by noon, we did not manage to buy a ticket at first. Later on it was possible without a problem.
Not a pure rail trip in 2005, so we looked around the village.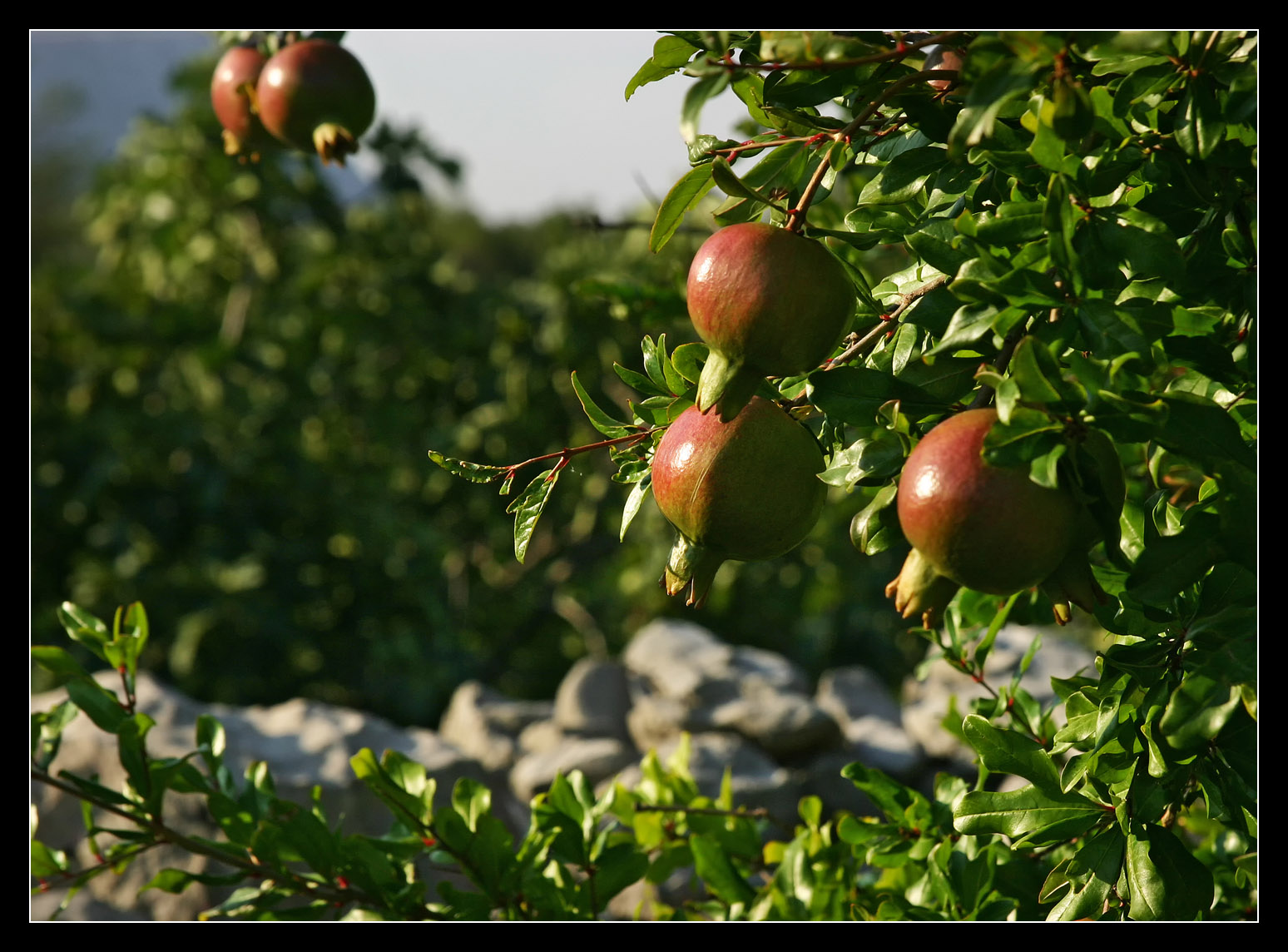 A small church with cemetery above the village.
The red star still was used even recently in Yugoslavia.
A historic grave also could be found - note the medals.
The interior of the church viewing through the iconostasis at the altar covered by donations. Montenegro introduced the Deutschmark in 1999 followed by the Euro in 2002 accordingly - together with a reputation as one of the most expensive countries in the Balkans.
On the walk down we met an elderly lady who promptly invited us into her home.
The terrace of the house - we were served rakia inside the living room. My family connections to Sarajevo were received positively. Most ordinary people you talk to don't show a nationalist attitude. You also have to consider that Sarajevo had been the largest Yugoslav city in that region, much closer than Belgrade.
After we had thanked the lady, we immediately met the next one who of course invited us as well. We received food, including some homemade cheese (nothing for me, but others liked it ;-)).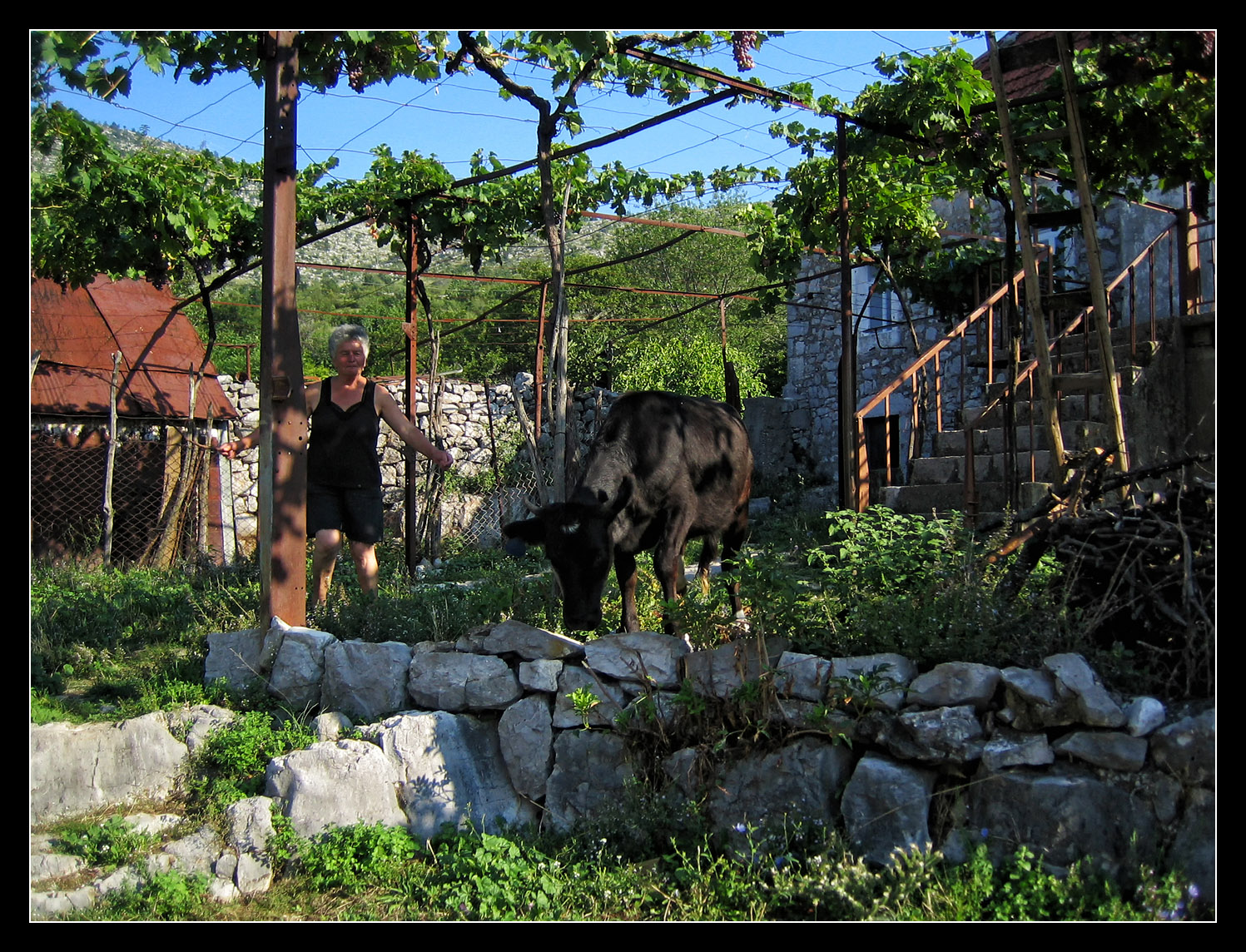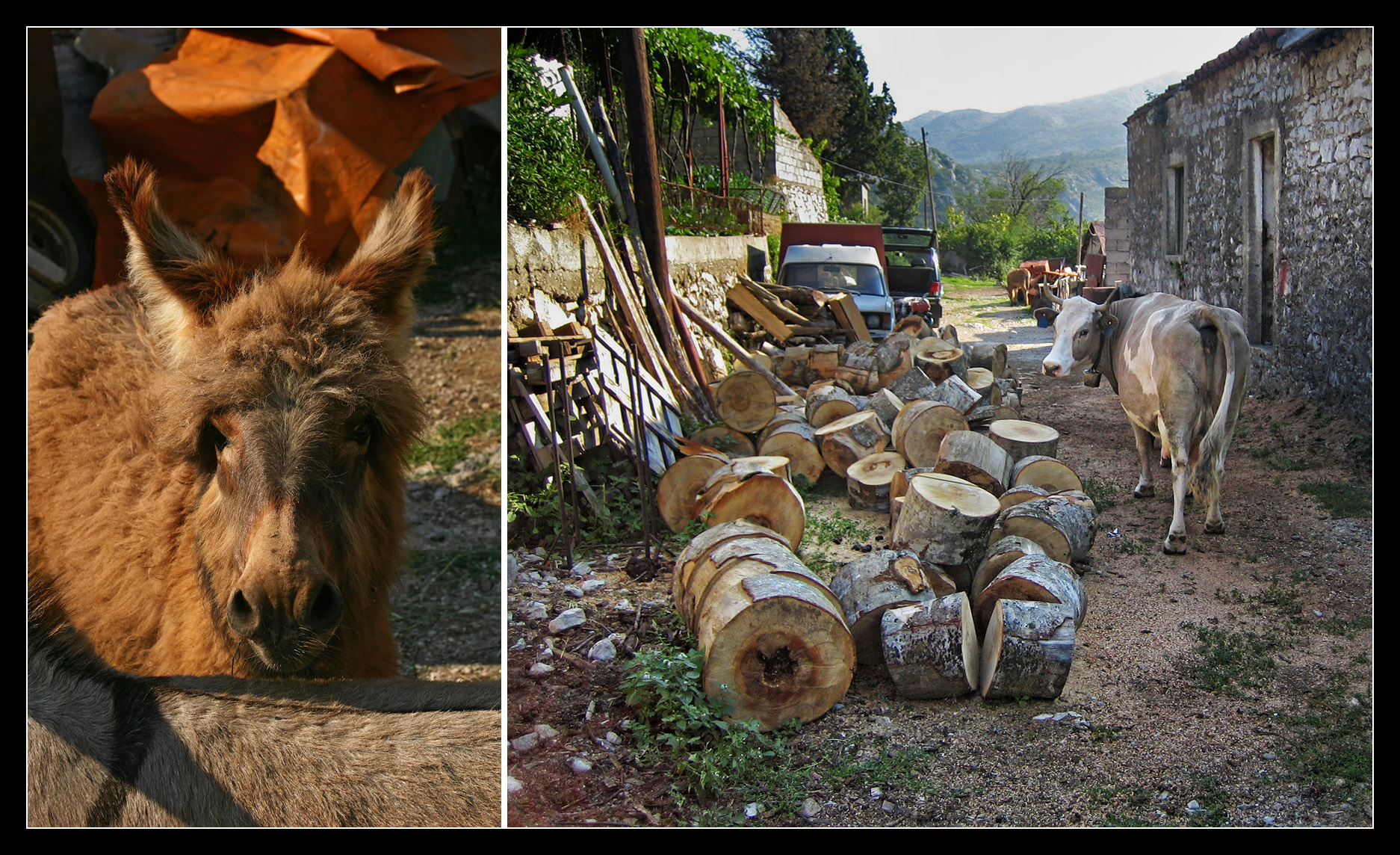 This lady was not alone but had been visited by her grandchildren from the city over the summer. As it turned out: her husband had worked on the construction of the Mala Rijeka Bridge in his youth!
The proud bridge-builder with his wife and grandkids.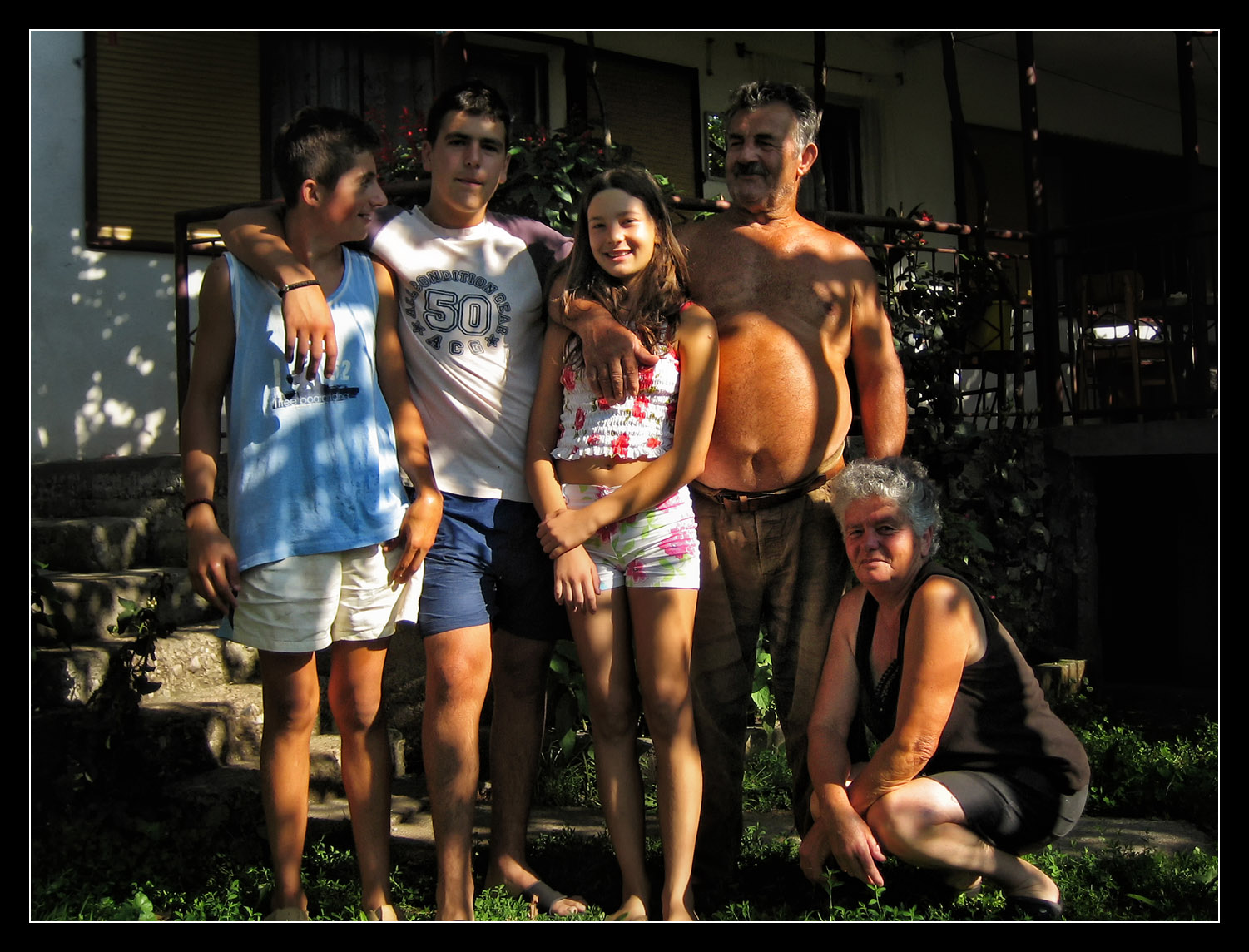 We returned to Podgorica by taxi and took a local train to Bar - more about this trip two report parts from now.
July 5 2009
We were still waiting at Bioče, one train was missing: Poslovni/"InterCity" 1130 Bar - Belgrade appeared at 2:14 p.m. 25 minutes behind "Tara", "only" one hour delayed - here in a virtual sandwich.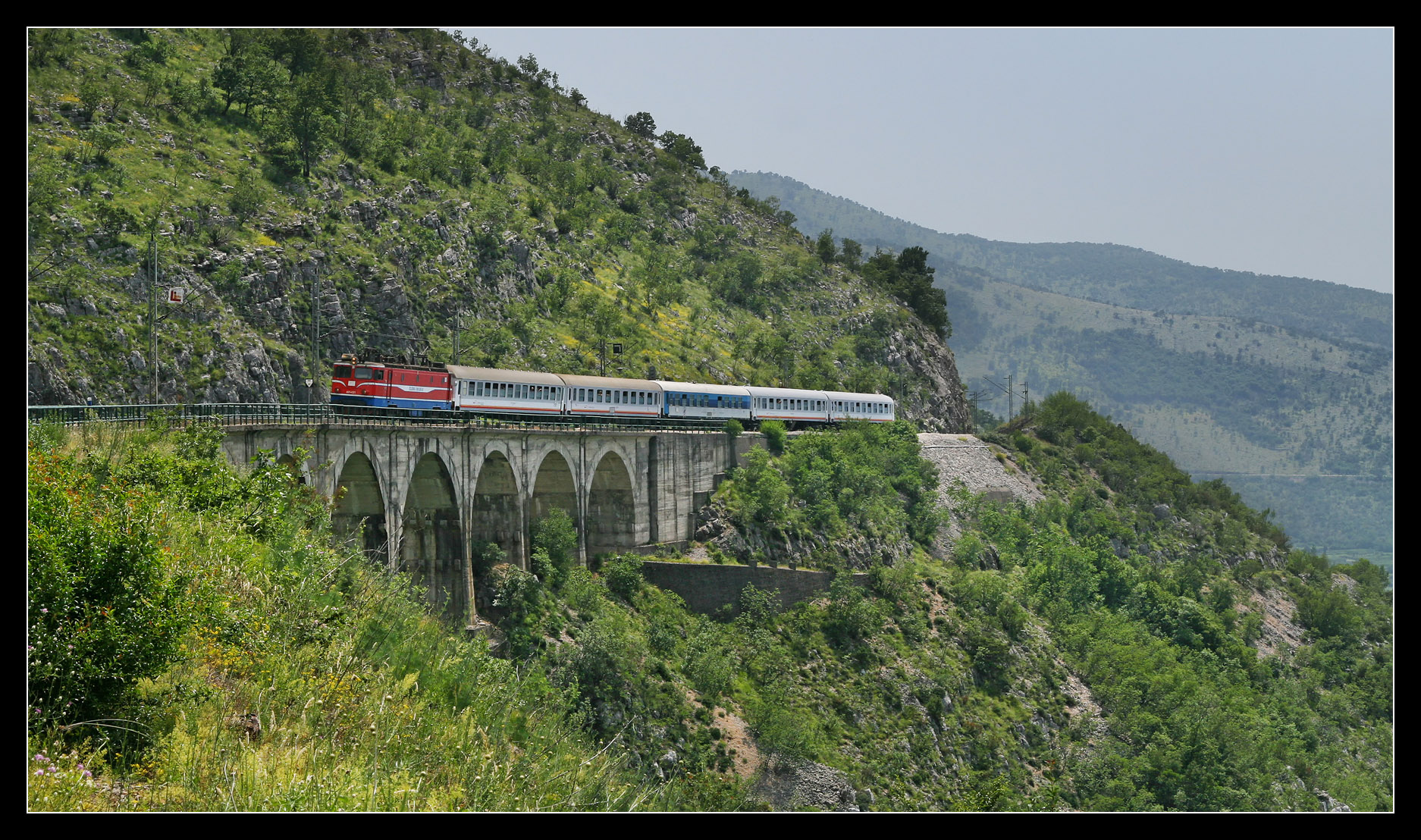 Definitely the prime ŽPCG express.
Back then one rake conveyed cars with windows to open and a Serbian dining car, the other consisted exclusively of Montenegran a/c cars. You can guess which one was more popular with travelers who wanted to enjoy the scenic line...
A last glimpse before a four-hour train gap. We returned to the station. The friendly station master was surprised as he had thought we would walk to the road and take a bus back to the city. But we had different plans... In the meantime, he invited us to watch Wimbledon with him. However, we were tired and rather took a nap outside in the shade.
Local trains operated on the mountain line every 11/13 hours. PT 6104 Bar - Bijelo Polje arrived punctually at 6:04 p.m. We had to rely on punctuality after the previous massive delays if the evening objectives were to be successful. The usual afternoon mugginess had returned.
Stop at Bratonožići.
We arrived to Lutovo at 6:35 p.m. The train was supposed to depart immediately - but waited ten minutes to continue. Yes!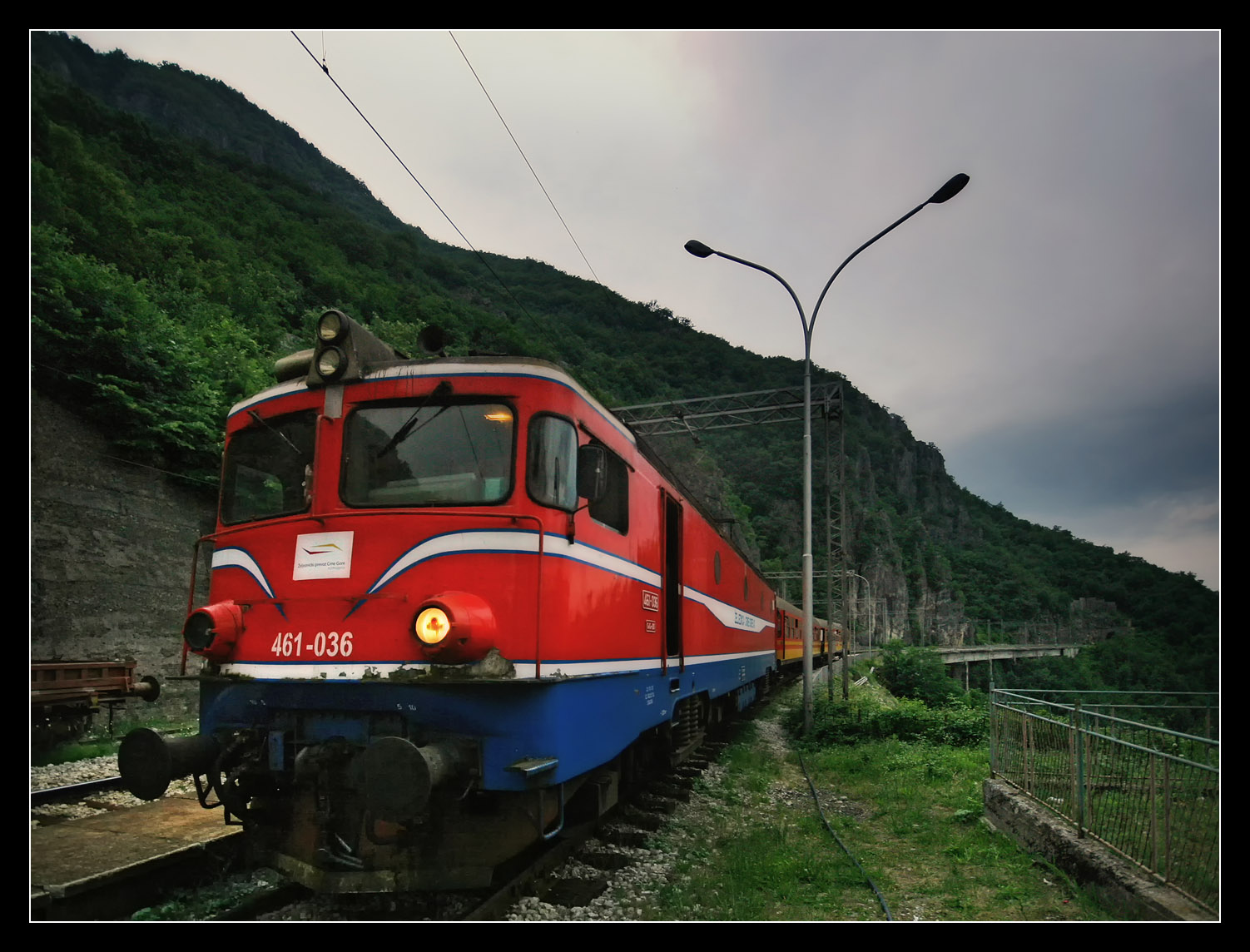 Standing on a pile of sleepers, we managed to look over the railing for half an hour late B 433 "Tara" from Belgrade.
The conductor of the local train ran to us and asked if we wanted to board. We thanked him but said we wanted to return to Podgorica. Simply great, how we were cared for.
The female station master and two Montenegran policemen watched the train leave. We later chatted with the two of them, they led typically Balkan philosophical conversations like who was the best medieval Serbian king...
The engine from this morning arrived punctually at 7:45 p.m. with a crowded train. The "spot" in the logo of infrastructure company ŽICG is showing the geographical outline of the country, by the way.
It started to rain a bit at Bratonožići. We stopped for a while, until 8:35 p.m.
Our local waited for a night train meeting. Then we returned to Hotel "Evropa" - early next morning in nice weather we will go fishing (trains, of course)! :0)