Momence, Illinois is a nice town where two sets of tracks, but three railroads meet.
Railroads Present Here

Union Pacific
CSX
Norfolk Southern
Trains Per Day
Approximately 45 - 60 Trains Per Day

UP/CSX: 40 - 50
NS Kankakee Line: 8 - 10
Good Viewing Spots

On an island in the middle of the Kankakee River, there is a park giving a great view of the bridges of the UP/CSX tracks over the river.

There are all sorts of railroad crossings around for those who like filming at railroad crossings, like myself.
Map of the Area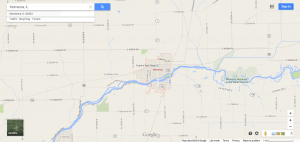 Area Safety
Overall, Momence is a nice town with little danger. The northwest portion of the junction is a nice, wide-open area to get some photos, but it is railroad property. Every now and then, the joint line seems to be a "feast or famine affair", having busy and quiet periods.