I had a couple of days in west central Kansas, visiting relatives. I decided to walk and drive 10 miles of the ex-Missouri Pacific, Kansas Division. The Hoisington Subdivision extends from Hoisington to Horace, KS. about 172 miles. From what I can find Hoisington, the division point, had a back shop, roundhouse and turntable. There are some buildings still standing. My sister-in-law lives in a small town called Olmitz. It is at MP 568. It used to have a passing track but still has a siding. Olmitz is on top of the hill so it must have been something to see a couple of 2-8-0's or even a 4-8-4 to pull out of that siding. The line is a roller coaster ride of curves and hills. Kansas isn't flat in this area. 6 miles to the south the ex-ATSF runs relatively flat following the Walnut Creek. Santa Fe must have got there first. You can see why UP gave it up. The K&O runs a train once a week or so. I saw a train on the ex-Santa Fe but not on the MOP line. Here are some pictures starting at Olmitz working my way back towards Hoisington.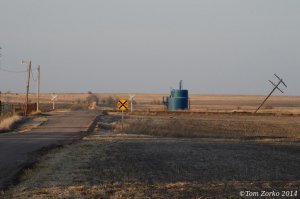 First Crossing East of Olmitz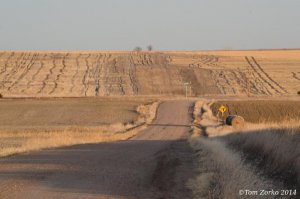 Down into a valley along the hill
View attachment 128204
After going up it comes down and up towards MP565.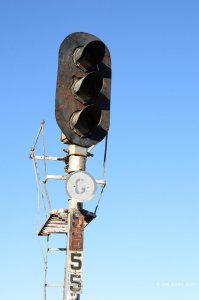 The signals are almost at the top on a curve. Anybody know what the "G" means?
Last edited by a moderator: