Hi,
To the previous part of the series:
Holiday in Bulgaria 2015 - 25: An Evening in Sofia (50 p.)
http://www.railroadforums.com/forum...-Bulgaria-2015-25-An-Evening-in-Sofia-(50-p-)
To the video:
https://youtu.be/4dl-qDnduFM
August 11 2015
We were on a #%bu$!-ride from Sofia to Nis ("Nish") already past the Serbian border town Dimitrovgrad.
At the semaphore signal of Belo Polje we finally caught up with an international freight train.
Behind the town we had reached the engine - if you did not think a panorama out of the moving bus would be possible - it is possible everywhere! :0)

Vlaska Planina mountain as backdrop.
The train was hauled by renewed ZS 661-119 (GM-EMD G16 # 26246 / built 1960) with low hood.
At Pirot we met it again at a level crossing.
Nisava Valley was dominated by many construction sites for the new motorway, partly one lane was already in use like here at Stanicenje.
Soon afterwards we met something looking like a shunting move...
... but actually turning out to be PT 5903 Nis - Dimitrovgrad consisting of a Czech-built class 621 (actual) shunter and a single passenger coach!
Bela Palanka was bypassed on the old road.
One positive thing about the busride: for once I could see spectacular Nisava Gorge from the road side. And one positive thing about the motorway: it will not lead through the gorge and relieve it of the huge volume of transit traffic between Central Europe and Turkey.
We arrived at Nis bus station next to the fortifications and market.
We climbed to the upper floor of an older building to reach our ArtLoft hotel, which also can be heartily recommended.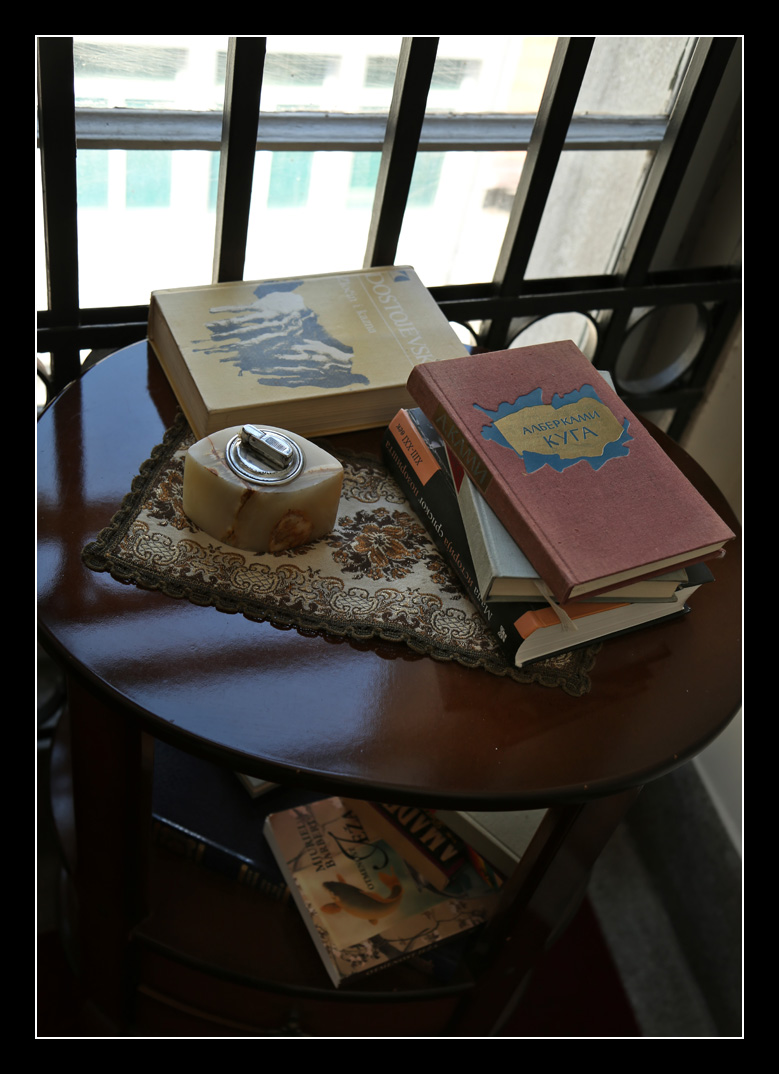 Then the city tour started in ever greater heat of more than 35 degrees C.
Nis main station - quite oversized for today's rail traffic in Serbia.
I was lucky to catch 661-232 (GM 31836 / 1966) with a track maintenance train.
A monument of 61-002 (Henschel (Kassel) 19489 / 1922) next to platform 1.
At the junction of the diesel line to Dimitrovgrad I came across this line of scrap steamers: JZ 17-035 (MAVAG (Budapest) 4434 / 1917), 20-100 (Henschel 19093 / 1922) and 01-035 (BMAG - Schwartzkopff (Berlin) 7955 / 1922).
By the way, I encountered a class 01 under steam once: 01-088 (Maschinenbau-Gesellschaft Karlsruhe 2250 / 1922) on
September 1 2005
ready to depart with Tito's Blue Train from Pozega.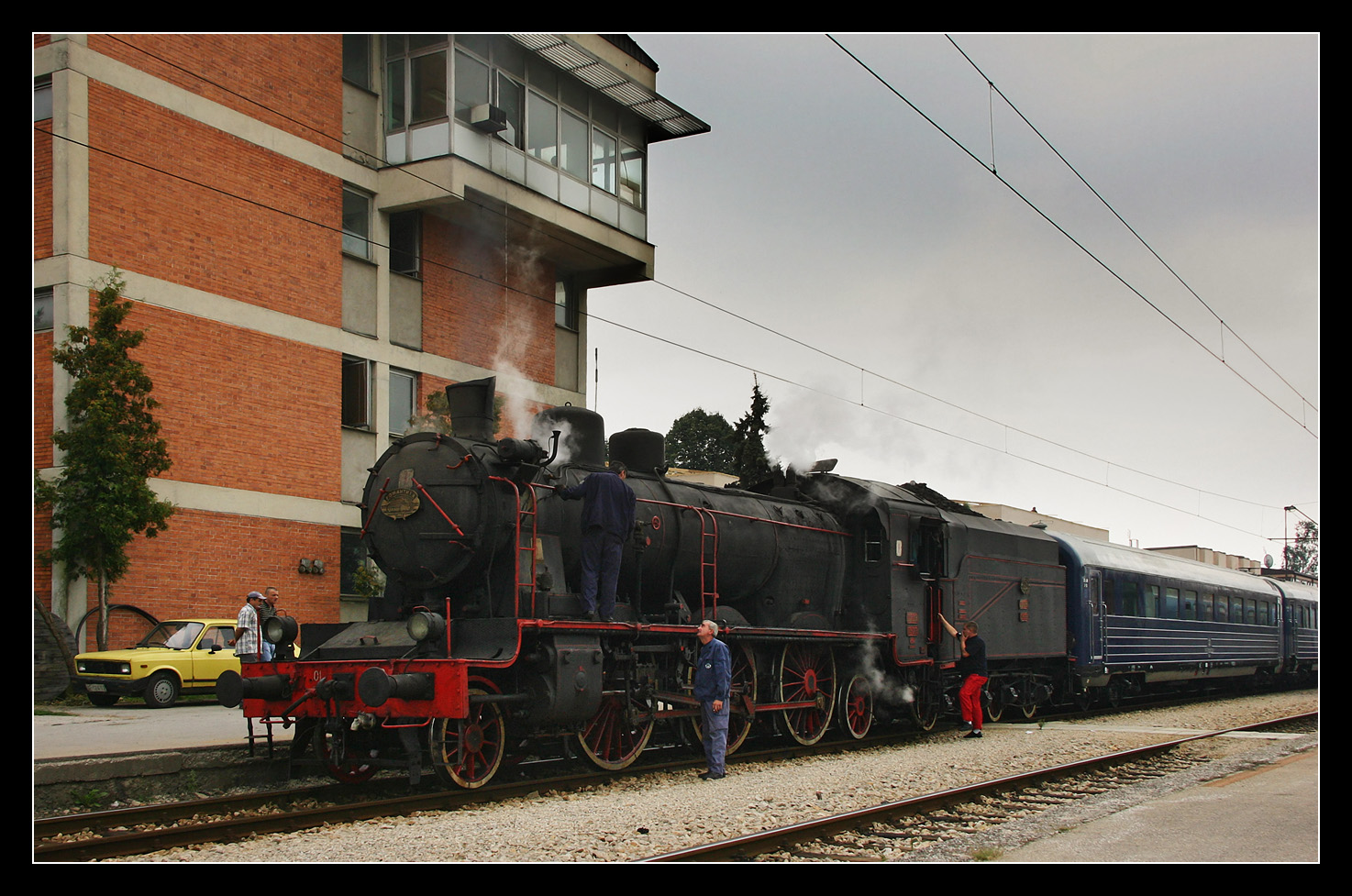 I planned to wait for the local from Dimitrovgrad... the level crossing closed punctually, and what came? Another freight from Bulgaria!
We found A/C-cooling at the archaeological museum where we were allowed to take pictures due to a lack of brochures.
Once more we encounter our friend, Emperor Constantine, who was born in 280 at Naissos, the Roman town in the vicinity.
Next we returned to the centre, which exuded a relaxed atmosphere. The whole pedestrian zone and the short old city street Kopitareva seemed to be like a single coffee house cooled by water sprayers which produced these nice lighting effects.
Someone obviously had taken the term "Bed & Breakfast" too literally. ;-)
We rested and went back outside only in the evening sun.
Captain without sea at the coffee house
I waited at the railway bridge across Nisava River, but nothing came by.
The 18th century Ottoman fortifications.
As dinner we ate great grilled cevapi at Kod Rajka in Kopitareva street.
August 12 2015
Sunrise at 6 a.m. viewed from our room.
Today excursions were planned, we met 621-105 (CMKS 215 / 2005) with half an hour delayed PT 5900 Bela Palanka - Nis at the level crossing near the station.
The class 621 reversing.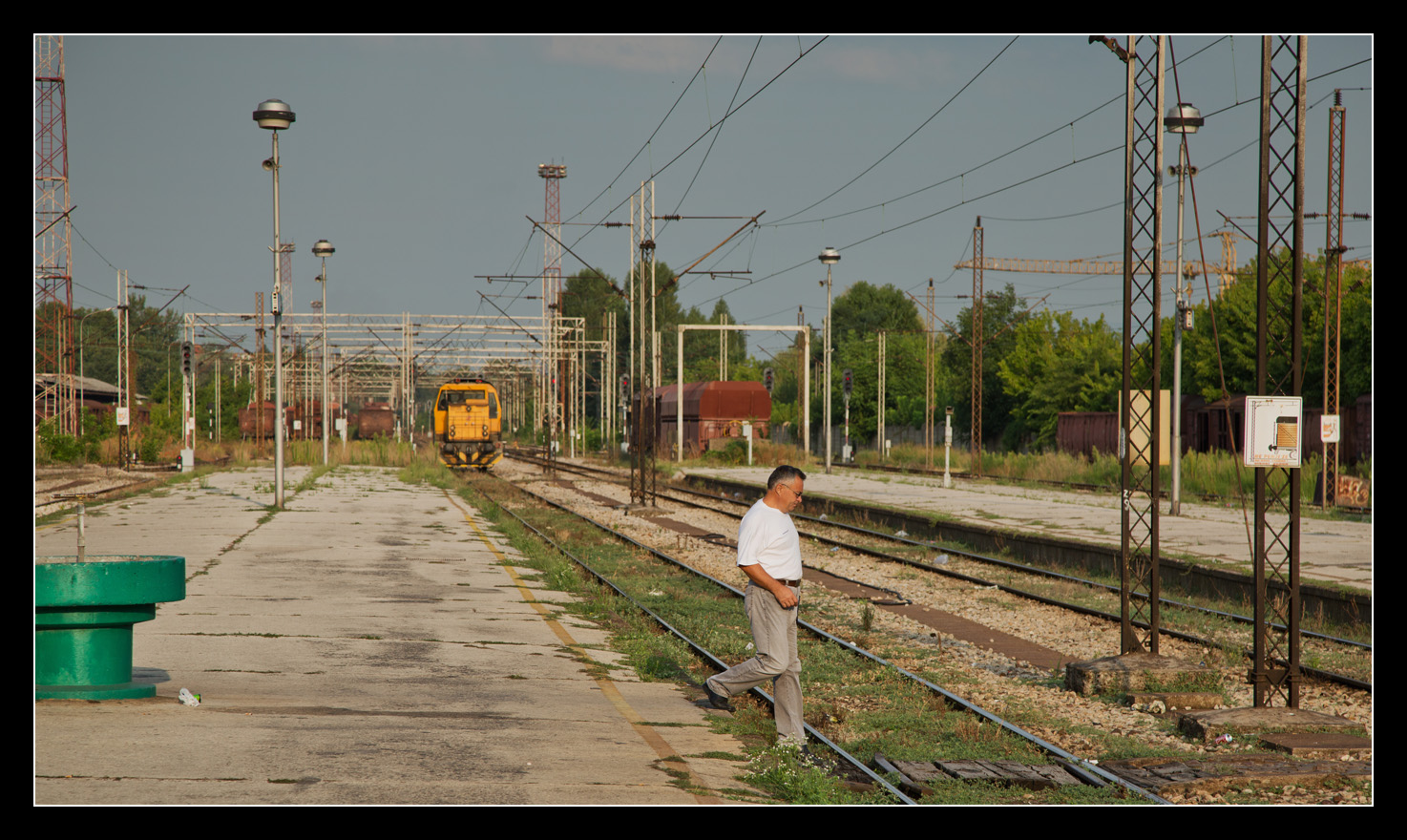 More about the diesel line next time!