Hi,
To the previous part of the series:
Holiday in Romania 2015 - 18: Brasov - Constanta (50 p.)
http://www.railroadforums.com/forum...y-in-Romania-2015-18-Brasov-Constanta-(50-p-)
Link to the video:
https://youtu.be/4dl-qDnduFM
The timetable for this part:
Code:
Mon, August 3 2015

Constanta dep 16:57 R 8803

Mangalia arr 18:36

---------------------------------------
Tue, August 4 2015

Mangalia dep 6:47 R 8802 -> Constanta

Pescarus H. arr 7:07
August 3 2015
IR 1585 from Bucharest arrived 18 minutes delayed at Constanta station. Stabling lines for engines and rakes can be seen to the left.
Crowds were already waiting on our platform.
63-1060 - 75 mph fast GM-EMD modernized version of cutter class 62 (class 65 EMDs are 60 mph fast former class 60s) - shunted our local train R 8803 with destination Mangalia to the platform, just eight minutes ahead of departure. During the summer season the timetable on the diesel line to Mangalia is completely changed compared to the rest of the year, featuring different service numbers as well. Local trains usually depart from Mangalia in the morning, from Constanta in the afternoon, in the opposite direction of night trains from all over Romania taking over local services on this line. This results in long, 15 coach express trains stopping at even the smallest halts. Local services usually are shorter, but also loco-hauled and formed of long distance express coaches in summer.
IR 1945 Mangalia - Satu Mare arrived, awaited by most passengers on the platform.
I chose a compartment in the only coach featuring windows to open, first class, but this does not matter on regional trains in Romania.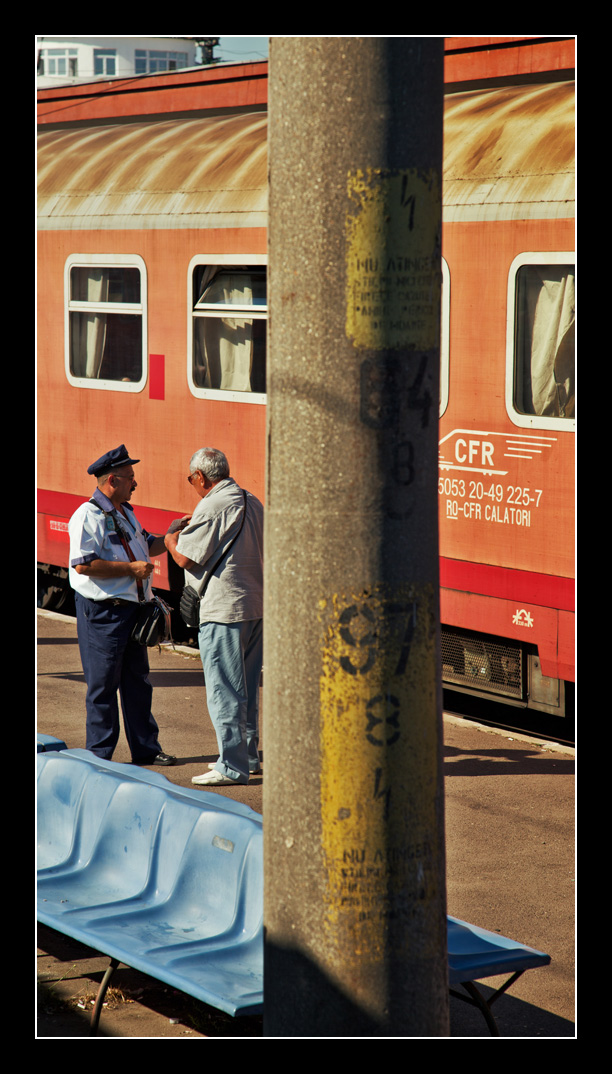 Our train started to move relatively on time, the first miles of track lead along the biggest Black Sea port.
This port, which is also processing 200 river vessels daily via the Danube–Black Sea Canal, is linked to the European rail network via several lines. Soon afterwards we crossed the massive canal, a shortcut from river to sea sparing ships a whopping 230 miles of travel.
At the other bank our train was being dispatched at quiet Agigea Ecluza station.
Then the first tourist hotspot, Eforie Nord, is reached.
Let's continue our series of scenic photographs taken from a train window: We waited - I had suspected that we would have had to cross earlier - when 25 minutes delayed IR 1931 Mangalia - Oradea appeared on the dam in the distance for which my coach offered the perfect vantage point! Above all it was the mightiest train on this line, consisting of 15 coaches, amongst them 4 couchette-, 3 sleeping- and 1 buffet car - constituting a long express which not even required a tele lens.
Lake Techirghiol can be seen in the foreground, the largest saltwater lagoon in Romania situated between Eforie Nord and Sud. The name is derived from Turkish "Tekirgöl", so Lake "Tekir-Lake". Behind it, only separated by a narrow dam, the more intensive blue of the Black Sea.
The sleeper services back home were expected at each station by many more passengers than our local to Mangalia. As promised, I encountered another female railway photographer on this trip. :0)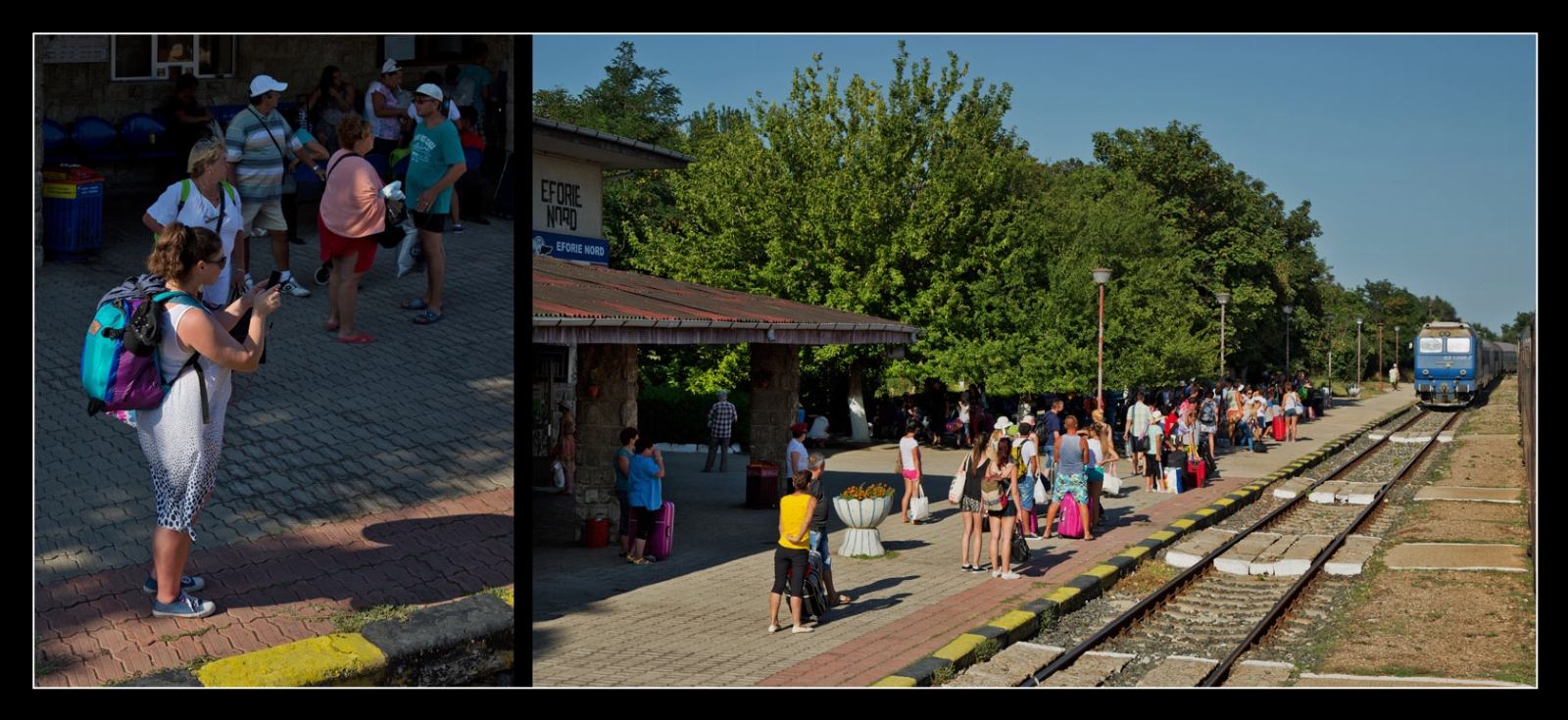 Our train started moving with a 15 minute delay. The GM-roar of our loco flushed flocks of seabirds, people were bathing in the lagoon which has been in use as a health spa since 1899. At the opposite shore Techirghiol television and radio tower rises from the wide open steppe landscape.
At Eforie Sud we passed an out-of-service car loading ramp.
Prosperity due to beach tourism does not seem to spread far inland...
We were crossing Dobrogea (English: Dobruja) region, its northern part belongs to Romania, the southern part to Bulgaria.
Here at Tuzla halt - yes, exactly ;-) - it could equally be Banat region.
Only the navy blue strip on the horizon reminds you of the sea.
We arrived almost punctually at Costinesti, the next train meeting was scheduled here. At first I thought a cutter-hauled train already was waiting at the station, but it only turned out to be a single engine. Semaphore signals can be found here just like at Eforie Nord.
Our driver managed to take a little break until 63-1143 arrived punctually with IR 1982 Mangalia - Bucharest.
60-1376 was stabled on the third track - but would be put into motion again soon...
We passed the beach we were about to visit the next day behind Costinesti (Remember? No pronounced "i" at the end of words behind consonants! So: "Costeenashts"), and met mythical double-decker-IR 1688 to Sibiu at rather plain Neptun station: 65-1349 thundered up the grade from Mangalia. Close to the centre of Neptun town another halt had been established. These mass beach resorts named after planets and featuring giant concrete hotels had been set up between Mangalia and Costinesti during communist times.
An impressive line of double-decker-coaches.
We arrived at Mangalia on time - first I took a short detour, as a departure was scheduled.
Not a puny train either, IR 1821 Mangalia - Arad, consisting of ten coaches departing at 6:56 p.m. in wonderful evening light...
… with semaphore signal...
... and former German DB sleeper.
Heavy seasonal traffic requires constant shunting despite of few tracks and rustic infrastructure.
Intelligently a coach workshop had been introduced here, at the terminal of many long-distance trains.
We had booked Hotel Solymar, according to our guide one of the few of acceptable quality. At a distance of 1 mile from the station we treated ourselves to a taxi after a long day, loaded with luggage. Our room was situated on the ground floor with sea view. It had been newly renovated and there was no reason to complain.
At the beach promenade Mangalia had built its own version of the "Walk of Fame".
The beach of Mangalia took getting used to, we only chose the place as home base for excursions. We did not swim here as we were about to visit a much nicer beach the next day. The coastal railway line terminates in the harbour on the other shore where a Daewoo Heavy Industries shipyard is located.
Omnipresent in this region, so I had to try it once... ;-)
We fell asleep accompanied by Romanian live pop - no untalented musicians, pop is taken quite seriously in Romania...
August 4 2015
I ventured outside in front of the hotel for the sunrise (rising early to see the sun is a disadvantage of an eastward facing coast).
Runners as well as the first tourists already were on their feet at 6:05 a.m. - you have to secure your beach umbrella anyway! :0)
We walked to the station and were greeted by: 60-1376, heading our R 8802 consisting of two locos and thee coaches!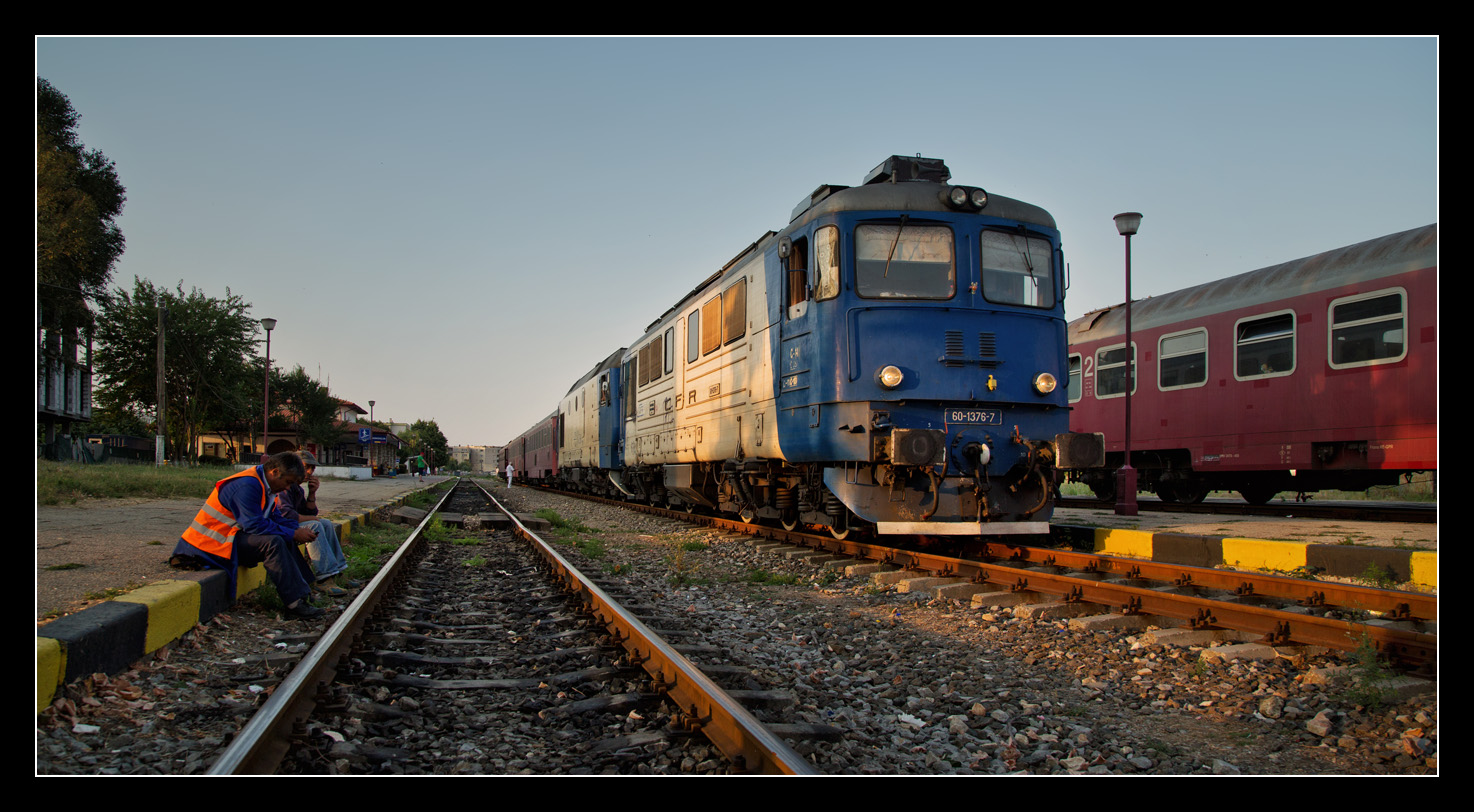 Two trains daily stop at Pescarus H. halt, exactly one into each direction in the morning. The "platform" was the cart track to the right, I managed to hop across the rails due to a slightly delayed departure. The original/renewed cutter-double-header chugged uphill before reaching the summit and rolling towards Costinesti.

The reason for the grade: this Romanian version of a cliff coast. Holidaymakers stayed overnight in tents or beach huts here, a family just was walking down to the beach. To the left a flock of sheep had escaped its shepherd and ran in panic across the open fields.
At 7:39 a.m. the last train of the day, IR 1687 Sibiu - Mangalia, was stopping at Pescarus. By the way, the position of this halt is not shown correctly on Google Maps, but located further north.
The sun was shining, with a slight cloud cover forming.
After the long line of double-decker coaches had stopped at the small halt, I walked downhill to the beach which is located along a dam between the sea and Tatlageac lagoon.
Some beach goers passed my spot when IR 1944 Satu Mare - Mangalia sped by.
At the Black Sea we enjoyed temperatures of 30° C and a mostly a stiff breeze, so quite comfortable compared to the heat wave engulfing Central Europe at the time. We enjoyed a swim, although the sea was choppy. In the background piles erected by local fishermen can be spotted.
Short intermission by IR 1992 Timisoara - Mangalia, accelerating across the unofficial level crossing with smoke and sounding the horn. The local rubbish skip next to the fish restaurant could be covered by a flowery meadow.
Local trains towards Constanta are rarer in the morning, R 8804 - using the double-decker rake seen before - passed an exclusive beachside club. Only at zoom level I discovered how exclusive it really was. ;-)
In the background the hotel high-rises of Olimp beach resort, followed by Neptun, Jupiter, Venus and Saturn.
Goa-fishermen - Black Sea style. As seen before: pure rowing boats, between tourists at the beach, drying the nets during the day - only the outriggers were missing, and the coco palms...
The spot above the club offered a clear view of the train from the beach, at first I waited in vain, then at 11:16 captured more than half an hour delayed IR 1822 from Arad.
We left the beach only to meet delayed IR 1981 from Bucharest hauled by our class 60 - watch video from minute 18:30.
I had planned to take pictures at Pescarus into the other direction: R 8806 could be seen in this view above the cliffs.
A mixture of coastal landscape and Wild East.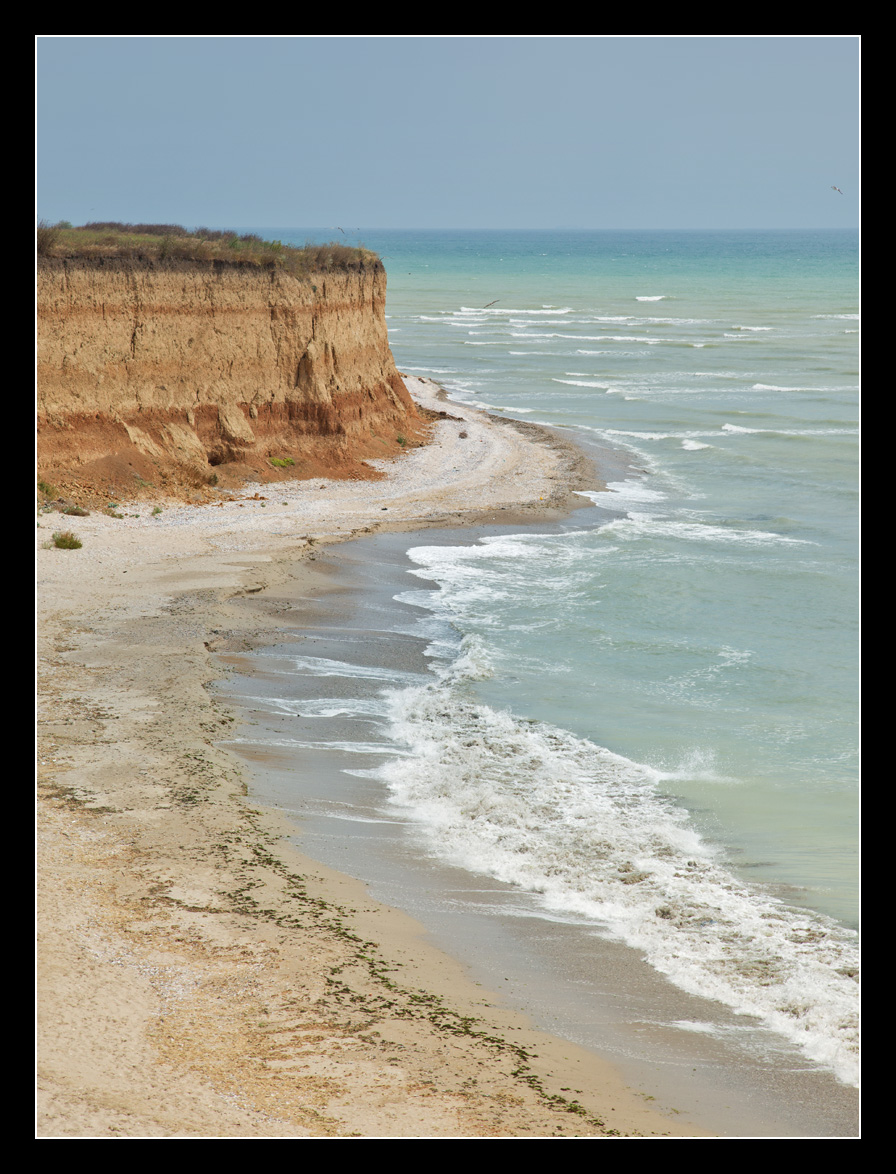 We marched along the gravel road towards Costinesti passing the summit of the line.
Halfway to Costinesti you suddenly come across a new asphalt road even featuring a pavement. The reason: a (not very historic) monastery is located here.
While my company went to get lunch, I waited for the next train at the grade towards Mangalia. IR 10805 Mangalia - Craiova showed up punctually, the first express service of the day towards Constanta. Rain clouds were looming, a cow already had found cover under a tree.
Shortly afterwards the only rain shower of the whole journey pelted down on me. With half an hour delay - just right to avoid the rain - the longest train of the line, IR 1932 Oradea - Mangalia, was approaching.
The loco was coupled to a modern former Swiss SBB sleeping coach, above me the sky was clearing up.
Despite heavy GM-grumbling the train only moved slowly up the grade, this and more partly unseen scenes can of course be watched on video.
Next time we will find at only a short distance away - something completely different!