Hi,
To the previous part of the series:
Romania 2015 - 16: Dacia-Special - Sibiu (50 p.)
http://www.railroadforums.com/forum/showthread.php?51176-Romania-2015-16-Dacia-Special-Sibiu-(50-p-)
Link to the video:
https://youtu.be/4dl-qDnduFM
Welcome to the big Balkan round trip this summer!
There were several blank spots on the map for me to discover, for example in Bulgaria I had only been passing through to Istanbul, in parts of Serbia as well. Romania was about to be enjoyed during the warm season as a place featuring beach holidays, not just icy evenings around lumberjack campfires. Once again I travelled with non-rail enthusiast companion, so the itinerary would include cultural sightseeing as well as relaxation - we did not want to have a too exhaustive time. For practical reasons just two sleeper journeys were planned. During the remainder of the trip we either wished to see the landscape by day - for example in Romania past the Bucegi Mountains - , or overnight rides would have been uncomfortably short - for example Sofia - Nis or Subotica - Budapest. Back home in Vienna we just booked the double compartment sleeper to Brasov as well as a daytime-trip in Romania and a sleeper in Bulgaria online, also the accommodations. The express "Avala" (Belgrade -) Subotica - Vienna could not be booked at the ÖBB counter at that time as it could not be found in the ÖBB system out of some reason, currently it is included again.
The timetable for this part:
Code:
Sat, August 1 2015

Wien Meidling dep 14:02 RJ 63


Budapest Keleti arr 16:49

Budapest Keleti dep 19:10 EN 473 "Ister"



Sun, August 2 2015

Brasov arr 9:17
August 1 2015
On the first August Saturday we boarded the as usually well frequented Railjet 63 Munich - Budapest at Vienna Meidling station in midday heat. My reliable app WeatherPro predicted stable summer weather over the following two weeks - and it would turn out to be correct. A few young chaps from Bavaria obviously had gathered a tray of 24 beer cans during the short stop in Vienna and completely emptied it in the 2:45 h to Budapest. However, also thanks to earphones, the journey remained calm and bearable.
We punctually reached Budapest Keleti - Eastern Station.
Soon after our arrival "Red Bulletin" ad livery 1116.222 pushed Railjet 42 into the other direction out of the station.
Actually Budapest is only a day trip away from my home, but as the low summer evening sun illuminated the 1884 opened terminal - then one of the most modern in Europe - an intensive photo session was called for.
We took a number to wait for the ticket office as we still needed to purchase the tickets Subotica - Vienna. After about half an hour it was our turn, travellers from all around the world were waiting. We chatted with a young man from Syria sitting on the bench next to us. He told us he would do anything to make it in Germany, even sleep in the streets.
One of my favourite shots from the first evening of the trip.
We still had more than an hour left until the departure of EuroNight "Ister". We took seats in the classic station restaurant, or rather the indoor "garden". Next to meat pancakes and goulash we enjoyed as first beer of the trip a local brand which actually is geographically closer to Vienna than Budapest. We were about to enjoy a nice selection of beers over the coming weeks and were never disappointed.
At 6:45 p.m. we slowly moved towards our sleeper.
At the terminal end a Romanian CFR class 47 was stabled, behind it the Hungarian MÁV inland coaches of EuroNight 473 "Ister".
The Bulgarian BDZ through coaches Budapest - Arad - Timisoara - Craiova - Sofia followed.
"To Sibiu, Brasov and Bucharest further ahead!"
At the head of the composition were two CFR sleeper coaches, this time we had drawn the more modern option. Reflected in the window to the right you can spot the Serbian ZS couchette coach of overnight express "Beograd" to Belgrade.
477-880 was about to be our loco to Simeria, to the right the rake of EuroNight "Metropol" to Berlin, Krakow and Warsaw with a Polish PKP-IC sleeper.
A classic push-pull train can be classically photographed.
Probably no other European station is abounding in operators from such a variety of different countries, in this picture alone: from left ZS, MÁV, GySEV, ÖBB, CFR, BDZ, PKP, Wagon Service Slovakia, Czech CD and to the right daytime-InterCity 72 "Traianus" from Bucharest.
Now it was time to board the train, despite great evening mood...
We watched the Hungarian Puszta roll by, soon it got dark in August. Luckily the curtains were working – other than in April - so no auxiliary constructs were necessary. We would have plenty of time next morning, arriving at Brasov only past nine. This was the reason why we did not take the direct "Dacia" express from Vienna, an arrival only at 1:30 p.m. would have been wasted time. We slept well, border controls were quick and painless.
A collection of informative inscriptions throughout our coach, only German seems to be problematic... ;-)
August 2 2015
At Sibiu the morning sun waked us - homelike feelings were arising as we passed spots I had visited once or more often already this year. At Talmaciu we met as foretaste of things to come the double-decker-"Black Sea Interregio" Mangalia - Sibiu, see video at minute 1:05 - where you can watch several scenes not captured on photo.
Through the window I took a picture of this amazing cloud mood over the Fagaras Mountains as we rolled along the last mile of Cibin River before reaching Podu Olt.
Having crossed Olt River the valley widens, until Brasov the express only stops at Fagaras and Codlea. Telegraph poles still were standing along some sections.
Punctual arrival at the first destination Brasov (say: "Brahshoff") / German: Kronstadt / Latin: Corona - which engine had pulled us from Simeria? Of course good old 65-0943! An equally interested French tourist also took pictures - it would not be the last encounter with a female railway photographer. To the right the rake of parallel overnight IC 407 -> "Corona" <- travelling the route Budapest - Cluj - Brasov was ready for shunting.
The "plastic bottle trick" provided more fresh air to the engine driver. Shunter 80-0054 in the background chugged away with the coaches of "Corona". Moving pictures for people interested in train compositions can be watched from minute 2:47 of the video.
41-0056 had taken over "Ister" to haul it in 2 1/2 hours the final 103 miles across the mountains to Bucharest Nord terminal.
Departure punctual to the minute past a plinthed steamer.
Impressions of the classic plastic seats.
In the modern station hall we first purchased Balkan-Flexipass-railpasses for further travel - we would only start to use them in Bulgaria. Overall the passes did not pay off monetarily (it rarely does at these ticket prices), especially since we could not travel as much by train through Serbia as we thought we would, but they spared us some queueing at ticket counters and brought some flexibility. Subsequently we also bought local train tickets for the next days on the Black Sea coast, also to avoid masses of people at their holiday destinations.
Once again an image of highspeed traffic has been claimed by the CFR... :0)
We took a city bus #4 with luggage to the centre - well, "city bus" may be a bit much for this smaller vehicle type used on some lines. However, it was not too far to our stop Livada Postei, so we could endure standing squeezed into a crowd of friendly pensioners.
We walked to the main square Piata Sfatului where our accommodation was located: "Casa Wagner", once again a historic building dating from 1477. We were nicely welcomed and taken upstairs to our large room number 1 overlooking the square. Soon we started our city sightseeing tour, but first a nice cup of coffee and some cake were in order at a café on the square. In its centre stands the Old City Hall, started in the middle ages, the current appearance dates mainly from the 18th century. An Orthodox church from 1898 can also be found here, but for Viennese it feels familiar as it is an exact copy of the Greek Church in Vienna. To the left on the hillside you can spot the White Tower of the city fortifications. The house on the rightmost edge is our "Casa Wagner".
View along Strada Muresenilor towards Castle Hill.
More information about Brasov:
https://en.wikipedia.org/wiki/Brașov
The Orthodox Holy Trinity Church is strangely located in a patio. The historical background: formerly Orthodox churches were not allowed within city limits. During the 18th century it was permitted to convert resident houses into churches - however, without tower or bells.
The synagogue is also interesting, sadly no one was present to let us in. We were about to have more opportunities to visit synagogues in other cities. A newer element in Brasov's surroundings is the "Hollywood"-like writing on its local mountain Tâmpa.
Nearby you have to look closely for Strada Sforii / Schnurgasse, supposedly the "narrowest street in Europe", but you probably cannot define that very clearly... ;-)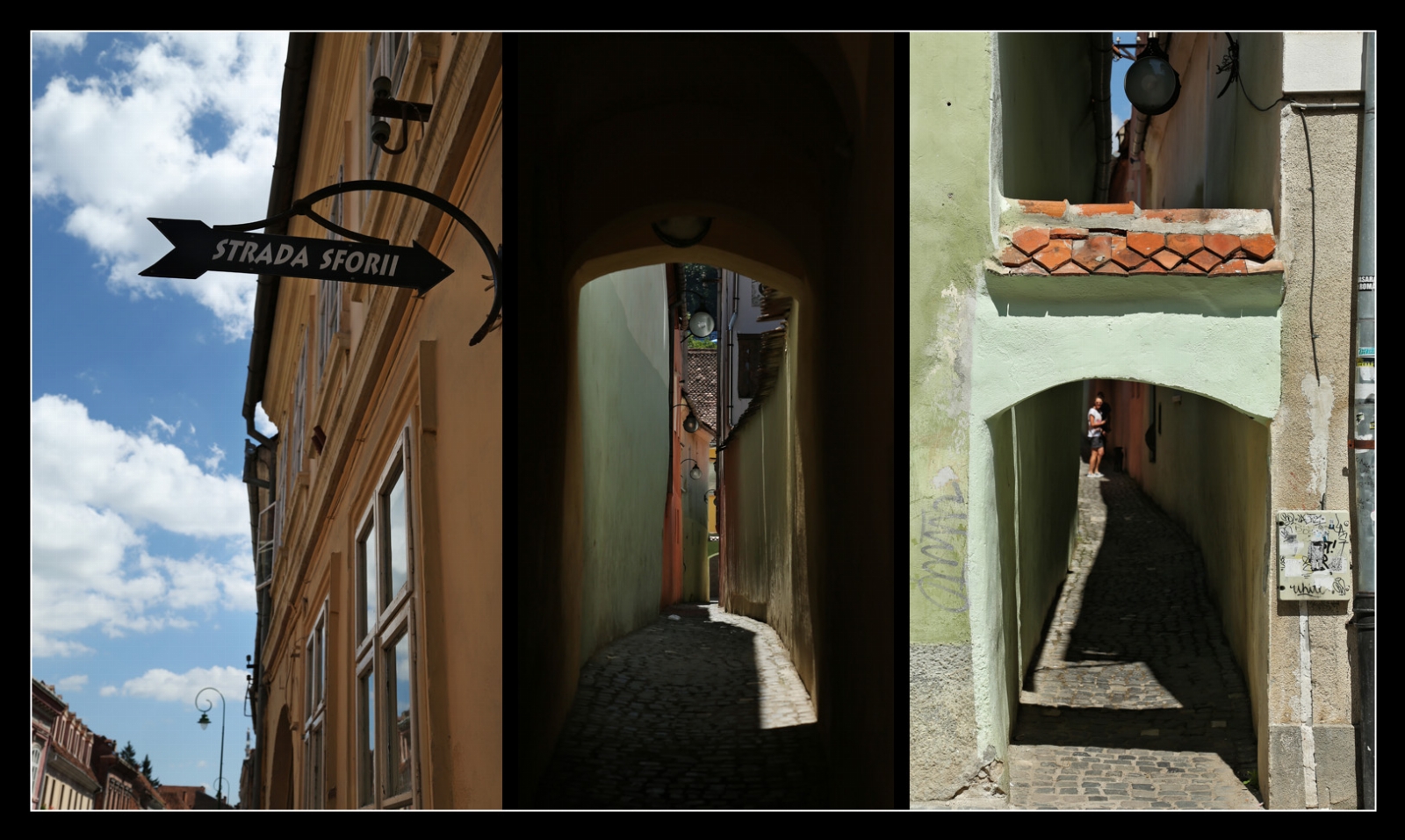 We reached the fortifications at Catherine's Gate, once more the four turrets indicated the status of the city.
We followed the city wall to the foot of Tâmpa mountain. "Olimpia" tennis club is situated next to the Weaver's Bastion.
A nice overview of city fortifications is shown here (in Romanian):
https://ro.wikipedia.org/wiki/Fortificațiile_Brașovului
Views of the main sightseeing attraction opened up, the giant Black Church. By the way, it had not been called "Black Church" because of its slightly darker colour tone of the stone but due to it being in charred ruins after a big city fire in 1689. As Brasov sits in an earthquake-prone zone the tower never has been constructed taller.
You reach the top of Tâmpa comfortably by cable car. Of course it was busy on a lovely Sunday, but in the end we only had to wait 2-3 gondolas for our turn. In the entrance area a model of the city was on display. Of course we kept exactly to the instructions, tickets consisted of Austrian skiing passes for electronic barriers...
The cable car had been constructed together with the TV tower 1968-69, the lower terminus is located at 2100 ft, the upper terminus at 3150 ft.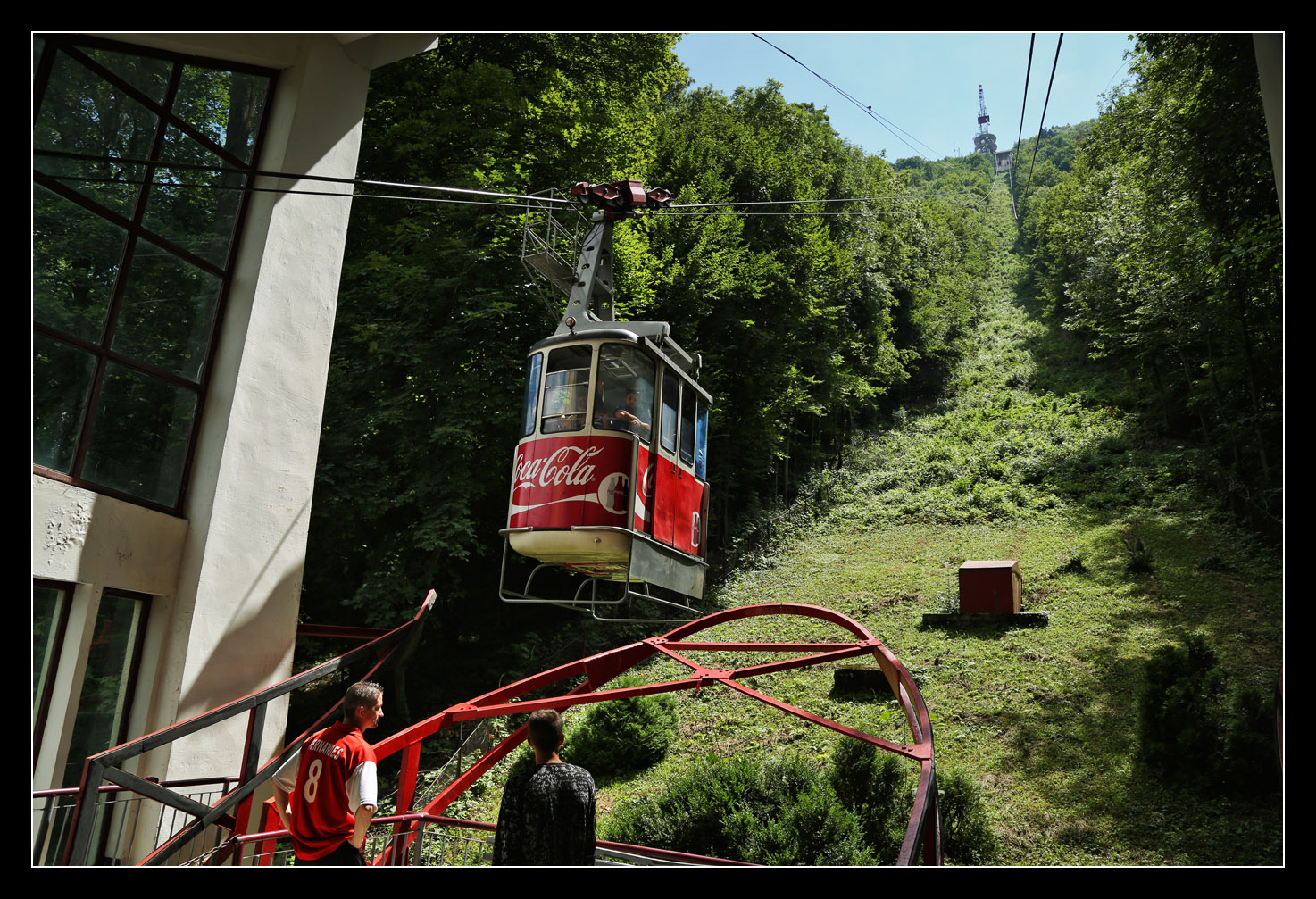 After a short walk you reach the giant "Brasov"-letters.
Spotlight at the main square and our accommodation seen from an observation deck.
The old city is squeezed between two hills, the wall at the bottom.
A magnificent view opened up towards Codlea at the back and the wide flood plains being traversed by Bârsa / Burzen River, after which this region is called Burzenland.
The diesel line to Fagaras and Sibiu runs along DN7 (E 68) national road: IR 1621 Bucharest - Timisoara (known from previous reports), scheduled departure 13:00, just had passed Hornbach DIY-market at the edge of town and soon was about to reach Ghimbav.
Now the sun shone on the Black Church as well as the White Tower.
That's what we had waited for! Delayed about half an hour IR 347 "Dacia" Vienna - Bucharest appeared in the distance, supposed to arrive at 13:36. While waiting the platform we were standing on was bustling with tourists from all over the world.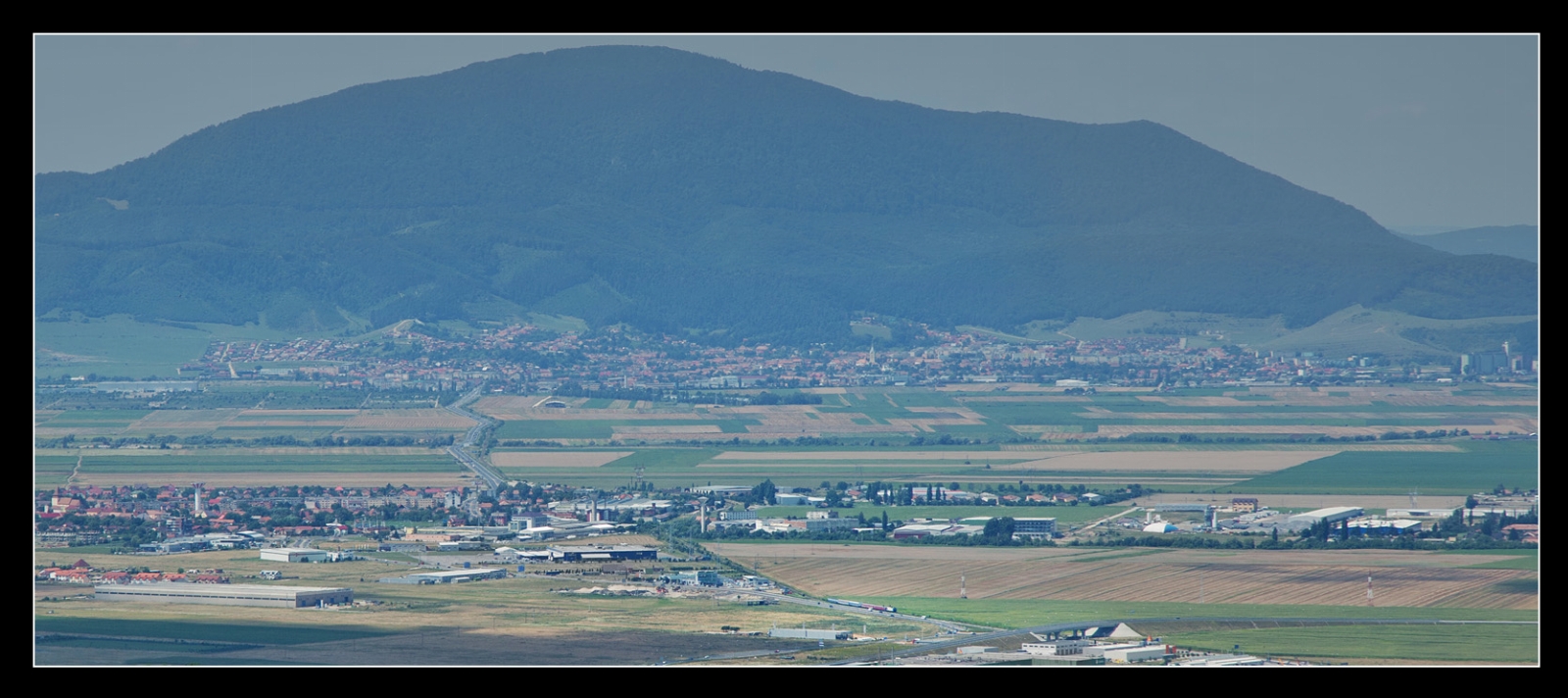 Near Bartolomeu the railway line reaches suburban high-rises, next to it medieval church St. Bartholomew.
The line passes the city centre at a distance of about 1.3 miles. "Dacia" can be spotted between two churches in the background.
The main station is hidden viewed from the mountaintop, you can only spot the eastern exit. Behind it, the mainline to Bucharest turns sharply south.
Finally a panoramic overview taken with my iPhone 5. Actually, the image quality of panoramas is not that bad, and you save yourself a lot of work...
Next time we conclude our tour of Brasov and move towards the sea!