Hi,
To the previous part of the series:
Holiday in Bulgaria 2015 - 22: Hiking to Golden Sands (50 p.)
http://www.railroadforums.com/forum...lgaria-2015-22-Hiking-to-Golden-Sands-(50-p-)
To the video:
https://youtu.be/4dl-qDnduFM
The timetable for this part:
Code:
-------------------------------
Fri, Aug 7 2015

Varna dep 22:10  BV 2626


-------------------------------
Sat, Aug 8 2015

Sofia arr 6:00


Sofia dep 6:30  BV 8611 "Sunny Beach" -> Burgas

Septemvri arr 8:02 +5


Septemvri dep 9:47  PV 16103 -> Dobrinishte

Tsepina arr 10:21 +5


Tsepina dep 13:08  PV 16105 -> Dobrinishte

Velingrad arr 14:02


-------------------------------
Sun, Aug 9 2015

Velingrad dep 11:13  PV 16103 -> Dobrinishte
August 8 2015
For the night in the sleeper we had purchased online tickets costing about 20 euro per person covering the whole distance through all of Bulgaria 1st class including berth reservation:
http://raildata.info/rum15/varsofticket.jpg
Due to the punctual arrival at Sofia we reached the earliest connection, BV 8611 "Sunny Beach" leaving at 6:30 a.m. to Burgas - although we only were about to ride it for a shorter distance.
Sofia station was just undergoing a major rebuild.
Desiro EMU depot.
After 1 1/2 hours we reached our destination Septemvri station, which also was under reconstruction.
We bought breakfast and I looked around the narrow gauge part of the station.
This is the Sofia - Plovdiv mainline, some BDZ Cargo class 43s in bad condition had arrived.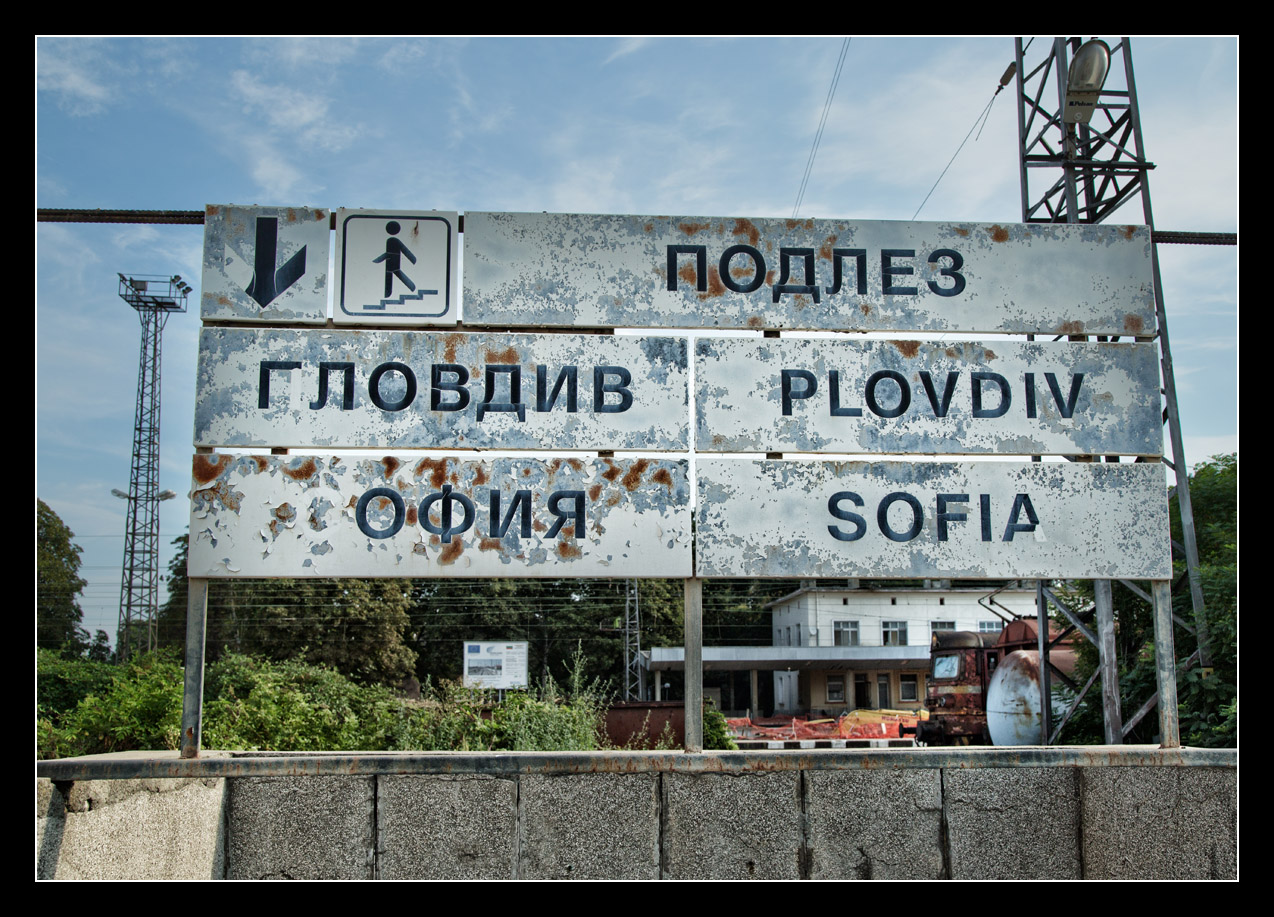 The underpass to the narrow gauge line.
Rila mountain range in the background, the highest in the Balkans at up to 9,596 ft. Septemvri coach workshop to the left.
At half past nine it was time for our narrow gauge PV 16103 on the 78 mile long, 760 mm Bosnian gauge Rhodopes Railway Septemvri - Dobrinishte. Our loco was approaching, and it was a Henschel class 75, also known as German "Mini-V160".
The fifty year old 75 004 (Henschel #31136 / built 1965).
The interior of the coaches had been modernized, since my visit the exterior also has been repainted in current BDZ white-red livery.
Everything ready for the journey of up to 5 hours.
After traversing Chepinska Gorge behind the Henschel I jumped out at Tsepina halt...
... and immediately caught a top shot of the gorge!
Next we sat down in the shade and waited for PV 16102 passing punctually at 11:37 a.m. after a 4 1/2 hour ride from Dobrinishte, also hauled by Henschel-power, 75 005.
On the way back I was stung by a wasp, a big red spot formed on my leg during the following days despite taking antihistamines.
A partisan attack had taken place here in 1943.
PV 16105 approached later to pick us up.
For a change it was pulled by 77 009, one of the engines delivered in 1988 by Romanian company FAUR.
Arrival at our home base in the Rhodopes, Velingrad, the largest thermal spa town on the Balkan Peninsula.
However, of course you cannot expect anything too glamourous. Our hotel "Spa Club Bor" situated nicely on the hill in view featured large rooms and some pools, but was comparatively expensive and overall needed some renovation work.
I returned to the station for the evening train - not much traffic here otherwise.
PV 16106 Dobrinishte - Septemvri departed punctually at 6:40 p.m., our 75 004 from the morning had returned - that's how long it takes for the whole roundtrip.
We ate dinner at the hotel restaurant, once more I received a Bulgarian sized (massive, just as many people you meet) mixed platter.
August 9 2015
Good morning, Rhodopes!
The lovely uplands landscape also saved us from the massive heat wave, here temperatures stayed below 30 degrees C. I still went for a morning swim in the outside pool.
In the morning you had plenty of time, the first train departure from Velingrad during the day took place at 10:30 a.m.
Sunday was market day.
77 009 provided an audio-visual spectacle departing with PV 16102.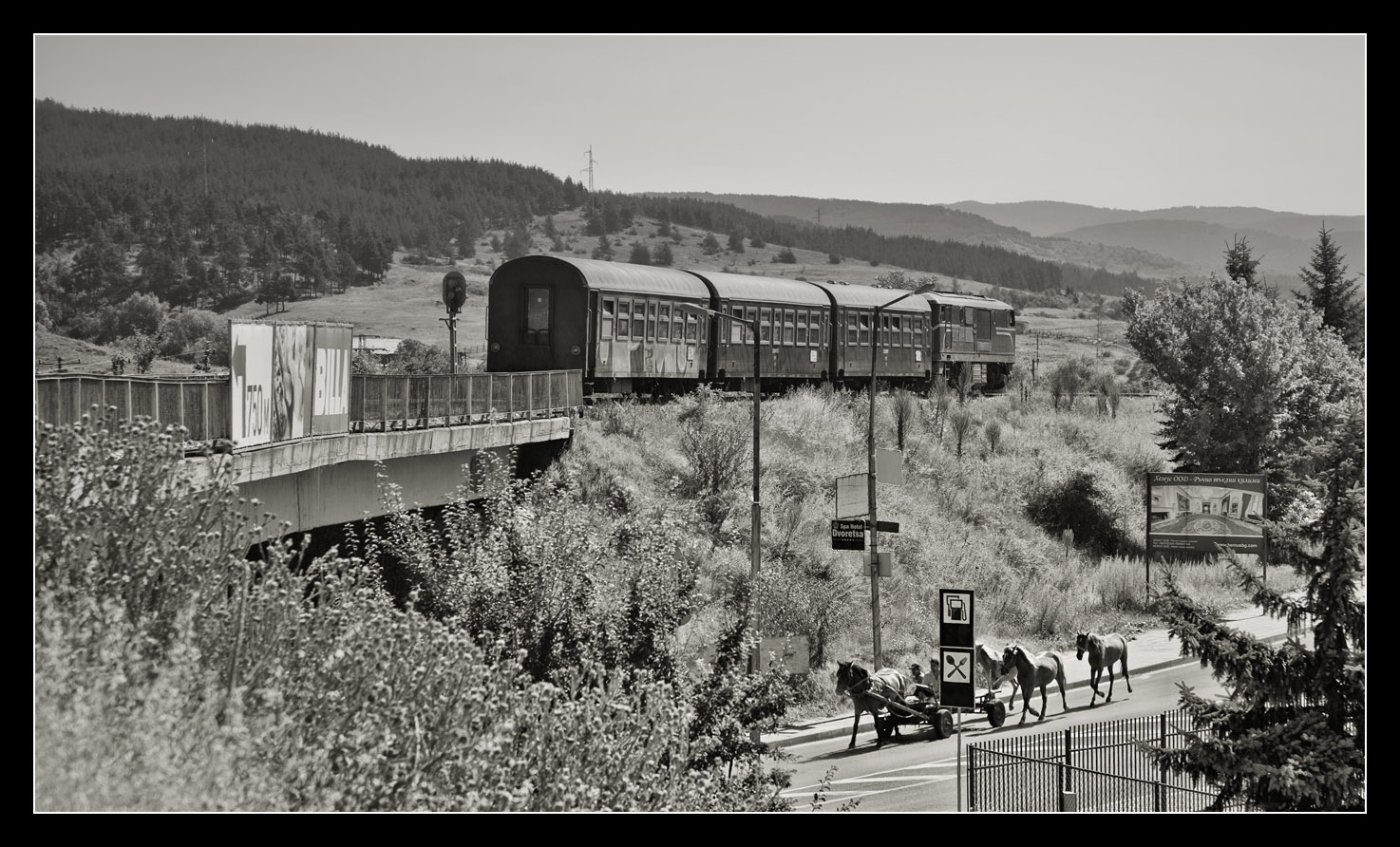 PV 16103 Septemvri - Dobrinishte - this time hauled by FAUR 77 002 - which we were about to take rolled into the station. Nobody seemed to be in a hurry.
Due to plenty of people visiting the market we easily managed to get good seats.
Along Ablanitsa River we approached the mountainous section of the railway.
Some villages in the Rhodopes are populated by a majority of Muslim inhabitants, ladies in traditional costumes seen here at Tsvetino station.
From Sveta Petka halt the line climbs through two loops and several more tunnels towards Avramovo.
Here you can follow the track layout:
http://goo.gl/OcDJ3B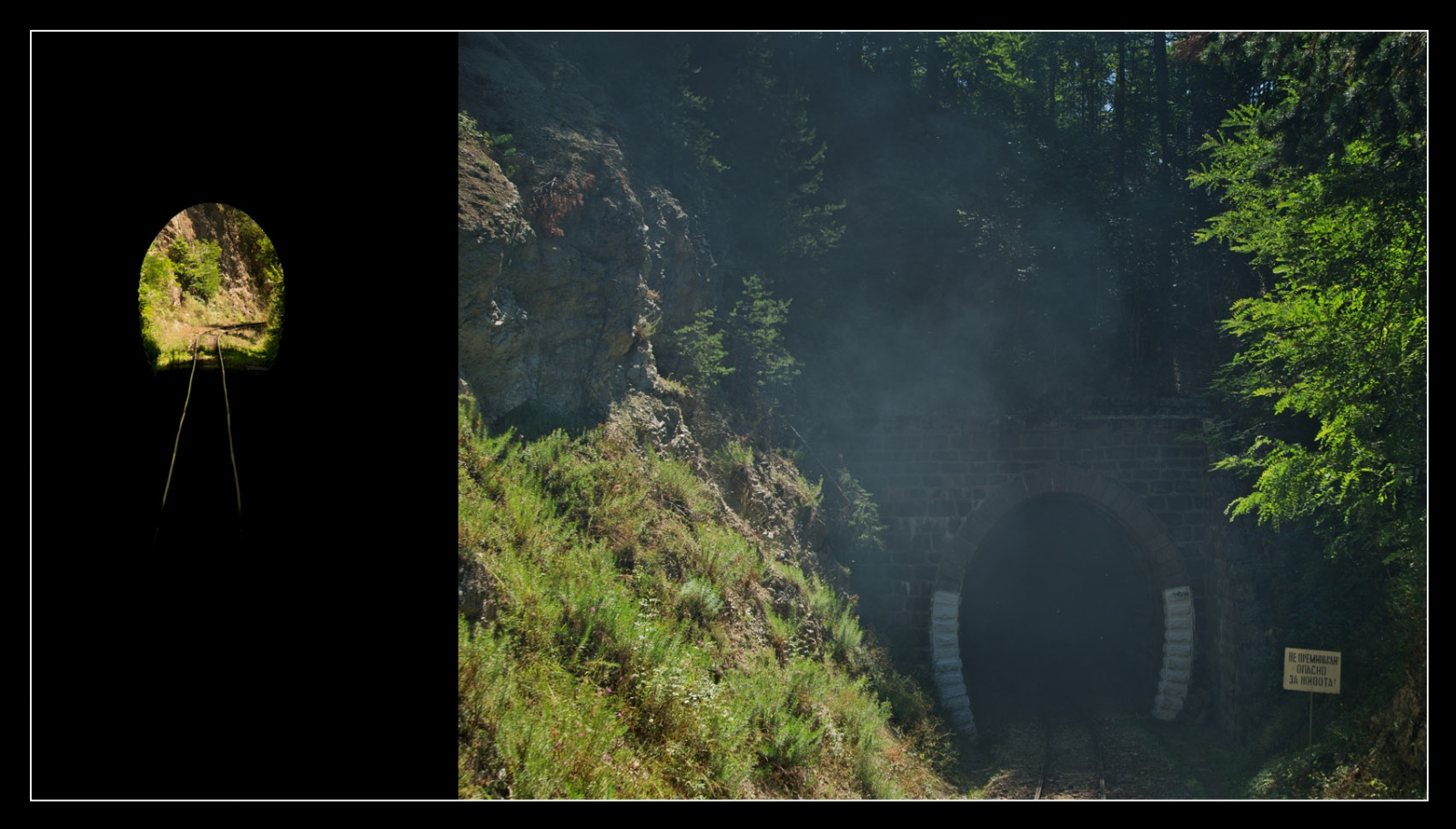 Sadly almost all of the spectacular line leads through dense forest, only at this spot you can look out towards Sveta Petka village on a mountain ridge.
Avramovo, at 4157 ft the highest railway station of the Balkans.
Every train was punctual, so I managed to capture arriving PV 16104 Dobrinishte - Septemvri in the landscape. Henschel-loco 75 005 passed Avramovo station semaphore home signal. The line follows the valley from Cherna Mesta, once more Rila Mountains in the background.
Next time we will explore the Rhodopes further, but perhaps not everything will go to plan anymore... ;-)