Hi,
To the previous part of the series:
Holiday in Bulgaria 2015 - 20: GM to Ludmilla Diesel (50 p.)
http://www.railroadforums.com/forum...ulgaria-2015-20-GM-to-Ludmilla-Diesel-(50-p-)
To the video:
https://youtu.be/4dl-qDnduFM
The timetable for this part:
Code:
Thu, Aug 6 2015

Varna dep 6:40  PV 30150 -> Burgas


Asparuhovo arr 8:12 +5

Asparuhovo dep 15:09  PV 30154 -> Burgas
August 6 2015
Thursday morning we started early for day trips, on the way to the station we passed the Bulgarian navy headquarters.
Trolleybus 82 to Vladislavovo at the railway terminal.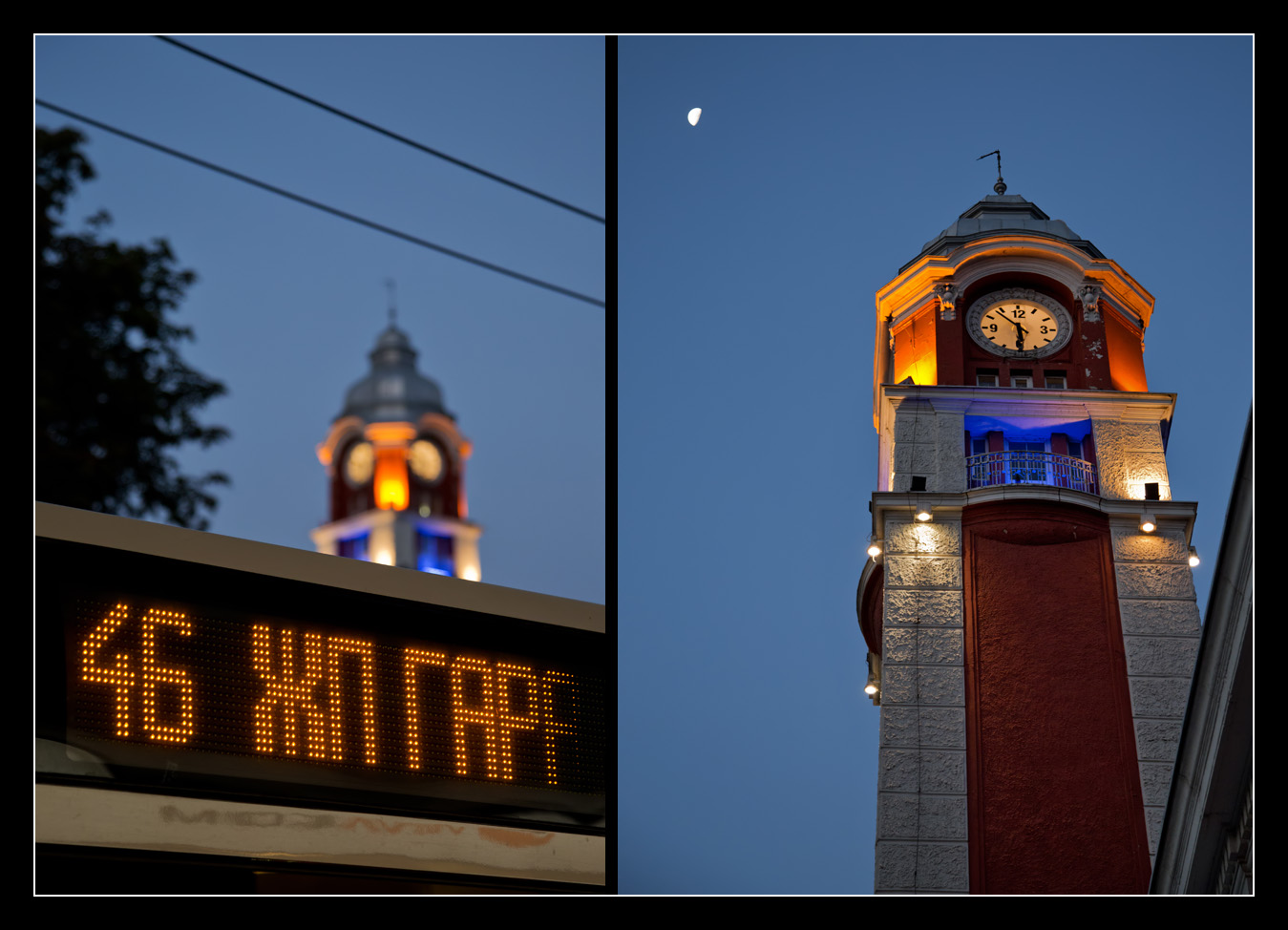 That day our paths diverged, as I was about to wait most of the time in the summer heat which might not be ideal for non-railway-enthusiasts. My companion took PV 20160 towards Shumen on platform 2 left, while I boarded PV 30150 towards Burgas to the right.
Varna is one of few BDZ stations with online live departure display:
http://razpisanie.bdz.bg/site/search.jsp
Overnight express BV 8637 from Plovdiv arriving 23 minutes late at 5:55 a.m., two more from Sofia were about to follow soon.
PV 20160 departing punctually.
Upon departure we passed Varna depot, amongst others stabled 07 073 can be spotted.
Beautified concrete bunker at Ezerovo.
BZK (Bulgarska Zeleznopitna Kompanija - "Bulgarian Railway Company") is operating a fleet of second-hand class 87 from Britain, here at Razdelna freight yard.
A second class 87 and a GDR class V60.
Prepared for the heat at small station Trastikovo.
Afterwards Sindel junction is reached from where my companion had continued to Madara and climbed a large rock plateau. The railway line in the plain continues to Shumen following a long curve.
The Madara Rider is an early medieval monumental relief and national symbol of Bulgaria.
https://en.wikipedia.org/wiki/Madara_Rider
https://en.wikipedia.org/wiki/Madara_(village)
The site features archaeological finds from many periods, here a Roman villa.
Now back to my trip: From Yunak station the line towards Karnobat and Burgas climbs to change to Kamchia River valley.
I had reached my destination Asparuhovo - and was greeted by interesting road vehicles.
As I walked away from the station, a BDZ Cargo class 43 arrived with a northbound freight.
Tsonevo Reservoir near Asparuhovo on the Luda ("Mad" or "Wild") Kamchia.
Along the shore many anglers had set up camp, the reservoir is crossed on modern concrete bridges by the railway.
After walking 1.2 miles on the "Republican" - as they are called here - Road III-208 I had reached the natural sight Chudnite Skali - or Wonderful Rocks.
I waited a while for the first train BV 8602 Varna - Sofia, the loco of which I threaded exactly into the stone needle.
I heard bells from the distance, then suddenly a single cow appeared.
Road tunnels through the rocks.
Tourists from all over the world stopped to take a look.
I walked back to the larger bridge for the first northbound train, PV 30153 Burgas - Varna.
BV 9631 Ruse - Burgas came by punctually at the main panoramic view.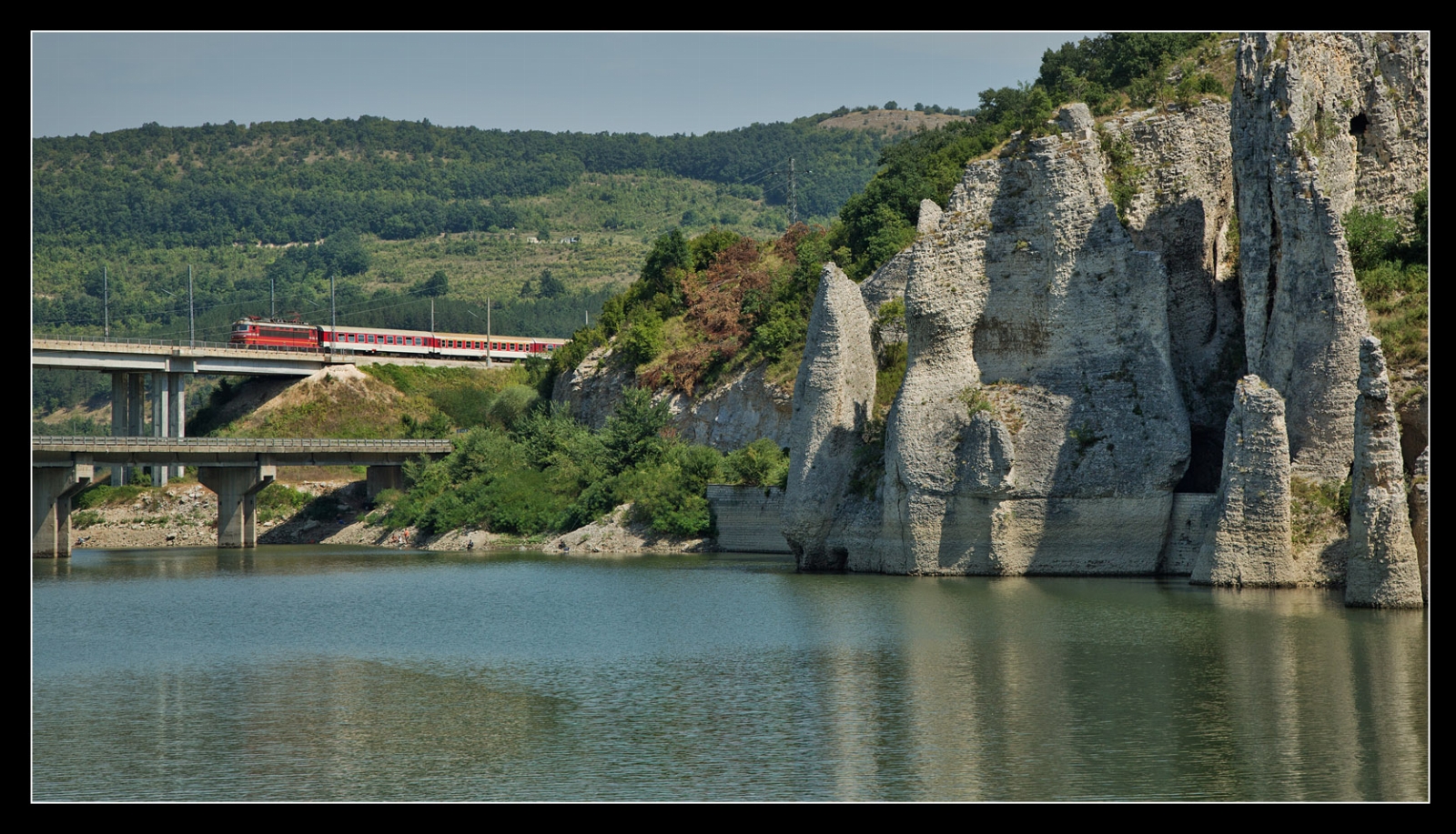 Between tourists, anglers and herds of cattle.
I could have explored the surrounding hills, but that was not appealing in the midday heat
A fish was pulled out of the river just as PV 30152 Varna - Karnobat passed by.
I walked back to Asparuhovo station and was surprised by DB Schenker Rail Bulgaria 86 016, ex-Danish DSB EA 3016 (ABB Scandia #30953 / built 1992).
Once more shady trees made waiting comfortable, even in the heat. The freight train also was stopped here for more than an hour.
Creative use of plastic rubbish in the station garden.
My PV 30154 to Burgas, I planned to ride it a bit to meet my train back to Varna.
In Romania these doors were opened for smoking, this is the high-tech BDZ solution to prevent that.
Across the larger bridge.
Past the Wonderful Rocks.
View across the reservoir towards Dobromir and mosque. Then we continued through the valley of the Wild Kamchia, from Daskotna the scenery became tamer again.
Where I got off, you will learn next time!