Hi,
Since I am lagging behind with the translation I will post the next reports with shortened texts in English - otherwise I would never manage to keep up
To the previous part of the series:
Holiday in Romania 2015 - 19: By Rail to the Beach (50 p.)
http://www.railroadforums.com/forum...-Romania-2015-19-By-Rail-to-the-Beach-(50-p-)
To the video:
https://youtu.be/4dl-qDnduFM
The timetable for this part:
Code:
Tue, Aug 4 2015

Costinesti Tabara hc. dep 15:07 R 8801

Mangalia arr 15:40

-------------------------------------------------
Wed, Aug 5 2015

Kardam dep 9:10 PV 28103

Varna arr 12:12
August 4 2015
After the last sleeper to Mangalia had passed by at Costinesti I joined my companion who had found an excellent and elegant place to eat - the Brasov student home - secret recommendation!
Soon we had to return to Costinesti Tabara hc. halt for our local 8801.
It consisted of the double decker rake too long for the platform divided by a level crossing. The interior of the coaches somehow reminded me of Trenitalia.
Back at Mangalia we walked around town and saw for example the Esmahan Sultan Mosque - erected in 1575 as oldest on current Romanian territory.
Not only mosques remind you of the Ottoman Empire, sweets as well.
August 5 2015
We had negotiated with a taxi driver to take us to the closest Romanian border railway station to Bulgaria, Negru Voda, on the line from Medgidia which does not serve passenger traffic anymore.
As there was no sign of alternative transport we convinced our driver to take us straight to Bulgarian BDZ border station Kardam, overall 28 miles from Mangalia. He just had to screw off the taxi sign from the vehicle at the border post, otherwise it was no problem taking the Romanian taxi to Bulgaria.
Over bumpy village streets we approached the quiet station.
Tickets were issued directly on the train - which also was supposed to run. Soon it got even better: BDZ-Ludmilla 07 111 hauling "minimal sleeper express" BV 2637 from Povelyanovo junction arrived two minutes early. The modern sleeping car behind the loco had been conveyed as through coach by BV 3637 from Sofia.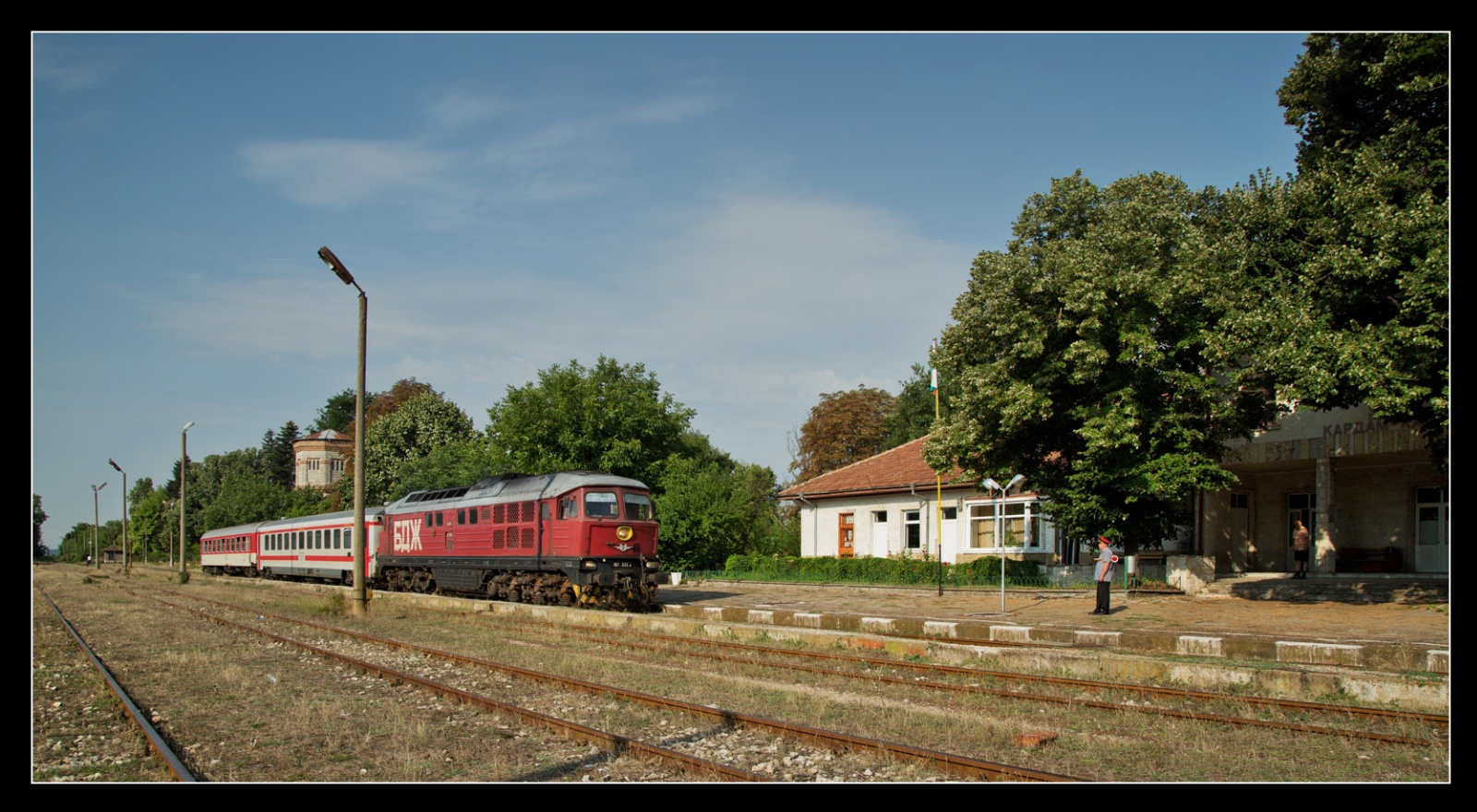 No passengers exited the sleeper which probably served the capital of Bulgarian Southern Dobruja – Dobrich - as main destination. The coach simply was hauled to Kardam and locked to Varna and back during the day for operational reasons.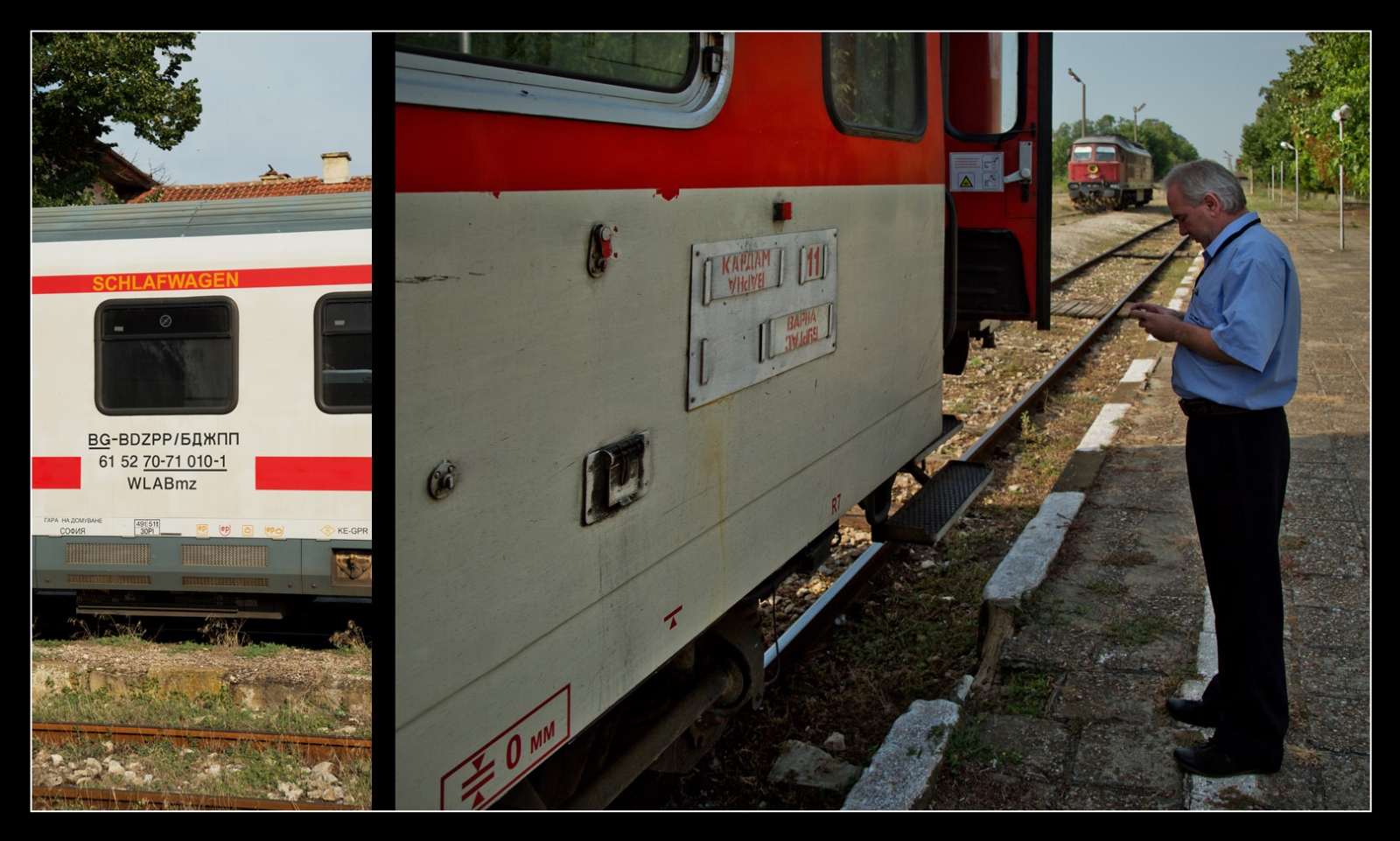 Our PV 28103 to Varna ready to depart.
Maybe you noticed the skewed walls of the 2nd class coach: the reason being that these had been built using GDR standard parts, like wagon roofs, but in a wider yet shorter version.
The conductor took a while until he had issued our ticket for 13.80 levs ("lions" as currency, just like in Romania) or 7 euro covering 81 miles for two persons. The interior of the coach was nice and modernized.
The stations on the way seemed partly in bad condition. "Gara" - "station" in Bulgarian and Romanian - had been painted over due to conflicts in the region between some nationalists dating from a Romanian occupancy between the wars.
We rounded Dobrich on the way to the massive main station. A Desiro DMU was waiting to take over the second passenger service on this line, old Elektrichkas had been stabled for good.
From a steppe-like landscape near Kardam we now crossed sunflower fields towards Povelyanovo, a main industrial site in Bulgaria.
Eastern Bloc diesel locos meeting at the industrial junction with the main line.
BV 2612 Varna - Sofia on the opposite track, see video from minute 20:25 for impressions of the ride.
Varna-West port on Lake Beloslav fed by Provadiyska River and flowing into Lake Varna which in turn empties into the Black Sea.
We arrived punctually in the third largest city of Bulgaria:
https://en.wikipedia.org/wiki/Varna
We reached our Best Western Prima Hotel through the old city centre. We were received by friendly staff and were shown to our nice and large room.
Our first point of visit was the Archaeological Museum featuring magnificent finds from prehistoric times of the Varna culture to antiquity when the city was called Odessos by the Greeks and the first Bulgarian kingdoms.
https://en.wikipedia.org/wiki/Varna_culture
I loved the way inner city streets are treated here, Bulgarians know that only old trees can provide proper cool shade in summer, so you find them almost everywhere.
Next I did a short photo stint at the station built between 1908 and 1925 with art nouveau and neo-baroque influences.
The Ludmilla was coupled to PV 28104 Varna - Kardam.
07 111 (Lugansk #0067 / built 1972).
A shunting worker was chatting with me about cameras until the train departed at 3:40 p.m.
To the right you can already see a part of the port.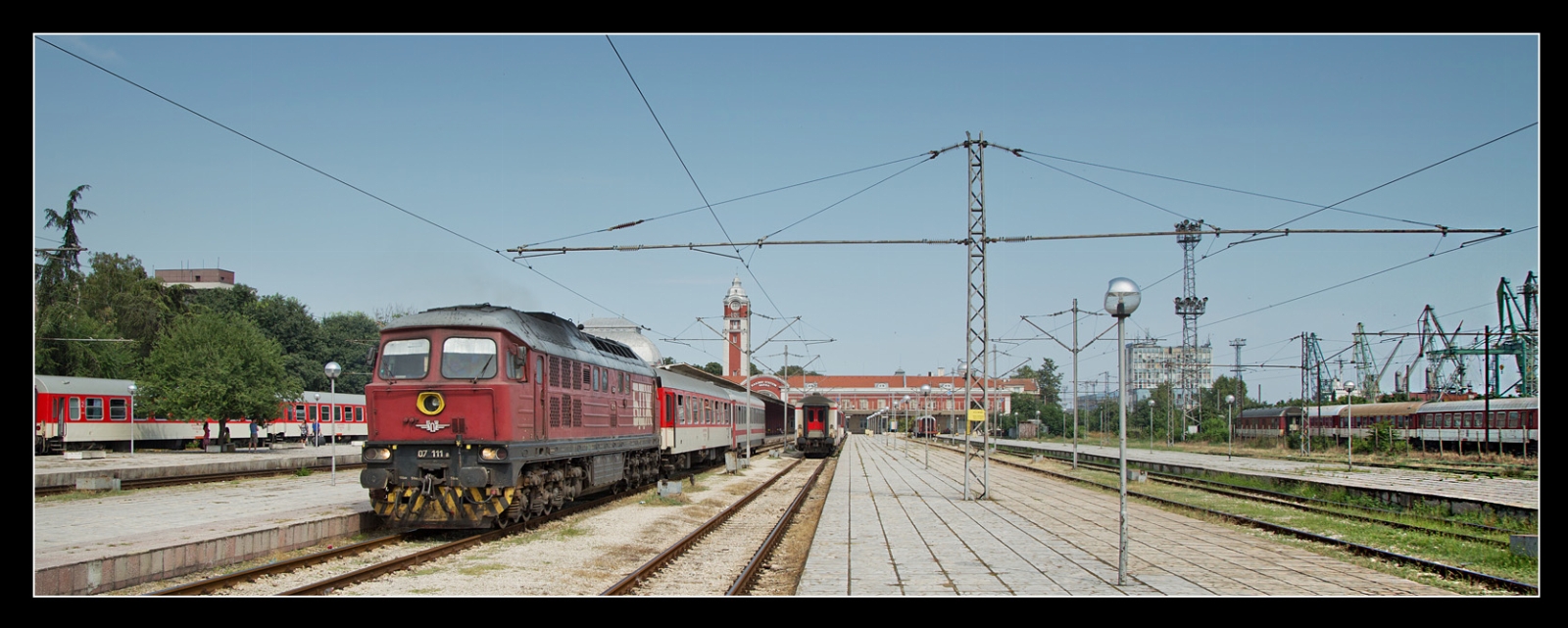 On electric lines I only encountered loco-hauled passenger traffic around Varna.
On the way to the sea I passed a part of the massive Roman era thermal baths - not even the main excavations.
As one of the greenest cities I know Varna features a seaside park between centre and beach.
Which was not too shabby for a city beach, of course the water next to the port is not the cleanest.
We ate at a traditional Bulgarian restaurant also called mehana from Ottoman times. The almost museum-like Chuchurite is located near the station and can be recommended.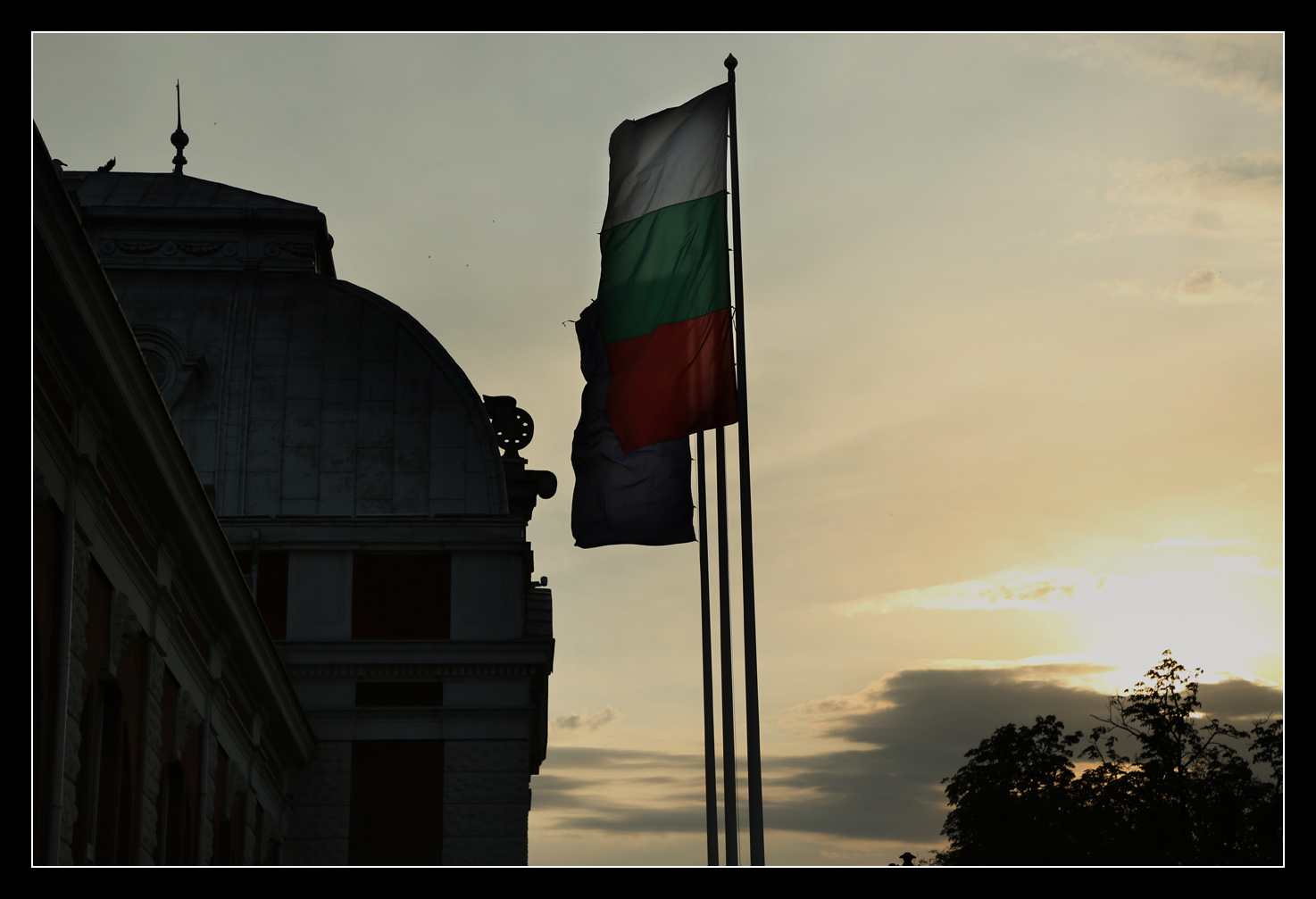 MBV 1480 "Albena" (a holiday destination 20 miles from Varna) to Budapest departing during the summer season on Wednesdays and Saturdays at 8 p.m.
Messi had been spotted at a Bulgarian hotel. ;-)
The train just consists of two coaches and is joined after a mere 30 minutes ride to Sindel with longer MBV 1470 "Nesebar" from Burgas.
44 202 (Skoda #7869 / 1983).
As conclusion: Romania-built FAUR 55 206 shunting sleeper coaches for the express trains to Sofia.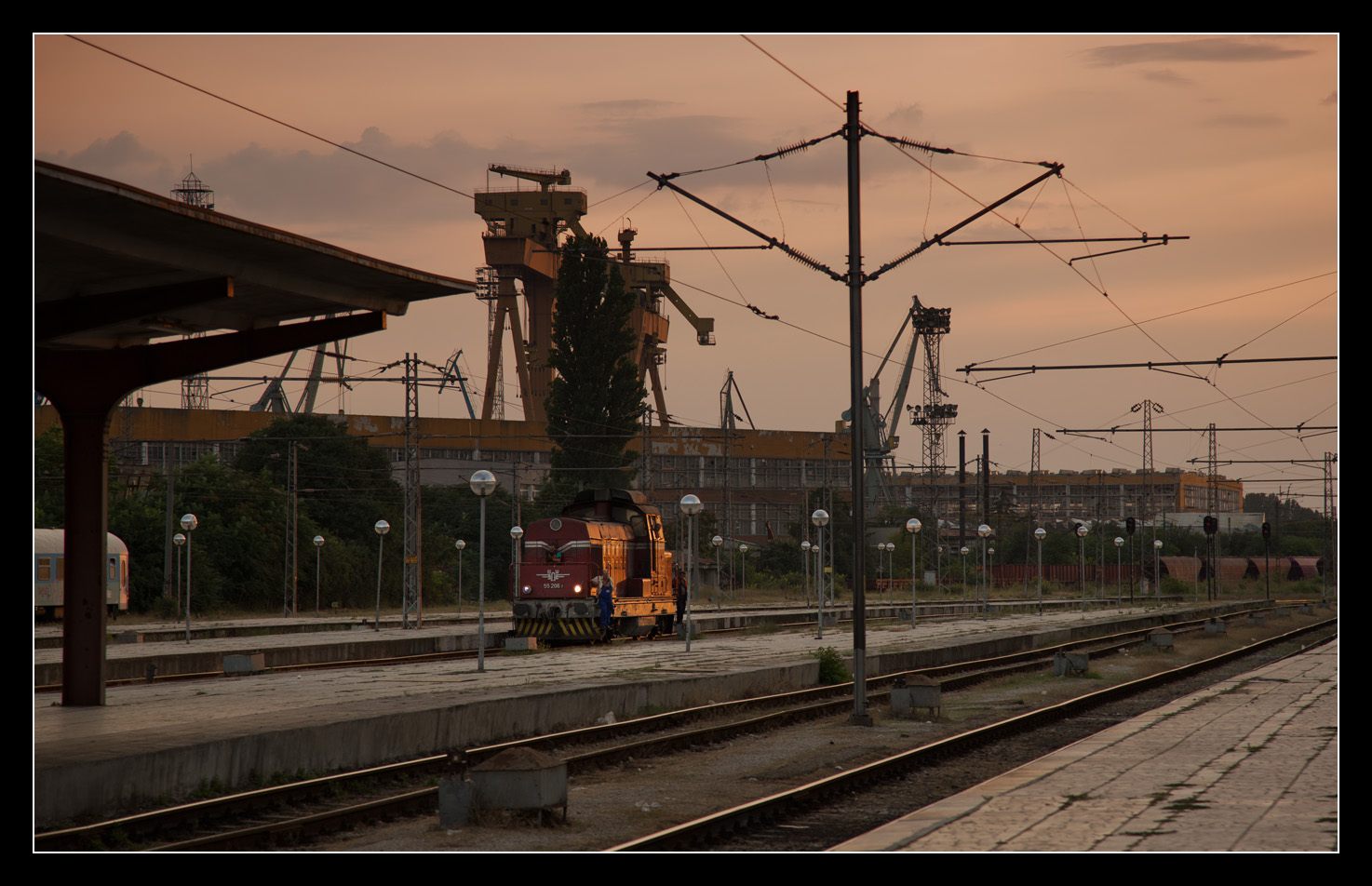 Next time we will go on excursions to the countryside!