Hi,
To the previous part of the series:
From the Southeast '16-'17 - 30: Iskar Gorge (50 p.)
http://www.railroadforums.com/forum...the-southeast-16-17-30-iskar-gorge-50-p.13384
The video for this part:
August 6 2016
That summer evening, a sleeper train including two sleeping cars delivered by Turkish company Tüvasaş in front was switched by an East German-built V 60 - in Thessaloniki it had been a West German V 60.
Sofia serves as hub for backpackers during the summer season.
October 28 2017
After arrival from Greece, on the way to Hotel Favorit: Bulgarian police, always ready.
I checked into my room and took a stroll through the city. The cool wind was not very inviting, though.
Welcome to urban Sofia! #722 is a T6M-700 F refurbished in 2011, originally built in the 1980s by Bulgarian Tramcar. View along Marie Luise Boulevard towards Banya Bashi Mosque,.
#3005, a Tatra T6A2B from 1990.
We change from 3 ft 3 23⁄32 in (1009 mm) to standard gauge - when is the next streetcar arriving?
I did not know this from 2015, back then second-hand West German Duewag units and Tatra T6B5B were operating on this line.
See "Holiday in Bulgaria 2015 - 25: An Evening in Sofia":
http://raildata.info/rum15/rum152510.jpg
http://raildata.info/rum15/rum152536.jpg
Now, I just found former Leipzig Tatra T4D-M2, #4045 built in 1982 passed by Zhenski Pazar ("Women's Market").
At one of the Centralni Hali stops next to Banski Square.
This also was new to me: Be 4/6 S 662 had arrived in summer 2017 from Basel.
After shopping at Billa, I captured rolling mailbox (the red square on the side) Tatra T6A2B on Lion's Bridge, the main station in the background.
The variety of Neapolitan wafers covered in chocolate with slightly Nationalist names grows ever bigger...
October 29 2017
Sunday morning - also by coincidence switch to standard time - I fetched my lunch packet from reception and walked to the now completed new station hall at 6:30.
#479 is a 1 ft 11 5⁄8 in (600 mm) Brigadelok (Henschel #16012 / built in 1918).
A few museum vitrines can be found at the station.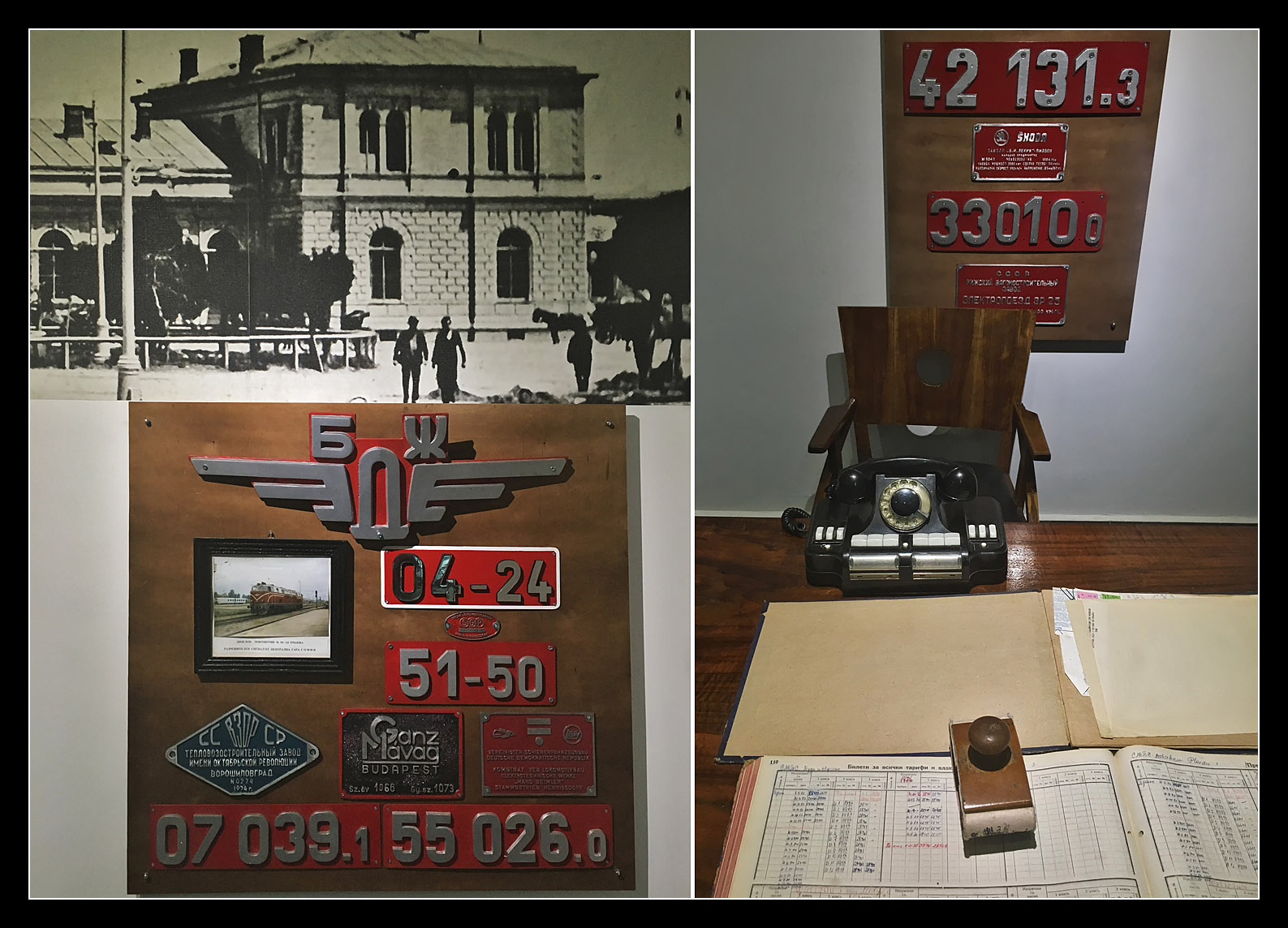 No energy drink will help you in this cold.
Sleeping car to the right, to the left my train BV 7620 Sofia (dep 7:25) - Vidin (arr 11:53). As all other coaches were unheated, most passengers assembled inside the first car.
We passed through Iskar Gorge punctually (see previous part), cabs were waiting for customers from the capital at Oreshets station.
I quickly captured an iPhone-panorama during the 40 minute-stopover at Vidin terminal, then a friendly border officer collected my passport and I was allowed to board the Romanian CFR Desiro waiting as international express MBV 1090 Vidin (dep 12:35) - Craiova (arr 15:57).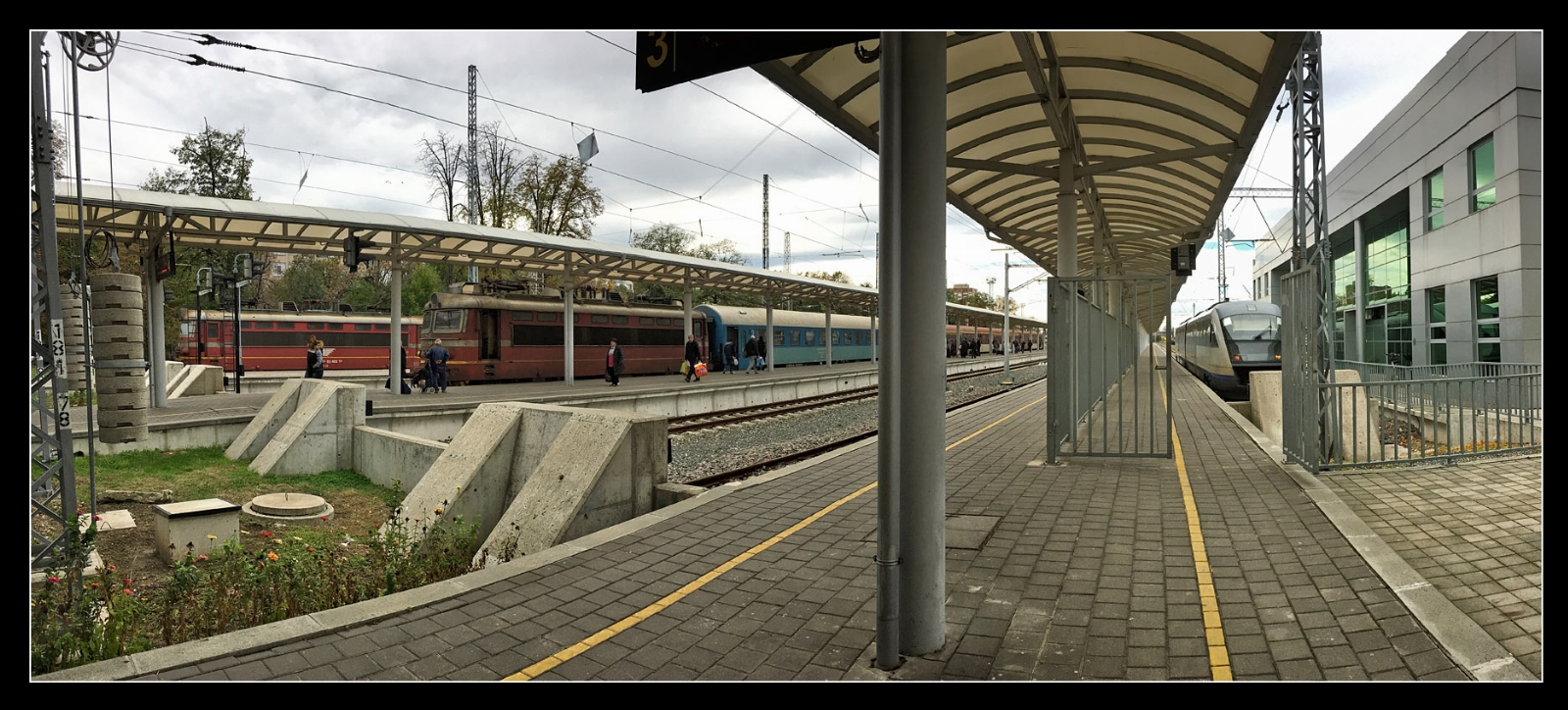 The passports were returned to just a handful of international passengers, then I crossed the Danube bridge for the first time by day.
At Vidin (left) you were caged, at Romanian border station Golenţi free to roam about.
The train was joined with a second Desiro unit arriving from the Romanian end of the line, Calafat.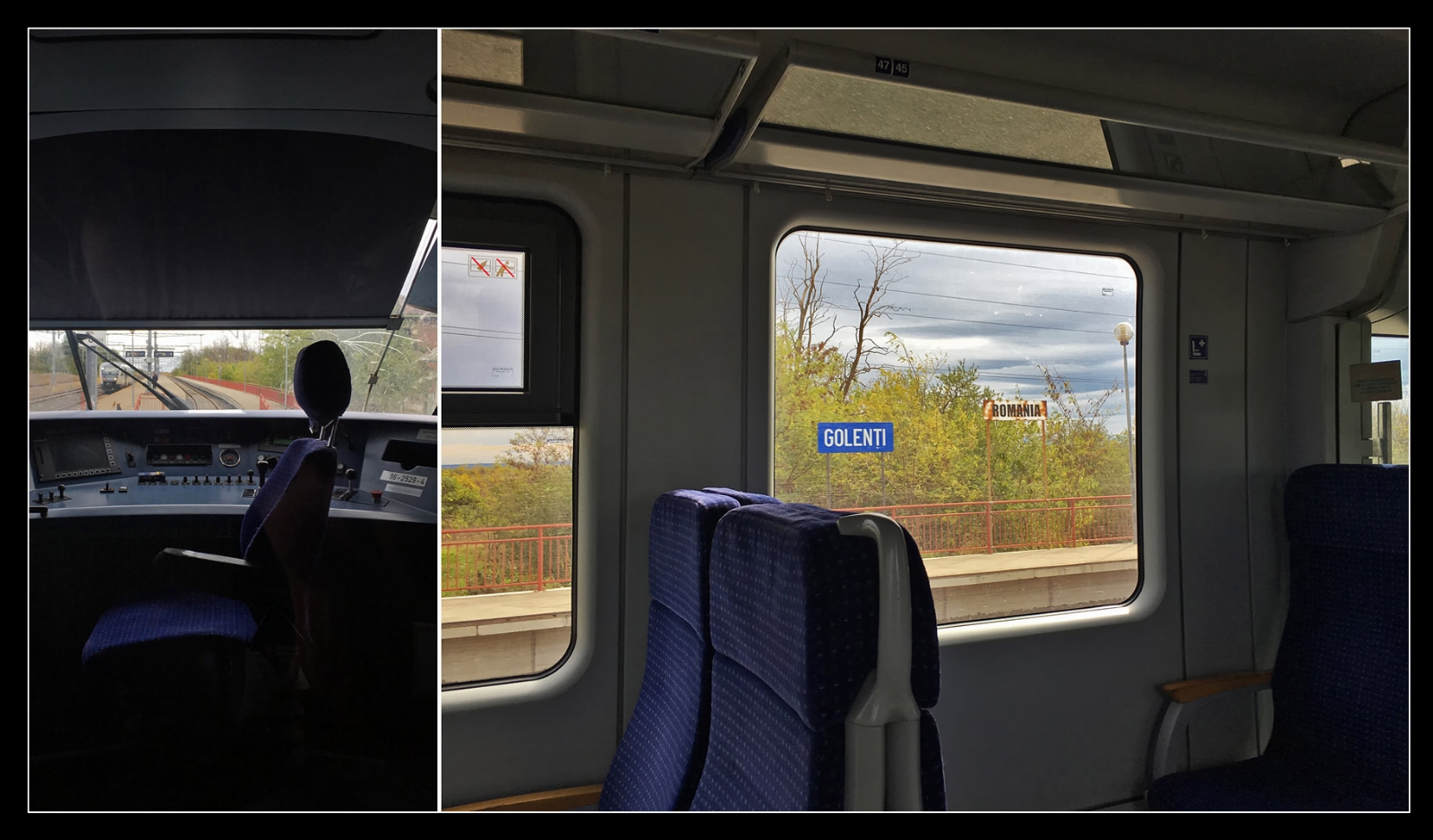 We crossed R 9135 Craiova - Băileşti hauled by 820 140 at Segarcea, apart from that I only spotted a freight train on this still horribly slow line. The train was well attended, completely full up to Craiova. One of the few landscape highlights is this vineyard, with a hint of sun.
Podari station.
After procuring a few things, I took a look around Craiova station - lacking a baggage check sadly not much else could be done. 77-0915 still wore old numbers but sadly had been adorned by even more graffiti than in 2016. The two light-blue cars formed R 9386 to Roşiori Nord.
Softrans 462 009 in full Raiffeisen Leasing ad livery, you can spot the former Servtrans-blue above the trucks of the Končar-built engine.
The loco hauled a single old passenger car as local Craiova - Motru. This service has been canceled by Softrans on April 1 2018 due to lack of passengers.
A train of double-decker cars stood on track 1 serving as special for soccer fans traveling to an away game guarded by a multitude of police officers. Accompanying them - I had not experienced that before - songs praising Craiova were played for an hour through the PA system. Listen yourselves:
I waited inside the modern hall at dusk, however, a large part of the lighting was switched off.
The interesting radiators along the ceiling also stayed cool - in the lighter part of the building a few locals assembled for a backgammon-tournament.
I ventured out onto the platform at 7 p.m. ...
... which presented itself desolate, even for CFR standards. A few light bulbs swinging in the wind (see video) formed the only source of lighting for the crumbling construction. My IR 1693 Bucharest - Timișoara arrived fifteen minutes late - and the delay would not decrease. It is unbelievable how slow parts of the line to the Iron Gates have become, sometimes the train crawled along seemingly at walking pace. And somehow the delay is not scheduled in the timetable - these line speeds cannot be news to the planners? I got off the train at Orşova and just had to cross the street to reach my accommodation, boardinghouse and roadside café Taka.
October 30 2017
Wind kept blowing throughout the night, waves splashed against the shore below the window - it almost felt like the seaside. It is a large reservoir, formed by the Iron Gate I hydroelectric power station in 1972 - Lake Đerdap in Serbian. 93 miles long, a few parts up to 3,4 miles wide and 400 feet deep. At Orşova, the reservoir is especially wide due to the confluence of the Cerna flowing from the right and the Danube flowing along the left edge of this panorama. The town is located on the other side of the Cerna, opposite the railroad station.
I asked for a taxi at the reception, and a nice gentleman arrived in his Dacia Logan - if you need a cab in Orşova, call Liviu, tel.:0756379299.
We drove a few miles east along the Danube to Iloviţa halt. I could have taken the local train at 7:15 a.m. Before continuing to Timișoara around noon, only one more passenger train was scheduled. Not even a hint of a freight train could be spotted during that time.
Iloviţa village is located a few miles upstream the Bahna. More bridges can be spotted in the background.
The road only seems empty in this picture, many trucks use this transit route.
View towards the Iron Gate I hydroelectric power station, the most powerful of the Danube.
Đerdap national park on the Serbian side.
IR 1692 Timișoara - Bucharest approached relatively punctually at 8:53 (scheduled departure at Orşova 8:43).
A virtually elongated train on the next bridge. To the left: Sfânta Ana monastery above Orşova.
View from the other side of the bridge.
Exactly here, behind Orşova, the misery starts. The train took three minutes for one mile to my spot! It crawled slowly across the bridge.
Wide angle integrated into an iPhone-panorama.
Next time, we will continue with a few city specials!