Hi,
To the previous part of the series:
Southeastwards '16-'18 - 28: Iași - Craiova (50 p.)
http://www.railroadforums.com/forum...utheastwards-16-18-28-iași-craiova-50-p.13349
What previously happened:
Finale in the Southeast '17 - 19: On top of the Greek Rail-Olympus (50 p.)
http://www.railroadforums.com/forum...9-on-top-of-the-greek-rail-olympus-50-p.12942
The video for this part:
August 6 2016
We return to the Iskar Gorge between Cherepish and Lyuti Brod with BV 2613 Sofia - Varna on the eastern of the two bridges.
Nature park Vrachanski Balkan.
Its end is marked by the razor-sharp Ritlite, already within Lyuti Brod village. PV 20102 Vratsa - Sofia with reversal at Mezdra main station was the only Desiro EMU spotted that day.
BV 7623 Vidin - Sofia passed by Lyuti Brod station punctually at 3:46 p.m., emerging from a tamer landscape.
Into the wild landscape through Ritlite. Sadly, nothing was scheduled to approach from this direction at the time.
The typical memorial posters at Lyuti Brod station... some people had passed away decades ago, others only before 40 days.
KPV 20204 Mezdra - Sofia picked me up punctually at 4:15 - the local train ride to the capital would take about two hours, and I had booked my hotel for the night at Pirot, Serbia.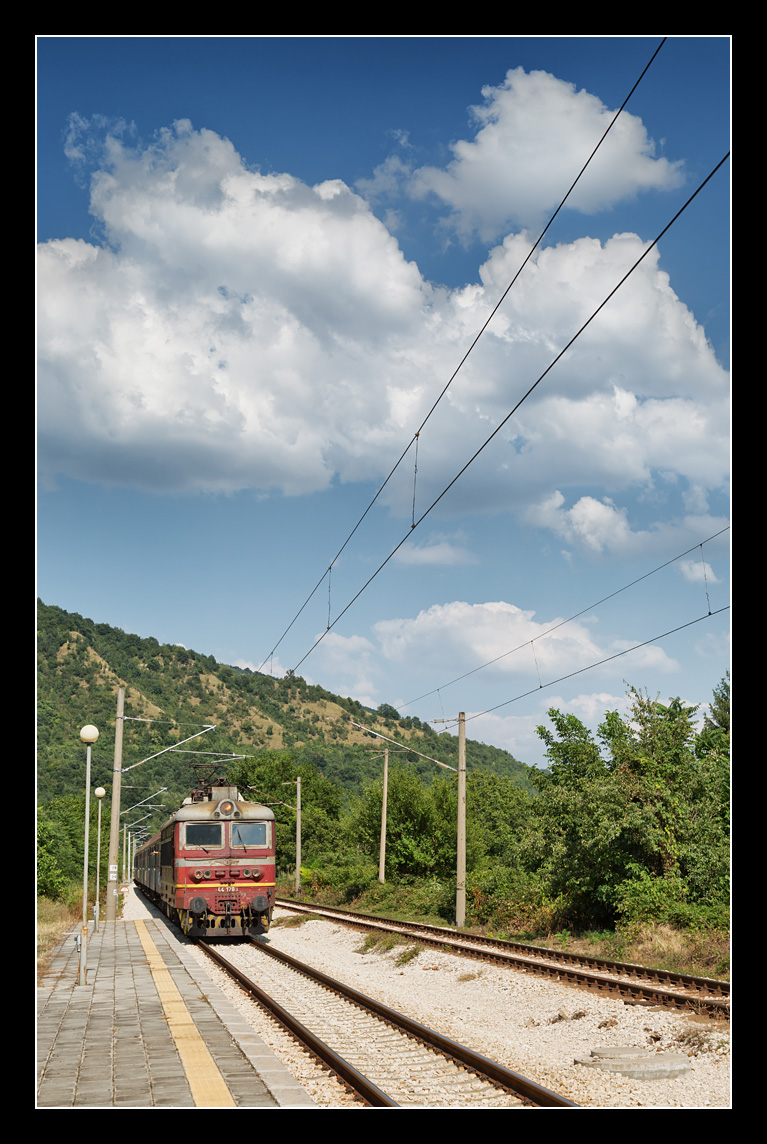 By car built at Halberstadt in the GDR along Iskar River.
Most other photos during the train rides in this part have been taken by cell phone. I would have visited this spot near Levishte in the morning - if we had not stayed overnight at Vidin due to the delay.
Railroad line and gorge both turn south at Lakatnik.
To the left Balkan halt, to the right an ex-DSB EA electric as I already had seen it during my 2015 summer trip.
After we had encountered a construction site in 2015, Sofia station now was almost complete - and the whole hall air-conditioned! At the Billa supermarket next door I purchased some exotic refreshment variations after the long hot day.
They were even more necessary as I had to wait a while: due to BDŽ engine shortage my MBV 292 "Nušić" - scheduled departure to Serbia at 8:25 p.m. - had to wait for heavily delayed MBV 491 "Balkan" - scheduled to arrive at 6:15. Finally, we departed after 9 p.m. and I arrived at Pirot around 11:15 instead of 9:46. Luckily, it was no problem with my accommodation opposite the station. We will continue in Serbia another time, as I traveled through the gorge again during fall 2017.
October 27 2017
As you may remember from the report linked at the top, I returned my car to Larissa in the evening after the wonderful Bralos Pass tour. I had to wait for IC 58 Athens - Thessaloniki. It was delayed, the online-query did not show any delays and the screen on the platform had been frozen for a couple of days.
So, all you could do was wait. The DMU to Volos departed on the other side of the station to the left, then lastly the IC arrived - both scenes can be watched here:
October 28 2017
I had a place to stay overnight at Thessaloniki near the 15th-16th century White Tower with the "Third Hand", who also took some pictures on the Greek national holiday.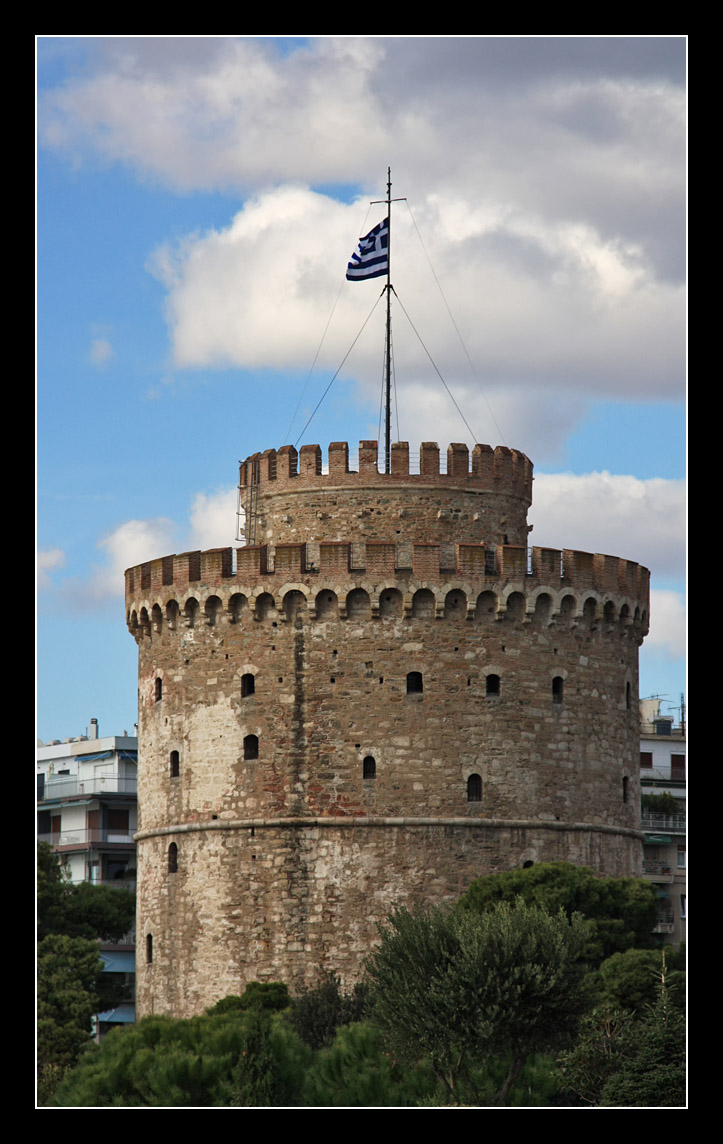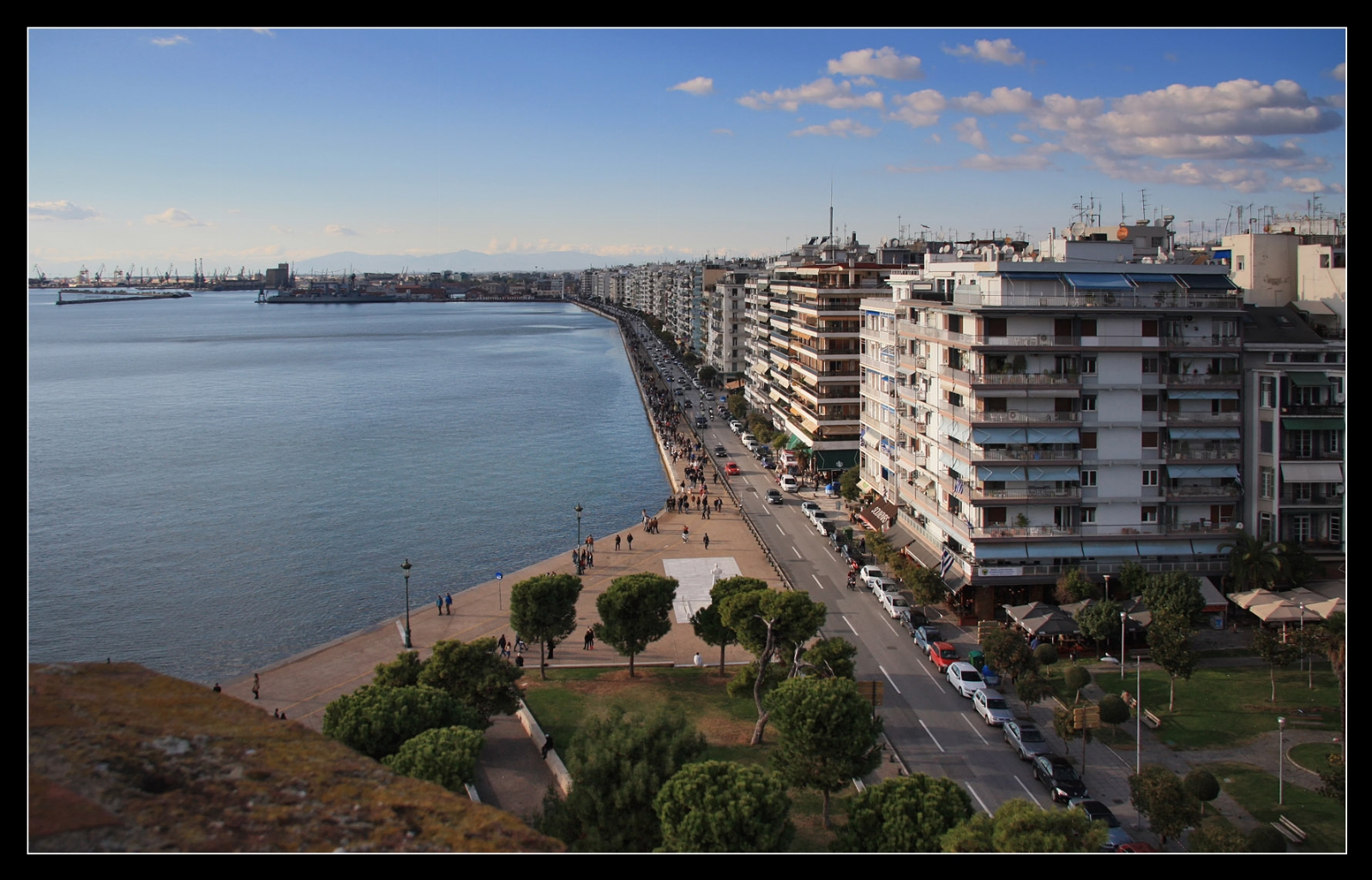 For the first time since WWII, the oldest ship in the Greek Navy - "Georgios Averoff" built in 1910 - had returned to Thessaloniki after a complete overhaul.
More about it:
https://en.wikipedia.org/wiki/Greek_cruiser_Georgios_Averof
A West-German-built V60, A116, still served as switcher at Thessaloniki main station.
I did not get to admire Thessaloniki in daylight this time, as a taxi took me to the station at 6 a.m. An espresso at "Casa del Treno" spared me from sitting on the general waiting benches with some shady characters.
Overnight express 600 from Athens had arrived punctually. Connecting AEG-built DMU 520 154/254 waited for me - probably the one and only time I will use with this class!
I took some snaps while entering the train, afterwards express 600A to Alexandroupoli / 360 to Sofia became more crowded as it served as only rail connection to Northeastern Greece.
At nine o'clock we punctually arrived at Strimon, after beach weather the previous day I was welcomed by a cold fall breeze. I already had taken a photo in 2008 here ("Orient-Express" part 4), out of the window of the "Friendship Express" from Istanbul, at a time when express 360 actually operated as a train throughout to Sofia:
http://raildata.info/orient/orient0406.jpg
A few international passengers assembled in the waiting room, the departure of the connecting bus was indicated at the ticket counter.
This little guy would have liked to come with us... we passed an interesting rail crossing next to the station. Subsequently, we drove towards Bulgaria along rusty-looking tracks.
After some waiting at the border, we arrived at Kulata station. The train for the next stage of our journey stood ready - BDŽ also had introduced UIC numbers on loco fronts in the meantime, using old-fashioned boards!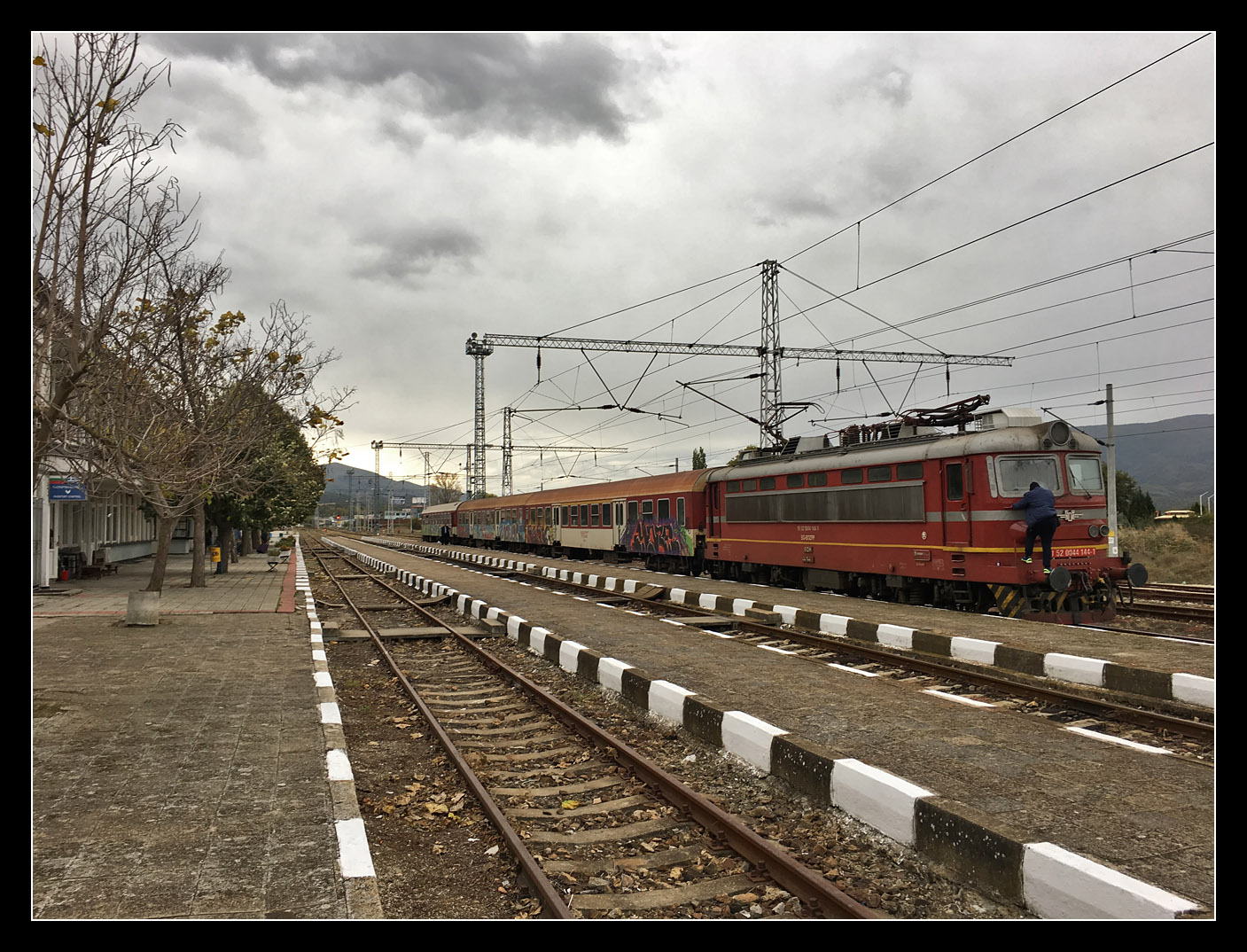 I took my seat inside a meagerly heated car.
The conductor did not have a pen to write on the international ticket, so mine from "Hotel Moskva" in Belgrade had to do... ;-)
We met a class 61-hauled local for the branch line General Todorov - Petrich, see:
Our picturesque line followed Struma River. Later, views opened up towards the snow-capped Rila Mountains.
At Dupnitsa, we had to change to bus again due to track maintenance work.
By bus along Dyakovo reservoir.
After a relatively short ride, we reached lonely Galabnik station - a smaller station of course is preferable for barrier-free access. The conductor in leather jacket participated in the general smoke break.
However, we did not have to wait long with the new, efficient BDŽ. The Desiro EMU from Sofia arrived, reversed and quickly departed again as MBV 5690 Galabnik - Sofia.
First fall colors after a long summer.
Disused track triangle near Batanovtsi - then we stopped at Pernik, the largest town before reaching Sofia. We arrived punctually at 2:34 p.m., and I checked into well-known Hotel Favorit. A few impressions from Sofia will follow next time.
October 29 2017
BV 7620 Sofia (dep. 7:25) - Vidin (arr. 11:53) was my only possible connection to continue. According to original planning I was supposed to arrive here two days earlier, with time to explore the Iskar Gorge or for an excursion to Serbia. However, I had prolonged my stay for the beautiful last day on the Bralos Pass line, which is now history. So, this time I only collected some impressions from the moving train, inspiration to maybe return in the following years during fall season.
The weather was not pleasant anyway, although some lovely sunlight moods arose. The Halberstadt cars were unheated again, so my only option remained a light-blue open plan a/c express car behind the loco and to take pictures through the window pane.
Sunrise at Novi Iskar.
Along Iskar River near Thompson - named after a British officer who had supported Bulgarian partisans during WWII and was executed in 1944.
Shining river at Tserovo.
Once more the mighty Lakatnishki Skali next to the station of same name, then the line turned east.
One river bend west of Opletniya halt.
Opletniya Village.
Once again, the possible morning spot near Lewishte.
And as conclusion: views from the known bridges near Lyuti Brod.
Next time: some images from Sofia, then we will continue the trip.