Bonjour,
Part two of my Tour de France report is a compilation of pictures of two trips that I made while staying in Lille: I went to Rouen and Valciennes.
Valenciennes
Valenciennes is just a 45min train ride away from Lille
The tram network consists of two lines. Both lines start at the same station and part ways after passing through downtown. I did not like the paint job of the trams that mich. I was a bit too boring for my taste. Your take on the colour?
On the inside, they looked a bit better
Classic motif in Frensh cities: Tram in a roundabout (taken next to "Nungesser" station)
A bridge near "Anzin Hotel de Ville" offered a nice view from above
The tracks surrounding "Chemin Vert" ("green way") literally match the stations name.
Bridge "Pont Jacob" spans over the tracks of the rail station and the Schelde river
Impressions from Valenciennes railway station
An architectural marvel: The town hall
Rouen
The trip to Rouen took a bit longer: 3 hours both ways. For the outbound trip I used a direct TER. For the return I had to use Intercité and TGV services via Paris
As some stations are below the surface, the tram is called "Métro" (I will stick to tram ;-)). A tram at the stop below the railway station.
Just one word: "Vertigo":
The tram network has two lines (both named "M"). Both start at "Boulingrin". I will hop on this train heading to downtown in a few minutes.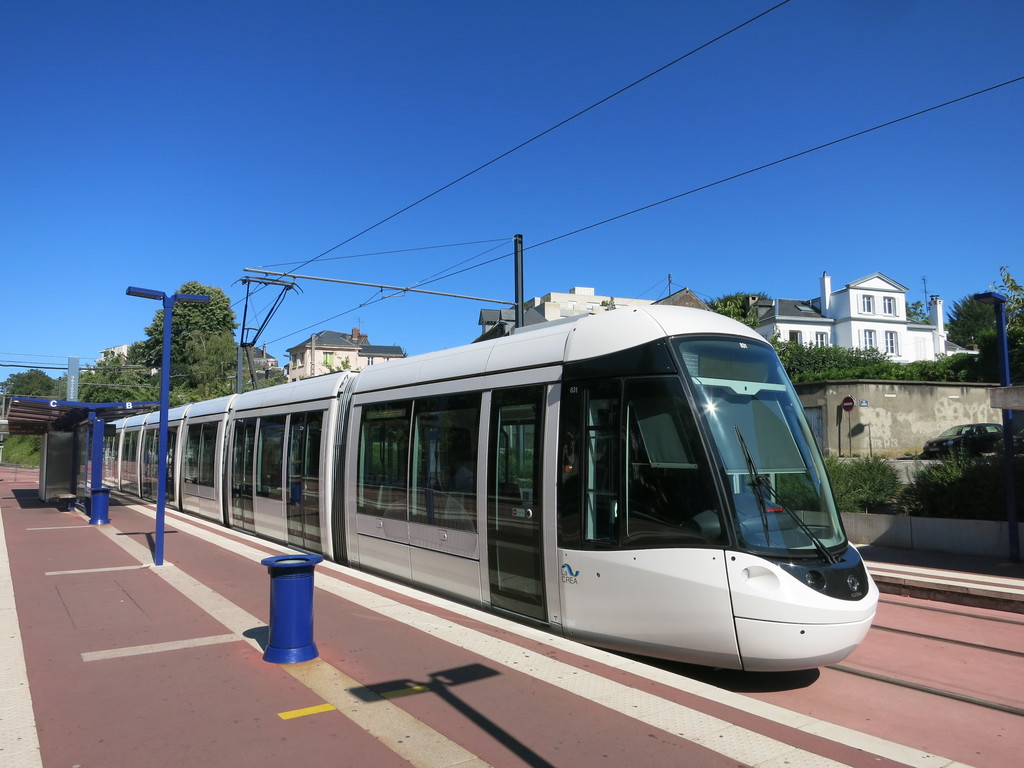 Mixed tram impressions (as I cannot decipher my own hand writing, I cannot tell anymore where I took the pictures).
Trams passing the Seine river
The Seine without trams is nice too ;-)
A look into a tram
The no-frills station design
The cathedrals sticks out from the rest of the buildings
The facade was quite impressive
Want to refurbish your staircase and need some ideas? How about this?
Church St. Ouen was nice to look at too.
The clock tower ("Le Gros Horloge")
Outside view of Rouen railway station. On the inside there were some nice murals on the wall
A TER leaves the station
These two trips ended may stay in Lille, I packed my stuff and hopped on a train heading south.
Salut
Charly