The CStPM&O out of Florence heads west for awhile then heads north to Nashville via a series of deep cuts. I found an old Douglas County map from 1876 that gives a different route to Nashville. The line in red is the one we are familiar with and the line in yellow is the one in question. I tried to trace the map onto Google Earth with some success. See below: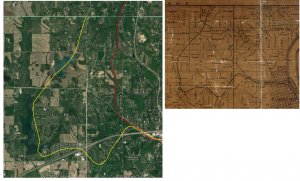 After some research, I found this article from a 1885 edition of the Annual Report of the Chicago, St. Paul, Minneapolis and Omaha (Do a search on Florence Cutoff NE Chicago Omaha and you should find it). I find it interesting that the cut-off saves almost 5 miles of track. Which is the difference in length between the old and new routes. See below for excerpt from this manual: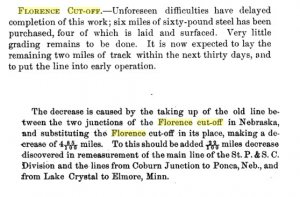 Then I found a 1885 Washington County, Fort Calhoun Township map that clearly shows the 'Old Line' and the 'New Cut Off'. See below: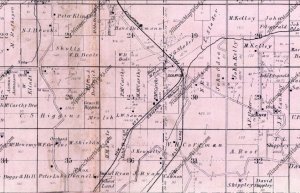 Does anybody have any more information about this 'Florence Cut-Off'? Was that 1876 map accurate?
Ace