Hi,
Mid-September a charter tour through the Eastern Alps - theoretically - all behind steamers was scheduled, run by German touring agency IGE. On the Slovenian leg I planned to join my friend and photographer Misko Kranjec, who was about to take pictures of the tour for the Slovenian Railways. However, a chance presented itself to enjoy a little more "dolce vita" beforehand, so Monday evening I boarded EuroNight 60235 from Vienna to Verona.
September 13 2016
The train was punctual, which meant a stay from 2:50 to 5:22 a.m. at Venezia Mestre for the through coaches to Milan. To my enjoyment E444R.033 had taken over, here a photo after a 6:35 a.m. arrival at Verona Porta Nuova station.
I hurried to my sunrise spot on the bank of River Adige east of the station. Frecciabianca 9700 from Venice crossed the bridge at 6:50 in front of an Alpine backdrop.
For this day the steam train timetable was unknown to me, so I hesitated what to do next. Stay here or change to the other side of the bridge? In the meantime, the sun rose and a Rail Traction Company former Czech "diving glass" diesel passed by - that's why you travel hundreds of miles from Vienna to Italy! ;-)
I did not have to decide: at 7:09 a.m. a certain noise rapidly came closer from behind, and FS 685.196 hauled the special across the bridge in best morning mood.
So, the rest of morning session would be relaxed. I like this perspective, here with R 2707 Brescia - Venezia Santa Lucia.
I walked ahead to the road bridge, a wonderful view of the old town and mountains.
It might seem idyllic, but commuter traffic passing by was heavy.
At least you were rewarded with picturesque images: a part of Verona city fortifications on the river and high speed testing train ETR 500 Y1 of RFI.
Thello EuroNight 221 Paris - Venice did not depart on time, so I walked a little ahead towards the old centre and took this alternative shot when it actually came by.
I crossed the Adige on Ponte delle Navi and reached my street - Via Cappello :0) - where Caffé and Aperol just were being delivered. I passed by the house of fictional Juliet, tourists already amassed below the famous balcony.
Then I returned to the station past the Roman amphitheatre.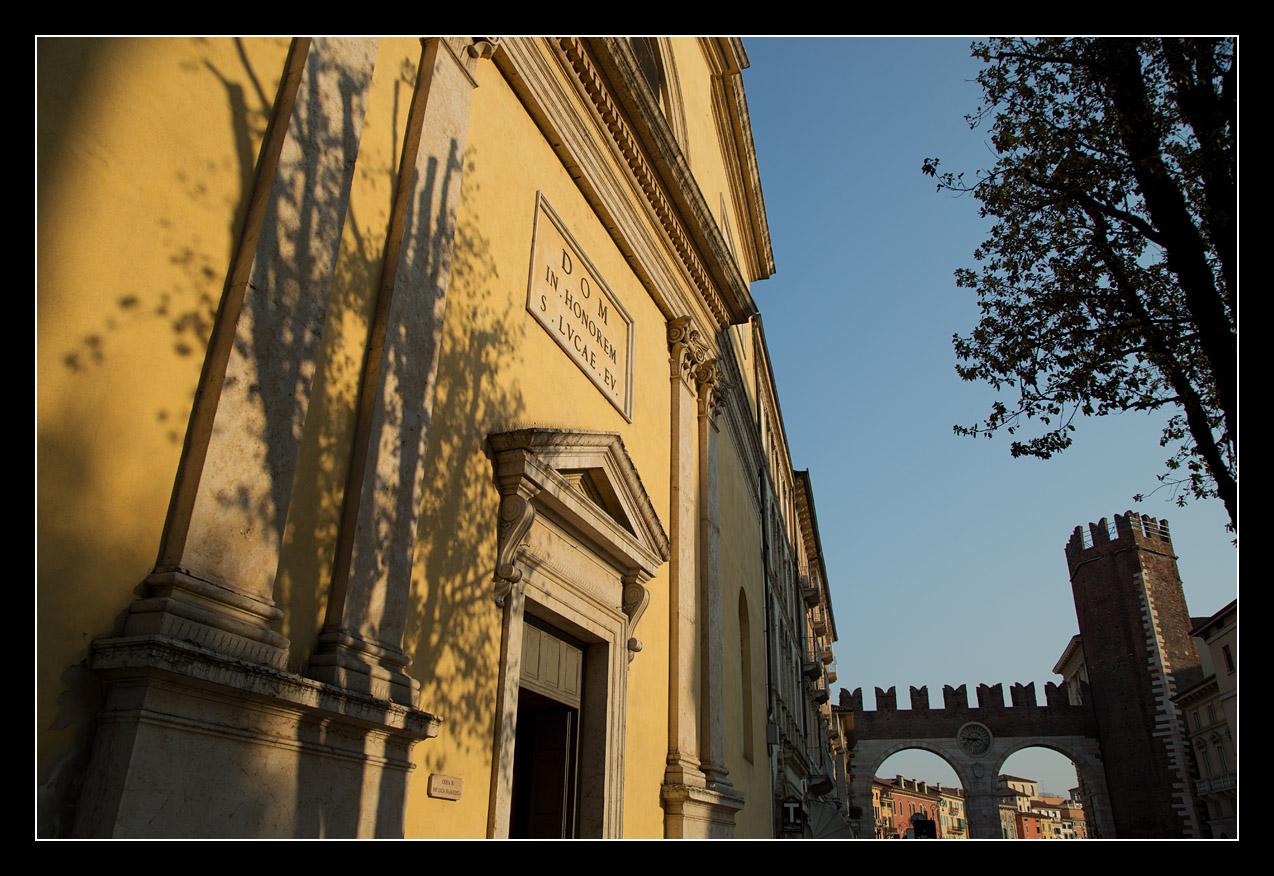 An old Trenord class ALe 582 EMU shortly stopped on the same platform as my slightly delayed Frecciabianca 9707...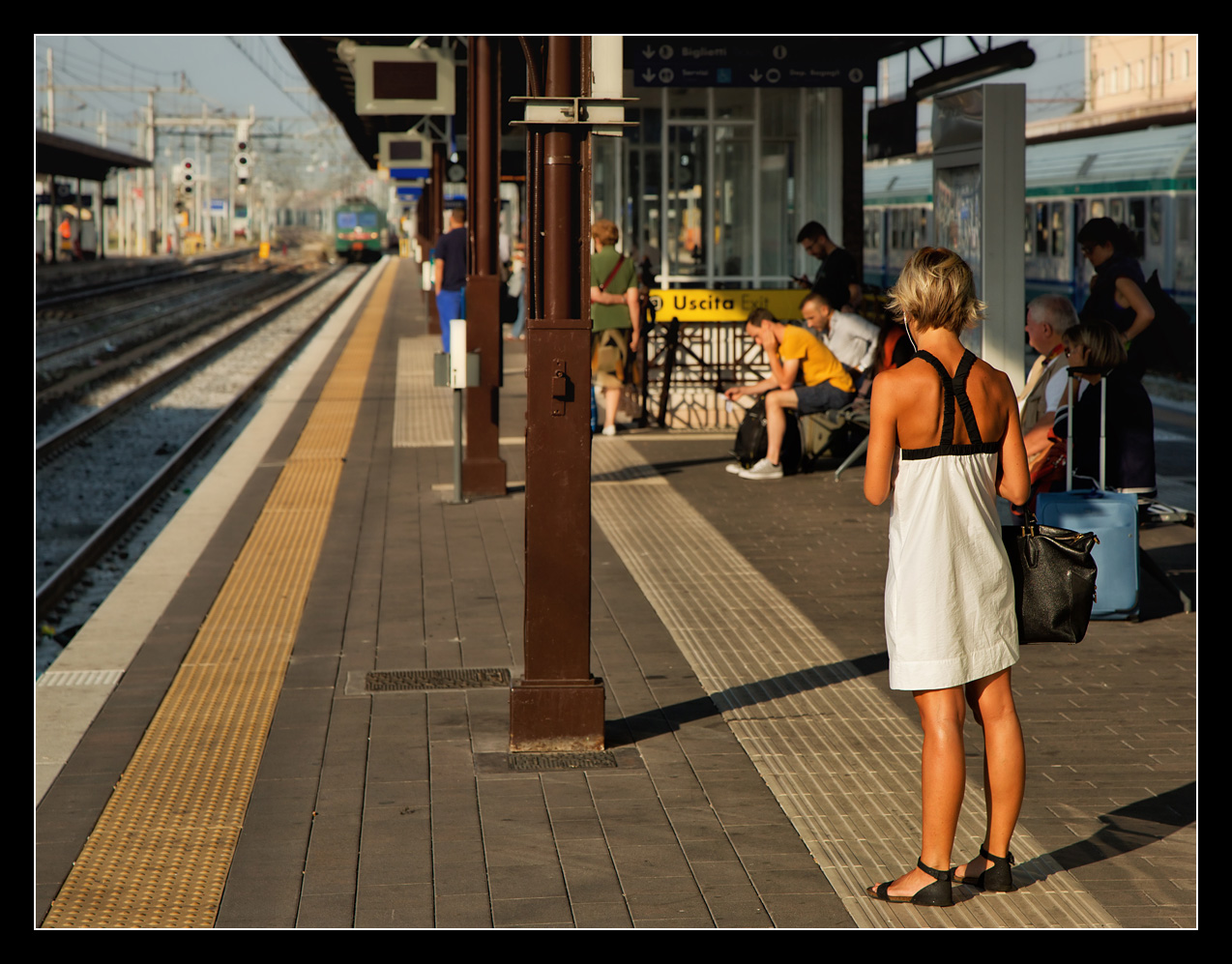 ... to Trieste.
CAF "Civity" class ETR 563 had been delivered to Trenitalia in 2013. I took a Minuetto EMU to Bivio d'Aurisina, junction of the line towards Slovenia.
It is not easy to find photo spots along the coast, I followed my nose along a rocky path through the karst: and voilà - CAF EMU on top of a cliff with Miramare Castle in the background! However, next time I won't come here in thirty-degree-heat and midday sun, this view should be ideally lit during the cool season.
If you follow the path further past the white cliffs you get this view towards industrial Monfalcone - a class E464 with push-pull train to the upper right corner, Castello di Duino left to the centre.
I did not wait for the steam train as I had no clue when it was supposed to arrive. At 3 p.m. some work crews were busy at Bivio station, two freight locos passed by.
I returned to Trieste and took bus #4 to my accommodation uphill at Villa Opicina. Sadly, the tram (see my reports from May 2015) once more is out of service since two railcars crashed on August 16 2016. I left my backpack at the B&B and walked through lofty forests to the brutalist pyramid-shaped pilgrimage church of Monte Grisa. You receive a wonderful panorama from Miramare to Trieste up there. I waited for scheduled trains, but none came by. A column of smoke rose near Monfalcone in the distance, I looked up the Trenitalia news page, and really: the line had been closed since 4 p.m. due to a forest fire near the tracks probably caused by sparks from train brakes. Only question: is the steam charter already past or not?
I stayed until shortly before sunset. Finally, at night, I read in my room that rail traffic had been resumed at 9 p.m.
September 14 2016
Next morning shortly after 6 o'clock Misko was already waiting in his car for me. At first we took a quick peek down to the station. Since all platforms were occupied by modern trains, we immediately drove on to Monte Grisa viewpoint. At 7:15 R 2680 had just left Trieste terminal towards Venice.
According to the working timetable the steam charter should have departed at 7:35 a.m. - but nothing happened. We were not even sure if the train was at Trieste...
A bonus during the time spent waiting: the sun slowly reached the viaducts of Barcola.
View towards neighbouring Koper bay with already known Minoan Lines. The line past Miramare laid fully in the sun from 8:20.
At 8:25 a.m. back at the station - yeesssssss!
They finally departed at 8:40 - and the wait had paid off: what followed probably was the steam scene of the year...
... with perfect glint on the smaller viaduct...
Despite the fire hazard and a class D445 diesel helper the loco crew was not afraid to lay down a smoke trail - that's how you can properly follow railway lines!
Today's morning entertainment was brought to you by: FS 728.022 (Vienna Floridsdorf #2650 / built in 1920), ex-Società italiana per il Mar Nero 270.158. The former Austro-Hungarian kkStB class 270 had been produced 1917 - 1930. After WWI Austria delivered some locomotives as reparation payment to Italy. This happened to 728.022 twice, as it was in service 1945 - 1958 as Yugoslav JZ 25-022.
Proper men on their engines. We already had previously learnt that through the Slovenian karst sadly not a JZ class 33 Kriegslok steamer, but a GM-EMD licenced class 664 "Reagan" diesel was about to take over.
The charter now ran an hour late, but of course it would not have to stop as frequently and long diesel-hauled.
We shortly swung by Stanjel, I took pictures of local DMU LP 4210 Sezana - Jesenice.
Then we headed straight to Branik.
Diesel has its advantages - this shot for example was taken while the loco pushed back. Sadly, the old infrastructure - semaphores, telegraph poles - is already mostly gone on this line.
Stopping for water at Nova Gorica of course was skipped, now the train ran ahead of schedule. They had a longer photo stop on Solkan Bridge, we drove ahead to Most na Soci where we came across a local freight, also headed by a class 664.
Tunnel view behind Most na Soci.
Up to Podbrdo we caught the special three more times, mostly I filmed, here a photo taken out of the car.
The auto train through Bohinj tunnel would depart too late, so we drove across the mountain pass - a very picturesque detour.
On the other side - at Bohinjska Bistrica - the special was long gone, at least we once more caught up with the freight.
Also no sign of the charter at Bled, but a tourist snapshot was possible.
At Jesenice - which according to the charter timetable was supposed to be reached two hours later - steamer 33-037 already stood ready to depart towards Ljubljana at 4 p.m.
We sought the latest information regarding crossing halts on this heavily frequented single track mainline.
A shot from a road bridge ahead of Lesce.
Followed by a prolonged stop at picture-postcard Lesce-Bled station.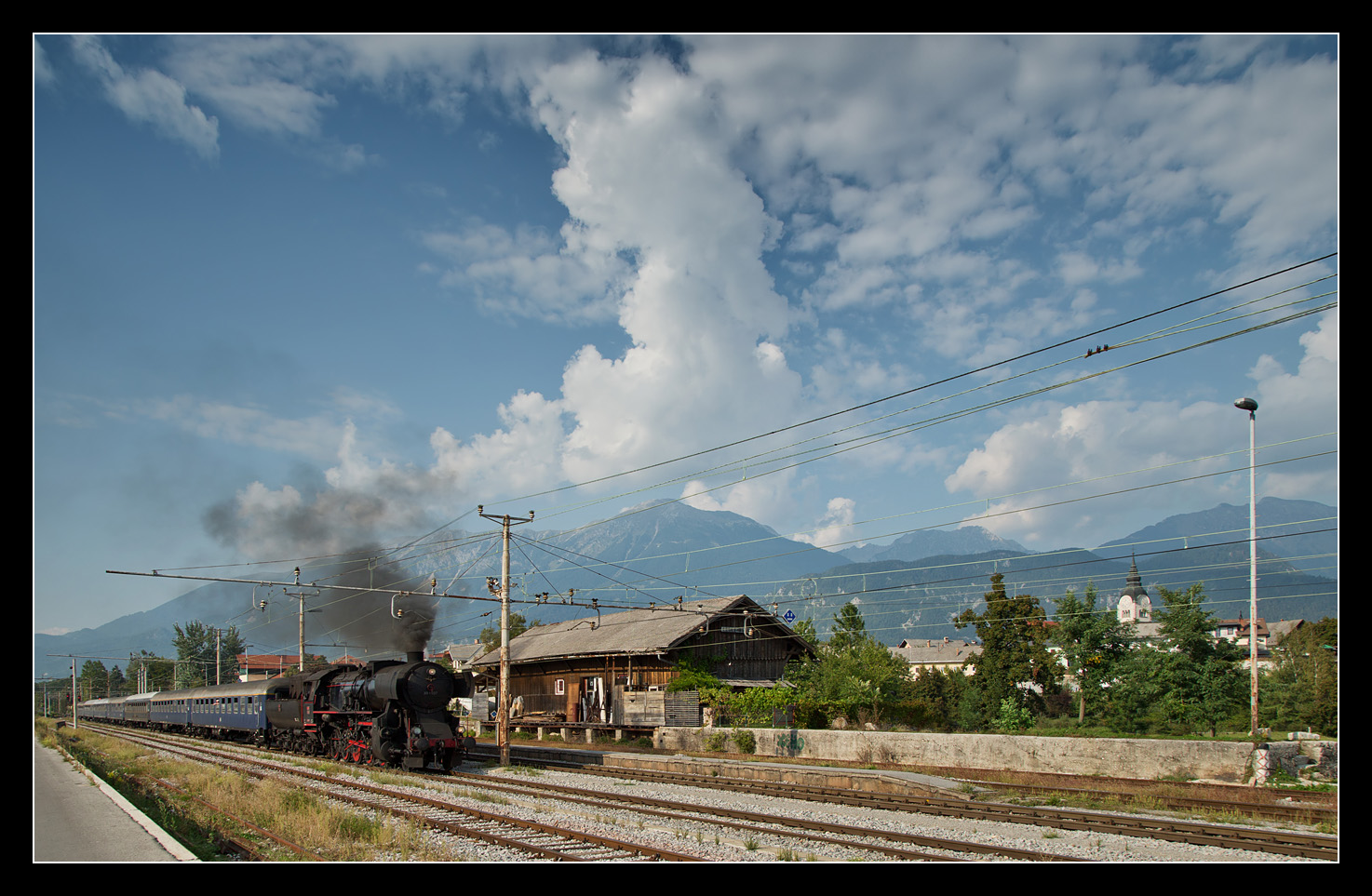 The firewatch team parked their vehicle right in front of the loco - at least the gang of four added to a nice scene.
We passed Kranj and set up in a field near Skofja Loka. LP 2410 Ljubljana - Jesenice rushed past in nice mood.
What was about to arrive? Sunshine or thunderstorm?
Both!
But no steamer yet...
Finally, at 6 p.m., it approached with slight sunshine, rainbow and Alpine backdrop.
At Skofja Loka the clouds were no less spectacular. EC 213 "Mimara" Villach - Zagreb took the station bypass-curve with speed.
The sky had been cleft in twain for the steam train departure.
In the evening we paid a short visit to Ljubljana railway museum and steam shed.
33-037 was shortly worked on, but sadly not properly cleaned as it returned to Jesenice.
See you next morning at Ljubljana!