Hi,
To the previous trip report part:
Cuba 2003 IX... Santiago - With Cannons and Missiles (50 p.)
http://www.railroadforums.com/forum...IX-Santiago-With-Cannons-and-Missiles-(50-B-)
February 25 2003
We were driving from Santiago westward along the harsh southern coast of Cuba and Sierra Maestra mountain range.
Not much traffic, but other obstacles...
The only public transport of the area.
Last bits of civilization...
There would be something to an own Caribbean island.
As promised in the previous part, the adventure begins:
At Santiago sadly we had neglected to take in some black gold from the squirrel - see report from Camagüey.
Passing the last town in front of the remote part of the coast our fuel gauge was so low, we desperately needed to find gas. The problem: at local gas stations only Cubans were allowed to be served. Rations of gasoline were being distributed to citizens, probably these gas stations did not store more reserves.
Cuban solution: We were invited by a nice family into their private garden, we sat down on the porch. In the meantime they took a jerrycan to get some gasoline and sold us their ration.
Problem - improvised solution: often possible on Cuba!
Of course a baseball stadium cannot be missed.
The wild portion of the coast started...
This region often is afflicted by hurricanes, so alternatives to brigdes have to be ready in case flood damage occurs.
Parts of the road had been ravaged.
At some spots protective tunnels had been built, but never put into service.
For such stunning views of the Caribbean the danger of falling rocks could be endured.
Only user on an amazing coastal road.
Only motorized user on an amazing coastal road....
At Marea del Portillo we reached human settlements again.
As only accomodation we found Hotel Farallon del Caribe - the people managing the reception probably were just used to package tourists and quite surprised by individual travellers arriving by rental car. Still, we managed to check in all inclusive with "Club Amigo" for 24 hours, some change after a week of private bed and breakfast. In front of the hotel the flags of the current guests from Canada and Germany had been hoisted.
The particular feature of this beach was "black" sand of volcanic origin.
This view could be enjoyed from the hotel terrace, we joined dinner afterwards.
Hardly anything more bizarre can be imagined: in these mountains Fidel and Che had been hiding suffering hardship, nowadays you can get served a pork leg while a live band plays "Hasta Siempre"...
February 26 2003
Next morning we naturally had a slow start as a beach day was planned. On the way we met these big lizards, giant water birds also could be observed.
Most decadent was the pool bar featuring stools inside the pool perfect for the sizeable behinds of package tourists...
A swimmingpool cocktail in a swimmingpool. ;-)
Rules in German...
I explored the premises, interestingly propaganda could be found in the parts reserved for service personnel. This province was called "Granma", after the yacht which had been used by the revolutionaries to land on Cuba near here. It's actually the English word "grandma", if you were wondering, just pronounced differently...
We savored our stay as long as possible...
Back to reality: we hit the road as we were supposed to return to Havanna next evening. However, for most Cubans travelling means: Waiting...
We approached Media Luna, here revolutionary troops had met.
A typical farmhouse as we had seen it from inside earlier on the journey.
In the streets of Media Luna.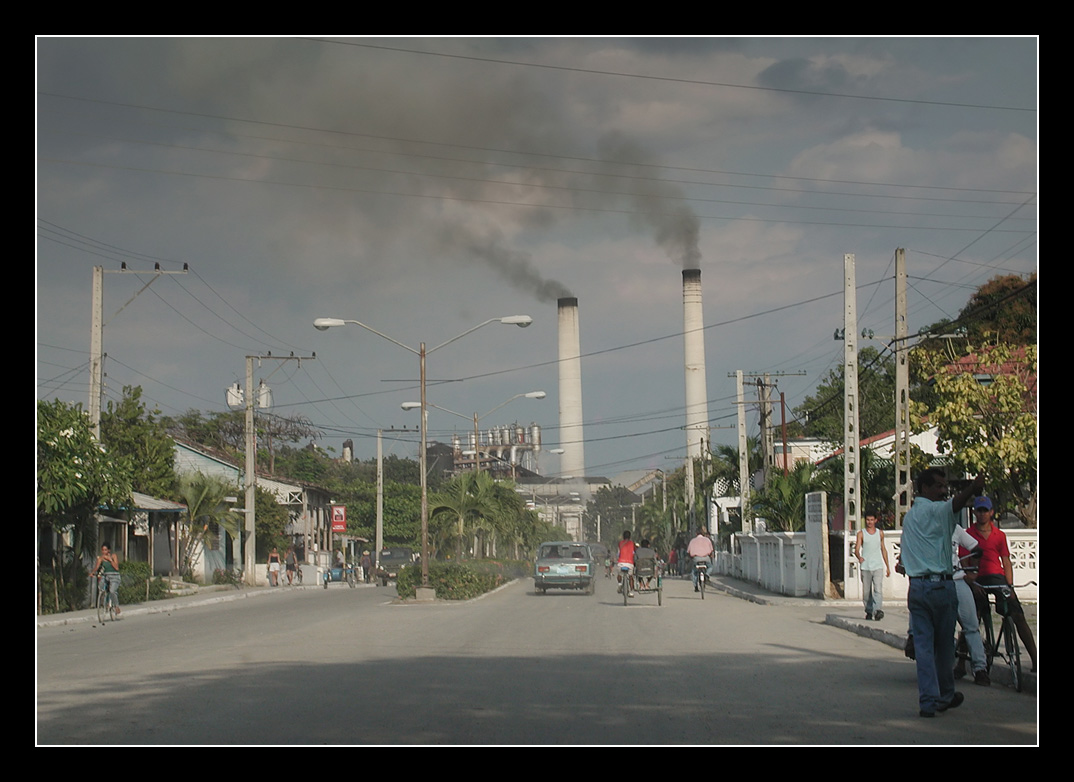 The "Servicentro" was fittingly called (a little faded) "La Esperanza" - "Hope". It could have come in handy later on...
"If the battle is daily, victory will last in eternity." - Appropriate morale-boosting slogan.
Amazing how many people were waiting on each corner in this part of Cuba, it was an ordinary workday evening. Hitchhiking was being organized by the state here. As tourists we sadly were not allowed to take anyone on, our small cars were full to the brim anyway.
In this traffic situation walking is an alternative.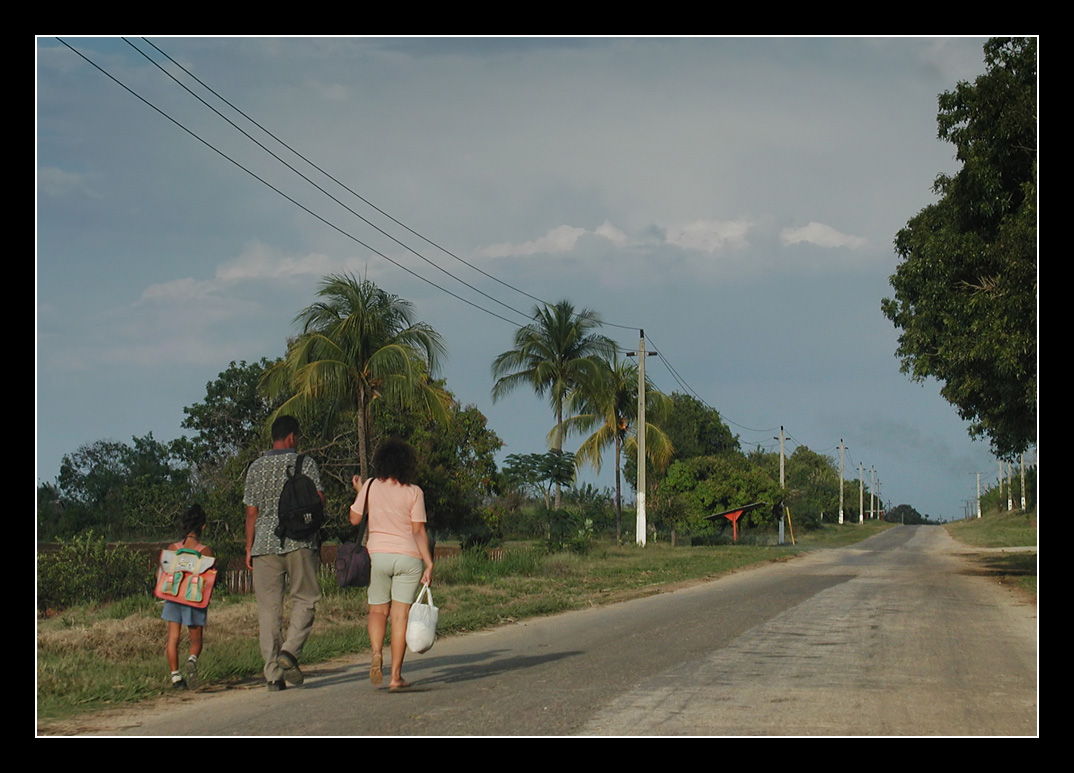 You always were observed longingly.
Once more a vaquero.
We were overtaking tractor line 3A.
As well as truck line 5.
And the school carriage.
Slowly the sun went down, behind Las Tunas we turned onto the more heavily trafficked Carreterra Central. Suddenly we were not able to see the blue car behind us anymore, we waited a bit, but it did not turn up. We turned around, and saw...
... a flat tire! So, we had had to pay tribute to the rough coastal road. But this was not about to be the end of it, a few miles on our car rolled onto the road shoulder, also suffering a puncture!
That night we slept in a state-run hotel near Camagüey at the main road. Still, we would not have had a good feeling carrying on without a replacement tire, but as so often it was convenient to be in Cuba. Everything was arranged spontaneously, my cousin went on a mechanic's motorbike taking the tire to a garage. There it was mended quickly, of course only costing peanuts - if I have to think of the problems I already endured with European rental cars after a flat...
Next time I will show the last full day on Cuba, plus a little treat hopefully making up for this railroad-less part!