Hi,
To the previous trip report part:
Cuba 2003 VI... Trinidad - Sancti Spíritus (50 p.)
http://www.railroadforums.com/forum...ba-2003-VI-Trinidad-Sancti-Sp%EDritus-(50-p-)
February 23 2003
We find ourselves shortly after midnight in the lively streets of Camagüey, more about the city can be found here:
http://en.wikipedia.org/wiki/Camagüey
We explored the center at night, as in some Cuban cities remains of a former street trolley system could be found. Details about the history of Camagüey's streetcars and railroads:
http://www.tramz.com/cu/cm/cm.html
Fire department.
On the Plaza de los Trabajadores you could hear "Hasta Siempre" in your mind.
Glowing brightly due to the otherwise energy-saving streetlights.
After some sleep at the private accomodation I got up early - the relatives still were sleeping - to explore the central station, or should I say central stations?
It was strangely divided into several parts, on one hand by level crossings along the Havanna - Santiago de Cuba mainline, here the westernmost section can be seen...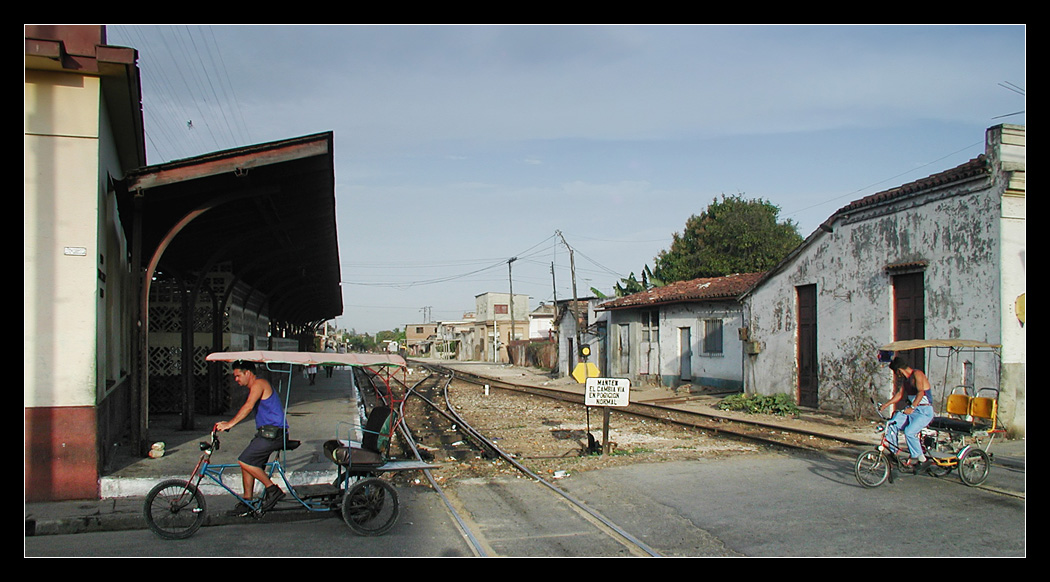 On the other hand by a junction featuring another, more modern terminal next to the bus station. The reason for this extra platform has not revealed itself to me even after intensive Google Maps studies nowadays, additional space due to high train frequency definitely was not needed. And the siding does not lead anywhere today, only to a track triangle. The line to the port of Camagüey, Nuevitas, is branching off further to the east. Originally the tracks seemed to have continued in a straight line until roads and buildings had been constructed blocking the way. A view at the situation:
https://goo.gl/maps/dS9YJ
A caboose.
On the sidings in the eastern part of the mainline station TEM2-K #81025 and #81015 stood stabled. These are a version of Soviet class TEM2s built for Cuba, a copy of the ALCO RSD-1.
Further back railbusses and trailers could be spotted, sadly I was not able to explore further due to a fence.
You even still could identify "TEM2-K" in cyrillic letters.
An already packed "bus" to Las Tunas.
The modern platform along the siding, why exactly were people waiting here? Questions upon questions... soon another class TEM2-K approached.
I was detected by the crew of #81024.
Break in front of the Revisión de Locomotoras.
I managed to inspect the engine more closely, back then I still was in the phase of mainly taking railroad photos to collect textures for MSTS. ;-)
View towards the eastern part of the station. It was the only fenced off area, I asked a guard for access, but was refused.
On the big warning sign a Soviet diesel class TE114-K had been painted, sadly I did not get to see any during my stay on Cuba. However, the artwork was creative and authentic as always.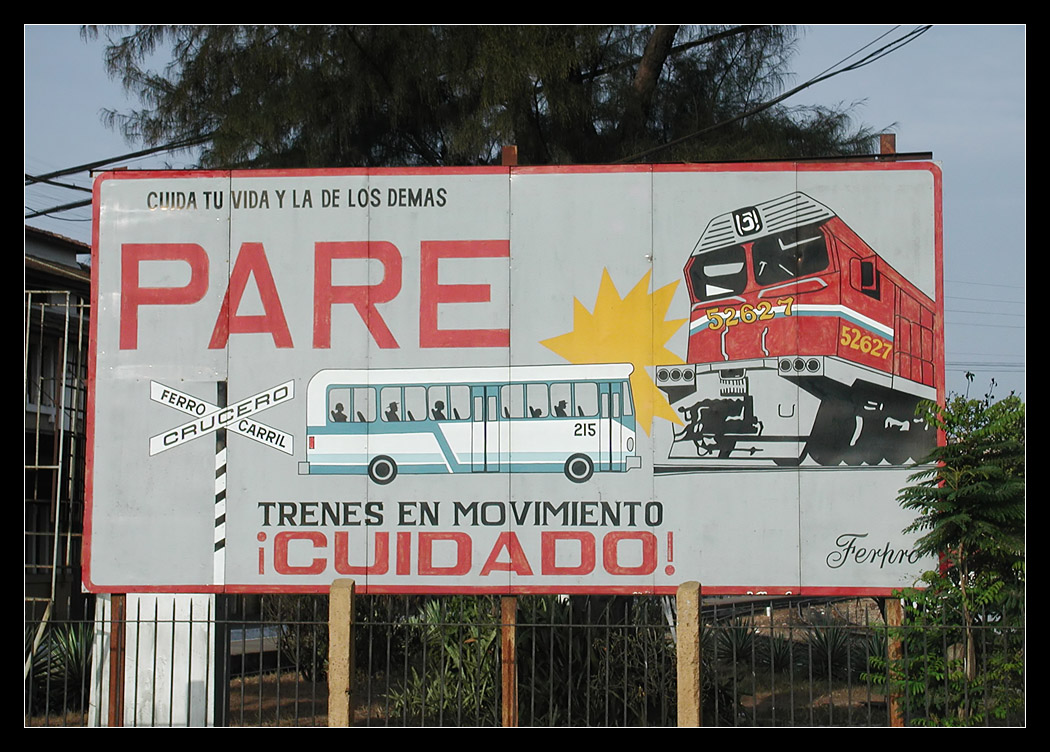 A modern gate (or any gate) could be found here.
A last view eastwards
and westwards.
I had to return to the private accomodation and said goodbye to the "inspection of clocks" - oh yes, of course driving was prohibited on the platform featuring a nice antique wooden roof.
The relatives were awake, after a substantial breakfast we sat down in the living room with the landlord until everyone had finished packing. Back then the "Máximo Líder" still resided in office and had travelled to China. On TV one of his often hours-long speeches was broadcasted.
Before continuing we tanked up "black gold" from the squirrel! ;-)
Actually as tourist you could only access certain gas stations on Cuba - a fact that would prove to be fateful one of the following days.
On the way we met this proper Vaquero without his horse, I probably have never seen anyone else walk in such a bow-legged way.
Plenty of cattle could be found, but all of it belonged to the state and was not allowed to be slaughtered by the farmers themselves. Due to new privatization initiatives private farms are able to operate nowadays.
We visited a farm, cacti were often used instead of fences.
Pork is the main meat being eaten on Cuba.
A "Guajiro" at work - obviously a lot of money might be earned by introducing the scythe to Cuba, at least I never saw any. On the other hand many people worked on the ground using machetes - maybe you could just attach it to a stick to save yourself from back-breaking work?
Views into the farm building.
As intermediate destination we reached a beach on the northern coast, at the parking lot we came across a worn cruiser from the 50s with unlocked doors.
In grey weather the setting lacked Caribbean atmosphere.
Viennese janitor-types also lessened the exotic factor significantly.
A classic 1950s hood ornament.
Back on the road towards Santiago de Cuba.
Only railroad sighting on the way was this railbus trailer at Las Tunas.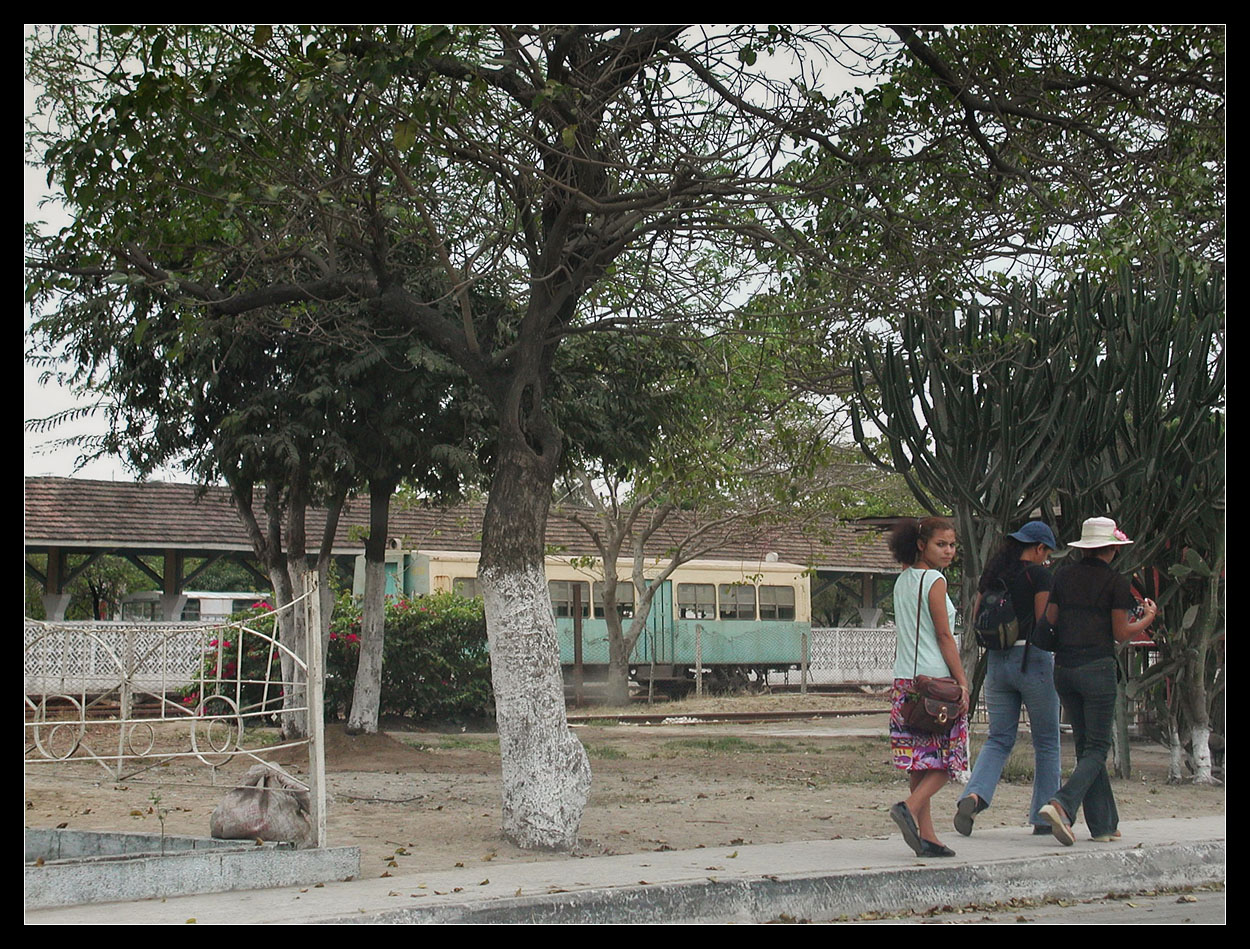 However, soon darkness fell, in a small town we stumbled across a public festival. Who can guess which cars were ours? ;-)
It was the 50th anniversary of the first failed revolution by Castro at Santiago on July 26 1953 (of course titled as "Victoria" in retrospect by the regime), see:
http://en.wikipedia.org/wiki/26th_of_July_Movement
Suckling-pig was on offer in the crowd, I tried a sausage which turned out to be inedible.
Whether these are proper Disney-licenses? Main feature on the ship was a red phone (with connection to Moscow?) next to the steering wheel ... ;-)
We sped through the night, once more encountering some terrifying moments. Here a construction site - only secured by a single torch. Shortly afterwards we rolled towards an unfinished bridge, not signposted at all, which had to be bypassed on an auxiliary road. The ladies - on the rear bench at the time - started screaming, only with luck we came to a halt a short distance from the abyss.
Lastly we reached our private accomodation in Santiago de Cuba. Next time we will continue with a morning excursion to the station of Cuba's second largest city.