Hi,
To the previous trip report part:
Cuba 2003 V... Odyssey Bay of Pigs - Trinidad (50 p.)
February 22 2003
Next morning in front of our private accomodation in Trinidad we could only hope for more luck on the road that day.
Our destination was Camagüey, first we drove towards Sancti Spíritus. Next place to visit was UNESCO world heritage site Valle de los Ingenios (Valley of the Sugar Mills, more here:
http://en.wikipedia.org/wiki/Valle_de_los_Ingenios
) near Trinidad. On the main road 3 miles east of town the viewpoint Mirador de La Loma del Puerto enables a lovely vista across the amazing landscape.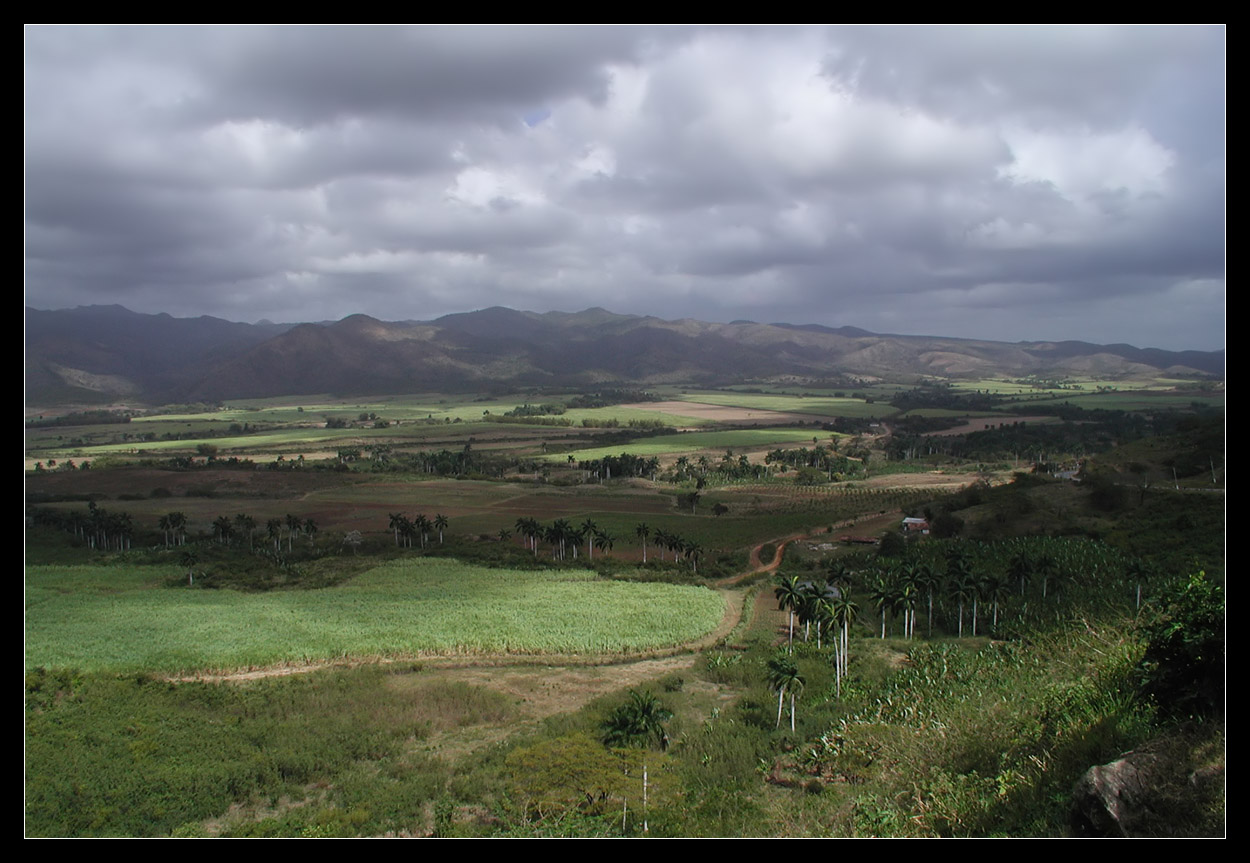 View towards the sea.
Escambray Mountains in the background.
What it's all about: sugar cane, here it was squeezed as juice for tourists.
Always ingenious, Cuban ways of transport!
But mostly travelling means for Cubans: waiting...
One of the most prominent sights in the area is Manaca Iznaga plantation, from Torre de Iznaga slaves in the fields had been guarded.
You can see how the Cuban landscape is honeycombed with railway lines - finding a moving train is another matter, however.
Revolutionary slogans have even been laid out with stones.
Wait a second, what was that in the background?
Look closely! ;-)
Oh, through pure coincidence I had run into the tourist steam special!
Introducing #1517, a 2-6-0 engine (Baldwin #32083, built 1907).
Right away the aged iron horse steamed past me.
Towards a larger bridge structure.
We looked around Finca Guachinango, frescos still could be found inside the building.
Turkeys had also made it to Cuba.
The type of bananas growing and being sold on the island is significantly smaller and greener than those known internationally in supermarkets.
No question where we were.
Still no reason for circling vultures...
I took a closer look at the bridge.
Back at Manaca Iznaga we passed the steam train one more time, but I was not allowed to get out of the car.
We continued to search for some more obscure plantation buildings.
The purpose of the zones can be read about here:
http://en.wikipedia.org/wiki/Committees_for_the_Defense_of_the_Revolution
Found! Inside the already very decayed colonial building remains of frescos had also survived the centuries.
Children in front of the plantation.
It was time to leave for Sancti Spíritus, we came past kolkhozes.
Through the mountains.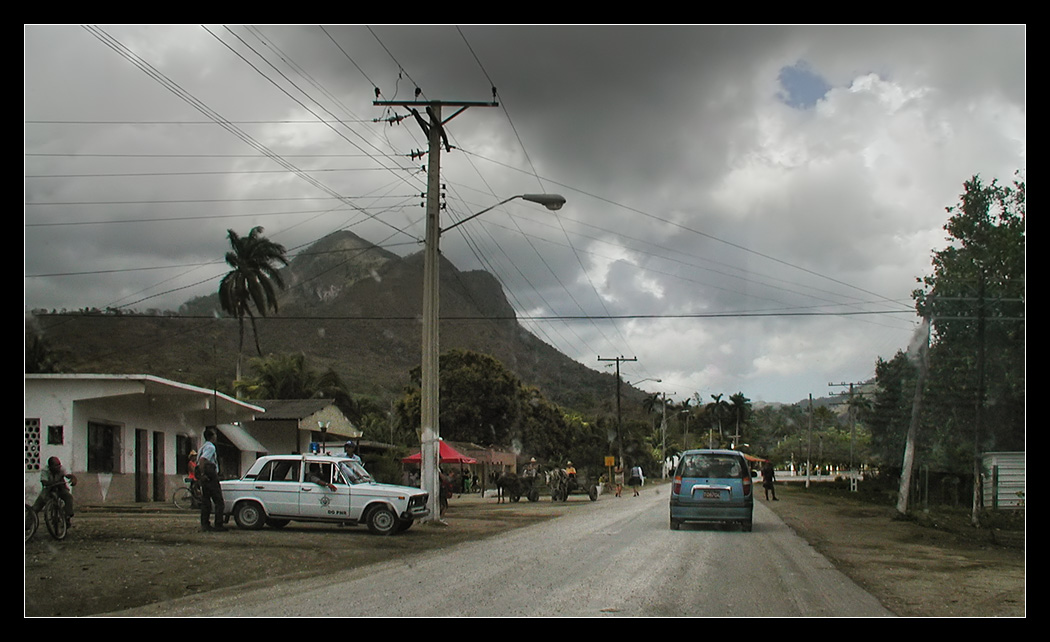 After entering Sancti Spíritus I immediately spotted a sugar cane train waiting to approach the main station, hauled by diesel #38137.
My first panoramic picture made of photos from the old digicam.
Nothing much happened at the station.
An ambulance car of the "Yayabero", the train from Havanna to Sancti Spíritus.
And the rest of the rake consisting of old East German coaches.
We went on a sightseeing tour through the old town.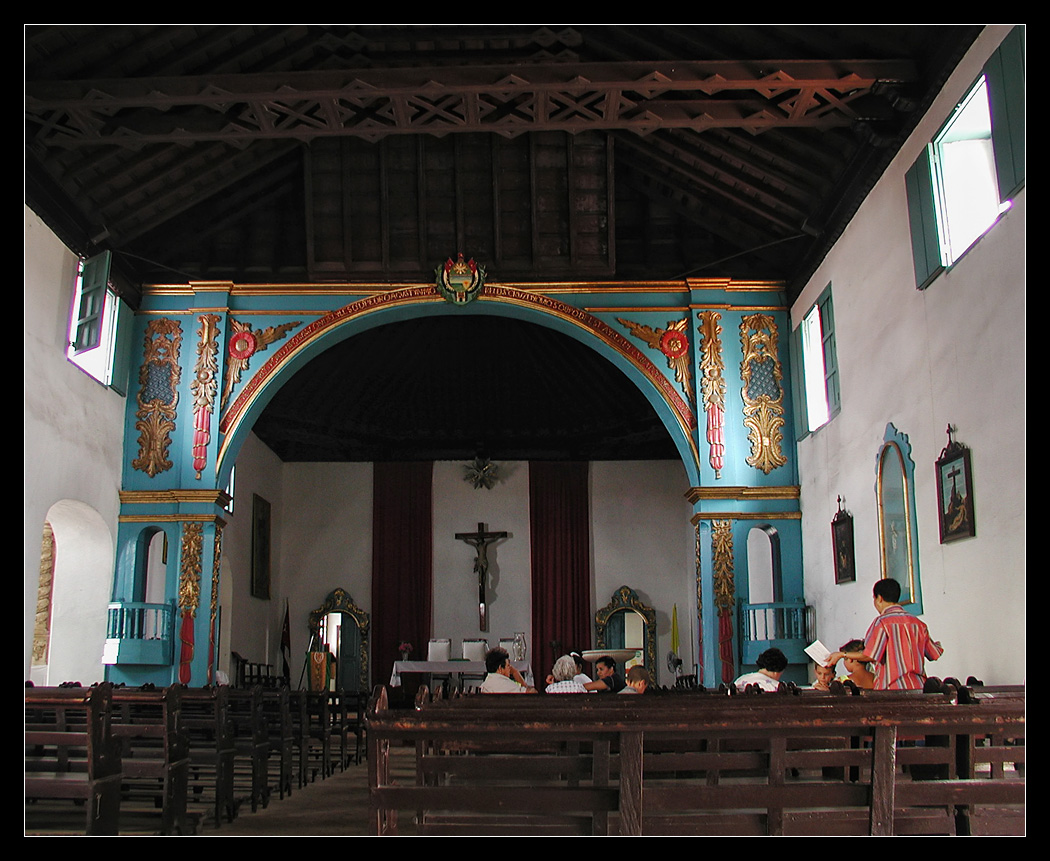 The place stayed true to its name.
Cuban towns are not lifeless!
Probably a more elegant zone.
Very tasteful furniture store - only what was the purpose of those inflatable pink animals?
Bicycle rickshaws could be found everywhere.
If siesta was not held, cakes were being transported around - they would follow us into evening.
You don't suspect the scene being set in Cuba - yet it was the old bridge across Río Yayabo - (see "Yayabero" ;-) ).
Collection of the propaganda signs of the day.
Once more we arrived quite late at Camagüey. In the evening we set out into the crowds and prepared a little surprise for my aunt's birthday. Via a security guard we organized one of the omnipresent cakes, of course the man also received a share for his efforts. The cakes themselves were purely there for show, however, just consisting of fat and sugar.
We continue at Camagüey next time!