Hi,
To the previous trip report part:
Cuba 2003 IV... Tropical Adventure Hershey Railway (50 p.)
http://www.railroadforums.com/forum...IV-Tropical-Adventure-Hershey-Railway-(50-p-)
February 19 2003
We return to Matanzas, where I had arrived before noon by Hershey Railway. Continuing on the mainline towards Santa Clara had proven a futile endeavor, but maybe that saved me from never meeting my travel companions again on this trip... At Matanzas I still had an ace up my sleeve: one last bar cell phone reception of the GSM-900 network solely existing around Havanna at that time. That way I could stay in contact with my relatives who were still waiting in vain for the booked rental car in Havanna. Finally they were forced to act and contacted another company. However, a problem arose there as only two small cars were available, not one minivan for us all as we had anticipated, which would have consequences the following days. After an hours-long wait at Matanzas I was finally picked up late afternoon. They had split up, the youngsters in the red vehicle, the old folks in the blue one. While the former were already speeding down the Autopista Nacional towards our destination that day, Zapata peninsula, the latter were meeting me.
Well, navigation on Cuba is far from simple, but nowadays it can hardly be imagined how it was like without any proper maps, navigation systems or cell phone reception. Immediately after leaving Matanzas we took the wrong route towards Varadero instead of turning south right away, despite asking. Of course night fell soon as the sun set at 6 p.m., and there are hardly any things you should rather avoid than driving through exotic countries at dark. Once we only closely avoided a collision with a completely unlit vehicle.
In the "way" as well: Freight cars packed with sugar cane shunted in front of a sugar mill by diesel engine #37066.
After an odyssey partly on small rural roads we reached the highlight of our nighttime adventure: a pioneer camp inside a large building without any lighting. The beds of the children now and then appearing out of complete darkness were lined up along the corridors - all in all an eerie experience. However, the director of the facility proved to be very friendly, as we were slowly driving away we heard a bump on the roof - he had run after us to once more show the correct way. Finally we traversed the motorway near Jagüey Grande and passed through Central Australia village, as we were suddenly met by the blue car. The youngsters had worried and had started to look for us, that way this incredibly lucky meeting took place. Together we drove the last miles to our hotel in Playa Larga, directly on the Bay of Pigs, where we arrived shortly before midnight.
I recycled this map from a Power Point presentation I had prepared after this trip 11 years ago. ;-)
February 20 2003
Luckily holidays with my relatives are proper holidays, so we conveniently set off after 10 a.m. next morning, resting from the exertions of the previous evening.
Along the road from Playa Larga these memorials for the fallen Cubans of the Bay of Pigs invasion could be found (
http://en.wikipedia.org/wiki/Bay_of_Pigs_Invasion
).
For lunch I took something rather exotic... what might it be?
...
!
You don't necessarily want to swim here...
... but here it was alright! Our hotel chosen at dark turned out to be very nice.
Zapata natural reserve is known for its diversity of bird species. (
http://en.wikipedia.org/wiki/Zapata_Swamp
)
At 4 p.m. we finally departed with the resolution to always drive in convoy.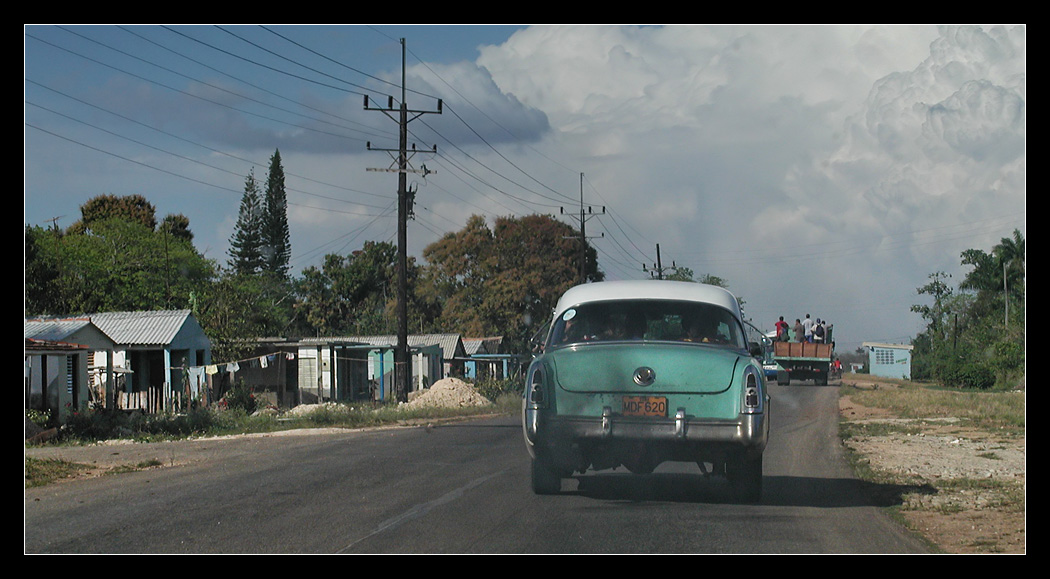 At Central Australia we reached the Autopista Nacional, which for example featured an unguarded level crossing where you should not jolt across without braking, as well as other surprises we would discover later. Only during the return trip I will reveal my finds from Central Australia...
Appropriately I now travelled with the youngsters, soon the blue car disappeared out of our rear view mirror. We did not think much about it, the destination for the evening was clear: Trinidad!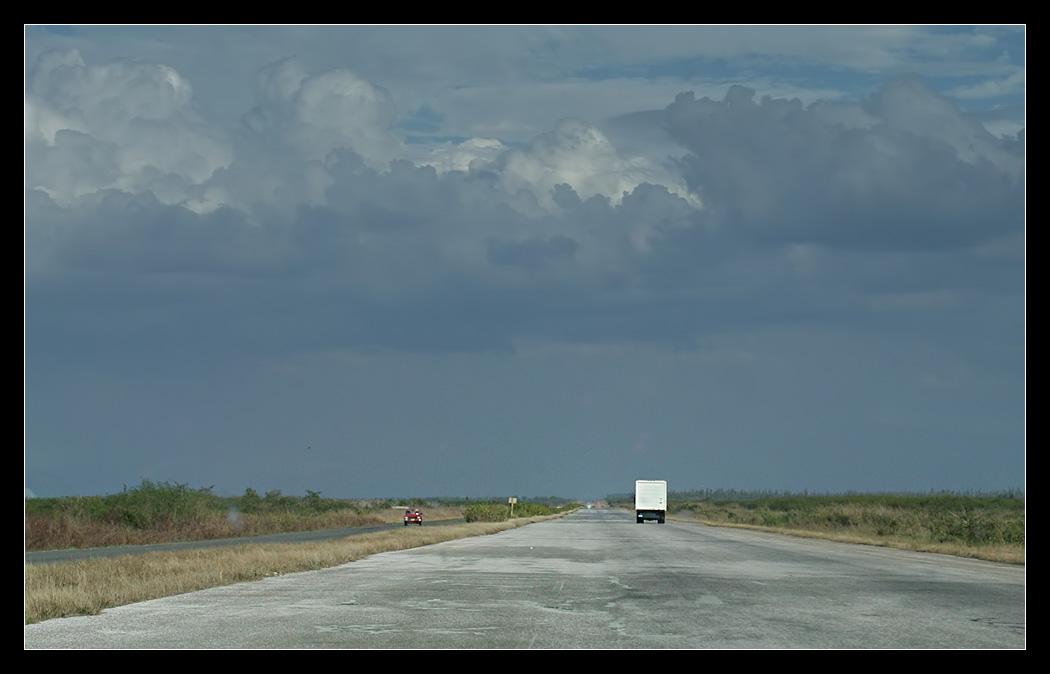 Propaganda-signs on the way, from the highly political to the mundane - as can be seen with the call to save energy at night or to recycle. My favourite clearly is "More alcohol ... m o r e a l c o h o l ..."!
At a motorway reststop Baldwin 750 mm narrow gauge engine #1320 of Maltiempo sugar mill stood plinthed, it had been in regular service until only a year before.
Slowly evening drew nearer and we had to turn south into the mountains from the motorway near Santa Clara to reach Trinidad. The blue car still was nowhere to be seen, we were wondering if they had taken a different route.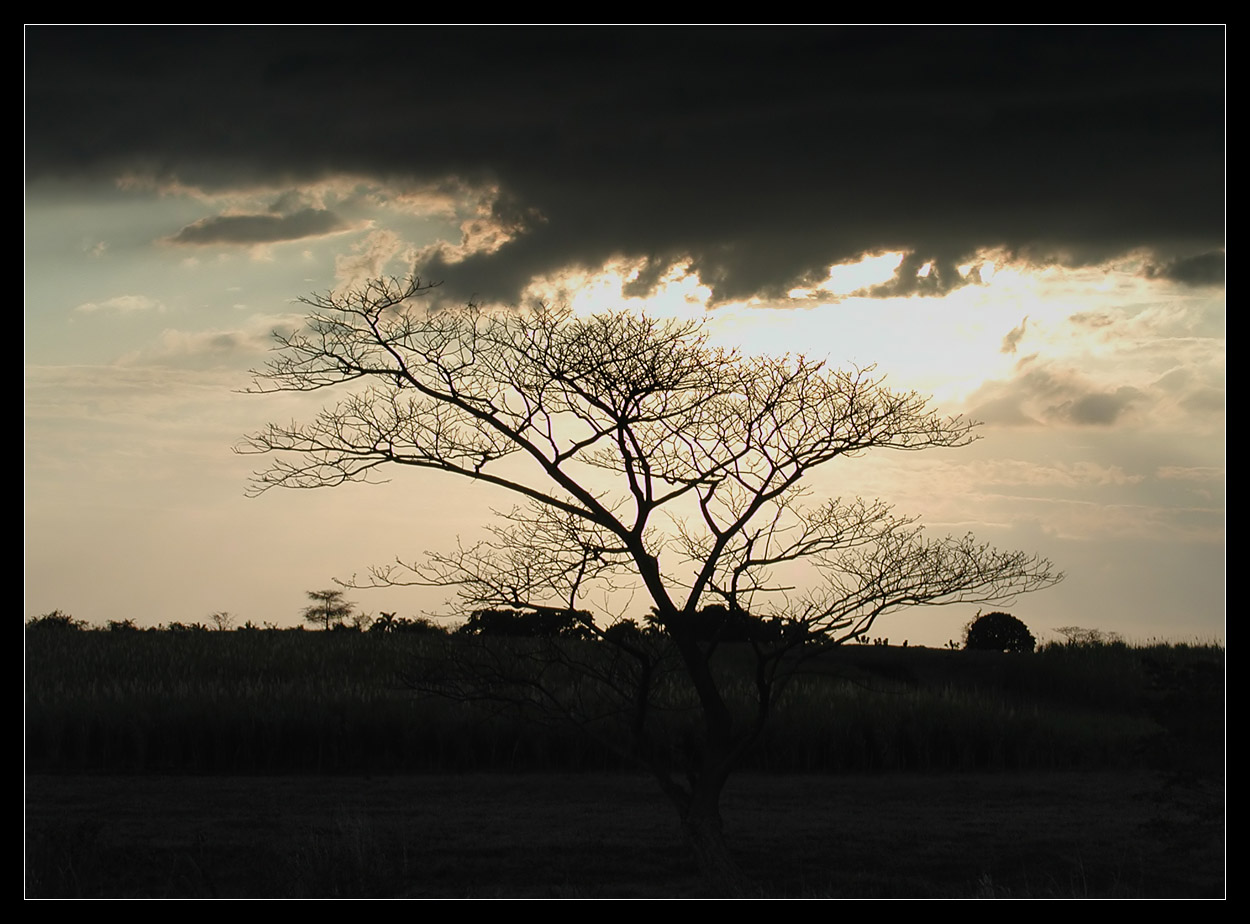 Wild West-mood arose.
Computer courses at a village bar during a short break, now it became completely dark.
Due to these very helpful signposts we took a wrong turn and drove straight into the mountains. Most terrifying encounter was this bridge where the road narrowed to only half its width.
Finally we reached Trinidad again at night - someone had written down the address of our private guest house on a piece of paper, but had left it inside the travel guide which was - in the other car! So what to do?
Well, we engaged emergency plan B and drove to a large hotel at Playa Ancón on a peninsula south of town. From there an aunt at home was ringed out of her bed in the middle of the night, we hoped that the others would do the same, which they eventually did. At the hotel another reencounter took place, the other car had run out of gasoline soon after they had reached the motorway. Also, they had taken a longer route via Sancti Spíritus.
Again reunited we drove to our booked private accommodation where we arrived shortly before midnight...
February 21 2003
It had paid off, only the rooms in these private houses were rather small. Apart from that everything was offered to our heart's content.
Blue and red car hopefully finally united!
We started a sightseeing tour through colonial Trinidad.
Definitely one of the most beautiful old town centers on Cuba, renovated for tourists (
http://en.wikipedia.org/wiki/Trinidad,_Cuba
). Most of the houses were owned by the state.
At the Plaza Mayor, the ensemble is part of UNESCO World Heritage.
Inside Palacio Brunet.
It is... a shower!
A girl's 15th birthday, the Quinceañera, is particularly celebrated in Cuba and other Latin American countries.
Group of schoolchildren in the colonial quarter.
Poverty leads to innovative recycling...
A visit to a cigar factory was obligatory, all tobacco production on Cuba is part of the monopolist state company Habanos S.A.
Overseers in factories sometimes narrate literary novels to the largely female workforce.
We spent the afternoon on Playa Ancón.
In the evening we encountered this monster upon returning to town.
A wonderfully situated beach bar.
The correct mint for Mojitos was only supposed to grow on Cuba, in this case right behind the beach shack! ;-)
We enjoyed the sunset drinking disinfecting Mojitos and smoking a few dirt-cheap factory-bought cigars.
In the evening we visited a private restaurant inside an insane colonial building where all kinds of antiques had been hoarded.
Of course the crocodile had the be petted...
In the next part we will move further east from Trinidad, with more railroad encounters!