Well looks like I get to get the ball rolling for the state.
In the Columbia area we are served by Amtrak (trains 91 and 92) CSX and NS. Both carriers have yards here. There is a warning that everyone in the area gives out. STAY away from the NS Andrews yard. Visitors are not welcome on the property. City of Columbia Police does patrol the property and they do have the power to arrest.
Now the CSX Cayce Yard ( Located on State Street in Cayce SC) in another story. They are very much rail fan friendly and fans are welcome 24 hours a day. The best area for watching ops at Cayce is the north end of the yard (state street). On the south end is CMC Steel with a completely restored and working Alco RS11.
Our local hot spot is Devine Street Jct. This where both CSX and NS cross each other at grade.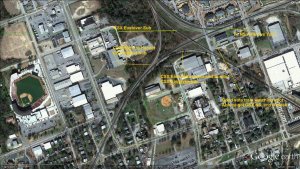 This area is safe for train watching. Fans are just asked to stay off of railroad property. The area is patroled by CSX, NS ,USC, and columbia police. Normally they won't say anything as they are used to seeing fans there. If you coming to this area feel free to shoot me a message and I'll be more than happy to give you the dfme tour.
Run Eight
SAXT1
Last edited by a moderator: