Friday (
5/8/15
) I snapped photos of four different coal hoppers on a Roberts Bank bound coal train passing the Edmonds marsh. Photos can be seen by scrolling down page 60:
http://www.railroadforums.com/forum/showthread.php?29284-Pity-Mile-Post-17/page60
I have some questions regarding the capacity of these hoppers. Note the markings on each car in the photos:
Ld. Lmt
and
Lt. Wt
.
I assume
Ld. Lmt
= load limit = the maximum permissible combined weight of the hopper + the load.
I assume
Lt. Wt.
= light weight = the weight of the empty hopper, or what we used to call tare weight.
If my assumptions are correct (and please correct me if they are not), then the maximum permissible weight of the coal in each hopper = load limit - light weight.
First of all, I was surprised by the variations in the light (tare) weights of the hoppers. I can understand that the manufacturing of something as large and heavy as a coal hopper may create differences in the weights of individual, "identical" hoppers. I would expect the weight differences to be a small %-tage of the hoppers' weights.
Even though individual hoppers within a class of cars of the same design may vary in weight, I would expect the maximum permissible weight of coal to be identical for each class of hoppers using the formula I typed above. Subtracting load limit - light weight for each of the four hoppers in my photos yields different maximum permissible loads, as shown below:
Former BN Cascade Green hoppers:
BN 533813:
241,800 - 44,200 = 197,600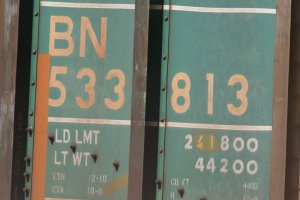 BN 536262:
242,900 - 43,100 = 199,800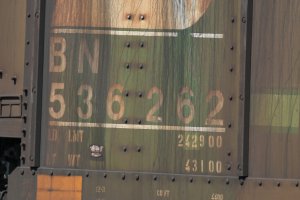 BNSF aluminum hoppers:
BNSF 669290:
244,300 - 41,700 = 202,600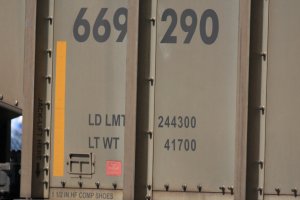 BNSF 671585:
244,200 - 41,800 = 202,400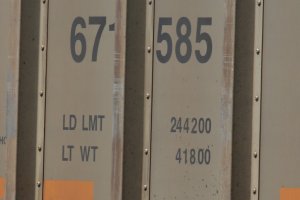 Note the lighter tare weight of the newer, aluminum hoppers.
How closely does the railroad adhere to the hopper load limits? I would think that to weigh each hopper of several 100+ car coal trains as they are being loaded would be too slow and cumbersome.
Last edited by a moderator: