Good morning,
I am a new forum member and this is my first post.
I'm a part time driver and maintenance man for the Kannapolis, NC Village Park C P Huntington #262 train ride. Kannapolis bought this train from a private estate in the New Orleans area in 2005. It left New Orleans one week before Hurricane Katrina hit New Orleans. Had it not left there when it did, I was told that it would have been under 11 ft of salt water and likely destroyed. It was moved to the city warehouse here, where it was fully restored (hadn't been used in over 3 years) and it waited there while the station was built and the track laid in the park for it. Our station is also the train barn where we keep the train secure and out of the Weather when not being used. There are large doors at each end and the track runs through it. Two additional doors along one side of the station are the entrance and exit doors for the riders. The track presently is just over 1/2 mile in length, surrounding about 2/3 of the park. There is a picnic pavilion area, kiddie splash pad, and playground within the track loop and then outside the track loop, a large green with an outdoor stage, the administration building, and soon the carousel building will be complete that will house North Carolina's first two story high carousel. The train came with more rails than were used here and there has been some talk about extending the track along a creek green way to Baker Creek Park, just North of this one. A smaller station there would allow us to carry passengers between the two parks and add considerable track to the train ride.
Our Summer season is almost over, but the park gets heavily decorated for Christmas and then the train runs every evening between Thanksgiving and Christmas, taking riders through this Christmas Light Wonderland. It will then close again until April, when we again open the rides on the weekends, until school ends. Then we are open daily until school opens again, and we go back to weekends only until mid October.
The Village Park is located just West of downtown Kannapolis at 200 West C Street. Kannapolis was a former mill town for Cannon Mills, the huge towel and linen manufacturer. The mill and buildings are now completely gone and the property is now in the process of being replaced by a biotech research center. The Dole Foods CHQ and lab are now located here. Many new buildings have been built on the former mill property, including our new city hall, which opened in the Spring of 2016.
I've attached some photos of the train (if I'm successful at uploading them). The train was built in 1991 by Chance Rides for the previous private owner. It has a Continental 4 cylinder gas engine and we have three passenger cars, with a wheel chair position in the front end of the first car. This week I was successful in getting the smoke system working again. It hasn't worked since the train arrived here, but I don't think anyone made any effort to fix it before me. This is my first year on this job and I am finding many little things that need my electrical background and attention, although the train itself is in very good condition with very low running hours for it's age.
Here are links to two videos of our C P Huntington train.
The Village Park Train Ride in Kannapolis, NC
The Christmas Express Train Ride At The Kannapolis Village Park
And Some snap shots below. I just managed to get the smoke system running this past week.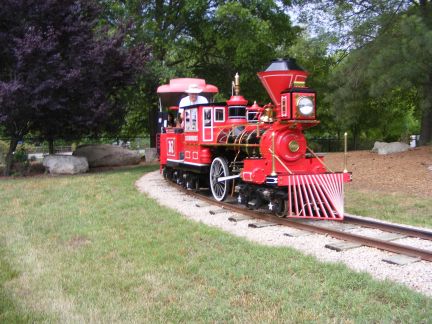 Charley
Last edited by a moderator: