Hello All!
Some of you may be aware of the Camas Prairie Railroad near Lewiston, Idaho, founded as a joint Northern Pacific-Union Pacific venture around the turn of the 20th century. Its Second Subdivision, which climbs more than 3,000 feet from Spalding (east of Lewiston) to Grangeville, about 70 miles south, ascends Lapwai Canyon through a series of tunnels and wooden trestles, including the 684-foot-long, 141-foot-high curved "Halfmoon" trestle (Bridge 22), featured in the film "Breakheart Pass."
This summer I took a two-day, 115-mile bicycle ride from Moscow, Idaho, to Lapwai Canyon to photograph these historically significant trestles, unused since 2011, when a forest fire destroyed Bridge 21.3. Out of this trip came several hundred photos, including a walk down seven miles of grade in the canyon, and of which I have made a calendar, posters and other items for sale on my Zazzle store (
http://www.zazzle.com/JuDGe3690_art?rf=238526406419088856
).
Here is the 2014 Calendar: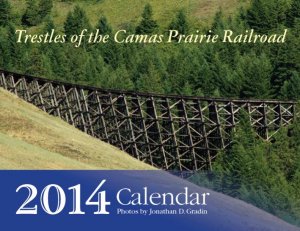 One of my favorites, "Trestle Dawn," is featured on posters, stretched canvas and other items, as well as inside the calendar: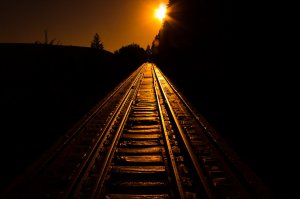 And finally, Bridge 22, the "Halfmoon" trestle, is in the calendar and available as a poster: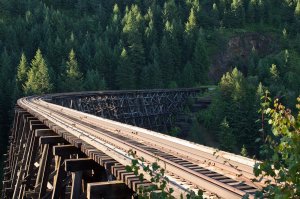 Here is a blog post with links to the full photo albums:
http://judge3690.wordpress.com/2013/10/20/camasprairiephotos/
. If you see a photo that you'd like as a poster or an item that is not on Zazzle, I can add that design, or apply any of these photos to other products on the site (Zazzle is a high-quality print-on-demand marketplace—I have used them for bumper stickers, posters and other items with fast service and great satisfaction).
Thanks,
Jonathan Gradin
Moscow, Idaho