Here are some shots from my trip to Mount Vernon and Burlington, WA on Saturday March 7th. I know some work had gone on up there but I had not been to the area for over a year.
1. Here is a Loaded Oil train headed to Fildago on the Anacortes Branch. This is at West Stackpole Rd. which will get crossing gates and lights shortly to protect this crossing more thoroughly.
2. In the distance is the location of the new switch for the longer Mt Vernon Siding. It will be an additional 4100 feet making it a total length of about 10,175 feet of which 8000 or so is usable due to a crossing near the north end.
3. Looking north from Hickox Rd. you can see the subgrade all the way up to the present switch at the south side of the Mount Vernon siding.
4. Looking south you can see the new signals in addition to the subgrade and new access road on the left for the bungalow. The Hickox Rd. crossing can not be closed (except for emergencies) until the turnaround cul de sacs are built so this siding extention is on hold until that is accomplished.
1.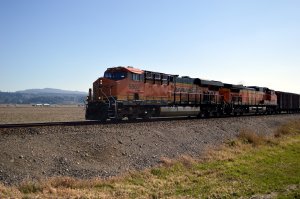 2.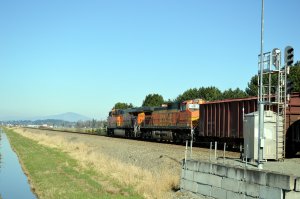 3.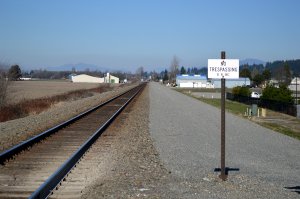 4.